Updated October 8, 2023
Are you planning a co-ed baby shower and looking for menu ideas that will please all your guests?
You're in the right place!
We are sharing 37+ Mouthwatering Co-ed baby shower menu ideas!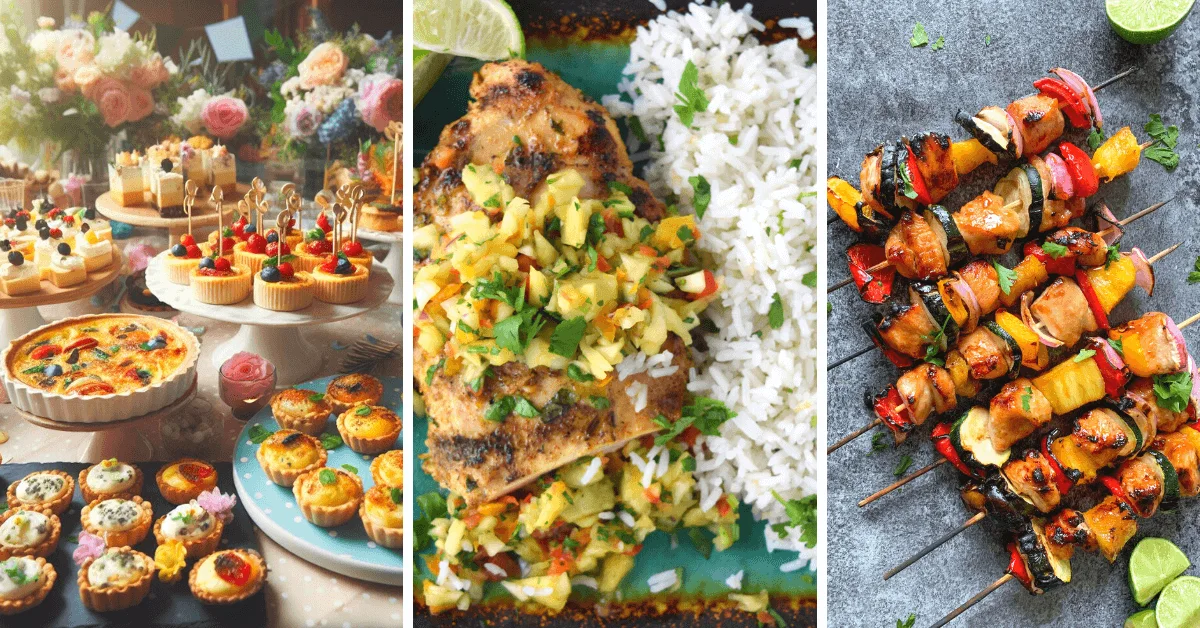 When I was planning my co-ed baby shower, I quickly realized that a memorable event doesn't mean emptying my wallet.
I found that dishes using cost-effective ingredients, like hearty casseroles or a big batch of fried rice, were both satisfying and easy on the budget.
And here's a secret: buying in bulk is a game-changer.
Not only did I save money, but as an eco-conscious shopper once told me, "You're also reducing packaging waste. It's a win-win!"
But the real MVP?
Seasonal and local ingredients.
They're fresher, tastier, and often cheaper.
A trip to the local farmers' market gave me not only budget-friendly options but also unique finds that added that special touch to my menu.
Who knew budget-friendly could be so delicious?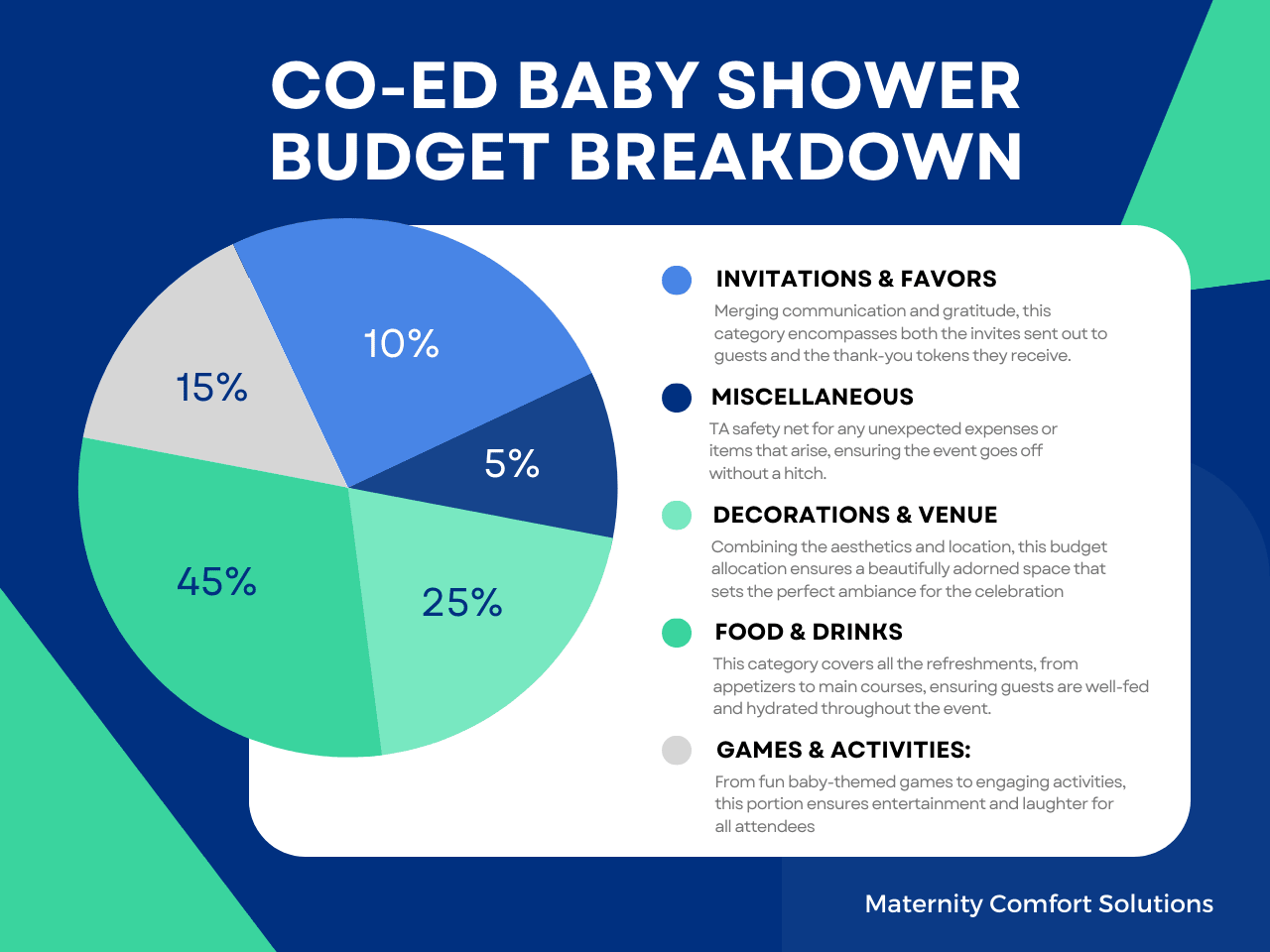 37 Amazing Co-Ed Baby Shower Menu Ideas
Let's dive into a variety of menu ideas that will tantalize taste buds and leave your guests raving.
1. Appetizers:
Dips & Chips: Think guacamole, salsa, and hummus. Easy to prepare and always a hit.
Mini Sliders: Offer a mix of meat, vegetarian, and vegan sliders.
Stuffed Mushrooms: A savory treat that's both delicious and elegant.
Chicken Wings: Offer a variety of flavors, from classic buffalo to honey BBQ. Serve with celery sticks and blue cheese or ranch dip.
Meat & Cheese Board: A selection of cured meats, cheeses, olives, and pickles. Pair with crusty bread or crackers. This is a great option for a fall baby shower or winter baby shower!
Shrimp Cocktail: Chilled shrimp served with tangy cocktail sauce. A classic and sophisticated choice.
Bacon-Wrapped Dates: Sweet dates wrapped in crispy bacon, often stuffed with cheese or almonds.
Nachos: Layered with cheese, beans, and jalapeños, and topped with sour cream and guacamole. A crowd-pleaser that's easy to share.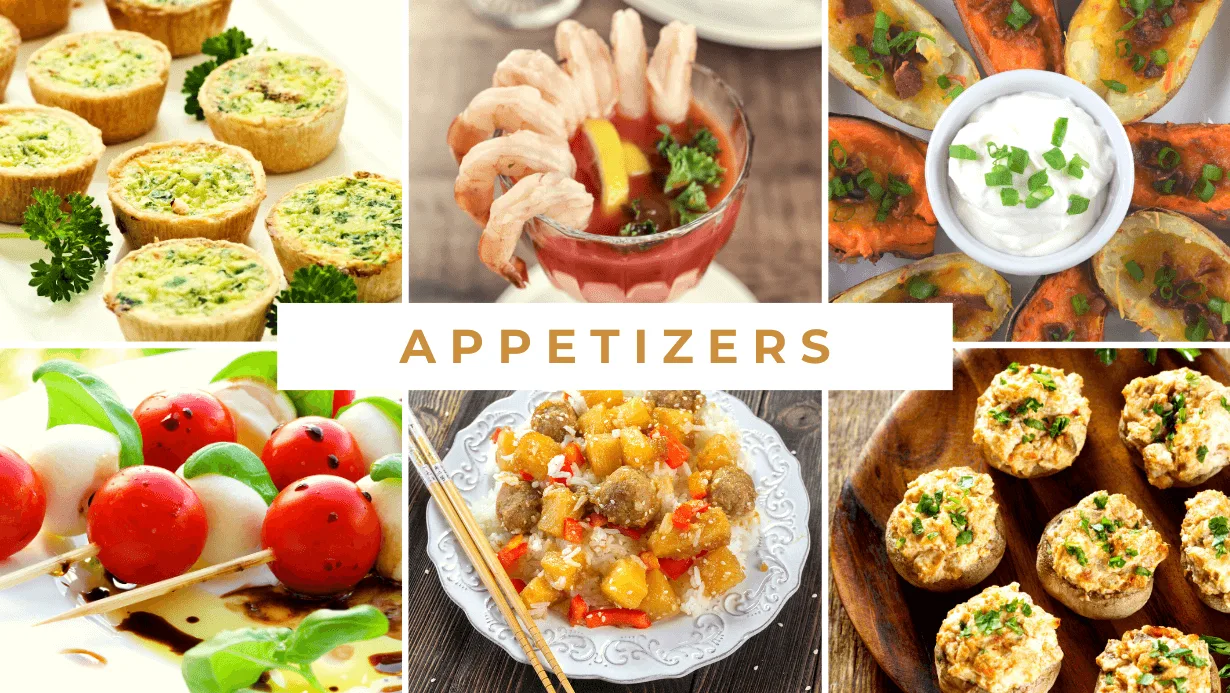 2. Main Courses:
Pasta Salad: A cold pasta salad with fresh veggies can be both filling and refreshing.
Grilled Skewers: Mix of meats and veggies. Consider a tofu option for vegetarians.
Casserole Dishes: Think lasagna or a hearty bean casserole.
BBQ Pulled Pork or Chicken: Slow-cooked to perfection and served with coleslaw and buns for making sandwiches.
Taco Bar: Offer a variety of fillings like ground beef, chicken, and a vegetarian option. Accompany with toppings like lettuce, cheese, salsa, and guacamole.
Stuffed Bell Peppers: Filled with a mix of rice, beans, and meat or a vegetarian filling. Topped with cheese and baked.
Seafood Paella: A flavorful rice dish with a mix of shrimp, mussels, and chicken, seasoned with saffron and paprika.
Biryani: A fragrant rice dish with layers of meat (like chicken or lamb) or vegetables, garnished with fried onions and boiled eggs.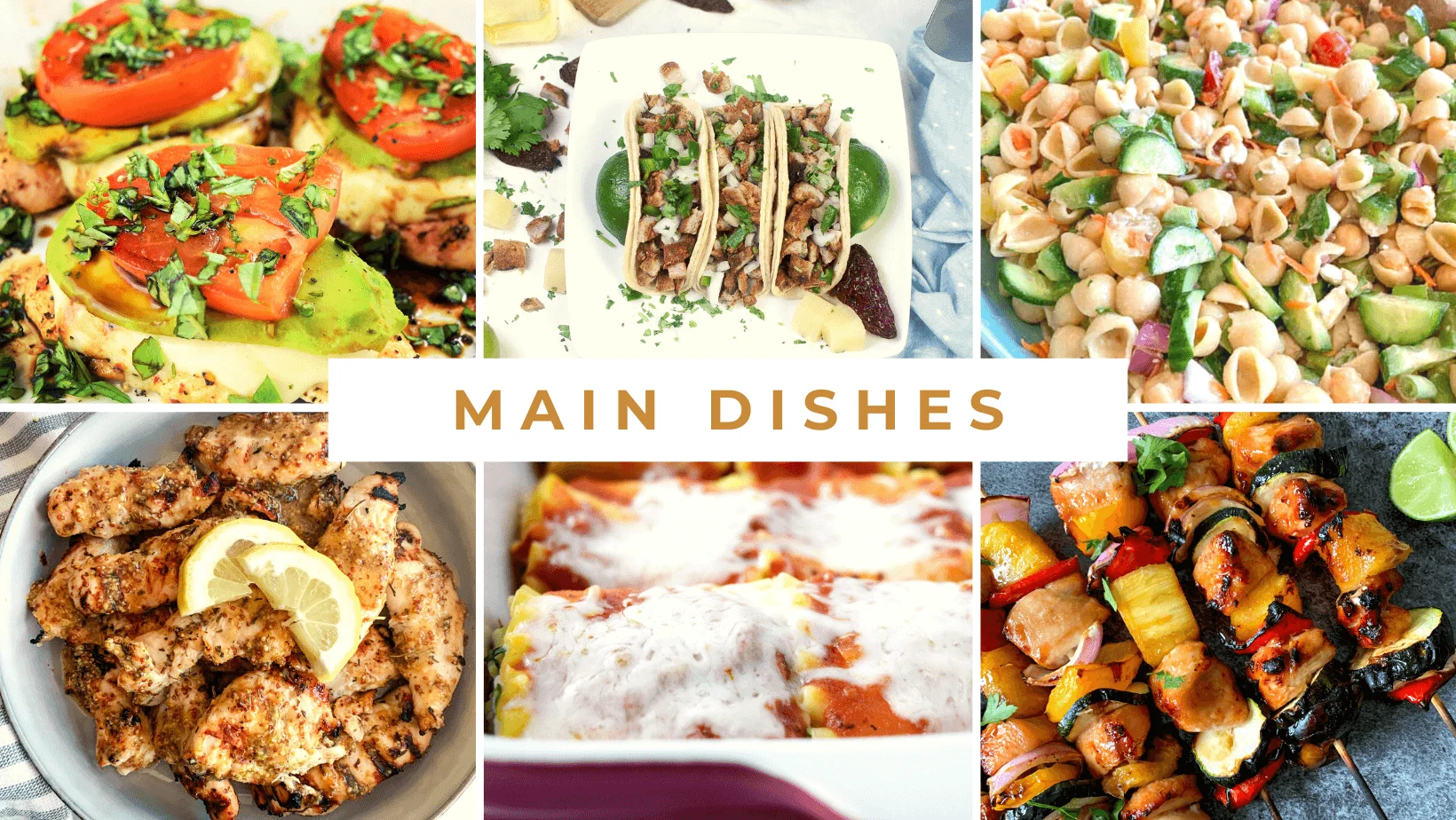 3. Desserts:
Cupcakes: Offer a variety of flavors. Don't forget a few gluten-free or vegan options!
Fruit Platter: A refreshing and healthy choice.
Cookies & Brownies: Always a crowd-pleaser.
Chocolate Fondue: Melted chocolate served with marshmallows, strawberries, bananas, and chunks of cake for dipping.
Pies & Tarts: Consider classics like apple pie, cherry tart, or a tangy lemon meringue.
Ice Cream Sundae Bar: Provide a selection of ice creams with toppings like nuts, syrups, whipped cream, and cherries.
Cheesecake: Offer a classic New York style or flavors like raspberry, chocolate, or caramel.
Mousse & Puddings: Light and creamy options like chocolate mousse or a rich rice pudding.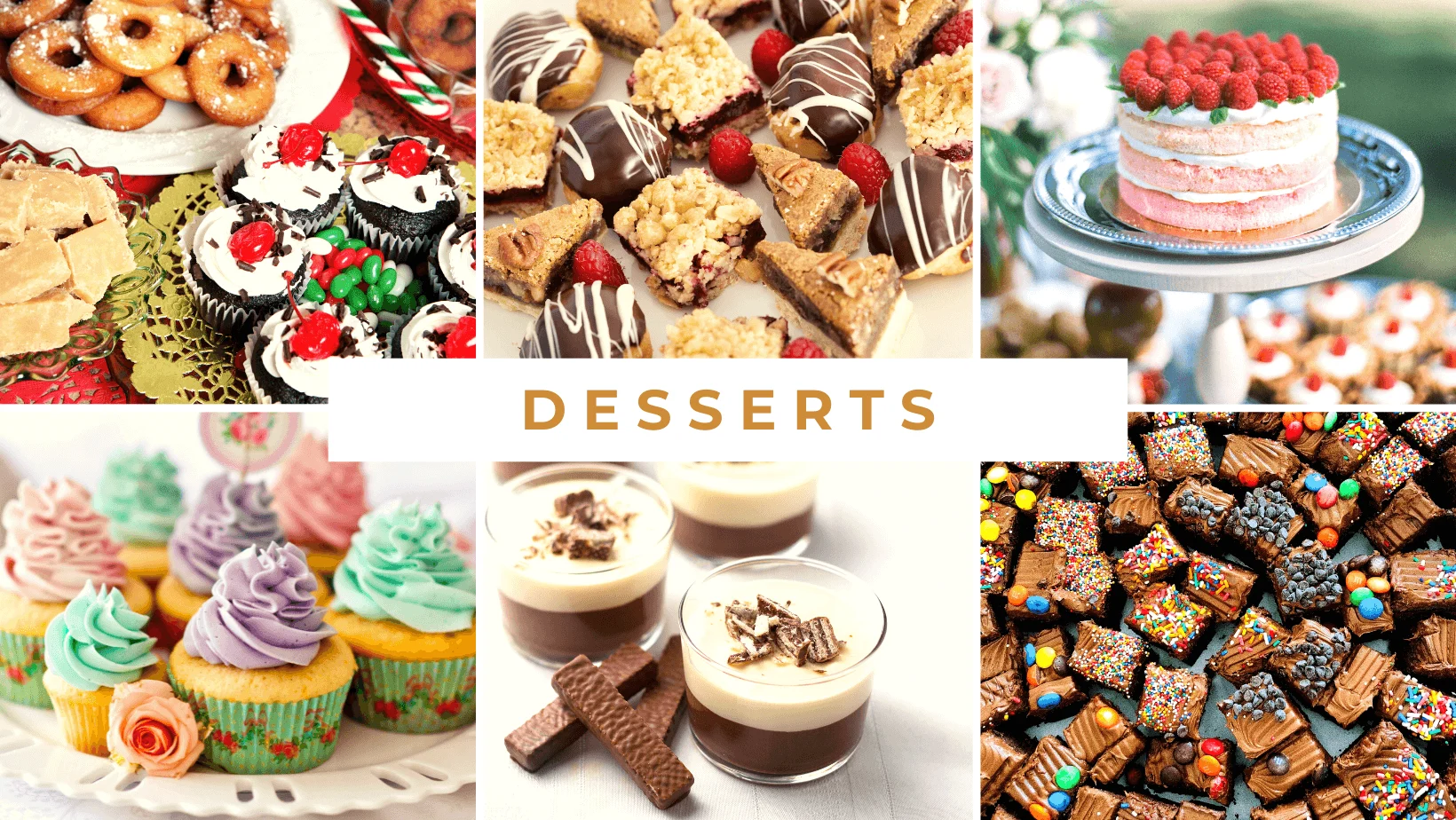 4. Drink Options:
Mocktails: Fun, fruity, and alcohol-free drinks for everyone to enjoy. Consider classics like Virgin Mojitos, No-Gin and Tonic, or a fruity Pineapple and Mango Cooler.
Tea & Coffee: Offer a variety of herbal options. Green tea, chamomile, and peppermint are great herbal choices. Don't forget decaf coffee for those avoiding caffeine.
Infused Water: Add fruits or herbs for a refreshing twist. Cucumber-mint, strawberry-basil, or lemon-rosemary are delightful combinations.
Lemonades & Iced Teas: Serve classic lemonade, or add a twist with flavors like raspberry, peach, or ginger. Iced teas can be sweetened and flavored with fruits or herbs.
Smoothie Bar: Offer a range of fruits, yogurts, and non-dairy milk for guests to blend their own delicious smoothies.
Soda & Pop: Have a selection of popular sodas available, both regular and diet.
Hot Chocolate & Warm Ciders: Especially if the baby shower is in a cooler season, these warm drinks can be comforting and delicious.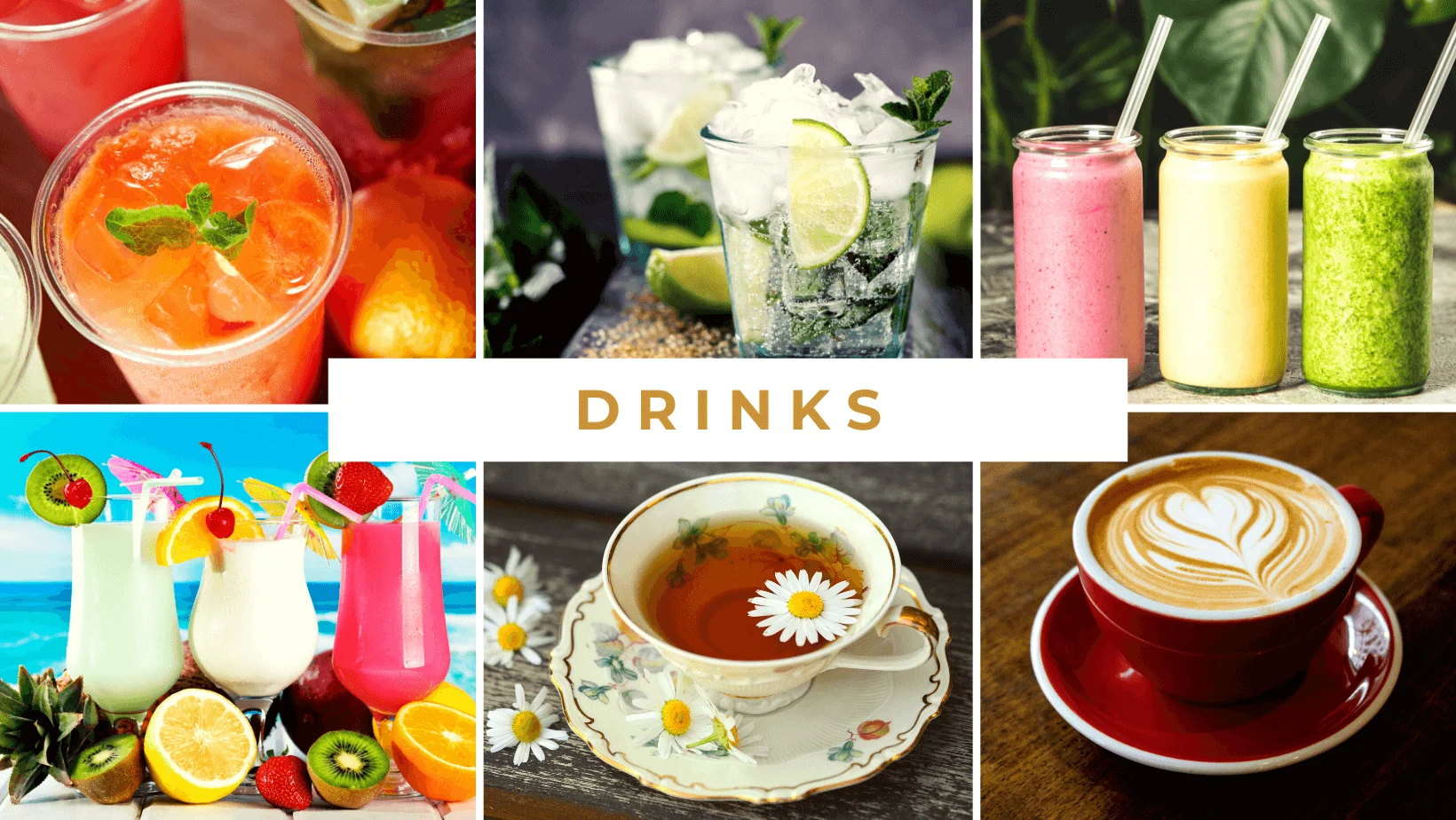 Brunch Menu for a Co-Ed Baby Shower
Starters:

Fruit Salad: A mix of seasonal fruits drizzled with a light honey-lime dressing.
Yogurt Parfaits: Layers of yogurt, granola, and fresh berries. Offer both regular and non-dairy yogurt options.
Mini Quiches: Bite-sized quiches with fillings like spinach feta, ham-cheese, and mushroom-onion.

Main Dishes:

Eggs Benedict: Classic poached eggs with hollandaise sauce on English muffins. Offer variations like traditional ham, smoked salmon, or avocado for a vegetarian option.
Pancake/Waffle Station: Fluffy pancakes or waffles with toppings like maple syrup, fresh berries, whipped cream, and chocolate chips. Consider offering a gluten-free batter option.
Avocado Toast: Sliced avocado on whole grain toast with toppings like radishes, feta, or a poached egg.
Breakfast Burritos: Filled with scrambled eggs, black beans, cheese, and salsa. Offer meaty fillings like sausage or bacon and a veggie option with bell peppers and mushrooms.

Sides:

Breakfast Potatoes

: Roasted or skillet-fried potatoes with onions and bell peppers.
Bacon & Sausage: Offer both meaty options and vegetarian/vegan alternatives.
Green Salad: A light salad with mixed greens, cherry tomatoes, cucumber, and a vinaigrette dressing.
Assorted Breads & Pastries: Croissants, muffins, and bagels with a selection of jams, butter, and cream cheese.

Desserts:

Cinnamon Rolls: Soft and gooey cinnamon rolls drizzled with cream cheese frosting.
Fruit Tarts: Mini tarts filled with pastry cream and topped with fresh fruit slices.

Drinks:

Mimosas: Offer a classic orange mimosa and variations like cranberry or pineapple. Also, provide a non-alcoholic version using sparkling water.
Coffee & Tea: A variety of brews with options for milk, cream, sugar, and sweeteners. Don't forget herbal teas.
Smoothies: Blended with fruits, spinach, and yogurt or almond milk. Offer flavors like berry-banana or mango-pineapple.
Interactive Food Stations and Activities
One of the best ways to engage guests and make the baby shower memorable is by incorporating interactive food stations and activities.
Not only do they add a fun element to the event, but they also allow guests to customize their food and participate in the culinary experience.
DIY Food Stations
Taco Bar: Set up a station with various fillings, tortillas, and toppings.
Guests can build their own tacos to their liking.
I have found this to be a popular and well-loved menu option at every baby shower I have hosted.
Salad Station: Offer a variety of greens, veggies, proteins, and dressings.
It's a healthy option that caters to almost everyone. Salads always make my list for brunch baby shower foods and summer baby shower foods.
Dessert Sundae Bar: Who can resist creating their own sundae?
Provide different ice cream flavors, toppings, and sauces.
Tip: DIY stations not only cater to diverse tastes but also serve as a conversation starter among guests.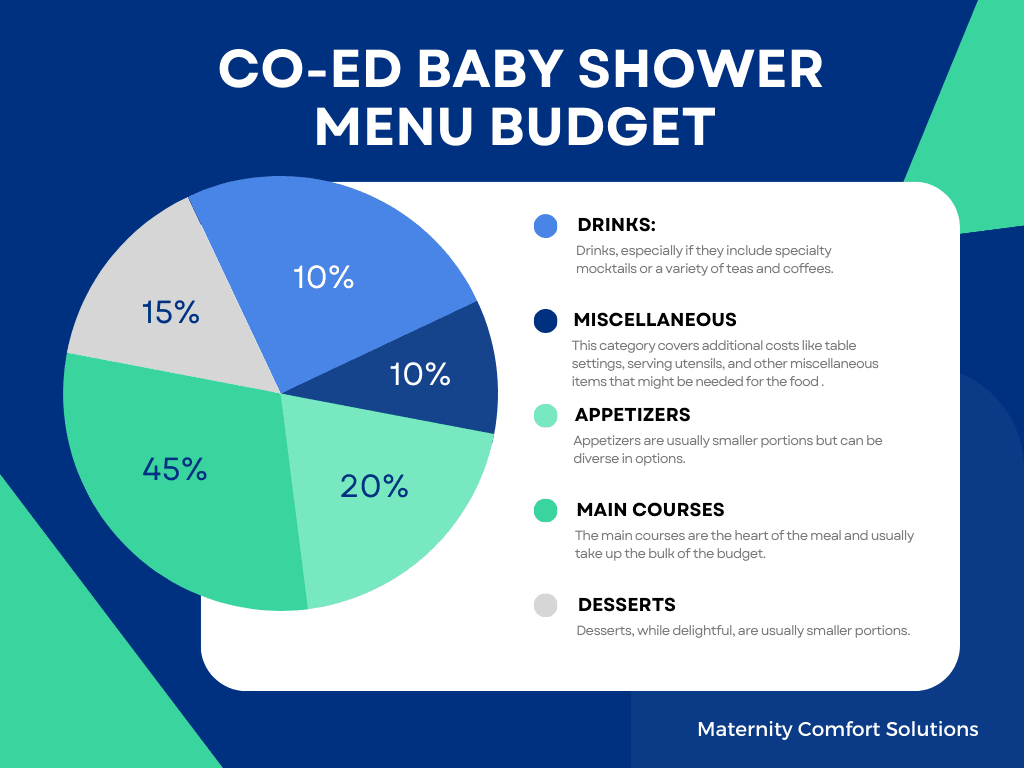 Interactive Food-Related Activities
Cookie Decorating: Set up a table with plain cookies, icing, and decorations.
It's fun, and guests can take their creations home.
Blindfolded Taste Test: A fun game where guests taste different baby foods and guess the flavor.
It's harder than it sounds!
Mix Your Mocktail: Provide various juices, soda, fruits, and herbs.
Guests can mix and match to create their unique non-alcoholic drink.
Grilling Options
If your venue allows for it, grilling can be a fantastic addition to your baby shower.
It adds a rustic touch and provides a fresh, hot food option.
Grilling is a great option for an outdoor baby showerin the summer!
Skewers: Offer a variety of meat, veggies, and even fruit skewers.
Burgers & Hotdogs: A classic choice. Don't forget vegetarian or vegan alternatives!
This a budget-friendly baby shower foodoption for a co-ed baby shower!
Grilled Veggies: Corn on the cob, bell peppers, and asparagus are just a few options that taste divine when grilled.
"There's something about food cooked over an open flame. It's rustic, flavorful, and brings people together."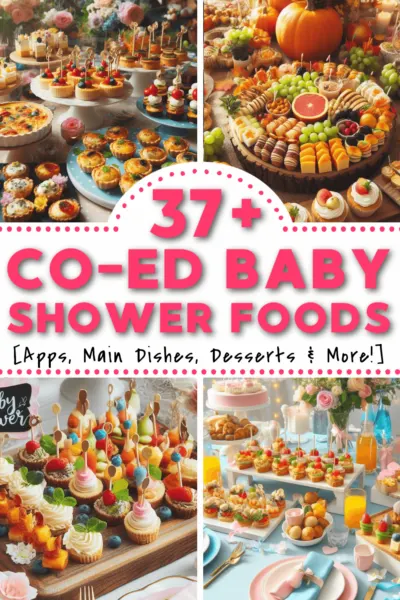 Preparation, Serving, and Presentation
The success of any event, especially one as special as a co-ed baby shower, often lies in the details.
How you prepare, serve, and present your dishes can make a significant difference in the overall experience.
Let's delve into some tips and tricks to ensure your baby shower is both smooth-running and visually appealing.
Advance Preparation Tips
Plan Ahead: Create a detailed menu and shopping list well in advance.
This gives you ample time to scout for deals and ensure you don't forget any ingredients.
Pre-Cook When Possible: Dishes like casseroles or certain desserts can be made a day ahead.
This reduces last-minute stress.
Make use of your slow cooker!
If you are looking for cheap baby shower ideas, using a slow cooker to make some of the food yourself if one of our top suggestions!
Delegate: Don't hesitate to ask for help.
Whether it's chopping veggies or setting up the serving area, many hands make light work.
Tip: Use sticky notes to label serving dishes with what you plan to put in them. It's a simple way to stay organized on the day of the event.
Serving Styles (Buffet, Sit-down, etc.)
Buffet Style: This is a relaxed and informal way of serving, allowing guests to choose what they want.
Ensure you have clear labels for each dish, especially if there are dietary restrictions.
Sit-Down: A more formal option where guests are served at their seats.
A sit-down meal requires more coordination but offers a refined experience.
Family Style: Large dishes are placed on each table, and guests serve themselves.
It's a communal way of dining that promotes conversation.
Quote: "The way you serve your dishes sets the tone for the event. Choose a style that aligns with the vibe you want to create." – [Event Planner]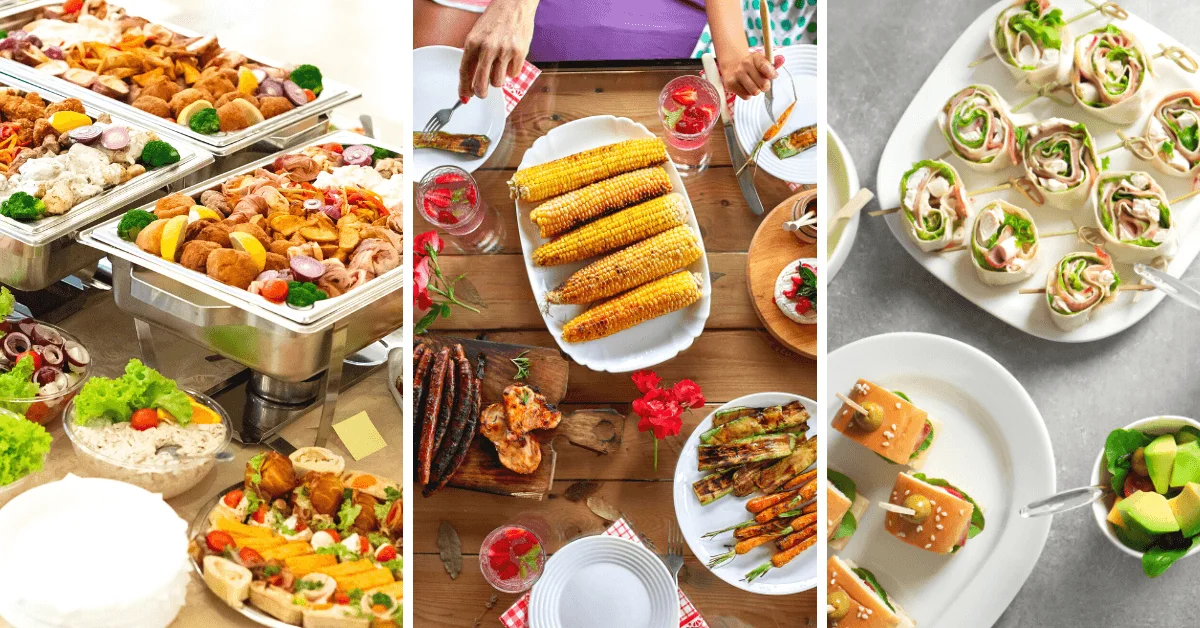 Food Presentation and Decoration
Use Color: A colorful plate is not only visually appealing but also indicates a variety of nutrients.
Think of contrasting colors to make dishes pop.
Garnish: Something as simple as a sprig of parsley or a lemon wedge can elevate the look of a dish.
Themed Serveware: Consider using baby-themed plates, napkins, or even serving dishes.
It adds a fun touch to the event.
Tip: Remember, we eat with our eyes first. Taking a few extra minutes to focus on presentation can turn a simple dish into a showstopper.
When to Consider Professional Catering
Large Guest List: If you're expecting a significant number of guests, preparing food for everyone can become overwhelming. A caterer can handle the volume with ease.
Special Dietary Needs: Caterers are experienced in creating menus that cater to various dietary restrictions, ensuring everyone has something delicious to eat.
Limited Time: If you're pressed for time or would rather focus on other aspects of the shower, hiring a caterer can free up your schedule.
Desire for Specialty Dishes: If you have a specific cuisine or dish in mind that's beyond your cooking skills, a professional can bring your vision to life.
Tip: Remember, hiring a caterer doesn't mean you can't have personal touches. Discuss your ideas and preferences with them to ensure the menu feels uniquely yours.
Choosing a Budget-Friendly Caterer
Research and Reviews: Start by researching local caterers and reading reviews. Past clients' experiences can give you a good idea of what to expect.
Ask for Quotes: Once you've shortlisted a few caterers, ask for quotes. This will help you compare prices and services.
Discuss Your Budget: Be upfront about your budget. Many caterers can customize their offerings to fit your financial constraints.
Taste Test: Before finalizing, see if the caterer offers a tasting session. It ensures the food meets your expectations.
Check for Hidden Costs: Ensure the quote includes all costs, from service charges to equipment rentals. It helps avoid any last-minute surprises.
Quote: "A good caterer can elevate your event, providing delicious food that complements the occasion, all while respecting your budget."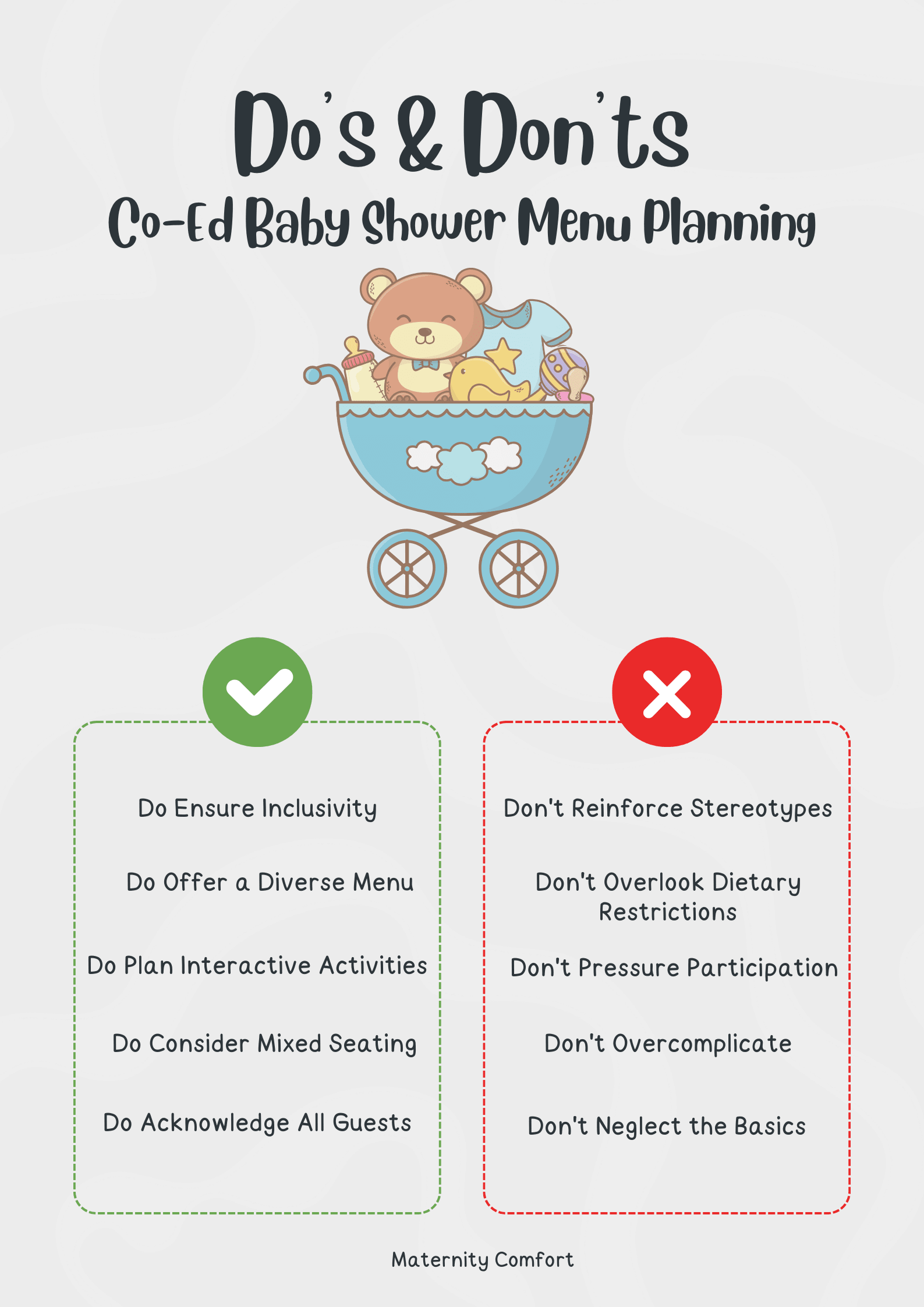 Do's and Don'ts for Co-Ed Baby Shower Menu Planning
Do's:
Do Ensure Inclusivity: Choose a theme and activities that appeal to all guests, regardless of gender.
Do Offer a Diverse Menu: Cater to different tastes, dietary preferences, and cultural backgrounds.
Do Plan Interactive Activities: Opt for games and activities that both men and women will enjoy.
Do Consider Mixed Seating: Promote mingling and interaction by avoiding gender-separated seating.
Do Acknowledge All Guests: Send personalized thank you notes after the event to appreciate their presence and gifts.
Don'ts:
Don't Reinforce Stereotypes: Avoid activities or themes that lean into traditional gender roles.
Don't Overlook Dietary Restrictions: Always account for guests with specific dietary needs or allergies.
Don't Pressure Participation: Allow guests to choose their level of involvement in games or activities.
Don't Overcomplicate: Keep decorations and themes simple and welcoming for everyone.
Don't Neglect the Basics: Ensure adequate seating, restroom facilities, and a comfortable environment for all guests.
FAQ
Who pays for a coed baby shower?
Great question!
Navigating the financial etiquette of coed baby showers can be a bit tricky, right?
Historically, a close female friend or relative typically hosted and covered the costs of a baby shower.
This tradition aimed to avoid any perception of the family directly seeking gifts.
But, as with many traditions, things evolve.
Today, it's quite common for a group of friends, family members, or even the expectant parents themselves to share the expenses.
For coed baby showers, where both men and women join the celebration, this modern approach holds true.
Whether it's a friend, a collective group, or the parents-to-be, the key is ensuring no single person feels overly burdened financially.
If you're considering contributing or taking on a significant portion of the costs, it's essential to be transparent with your guests. Clear communication can prevent any potential misunderstandings.
Ultimately, the focus of any baby shower is the upcoming arrival of the baby.
While it's essential to consider the financial aspects, they shouldn't overshadow the primary purpose of the event.
Remember, there's no strict playbook here.
Choose the approach that best aligns with your situation and comfort level.
What do you do at a coed baby shower?
A coed baby shower, often referred to as a "Jack and Jill" baby shower, includes both male and female guests.
It's a modern twist on the traditional baby shower, making it a more inclusive celebration for everyone close to the expectant parents.
Here's what typically happens at a coed baby shower:
Welcoming and Mingling: Just like any party, guests arrive, greet each other, and engage in casual conversations. It's a great time for friends and family from different circles to get to know one another.
Food and Drinks: Depending on the time of day, there might be a full meal, snacks, or finger foods. Drink options often include both alcoholic and non-alcoholic beverages, with mocktails being a popular choice.
Games and Activities: Coed baby showers often feature fun games that both men and women can enjoy. Some popular options include "Baby Bottle Chug," "Guess the Baby Food," and "Diaper Changing Race."
Gift Opening: The expectant parents open gifts together. It's a chance for guests to see the cute baby items and for the parents-to-be to express their gratitude.
Advice and Well Wishes: Guests might be invited to write down advice or well wishes for the parents or baby. These can be read aloud or saved for the parents to read later.
Decor and Themes: The decor for a coed baby shower might be less traditionally "babyish" and more neutral or themed around the parents' interests.
Favors: As a thank you, guests might receive small favors when they leave. These can range from little treats to baby-themed trinkets.
Photo Opportunities: Setting up a photo booth or designating a photo area is common. It's a chance for guests to take pictures with the expectant parents and create lasting memories.
Celebrating Together: Above all, a coed baby shower is about celebrating the upcoming arrival of the baby with all the important people in the parents' lives, regardless of gender.
We've covered a lot, but the beauty of event planning is that it's a collaborative effort.
We'd love to hear from you!
If you've hosted a co-ed baby shower or have unique menu ideas, share them with our community.
Your experiences and insights can inspire and help others in their planning journey.