Updated May 8, 2023
A few years ago I attended a fall baby shower that was the best shower I had ever been to.
I have hosted many baby showers and looked at so many fall baby shower themes. But the shower I attended in mid-fall 2018 blew me away.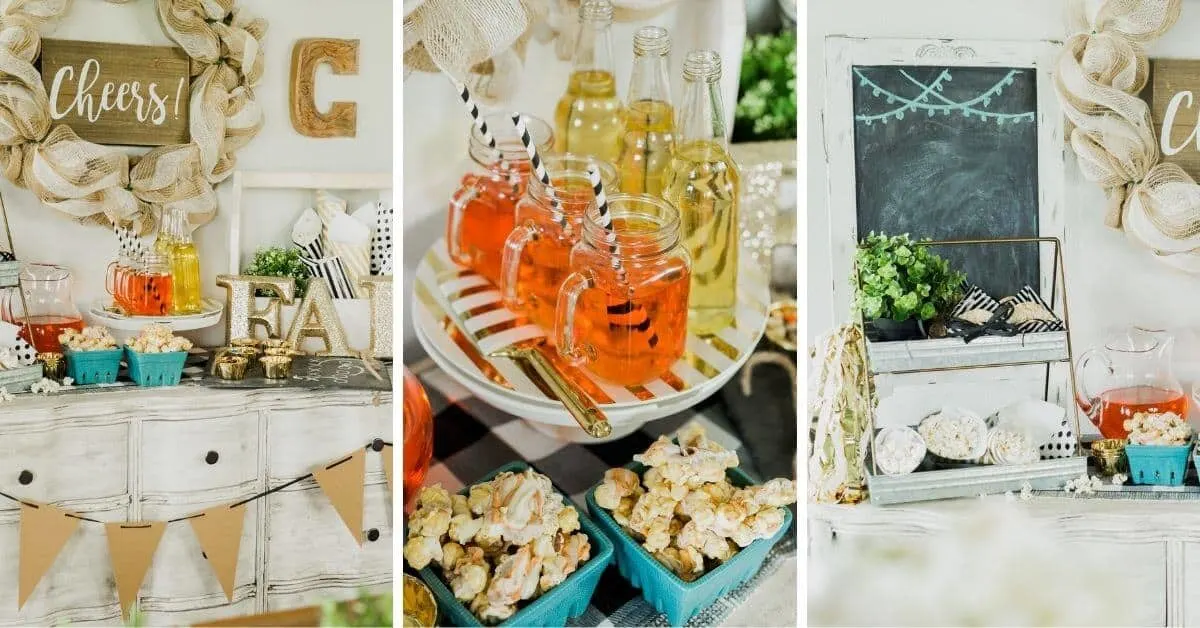 It was held on a Friday evening in October in a private dining room at a restaurant.
I live in New England so the autumn colors swing!
The trees surrounding the restaurant offered their own beautiful natural fall decor
The restaurant had a cozy warm feeling, and the fall decor throughout the dining warm was gorgeous.
Each table was decorated with adorable sweater pumpkins and fall flowers.
They offered fall-themed cocktails, mocktails, and autumn specialty beers.
Appetizers were light and fall-themed.
The highlight of this autumn baby shower was a full turkey dinner with all the traditional Thanksgiving dinner sides and desserts!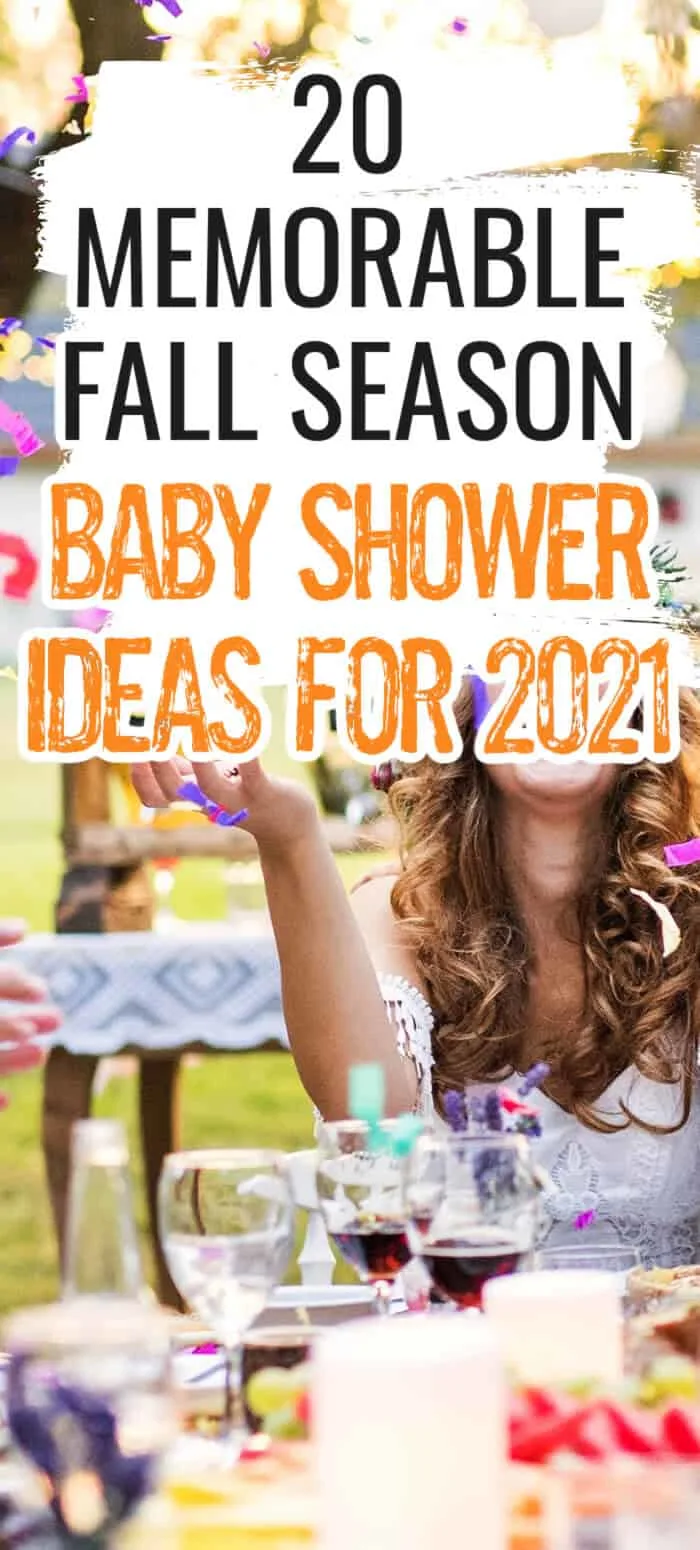 It was delicious and one of the most enjoyable baby showers I ever attended.
The hostess nailed this fall baby shower theme perfectly.
The mom-to-be was due right around the Thanksgiving holiday in late November and was fretting she might not be able to celebrate the holiday with family and friends.
The mom-to-be and her guests raved about this baby shower for months after.
The parent's new little bundle of joy arrived in the very early AM of Thanksgiving morning via emergency c-section.
Mom had to spend the whole Thanksgiving holiday weekend in the hospital recovering.
The baby shower host and bestie hit a home run with this baby shower.
You can too!
If you are planning a fall baby shower we have collected the best fall baby shower ideas for you to choose from.
Hosting a baby shower can be overwhelming. The best thing to do is talk to the mom-to-be and ask what her dream fall baby shower would look like?
You can work with her ideas and hopefully, these fall baby shower themes will provide you with some inspiration.
20 Best Fall Baby Shower Themes
1. The little honey baby shower theme
Honey is sweet but cannot beat the sweetness of a newborn's arrival.
This baby shower theme is gender-neutral, pretty, and beautiful.
Bee's wax lip balm or a honey sugar scrub will make buzz-worthy baby shower favors
This theme is made of yellow, black, honey gold, and white balloons with pops of flowers that are easy to build into the celebration table.
The honeycomb cake crosspieces out the darling decoration for the king or queen be to come.
This theme symbolizes the great sweetness that comes along with the new little king or queen.
You can make this on your own using balloons of different colors and adding a honeycomb cake.
2. Little Pumpkin Baby Shower
This theme fits perfectly for a Fall Baby Shower
Little Pumpkin baby showers are stylish and can be easy to DIY.
This pumpkin theme idea works great for a baby shower held in your home.
If it is early in the fall season, you can pair them with sunflowers, and use white pumpkins.
If it is later in the fall and getting much cooler you can dress the little pumpkins up in easy-to-make sweaters.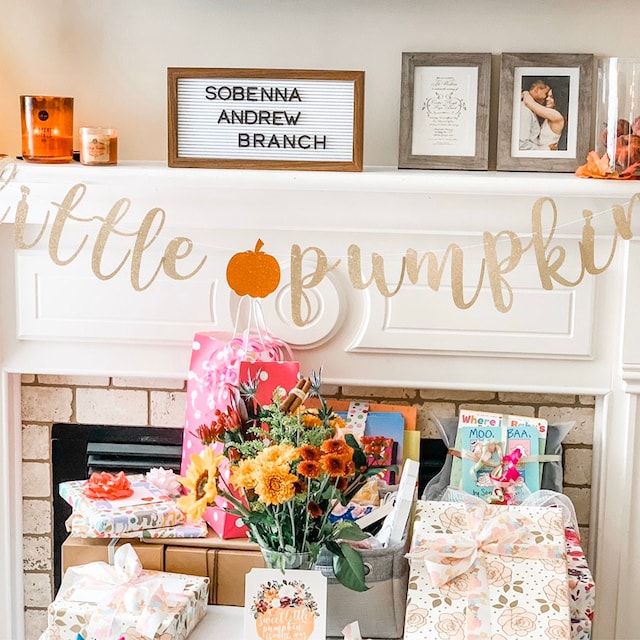 Little pumpkin banner baby shower banner fall baby gold
from: Etsy
Little pumpkin shower food ideas include mini-pumpkin pies, mini-pecan pies, and a cheddar and chive pumpkin cheese ball.
Easy baby shower favors for this theme include these adorable white pumpkin candles we found on Etsy!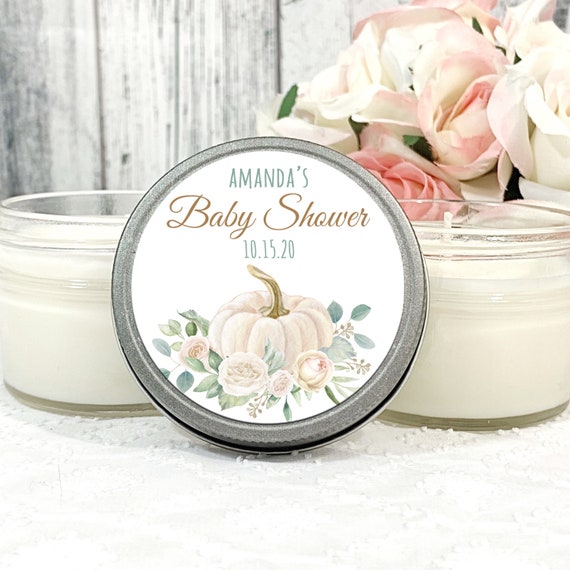 Set of 6 White Pumpkin Baby Shower Favors white Pumpkin Baby
Little Pumpkin Fall Baby Shower can be decorated with the deep oranges, reds, and greens of fall or with lighter pastels and white pumpkins.
You can easily spray paint the pumpkins any color you choose.
This is a popular fall baby shower idea that the mom-to-be and guests and love.
3. Farm Girl Baby Shower
This is shower celebrates the happiness and joy of having a baby girl.
Fall on the farm is magical and it's easy to recreate a rustic farm look with barnboard grey signs. buffalo plaid, sunflowers, pumpkins, and gourds.
You can use organic milk bottles as vases on the tables and fill them with fresh fall flowers.
Farmgirl baby shower foods could include fresh veggie cups with dip, butternut squash, pomegranate, and goat cheese crostini, and barnyard-themed cupcakes.
A lovely baby shower favor for this theme is goat's milk soap.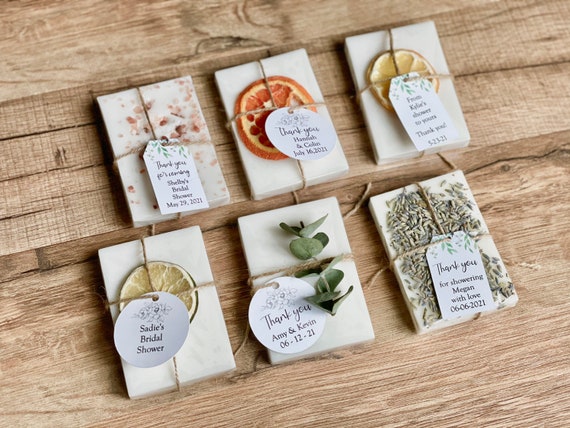 Goat Milk Soap Shower Favors Set of 12
4. Barnyard Baby Shower
Barnyard Baby shower is a great gender-neutral fall shower idea.
It is similar to the farmgirl baby shower.
I would include more barnyard animals in the decor, hay bales, pumpkins, tractors, fall leaves, and baskets of fresh apples.
This is a great shower to have outside on a warm fall afternoon.
You can make it feel more realistic by breaking one of the hay bales open and let some of the hay scatter on the ground.
Foods for a barnyard baby shower could include Appetizers like spicy deviled eggs, chicken skewers, chicken bites with various dips.
This makes a cute idea for a morning brunch shower.
You could have scrambled eggs, bacon, various muffins, fresh berries.
All of those foods go fantastic with a barnyard baby shower.
5. Rustic Baby Shower
This is a theme that can be a great choice when you want a fall feel but not a farm or barnyard theme.
It is a classic idea, and you can design it by using goldish, brownish, and pastel blues colors for the decor.
Think about using burlap, mason jars, and wooden signs to give the shower a rustic vibe.
Rustic baby shower food ideas include finger foods, cheese and meat boards, and a simple cake or cupcakes.
Rustic Baby shower favor idea is these gorgeous natural soaps: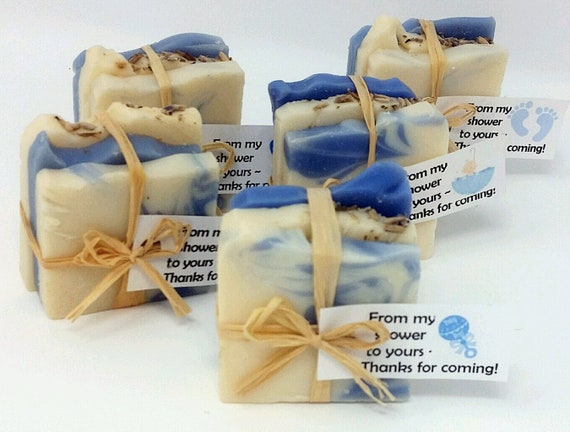 NATURAL SOAP Shower Favors for Baby Boy Blue White Color
6. S'mores Baby Shower
This is a theme that will keep your guests feeling happy and excited.
S'more takes the party into another world of fun, sweetness, and deliciousness.
S'more Baby Shower theme is really sweet for a mom-to-be who loves camping.
You can use several colors such as orange, red, yellow, and brown to make it feel like a fall campfire site. Lanterns, leaves, and greenery can adorn the tables.
I would offer the types of food you might have on a camping trip or BBQ.
You could go all out on the BBQ vibes for this fall shower. You could serve bbq ribs, brisket, shredded BBQ chicken, macaroni and cheese, baked potatoes, and have a s'mores bar for dessert.
This feels like a great theme to hold as a baby shower lunch on a Saturday or Sunday in September or October.
If you had room, you could hold it in a tent in your backyard and decorate the outside with camping-related decor and signs.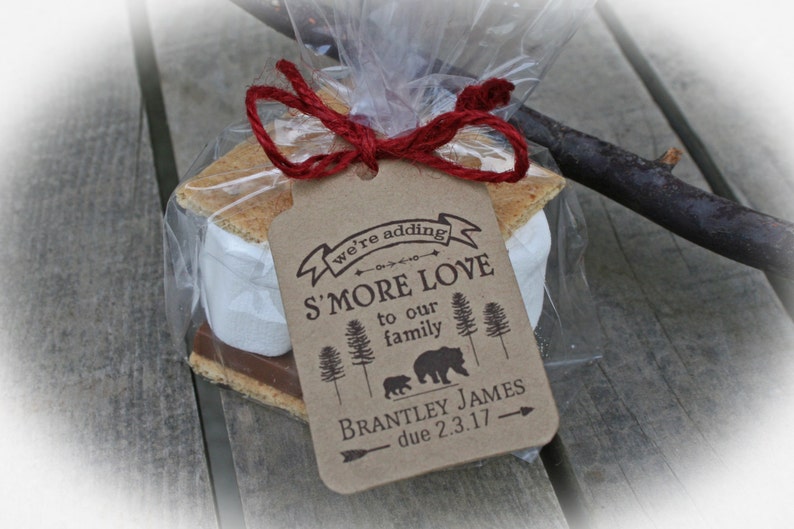 Lumberjack Baby Shower S'More Love Favor Kits-3 TAG COLORS
7. Little Fox Baby Shower
When added laser-cut wooden pieces and pinecone-designed candles, it becomes a theme that takes the fall baby shower party to a classic world.
Indeed, it's an idea full of finishing touches creating a charming feeling for the fall baby shower festival.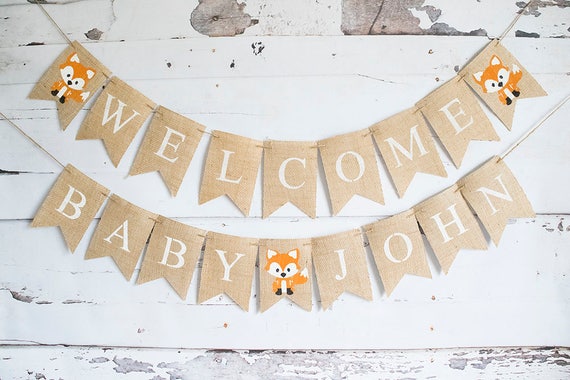 Woodland Baby Shower Decor Fox Baby Shower Banner Welcome
More decoration can be done using red, brown, and pink hues for fox features.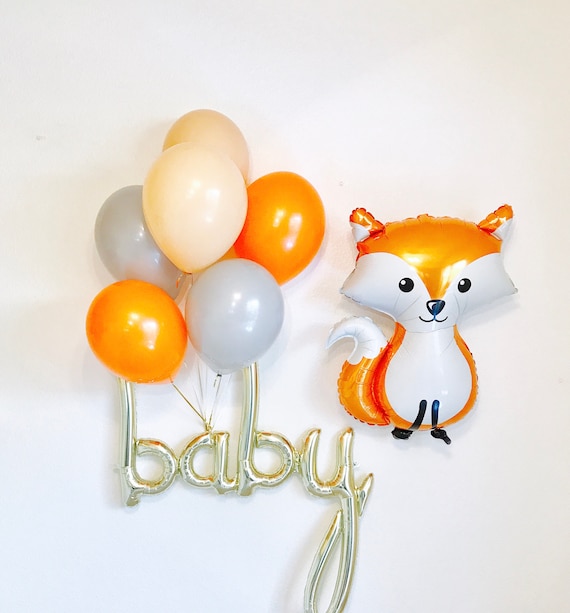 Woodland Baby Shower Woodland Fox Balloon Modern Fox Fox
Fun fox baby shower foods include this adorable fox cake!
This is one foxy cake! Decorated with piped dots, stars, rosettes and drop flowers, this Fabulous Fox Cake is perfect for budding cake decorators. Using Rosanna Pansino's tip decorating sets, this fox cake is great for birthdays, showers or just to satisfy a sweet tooth!
Fox baby shower favors idea: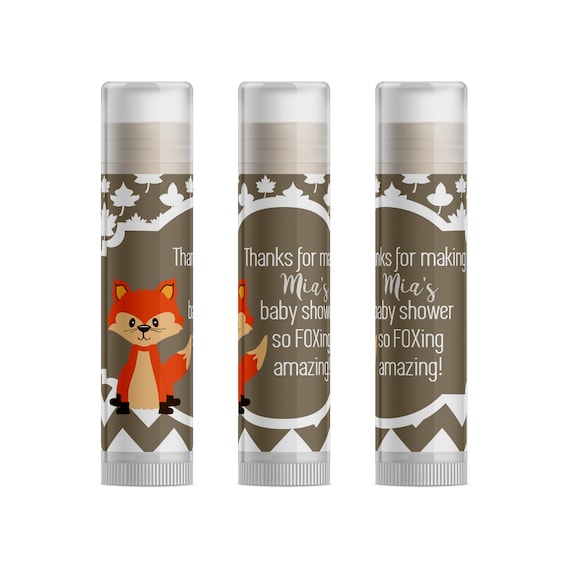 Fox Baby Shower Party Favors Woodland Animals Baby Shower
8. Baby Animals Baby Shower
We love this fall baby shower idea! Baby animals all celebrating the arrival of a newborn baby are too cute.
Baby Animals Baby Shower decor can include stuffed baby animals, greenery, baby animal banners, and balloons.
This is another cute afternoon fall baby shower idea.
You can hold it after lunchtime, so you can just serve appetizers, desserts, and drinks.
We found these adorable baby animal soaps on Etsy, they would be perfect for a baby animal baby shower!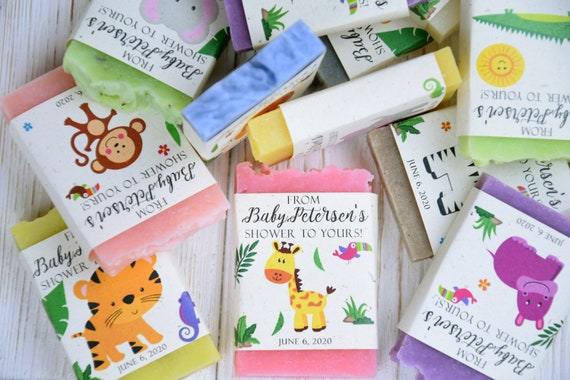 Safari baby shower soap favors Custom jungle soap favors
9. Fall harvest baby shower theme
We love the idea of a fall harvest-themed baby shower.
This is the perfect theme to do a farm-to-table luncheon at a local restaurant or to have one catered.
Appetizers could include fresh vegetables with hummus or ranch dip, cups of honey-butter skillet corn, or Mexican street corn. I would include this amazing Pumpkin, Ricotta ArugulamBruschetta from Kendall-Jackson.
One of the things I like most about this fall baby shower idea is that you have so much latitude on the decor.
You can decorate with cornstalks, pumpkins, fall leaves, and flowers.
10. Tailgating-football theme co-ed shower
This is an excellent co-ed fall shower idea. You can decorate with football decor and provide foods like munchies, dips, wings, small sandwiches, and cupcakes for dessert,
A football fall baby shower theme is simple to make you only need a few things, and the whole event will be fantastic.
You can even hold the shower before the "game" is on and then everyone can watch it together.
Send your guests home with treats bags filled with football-shaped cookies or brownies.
11. The Little Prince Baby Shower
Just like the little prince children's book that will never be outdated, Le petit prince baby shower theme will all never be out of style.
It is timeless and classy.
Simple white, gold, or blue decor with a royalty cake topper will make the baby shower pop!
Just as its name suggests, this baby shower theme and idea are perfect for boys.
You can make this theme at home as you prepare for your prince charming without going broke.
12. Rainbow baby shower theme
Gifting a baby with a rainbow is a unique way of celebrating life's biggest blessing; the newborn yet to come—a rainbow baby shower theme bursts with joy and color.
You can play up this cute baby shower theme with rainbow treats, a rainbow cake, and balloons.
This classic rainbow theme is gender-neutral. Though you could swap out the traditional rainbow for either all pinks or all blues too.
If you want to add a more autumn-like feel to this shower you could use rainbows in browns, blues, and orange.
When choosing foods a good idea is to include lots of fresh vegetables and fruits so your guests can "eat the rainbow".
13. Early Fall Sunflower Baby Shower
With bright colors, the sunflower theme will brighten the baby shower of any mom-to-be. It's a versatile theme that works well for both boys and girls.
Decor ideas: You can hold the sunflower baby shower outdoor in your backyard garden and decorate it with yellows and green embellishments.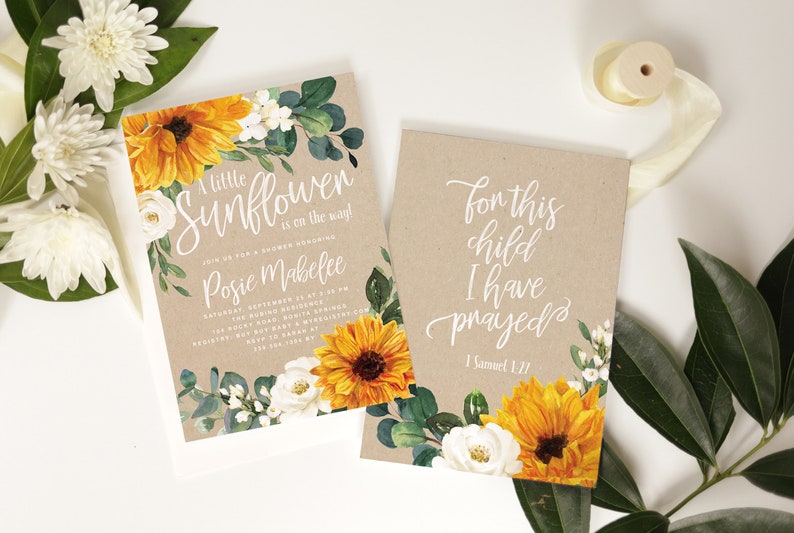 Sunflower Baby Shower Invitation Fall Baby Shower Invitation
from: Etsy
Small fish bowls and wine glasses filled with floating flowers will work perfectly in making an excellent centerpiece for a sunflower baby shower.
Catch your guest's attention with a sunflower backdrop and a huge sunflower on the top or along the backdrop corner.
Food ideas: The baby shower cake should also highlight the sunflower theme.
You can also have some cupcakes decorated with sunflower cake toppers.
Finger sandwiches, fresh salads with sunflower seeds, and delicious desserts like sunflower truffles
Game ideas: A fun to play on a sunflower baby shower includes "Don't say, baby".
Baby shower favors: Packed sunflower seeds can make excellent party favor to thank and appreciate your guests.
Then you can write them a personalized note on the pack.
14. Great gatsby baby shower theme
The best way to embrace the roaring twenties is by using this Gatsby baby shower theme.
This awesome theme features gorgeous gold and white desserts, a gilded phone, and a tuxedo-inspired cake.
Adding some floating candles, a 1920s animated backdrop, and many shines magically transform into a craft-deco dream.
The most astonishing details here are the bee's knees which bring back the 1920s vibes.
Old school games are the best ones that go well with this theme.
Generally, this theme is gender-neutral, but its antiquity and colors are ideal for Fall baby boy showers.
15. Rustic bears baby shower
Rustic bear baby showers are perfect for a baby shower in the fall.
The soft color hues so welcoming and superbly sweet.
You can find many bears to decorate with at thrift stores and on eBay.
You could hold this shower later in the fall and do a cozy brunch complete with a hot cocoa bar.
16. Woodland baby shower
This is a beautiful setup that goes well with the fall baby shower themes.
To DIY, just add some for springs or dust some fake snow to give it a wintery or fall feel. There are several woodland Baby shower ideas to choose from.
Ensure you choose unique improvised decors to enhance the woodland idea you choose. Serve your guests yummy late fall foods made with pumpkins and cranberries.
The theme is gender-neutral, but you can modify them with matching ideas to make them fit the gender you desire.
If you want a girlish look, you can add some DIY baby girl-colored pinecone garland.
17. Halloween Fall Baby Shower Themes
A Halloween baby shower is so much fun! It doesn't have to be spooky at all.
Keep in mind that the mom-to-be may have superstitious beliefs surrounding Halloween, so discuss this theme choice before the baby shower.
Play some haunting music and serve guests treats such as champagne, sparkling grape juice, a cheese platter, and tuxedo-inspired chocolate-covered strawberries.
This theme can be decorated in black and orange or black, and gray. and white.
Keep it fun and silly. Skip any gore or death-related decor.
18. Noah's ark baby shower theme
This baby shower theme was initially meant for twins. However, even moms expecting singletons can adopt this theme.
Goldfish, gummy bears, and similar animal theme snacks will make this shower even more adorable.
19. The fall in the desert succulent baby shower theme
Succulent is the way to go when it comes to dessert decor. But don't forget that these can also make an excellent baby shower theme.
Succulents do not just look adorable on windowsills; they are a unique gender-neutral baby shower theme.
Fall in the desert is when many of our local cacti flower and bloom. After a brutally hot summer, the cooler temps and rain in the fall make the dessert come to life.
You could choose deep greens, with lighter pinks, blues, and purples for decor.
You can serve succulent designed cupcakes or cake.
The perfect baby shower favor for this theme is a small succulent for each guest to take home.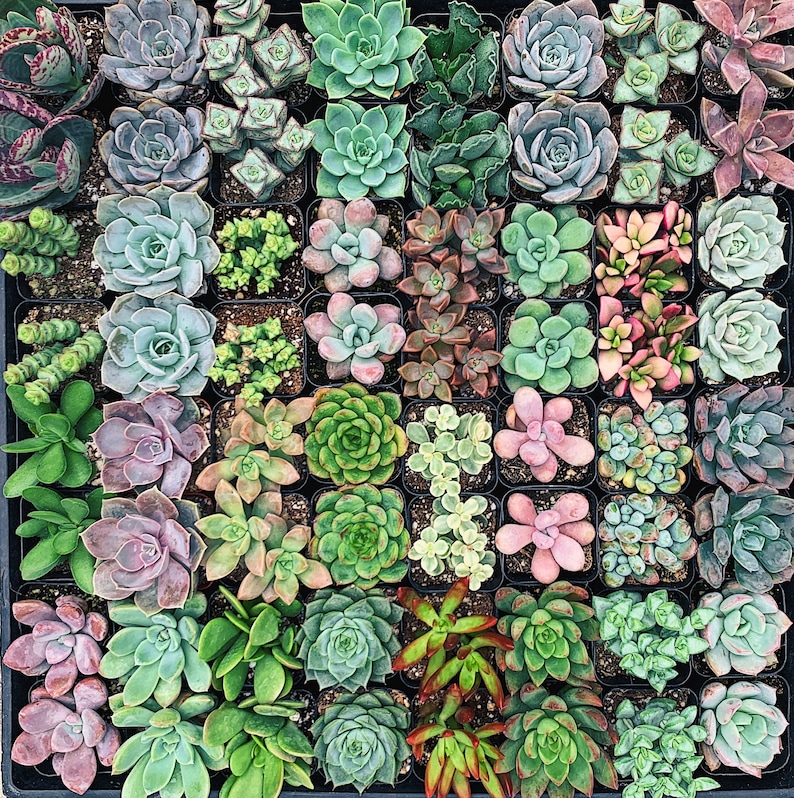 Assorted 2 Mini Succulents 12-Pack 24-Pack 36-Pack
20. Autumn tea with the mom-to-be shower theme
Tea partying is not only suitable for little girls.
Mothers can also have fun. When it comes to baby shower themes, this one never disappoints.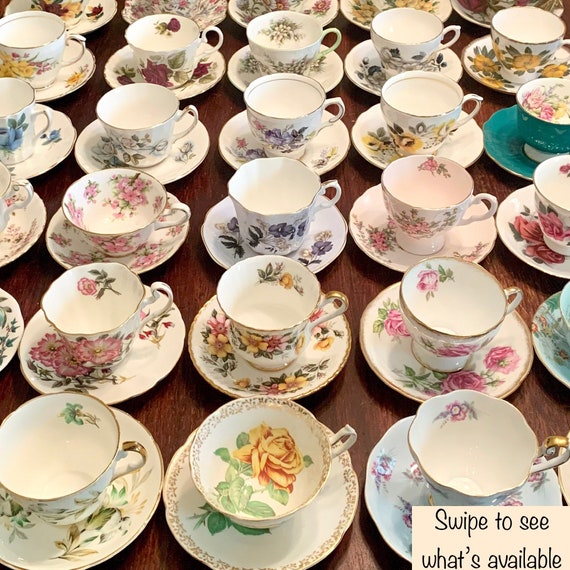 Mismatched Tea Cups / Vintage Tea Cups and Saucers / Mix
Skip the large luncheon and avoid peak hours for halls and restaurants by throwing tea in the afternoon.
Serve tea and coffee with tea biscuits, scones, or cookies.
Skip the fancy centerpieces by replacing them with unique teapots on pretty serving trays.
These can be purchased at antique or second-hand stores lending a shabby chic look to the décor.
Accent each tray with a small bud vase and one of the expectant mother's favorite flowers.
We hope you found these fall baby shower themes inspiring!
You can't go wrong with choosing one of these ideas as the theme for an autumn baby shower.
All of these ideas can be done on a budget, if money is tight consider the Baby Q baby shower idea. BBQs can be budget-friendly and are always a good time!