Updated May 9, 2023
Outdoor baby showers are a great way to celebrate the upcoming arrival of a new bundle of joy.
They provide a unique opportunity to enjoy the beautiful outdoors while surrounded by friends and family.
With so many different themes and ideas to choose from, planning an outdoor baby shower can be both exciting and overwhelming.
Whether you're looking for a whimsical and playful theme or a more elegant and sophisticated atmosphere, these are the best 21 outdoor baby shower ideas.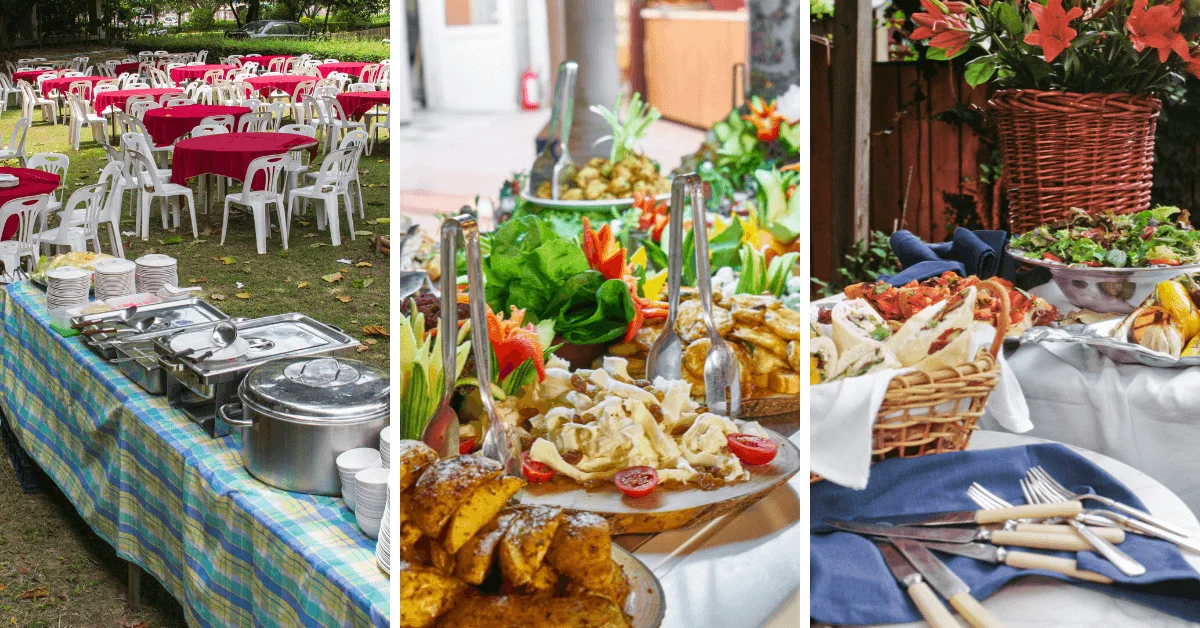 From rustic and bohemian to modern and chic, the possibilities are endless.
Some popular outdoor baby shower themes include "Twinkle, Twinkle Little Star," "Over the Moon," and "Boho Moon Child."
These themes are perfect for an evening baby shower under the stars.
21 Brilliant Outdoor Baby Shower Ideas
Choosing a theme for an outdoor baby shower can help tie everything together and create a cohesive look and feel.
Here are some popular outdoor baby shower ideas:
1. Enchanted Forest:
Transform your outdoor space into a magical woodland with whimsical decorations like fairy lights, moss-covered tables, and plenty of greenery.
Serve forest-inspired treats like mushroom-shaped cookies and woodland animal cupcakes.
Play a "Name that animal baby" game and give guests tree seedlings as favors.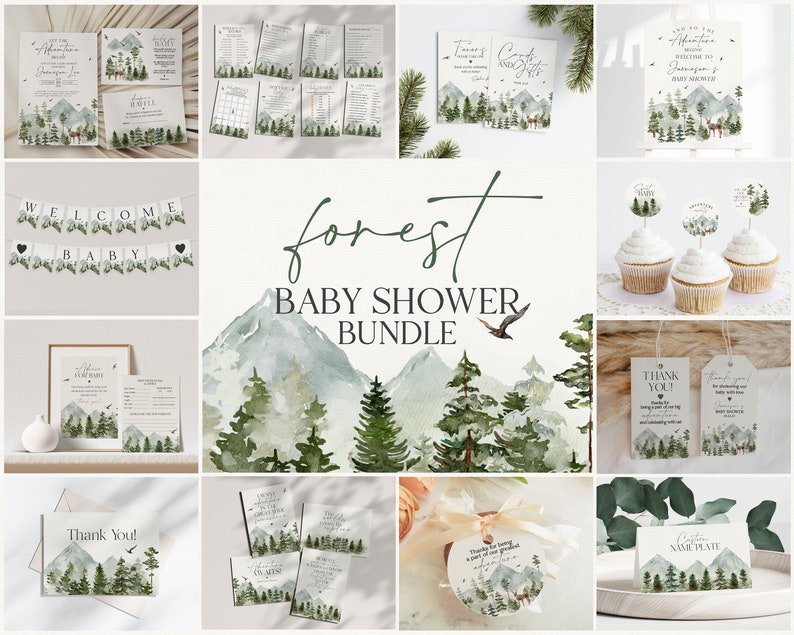 Forest Woodland Baby Shower Bundle Boy Baby Shower Invitation
from: Etsy
2. Beach Bum Baby:
Celebrate with a beach-themed party featuring beach balls, seashells, and sandcastles.
Offer tropical fruit skewers, seafood, and beach-themed cupcakes.
Play a beach towel relay game and give out mini sunscreen bottles or beach pails as favors.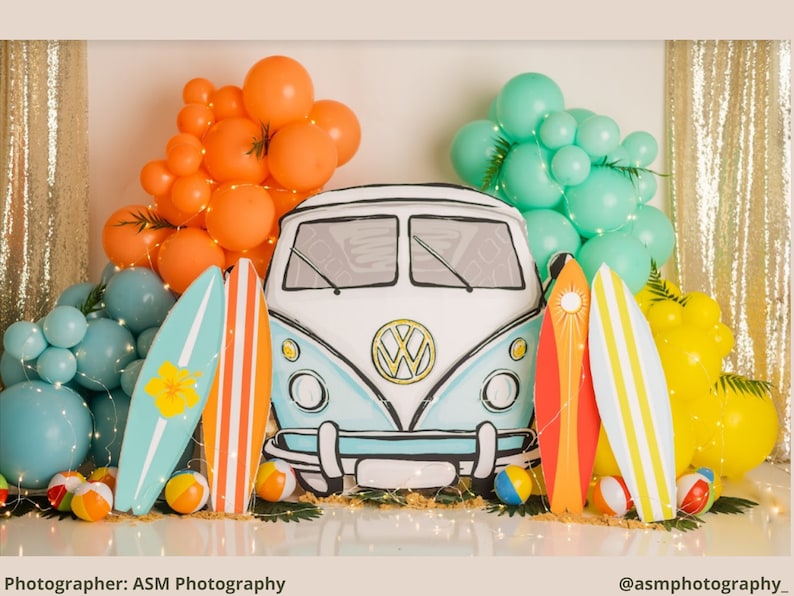 Surf Shack Balloon Garland Kit / Baby on Board Shower the Big
from: Etsy
3. Boho Baby:
Create a bohemian atmosphere with colorful textiles, dream catchers, and flower crowns.
Serve a mix of Mediterranean and Middle Eastern dishes, along with a DIY trail mix bar.
Play "Boho Bingo" and gift guests with scented candles or potted succulents.
Neutral colors like beige, cream, and brown work well, but you can also add pops of color with jewel tones.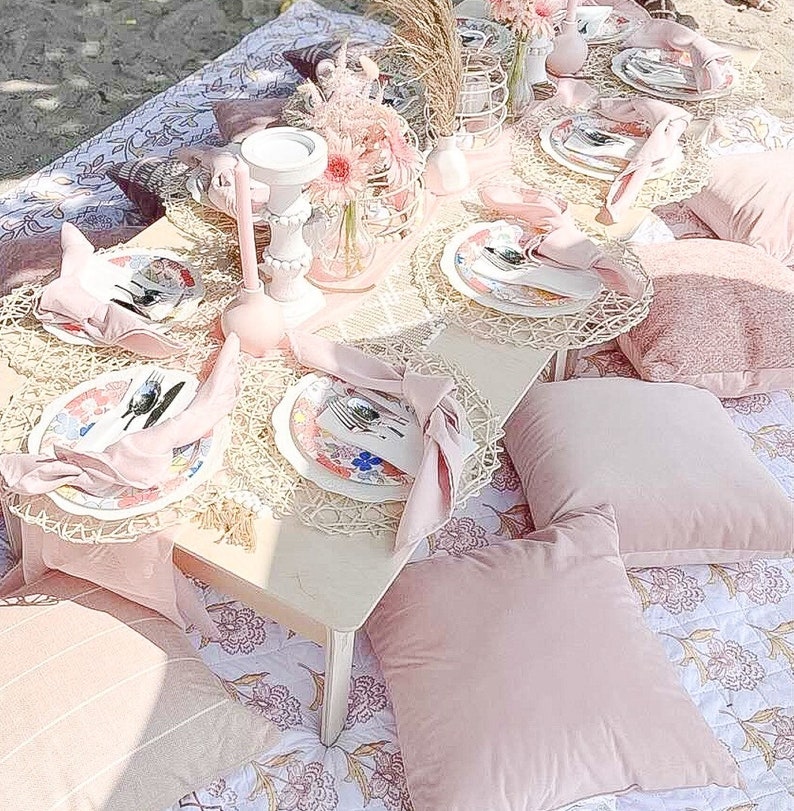 Leslie-low Picnic Table Foldable Picnic Table Kids Picnic
from: Etsy
4. Up, Up, and Away:
Design a hot air balloon-themed event with pastel colors, cloud-shaped balloons, and vintage maps.
Offer finger sandwiches, fruit kabobs, and cloud-shaped sugar cookies.
Play "Don't Say Baby" with clothespins and give guests hot air balloon ornaments as favors.
5. Baby-Q:
Host a casual barbecue with gingham tablecloths, burlap accents, and mason jars.
Serve classic BBQ fares, like burgers, hotdogs, and potato salad.
Play "Diaper Raffle" and give guests personalized BBQ sauce bottles as favors.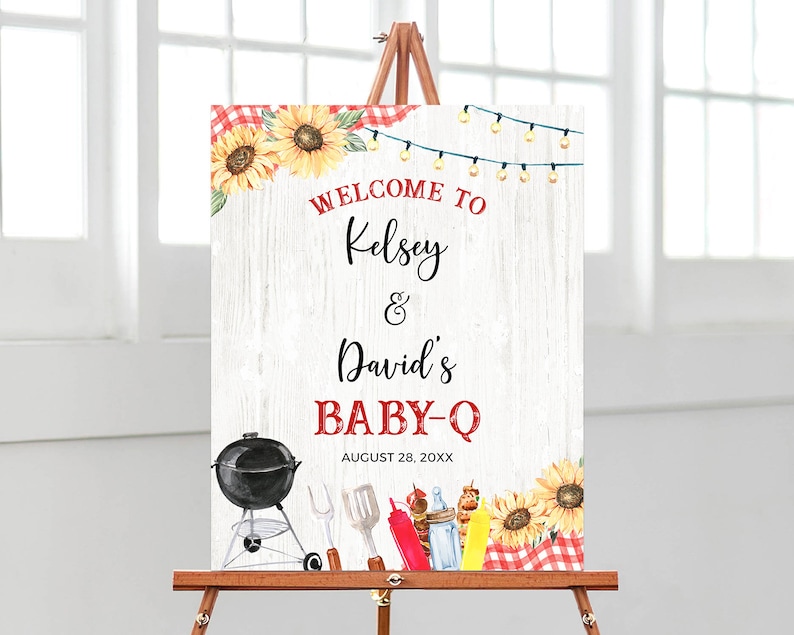 Editable BBQ Baby Shower Welcome Sign Backyard Baby Shower
from: Etsy
6. Little Explorer:
Decorate with maps, globes, and adventure-themed accents.
Offer travel-inspired dishes, like mini sliders and international finger foods.
Play "Name that Country's Baby" and give guests luggage tags as favors.
7. Spring Garden:
Embrace the beauty of spring with floral decorations, pastel colors, and fresh blooms.
Serve tea sandwiches, fruit tarts, and a floral cake.
Play "Baby Flower Pot Match" and gift guests with seed packets or mini potted plants.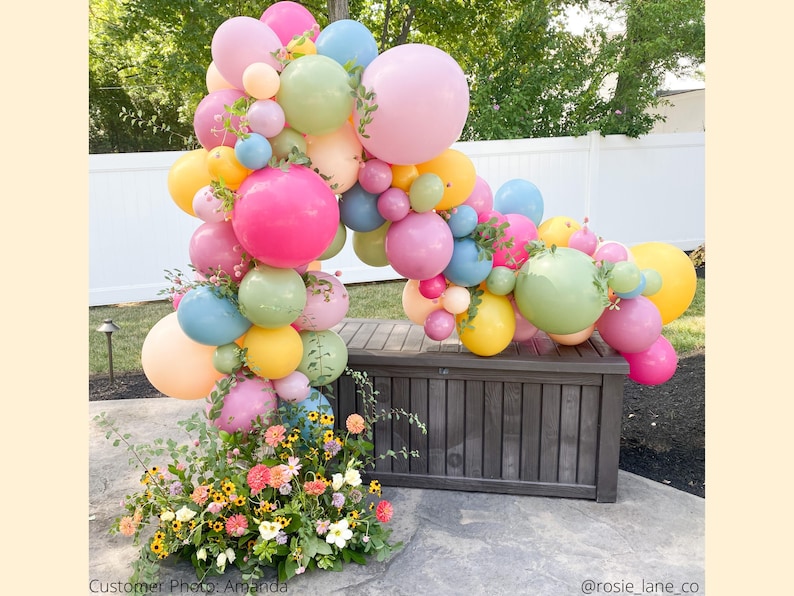 Spring Meadows Balloon Garland Kit / Floral Balloon Arch Boho
from: Etsy
8. Nautical Baby:
Set sail with a nautical theme, using anchors, sailboats, and navy blue and white stripes.
Serve seafood, fruit salad, and nautical-themed cookies.
Play "Sailor's Knot Tying" race and give guests anchor bottle openers as favors.
9. Fiesta Baby:
Thow a vibrant fiesta with colorful banners, sombreros, and cacti.
Serve Mexican cuisine, like tacos and churros.
Play "Cactus Ring Toss" and give guests mini hot sauce bottles as favors.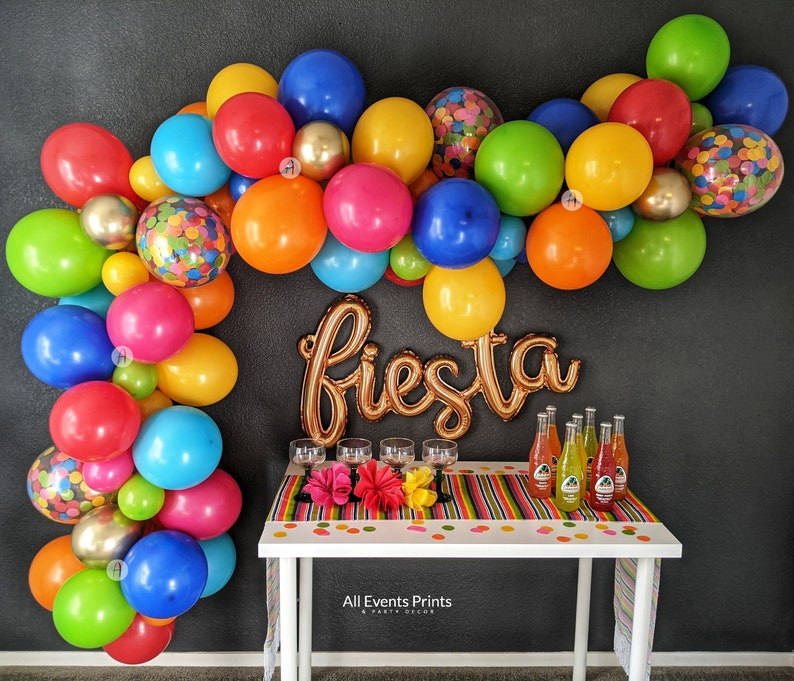 Fiesta Balloon Garland DIY Kit 5 Ft 25 Ft Includes
from: Etsy
10. Vintage Circus:
Recreate a vintage circus atmosphere with striped tents, popcorn machines, and carnival games.
Serve circus snacks, like popcorn, cotton candy, and hot dogs.
Play "Feed the Baby" bean bag toss and gift guests with popcorn bags as favors.
11. Farmyard Friends:
Turn your space into a farmyard with animal decorations, hay bales, and gingham prints.
Serve farm-fresh food, like veggie platters and mini pies.
Play "Old MacDonald's Animal Charades" and give guests farm animal cookie cutters as favors.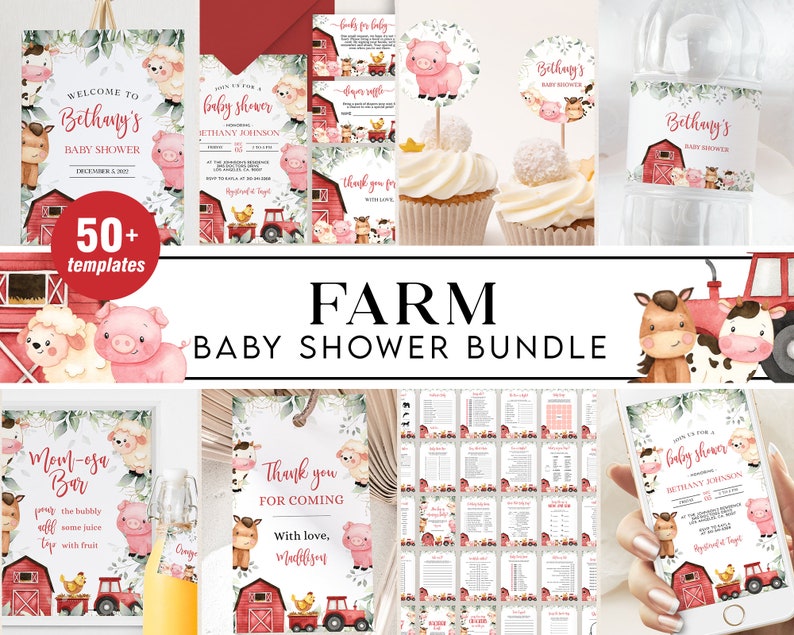 Farm Baby Shower Bundle EDITABLE Barn Animals Baby Shower
from: Etsy
12. Bee-utiful Baby:
Create a buzzing atmosphere with bee and honeycomb decorations.
Serve honey-inspired treats, like honey-drizzled fruit and honeycomb cookies.
Play "Baby Bee Trivia" and gift guests with jars of honey or beeswax candles.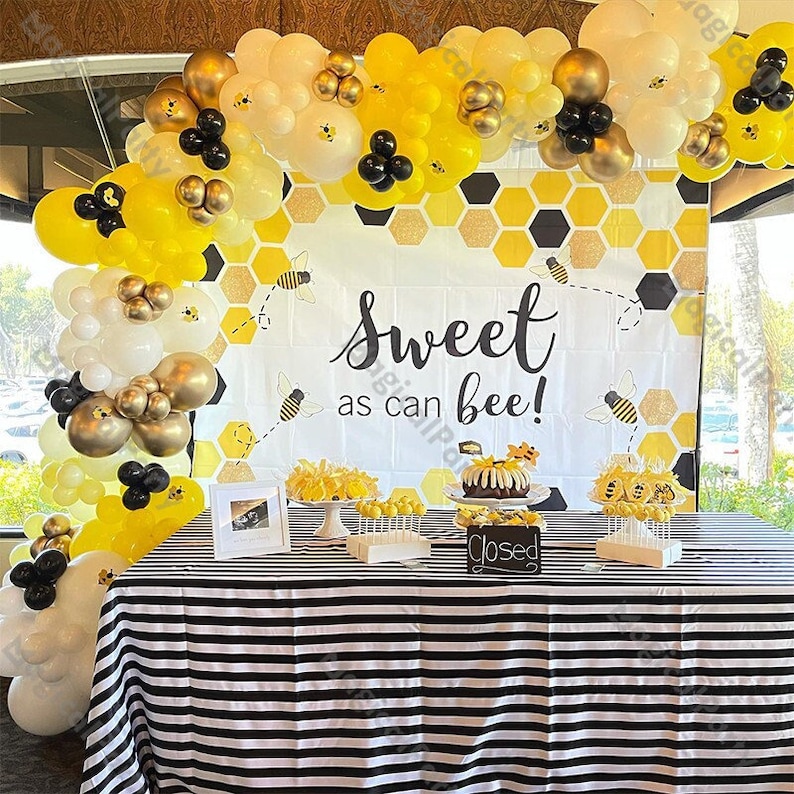 200pcs Honey Bee Balloon Garland Kit Yellow Black White Gold
from: Etsy
13. Little Sunshine:
Brighten up the day with a sunshine-themed event using yellow decorations and sunflower accents.
Serve fresh lemonade, sunshine-themed snacks, and a sun-shaped cake.
Play "Pin the Pacifier on the Sun" and give guests sunflower seeds or personalized sunglasses as favors.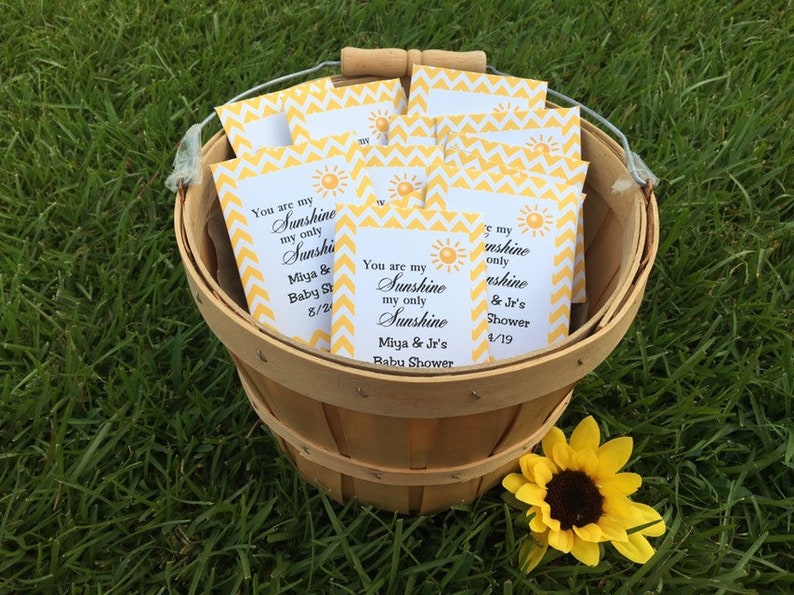 You Are My Sunshine Baby Baby Shower Favors Baby Shower Seed
from: Etsy
14. Storybook Baby:
Bring classic children's books to life with a literary-themed party.
Use quotes, illustrations, and book-inspired decorations.
Serve dishes inspired by popular stories, like Peter Rabbit's veggie platter and Winnie the Pooh's honey treats.
Play "Name that Storybook" and give guests a personalized bookmark as a favor.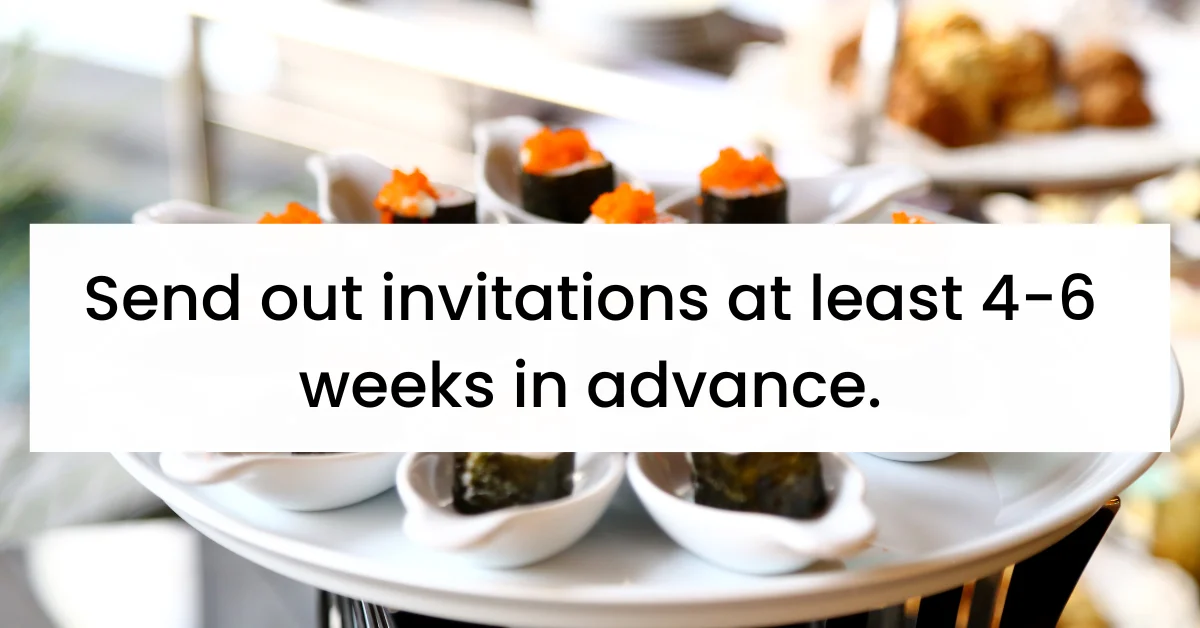 15. Rain Shower:
Embrace the baby "shower" theme with raindrop decorations, umbrellas, and rain boots filled with flowers.
Serve comfort food, like warm soup and grilled cheese sandwiches.
This is a great spring baby shower theme.
And it is usually still cool enough that your guests will appreciate the warm food.
Play the "Umbrella Memory Game" and give guests personalized umbrellas or raindrop-shaped soaps as favors.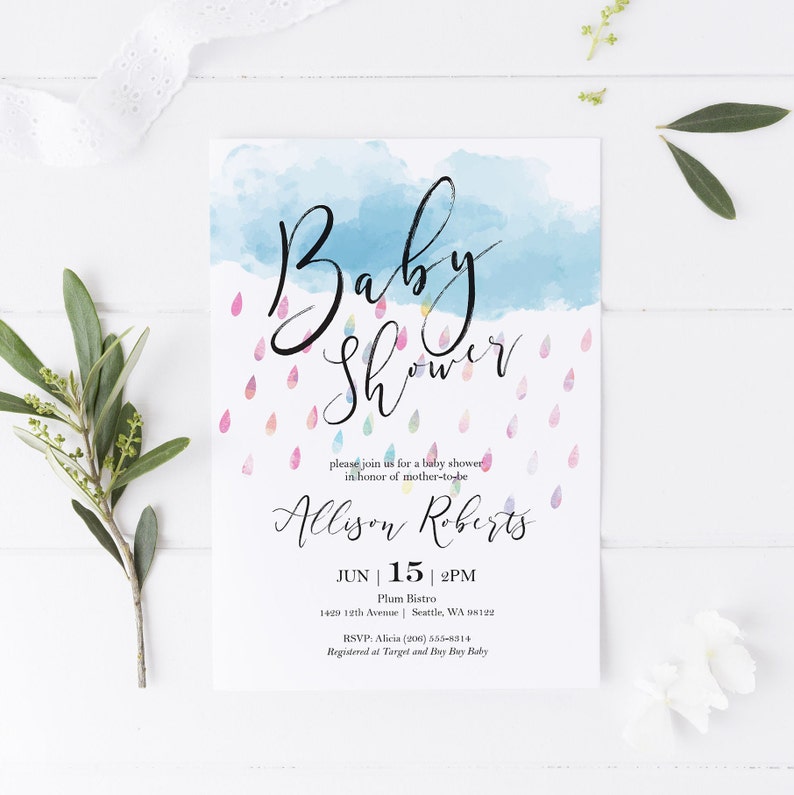 Rain Shower Baby Shower Invitation Editable Shower Invite
from: Etsy
16. Picnic in the Park:
Host a relaxed picnic with checkered blankets, wicker baskets, and sun hats.
Serve classic picnic food, like sandwiches, fruit, and cheese.
Play "Baby Food Tasting" and give guests picnic-themed favors, like reusable sandwich bags or picnic blankets.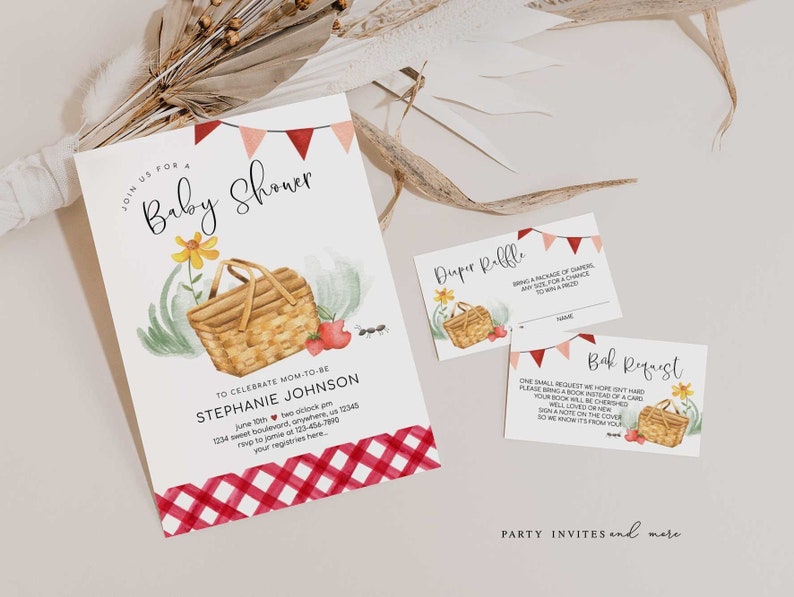 Picnic Baby Shower Invitation Set Editable Picnic in the Park
from: Etsy
17. Rustic Charm:
Create a cozy atmosphere with burlap, lace, and wooden accents.
Serve comfort food, like sliders, mac and cheese, and s'mores.
Play "Baby Word Scramble" and give guests mason jar mugs or wooden coasters as favors.
18. Superhero Baby:
Celebrate the little hero with a superhero-themed party.
Use comic book-inspired decorations, capes, and masks.
Serve heroic snacks, like superhero-themed cupcakes and "Power Punch" fruit punch. Play "Super Diaper Change Relay" and give guests mini superhero figurines as favors.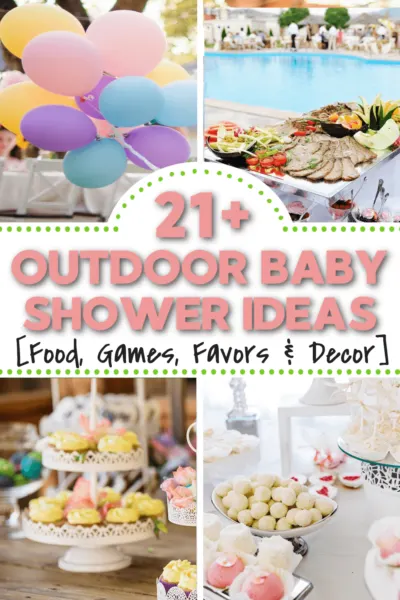 19. Tea Party:
Host an elegant outdoor tea party with floral china, lace tablecloths, and vintage teacups.
Serve finger sandwiches, scones, and a variety of teas. Play "Tea Bag Toss" and give guests personalized tea bags or vintage tea spoons as favors.
I love tea party baby showers!
They are SUPER budget-friendly.
Tea party baby showers are perfect if you are trying to throw a memorable baby shower on a little budget.
20. Twinkle, Twinkle, Little Star:
Create a starry night atmosphere with twinkling lights, star-shaped decorations, and navy blue and gold accents.
Serve star-shaped sandwiches, moon pies, and a galaxy-themed cake.
Play the "Star Light, Star Bright" memory game and gift guests with star-shaped cookie cutters or constellation map prints as favors.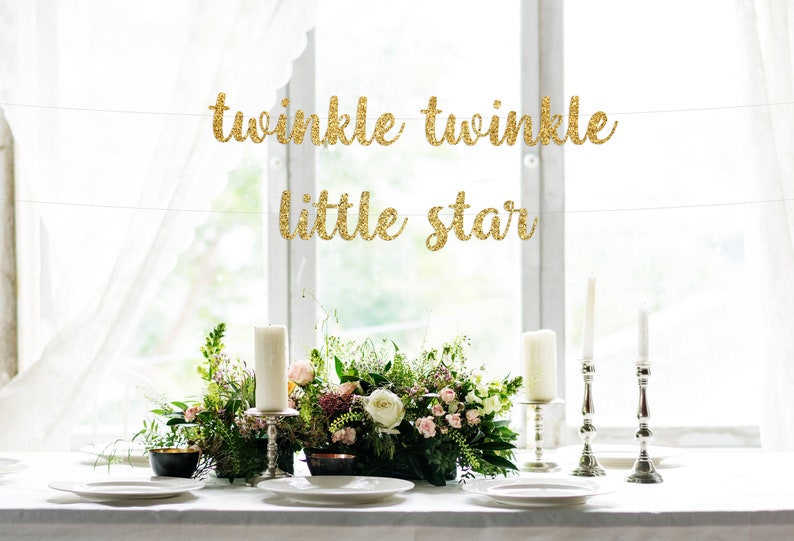 Twinkle Twinkle Banner Twinkle Twinkle Baby Shower Baby Shower
from: Etsy
21. Tropical:
A tropical theme is perfect for a summer baby shower.
Use bright colors like pink, orange, and yellow for decor. Incorporate palm leaves, pineapples, and flamingos for a fun touch.
You can also serve tropical drinks and snacks like coconut water and pineapple skewers.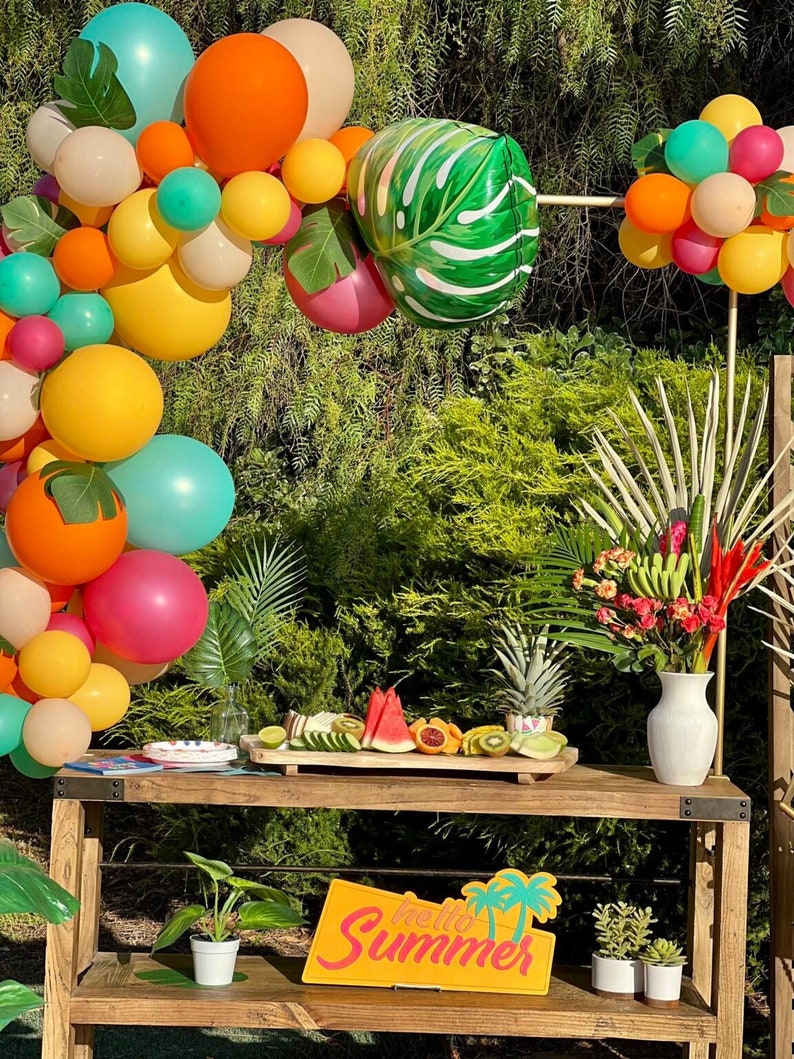 Tropical Ballon Garland the Big One Party Pool Party Balloons
from: Etsy
Outdoor baby shower venue:
Choosing the perfect location for an outdoor baby shower is crucial.
Whether it's a beach, park, or backyard, the location sets the tone for the entire event.
Here are some ideas for each location:
A beach baby shower is perfect for a summer or tropical-themed event.
The sound of the waves and the warm sand create a relaxing atmosphere for guests.
Consider setting up a tent or renting a cabana for shade.
Beach games and activities like volleyball, paddleboarding, or a sandcastle-building contest can keep guests entertained.
Don't forget to bring sunscreen and beach towels!
A park is a classic and versatile location for an outdoor baby shower.
It offers plenty of space for guests to mingle and play games.
Choose a park with a pavilion or rent a tent for shade.
Decorate with balloons, streamers, and tablecloths that match the baby shower theme.
Set up a dessert table with cupcakes, cookies, and other sweet treats.
Consider having a picnic-style lunch with sandwiches, salads, and fruit.
Make sue the park has clean and available restroom facilities for guests.
Bring a first aid kit in case of any sting. bites or scrapes.
You'll want to make sure that the location in the park is easily accessible for any guests that have mobility issues.
Don't forget the bug spray!
A backyard baby shower is a convenient and intimate option for hosts.
It allows for more control over the event and the ability to personalize the space.
Create a cozy seating area with outdoor furniture, pillows, and blankets.
Hang string lights or lanterns for ambiance.
Set up a DIY mimosa bar or lemonade station.
Play outdoor games like cornhole or Giant Jenga.
Set up tables with umbrellas for shade.
Have fans and outdoor heaters available for temperature control.
Don't forget to have a backup plan in case of bad weather.
Decorations
Decorations can make or break an outdoor baby shower.
They set the tone and create a festive atmosphere. Here are some ideas for decorations that will make your outdoor baby shower unforgettable.
Balloon Decorations
Balloons are a classic decoration for any party, and they can be used in creative ways for an outdoor baby shower.
Consider using balloons in the baby's gender colors or in pastel colors.
Balloon arches, garlands, and centerpieces are popular choices.
You can also use balloons to create a photo backdrop or to mark the entrance to the party.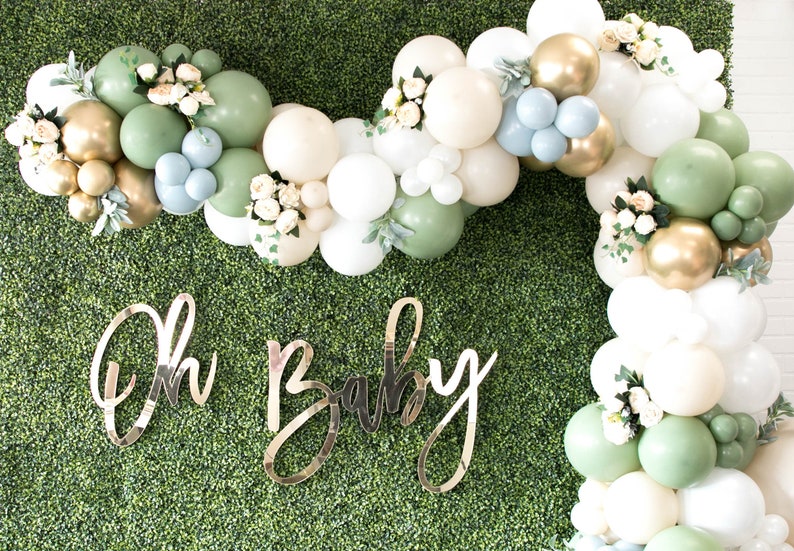 Eucalyptus Balloon Garland Kit Eucalyptus & White Sand
from: Etsy
Flower Arrangements
Flowers are a beautiful addition to any outdoor baby shower.
They add color, fragrance, and elegance. Consider using flowers in the baby's gender colors or in pastel colors.
You can use flower arrangements as centerpieces, or you can scatter them throughout the party area.
You can also use flowers to decorate the dessert table or the gift table.
Some popular flowers for baby showers include roses, lilies, and daisies.
Banners and Signs
Banners and signs are a great way to add a personal touch to your outdoor baby shower.
You can create a banner with the baby's name or initials, or you can use a banner with a baby shower message.
Signs can be used to mark the food and drink stations, the gift table, and the photo booth.
You can also use signs to direct guests to the party area or to the parking area.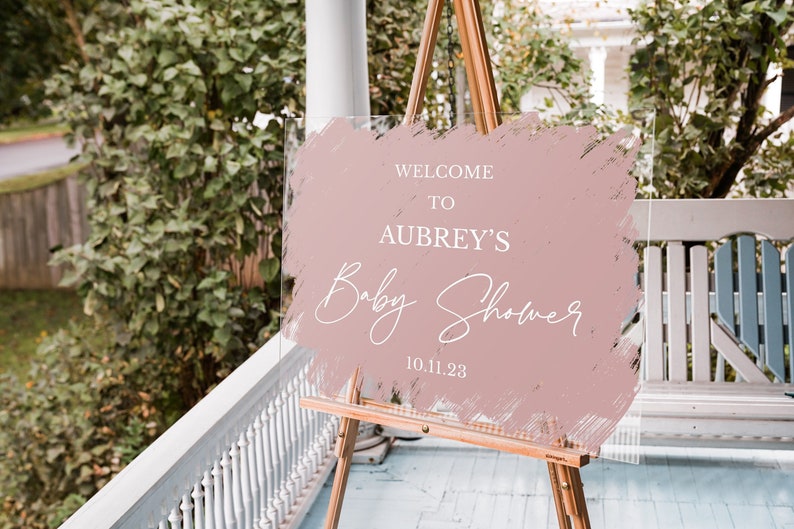 Baby Shower Welcome Sign Acrylic Baby Shower Sign Baby Girl
from: Etsy
Outdoor Baby Shower Food and Drinks:
Food and drinks are an essential part of any baby shower, and outdoor baby showers are no exception.
From refreshing mocktails to delicious cupcakes and cookies, there are many options to choose from that will satisfy your guests' taste buds.
Fruit Skewers
Fruit skewers are a healthy and colorful addition to any baby shower.
They make great baby shower finger food and are perfect to serve at an outdoor baby shower brunch.
They are easy to make and can be customized to fit the theme of the party.
Some popular fruits to use include strawberries, pineapples, grapes, and watermelon.
To add a touch of sweetness, you can drizzle them with honey or serve them with a side of yogurt dip.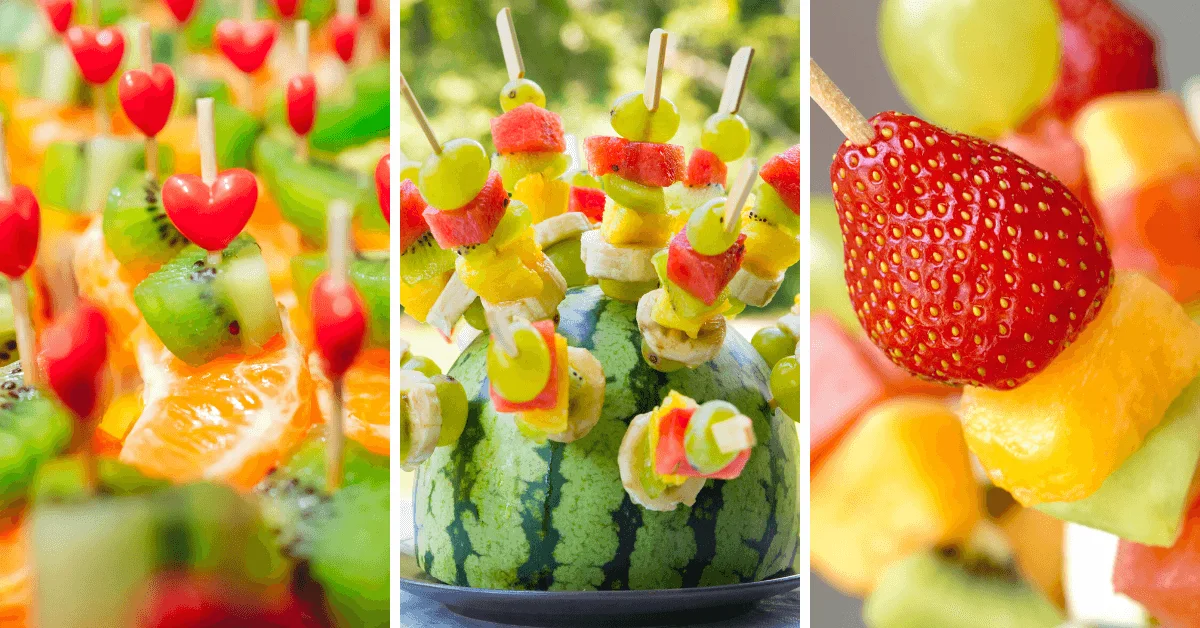 Mocktails
Mocktails are a fun and refreshing way to celebrate the mom-to-be without alcohol.
There are many delicious recipes to choose from, such as a sparkling lemonade, a virgin mojito, or a fruity punch.
You can also add a decorative touch by garnishing them with fresh fruit or colorful umbrellas.
Cupcakes and Cookies
Cupcakes and cookies are classic desserts that are perfect for any baby shower.
You can decorate them with frosting, sprinkles, or edible flowers to match the theme of the party.
Some popular flavors include vanilla, chocolate, and lemon.
You can also add a personal touch by creating custom designs, such as baby booties or pacifiers.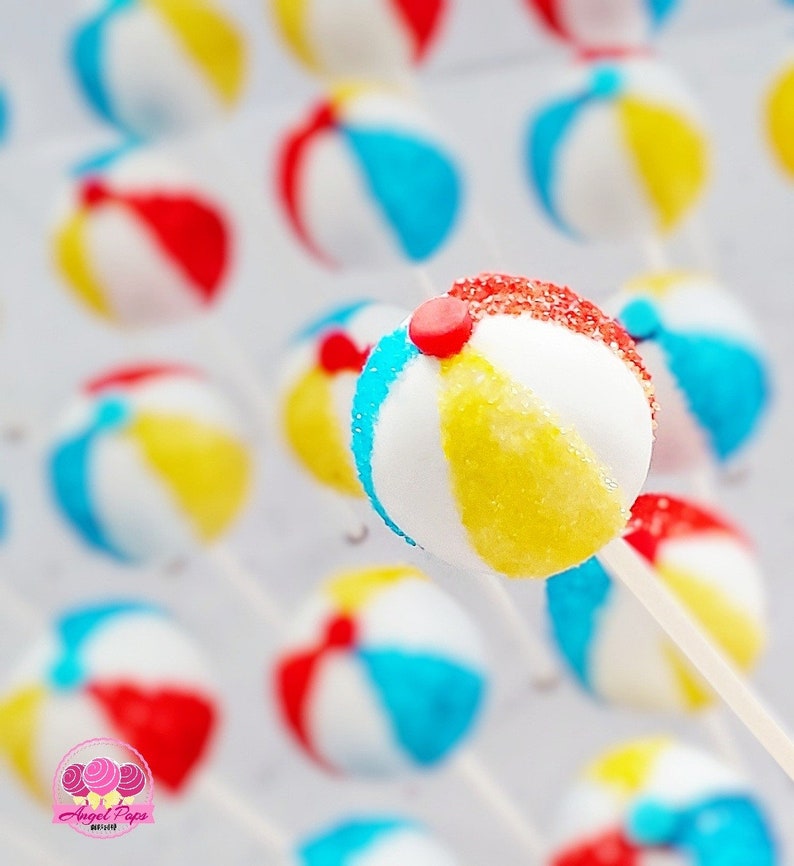 Beach Ball Cake Pops
from: Etsy
Outdoor baby shower games and activities
One of the best ways to make an outdoor baby shower fun and memorable is to plan some games and activities.
Here are some ideas:
Diaper Raffle
A diaper raffle is a great way to help the parents-to-be stock up on diapers while also giving guests a chance to win a prize.
To do a diaper raffle, simply include a note in the invitation asking guests to bring a pack of diapers to the shower.
For each pack of diapers they bring, they get one raffle ticket.
At the end of the shower, draw a ticket and award a prize to the winner.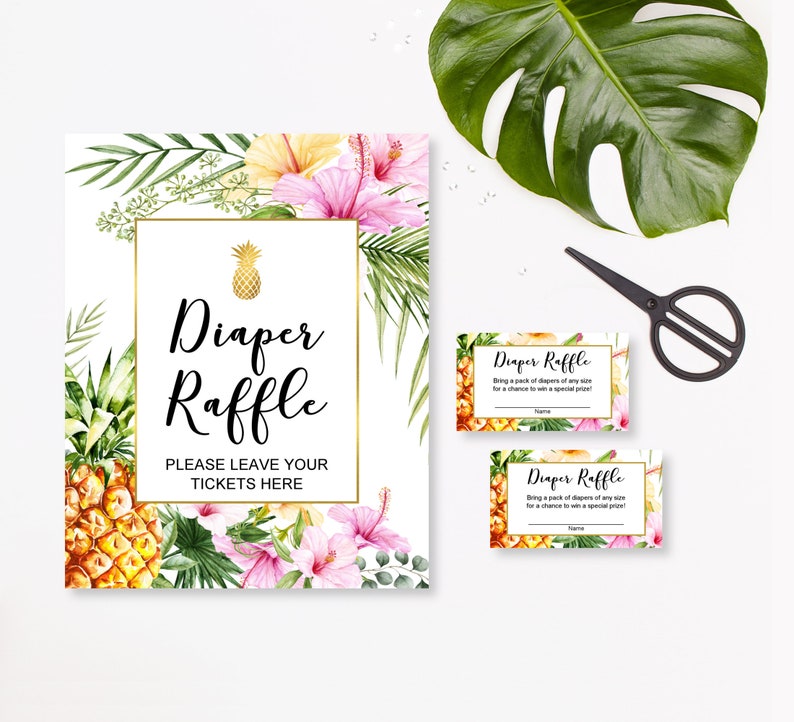 Diaper Raffle Cards and Sign Tropical Baby Shower Game
from: Etsy
Guess the Baby Food Flavor
This game is a classic baby shower game that is always a hit.
To play, buy several jars of baby food in different flavors and remove the labels.
Number each jar and have guests taste each one and write down their guesses for the flavor.
The person with the most correct guesses wins a prize.
Photo Booth
A photo booth is a fun way to capture memories from the baby shower.
Set up a backdrop and some props, and encourage guests to take photos throughout the party.
You can even create a hashtag for the shower and ask guests to share their photos on social media.
These are just a few ideas for games and activities to make your outdoor baby shower fun and memorable.
Get creative and have fun!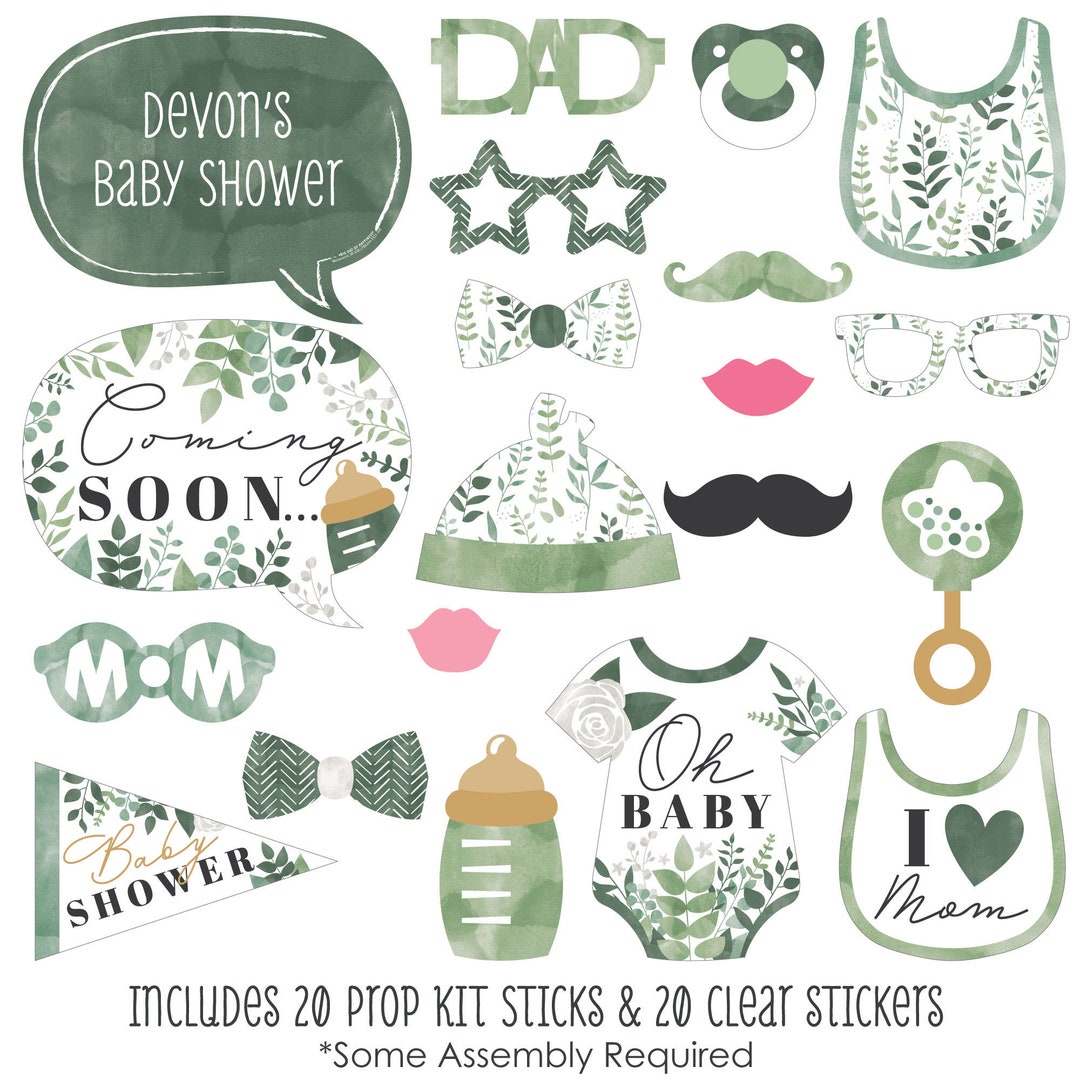 Boho Botanical Baby Personalized Greenery Baby Shower Photo
from: Etsy
Outdoor Games
When planning outdoor games, consider the age range of your guests and the size of the space you have available. Here are a few ideas:
Diaper toss: Set up a target and have guests toss diapers at it. The person who gets the most diapers in the target wins a prize.
Baby bottle bowling: Fill up baby bottles with sand or water and use them as bowling pins. Set up a bowling alley and have guests take turns bowling.
Baby bingo: Create bingo cards with baby-related items and have guests mark off items as they see them during the shower. The first person to get bingo wins a prize.
Craft Activities
Craft activities are a great way to get guests involved in creating something special for the baby. Here are a few ideas:
Decorate onesies: Set up a station with plain onesies and fabric markers or paint. Have guests decorate onesies for the baby to wear.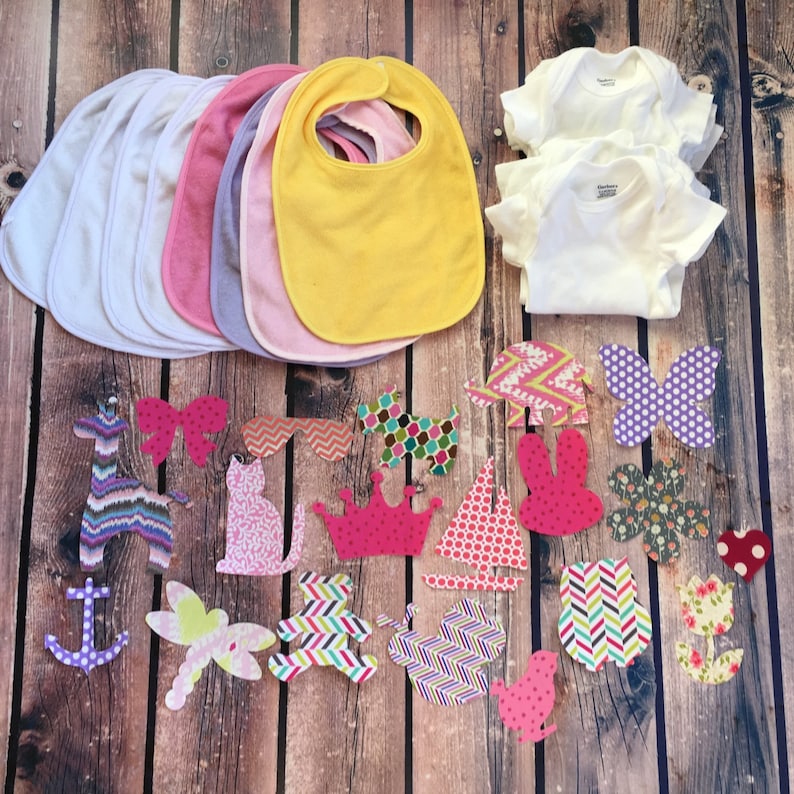 ONESIES® Decorating Station Iron on Fabric Applique Baby
from: Etsy
Make a mobile: Set up a station with supplies to make a baby mobile. Guests can create their own unique mobiles to give as a gift to the baby.
Create a time capsule: Have guests bring small items to include in a time capsule for the baby. Items can include a newspaper from the day of the shower, a letter to the baby, or small trinkets. Seal the time capsule and give it to the parents to open on the baby's first birthday.
Favors and Prizes
One of the best parts of any baby shower is receiving favors and prizes.
Outdoor baby showers offer a unique opportunity to incorporate nature-inspired gifts into the mix.
Here are a few ideas for favors and prizes that your guests will love:
Succulent Plants
Succulent plants make a great gift for any occasion, and they're particularly fitting for an outdoor baby shower.
These hardy plants are easy to care for and come in a variety of shapes and sizes.
Consider placing mini succulents in small terra cotta pots and tying a ribbon around them to make a cute and practical favor.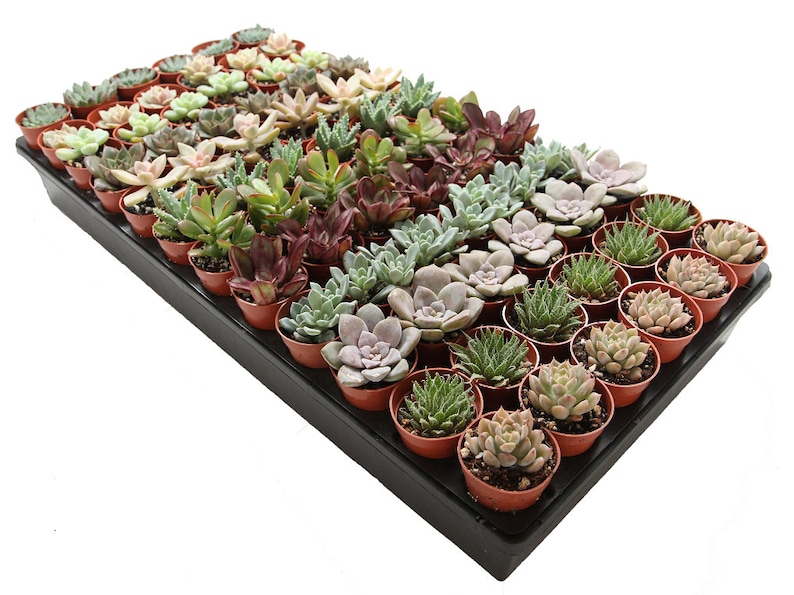 50-pack 1.75 Mini Assorted Succulents Wedding Favors
from: Etsy
Personalized Candles
Candles are a classic gift that can be easily personalized to fit the theme of your outdoor baby shower.
Consider creating custom labels with the baby's name or initials, or choose scents that match the season or location of your shower.
You can even make your own candles as a fun DIY activity for your guests.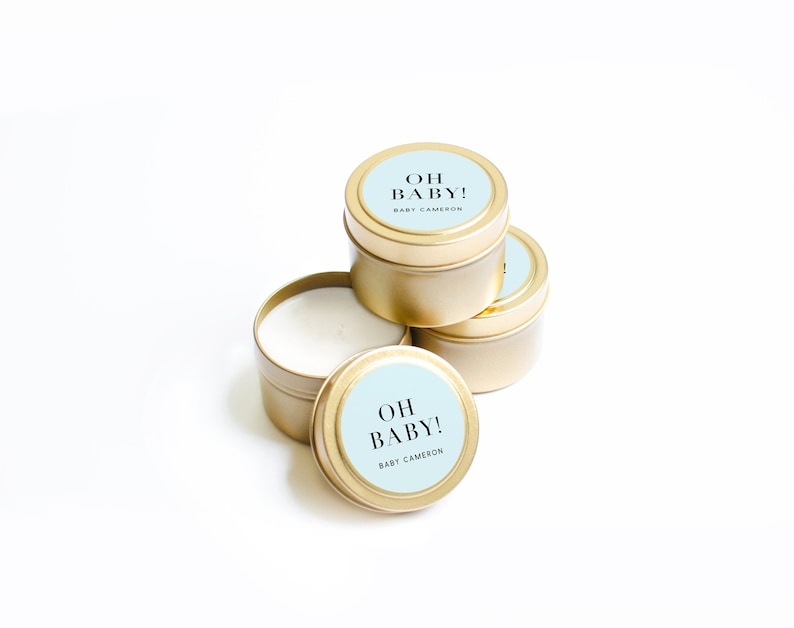 Baby Shower Favors for Guests Bulk Custom Candle Favors
from: Etsy
Gift Cards
Gift cards are always a crowd-pleaser, and they're a great way to support local businesses in your area.
Consider giving out gift cards to a nearby coffee shop or restaurant, or choose a retailer that sells eco-friendly baby products.
You can even make a game out of it by hiding the gift cards around your outdoor space and sending guests on a scavenger hunt.
No matter what favors and prizes you choose, make sure to thank your guests for coming and celebrating with you.
A little bit of gratitude goes a long way in making your outdoor baby shower a memorable and enjoyable event for everyone involved.
Do's and Don'ts for an Outdoor Baby Shower
Planning an outdoor baby shower can be a fun and exciting experience, but it's important to keep in mind a few do's and don'ts to ensure a successful and enjoyable event for everyone involved.
Here are some tips:
Do's:
Do consider the weather and time of day when planning your outdoor baby shower. Try to schedule it during a time when the weather is mild and comfortable, and provide shade or fans if necessary.
Do choose a theme or color scheme for your baby shower to help guide your decorations and menu choices.
Do provide plenty of seating options for your guests, including chairs, benches, and blankets.
Do offer a variety of food and drink options, including non-alcoholic beverages for pregnant guests.
Do provide activities or games to keep your guests entertained, such as a diaper decorating station or a guessing game about the baby's due date or gender.
Don'ts:
Don't forget to have a backup plan in case of inclement weather. Consider renting a tent or moving the party indoors if necessary.
Don't choose a location that is difficult to access or lacks adequate parking options for your guests.
Don't skimp on the decorations or ambiance. Even though you're outdoors, you can still create a festive and inviting atmosphere with balloons, flowers, and lighting.
Don't forget to consider the needs of your guests, including any dietary restrictions or mobility issues.
Don't leave clean up until after the party is over. Plan ahead for trash and recycling disposal, and enlist the help of friends and family to assist with cleaning up.
FAQ
Here are some frequently asked questions and answers to help you plan your perfect outdoor baby shower:
Q: What if the weather doesn't cooperate?
A: Outdoor baby showers are always at the mercy of the weather.
If the forecast is calling for rain, consider renting a tent or moving the party indoors.
If you're set on having an outdoor shower, make sure to have a backup plan in case of inclement weather.
Q: What should the dress code be?
A: The dress code for an outdoor baby shower is typically casual and comfortable.
Encourage guests to wear weather-appropriate clothing and footwear, as they may be walking on grass or uneven ground.
Q: How should the food be served?
A: When planning the menu for your outdoor baby shower, consider serving foods that can be easily prepared and served outdoors.
Finger foods, BBQs, and picnic-style foods are all great options.
Make sure to have plenty of napkins and utensils on hand, and consider using disposable plates and cups for easy cleanup.
Q: What about decorations?
A: When it comes to decorating for an outdoor baby shower, keep it simple and natural.
Consider using potted plants, flowers, and other natural elements to create a beautiful and inviting atmosphere.
Make sure to have plenty of seating and shade available for guests, and consider adding string lights or lanterns for a cozy and festive touch.
Q: How should the gifts be handled?
A: When it comes to gift-giving at an outdoor baby shower, it's important to have a designated area for gifts to be placed.
Consider setting up a gift table or area where guests can leave their gifts.
If the gifts are too large to transport, have guests send them directly to the parent-to-be's home.
Q: What about bugs?
A: Bugs can be a nuisance at outdoor events.
Consider using citronella candles or bug spray to keep bugs at bay.
You can also provide guests with individual bug spray bottles as party favors.
Q: How do you throw a baby shower at a park?
A: Choose a location: Select a park that offers enough space, and amenities like picnic tables, restrooms, and playgrounds, and is convenient for your guests.
Check regulations and permits: Contact your local parks department to find out if you need a permit or have to follow specific rules for hosting a baby shower in the park.
Plan for weather: Have a backup plan in case of rain or extreme temperatures. Consider renting a tent or choosing a park with a covered pavilion to provide shade and shelter.
Send invitations: Make sure to include the park location, date, time, and any special instructions like what to wear, bring, or parking details.
Plan the menu: Opt for easy-to-serve, outdoor-friendly food like sandwiches, salads, and finger foods. Keep in mind food safety and storage, especially on warm days.
Set up seating and tables: Arrange picnic tables or bring your own folding tables and chairs. Don't forget tablecloths, plates, utensils, and napkins.
Decorate: Choose decorations that are easy to set up and secure outdoors. Balloons, banners, and table centerpieces can create a festive atmosphere without being too difficult to manage.
Plan games and activities: Select games and activities that work well in an outdoor setting, like a diaper toss, baby-themed scavenger hunt, or onesie decorating.
Provide refreshments: Set up a drink station with non-alcoholic beverages like lemonade, iced tea, or mocktails, and provide plenty of water to keep guests hydrated.
Organize gifts and favors: Designate a space for gifts and have a plan for transporting them after the shower. Prepare small favors as a token of appreciation for your guests.
Clean up: Be prepared to clean up all trash and decorations after the event. Bring trash bags and ensure the park is left in good condition.