Updated May 8, 2023
Are you looking for interesting and adorable summer baby shower ideas?
Don't worry, as you are on the right page!
Today I'm sharing the 20 best summer baby shower themes that will color your event and show you and your guests a wonderful time.
If you are hosting a baby shower this summer I'll show you ways to throw an ah-mazing shower without going broke.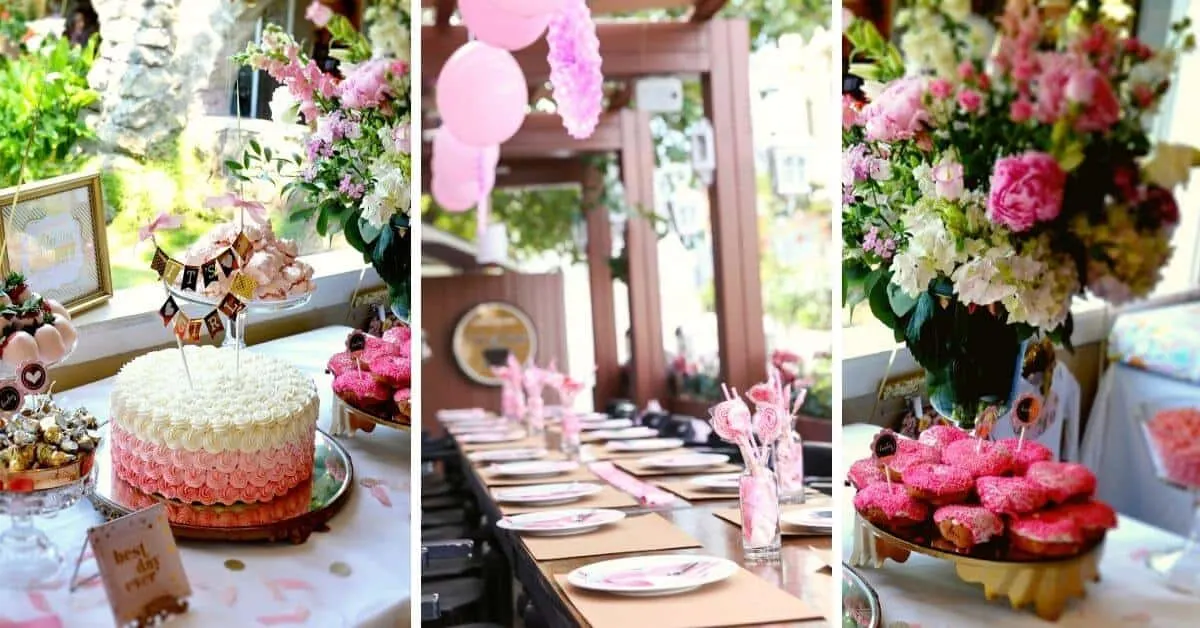 Baby showers can feel like a pressure cooker when you are the hostess.
I get it.
We want everything to be perfect for the mom-to-be and her guests.
I love hosting baby showers, but the funny thing is I didn't have one for my own baby.
Unfortunately, I was on strict bed rest for pre-term labor so no fun baby shower for me.
Maybe that is why I like hosting them and helping our readers throw festive and beautiful baby showers for friends and family.
So let's jump into the 20 best themes for a summer baby shower.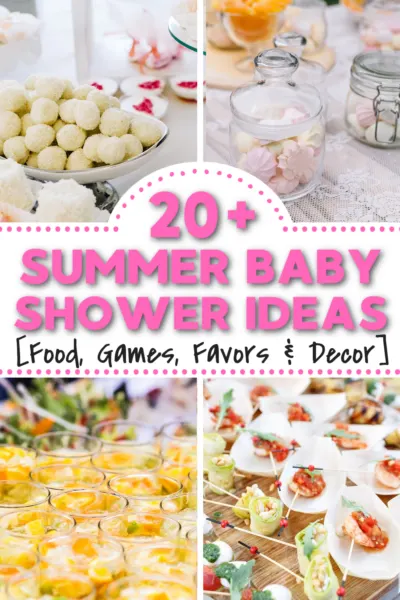 20 Best Summer Baby Shower Themes
1. Under the Sea Baby Shower
Seas are always lovely and enticing in summer, and moms-to-be can take sea creatures as a theme for a perfect baby shower.
It works great for boys and girls, but it is one of our favorite summer baby shower themes for a girl.
Decor ideas: Some of the best ways to decorate it is by using mermaids, fish, and other ocean creatures' accessories.
The main colors are usually shimmery blues, pinks, teals, and purple.
Food ideas: The best time of day for a lovely Under the Sea Baby Shower can be early afternoon or late morning with a light lunch or brunch.
Provide your guests with a mix of sweet snacks, desserts, coffee, fresh juices, and warm meals like mini chicken pot pies, roasted meats, deviled eggs, or finger sandwiches.
Game Ideas: We love this cute under-the-sea bay shower game: Pacifier Hunt.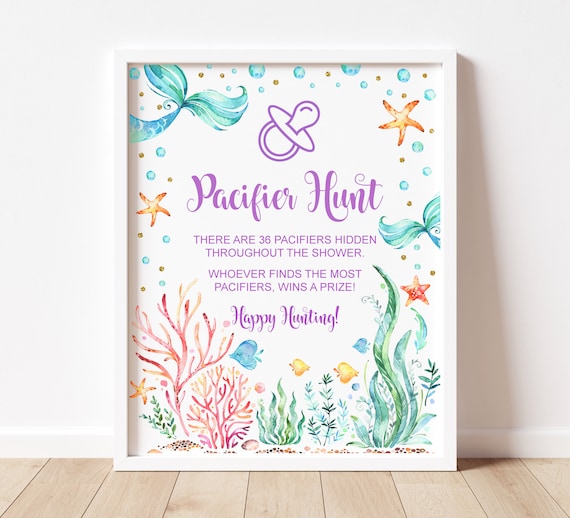 2. Ice Cream Baby Shower
Ice cream and desserts are always refreshing treats during hot summer days.
Decor ideas: You can have an Ice Cream Baby Shower theme with light pastel colors and gold accents.
Food ideas: Have some baked goods, creamy desserts, sauces, candy, chocolate bars, and ice cream as the main foods for the party.
An easy self-serve ice cream bar is the perfect choice for this baby shower.
Game ideas: Games like don't say baby and baby items in the bag can make an Ice Cream Baby Shower more enjoyable on a hot summer day.
To make the party more enjoyable, you can print out playful shapes on creative shrinkable wires and add them to your guests' wine glasses.
3. Cool Blue Baby Shower
Cool blue summer baby shower themes can best be employed by moms-to-be who know that they are having a boy.
Decore ideas: There are many ways to make a cool blue baby shower enjoyable, including making a blue punch, having a blue-white cake, and decorating with cool blue premium balloons.
Food ideas: You can make a large batch of blue punch and serve it in a punch bowl or a glass container to attract guests.
It's also possible to make the Cool Blue Baby Shower theme work for welcoming girl babies.
For instance, you can have a great color combination such as bright citrus and blue, or use aqua blue and pink.
Consider this theme when looking for summer baby shower themes for a boy.
4. Baby Q Baby Shower
If you are planning a baby shower on a budget but still want everything to look perfect, a Baby Q Baby shower can make a great theme.
Decor ideas: You can host it in the backyard and let your guests enjoy the beauty of natural outdoor elements.
Then spruce it up with a few floral decorations and a consistent color scheme.
Two to three colors, including pink and white, will make a BBQ Shower more adorable and memorable.
Food ideas: Entertain your guests with a menu of grilled favorites.
Game ideas: Fun games such as Find the Guest, Ice Ice Baby, and Play-Dough Babies.
We love this idea for a co-ed baby shower.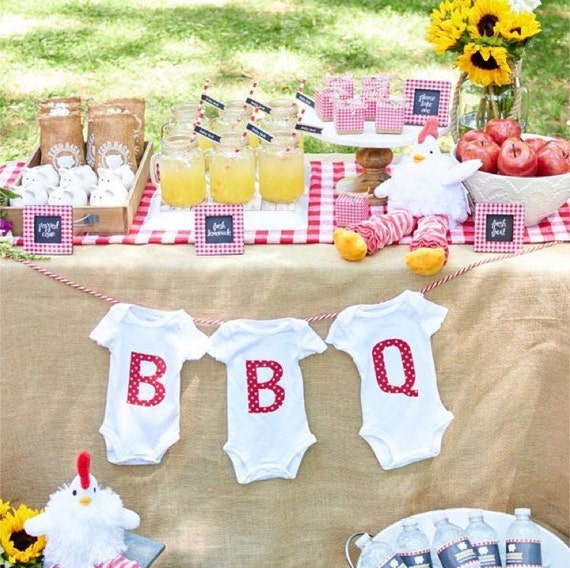 5. Tropical Baby Shower
A tropical theme will make an eye-catching and delightful party. It fills the event with lovely color, freshness, and vitality.
Decor ideas: You can use your favorite shades of yellow décor and go for bright tropical fruits for your summer baby shower.
Ideally, hold the baby shower outdoors for the best experience and surround the venue with bright florals and large palms.
Remind your guests also to wear their best tropical attire.
Food ideas: Choose some light and tropical menu options, like colorful fruit salads and smoothies.
Game ideas: If you want the Tropical Baby Shower to be a memorable event, create time for some fascinating games like Bobbing for Pacifiers and Name That Tune.
6. You Are My Sunshine Baby Shower
This is a flawless theme for a baby shower happening on a sunny afternoon or early evening. It works well for welcoming any little angel regardless of their gender.
Decor ideas: Sweeten the event with yellow, grey, and white decorations and a chevron print if you can.
Food ideas: Then have the darling cake, cute sugar cookies, and mason jars full of lemons and gypsophila.
Baby Shower Games: Baby Shower Bingo and Balloon Baby Twister will help you, and your guests celebrate the You Are My Sunshine Baby Shower to the fullest.
Baby shower favor ideas: We love these sunflower seed packets!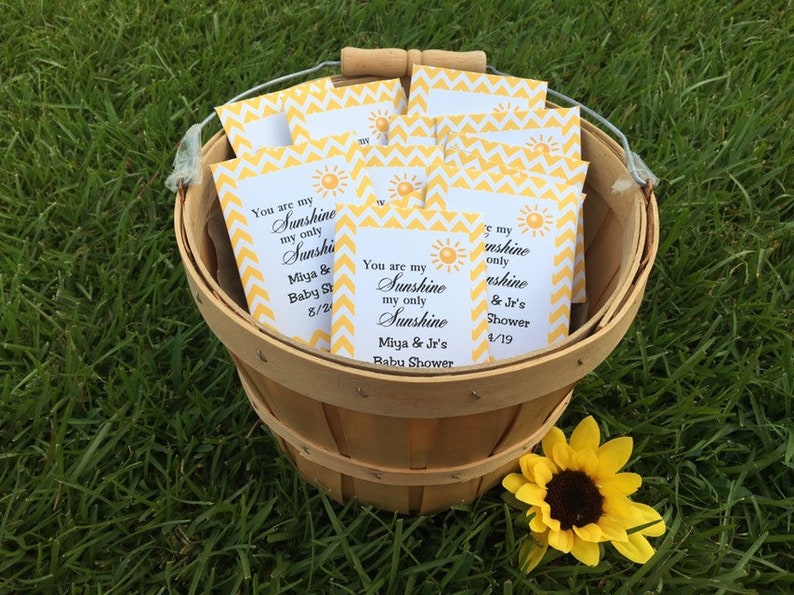 7. Beach Belly Baby Shower
Perhaps the best way to put a smile on a beach-lover mother-to-be is to take her to a gateway and give her beach-inspired gifts.
Food ideas: During lunch, use affordable beach shovels and buckets to serve the salad.
Make it even better with a blue ombre cake for dessert.
Decor ideas: For this theme, the decorations should be made with beach-inspired elements like garland.
You can make or buy cute beach signs welcoming your guests to the baby shower
Baby shower favors ideas: While creating party favors, you can customize them with nautical and beach themes to bring out the mom's love for the beach.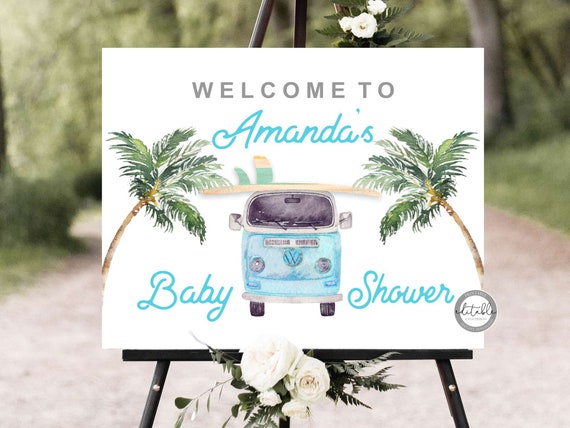 8. Bee Baby Shower
Also Called "What will Baby Bee," Bee Baby Shower is a popular theme among moms who are not sure of their baby's gender.
Decor ideas: Yellow and black are the primary theme colors. Yellow is mainly preferred as it's more gender-neutral.
It's primarily held outside.
However, if you want to have it inside, use some rustic charm and hexagonal décor to neutralize the yellow and black.
Food ideas: When it comes to food, honey should never miss as one of the condiments. Meat platters and cheese will work well.
Game ideas: Continue with the bee theme even in the games that you will play.
An excellent example of such a game is "where is the beehive?"
Baby shower favor ideas: Small jars of locally made honey or small beeswax candles make a lovely thank-you gift for your guests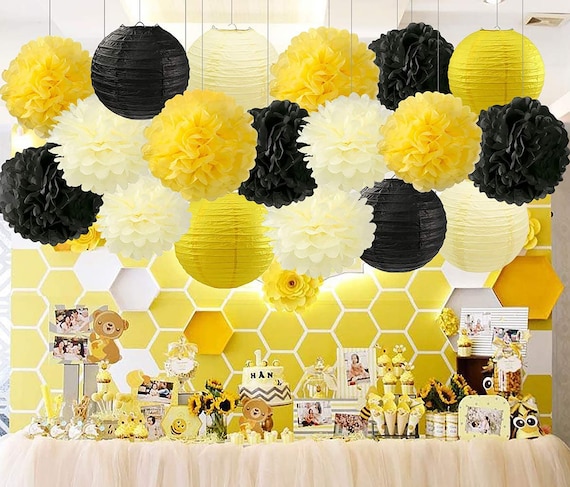 9. Pretty Pastel Baby Shower
This theme will make a beautiful and memorable party for welcoming a baby girl.
Decor ideas: It's dominated by a pastel-color palette and some green for more depth.
Just ensure your guests are dressed in their most beautiful pastels to make the party colorful and memorable.
Food ideas: Then serve your guests a delicious baby shower meal comprising a Finger sandwich, apples with caramel sauce, vegetables, and a spiced soup.
10. Up, Up, and Away Baby Shower
This stunning theme is meant to inspire your baby to dream big while still in the womb.
Decor ideas: It's best decorated with delicate colors, cute pastels, and many matt balloons.
You can choose blue, white, and yellow as the primary colors.
Up, Up and Away is an elegant theme that works well for both boys and girls.
Food ideas: You can prepare delicious desserts, fruit salad, punch, cupcakes, and Fresh vegetables for this theme.
Game ideas: When paired with a game like Diaper Raffle, this theme will make an unforgettable party.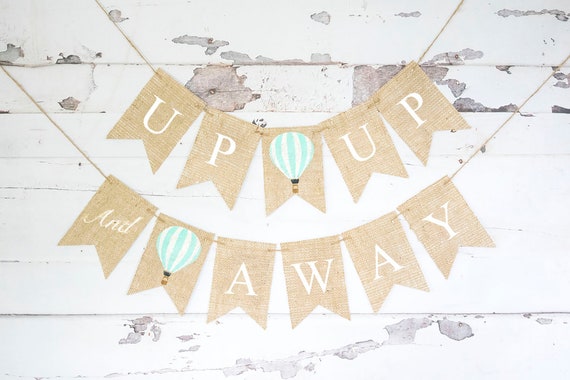 11. Bird's Nest Baby Shower
This is an ideal spring or summer baby shower theme.
Decor ideas: The baby shower decor can include feathers, flowers, and baby bird nests.
Food ideas: If you are looking for a budget-friendly shower theme and food options this one is perfect.
Hold the shower in the early afternoon and simply serve light appetizers and dessert
12. Floral Baby Shower
Flowers never go out of style. So, it can be lovely to go for this timeless theme to decorate your summer baby shower.
A floral theme is an elegant and sophisticated theme that offers a classic layout perfect for both indoor and outdoor baby showers.
Decor ideas: It should be pretty easy to incorporate this theme by decorating the tables with beautiful floral tea party cups, plates, and napkins.
You can also hang some pretty rose garlands around the doors and on tables to add to the beauty of the décor.
Grouping some flowers in crates and buckets can also be a brilliant way to embellish your baby shower and amaze everyone at the party.
To make the baby shower even more colorful and memorable, you can tell your guests to clad in an ideal floral dress code with some flower jewelry.
Food ideas: For this theme, you can serve your guests some floral foods and sweet treats like hummingbird cupcakes, Jasmine Tea Maracons, Earl Grey, and Lemon cake.
Game ideas: You can have fun and easy-to-play games for the party, such as Who Knows Mommy Best Game Cards and What's on Your Phone.
Baby shower favors ideas: Succulents and personalized floral scented candles can make great favors for your floral baby shower.
13. Stuffed Animal Baby Shower
Stuffed animals can make a perfect theme for a summer baby shower.
It's also an excellent way to cut the costs of the party and save money.
Decor ideas: You can easily find stuffed animal-themed items in thrift stores for the baby shower décor.
There are some fantastic deals on stuffed toys on online stores like Amazon and eBay.
What's interesting about this theme is that most stuffed animals are brand new and with some creativity will make your baby shower adorable and delightful.
You can try a combination of small wild animals, ocean, jungle, and farm animals to design the tables and walls for a perfect yet budget-friendly baby shower.
Food ideas: Then serve your guests finger foods like Chicken roll-ups, sweet and our meatballs, BBQ bacon-wrapped chicken bites, and appetizer veggie and dip cups.
14. Sunflower Baby Shower
With bright colors, the sunflower theme will brighten the baby shower of any mom-to-be. It's a versatile theme that works well for both boys and girls.
Decor ideas: You can hold the sunflower baby shower outdoors in your backyard garden and decorate it with yellows and green embellishments.
Small fish bowls and wine glasses filled with floating flowers will work perfectly in making an excellent centerpiece for a sunflower baby shower.
Catch your guest's attention with a sunflower backdrop and a huge sunflower on the top or along the backdrop corner.
Food ideas: The baby shower cake should also highlight the sunflower theme.
You can also have some cupcakes decorated with sunflower cake toppers.
Finger sandwiches, fresh salads with sunflower seeds, and delicious desserts like sunflower truffles
Game ideas: A fun to play on a sunflower baby shower includes "Don't say, baby".
Baby shower favors: Packed sunflower seeds can make excellent party favor to thank and appreciate your guests.
Then you can write them a personalized note on the pack.
15. Aloha Baby Shower
Your guests will love the tropical and floral vibes of an Aloha Baby Shower.
Aloha is a cute and exciting theme that will mesmerize everyone at the party.
When looking for unique baby shower themes consider the Aloha baby shower.
Decor ideas: With tropical and colorful decorations, the Aloha theme makes a perfect welcoming party for little angels, whether boy or girl.
You can use some cocktail umbrellas, and pink flowers and ask your guests to wear a tropical-themed dress code.
White and golden brown can also be a great dress code for an Aloha Baby Shower.
Decorate the tables and walls with some white balloons and dark green fake leaves to capture your guests' attention.
Food ideas: The best food to serve in this theme includes Hawaiian-style shoyu chicken, pineapple whip, Hawaiian chicken kabobs, fresh mango salsa, and Hawaiian meatballs.
Grilled Hawaiian Chicken Kabobs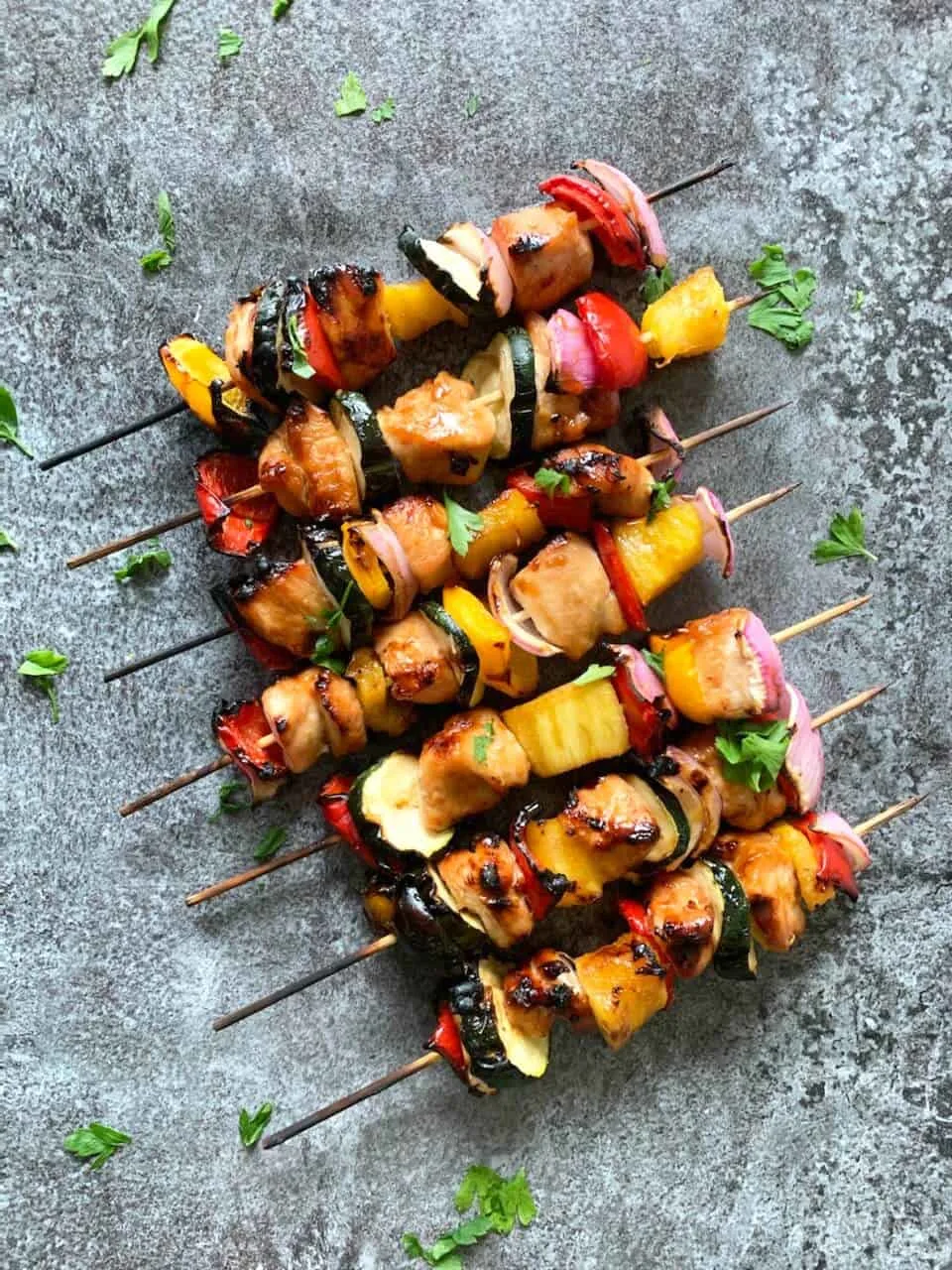 Image Courtesy of Family Home Prep
Instant Pot Hawaiian Meatballs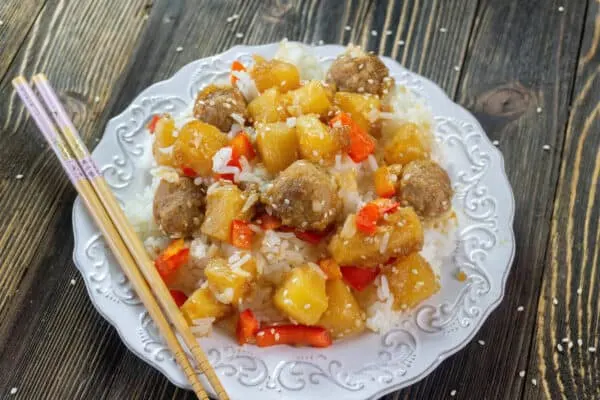 Image Courtesy Of Family Home Prep
16. Baby Shark Baby Shower
This is a bold and bright theme that works so well for both girl and boy babies.
Everything about this theme is colorful, from the dress code to the decorations.
Decor ideas: The best theme color for this baby shower is bright blue with some white touches and pops of orange on the cake.
You can have a small fishing net placed on two wooden tools and the table as the covering.
Then buy some cute fondant sharks and place them on top of the cake for an adorable look.
Food ideas: The best foods for the Baby Shark theme include cupcakes with sea stars, donuts with blue icing, and baby shark macaroons.
17. Vintage Tea Party Baby Shower
A Vintage Tea Party Baby Shower is one of the most stunning themes for baby showers in the spring and summertime.
Decor ideas: A tea party baby shower uses pretty pastels and delicate florals that work well with cool colors or shiny hues.
Vintage cups, saucers, and plates will make a perfect match to the theme.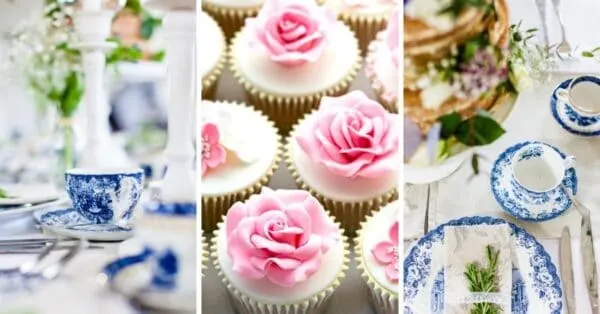 When it comes to the dress code, encourage your guests to wear their best tea party attire.
Food ideas: The best menu for a Vintage Tea Party Baby Shower can be sandwiches, warm homemade scones, and a Victoria Sponge cake.
Then serve your guests your favorite sweet tea such as English Breakfast tea, mint tea, Lemon tea, and Chamomile tea after the meal.
Game ideas: The best baby shower games for this theme include What's in the Basket, How Big is Mommy's Tummy, and Baby Predictions.
Baby shower favor ideas: Let each guest take home their vintage china cup and saucer. You can include a small gift bag that includes tea samples and homemade biscotti.
I attended a summer baby shower that did this and it made the shower memorable!
18. Flamingo Baby Shower
The Flamingo Baby Shower theme adds fun and elegance to baby welcoming parties.
It's a perfect theme for welcoming a baby girl and is usually celebrated during the tropical summer.
While choosing invitation cards, go for a pink and green design that includes tropical banana leaves.
Decor ideas: Keep the décor affordable but sophisticated with balloon banners and flamingo yard ornaments among floral arrangements.
No party will be complete without eateries.
Food ideas: You can serve brunch with pancakes, eggs, macaroons, juice, and mimosas for this theme.
The dessert corner should include simple cakes with a flamingo cake topper, donuts, Flamingo cookies, and macaroons.
Game ideas: Get a free set of flamingo baby shower games! You can download the set of three games below.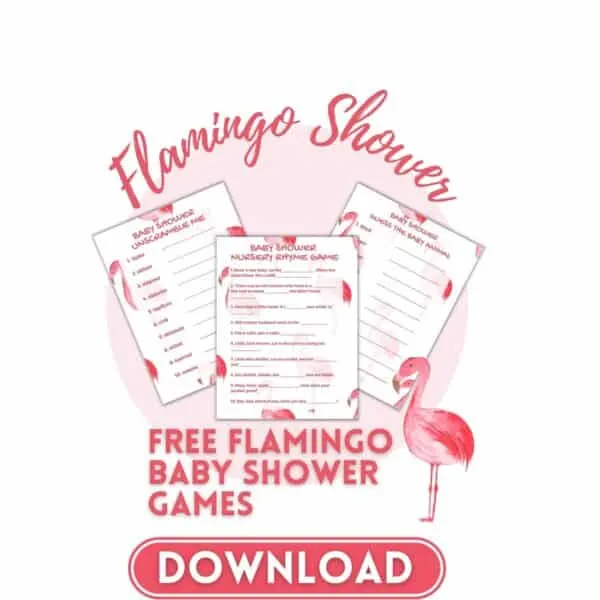 Then keep your guests engaged by playing the Baby Animal Game or Nursery Rhyme Baby Shower Game.
19. Tutti Fruitti Baby Shower
Looking for a cute summer baby shower theme?
Well, a Tutti Fruitti Baby Shower will leave any mom-to-be with lots of hope and excitement.
Decor Ideas: It's usually filled with bright and colorful decorations and lots of fruits such as watermelon, pineapples, blackberries, kiwis, and more.
To make the party even more eye-catching, use colorful balloons.
You can also find fun fruit-shaped balloons, plates, and mugs.
Then tell your guests to wear bright attire like red, orange, or yellow.
Food ideas: Decorate the baby shower cake with adorable fruit decorations and fill the table with well-cut pieces of fruit.
You can serve this delicious Lemon Tahini Pasta Salad with a lunch your guests will love!
Lemon Tahini Pasta Salad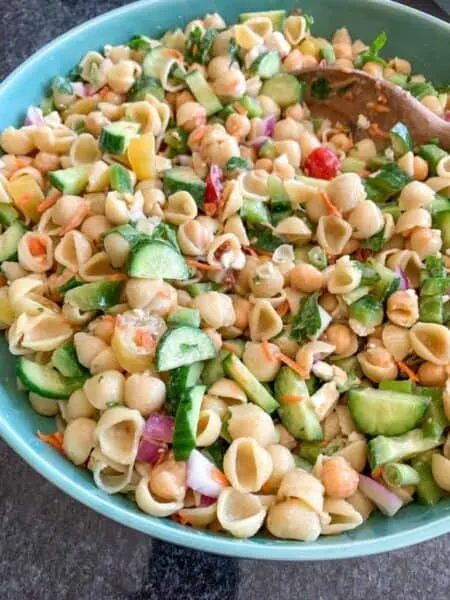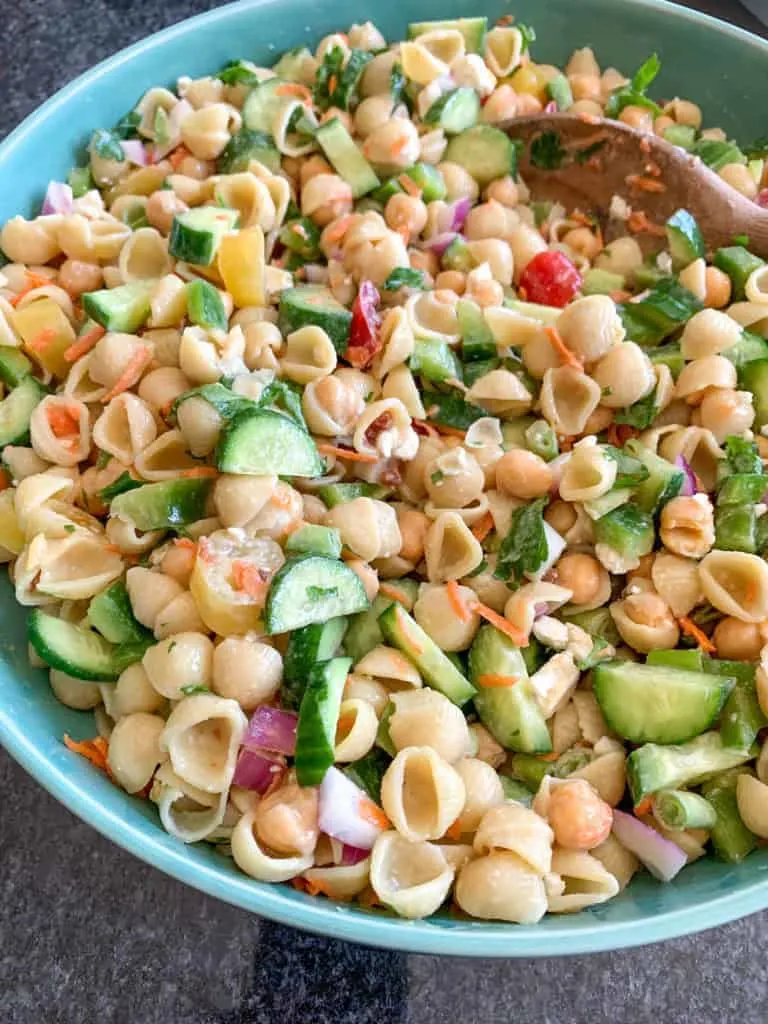 Image Courtesy of HHB Media
20. Summer Garden Baby Shower
Packed with incredibly soft and summery decorations, a summer garden baby shower will surely melt your heart.
Decor Ideas: You can use gorgeous white flowers and buy a summer sunflower cake.
Then place it on a decorated table in front of a balloon backdrop.
Food ideas: Some juice bottles topped with sliced oranges can also be a great addition to the table, surrounded by various citrus fruits, berries, and pineapples.
You can hold a summer garden baby shower in the early evening or late afternoon and serve light lunch foods, desserts, and some party snacks.
Game ideas: Candy Bar Baby Shower Game or Baby Shower Discovery will make the welcoming baby party more enjoyable and memorable.
We hope you found these summer baby shower themes inspiring!
You can't go wrong choosing one of these ideas as the theme for a summer baby shower.
All of these ideas can be done on a budget, if money is tight consider the Baby Q baby shower idea. BBQs can be budget-friendly and are always a good time!
Who picks the theme for a baby shower?
It's ultimately up to the expecting parents or the host of the baby shower.
It is a common courtesy to ask if the parents-to-be have any preferred ideas before deciding on a theme.
If it's not specified, then you can be creative and come up with something unique that honors the new parents and their upcoming arrival.
Consider what type of activity or atmosphere the expecting parents would enjoy and plan accordingly.
I would stress the importance of considering the mom-to-be as you plan the menu.
There are many foods that pregnant women should not eat and foods may need to be modified to be pregnancy-friendly.
Pregnant women should not eat processed deli meats or smoked meats, soft cheeses such as Brie and Feta, or anything made with raw eggs.