Are you planning a baby shower and looking for ideas for a delicious and satisfying brunch menu?
Look no further!
I have compiled a list of over 100 mouth-watering baby shower brunch menu ideas that are sure to impress your guests.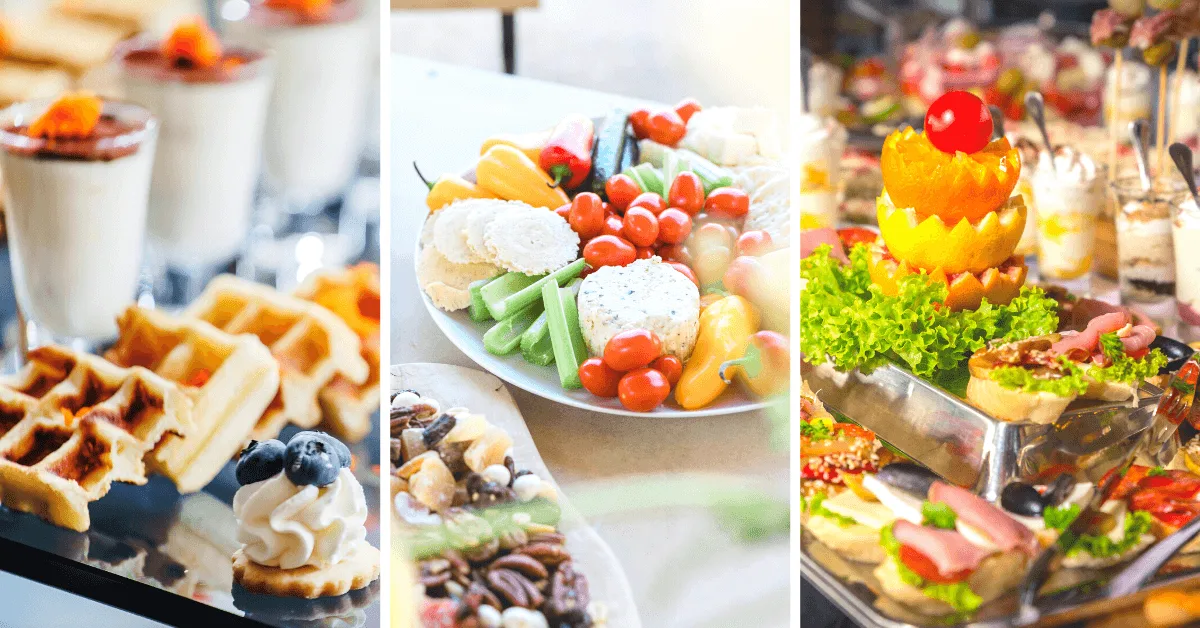 Whether you're hosting a morning or midday baby shower celebration, our menu options are specifically tailored to fit the occasion.
Our menu includes classic brunch favorites such as quiches, scones, and frittatas, as well as unique and creative options like breakfast tacos, yogurt parfaits, and fruit skewers.
100+ Delicious Baby Shower Brunch Menu Ideas
One of the most important things to consider when hosting a baby shower is the menu.
Whether you're planning a morning or midday event, a brunch theme is always a crowd-pleaser.
They are split up into sweet brunch menu ideas and savory menu ideas, dietary preferences, and seasonal brunch menu sections.
Sweet Brunch Menu Ideas
When it comes to planning a baby shower brunch, sweet treats are a must-have.
From baked goods to fresh fruit, there are plenty of options to satisfy everyone's sweet tooth.
Fruit skewers:
Thread colorful fruits like strawberries, pineapple, and grapes onto wooden skewers for a fresh and healthy option.
I like to do skewers with seasonal fruits depending on whether it is for a spring baby shower, summer baby shower, fall baby shower, or winter baby shower.
You could also consider the theme of the shower when choosing which fruits to use.
And these are adorable flower skewers that are perfect for a baby shower brunch!
Yogurt parfaits:
Layer yogurt, granola, and fruit in individual cups for a simple and elegant dish.
What I LOVE about yogurt parfaits is that you don't have to be a cook to make them and they are always a crowd-pleaser!
They are a great summer baby shower food option but can be served at any time of year.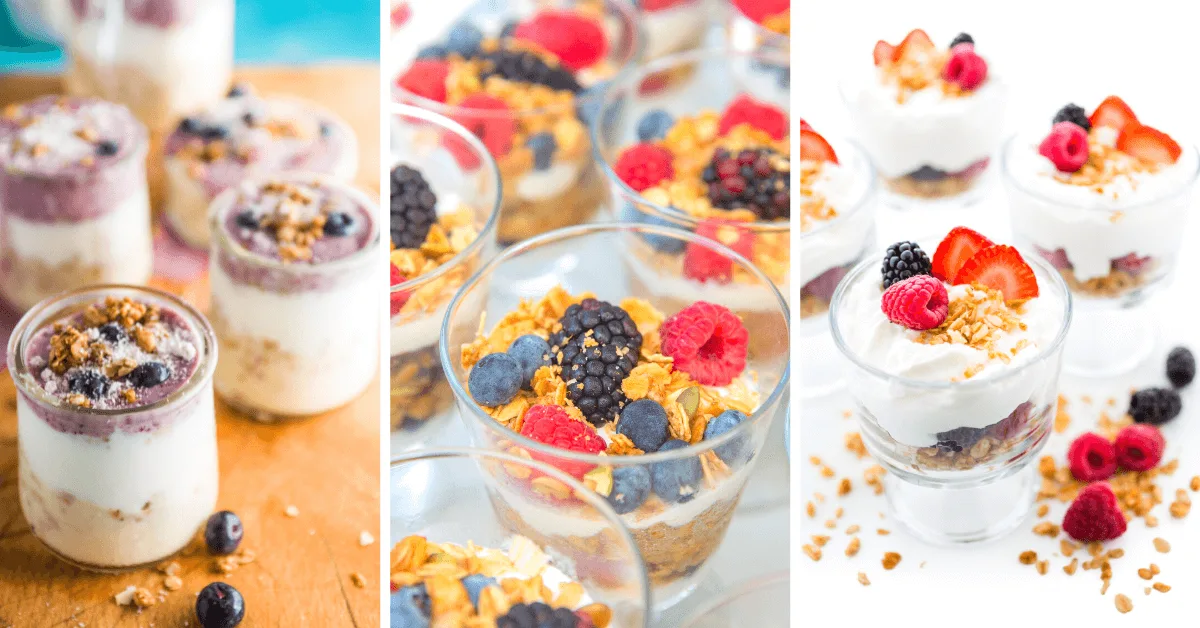 French toast casserole:
Make this ahead of time and bake the morning of the event for a stress-free yet delicious option.
This is another excellent budget-friendly option that your guests will love.
Pancake bites:
Use a mini muffin tin to create bite-sized pancakes with various mix-ins like blueberries, chocolate chips, or banana slices.
You can serve a variety of syrups such as maple, blueberry, or strawberry.
Mini muffins:
Bake an assortment of mini muffins like blueberry, banana nut, and lemon poppy seed for a sweet treat.
You can also buy muffins at Costco, BJ's wholesale, or Sam's Club in their bakery department.
Pick them up the day before the shower so they are nice and fresh.
Scones:
Offer an assortment of scones like lemon, raspberry, and chocolate chip, served with jam and clotted cream.
I love to serve bacon, cheddar, and chive scones when I do brunch.
They are excellent to serve with scrambled eggs.
Mini cinnamon rolls:
Bake bite-sized cinnamon rolls and serve with icing for a sweet treat that guests will love.
These are easy to make on the morning of the shower and your guests will devour them!
Chia seed pudding:
Prepare individual servings of chia seed pudding with almond milk, honey, and vanilla, topped with fresh berries or nuts.
Belgian waffle bites:
Create mini Belgian waffles and serve them with whipped cream, syrup, and fresh fruit on the side.
Cheese and fruit board:
Assemble an assortment of cheeses, fresh and dried fruits, and nuts, served alongside crackers or slices of baguette.
This is a classic baby shower food choice and perfect for before brunch mingling.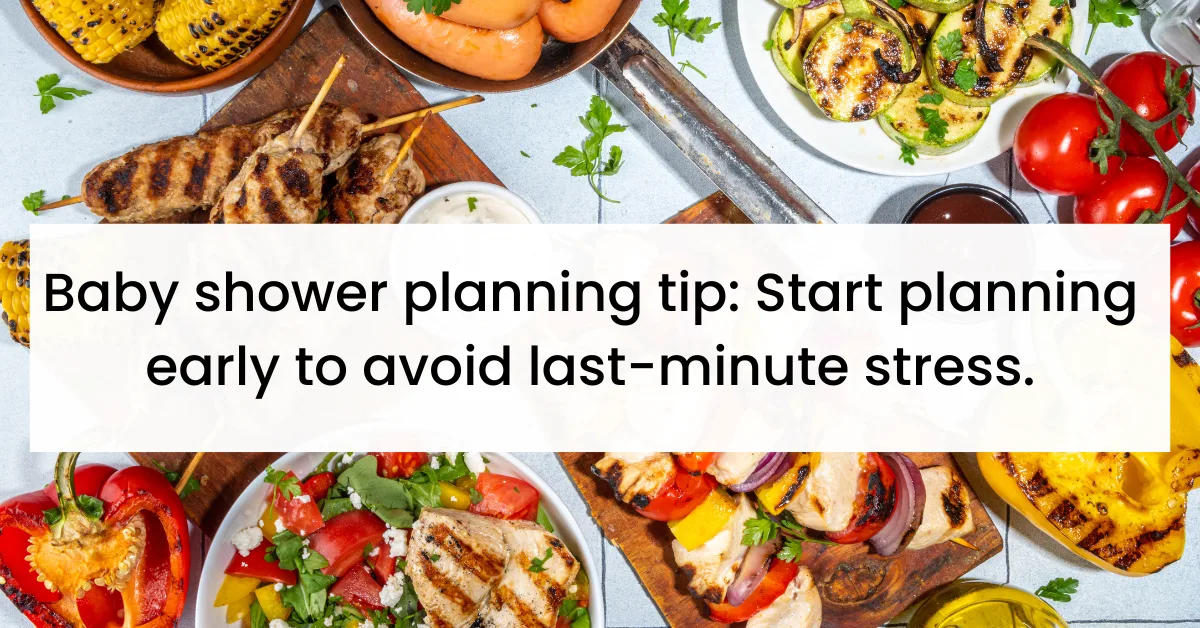 Baked Goods
The aroma of freshly baked goods is sure to get everyone's attention. Some classic options include:
Assorted muffins, such as blueberry, banana nut, and chocolate chip
Croissants with jam or butter
Cinnamon rolls with cream cheese frosting
Scones with clotted cream and jam
Fruit and Yogurt
For a lighter option, fruit and yogurt are always a crowd-pleaser. Some ideas to consider include:
Fruit salad with honey and lime dressing
Yogurt parfaits with granola and fresh berries
Smoothie bowls with assorted toppings, such as coconut flakes and chia seeds
Pancakes and Waffles
Who doesn't love a stack of fluffy pancakes or crispy waffles? Here are some variations to try:
Buttermilk pancakes with maple syrup and whipped cream
Waffles with fresh fruit and whipped cream
Blueberry pancakes with lemon zest and powdered sugar
Banana pancakes with caramelized bananas and whipped cream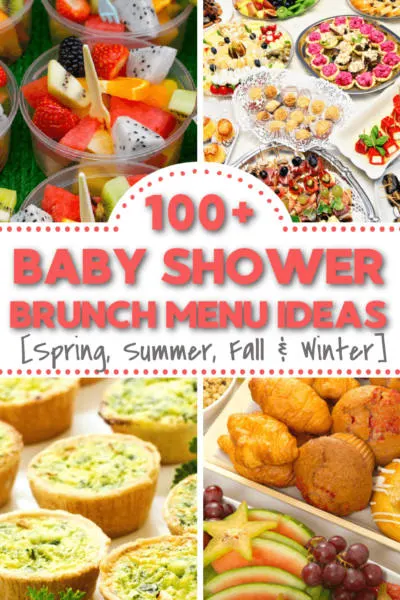 Savory Brunch Menu Ideas
When planning a baby shower brunch, it's important to have a variety of savory options for your guests.
Here are some delicious ideas to consider:
Mini quiches:
Prepare a variety of fillings like spinach and feta, ham and cheese, broccoli and cheddar, or mushroom and onion for a delightful and easy-to-serve appetizer.
You can make the quiche ahead of time and heat it up on the day of the shower before you serve it.
Mini quiches are an excellent baby shower brunch finger foods idea.
Bagel bar:
Set out an assortment of bagels, cream cheese, smoked salmon, and sliced vegetables for guests to customize their own bagels.
I do this for every baby shower I host.
Bagels are a good finger food for a baby shower and they are budget-friendly if you hosting the baby shower on a tiny budget.
If possible pick up the bagels the day of the shower so they are extra fresh.
I love to offer plain bagels, blueberry bagels, wheat bagels, Asiago cheese bagels, and chocolate chip bagels.
If you are looking to offer more variety french toast bagels or cinnamon sugar bagels are popular options.
Croissant sandwiches:
Prepare mini sandwiches with sliced ham, turkey, roast beef, cheese, and greens, using croissants as the bread.
These make for an easy brunch meal and you could even do a croissant bar with scrambled eggs, bacon, and cheese sandwiches.
The only concern that I have with serving croissant sandwiches is that they are made with deli meats. and deli meats are not safe for pregnant women to eat.
So keep that in mind when planning what type of sandwiches you serve at the baby shower.
Avocado toast:
Serve this trendy dish with a variety of toppings like cherry tomatoes, feta cheese, and a drizzle of balsamic glaze.
Just keep in mind that feta cheese is not safe for pregnant women to eat so you may want to sub out the feta for hard cheese like cheddar.
You can make mini avocado toasts if you are looking for a finger food idea.
Frittata:
Whisk together eggs, cheese, and your choice of veggies, then bake in a large dish for an easy, crowd-pleasing entree.
You can bake a large tray of this on the morning of the shower.
Breakfast burrito bar:
Offer a DIY burrito station with scrambled eggs, sausage, bacon, cheese, salsa, and avocado.
You can also offer homefries or hashbrowns at your burrito station.
I have at least three salsas usually.
A mild salsa, a hot salsa, and a green chile salsa.
You also offer a fresh pico de Gallo, it is delicious in an egg burrito.
Chicken salad croissants:
Fill mini croissants with homemade chicken salad for a light and tasty sandwich option.
The safest way to serve chicken salad at a baby shower is to make it yourself at home.
Do not serve a pre-made deli-bought chicken salad.
It can be dangerous for the expecting mother to consume pre-made salads during pregnancy.
It is so easy to make at home yourself.
You can use freshly cooked rotisserie chickens that you can buy at Costco or Sam's Club.
That is how I always make it and the way our OB/GYN Dr. Doug Penta suggests pregnant women make a chicken salad if they want it during their pregnancy.
Caprese skewers:
Thread cherry tomatoes, mozzarella balls, and fresh basil onto skewers, then drizzle with balsamic glaze.
Classic baby shower food!
Perfect for a baby shower brunch.
Veggie fritters:
Serve up a variety of savory fritters like zucchini, carrot, and corn for a tasty and healthy addition to the menu.
Zucchini Fritters: Combine shredded zucchini, flour, eggs, grated Parmesan cheese, chopped scallions, and seasonings. Fry spoonfuls of the mixture until golden brown.
Carrot Fritters: Mix grated carrots, flour, eggs, chopped parsley, crumbled feta cheese, and seasonings. Fry in oil until crispy and golden.
Corn Fritters: Combine fresh or canned corn kernels, flour, eggs, chopped cilantro, finely chopped red bell pepper, and seasonings. Fry until crisp and cooked through.
Sweet Potato Fritters: Combine grated sweet potato, flour, eggs, chopped cilantro or parsley, minced garlic, and seasonings. Fry until browned and cooked through.
Broccoli Fritters: Mix finely chopped steamed broccoli, flour, eggs, grated cheese (e.g., cheddar or Parmesan), chopped scallions, and seasonings. Fry until crispy and golden.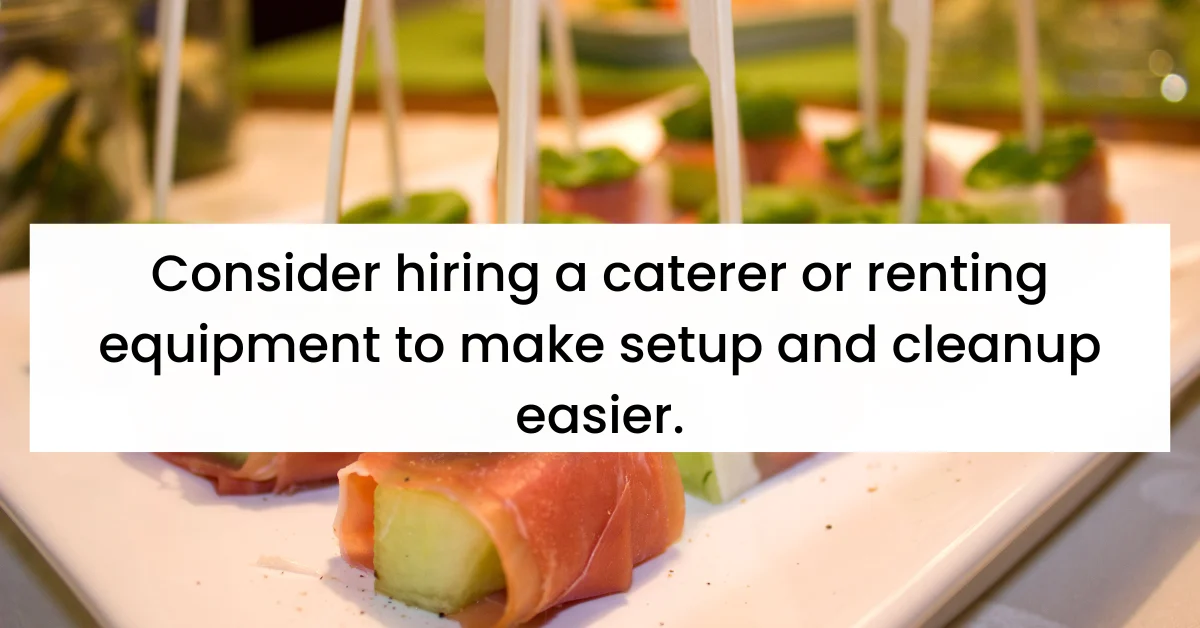 Shrimp cocktail shooters:
Present chilled shrimp in shot glasses filled with cocktail sauce for a fancy and easy-to-eat appetizer.
Shrimp cocktail shooters are elegant and easy-to-eat appetizers, but they require proper chilling and careful handling to ensure freshness and food safety.
Provide small forks or cocktail picks for guests to easily enjoy the shrimp.
Charcuterie board:
Assemble a board filled with a variety of cured meats, cheeses, fruits, nuts, and crackers for guests to nibble on.
Offer a variety of hard cheeses so that the mom-to-be can enjoy the cheese, crackers, nuts, and fruits too!
Deviled eggs:
Prepare a classic version, or get creative with flavors like buffalo, avocado, or bacon and chive.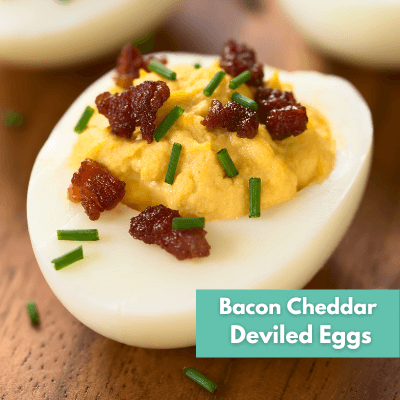 Stuffed mushrooms:
Stuffed mushrooms are a versatile and delicious appetizer that can be filled with various ingredients to suit different tastes.
Serve them warm on a platter, and be sure to provide small plates and utensils for guests to enjoy easily.
Mini spinach and feta pies:
Make these using store-bought puff pastry for an easy yet impressive dish.
Bruschetta:
Top sliced baguette with tomato, basil, and mozzarella, or try a sweet version with ricotta, honey, and berries.
You can make several varieties.
Here are 5 of my favorite varieties of bruschetta:
Classic Tomato Bruschetta: Combine diced tomatoes, minced garlic, chopped basil, olive oil, salt, and pepper. Spoon the mixture onto toasted baguette slices and top with a sprinkle of Parmesan cheese.
Prosciutto, Fig, and Goat Cheese Bruschetta: Spread goat cheese onto toasted baguette slices. Top with a slice of prosciutto and a dollop of fig jam or a fresh fig slice.
Balsamic Strawberry and Ricotta Bruschetta: Spread ricotta cheese onto toasted baguette slices. Top with sliced strawberries and a drizzle of balsamic glaze. Finish with a sprinkle of fresh basil or mint.
Avocado and Shrimp Bruschetta: Combine diced avocado, chopped cooked shrimp, minced red onion, lime juice, cilantro, salt, and pepper. Spoon the mixture onto toasted baguette slices.
Peach, Provolone, and Honey Bruschetta: Lay thin slices of provolone cheese on toasted baguette slices. Top with sliced fresh peaches and a drizzle of honey. Add a sprinkle of freshly cracked black pepper, if desired.
Breakfast pizza:
Whip up a pizza with toppings like scrambled eggs, bacon, and cheese for a fun twist on a classic favorite.
When preparing your breakfast pizzas, you can use pre-made pizza crusts or make your own from scratch.
If you'd like to offer guests a variety of options, consider making several small, personal-sized pizzas with different toppings.
Here are a couple more options for baby shower breakfast pizza:
Veggie Breakfast Pizza: Spread a layer of pesto or olive oil on a pizza crust. Top with scrambled eggs, sautéed spinach, mushrooms, cherry tomatoes, and crumbled feta or goat cheese.
Huevos Rancheros Breakfast Pizza: Top a pizza crust with a thin layer of refried beans or black beans, scrambled eggs, salsa, cooked chorizo, sliced avocado, and shredded Monterey Jack or cheddar cheese. Garnish with chopped cilantro.
Crudité platter:
Arrange a variety of colorful, fresh veggies with hummus or ranch dip for a healthy snack option.
You can make these easy and fast and your guests will love them!
Egg Dishes
Eggs are a classic brunch staple, and there are so many ways to prepare them. Consider offering:
Quiches
Frittatas
Egg muffins
Egg casseroles
These dishes can be made ahead of time and served at room temperature or reheated before serving.
They can also be customized with a variety of fillings, such as spinach, cheese, mushrooms, and bacon.
Sandwiches and Wraps
Sandwiches and wraps are another great option for a baby shower brunch.
They can be made ahead of time and served cold or at room temperature.
Consider offering:
Chicken salad sandwiches
Turkey and avocado wraps
BLT sandwiches
Veggie wraps
These dishes can be made with a variety of bread or wraps and can be customized to suit different dietary needs.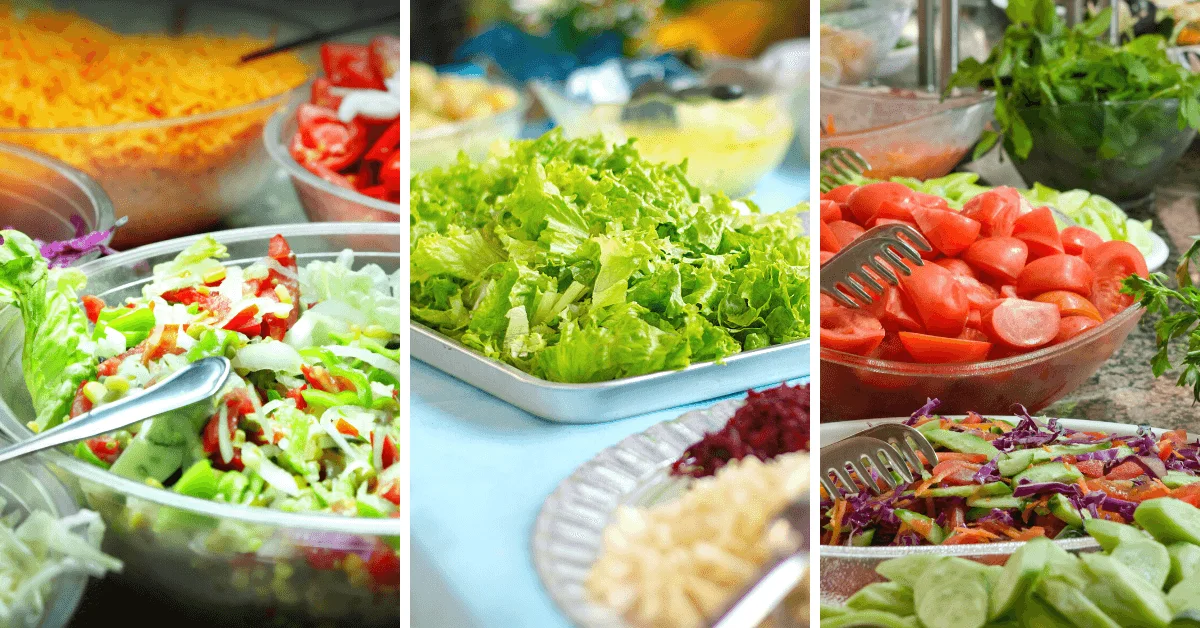 Salads
Salads are a healthy and refreshing addition to any brunch menu. Consider offering:
Cobb salad
Caprese salad
Spinach salad
Pasta Salad
These salads can be made ahead of time and served at room temperature.
They can also be customized with a variety of toppings, such as grilled chicken, bacon, and croutons.
Beverage Brunch Menu Ideas
When it comes to planning a baby shower brunch, it's important to have a variety of beverages available to your guests.
Whether you're serving non-alcoholic drinks or want to include some boozy options, there are plenty of delicious and refreshing options to choose from.
Non-Alcoholic Beverages
If you're looking for non-alcoholic options, consider serving a variety of juices, such as orange, grapefruit, or cranberry.
You can also offer coffee, tea, and hot chocolate for those who want something warm and cozy.
For a fun twist, consider making a DIY mimosa bar with different types of fruit juices and sparkling water or soda.
Another great option is to serve fruit-infused water or iced tea.
You can add fresh fruit, such as berries or citrus, to a pitcher of water or tea for a refreshing and flavorful drink.
Alcoholic Beverages
If you want to include some boozy options, mimosas, and bloody marys are classic brunch cocktails that are always a hit.
A unique twist is to consider serving a grapefruit or pomegranate mimosa.
You can also make a batch of sangria or punch for a crowd-pleasing option.
If you're looking for something a little stronger, consider serving a brunch-inspired cocktail, such as a bacon bloody mary or a peach bellini.
Just be sure to have some non-alcoholic options available for those who don't drink or are driving home.
Brunch menu options by season:
Here are some baby shower menu ideas grouped by season:
Winter baby shower brunch ideas:
Warm Spinach and Artichoke Dip
Mini Beef Wellingtons
Baked Brie with Cranberry Sauce
Butternut Squash Soup Shooters
Mini Chicken Pot Pies
Cheese and Charcuterie Board
Caramelized Onion and Gruyère Tartlets
Gingerbread Scones
Hot Chocolate Bar with Marshmallows and Whipped Cream
Apple Cinnamon Muffins
Spring baby shower menu ideas:
Mini Quiches with Asparagus and Goat Cheese
Caprese Skewers
Smoked Salmon and Cucumber Bites
Lemon Poppy Seed Scones
Strawberry Spinach Salad
Crudité Platter with Green Goddess Dip
Deviled Eggs with Fresh Herbs
Raspberry and White Chocolate Muffins
Lavender Lemonade
Fruit Salad with Honey Lime Dressing
Summer baby shower brunch menu ideas:
Gazpacho Shooters
Shrimp Cocktail Shooters
Tomato and Basil Bruschetta
Zucchini and Corn Fritters
Greek Salad Skewers
Watermelon, Feta, and Mint Salad
Veggie Spring Rolls with Peanut Dipping Sauce
Fresh Berry Parfaits
Mini Key Lime Tarts
Iced Tea Bar with Fruit Garnishes
Fall brunch baby shower menu:
Mini Pumpkin Quiches
Caramelized Pear and Brie Crostini
Butternut Squash and Sage Fritters
Apple and Cheddar Mini Pies
Sweet Potato and Bacon Skewers
Harvest Salad with Roasted Vegetables
Stuffed Mushrooms with Sausage and Sage
Pumpkin Spice Scones
Spiced Apple Cider
Pecan and Chocolate Chip Mini Muffins
Menu Options For Different Dietary Preferences
Here are options for specific dietary preferences to ensure ALL of your guests have an enjoyable time!
Vegetarian:
Stuffed Bell Peppers: Fill bell peppers with a mixture of quinoa, black beans, corn, and spices, then bake until tender.
Savory Bread Pudding: Make a bread pudding with eggs, milk, cheese, vegetables, and herbs.
Asparagus Tart: Create a tart with puff pastry, asparagus, goat cheese, and a drizzle of honey.
Shakshuka: Cook eggs in a spiced tomato sauce with onions, bell peppers, and a sprinkle of feta cheese.
Ricotta and Spinach Stuffed Crepes: Fill crepes with a mixture of ricotta, spinach, and herbs.
Vegan:
Tofu Scramble: Sauté crumbled tofu with onions, peppers, and spices for an egg-like dish.
Chia Seed Pudding: Prepare with plant-based milk, maple syrup, and vanilla, topped with fruit.
Vegan "Egg" Salad: Use mashed chickpeas, vegan mayo, mustard, and spices for a plant-based egg salad.
Veggie and Bean Quinoa Bowl: Combine quinoa with roasted vegetables and black beans, then drizzle with a tahini sauce.
Vegan Banana Pancakes: Make pancakes with mashed banana, plant-based milk, and flaxseed as an egg substitute.
Gluten-free:
Sweet Potato Hash: Cook sweet potatoes, onions, and bell peppers for a hearty hash.
Crustless Quiche: Make a quiche without the crust, using your favorite fillings and gluten-free flour for thickening.
Polenta Cakes: Top-cooked polenta cakes with roasted vegetables, tomato sauce, or a poached egg.
Rice Flour Waffles: Use rice flour as a substitute in your favorite waffle recipe.
Gluten-free Frittata Muffins: Bake a frittata mixture in a muffin tin for portable, gluten-free servings.
Dairy-free:
Coconut Milk French Toast: Use coconut milk as a substitute for milk in a French toast recipe.
Dairy-free Egg Muffins: Bake an egg mixture with vegetables and dairy-free cheese in a muffin tin.
Dairy-free Smoothie Bowls: Blend frozen fruit with almond milk or coconut milk, and top with your favorite dairy-free toppings.
Vegan Biscuits and Gravy: Make dairy-free biscuits and gravy using plant-based milk and vegan butter.
Dairy-free Frittata: Prepare a frittata using dairy-free cheese and almond milk in place of dairy products.
Nut-free:
Seed and Fruit Granola: Make granola using seeds (e.g., sunflower, pumpkin, chia) instead of nuts.
Nut-free Pesto: Prepare pesto using sunflower seeds or pumpkin seeds in place of nuts.
Seed Butter Toast: Use sunflower seed butter or tahini on toast, topped with sliced fruit or jam.
Nut-free Oatmeal Bars: Bake oatmeal bars with seeds, dried fruit, and coconut, omitting nuts.
Nut-free Energy Bites: Combine dates, oats, seed butter, and seeds (e.g., chia, flax, sunflower) for a nut-free snack.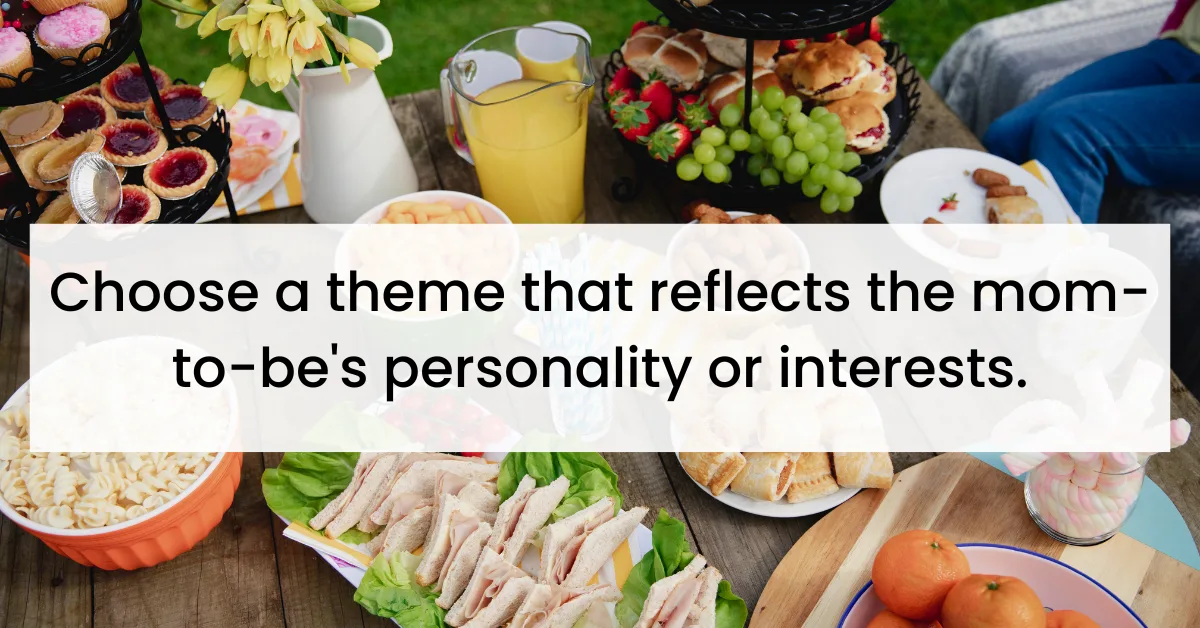 Presentation Style and Serving
When you're planning a baby shower brunch, presentation style really matters because it helps create the right atmosphere for everyone to have a good time.
Think about it – the way you serve the food makes a big difference in how guests mingle, enjoy their meals, and make lasting memories.
So, take some time to choose a style that suits the vibe you're going for and keeps everyone happy, including the mom-to-be!
Individual servings:
Pros:
Hygienic, as each guest has their own portion.
Allows for precise portion control.
Can be visually appealing.
Cons:
May require more time and effort to prepare and plate.
May produce more waste due to additional serving ware
Family-style:
Pros:
Encourages a sense of community and sharing.
Less time-consuming than preparing individual portions.
Reduces the amount of serving ware needed.
Cons:
Can be less hygienic, as guests share dishes.
This may lead to food waste if portions are too large or too small.
Buffet:
Pros:
Guests can choose their own portions and combinations.
Encourages mingling and socializing.
Simplifies serving, as guests help themselves.
Cons:
Can be less hygienic due to communal serving utensils.
May require more space for the buffet setup.
Requires attention to maintaining food temperature and freshness.
Platters and boards:
Pros:
Visually appealing and encourages a sense of abundance.
Allows for a variety of options and combinations.
Can be less time-consuming to prepare compared to individual servings.
Cons:
Can be less hygienic, as guests share dishes.
May be difficult to maintain food temperature and freshness.
I am a big fan of individual servings or buffet style for a baby shower brunch.
I use platters and boards for appetizers guests can enjoy while mingling and for desserts.
My least favorite is family style.
But this can work if you have a small and more intimate baby shower with fewer guests.
Do's and Don'ts for Baby Shower Brunch Menus
Here are some do's and don'ts to help you create a tasty and memorable menu for your morning or midday baby shower celebration.
Do's:
Offer a variety of options to accommodate different dietary needs and preferences. This can include vegetarian, gluten-free, and dairy-free options.
Include both sweet and savory dishes to balance out the menu.
Consider serving bite-sized or mini versions of popular brunch dishes for easy eating and portion control.
Use fresh and seasonal ingredients to add flavor and color to your dishes.
Offer a mix of hot and cold dishes to cater to different tastes and temperatures.
Provide a coffee and tea station with a variety of options for guests to choose from.
Don'ts:
Don't serve dishes that require utensils or are messy to eat, as this can be difficult for guests to manage while socializing.
Don't forget to label dishes with ingredients for guests with allergies or dietary restrictions.
Don't serve dishes that are too heavy or filling, as guests may not have much of an appetite due to the timing of the event.
Don't forget to consider the timing of the event when planning your menu. A morning baby shower may call for lighter fare, while a midday shower may allow for heartier dishes.
Don't forget to offer non-alcoholic drink options for guests who may not want to consume alcohol.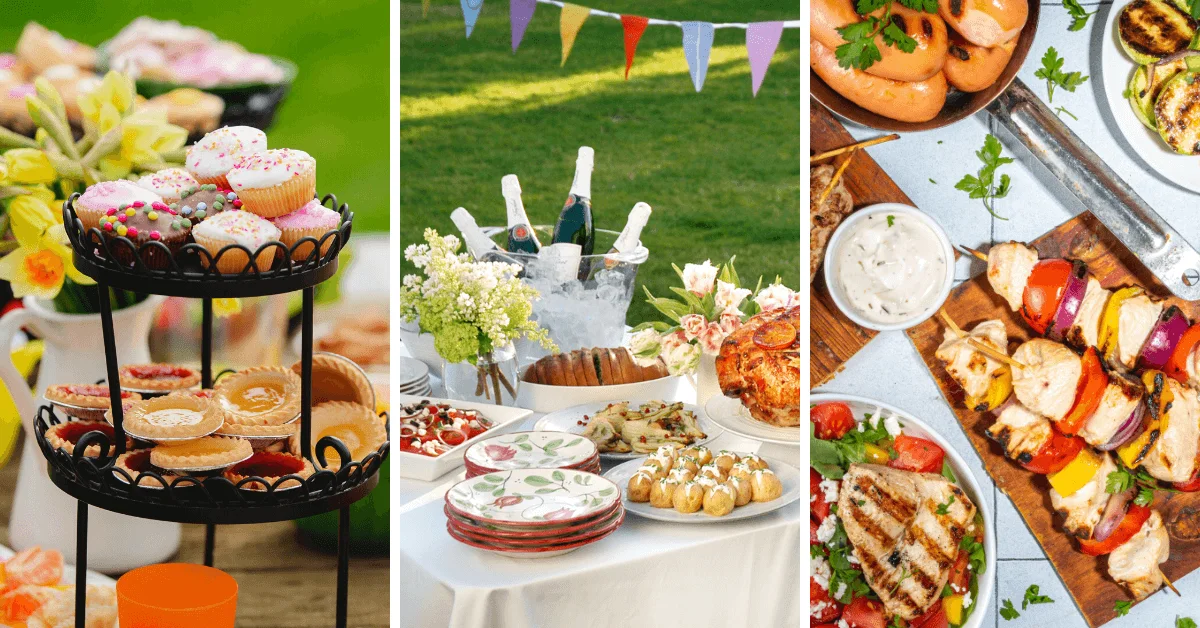 FAQ
Planning a baby shower brunch menu can be overwhelming, especially if you've never hosted a baby shower before.
Here are some frequently asked questions to help guide you through the process:
Q: How many dishes should I serve?
A: The number of dishes you serve will depend on the size of your guest list.
As a general rule, plan on serving 3-5 savory items and 2-3 sweet items for a mid-morning or early afternoon baby shower brunch.
Q: Can I make the dishes ahead of time?
A: Yes! In fact, making dishes ahead of time can save you a lot of stress on the day of the shower.
Many brunch dishes can be made a day or two in advance and reheated before serving.
Consider making a breakfast casserole, quiche, or baked French toast the night before.
Q: What if some of my guests have dietary restrictions?
A: It's always a good idea to ask your guests if they have any dietary restrictions when you send out the invitations.
That way, you can plan accordingly.
Consider serving a variety of dishes that are vegetarian, gluten-free, or dairy-free.
You can also label dishes with common allergens like nuts or shellfish.
Q: Can I serve alcohol at a baby shower?
A: It's up to you!
If you're hosting a mid-morning or early afternoon baby shower, consider serving a non-alcoholic brunch cocktail like a mocktail or fruit-infused water.
If you do decide to serve alcohol, keep it light and refreshing.
Mimosas or bellinis are popular choices.
Q: What if I'm not a great cook?
A: Don't worry! There are plenty of easy and delicious baby shower brunch dishes that even beginner cooks can make.
Consider serving a fruit salad, yogurt parfait, or a simple cheese and cracker platter.
You can also enlist the help of friends or family members to bring a dish or two.
Q: What time should a brunch baby shower start?
A brunch baby shower typically starts between 10:00 AM and 12:00 PM.
This timeframe allows for a relaxed atmosphere and takes advantage of the late morning to early afternoon hours when guests are more likely to be free and energized.
The specific start time can be adjusted based on the host's preferences and the availability of the guests.