Are you looking for the perfect summer baby shower foods?
Whether you're planning an outdoor event or an indoor gathering, the right food and drink options can make all the difference.
When it comes to summer baby shower foods, light, and fresh options are ideal.
So let's jump into all the delicious summer baby shower menu options that are sure to satisfy your guests and the mom-to-be!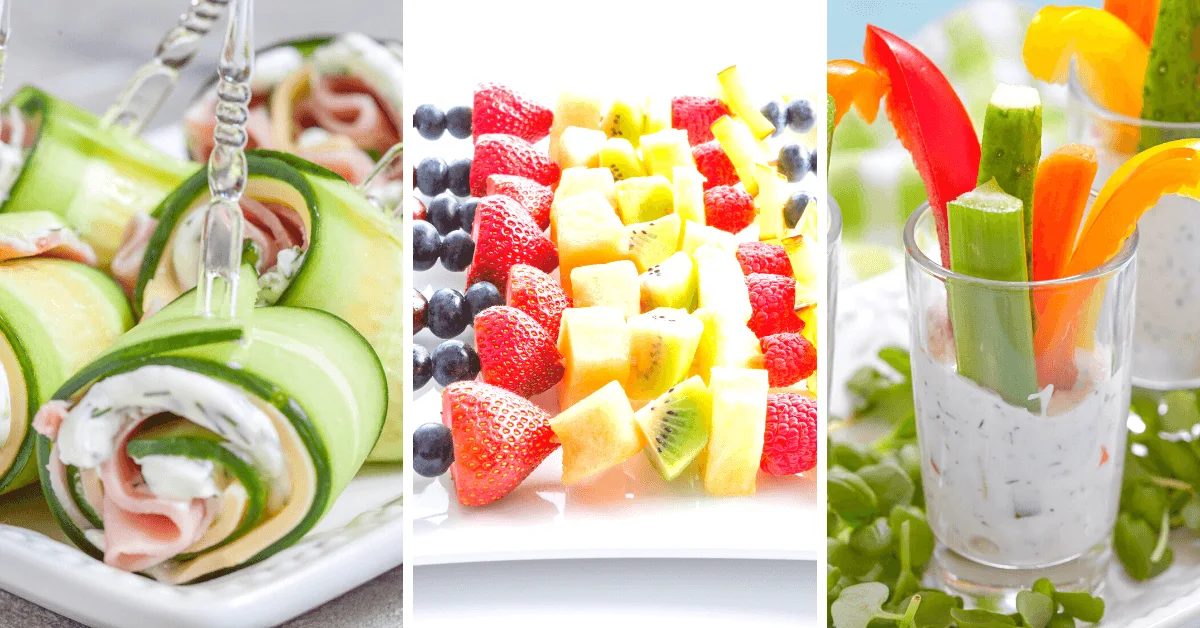 27 Perfect Summer Baby Shower Foods
Beverages
What's a summer baby shower without some refreshing and delicious drinks?
Here are some tasty beverage options that will keep guests cool and hydrated:
Lemonade
Nothing screams summer like a tall glass of ice-cold lemonade.
Serve classic lemonade or mix it up with different flavors like strawberry, raspberry, or peach.
As an extra special touch, add some fresh fruit or mint leaves to garnish.
If you are doing a shower for a baby girl don't forget the pink lemonade!
Iced Tea
Another classic summer drink is iced tea.
Serve sweet tea or unsweetened tea with lemon slices, mint leaves, or fruit for a flavorful twist.
For a unique option, try making a batch of hibiscus iced tea, which has a beautiful pink color and a refreshing taste.
I serve both sweetened and unsweetened tea when I have an outdoor baby shower or summer baby shower.
I feel like giving people the option to add their own sweeteners or not makes for happier guests.
Sparkling Fruit Punch
Fruit punch is a great option for a baby shower because it's easy to make in large batches and can be customized to fit any taste.
Mix together different fruit juices like orange, pineapple, and cranberry, and add some sparkling water or lemon-lime soda for some fizz.
You can make an adult version by adding some rum or vodka.
You can make a blue punch for a baby boy's shower.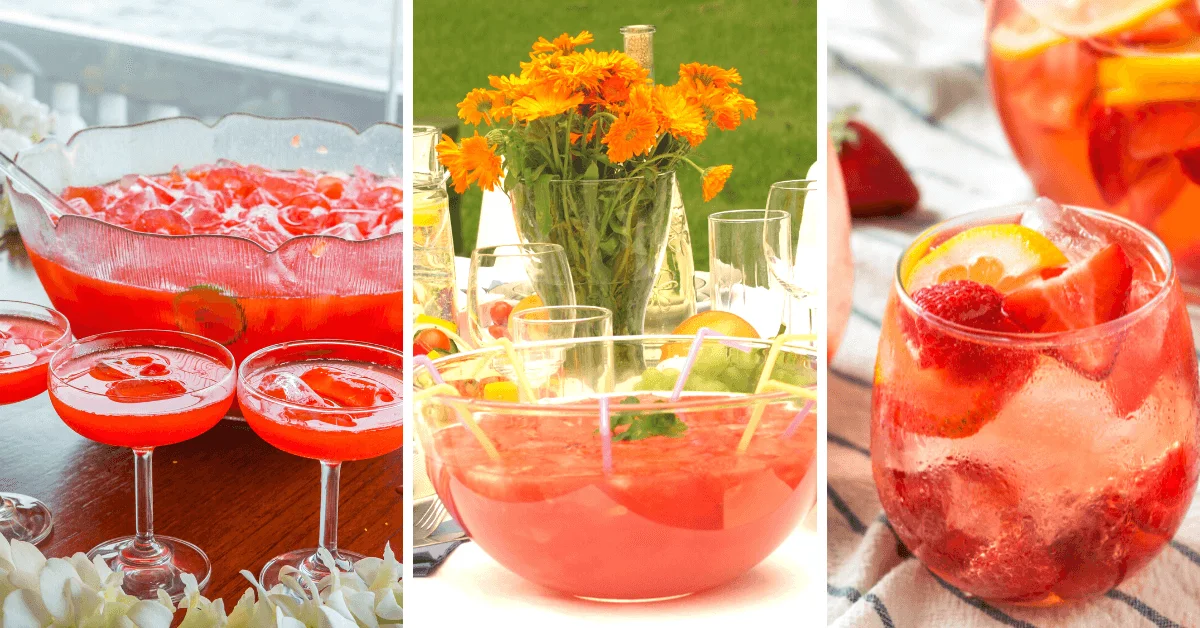 Watermelon Lemonade
A refreshing drink made with fresh watermelon juice, lemon juice, and a touch of sugar.
This is a popular and trendy drink choice that your guests will not be able to get enough of!
You can also make a watermelon limeade.
Cucumber Mint Infused Water:
A simple, yet elegant drink option for guests to enjoy throughout the shower.
You can serve this in pitchers at each table so guests can serve themselves throughout the shower.
Serving cucumber mint water in pitchers at each table is an excellent idea if the weather is going to be hot and humid the day of your baby shower or if you are hosting an outdoor baby shower!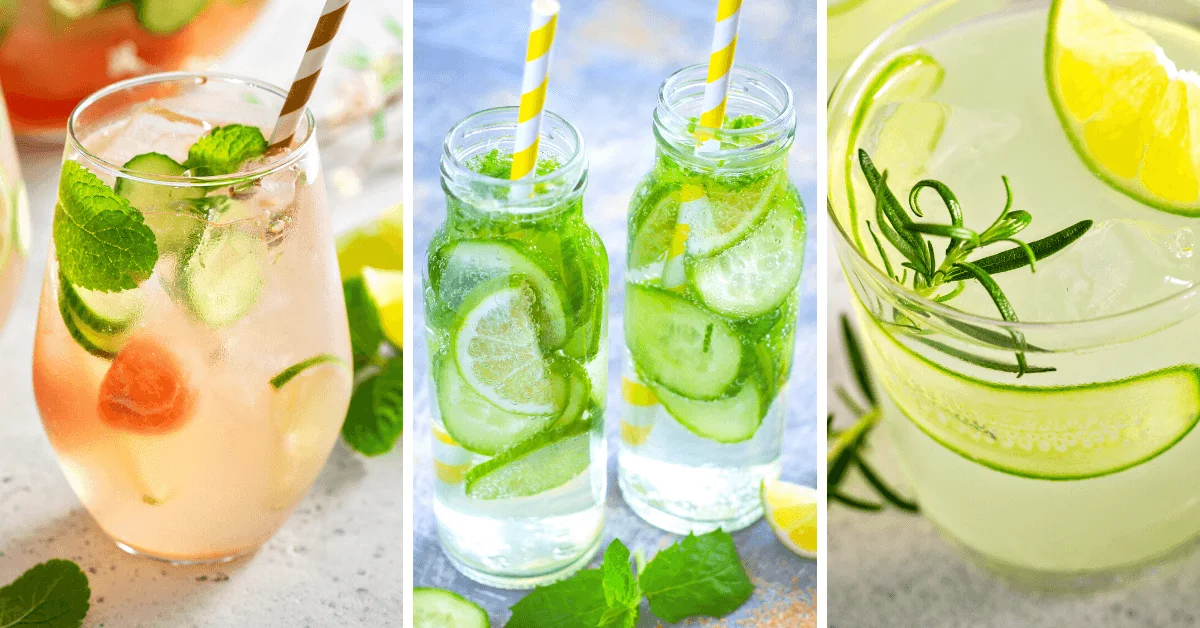 Homemade Sangria Mocktail:
A delicious, non-alcoholic version of sangria made with fruit juices, fresh fruit, and a splash of sparkling water.
I have hosted many summer parties and serving drinks in mason jars or other cute glasses adds to the summer vibe.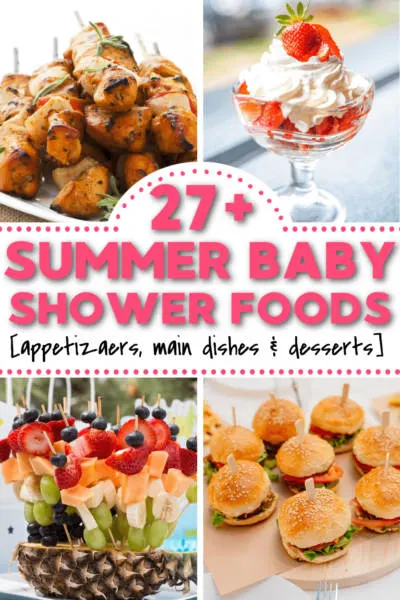 Appetizers
Summer baby showers are a great opportunity to serve light and refreshing appetizers that will keep your guests satisfied without weighing them down.
Crudité Platter:
This is simply a variety of fresh, colorful vegetables served with one or more dips.
Choose from a selection of carrots, bell peppers, cucumber, cherry tomatoes, celery, and radishes.
For dips, consider options like ranch, hummus, or spinach dip.
If you want easy baby shower food ideas a fresh veggie tray with a dip is simple and cheap!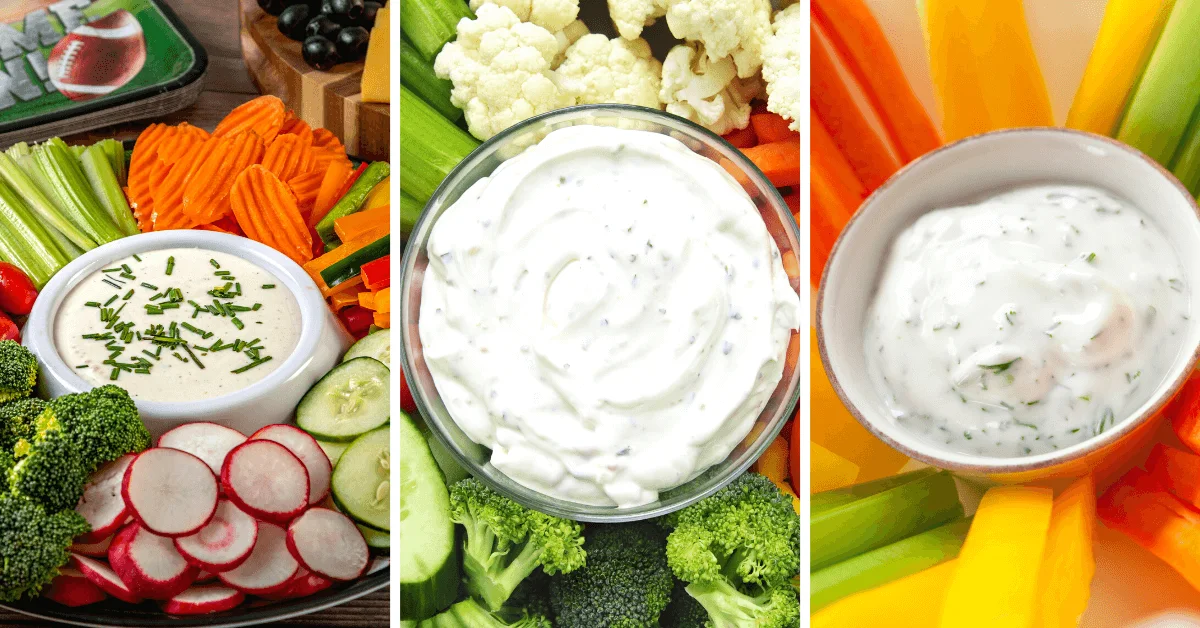 Cheese and Charcuterie Board:
This is a crowd-pleaser and requires no cooking at all.
Include a variety of cheeses, cured meats, olives, fruits, and crackers.
A cheese board with crackers and pepperoni is a budget-friendly baby shower finger food that is always a winner for guests!
Watermelon Salad
A watermelon salad is a perfect summer appetizer that is both refreshing and easy to make.
Simply cube some fresh watermelon, add some crumbled feta cheese and top with fresh mint leaves.
Drizzle with a champagne vinaigrette dressing.
Mini Caprese Skewers:
These are not only light and delicious but are also visually appealing!
Skewer a ripe cherry tomato, a fresh basil leaf, and a small mozzarella ball onto a mini skewer.
Drizzle with a balsamic reduction for a tangy finish, and you have a perfect bite-sized appetizer.
These skewers embody the freshness of summer, and their bright colors add a festive touch to any spread.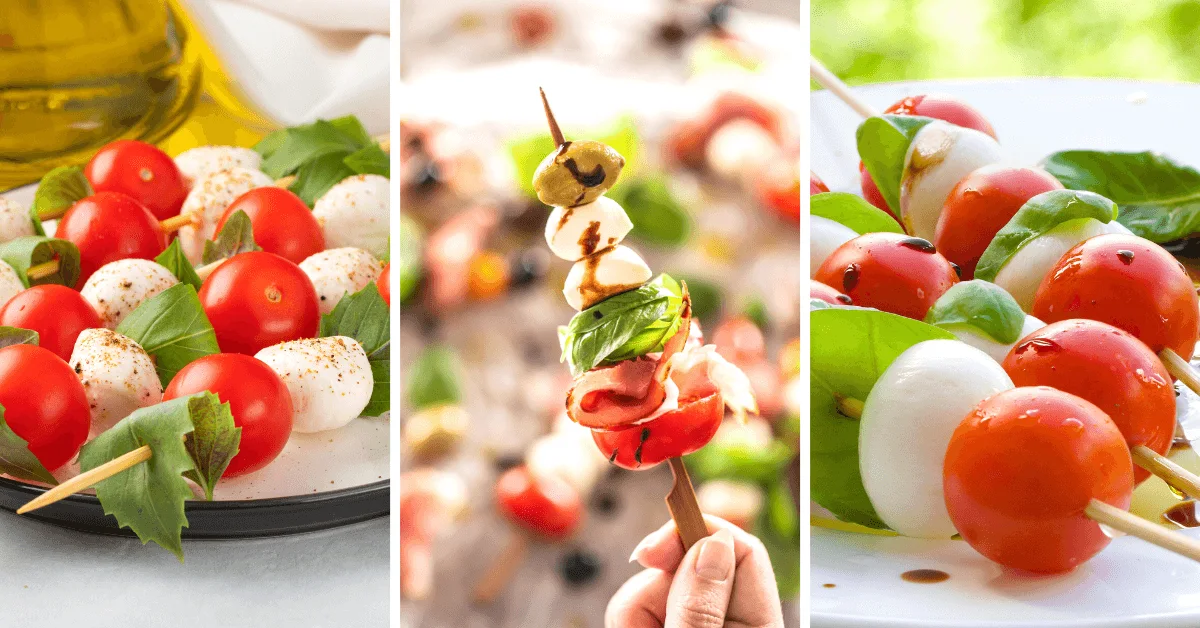 Chilled Shrimp Cocktail:
This is a classic appetizer that never goes out of style.
Plump, juicy shrimp are cooked, then chilled, and served with a tangy, tomato-based cocktail sauce.
You can garnish with a lemon wedge for a pop of color and a hint of citrus flavor.
Shrimp cocktail is universally loved and is a more sophisticated choice that can elevate your baby shower menu.
Cucumber Sandwiches:
These are the epitome of refreshing.
Thin slices of crisp cucumber are layered on soft bread spread with a light cream cheese mix.
You can add herbs like dill or mint to the cream cheese to give it an extra burst of freshness.
Cut the sandwiches into small, manageable sizes for an appetizer that's perfect for a hot summer day and easy to enjoy while mingling.
Grilled Vegetable Skewers:
Skewers aren't just for meat – grilled vegetable skewers are a fantastic option for vegetarians and anyone wanting to balance out the richer offerings on the menu.
Mix up colorful, hearty vegetables like bell peppers, zucchini, cherry tomatoes, mushrooms, and onions.
A brush of olive oil and some simple seasonings are all you need before these skewers hit the grill.
They're healthy, flavorful, and perfect for a summer baby shower.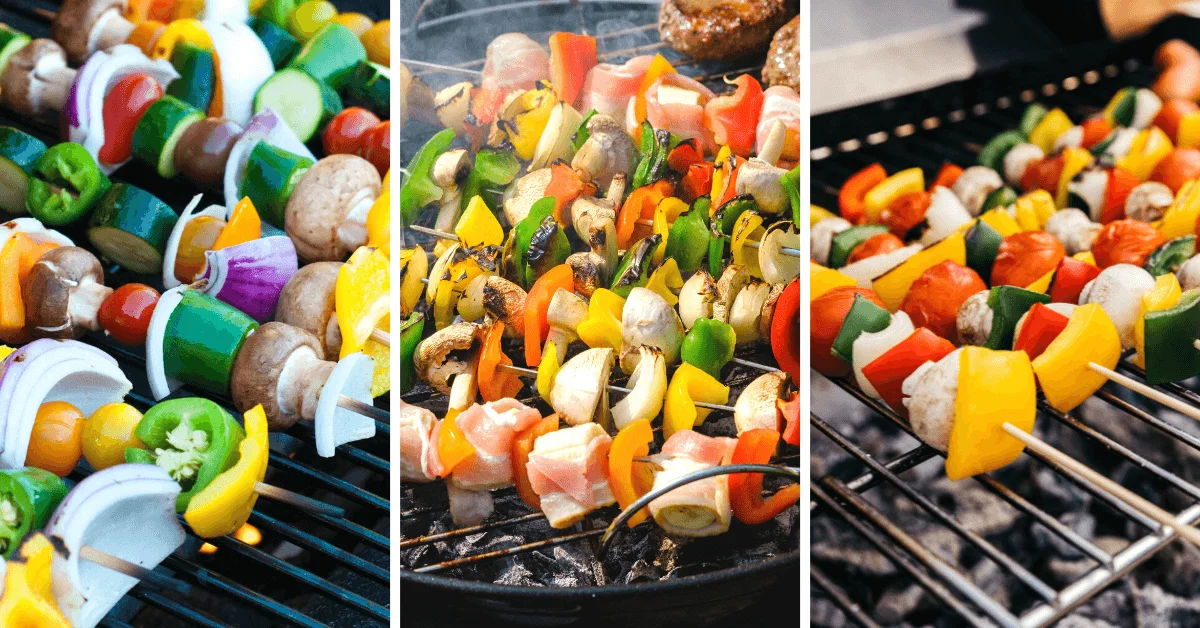 Fruit Kabobs:
Starting the celebration off with something sweet sets the tone for a joyful event!
Fruit kabobs are a healthy, vibrant choice that guests of all ages will love.
Use a variety of colorful fruits like melon, grapes, strawberries, pineapple, and berries.
Arrange them on a skewer for a beautiful rainbow effect.
To make it extra special, serve with a side of creamy yogurt dip.
If you are looking for cheap baby shower ideas you can't go wrong with summer fruit kabobs or a fruit salad!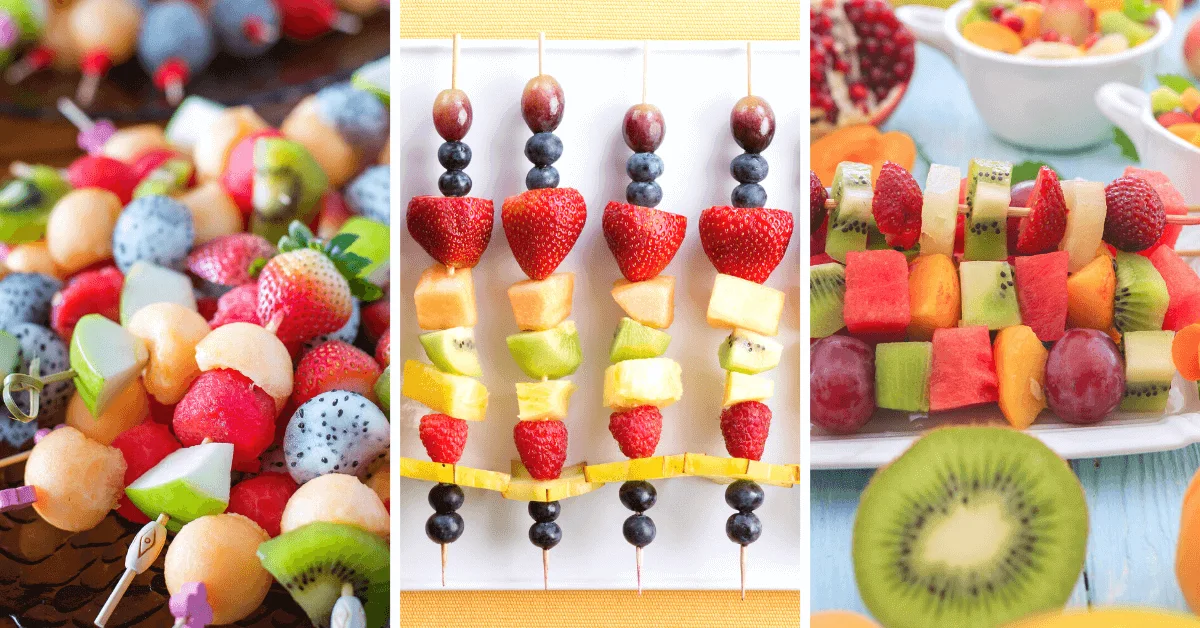 Summer Baby Shower Main Course Ideas
When it comes to the main course for a summer baby shower, burgers, and hot dogs are classic choices that guests are sure to enjoy.
Hot dogs and burgers are the perfect choices for a co-ed baby shower or a baby shower with a BBQ theme.
But maybe you having a summer baby shower brunch or want to serve a more unique menu.
I love the options below because they are lighter and may work better for a baby shower brunch or for themes that are not BBQ related.
Some other summer baby shower menu options to consider are:
Barbecued Chicken:
Who doesn't love a succulent piece of barbecued chicken?
Smothered in a tangy, smoky sauce and grilled to perfection, this dish is a staple of summer cuisine.
You can prepare a mix of thighs, drumsticks, and breasts to cater to everyone's preference.
Another option that I have served that worked well for a summer shower was pulled BBQ chicken sliders!
Serve with a side of coleslaw or cornbread, and you've got a hearty, satisfying dish that will have your guests coming back for seconds.
Here are a few of my favorite ways to serve up BBQ chicken at a baby shower:
Classic BBQ Chicken: You can never go wrong with a classic barbecue chicken recipe and this one from Plays Well With Butter is hands down the BEST! Marinate your chicken pieces in a rich, beer, or buttermilk brine sauce for a few hours, or overnight if possible. Grill until juicy and perfectly charred. This is a tried and true recipe that's sure to please.
Honey Mustard BBQ Chicken: This sweet and tangy twist on the traditional barbecue chicken is delightful. A marinade made from honey, Dijon mustard, apple cider vinegar, and a few spices gives a sweet and tangy flavor that's perfect for a summer party.
Lemon Herb BBQ Chicken: For a lighter, fresher option, consider a lemon herb marinade. Fresh lemon juice, a mix of your favorite herbs (like rosemary, thyme, and parsley), garlic, and olive oil create a bright and flavorful marinade that pairs beautifully with the smoky flavor of the grill.
BBQ Chicken Skewers: For an easy-to-eat option, consider serving barbecue chicken skewers. You can thread pieces of chicken onto skewers, along with vegetables like bell peppers, onions, and cherry tomatoes. They're fun, flavorful, and perfect for a casual summer baby shower.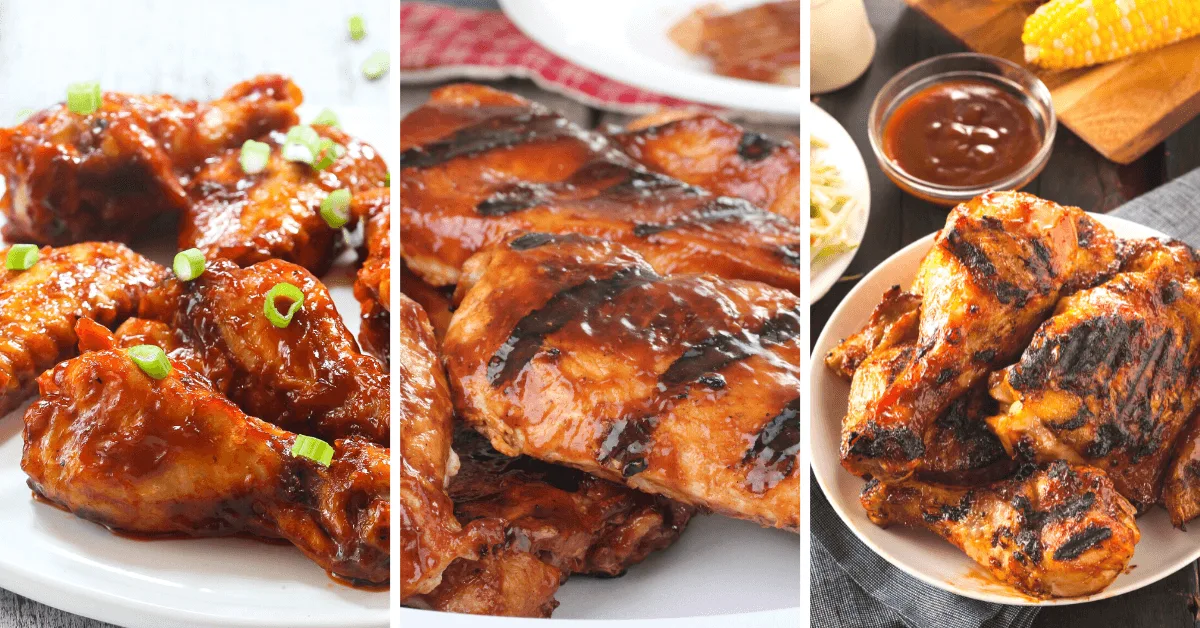 Summer Vegetable Pasta Salad:
Pasta salad is always a crowd-pleaser, and a summer vegetable version is a great way to highlight the season's produce.
Choose a mix of colorful veggies like bell peppers, cherry tomatoes, cucumbers, and sweet corn, then toss them with pasta and a bright vinaigrette.
You could also add some feta cheese for a tangy twist.
It's a light, refreshing dish that's also easy to serve – making it a fantastic choice for a baby shower menu.
One of my favorites is a refreshing lemon tahini pasta salad.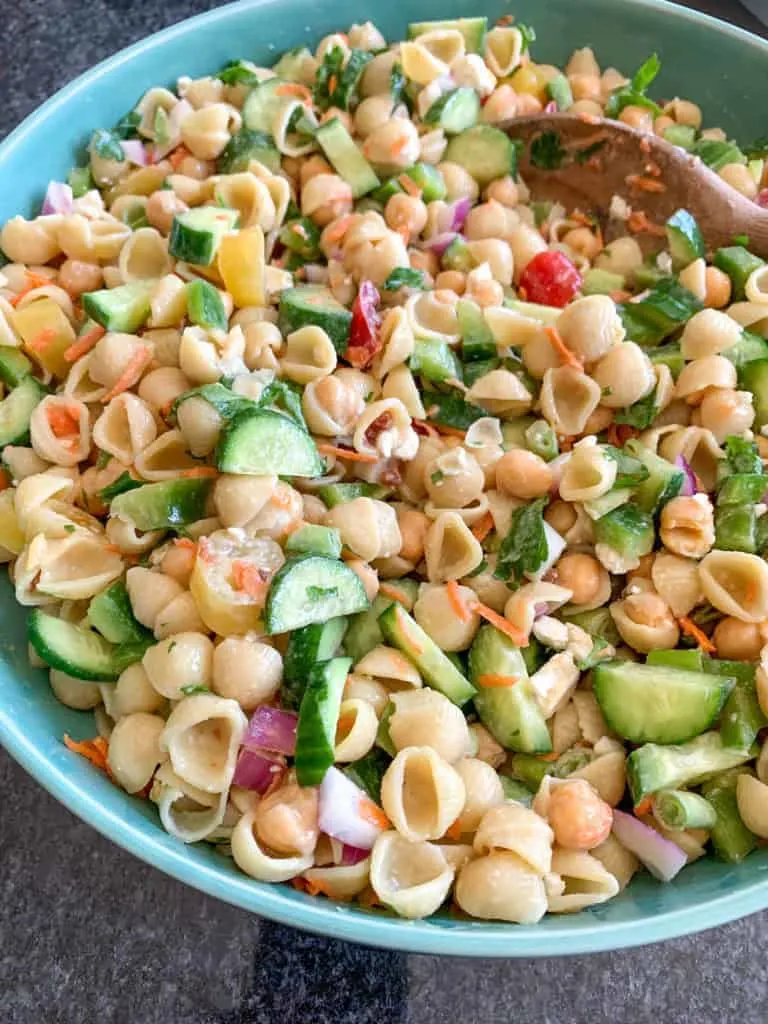 Photo: Maternity Comfort Solutions
Quiche with Fresh Summer Veggies:
Quiche is a fantastic option for a brunchtime baby shower.
You can pack it full of fresh summer veggies like spinach, zucchini, bell peppers, and cherry tomatoes.
Add in some cheese and a rich, creamy egg custard, and bake it all in a flaky pie crust.
The great thing about quiche is that it's just as delicious and served cold as it is warm, so you can bake it in advance and serve it at room temperature.
I love this for a garden party-themed baby shower in the summer, but quiche is the little black dress of baby showers.
It works with every theme and every season.
Here are several types of quiche varieties to choose from:
Spinach and Goat Cheese Quiche: This is a classic combination that's light yet satisfying. The tangy goat cheese contrasts nicely with the mild spinach, and a bit of nutmeg can add a touch of warmth. This quiche would be especially good for a brunch baby shower.
Tomato, Basil, and Mozzarella Quiche: Take inspiration from a Caprese salad for this fresh, summery quiche. Juicy ripe tomatoes, fresh basil leaves, and creamy mozzarella cheese bring the flavors of summer to this easy dish. For a twist, consider adding a balsamic reduction drizzle on top once it's baked.
Asparagus and Gruyere Quiche: Asparagus is in peak season during the summer, and it's delicious in a quiche. Paired with the nutty flavor of Gruyere cheese, this is a sophisticated option that your guests will love. Add some fresh thyme for an extra touch of summer flavor.
Broccoli and Cheddar Quiche is a classic baby shower food and one I always love to serve at baby showers. Tender broccoli and sharp cheddar cheese add delicious flavor to this quiche. It's a great option if you're looking for something that won't break the bank but still tastes great.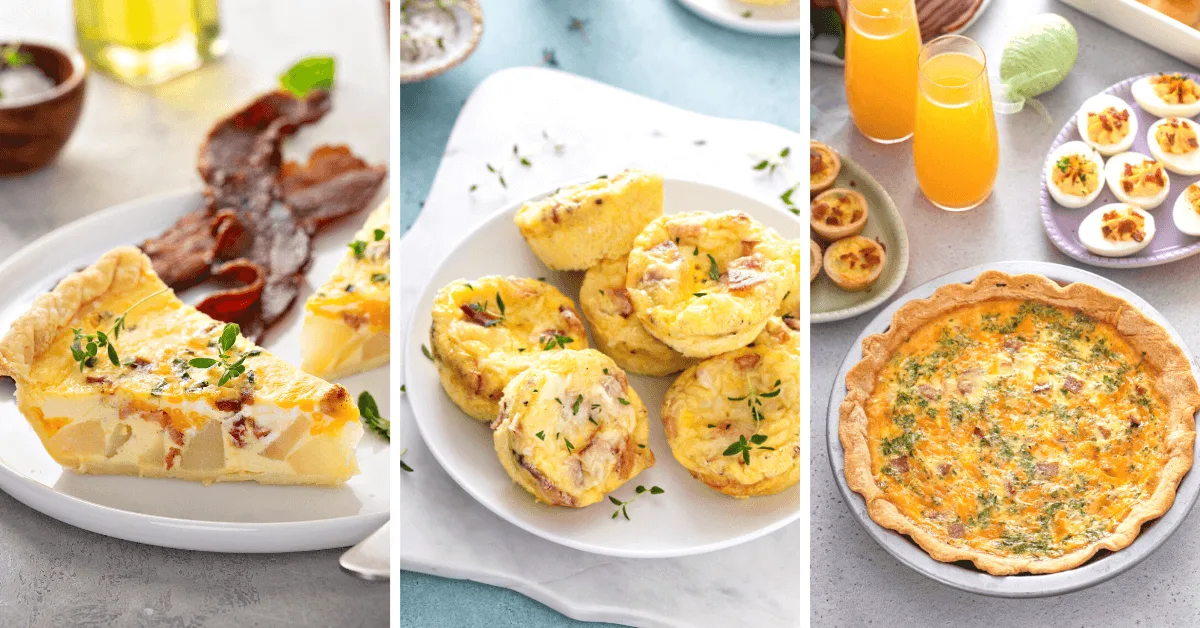 Lobster Rolls:
Are you looking to add a touch of luxury to your baby shower menu? Consider lobster rolls!
This New England favorite is perfect for a summer gathering and ideal if you are having a beach theme shower!
Succulent, sweet lobster meat is lightly dressed with mayo or melted butter, then piled into a soft, toasted bun.
Typically served with a side of chips or pickles, lobster rolls are a decadent treat that your guests are sure to appreciate.
Side Dishes For Summer Baby Showers
Summer baby showers are the perfect opportunity to serve up delicious side dishes that complement the season.
Whether you're looking for something light and refreshing or hearty and filling, there are plenty of options to choose from.
Corn on the Cob:
Corn on the cob is the quintessential summer side dish.
Grilled to perfection with a touch of butter, salt, and pepper, it's simple yet incredibly delicious.
For a twist, consider making a Mexican street corn version, also known as elite, with creamy mayo, tangy cotija cheese, chili powder, and a squeeze of fresh lime.
Tossed Salad:
This salad is fresh, light, and packed with flavor.
Crisp cucumbers, juicy tomatoes, sharp red onions, and sharp cheddar cheese tossed in a bright and zesty Italian dressing.
It's a refreshing side dish that pairs well with almost any main course.
Do not serve pre-made salads from the deli at your baby shower.
The risk of listeria contamination in the salad is too high.
Listeria is a dangerous food-borne illness and pregnant women are more susceptible.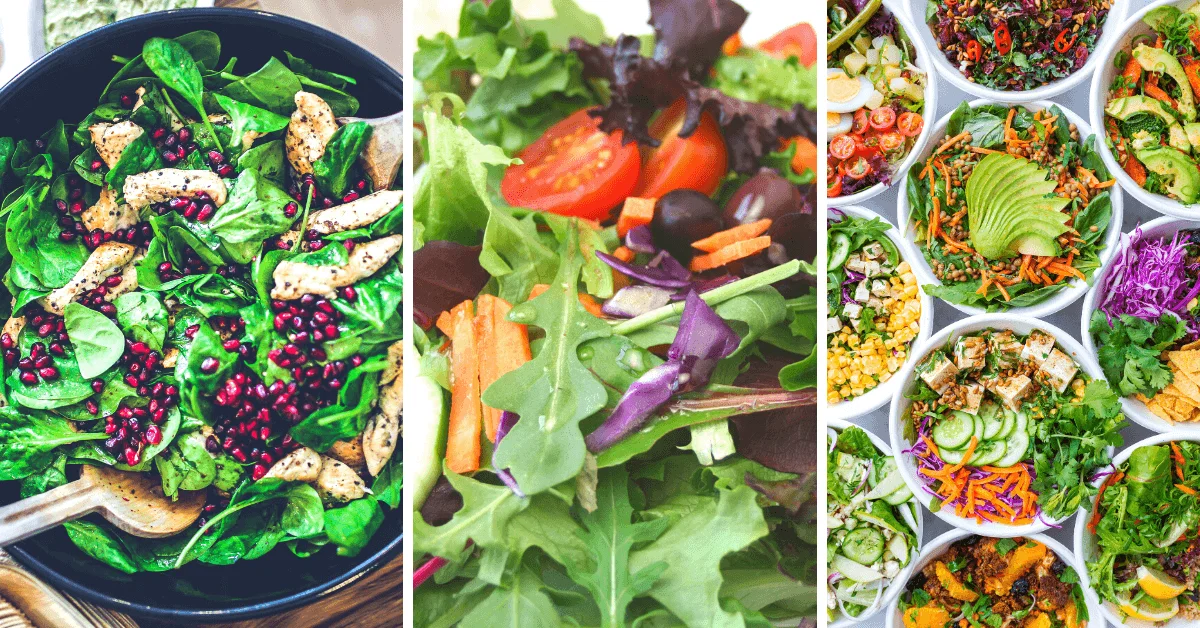 Sweet Potato Fries:
Sweet potato fries are a wonderful twist on regular fries.
They're slightly sweet, wonderfully crispy, and can be flavored in various ways.
You can keep them simple with just salt, or spice them up with some smoked paprika or cinnamon.
Serve them with a creamy aioli or your favorite dipping sauce for a side dish that's sure to be a hit.
Coleslaw:
No barbecue or summer gathering is complete without a serving of crunchy, creamy coleslaw.
This classic side dish made of shredded cabbage, carrots, and a tangy dressing is always a crowd-pleaser.
For a twist, you can add elements like sliced apple or pineapple for sweetness, or jalapenos for a bit of heat.
Coleslaw is especially great as it can be made ahead of time, and in fact, tastes even better after the flavors have had a chance to meld together in the fridge.
Do not serve coleslaw that was purchased pre-made from the deli or grocery store!
The risk of listeria is too high for pregnant women.
Pregnant women should not consume any deli meats or deli salads unless they are served steaming hot.
The safest option is to make the coleslaw yourself.
You can use a bagged cabbage and carrot mix and a commercial coleslaw dressing.
I love Marie's Coleslaw dressing.
You simply toss the bagged coleslaw mix in with the dressing in a large bowl and let it chill in the fridge.
You can make this the morning of the shower or the day before.
It only needs a few hours to chill and absorb some of the dressing flavors.
Baguette with Dips:
Buy a few fresh baguettes and a variety of spreads such as garlic herb butter, bruschetta, or a variety of hummus flavors.
This is a good choice if you are looking for budget-friendly baby shower food ideas.
Baguettes are inexpensive and filling.
Summer Baby Shower Desserts
Summer baby showers call for refreshing and light desserts that are perfect for warm weather.
Ice Cream Sundae Bar
An ice cream sundae bar is a fun and interactive dessert option that guests will love.
Provide a variety of ice cream flavors, toppings such as sprinkles, chocolate chips, and fruit, and sauces such as hot fudge and caramel.
Cupcakes
Cupcakes are a versatile dessert that can be customized to fit any theme or color scheme.
For a summer baby shower, consider flavors such as lemon, strawberry, or blueberry.
Top with buttercream frosting and fresh fruit.
Fruit Salad
A colorful and refreshing option that can be made with various seasonal fruits.
I love to serve a colorful and fresh fruit salad during summer celebrations!
You can serve watermelon, fresh berries, strawberries, pineapple, and other seasonal fruits.
They are refreshing and hydrating.!
Perfect for a summer baby shower on a budget.
S'mores:
A s'mores station can be a fantastic, interactive dessert option for a summer baby shower, especially if the shower is held outdoors.
The classic combination of gooey marshmallows, melty chocolate, and crunchy graham crackers is beloved by guests of all ages.
Summer Berry Salad:
A mix of fresh summer berries like strawberries, blueberries, and raspberries, topped with a dollop of whipped cream or Greek yogurt.
I love fresh berries in the summer and they make budget-friendly baby shower desserts in the summer!
Fresh berries are in abundance starting in early June through August so make sure you include them in your summer baby shower menu!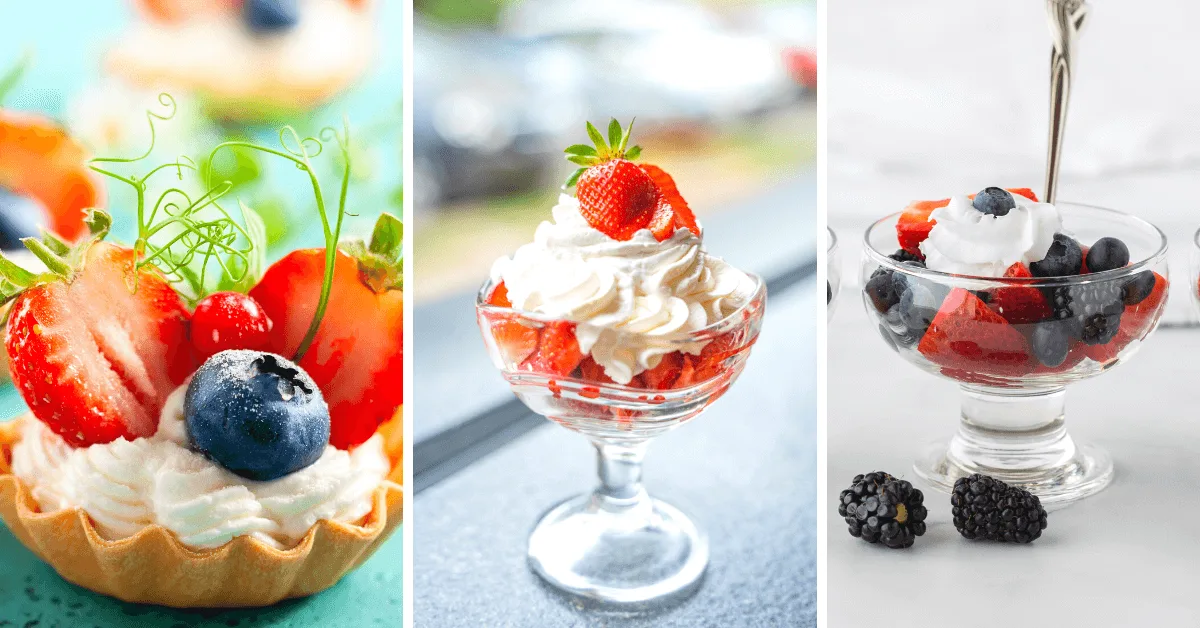 Do's and Don'ts
When planning a summer baby shower, there are a few do's and don'ts to keep in mind to ensure that your guests have a great time.
Do's
Do serve light and refreshing foods that are perfect for hot weather, such as fruit salads, grilled vegetables, and cold soups.
Do offer a variety of drink options, including non-alcoholic options like sparkling water, lemonade, and iced tea.
Do consider setting up a DIY food or drink station, such as a make-your-own taco or mimosa bar, which can add a fun and interactive element to the party.
Do keep the menu simple and easy to prepare, so that you can spend more time enjoying the party and less time in the kitchen.
Do consider any dietary restrictions or allergies that your guests may have, and provide options that cater to their needs.
Don'ts
Don't serve heavy or overly rich foods that may be difficult to digest in hot weather, such as creamy soups or heavy pasta dishes.
Don't forget to provide plenty of shade and seating options for your guests, especially if the party is being held outside.
Don't leave food out in the sun for too long, which can cause it to spoil or become unsafe to eat.
Don't forget to have fun and enjoy the party yourself! Remember, the most important thing is to celebrate the mom-to-be and her new arrival.
FAQ
What do you serve at an afternoon baby shower?
It's best to serve light and refreshing snacks, like finger sandwiches, fresh fruit platters, salads, or appetizers.
If you want to provide something more substantial, grilled items such as chicken skewers or pulled BBQ chicken sliders are always popular.
Sweet options could include cookies or cupcakes.
What are good appetizers for a baby shower?
Appetizers like bruschetta, stuffed mushrooms, spinach dip, or mini quiches are always crowd-pleasers.
For something a bit healthier and lighter, try veggie platters with hummus, fresh-cut fruit skewers, or even an antipasti platter.
I always try to serve a seasonal veggie platter when hosting a baby shower.
It is an economical option when you have to feed a crowd.