Updated May 8, 2023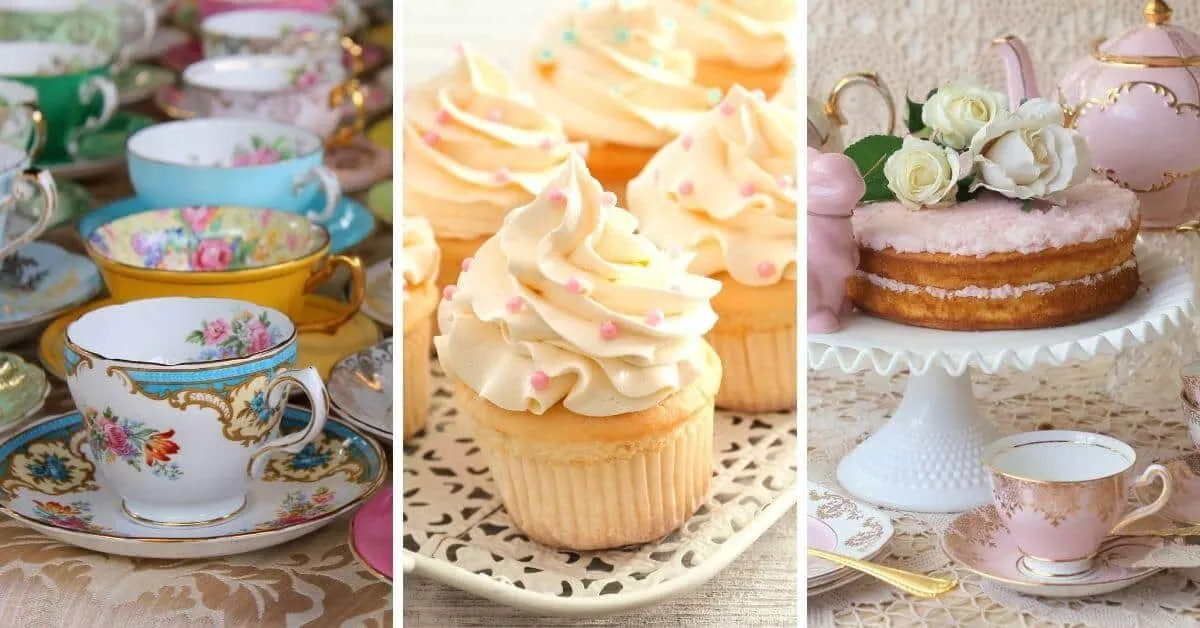 Are you looking for easy cheap baby shower ideas?
Baby showers can be expensive and stressful to plan. These budget-friendly shower ideas can keep costs low and provide a perfect party for any mother.
Expectant mothers have nine months to prepare for the birth of their babies, but friends and family members may have considerably less time and fewer resources to plan a baby shower.
Booking halls, finding caterers, and planning games can cost a lot of time and money.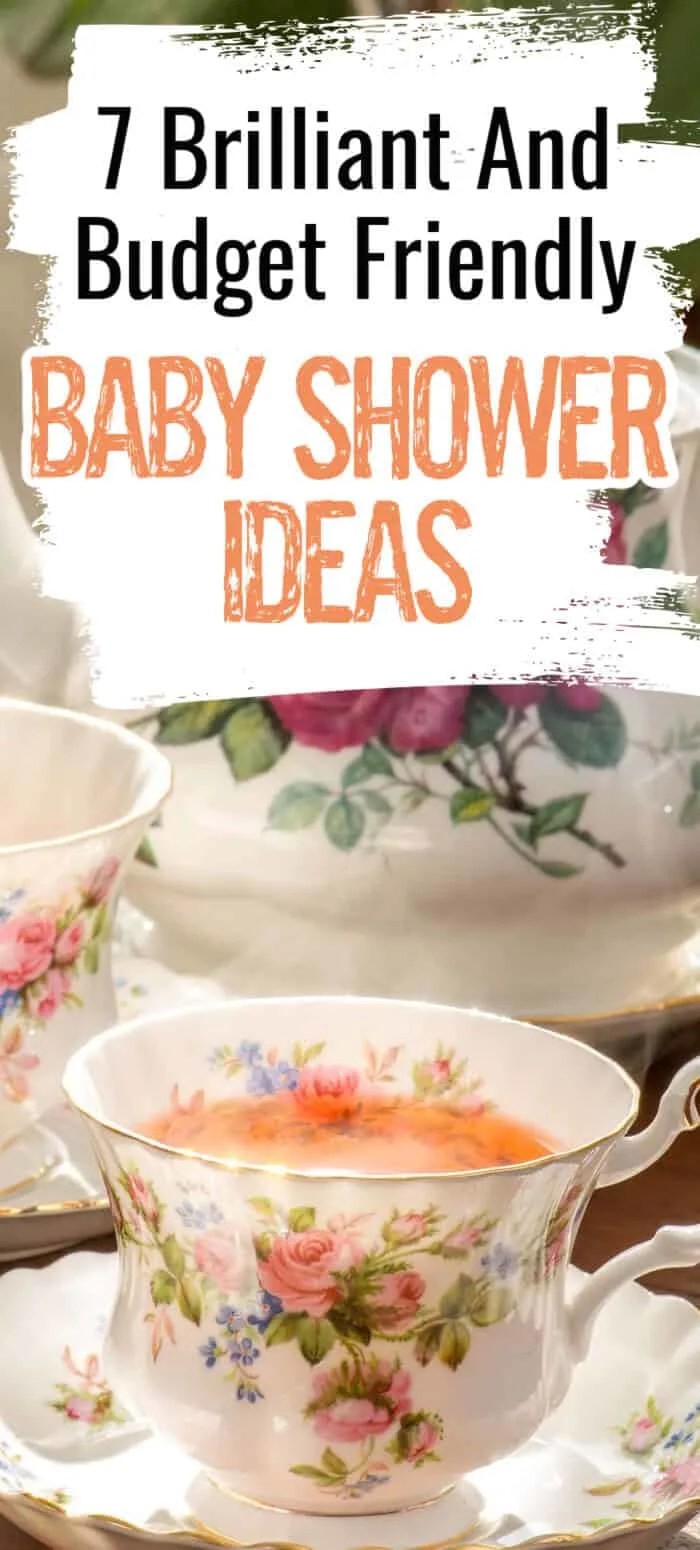 Whether planning a large shower on a budget, throwing a last-minute shower for an out-of-town relative, or giving a mother on bed rest the best shower possible, these ideas can give a new mom the baby supplies she needs without stretching her party planners to their limit.
7 Easy Cheap Baby Shower Ideas For Tight Budgets
1. The Afternoon Tea
Skip the large luncheon and avoid peak hours for halls and restaurants by throwing a tea in the afternoon.
Serve tea and coffee with tea biscuits, scones, or cookies.
Skip the fancy centerpieces by replacing them with unique teapots on pretty serving trays.
These can be purchased at antique or second-hand stores lending a shabby chic look to the décor.
Accent each tray with a small bud vase and one of the expectant mother's favorite flowers.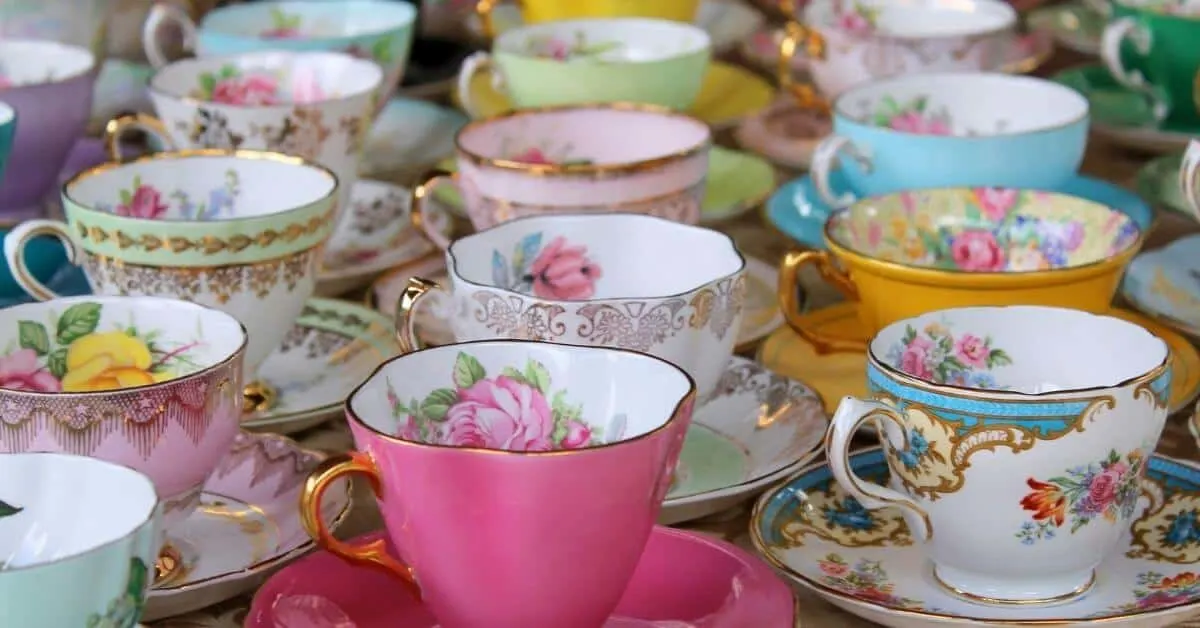 This centerpiece can be given to the winner of a game or to the person at each table who has a birthday closest to the due date.
Another option would be to purchase inexpensive or second-hand teacups and allow each guest to take their cup and saucer home.
Many thrift stores such as Goodwill and Savers have 50% off days where you could save even more money on teacups and saucers.
If you'd like to add something else as a baby shower favor consider homemade shortbread cookies or homemade biscotti.
Both are excellent choices to have with tea or coffee.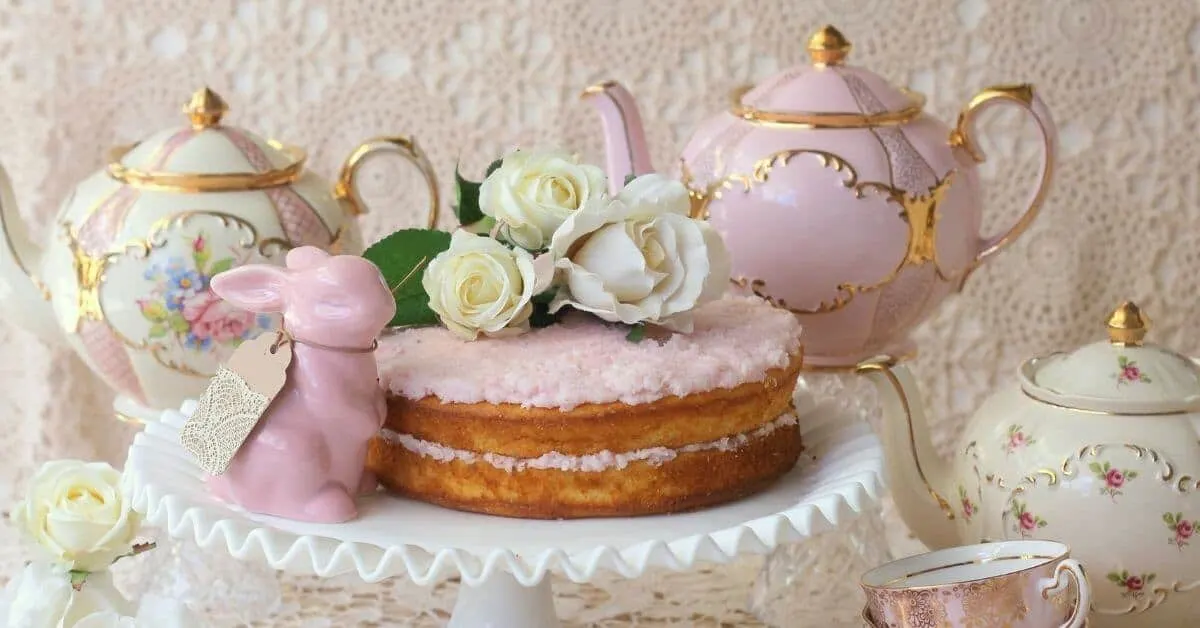 Still looking for a bargain, consider checking what is available on eBay.
There are countless items you can include in an afternoon tea baby shower.
There are many unique items on eBay and during the pandemic, eBay has proven to be more reliable for shipping when online retailers such as Amazon and Walmart get overwhelmed with orders.
You will also find that some people are more savers than others whether it be related to sentimental feelings or a desire to be a minimalist.
For eBayers looking for bargains, this offers an opportunity to get very reasonably priced items.
Best of all, if they are baby shower items they will be like new if only used once.
Keep the guest list small, including only close family members and close friends of the mom.
2. Give a Gift Theme for the Baby Shower
Throw a simple party with finger food snacks and ask each guest to only bring one kind of gift.
For example, throw a diaper shower where each guest is asked to bring a package of diapers and a book for the baby.
This makes the shower affordable for both the guests and those throwing the party.
Possible themes could include "cooking and cleaning" where guests only bring bottles, foods, skincare products, bath supplies, and similar items; gift card parties for guests to give gift cards to baby stores, clothing stores, department stores, or grocery stores to help the new parents with the financial stress of a newborn.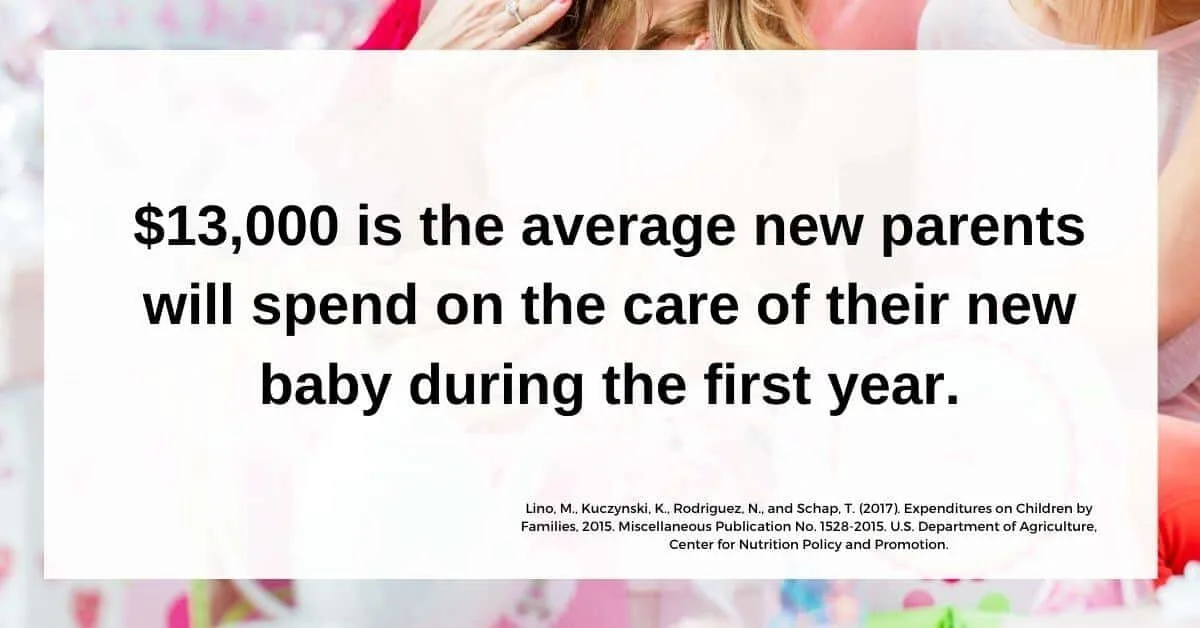 3. Book Baby Shower
Children's book theme showers are inexpensive and allow each guest to share a copy of their favorite childhood book with mommy and child. (Note: dramatic readings of the children's books make for great laughs with a lively group).
Consider asking guests to bring a book that follows a seasonal theme or an animal theme.
These are a few of the children's books our family has enjoyed the most over the years:
4. Party in a Box
If the soon-to-be mom is too far away or unable to travel for a proper shower from a group of friends or family members, consider sending the party to her.
Pack presents, cards, gift cards, and an edible treat for the new mother then ask her to sign into a free online video chat like Skype or Zoom so the group can watch her open her gifts.
One way to keep the costs down on a party-in-a-box baby shower is to stick to gift cards for the mom to be. If virtual guests want to send a companion gift they can do so on their own.
This will keep shipping costs much lower.
A virtual baby shower in a box is one of the safest ways to gather in 2021 due to the coronavirus.
Related: 10 Baby Shower Favors Your Guests Will Love
5. All for One Shower
Big-ticket items can be the most difficult for new parents to obtain.
If a small group is throwing a small shower, consider asking each member of the group to chip in for a large item such as the crib or entire nursery set.
The shower will be short, with only one gift to open, so keep the party relaxed.
Send e-vites instead of snail mail invitations.
Plan grab-and-go catering like pasta and salad trays for lunch.
You can also make several trays of lasagna very inexpensively. Host the shower at your home if you can, it helps cut down on expenses and gives you easy access to an oven to heat up the pasta or lasagna trays.
And visit the mother's favorite bakery pink and/or blue frosted cupcakes instead of a pricey cake.
Baby gear is so pricey! Strollers can easily be upwards of $300.00.
We love this baby shower idea and it is ideal if you are hosting a baby sprinkle for a mom to be expecting baby number two or more!
6. Card Showers
This shower is similar to the gift theme or the party in-box theme.
If a new mother is out of reach for a proper baby shower or on bed rest due to pregnancy complications, consider sending invitations that instruct would-be shower guests to send the mother a card and, if desired, a gift card.
Instead of including a stamped envelope for RSVP, address the envelope to the mother so the "guests" won't have to worry about postage or addressing anything.
They can just send the card and, if they choose, a gift.
Moms on bed rest really appreciate card baby showers.
I always ended up on bed rest during pregnancy and loved receiving cards (and gift cards so I could shop online) from friends and families.
Being on bed rest when you are pregnant is stressful, boring, and lonely.
A card baby shower is a great way to lift mom to be's spirits and let her know she is in your thoughts.
7. Stuffed Animal Baby Shower
Stuffed animals are perfect for inexpensive baby showers.
Thrift stores are going to be great places to find animal-themed items you can use for baby shower decor.
You can find some fantastic deals on lots of stuffed toys on eBay.
Many of these stuffed animals are brand new and with a little creativity could be turned into adorable table centerpieces.
Wild animals, ocean animals, farm animals, jungle animals, or a combination of all three can be used to design and host an inexpensive baby shower.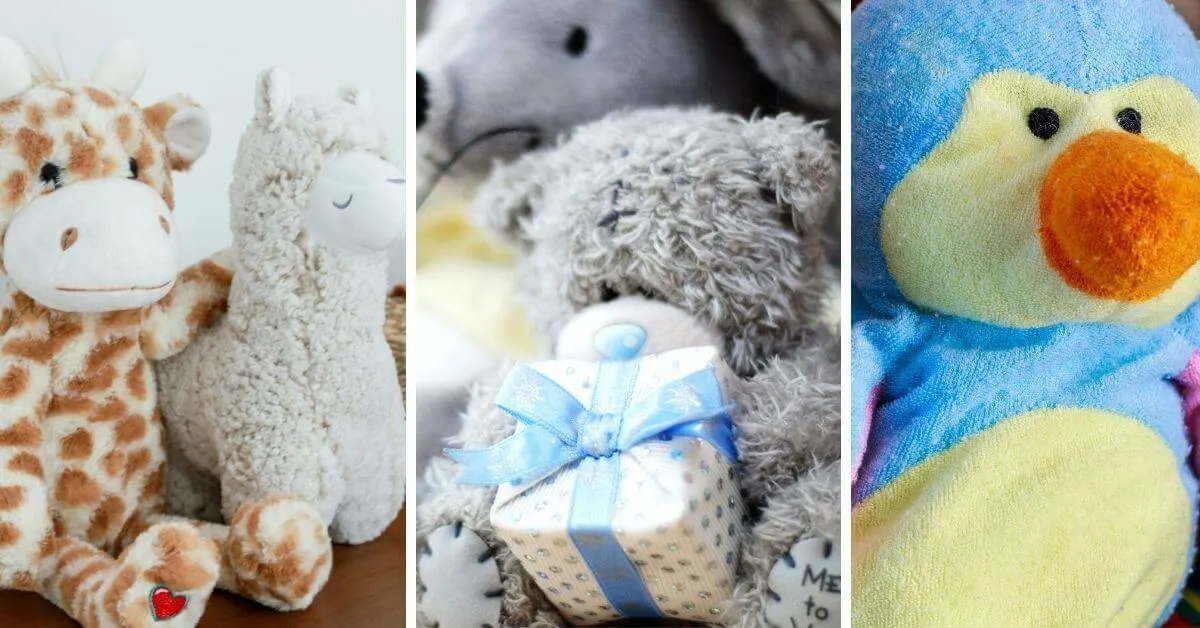 Guests could be encouraged to bring a stuffed animal and an animal-related companion gift.
For a sweet baby shower favor consider animal crackers dipped in chocolate.
You can easily make these at home, add them to treat bags, and add a treat bag topper.
You can find inexpensive baby shower favor bag toppers on Amazon and Etsy.
People love food and baby shower favors. We love that they are a budget-friendly baby shower favor idea.
You can serve finger foods and combining this idea with an afternoon tea would be a very inexpensive option.
Planning a baby shower on a restricted budget or time schedule can be difficult.
Options such as planning an afternoon tea or keeping the party simple with gift themes or chipping in for one large gift can make the planning process much simple.
For expectant mothers who live far from friends and family or must remain on bed rest, options like showers in a box or card showers make a baby shower a viable option when travel is impossible.
These affordable and easy shower ideas will keep costs for party planners low while making sure the new mother receives everything she needs.