As someone who has hosted and attended numerous winter baby showers, I am thrilled to share with you a curated collection of 27 of the most unforgettable winter baby shower foods that have graced these joyous occasions.
Each dish I present carries a piece of a cherished memory, embodying the warmth, joy, and togetherness fostered during these special gatherings.
Join me as we unravel a world of delectable delights and thematic inspirations to make your winter baby shower the talk of the season!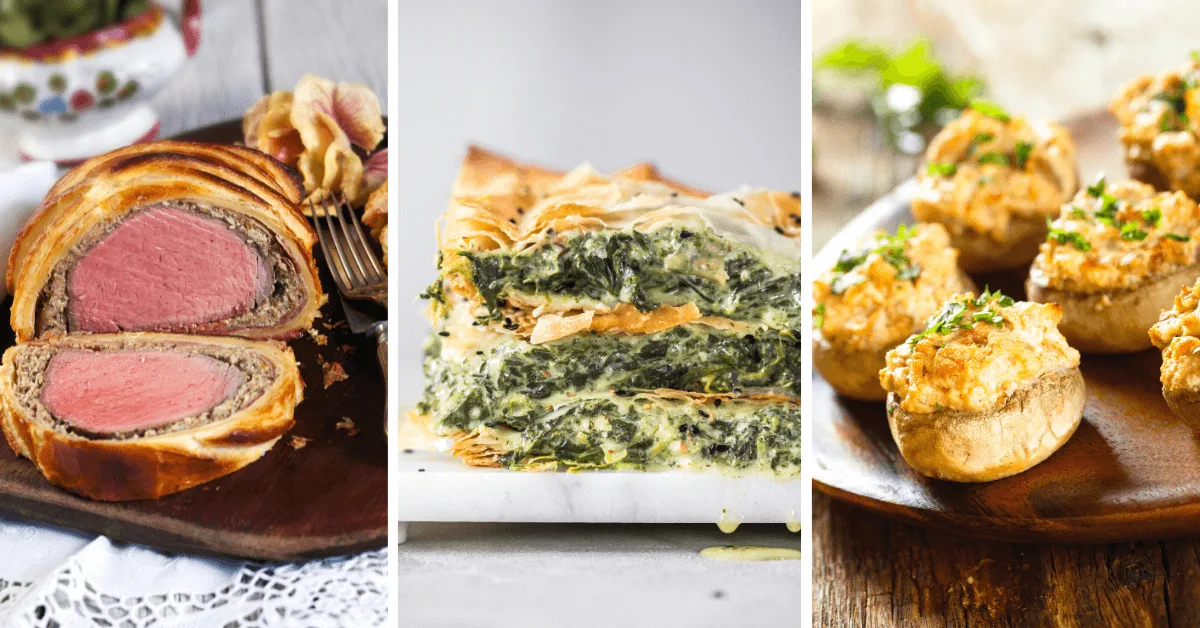 27 Delicious Winter Baby Shower Foods
Finger Foods
Whenever I prepare my garlicky cream cheese and herb-stuffed mushrooms for an event, they're always a hit.
The creamy, herby mixture nestled inside tender mushroom caps creates a perfect bite-sized appetizer that all my guests adore.
Last winter, I added a sprinkle of finely chopped crispy bacon on top before baking, and it took them to another level; the perfect start to a joyful baby shower.
Why it's a Good Option
Seasonal: Mushrooms are a great choice for winter as they are available fresh during this season.
Warm: Offering a warm appetizer can bring comfort and coziness to the occasion.
Versatile: Mushrooms can be stuffed with a variety of fillings to cater to different preferences, including vegetarian and vegan options.
Easy to Eat: These are bite-sized and easy to eat with your hands or a small fork, which makes them a convenient option for a baby shower where people will be mingling.
At my sister-in-law's baby shower, the mini crab cakes were a smash hit.
I served them with a homemade tangy remoulade sauce which guests couldn't get enough of.
They kept going back for more, enjoying the perfect balance of the crisp outer layer and the tender, flavorful crab meat inside.
Why it's a Good Option
Deluxe: Crab cakes can add a touch of luxury to your baby shower menu, making the event feel extra special.
Easy to Serve: These mini cakes are easy to serve and eat, avoiding the need for more elaborate table settings.
Pairs Well with Winter Drinks: They pair beautifully with a variety of beverages, including non-alcoholic sparklings, which can be great for a celebratory toast.
Spanakopita triangles have always been my go-to for a sophisticated touch at any gathering.
The flaky phyllo pastry filled with a rich spinach and feta cheese mixture transports everyone to the Mediterranean with each bite.
I remember serving them warm at my best friend's baby shower, the guests appreciated this warm and comforting yet elegant appetizer amidst the chilly winter backdrop.
You can buy them frozen and pre-made and simply heat them up in the oven before the shower.
I included my favorite recipe above, but if you are looking to save time buying them frozen and reheating them is going to be your best option.
Why it's a Good Option
Comforting: The warm, flaky pastry and rich filling are comforting in cold weather, and adding a spinach and cheese filling incorporates a touch of healthy greens.
Easy to Hold: Their triangle shape makes them easy to hold, reducing the chances of mess and spills.
Appealing to Many: These are generally a crowd-pleaser, appealing to both vegetarians and those who eat meat.
Roast beef crostini was a hearty addition to a winter baby shower I organized a few years back.
The thin slices of roast beef served on toasted bread slices with a zesty horseradish cream created a burst of flavor in every mouthful.
To make it more festive, I topped each crostini with a tiny sprig of fresh rosemary, adding a festive look and a refreshing touch to this appetizer.
Why it's a Good Option
Hearty: The roast beef offers a hearty element to the menu, providing substantial sustenance for your guests.
Classy: Serving them as crostini adds a touch of class to your baby shower, elevating the overall dining experience.
Customizable: The horseradish cream can be adjusted to be milder or spicier, depending on your guests' preferences.
Sweet potato rounds topped with goat cheese and candied pecans were a hit at a neighbor's baby shower.
I personally love the sweet and savory combo – the creaminess of the goat cheese coupled with the crunchy pecans was an absolute delight, offering a heartwarming taste of the holiday season.
You can also make smashed sweet potato rounds and top them with mashed avocado and bacon.
That is always a hit when I have served them at large gatherings.
Why it's a Good Option
Seasonal: Sweet potatoes are in season during the winter, allowing you to serve fresh and flavorful rounds.
Colorful: The vibrant orange color of sweet potatoes can add a splash of color to your table setting, evoking a warm and festive atmosphere.
Nutritious: Sweet potatoes are a rich source of vitamins and fiber, offering a nutritious option for your guests.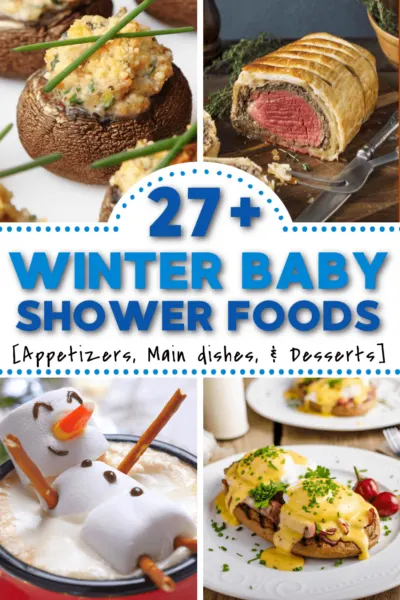 Appetizers
There is nothing like starting a meal with a comforting bowl of winter squash soup.
At a family baby shower, the rich butternut squash soup, garnished with a dollop of sour cream, set a warm and cozy tone for the event.
I remember how the soup warmed us from the inside, casting away the winter chill and making everyone feel at home.
It was a late-December baby shower and snow was forecasted that night.
The squash soup hit the spot and guests raved about it.
Why it's a Good Option
Seasonal Ingredients: Utilizing winter squash, which is in season during the colder months, ensures the soup will be full of flavor.
Warm and Comforting: A warm soup can be very comforting during the winter, offering a cozy start to the meal.
Easily Customizable: You can easily adapt the recipe to cater to various dietary restrictions, making it a versatile choice.
Gourmet Presentation: Serving the soup with a dollop of sour cream not only adds a creamy element but also allows for a sophisticated presentation.
Shrimp cocktail served in individual glasses not only adds a touch of elegance but is also incredibly easy to handle, especially in a baby shower setting where people love to mingle.
The neat presentation not only looked fantastic but made it easy for the guests to enjoy as they chatted and celebrated the upcoming new arrival.
It is a cost-saving measure for those looking to host a baby shower on a tight budget.
Why it's a Good Option
Individual Servings: Serving the shrimp cocktail in individual glasses promotes hygiene and ease of service, reducing the mess and facilitating socializing.
Light and Refreshing: Offering a light and refreshing start to the meal can be a good contrast to some of the heavier winter foods that might follow.
Quick to Prepare: Shrimp cocktails can be prepared ahead of time, making it a hassle-free choice for hosts.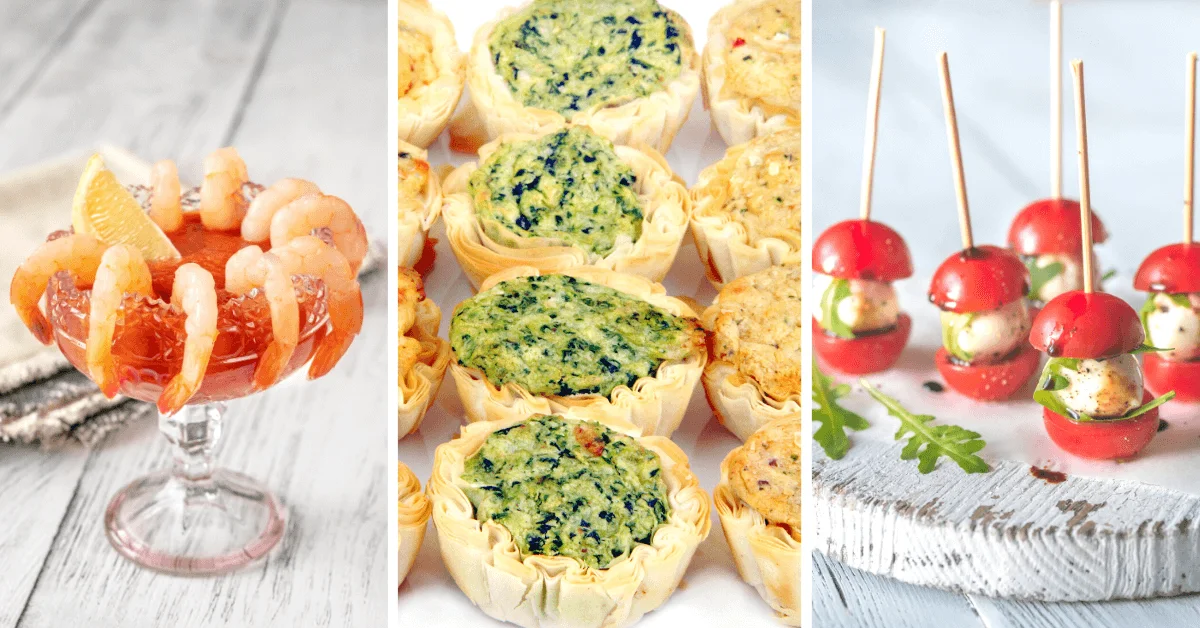 I'll never forget the baby shower where I served baked brie wrapped in puff pastry with cranberry sauce and roasted pecans.
The combination of creamy brie with tart cranberry sauce was divine, offering a real treat for the palate with both sweet and savory notes, embodying the festive spirit perfectly.
Why it's a Good Option
Rich and Decadent: The creaminess of brie paired with puff pastry makes for a rich and indulgent appetizer that's sure to impress guests.
Festive Flavors: The addition of cranberry sauce brings a festive note to the dish, making it particularly suitable for a winter event.
Great for Sharing: This appetizer encourages sharing and can foster a warm, communal atmosphere at the baby shower.
To offer a fresh and vibrant counterpoint to the rich winter dishes,
I always include a Caprese salad on my winter baby shower menu.
The combination of fresh mozzarella, ripe tomatoes, and basil, all drizzled with a balsamic glaze, is always a refreshing palate cleanser, reminding us all of summer's joy amidst the cold season.
Why it's a Good Option
Simple and Elegant: The Caprese salad is a classic Italian dish that brings elegance to any dining table with its vibrant colors and simple, fresh ingredients.
Light Option: Offering a light and refreshing option can balance out a winter menu that might include heavier dishes.
Quick to Assemble: This salad is easy and quick to assemble, allowing the host to spend less time in the kitchen and more time with the guests.
At a recent baby shower, the host served a beet and goat cheese salad that became the talk of the event.
The roasted beets paired beautifully with creamy goat cheese, and the crunch from candied walnuts added a perfect texture contrast.
The vibrant colors and refreshing citrus vinaigrette made it not just a feast for the palate but for the eyes too, adding a splash of color to the winter day.
Why it's a Good Option
Seasonal: Beets are in season during the winter, providing a fresh and earthy component to the menu.
Colorful: The vibrant colors of the roasted beets and arugula can create a visually appealing dish that brightens up the winter table.
Nutritious: This salad is not only delicious but also packs a nutritious punch, providing a healthy start to the meal.
Varied Textures: The combination of creamy goat cheese, crunchy walnuts, and tender beets offers a delightful variety of textures to enjoy.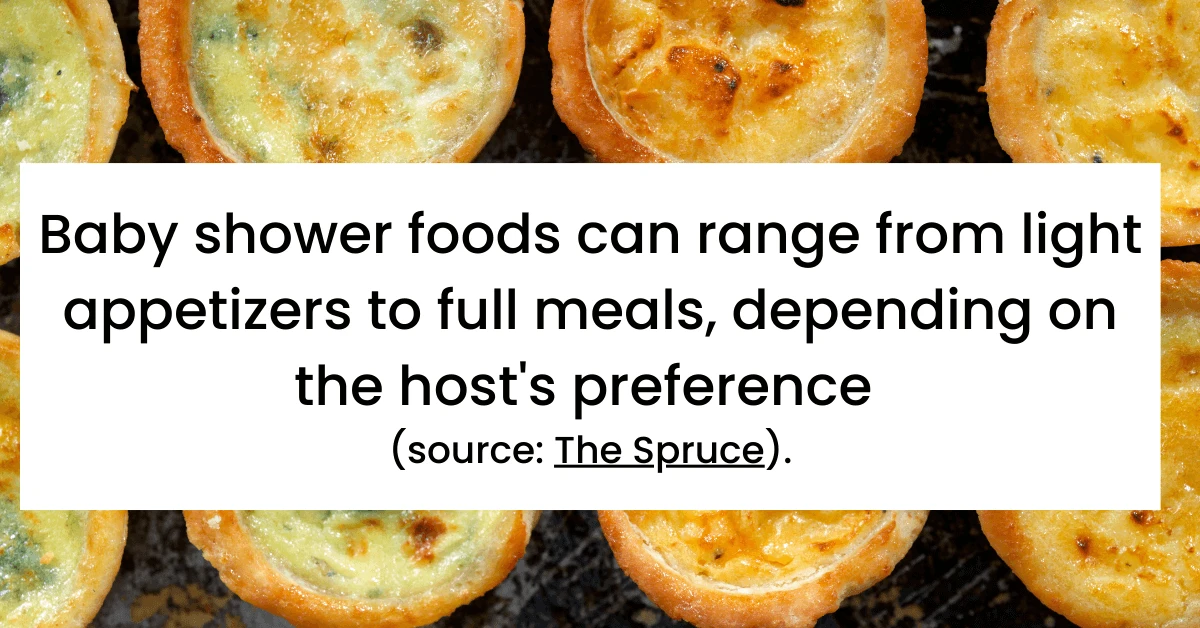 Main Dishes
Whenever I host a baby shower in the colder months, my roast chicken marinated in rosemary and fresh orange is always the centerpiece of the feast. Its fragrant aroma fills the room, setting a cozy atmosphere.
Last time, I was not only impressed with its juicy, tender meat but also with the homely vibes it infused into the celebration.
Why it's a Good Option
Versatility: Roast chicken is a versatile option that pairs well with a wide variety of side dishes, offering something for everyone.
Aromatic: The rosemary and lemon marinade not only renders the chicken juicy but fills the dining area with a warm, comforting aroma — perfect for a winter gathering.
Healthful: Chicken is a lean protein source, providing a healthier option for your guests.
Ease of Preparation: Roast chicken can be prepared with relatively little fuss, allowing the host to enjoy the festivities without being tethered to the kitchen.
Beef Wellington was the star of the show at my cousin's baby shower.
The golden puff pastry encased a tender beef tenderloin with mushroom duxelles that was truly a slice of heaven in every bite.
It is a dish that speaks of celebration and joy, making it a perfect choice for such a special occasion.
Why it's a Good Option
Luxurious: Beef Wellington is a luxurious dish that is sure to impress guests with its elegant presentation and rich flavors.
Festive: This dish feels festive and special, adding a touch of class to the baby shower.
Well-rounded Flavors: The mushroom duxelles and puff pastry add depth and complexity to the dish, providing a well-rounded flavor profile that is both savory and slightly earthy.
At a friend's baby shower brunch, the salmon en croûte was a show-stopper.
The rich salmon fillet, complemented beautifully by a spinach and ricotta filling, nestled in puff pastry, became a delightful surprise for the guests.
I remember people enjoying the complementary dill sauce, which added a bright and fresh note to the dish, enhancing its flavors magnificently.
Why it's a Good Option
Lighter Meat Option: Offers a lighter meat option for guests who prefer seafood over red meat or poultry.
Sophisticated: The spinach and ricotta filling, accompanied by a dill sauce, adds a level of sophistication to the dish.
Omega-3: Salmon is rich in omega-3 fatty acids, which are beneficial for pregnant women and all other guests.
Stuffed pork tenderloin is a cherished recipe in my family, making an appearance in many family gatherings, including baby showers.
The tender pork filled with a mixture of dried fruits and nuts served with an apple cider reduction, creates a symphony of flavors that embody the warm and festive spirit of winter perfectly.
I love stuffed pork tenderloin and it is such a versatile dish that is also an affordable protein for feeding a crowd!
Why it's a Good Option
Seasonal Flavors: The dried fruits and nuts stuffing echoes winter flavors, creating a seasonal dish that feels right for a winter baby shower.
Savory and Sweet: The apple cider reduction brings a sweet note to the savory pork, offering a delightful contrast of flavors.
Tender Meat: Pork tenderloin is known for its tenderness, providing a main dish that is both luxurious and comforting.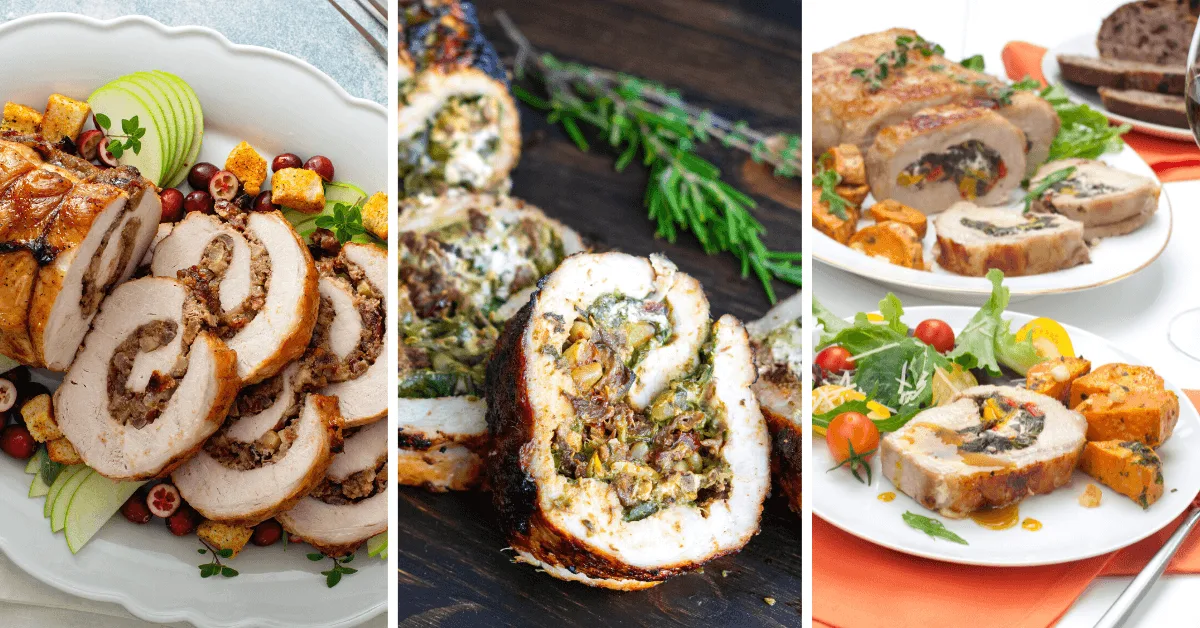 For the vegetarians in the family, my vegetable lasagna has always been a hit.
Its layers of pasta, filled with roasted winter vegetables and creamy béchamel sauce, offer a comforting yet vibrant dish that celebrates the bounty of winter produce, providing a hearty and warming option for guests.
Why it's a Good Option
Vegetarian-Friendly: This dish ensures that vegetarian guests have a hearty main course option.
Comfort Food: Lasagna is a classic comfort food, offering a warming, satisfying dish that is perfect for a winter event.
Nutritious: By incorporating a range of winter vegetables, this dish not only offers depth of flavor but also a nutritious, balanced option.
Brunch
Eggs Benedict is a brunch classic that never fails to impress.
I made it with English muffins topped with perfectly poached eggs, Canadian bacon, and a creamy hollandaise sauce for a friend's baby shower, the guests adored it; a delightful dish that brings a touch of elegance to any winter baby shower brunch.
Why it's a Good Option
Elegance: Eggs Benedict is considered a luxurious brunch item, adding an elegant touch to the occasion.
Customizable: This dish can be customized to suit various dietary preferences by swapping Canadian bacon with smoked salmon or vegetables.
Rich and Creamy: The hollandaise sauce adds a rich and creamy element, providing a comforting and warm dish that is perfect for a winter event.
Interactive: It can be served as a DIY station where guests can assemble their Eggs Benedict with their favorite toppings, promoting interaction and fun.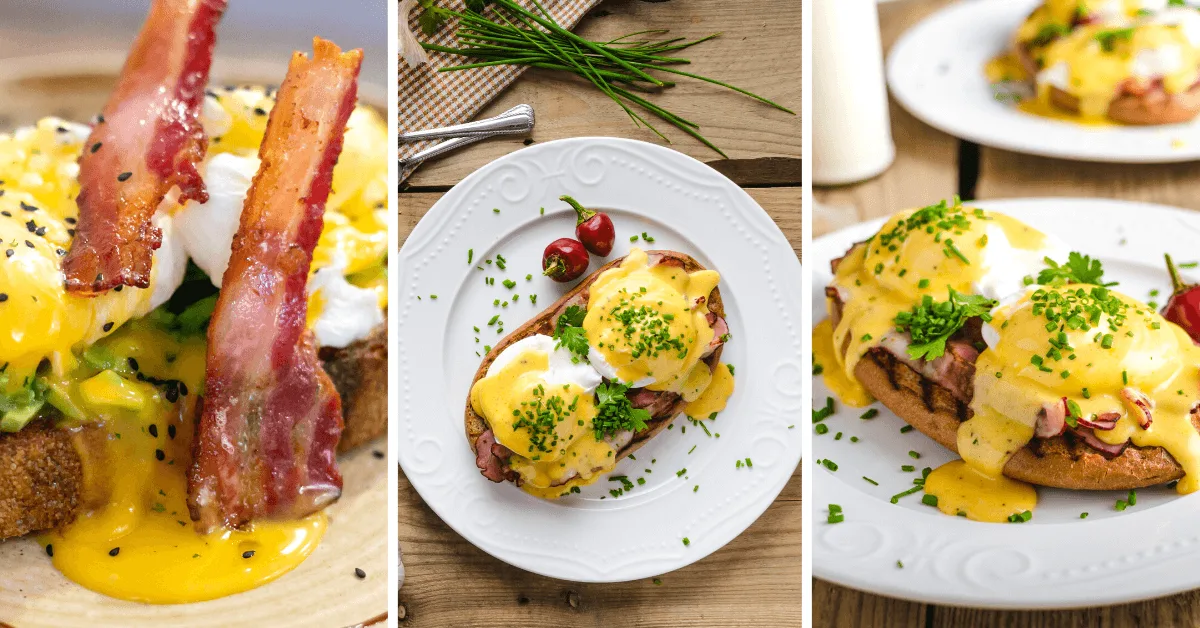 My go-to brunch dish for winter baby showers has to be the French toast casserole.
Prepared with crusty bread soaked overnight in a spiced egg mixture, it fills the home with a comforting aroma when baked till golden and puffy.
You can make this the night before or make it earlier and freeze/reheat the day of the shower.
Why it's a Good Option
Convenience: Preparing the casserole the night before makes for a stress-free morning, allowing the host more time to focus on other aspects of the shower.
Warm and Spiced: The warm, spiced flavors of this dish are comforting in the cold winter months.
Feeds a Crowd: This dish can easily feed a group of people, making it a great choice for gatherings.
Quiche Lorraine is a dish that speaks of warmth and comfort, making it perfect for a winter baby shower.
I'vemade it with a rich filling of bacon, cheese, and caramelized onions, offering a creamy and indulgent treat that was a hit with all ages.
Why it's a Good Option
Rich and Savory: The combination of bacon, cheese, and caramelized onions makes for a rich and savory dish.
Satisfying: It's a satisfying choice that can serve as a substantial dish in a brunch spread.
Can be Made Ahead: Quiche can be prepared ahead of time and reheated before serving, easing the day-of preparations for the host.
Smoked salmon bagels have been a favorite at many brunch events I've attended
The perfect balance of salty salmon with creamy cheese and the crunch of red onions offers a burst of flavor.
It was a refreshing yet satisfying addition to a winter baby shower I went to last year.
Why it's a Good Option
High-Quality Proteins: Smoked salmon is a source of high-quality proteins and good fats, offering a nutritious option for the guests.
Build-Your-Own: Setting up a build-your-own bagel station encourages guests to customize their bagels to their liking, creating an interactive and enjoyable dining experience.
Fresh and Light: This option provides a lighter, fresher contrast to some of the richer brunch items, offering a balanced menu.
Adding a fresh note to the brunch table, the winter fruit salad made with seasonal fruits like oranges, pomegranates, and pears has always been a refreshing sight.
I love serving this bright and vibrant salad as it not only adds a splash of color to the table but also offers a light and healthy option that complements the other rich dishes perfectly.
Why it's a Good Option
Refreshing: A fruit salad offers a refreshing and light option, providing a palate cleanser amid the more hearty dishes.
Seasonal: Utilizing seasonal fruits not only ensures fresh and flavorful ingredients but also creates a vibrant and colorful dish that celebrates the winter season.
Vitamins and Minerals: Incorporating a fruit salad ensures that the menu includes a dish rich in vitamins and minerals, promoting a healthy balance in the brunch spread.
Desserts
I remember baking these with a sprinkle of cinnamon on the creamy cream cheese frosting; it was like biting into the essence of Christmas.
The rich and spicy gingerbread paired wonderfully with the smooth cream cheese, offering a delightful contrast in textures.
These cupcakes have since become a festive staple at my winter gatherings!
Why it's a Good Option
Festive Flavors: Gingerbread is synonymous with the winter season, bringing festive and warm spices that resonate well with the theme.
Personal Touch: Cupcakes allow for personalized decoration, which can be themed to match the baby shower.
Easy to Serve: Being a single-serving dessert, it ensures ease of serving and less mess.
Setting up a hot chocolate bar is not just about the variety of toppings available, but the memories and the warmth it brings to any event.
I recall guests faces lighting up as they got to customize their cups with whimsical toppings like marshmallows and peppermint sticks.
Why it's a Good Option
Warm and Cozy: A hot chocolate bar would be a comforting and warm addition, bringing a cozy vibe to the event.
Interactive: Guests can have fun crafting their perfect cup of hot chocolate with a variety of toppings, encouraging interaction and enjoyment.
Kid-Friendly: If there are kids at the baby shower, this would undoubtedly be a hit, offering something delightful and fun for the little ones.
Whenever I make an apple crisp, I'm reminded of the time when my mom used to make it for family gatherings.
The warm, comforting dessert, especially with a scoop of vanilla ice cream, brings a sense of nostalgia and happiness, making it a heartwarming addition to any winter baby shower.
Why it's a Good Option
Seasonal Fruit: Utilizing apples, a winter seasonal fruit, ensures a fresh and flavorful dessert.
Comforting: Serving it warm makes it a comforting choice for a cold winter day, and paired with ice cream, it brings a delightful contrast of temperatures.
Homely: Apple crisp brings a homely and rustic feel to the menu, adding a comforting touch.
There is something so enchanting about snowball cookies; they remind me of the first snowfall of the season, pure and delicate.
I always love to see people's expressions when they bite into these buttery cookies and get a taste of the hidden pecan pieces, giving them a delightful crunch amidst the soft, crumbly cookie.
Why it's a Good Option
Thematic: The cookies fit perfectly with the winter theme, resembling little snowballs, adding a fun and thematic element to the dessert table.
Buttery and Delicious: These cookies are known for their rich, buttery taste and melt-in-your-mouth texture, offering a truly indulgent treat.
Easy to Eat: Being bite-sized, they are easy to eat, allowing guests to enjoy them while mingling.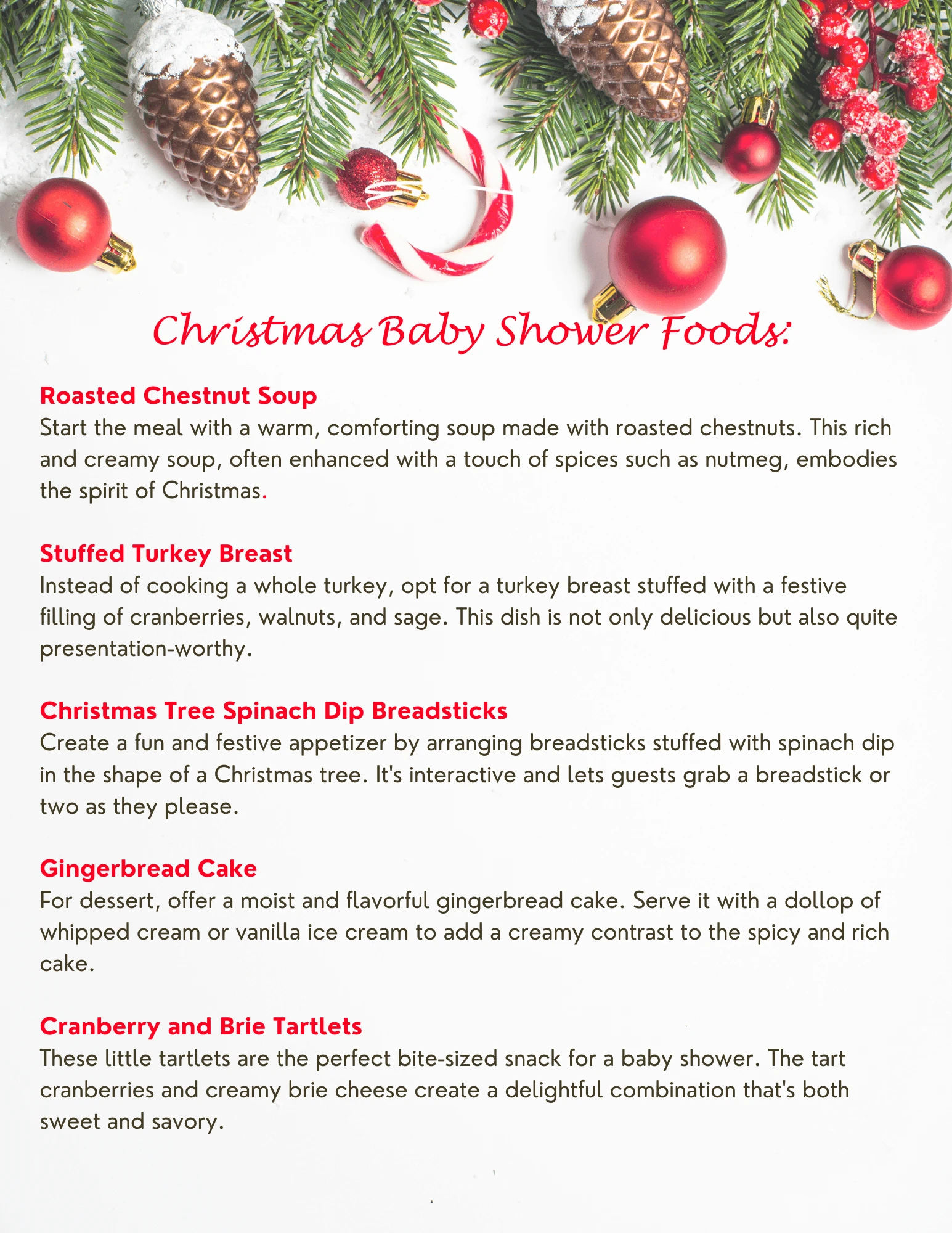 The rich red color of the red velvet cake has always felt so luxurious and festive to me. I remember the first time I baked it for a special occasion; it became the star of the show.
Its dramatic color paired with the creamy white frosting creates not just a feast for the palate but also a visual spectacle, making it the centerpiece of every festive occasion.
Why it's a Good Option
Festive Color: The rich red color of the cake brings a festive and vibrant touch to the occasion.
Classic Choice: Red velvet cake is a classic and popular choice, likely to be a hit with most guests.
Versatility: This cake can be decorated in various ways to suit the baby shower theme, allowing for a beautiful and thematic centerpiece on the dessert table.
Drinks
My first experience with mulled wine was in a quaint little market during the holidays, and ever since then, I've made it a tradition to serve it at my winter events.
The warm, spiced red wine fills the room with a fragrance that is both comforting and festive, setting a joyful mood for the baby shower.
Why it's a Good Option
Warmth and Spice: The warm and spiced notes of mulled wine bring a cozy and festive atmosphere, perfect for warming guests on a chilly day.
Aromatic: The rich aromas of spices and red wine fill the air, contributing to a festive and inviting ambiance.
Adult Indulgence: Allows adult guests to enjoy a classic, seasonal alcoholic beverage.
always look forward to serving hot apple cider, with a stick of cinnamon for a personal touch.
I remember my mom making this for us as kids, and the rich apple and spice aroma would fill our home, signaling the start of the holiday season.
It's like a warm hug in a cup, truly a staple for any winter gathering.
Why it's a Good Option
Seasonal: Utilizing apples, a seasonal fruit, ensures a fresh and comforting beverage.
Versatility: Can be served both hot or cold, accommodating different preferences.
Kid-Friendly: A non-alcoholic option that can be enjoyed by children and adults alike, offering a family-friendly choice for the baby shower.
The peppermint mocha is such a treat for coffee lovers at my events.
It's like having dessert in a cup, with the rich chocolate paired with the festive peppermint flavor.
I love serving it with a candy cane stirrer for an extra festive touch, a little trick I learned from a barista friend.
Why it's a Good Option
Festive Flavors: The combination of chocolate and peppermint brings festive joy and is reminiscent of holiday treats.
Comforting: Serving it hot makes it a comforting choice, offering guests a warm, delightful beverage to sip on.
Cafe Experience: Can add a café-like experience to the baby shower, with the rich flavors of mocha catering to coffee enthusiasts.
One year, I decided to switch things up from the traditional summer sangria and created a winter version for a festive gathering.
Made with red wine, brandy, and a medley of winter fruits like oranges and cranberries, it was an absolute hit, adding a refreshing and fruity touch to the winter beverage lineup.
Why it's a Good Option
Fruity and Refreshing: The inclusion of winter fruits like oranges and cranberries makes this drink vibrant and refreshing, bringing a burst of fruity flavors.
Sociable Drink: Sangria is a great sociable drink, encouraging guests to relax and enjoy the celebration.
Visual Appeal: Its vibrant color can add to the visual appeal of the drink table, making it a festive and colorful addition to the baby shower.
Serving non-alcoholic eggnog is my way of ensuring everyone, including expectant mothers, can enjoy a festive drink.
One guest told me it was the highlight of her evening, sipping on the creamy, spice-infused drink, making her feel included in the festivities despite her dietary restrictions.
You should use a commercially prepared eggnog so that the mom-to-be can enjoy it!
Why it's a Good Option
Inclusive: Being non-alcoholic, it allows everyone, including expectant mothers, to enjoy a classic winter beverage.
Creamy and Rich: Its creamy and rich texture offers a luxurious drinking experience, bringing a sense of indulgence to the occasion.
Tradition: Eggnog is a classic winter drink, evoking a sense of tradition and nostalgia, which can add a warm and familial atmosphere to the baby shower.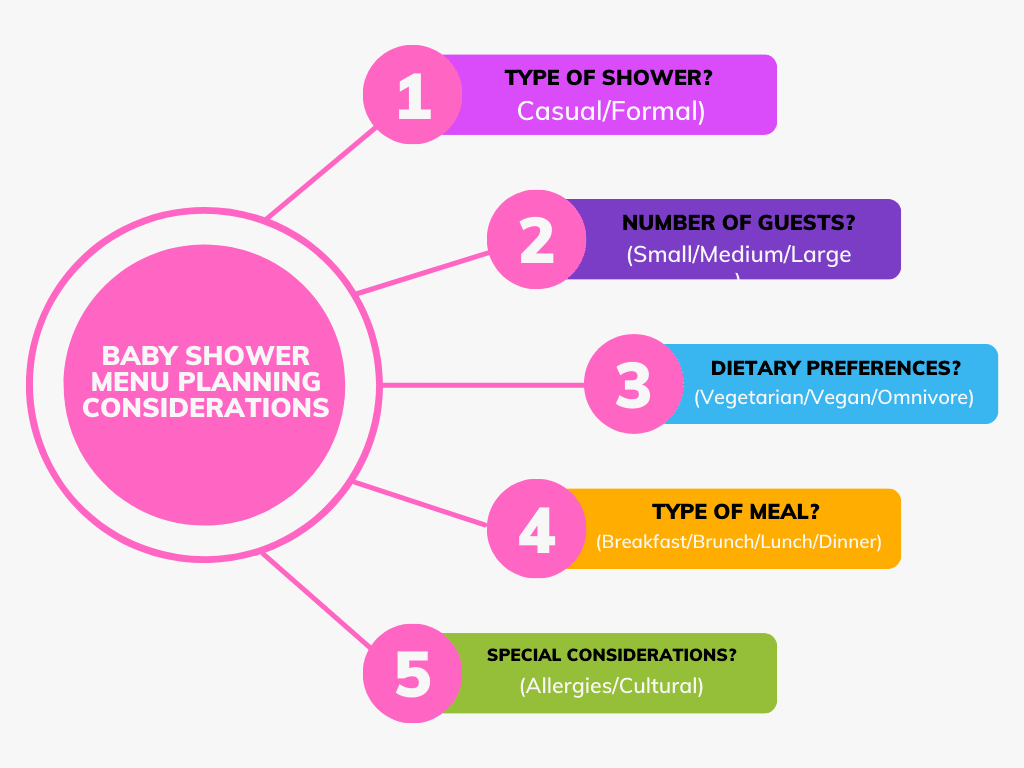 Winter Baby Shower Food Preparation and Cooking
Slow Cooker OptionsSlow cookers can be your best friend for winter events, enhancing the flavors in dishes like rich soups, stews, and warm dips while keeping them warm throughout the event. I also found it excellent for maintaining the temperature and infusion of spices in mulled wine.
Freezable DishesPreparing freezable dishes like casseroles and desserts in advance has always made my event day hassle-free. I also bake and freeze bread, giving a fresh feel when served warm at the event.
Fresh vs. Frozen IngredientsUtilize seasonal produce for fresher dishes and opt for high-quality frozen substitutes where necessary. In my experience, sometimes using a smaller amount of a premium ingredient does wonders compared to a larger quantity of a lesser substitute.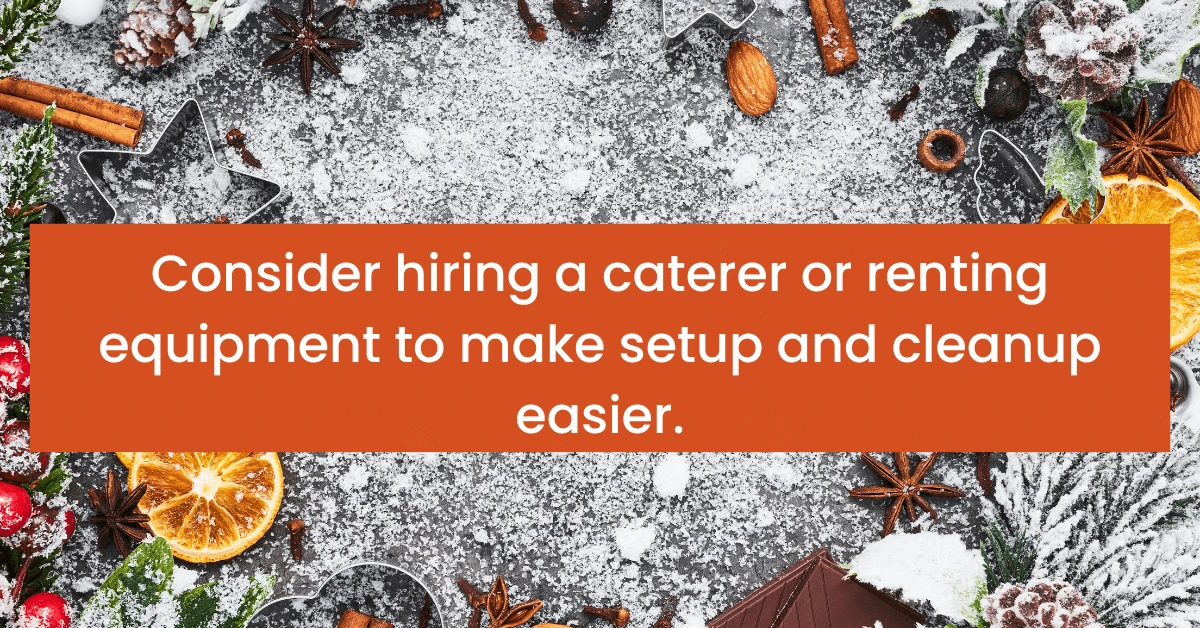 Catering Options
Using a caterer A professional caterer can alleviate stress and enhance the dining experience. Work closely with them to craft a menu using seasonal specialties, and ensure safety and hygiene standards are met, potentially including a tasting session to finalize dishes.
Potluck Style Potluck-style showers bring a personal touch to the event. I always emphasize coordination to avoid duplication and encourage a themed potluck, reminding guests to bring dishes ready to serve and labeled with ingredients.
Serving Styles
Buffet vs. Sit-DownEach has its pros and cons; while buffets offer variety and more socializing opportunities, sit-down dinners bring formality and organized service. I personally weigh the options based on the kind of atmosphere I want to create.
Food StationsFood stations add a fun and interactive element, allowing for customization and engagement among guests. I've had success with themed stations that resonate with the winter season, offering a variety of options to choose from.
Dietary Restrictions
Inclusive MenuEnsuring a variety of dishes that cater to different dietary needs is key. I make it a point to include gluten-free, vegan, and nut-free options after consulting with guests on their dietary preferences and restrictions.
Food Safety
1. Keeping Food Warm
Maintaining the right temperature for your dishes not only helps preserve the flavor but also keeps the food safe for consumption. Consider the following tips:
Chafing Dishes: Utilizing chafing dishes can be an elegant and effective way to keep your food warm throughout the event. Ensure to maintain a steady flame to keep the food at the desired temperature without overcooking it.
Slow Cookers: For soups and stews, slow cookers can be a great tool to keep them warm while allowing guests to serve themselves throughout the event.
Warming Trays: Ideal for hor d'oeuvres and finger foods, warming trays ensure that your dishes remain at a safe and palatable temperature.
2. Handling Leftovers
Proper handling of leftovers is equally important to prevent food spoilage and ensure safety. Here are some guidelines:
Cooling Down: Allow the leftovers to cool down to room temperature before refrigerating them.
Storage: Store leftovers in airtight containers to preserve freshness and prevent contamination.
Reheating: When reheating, ensure the food reaches the appropriate temperature to kill any bacteria. Generally, it should be reheated to 165°F (74°C).
Labeling: Label the containers with the date to keep track of the storage time and ensure the leftovers are consumed within a safe period.

Budget
Hosting a memorable baby shower doesn't necessarily mean you have to spend a fortune. Here are some strategies to offer a fabulous menu without breaking the bank:
A little foresight and planning can go a long way in saving money. Here are a few tips that can help:
Seasonal Ingredients: Leverage the seasonal ingredients that not only taste better but are also more affordable. Winter offers a variety of produce like squash, citrus fruits, and root vegetables that can be used to create delicious dishes.
Bulk Purchases: Consider buying ingredients in bulk, as it is often cheaper. Make sure that you will use all of it to avoid wastage.
Homemade Decorations: Instead of splurging on costly decorations, opt for homemade ones. For instance, a centerpiece made with seasonal fruits and nuts can be both aesthetic and economical.
2. DIY vs. Store-Bought
Striking the right balance between homemade and store-bought items can save both time and money. Consider the following:
Pre-made Appetizers: Save time and effort by buying some pre-made appetizers that can be quickly heated up before serving.
Homemade Desserts: Opting for homemade desserts can be a budget-friendly choice. Simple recipes like cookies or cupcakes are often cheaper to make at home and allow for a personal touch.
Potluck: If appropriate, consider having a potluck-style event where every guest brings a dish, which can significantly reduce the food costs.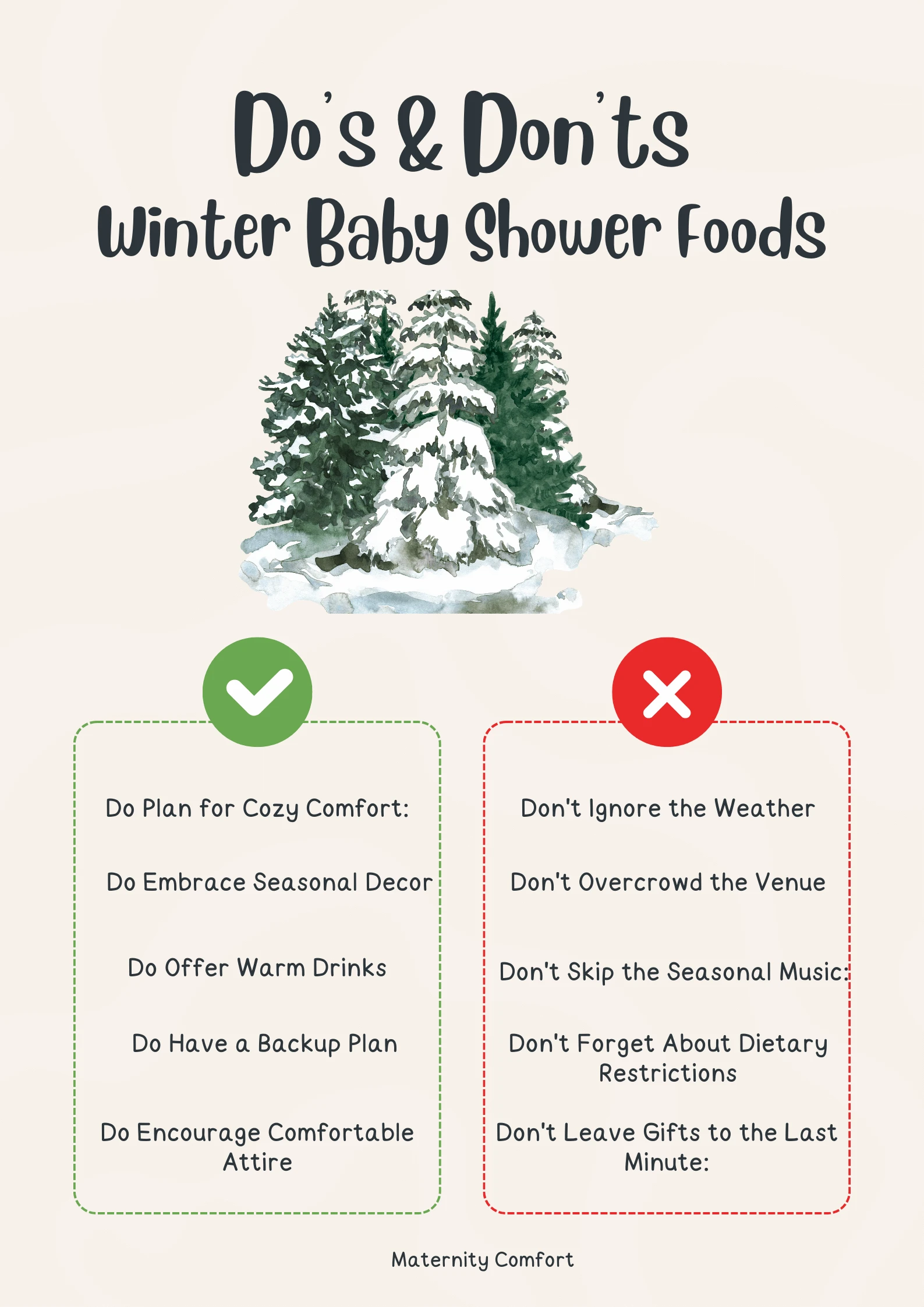 Winter Baby Shower Food Do's and Don'ts
Dos:
Do Plan for Cozy Comfort:

Opt for cozy seating arrangements, and warm lighting, and ensure the venue is well-heated.

Do Embrace Seasonal Decor:

Incorporate winter elements like pinecones, holly, and snowy decorations to bring the season indoors. Consider a color palette featuring winter whites, blues, and silvers.

Do Offer Warm Drinks:

Set up a hot beverage station offering teas, hot chocolate, and mulled wine (for non-pregnant guests) to keep everyone warm.

Do Have a Backup Plan:

Winter weather can be unpredictable. Have a backup plan in case of severe weather, such as setting a future date or arranging for virtual participation.

Do Encourage Comfortable Attire:

Encourage guests to come in comfortable and warm attire. You might even consider a cozy pajama theme.
Don'ts:
Don't Ignore the Weather:

Keep a close eye on the weather forecast and communicate with your guests accordingly, offering guidance on safe travel if necessary.

Don't Overcrowd the Venue:

While it might be tempting to invite everyone you know, keeping the guest list manageable ensures everyone has enough space to stay warm and comfortable.

Don't Skip the Seasonal Music:

While you might want to avoid an overload of Christmas tunes, incorporating some seasonal music (both holiday tunes and general winter-themed songs) can set a festive mood.

Don't Forget About Dietary Restrictions:

Winter menus can often be quite rich and heavy. Ensure there are options available for guests with dietary restrictions, including vegetarian, vegan, and gluten-free choices.

Don't Leave Gifts to the Last Minute:

Given potential shipping delays around the holiday season, encourage guests to purchase and ship gifts well in advance.
Winter Baby Shower Menu Planning For Hosts
Here are some aspects a host should consider:
1. Major Holidays
Christmas and New Year's: Many people travel or have longstanding family commitments during this period. Additionally, venues might be booked or have holiday surcharges.
Valentine's Day: In February, you might find venues and restaurants booked for Valentine's Day events, especially closer to the day.
2. School Holidays
Winter Break: Children are off from school during this period, which can either be a pro or a con, depending on the type of event you are planning.
3. Weather Considerations
Snow and Ice: Inclement weather can lead to transportation issues and venue closures. It is essential to have a backup plan if a heavy snowfall or ice storm is forecasted.
Daylight: The days are shorter during winter, which can affect the timing of the event, especially if you're planning to use natural light for photography.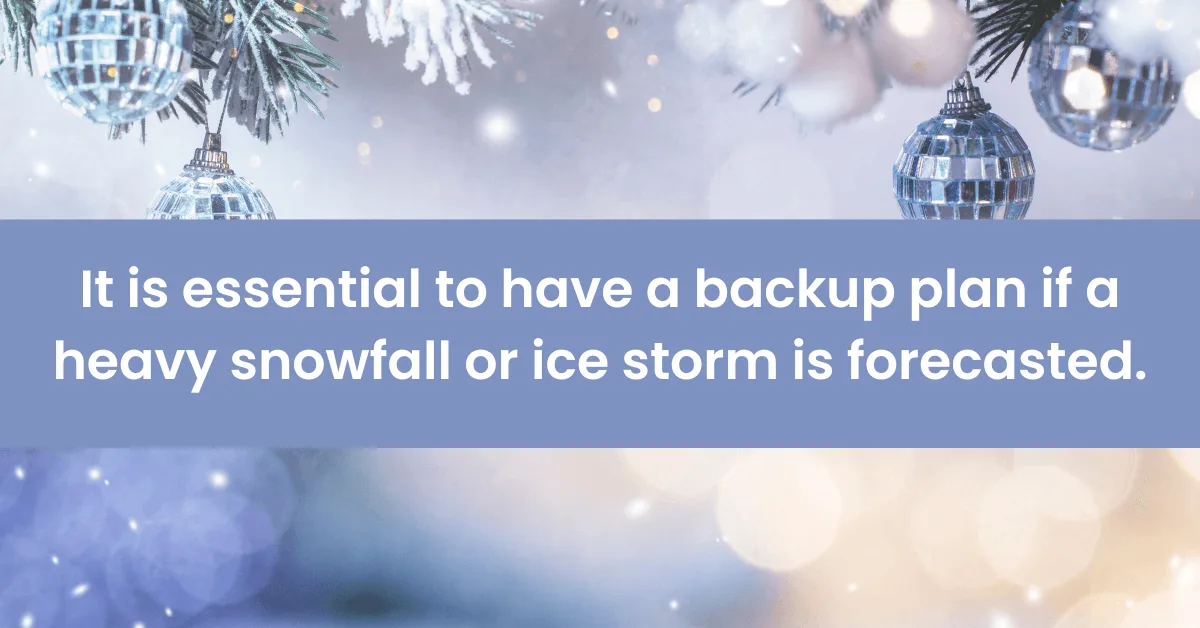 4. Venue Availability
Holiday Parties: Many venues host their own holiday parties or are booked for corporate holiday events, which might affect availability and pricing.
Decorations: Venues might already be decorated for the holidays, which could save you on décor, but also might not align with your baby shower theme.
5. Food and Catering
Seasonal Ingredients: Utilize seasonal ingredients that are readily available in winter to ensure freshness and affordability.
Holiday Menus: Caterers might have special holiday menus during this time, which might limit your customization options but could also offer exciting festive options.
6. Guest Availability
Travel: Consider that many people might be traveling during the holiday season, affecting their availability to attend the shower.
Busy Schedules: The holiday season can be a busy time with numerous commitments; ensure to send out invites well in advance.
7. Gift-Giving
Holiday Gifts: As people will be buying gifts for the holidays, they might be on a tighter budget for baby shower gifts.
Delivery Delays: Due to the holiday rush, there might be delays in gift deliveries, so advise guests to order gifts well in advance.