Updated September 16, 2023
As the leaves turn and the air gets crisp, fall brings the perfect backdrop for a heartwarming baby shower.
Celebrating your upcoming arrival amidst the season's rich colors and flavors can make the event even more special.
Today we are sharing 27 unique and exciting fall baby shower foods.
From mouthwatering brunch items to hearty mains, tempting desserts, and warm beverages, we've got you covered.
Ready to create a memorable fall baby shower that will be the talk of the town?
Let's dive into these delicious ideas together!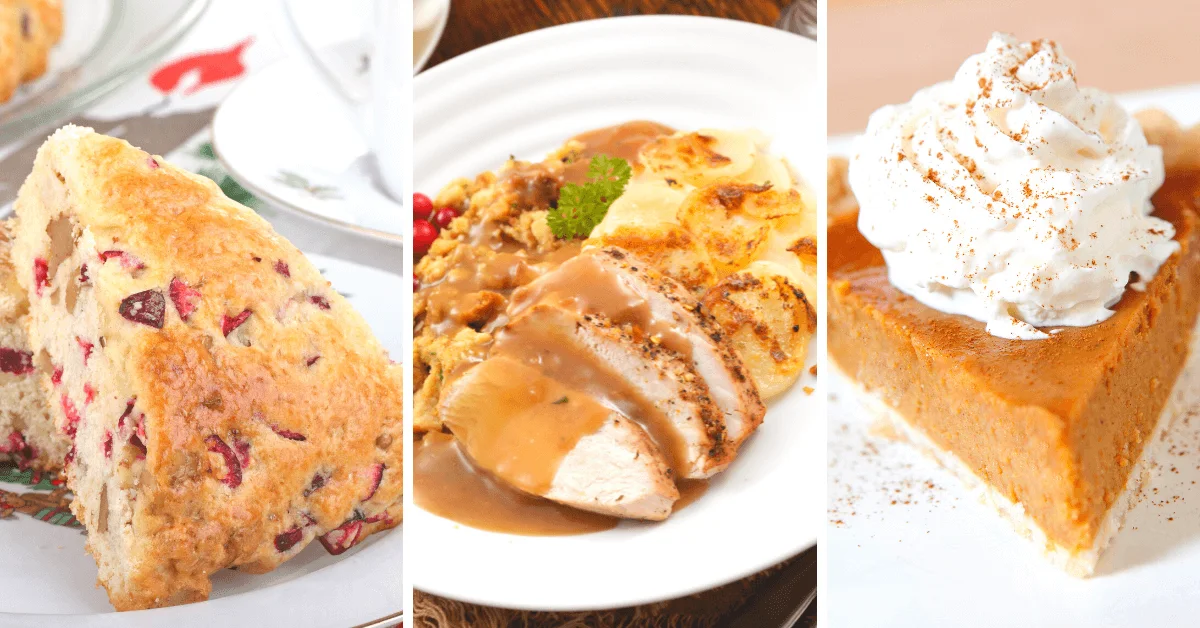 At the last fall baby shower I hosted we had a sit-down turkey dinner.
I held it at a restaurant so I didn't need to do any of the cooking and it worked out perfectly!
The mom-to-be loved it and the guests raved about it.
The menu was for a classic Thanksgiving dinner and it was held on a Sunday in October in the late afternoon.
I thought I would share the menu before we jump into our list of fall baby shower foods in case it is exactly what you are looking for.
Fall Baby Shower Turkey Dinner Menu: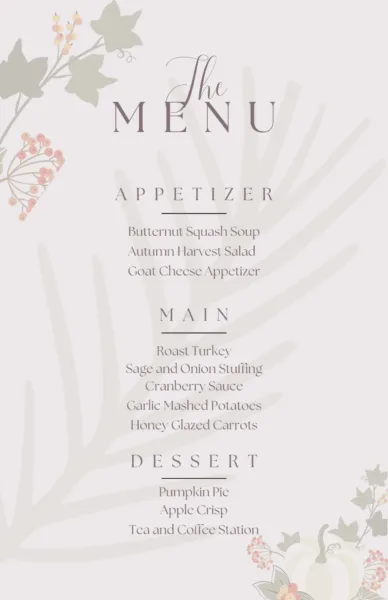 27 Amazing Fall Baby Shower Foods
Brunch
1. Pumpkin Spice Pancakes
In the heart of fall, pumpkin reigns supreme as a symbol of warmth, comfort, and the return of cozy sweater weather.
Pumpkin spice pancakes bring the season directly onto your plate, adorned with the quintessential spices of autumn.
They are perfect because they create a heartwarming start to your celebration, enveloping everyone in a cozy embrace right from the first bite.
Their golden hue mirrors the warm tones of fall, adding visual warmth to your spread.
They are essentially a morning hug in pancake form, offering both comfort and joy with each mouthful.
An option I love is to have a mini-pancake bar set up.
You can offer pumpkin spice pancakes, cranberry pancakes, and buttermilk pancakes with a variety of toppings and syrups.
2. Fall Veggie Quiche
A fall veggie quiche is a canvas where the harvest of the season comes alive; a rich tapestry of butternut squash and spinach showcasing autumn's bounty in every slice.
Fall Veggie quiche is more than just a dish; it's a celebration of fall on a plate, inviting your guests to savor the vibrant, rich hues and flavors of the season.
The buttery crust promises a comforting, savory delight in every bite, encouraging guests to revisit for seconds.
It's a visual and culinary celebration of togetherness and the richness that fall brings to our lives.
I always offer a broccoli and cheese quiche or a spinach and cheese quiche when I host a brunch baby shower.
3. Cranberry Orange Scones
Scones are like the friendly hello of any brunch, easy to pick up and enjoy while mingling with other guests.
Cranberry orange scones bring together the tartness of cranberries and the citrus notes of orange, both of which are reflective of the season.
They are not just a treat for the palate but for the eyes as well, with their vibrant color offering a visual delight, embodying the fresh and vibrant energies of a new beginning, perfect for a baby shower.
Cranberry-orange scones are perfect for fall and winter baby showers!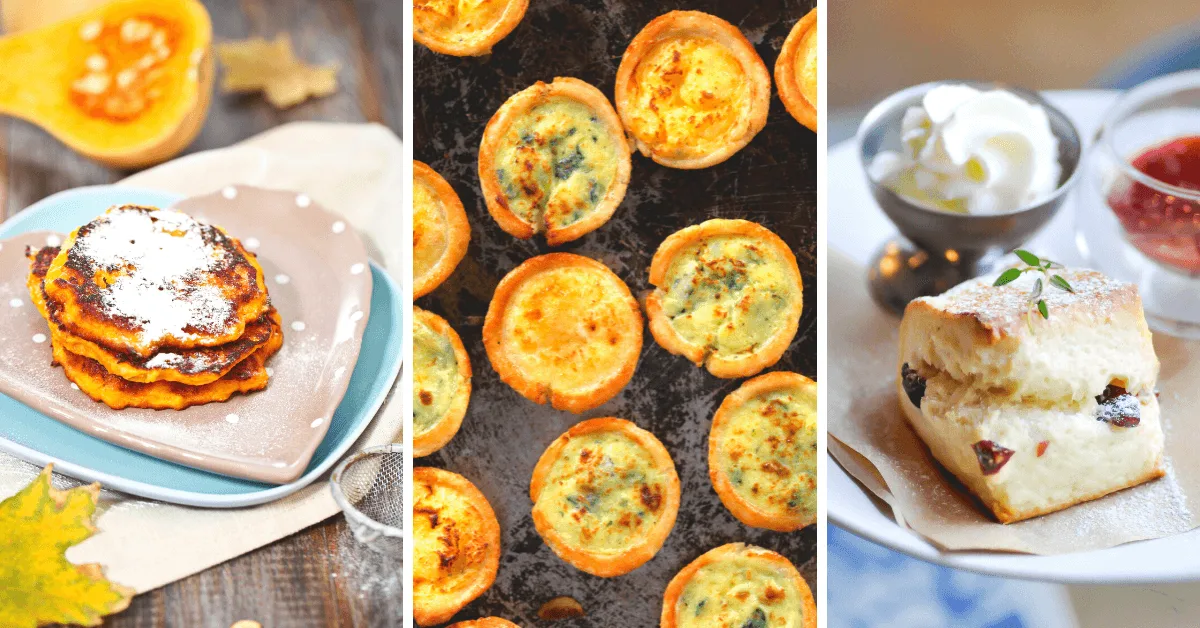 4. Spiced Pear Yogurt Parfaits
Offering a lighter and refreshing option amidst the richer fare, spiced pear yogurt parfaits are the epitome of elegance and balance.
The subtlety of spiced pears paired with creamy yogurt presents a layered delight both in terms of flavor and texture.
The inclusion of this dish ensures that your brunch menu caters to all preferences, inviting everyone to find something they love.
Its layered presentation is also visually appealing, adding to the aesthetic of your brunch spread, while the spices harmoniously tie it to the autumnal theme.
5. Sausage and Apple Breakfast Casserole
This casserole is the harmonious marriage of hearty sausages and the crisp sweetness of apples, bringing a comforting depth of flavor that is both satisfying and nourishing.
It encompasses the very essence of a homey, comforting meal, encouraging sharing and togetherness.
Its hearty nature promises to leave your guests satisfied, creating a foundation of warm, happy bellies ready to celebrate the upcoming new arrival in the coziest, most heartwarming way possible.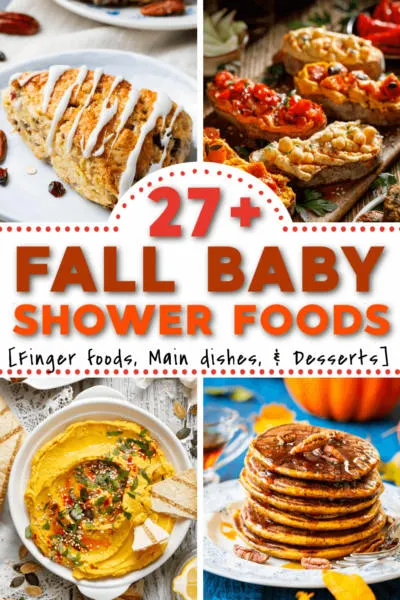 Appetizers
6. Butternut Squash Soup Shooters:
Imagine a warm, velvety soup made with sweet, roasted butternut squash, a sprinkle of nutmeg, and a swirl of cream, served in chic little shot glasses.
Butternut squash soup shooters are not only adorable but also a deliciously light and elegant way to commence your meal.
They're an ideal bite-size comfort food that showcases the best of fall flavors.
7. Fall Bruschetta:
Swap the traditional tomato and basil for the sweet, earthy goodness of roasted squash, the creaminess of ricotta, and a touch of honey on toasted bread.
This fall-inspired bruschetta adds a creative spin to a classic appetizer.
The delightful mix of textures and flavors will make your guests fall in love at first bite!
8. Caramelized Onion and Apple Tarts:
Sweet caramelized onions, tart apples, and a touch of fresh thyme sit atop a flaky pastry crust in these tempting bite-sized tarts.
Each morsel expertly balances sweet and savory, capturing the essence of fall in one mouthful.
It's a conversation starter, guaranteed to impress your guests.
The recipe I like the best for caramelized onion and apple tarts is from Williams Sonoma!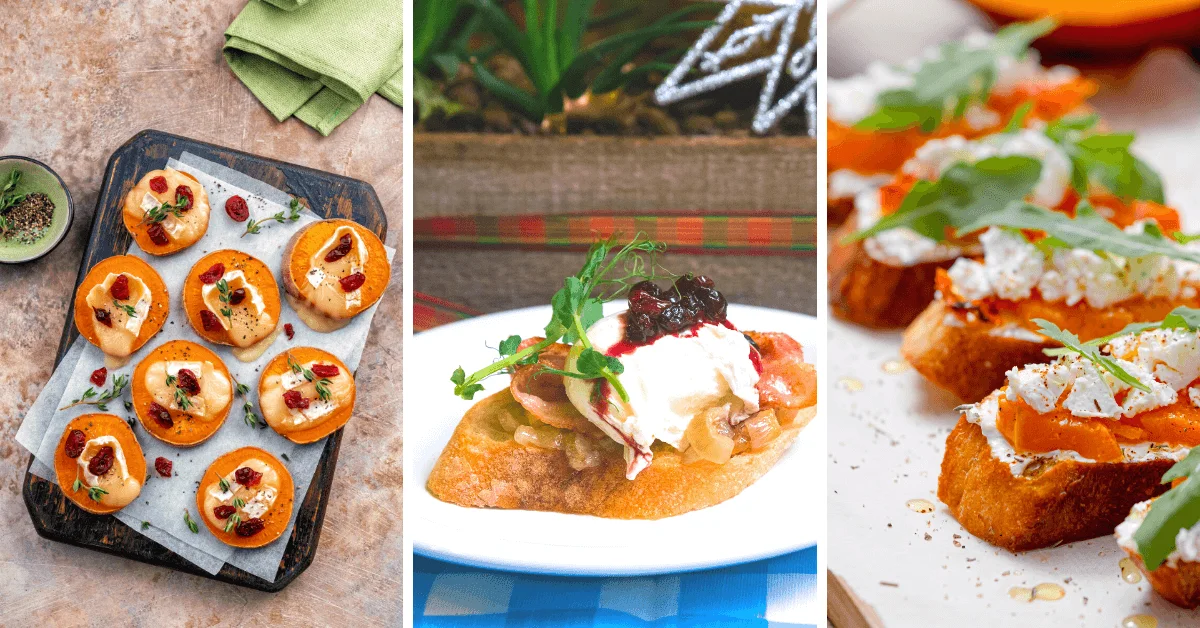 9. Pumpkin Hummus:
Pumpkin hummus gives a festive, fall makeover to a party favorite.
The traditional chickpea dip is given an autumnal twist with the addition of pumpkin puree, adding a hint of sweetness and a vibrant orange hue.
Served with crisp veggies and warm pita bread, this pumpkin hummus is an inventive, healthy starter that keeps the fall theme front and center.
10. Fig and Goat Cheese Crostini:
The ultimate in sophistication, fig and goat cheese crostini feature the divine combination of creamy goat cheese and ripe, sweet figs on a toasted baguette slice.
Each crunch introduces a medley of textures and flavors that dance on the palate.
It's a refreshing yet decadent start to your meal that pays tribute to the fleeting fig season of early fall.
Main Dishes
11. Apple Cider Glazed Chicken
Picture this: tender, succulent chicken brought to life with a gleaming apple cider glaze that promises a culinary embrace of the fall season in each bite.
The apple cider not only lends a delightful sweetness but also echoes the crisp freshness of newly harvested apples, representing the season's bounty on a plate.
Apple cider glazed chicken is more than a treat; it's a hearty experience that will leave your guests feeling nourished and embraced by autumn's generous offerings, and it assures a beginning that is both sweet and joyous, much like the occasion it celebrates.
12. Roasted Autumn Vegetable Salad
Envision a riot of colors and textures on your plate as you delve into this roasted autumn vegetable salad.
Each element in this salad is a tribute to the earth, a celebration of the harvest, with robust, grounding energies that echo the spirit of autumn.
The vinaigrette offers a tangy contrast, weaving in a narrative of vibrant freshness against the hearty backdrop of the roasted vegetables.
As a centerpiece at your baby shower, this salad brings in not just a harvest celebration but also a promise of nourishment, health, and a colorful life ahead.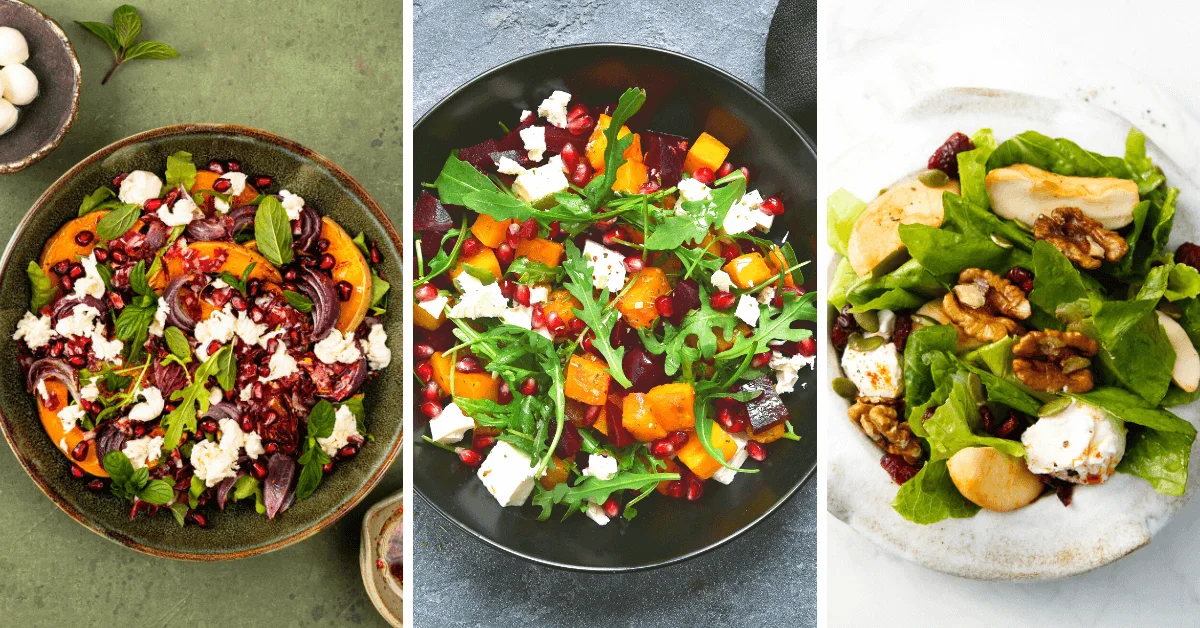 13. Stuffed Acorn Squash
Imagine a dish that marries aesthetics with flavors in the most harmonious manner.
The acorn squash, with its sweet flesh, becomes a vessel carrying a treasure trove of textures and flavors — quinoa offering protein richness, cranberries injecting a tart sweetness, and herbs painting every bite with a burst of freshness.
It's not just food, but art on a plate, promising a delightful sensory experience that is as comforting as it is nourishing, reminding everyone of the nurturing spirit of the occasion being celebrated.
14. Maple Mustard Salmon
Picture a beautifully roasted salmon fillet, with its delicate flesh enriched by a glaze that is a melody of earthy sweetness and vibrant tanginess.
It brings a touch of elegance to your table, presenting the promise of something special with each bite.
The maple mustard salmon speaks of a refined choice, a thoughtful nod to the sophistication that a baby shower deserves.
The pairing of maple and mustard offers a tale of harmony, of different notes coming together to create a symphony of flavors, mirroring the joyous collaboration of different lives in the celebration of new beginnings.
15. Herb Crusted Pork Tenderloin
Imagine a succulent pork tenderloin that has been caressed by a rich blend of fresh herbs and garlic, with a crust that promises both texture and flavor, offering a rich and fulfilling gastronomic journey with every bite.
It's a dish that combines tenderness with a rich herbal embrace, offering comfort and satisfaction in a sophisticated yet warm manner.
It's like a warm, loving hug in the form of food, bringing joy and heartwarming comfort to your celebratory occasion, with the promise of happy beginnings etched in its delightful flavors.

Desserts
16. Mini Pumpkin Pies
Imagine the joy on your guests' faces as they see trays of mini pumpkin pies — the quintessential autumn dessert, but in a cute, bite-sized format that's just perfect for your baby shower.
Each mini pumpkin pie offers the warm, comforting embrace of cinnamon and nutmeg combined with the creaminess of pumpkin, all nestled within a buttery crust.
These mini pies encapsulate the essence of fall in a form that encourages communal joy and the sharing of sweet moments, just like the arrival of a new baby.
17. Apple Cider Donuts
Picture this – the sweet aroma of apple and cinnamon filling the air as you present a platter of fluffy apple cider donuts.
Each bite offers a burst of apple flavor paired with a delightful crunch from the cinnamon sugar coating.
This treat invokes the spirit of the apple-picking season, echoing the freshness of new beginnings and the sweetness inherent in welcoming a new life into the world.
Their homely yet indulgent nature offers a comforting and joyous touch to your baby shower, encapsulating the warmth of family and community.
18. Caramel Apple Cupcakes
Imagine the joyous reflections of guests as they take a bite of these cupcakes, each a miniature rendition of a beloved fall treat — caramel apples.
Each caramel apple cupcake promises a moist, apple-studded cake crowned with a swirl of rich, glossy caramel frosting.
It's a delightful culinary recreation of crisp autumn days and the nostalgia of seasonal fairs, allowing your guests to revel in a moment of childhood joy as they celebrate the upcoming arrival of the new baby, nurturing a sense of joyful anticipation and communal warmth.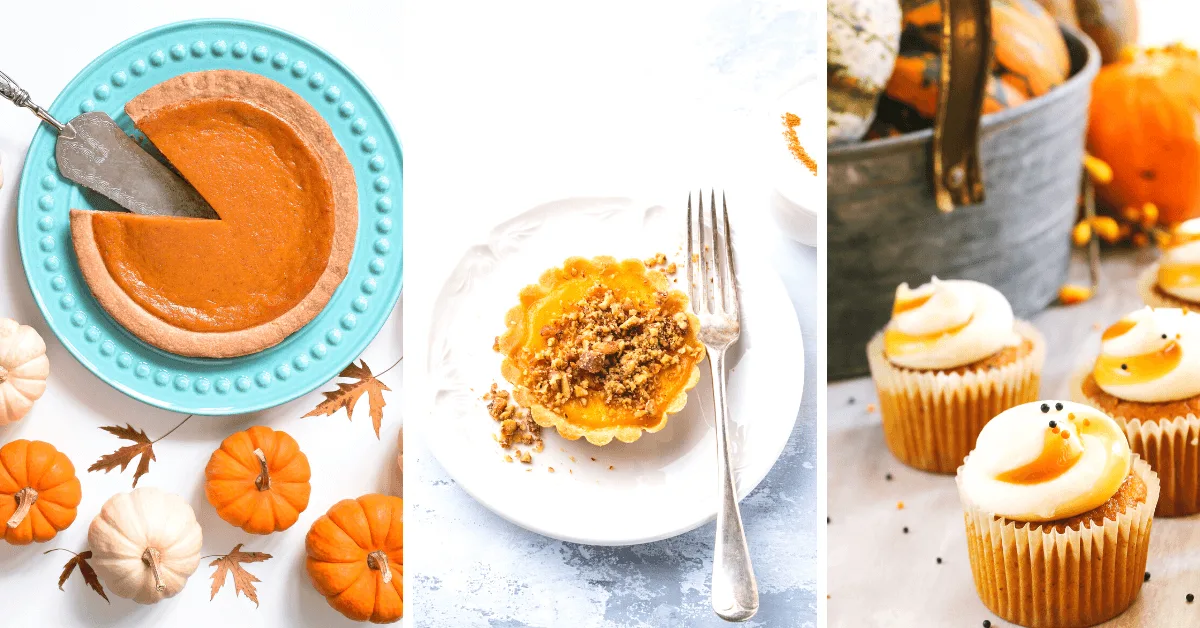 19. Pumpkin Spice Truffles
Picture trays of these elegant truffles, each a perfect sphere of creamy, spiced pumpkin encased in a shell of smooth, white chocolate.
These bite-sized pumpkin spice truffle delights are a sensory journey into the heart of fall, with a rich and spicy center that bursts forth with the vibrant flavors of the season.
Just like the joy of anticipating a new arrival, each truffle offers a surprise at its heart, bringing a note of excitement and joy to your celebration, with a touch of elegance that elevates the occasion.
20. Spiced Pear Galette
Imagine a rustic, heartwarming end to the meal with the simple yet flavorful spiced pear galette.
The pastry, golden and crisp, holds slices of pear that have been tenderly cooked with spices that sing the song of autumn.
It's a dessert that celebrates the unadorned beauty of natural ingredients, much like celebrating the simple yet profound joy of a new life.
Its rusticity brings a touch of heartwarming homeliness to the baby shower, echoing the nurturing embrace of family love.
Drinks
21. Apple Cider Mimosa:
As guests raise their glasses in celebration, let them be enchanted by this fusion of sparkling champagne and the rustic flavor of apple cider.
The Apple Cider Mimosa captures the delicate balance of sophistication and the hearty comforts of autumn.
With each sip, the effervescence dances on the palate, intertwined with the rich, fruity notes of fall, creating an elegant toast for new beginnings at your baby shower.
22. Pumpkin Spice Latte:
The Pumpkin Spice Latte is synonymous with the very essence of autumn.
In a gathering where warmth and joy are paramount, this drink offers an inviting embrace of creamy milk, the sweet richness of pumpkin puree, and the nostalgic caress of spices like cinnamon and nutmeg.
With a swirl of whipped cream on top, it becomes a comforting hug in a mug, allowing guests to bask in the festive spirit of the season while celebrating the impending arrival of new life.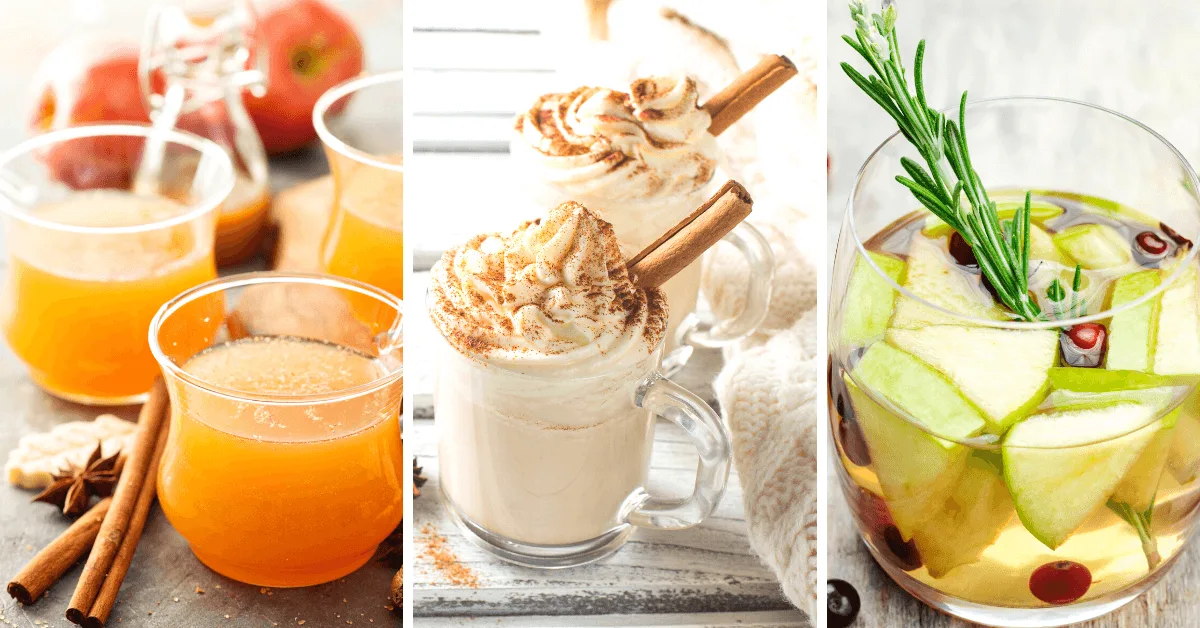 23. Spiced Pear Punch:
While autumn is often painted with the warm hues of falling leaves, the Spiced Pear Punch introduces a fresh and tantalizing twist to your drink menu.
With the subtle sweetness of pears harmoniously melded with a gentle spice profile, this drink is a refreshing ode to the bounties of the season.
Its uniqueness ensures that it remains a memorable and delightful choice, intriguing guests with its delicate flavor journey.
24. Cranberry Apple Sangria (Non-Alcoholic):
Visualize a drink that captures the riot of colors and flavors of fall. The Cranberry Apple Sangria is a vibrant tapestry of tart cranberries, sweet apples, and aromatic spices.
As it rests, the ingredients dance and meld, creating a symphony of flavors.
When served, the effervescence from the sparkling water elevates the drink, making it a lively and delightful concoction that not only quenches thirst but also captivates the senses, adding a festive touch to your baby shower.
I have made an alcoholic version of this drink.
It is delicious and only requires the addition of your favorite wine.
25. Hot Caramel Apple Cider:
As the crisp autumn air carries the promise of cozy moments, the Hot Caramel Apple Cider emerges as the perfect companion.
It's a decadent blend of warm apple cider and luxurious caramel, evoking memories of orchard visits and the simple joys of the season.
As guests cradle their mugs, the steamy beverage warms their hands, and with each sip, they're transported to a realm of sweetness and comfort, making it a cherished drink for those intimate, shared moments.
Apple cider is always on the menu when I host any fall gatherings.
If you have not tried hot apple cider with caramel you need to try it this season!
It is the perfect fall baby shower mocktail.
Finger Foods
26. Brie & Apple Crostinis:
Brie and apple crostinis offer a harmonious balance between the creaminess of the brie, the crispness of the green apple, and the warm crunch of the toasted baguette.
The hint of sweetness from the honey rounds out the rich, buttery flavor of the brie, offering a delightful start to the brunch.
27. Mushroom & Thyme Tarts:
Mushroom and thyme tarts provide a rich, umami experience with a mixture of mushrooms, garlic, and onions nestled in buttery pastry shells.
The addition of fresh thyme adds a herbaceous note that elevates the dish.
It's a sophisticated choice that will be appreciated by guests seeking a warm, hearty appetizer.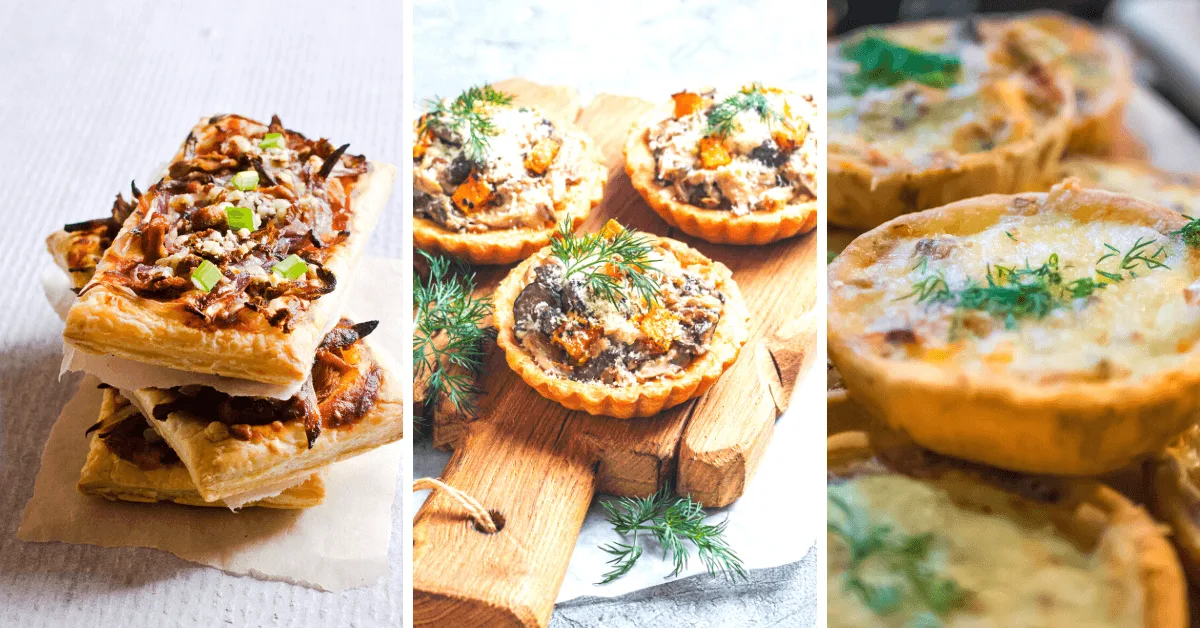 28. Roasted Beet Hummus:
This hummus brings a splash of color and a note of earthiness to the table, celebrating the deep flavors of roasted beets.
Served with a side of warm pita or crispy vegetables, it's a visually stunning and flavorful dip that encourages guests to gather and graze.
29. Fig & Balsamic Flatbread:
The combination of fresh figs, arugula, and a sweet balsamic reduction on a delicate flatbread creates a dish that's both visually and gastronomically pleasing.
Fig & Balsamic flatbread offers a delightful contrast of flavors and textures, from the sweetness of figs to the peppery notes of arugula, making each bite a flavorful journey.
30. Caramelized Pear & Blue Cheese Canapés:
These canapés bring together the sweetness of caramelized pears and the sharp, creamy texture of blue cheese, all resting on a crunchy cracker base.
It's a dish that celebrates the complexity of flavors, bringing a touch of elegance to the baby shower.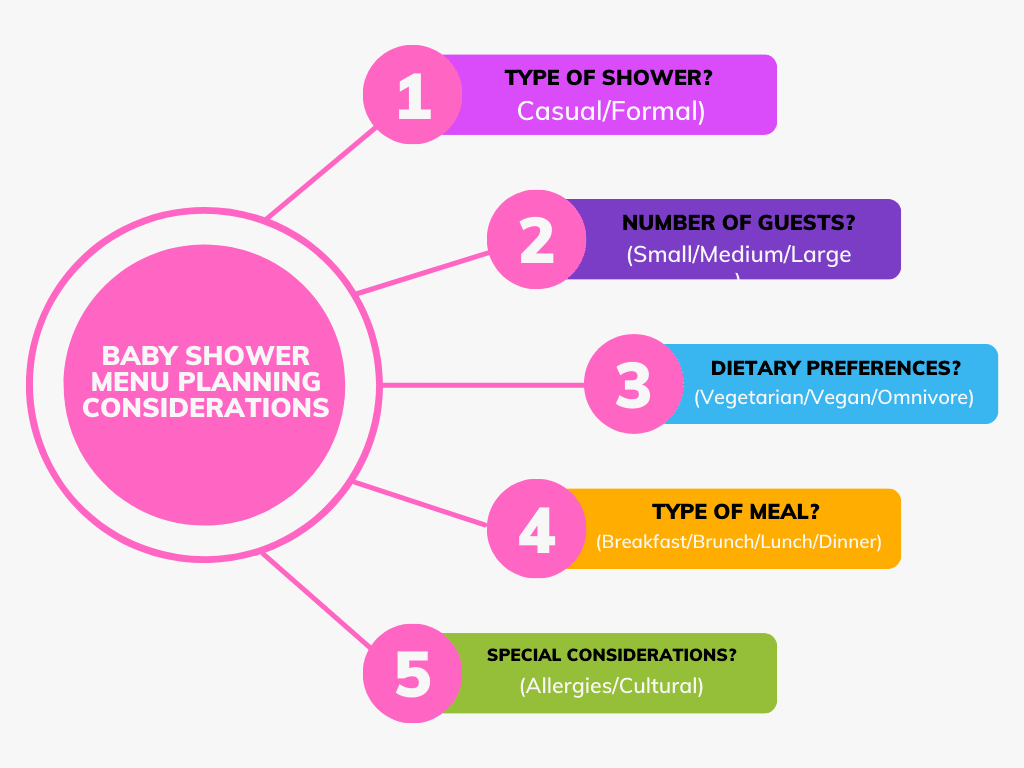 What to consider when planning a fall baby shower menu?
Here's a breakdown:
Type of Shower? (Casual/Formal):

Casual: Opt for more relaxed dishes, finger foods, etc.
Formal: Consider more sophisticated dishes, plated meals, etc.

Number of Guests? (Small/Medium/Large):

Small Group (1-10): You can go with fewer dishes, and possibly more elaborate ones.
Medium Group (11-30): Offer a mix of main dishes and sides.
Large Group (30+): A buffet-style might be best, with a variety of options.

Dietary Preferences? (Vegetarian/Vegan/Omnivore):

Vegetarian: Prepare dishes without meat but can include dairy, eggs, etc.
Vegan: Go for dishes without any animal products.
Omnivore: You can provide a mix of dishes with and without meat.

Type of Meal? (Breakfast/Brunch/Lunch/Dinner):

The type of meal can influence the dishes you choose. For instance, a brunch might have more egg-based dishes, pastries, and fruit, while a dinner might have heartier options.

Special Considerations? (Allergies/Cultural):

Be sure to account for any allergies (like nuts, gluten, etc.) or cultural/religious restrictions.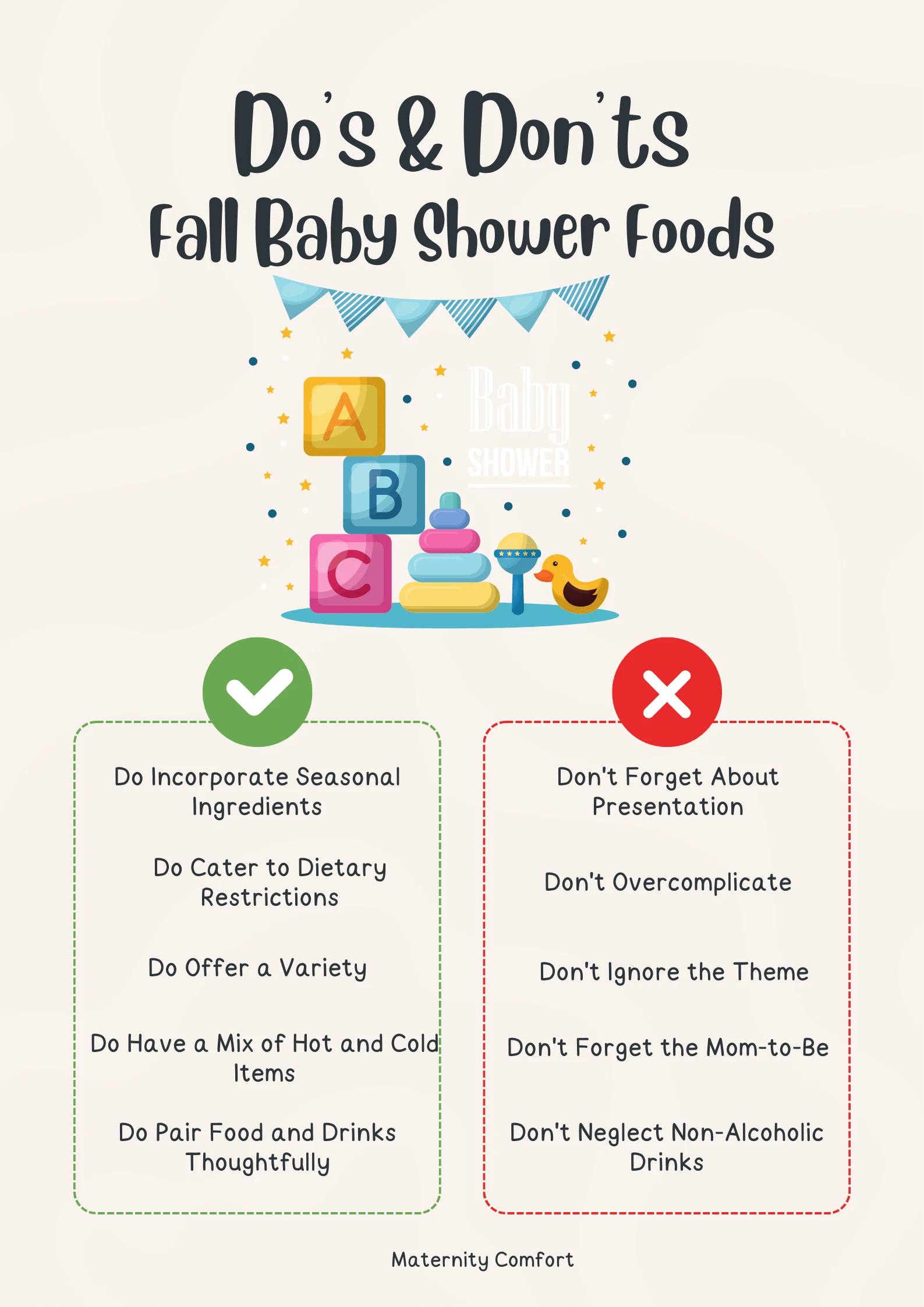 Do's:
Do Incorporate Seasonal Ingredients: Utilize the produce that is in season – apples, pumpkins, squash, pears, and more. It gives your menu a fresh and authentic fall touch.
Do Cater to Dietary Restrictions: Ensure you're aware of any allergies or dietary restrictions among your guests. Offer vegetarian, vegan, gluten-free, or dairy-free options as needed.
Do Offer a Variety: Variety is key to pleasing all your guests. Ensure you have a mix of sweet and savory, as well as light and hearty dishes.
Do Have a Mix of Hot and Cold Items: While fall calls for warm and comforting foods, also include a few cold or room temperature items that can be prepared ahead.
Do Pair Food and Drinks Thoughtfully: Pair your menu items with appropriate beverages. Fall-flavored teas, warm cider, or a spiced punch can complement your food wonderfully.
Don'ts:
Don't Forget About Presentation: Fall is known for its vibrant colors. Use this to your advantage when presenting your dishes. Incorporate fall colors and decorations to make your dishes even more appealing.
Don't Overcomplicate: While it's great to offer a variety, don't stress yourself out with overly complicated dishes. Simple, well-made dishes often shine above intricate ones that are difficult to execute.
Don't Ignore the Theme: If you've chosen a theme for the baby shower, try to incorporate it into your menu, whether in the dish names, the way they're served, or the ingredients used.
Don't Forget the Mom-to-Be: Remember who the party is for! Keep in mind the mom-to-be's cravings, likes, dislikes, and dietary needs when planning the menu.
Don't Neglect Non-Alcoholic Drinks: Not everyone will want to consume alcohol, especially the mom-to-be. Make sure you have a variety of flavorful non-alcoholic options available.