Updated May 8, 2023
Are you looking for unique and affordable baby shower venue ideas?
You are not alone!
Planning and hosting a baby shower is not easy!
And finding the perfect venue to hold the shower can be frustrating.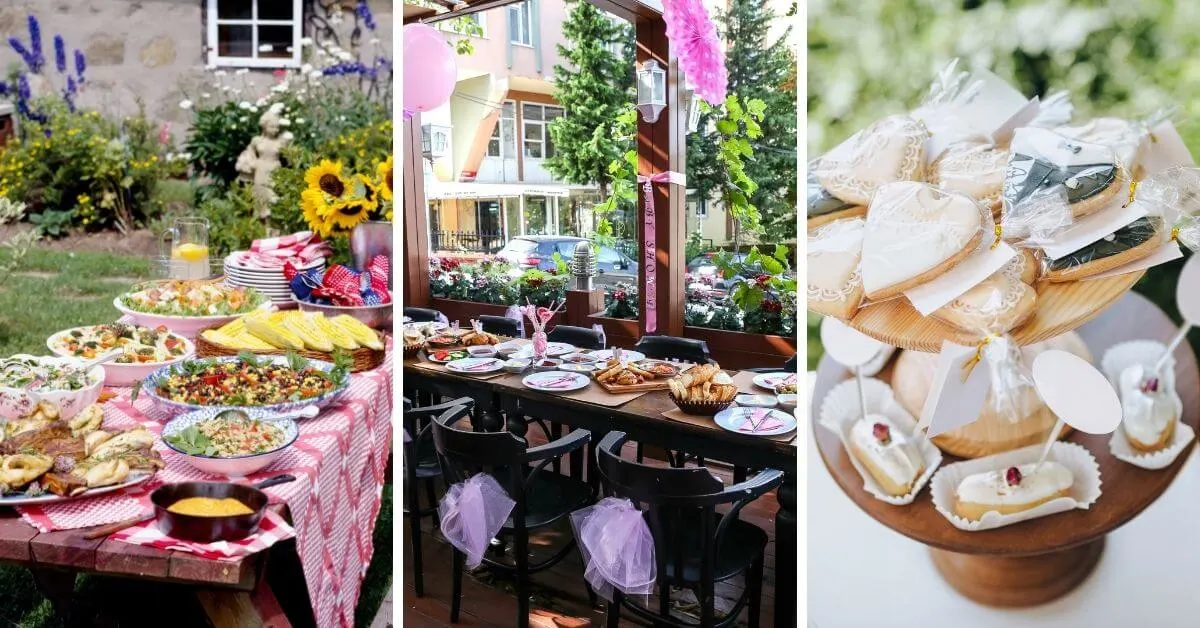 A few months ago I was on the hunt for a baby shower location to host a shower in the fall.
Every place I called was booked solid with weddings.
As luck would have it, my friend's baby shower dates were running smack into both the normal fall weddings and all the rescheduled weddings due to the pandemic of 2020.
I was also looking for a place to hold the baby shower outdoors.
So basically I was looking for a unicorn and to hit the lottery at the same time.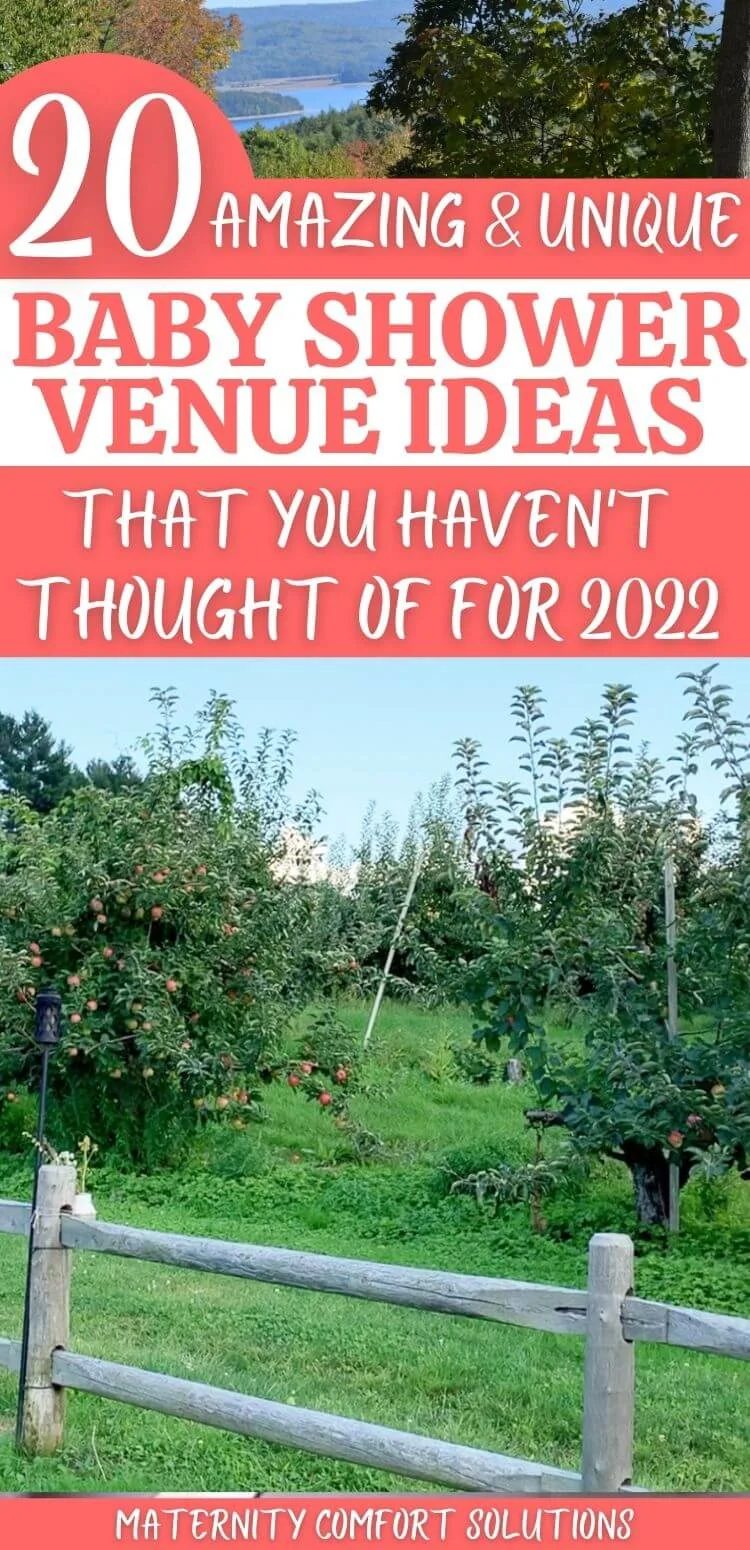 The odds were definitely not turning out to be in my favor.
I ended up having to really think out of the box.
We ended up at an Air BnB on the beach and held the shower on a Friday night complete with campfire, smores, cupcake/cannoli bar, and lots of new mom advice was shared around the fire.
It was the best and most budget-friendly option
It actually ended up being the best time all of us had enjoyed together in a long time.
The mother-to-be was thrilled and hosting was easier than I expected.
21 Genius Baby Shower Venue Ideas
1. An Apple Orchard
We love this idea for a late summer or early fall baby shower.
Many apple farms have indoor and outdoor areas available to hold events.
A cute theme would be an "Apple of my eye" baby shower theme.
This is a popular theme and we can understand why!
There are so many options for baby shower foods, baby shower favors, and baby shower games.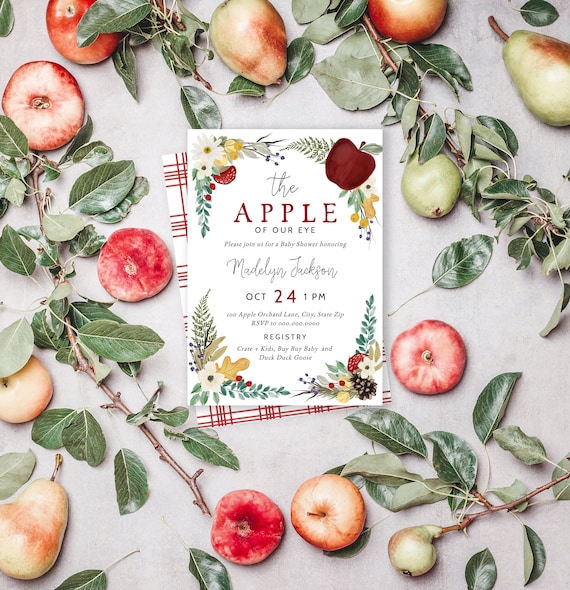 Apple of Our Eye Baby Shower Invitation Apple Baby Shower
from: Etsy
We are blessed to travel frequently. New England in the fall is one of our favorites to go explore.
On a recent trip, we visited Smolak Farms in North Andover Massachusetts.
Smolak Farms has a tent outdoors for events like baby showers ad weddings.
Most areas of the country will have places like apple orchards that are unique to hold a baby shower.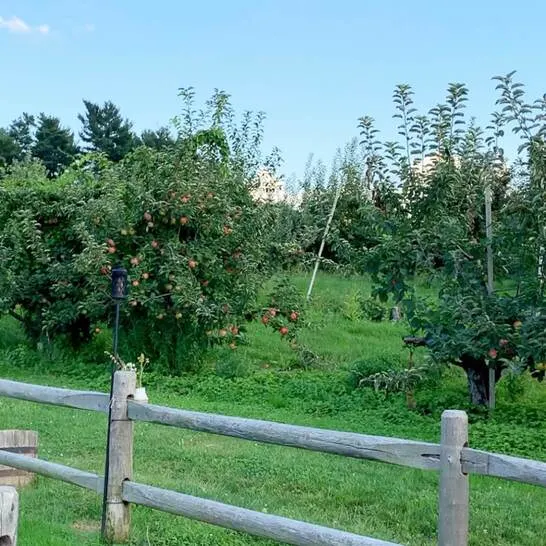 Baby shower food ideas for an apple orchard:
Turkey, apple, cheddar finger sandwiches
Adult peanut butter and apple cider finger sandwiches
Apple cider cupcakes
We have more ideas for a fall baby shower theme idea including food, games, and favors!
This was a small apple orchard and cider-making farm we visited in New Salem, Massachusetts.
The views were stunning and it would be an ideal location for a small baby shower in late summer or early fall.
A spring baby shower could be adorable in an apple orchard too.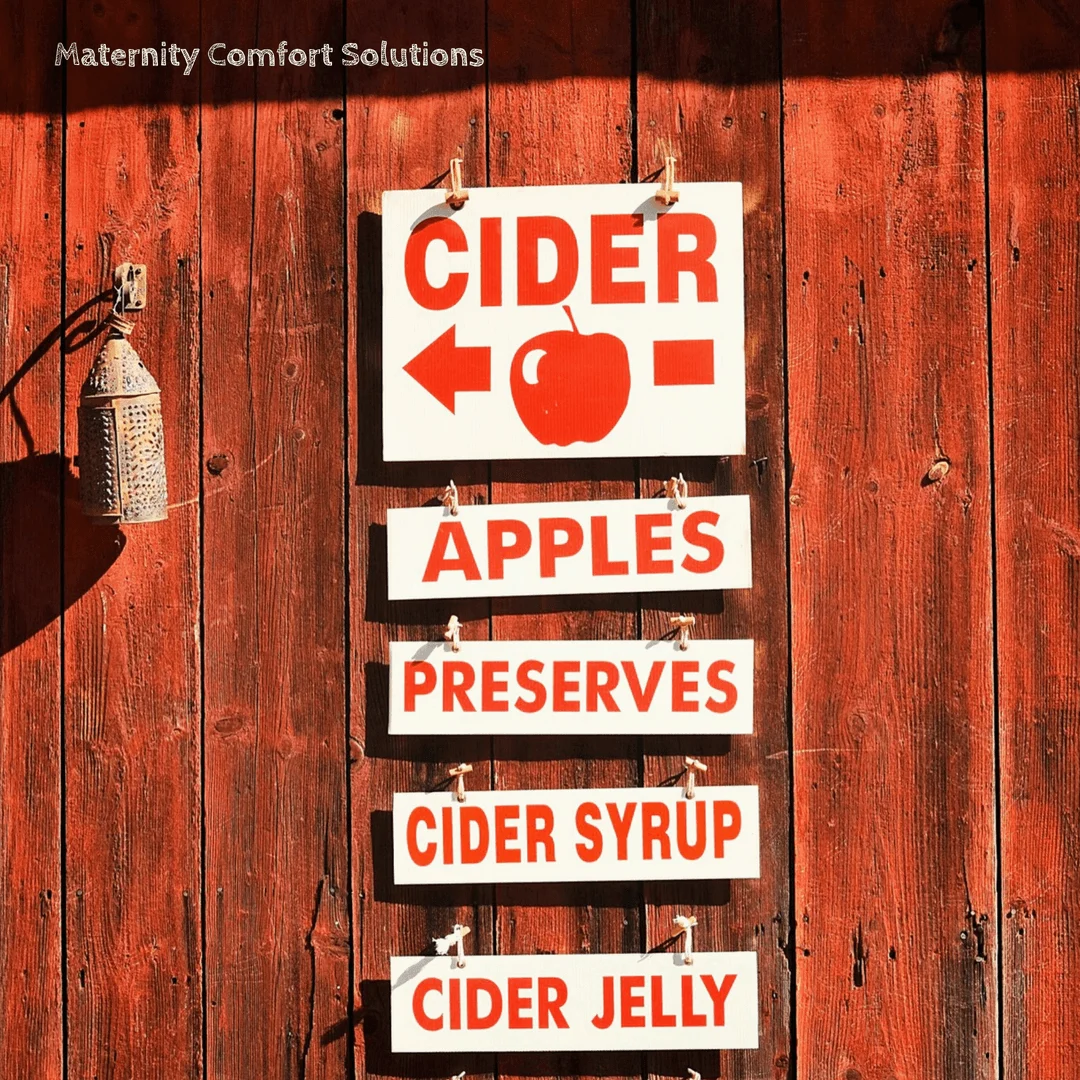 Gorgeous view of changing leaves, mountains and reservoirs from this orcchard.
Every area of the country has unique places like this one that would be perfect for a baby shower.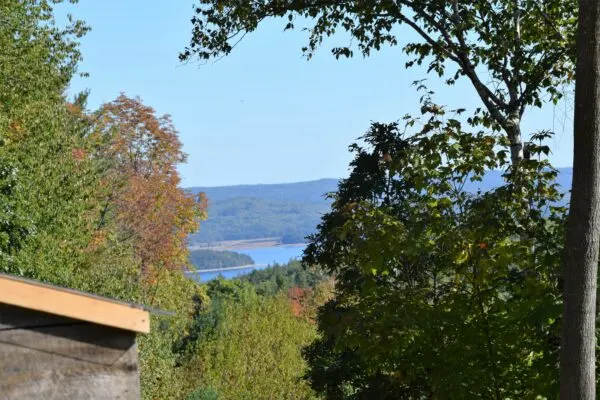 If your mom-to-be loves the fall and apple picking then an apple-themed baby shower may be something she will enjoy and cherish.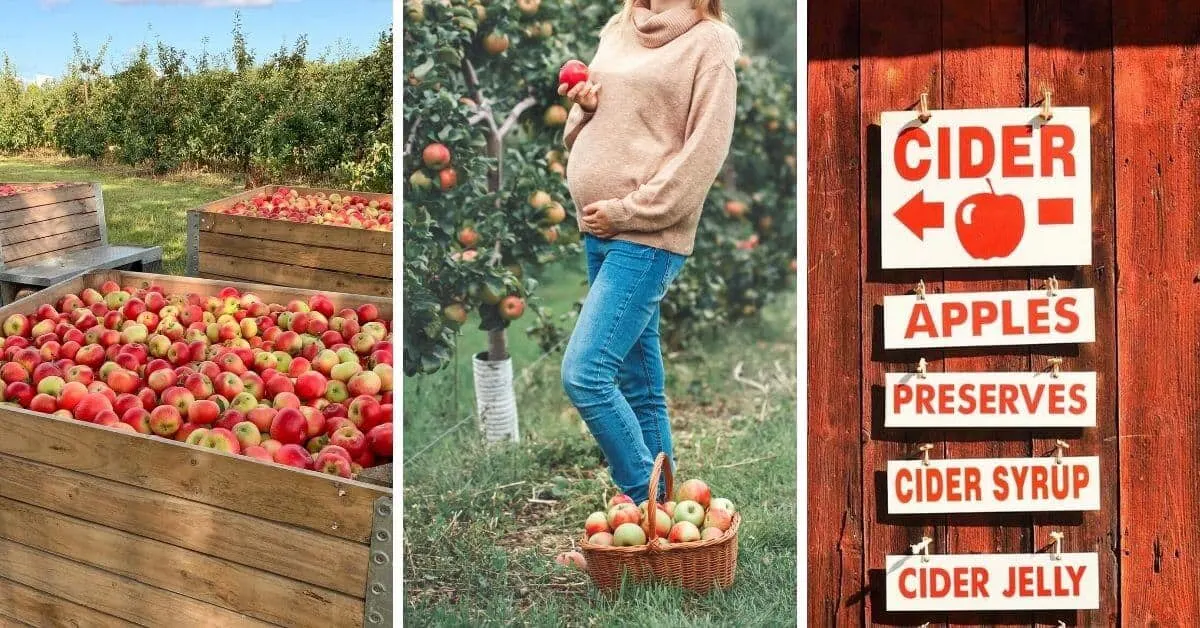 2. Farm field or barn
Choose a field of sunflowers in the summer or fall season.
The blooms of trees and wildflowers make a breathtaking backdrop for a spring baby shower.
Some cute baby shower themes could include down on the farm, fall harvest, sunflowers, tractor theme, and barbecue.
Guests could be encouraged to bring a stuffed farm animal or farm book for the baby.
3. A unique Air BNB
Another great option for a baby shower venue is an Air BNB.
There are so many unique places available on Air BNB.
You can rent a house on the beach, in the mountains, a condo overlooking the city in places like LA, Chicago, Boston, and Miami.
You can have the baby shower catered easily if you are in the city.
Maybe an old-fashioned lobster bake if you are at the beach.
It is OK to really think outside the box.
Traditional is good for a baby shower too, but if that doesn't fit with the mom-to-be, don't be afraid to do something different.
4. Rooftop deck
We love the idea of hosting a baby shower on a rooftop deck overlooking the beach or city.
Maybe plan a late afternoon shower to capture a gorgeous sunset or city lights.
5. Local winery
We know pregnant women can't drink alcohol but wineries and breweries are popular places to throw a baby shower.
6. Art museum
Did you know that art museums have rooms you can rent to hold events?
Is the mom to be an art lover or artist?
Then perhaps an art museum or art gallery would be an ideal location to hold a baby shower.
7. Science Museum or music museum
We love science and I know I would have enjoyed a baby shower at a science museum or even an aquarium.
Some cute ideas for a baby shower theme could be astronauts or under the sea.
If the mother-to-be likes music consider holding a shower at a music or instrument museum.
8. Zoo or nature preserve
A zoo or nature preserve is a fun place for a baby shower.
We love the baby animal theme option for this location.
9. Botanical garden
Many states have gorgeous botanical gardens where you can hold events.
They have beautiful flowers and plants that would make a lovely backdrop for your baby shower.
10. Disney World baby shower
Disney World may be the perfect place if you live in the Orlando Florida area or are looking to splurge on your baby shower.
Disney would be happy to help you host your event!
We love the idea of a princess-themed baby shower held at the park.
11. Christmas tree farm
Are you hosting a Christmas baby shower?
Some Christmas tree farms have places where you can host indoor events.
You may have to call around to several farms in your area, but it is likely that at least one of them has facilities to host weddings and baby showers.
12. Hold an afternoon tea baby shower
A fun idea is to hold an afternoon baby shower in a tea room.
Skip the large luncheon and avoid peak hours by throwing tea in the early afternoon.
Serve tea and coffee with tea biscuits, scones, or cookies.
Skip the fancy centerpieces by replacing them with unique teapots on pretty serving trays.
These can be purchased at antique or second-hand stores lending a shabby chic look to the décor.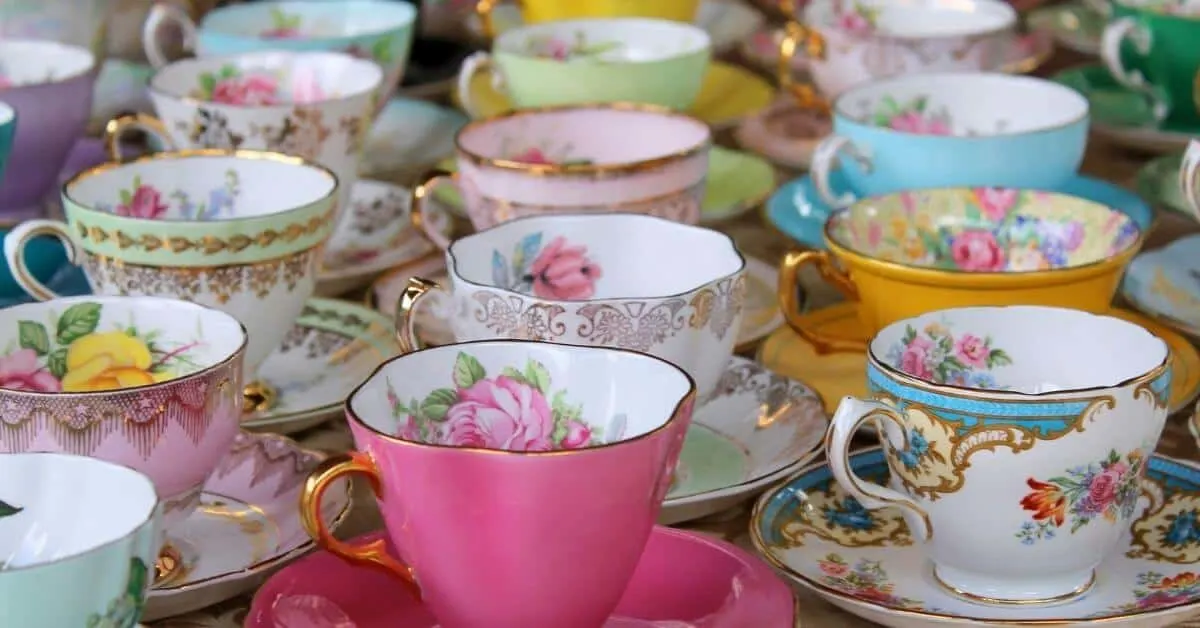 13. Golf Club
Most golf clubs rent out rooms for events.
They are usually very affordable and will provide table linens, tables, and chairs.
One thing to be aware of is that they are popular for wedding venues.
We did speak to a local golf club in our area that said they can usually accommodate a baby shower later in the afternoon on a Sunday in the fall.
If you are flexible a golf club can be a great place to host an affordable baby shower.
14. BBQ restaurant or catered BBQ baby shower lunch
When I was pregnant I craved BBQ! I would have LOVED a baby shower in a BBQ restaurant or BBQ catered lunch baby shower in someone's home.
This is another reasonably affordable option.
You can order large trays of common BBQ foods and not break the bank.
15. Spa day baby shower
Having a spa day baby shower is very popular now.
What mom-to-be wouldn't love a manicure or pedicure?
So much fun and relaxing too!
16. Throw a onesie painting baby shower at paint and sip class
This sounds like a super fun place to hold a baby shower!
Switch out the wine for non-alcoholic drinks and serve cupcakes for a simple easy to consume baby shower food idea.
Baby shower favors could be wine glasses filled with treats.
17. Bed and breakfast
Are you planning a smaller baby shower with guests coming in from far away?
A bed and breakfast can be an excellent choice when looking for places to have a baby shower.
You may find a baby shower in your area with an outdoor garden or terrace that would be an amazing spot for your baby shower luncheon.
18. Restaurant
An option you may have not considered is holding your baby shower in a restaurant.
You can choose a type of restaurant the expectant mom loves.
Many restaurants have small rooms that are available to rent.
19. Outdoor Patio
An outdoor patio at your home, condo complex, or restaurant might be the ideal option for hosting your baby shower in the late spring or early fall.
20. Gallery
We talked earlier about having your baby shower at an art museum and a gallery is another option for an art lover.
Peerspace is a site much like Air BNB but for unique places to hold events like a baby shower.
We found many places in our area that would be adorable to host a baby shower.
It is worth taking a look at.
You might be able to score the ideal baby shower location at the right price.
How to choose the best baby shower venue
Now you know some of the unique options available to host a baby shower.
But how do you choose?
The first consideration should be your budget.
Are you looking for budget-friendly options or is the sky the limit?
The second consideration is the number of guests.
Will you be having a small guest list of family and close friends or a large guest list including co-workers and distant relatives?
The third consideration is what services, food, and amenities do the locations provide?
Many of the places above only provide the space and possibly tables and chairs.
Food and other baby shower necessities will be up to you to bring.
Restaurants will offer food and some other places on our list may have in-house catering available.
Wineries and breweries may offer appetizers or small plates which are perfect for an afternoon baby shower.
Final Thoughts
Planning and hosting a baby shower is not easy!
And finding the perfect venue to hold the shower can be frustrating.
We hope you found these baby shower venue ideas inspirational.