When you find out you are pregnant, you will find your to-do list growing in ways you could never have imagined.
The list will include many exciting ideas and plans. Gender reveals, baby showers, sip and see, smash cakes …. the list goes on…. events you never knew existed.
What is important during this time, is to make sure you don't forget the fundamentals. Our list may not be filled with frills but our goal is to ensure you have a healthy baby.
This post contains affiliate links. You can read our affiliate disclaimer at the bottom of this post.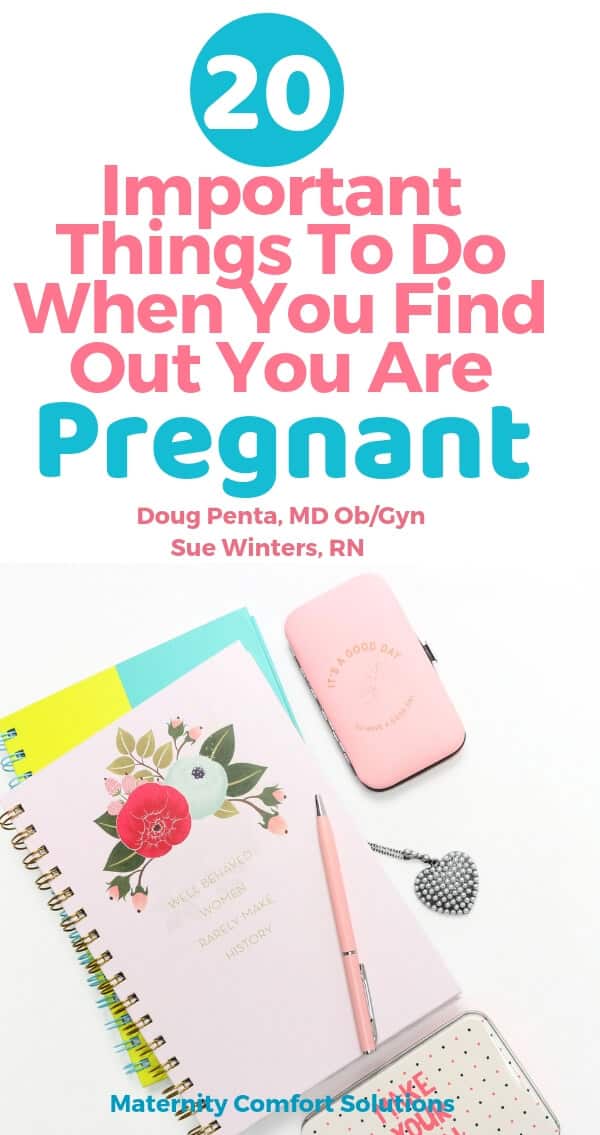 This post contains affiliate links. You can read our affiliate disclaimer at the bottom of this post.
20 Things to do when you find out you are pregnant:
1. Take Folic acid:
Folic acid or Vitamin (B9) is required for the normal development of your baby. Folic acid deficiency has been researched extensively and it was determined many years ago to be associated with birth defects, most notably, neural tube defects such as spina bifida. The March of Dimes was involved in the initial research concerning folic acid deficiency.
2. Choose a medical practice for your prenatal care:
You will have many choices when it comes to deciding who will deliver your baby. Make sure you choose a health care provider who shares your philosophy about prenatal care and the management of your labor and delivery.
The medical practice you choose will also determine where you will deliver your baby. If you plan to deliver at a hospital that has readily available obstetric anesthesia and/or a neonatal intensive care unit, you will want to choose a medical practice affiliated with a hospital that offers these services.
3. Schedule your first prenatal visit:
Most obstetric practices are quite busy. It is best to call and schedule your first prenatal visit soon after you find out you are pregnant. The office will order prenatal vitamins for you and let you know when to come in for your first visit based on your due date.
Calling early will give you the opportunity to pick the most convenient time and day for your appointment. This will also make it easier to choose a time when your partner can come.
If you have any concerns at all about the accuracy of your due date, discuss this when you call for your first appointment. Establishing an accurate due date is best done early in your pregnancy and may require an office visit before your first prenatal visit.
4. Get a prescription for prenatal vitamins with folic acid and DHA when you schedule your first appointment.
Ideally, you want to start prenatal vitamins and folic acid prior to getting pregnant. However, for most this will not be the case, so make sure to ask for prenatal vitamins when you call the office as soon as you find out you are pregnant. Your first office visit may not be for a few more weeks and you want to start your prenatal vitamin as soon as possible.
5. Avoid toxins (especially during the first trimester)
Toxic substances that cause birth defects are called teratogens. Though this term most often refers to (teratogenic) medications there are many other substances and exposures that can adversely affect embryonic development.
Some of these exposures are the following:
Medications (Accutane, etc.)

X–Rays

Toxic Chemicals

Environmental Exposures
*Should you have a concern about exposure to a toxic substance early in your pregnancy, call the office and discuss your concern. Addressing this early is important and will often alleviate a lot of anxiety.
Once you have discussed your concern with the office nurse. If the concern is a medication, there are resources to check the risk of a particular medication. If further information is needed, a pharmacist is consulted and if an exposure (especially none-medication exposures) is still unclear a geneticist may be consulted.
6. Stop Smoking:
Smoking during pregnancy has long been known to adversely affect fetal development. The expression "When you smoke, your baby smokes!" is true and there is extensive scientific evidence to support this statement. As soon as you find out you are pregnant, quit smoking.
Smoking increases carbon monoxide levels in the maternal circulation and this impairs oxygen delivery to the developing fetus. This can cause fetal growth restriction. At the time of delivery, the examination of the placenta shows visible changes associated with smoking.
The following are among the most concerning effects of smoking during pregnancy:
Premature labor

Low Birth Weight

Increased risk of Sudden Infant Death Syndrome (SIDS)
7. Do not drink alcohol
Do not drink alcohol during pregnancy. The risk of alcohol during pregnancy is well established. Exposure to alcohol during pregnancy can cause Fetal Alcohol Syndrome (FAS). Many ask the question: How much alcohol can you drink during pregnancy? The only acceptable answer is none.
The actual risk of fetal exposure to alcohol is hard to quantify. The quantity of alcohol, duration of exposure and gestational age of the pregnancy all factor into the effect alcohol can have on the developing fetus.
FAS can range from mild to severe. Some of the characteristics include a small head, wide-set eyes, a very thin upper lip and a smooth ridge between the upper lip and nose. The effect of alcohol can be mild to severe. Fetal Alcohol Syndrome is the most severe. Alcohol passes through the placenta and into the baby's bloodstream.
Though exposure to alcohol at any time during pregnancy must be avoided, first-trimester exposure is most concerning. The early weeks of development are most vulnerable because organ systems are developing. 
8. Eat Healthily
It is important to eat a healthy, well-balanced diet when you become pregnant. You are eating for two. The healthier you eat the better it is for you and your baby.
It isn't uncommon to experience morning sickness during the early months of your pregnancy. Small frequent meals, eating crackers or dry cereal, and staying well-hydrated can help ease nausea and vomiting of early pregnancy.
9. Decide when you want to tell family and friends about your pregnancy.
Deciding when you are going to tell friends and family is a personal matter. Many people wait until the beginning of the second trimester, especially if they have gone through a miscarriage or have had infertility.
10. Avoid excessive elevation of your core body temperature during the first trimester
Early embryonic development of your baby may be affected by increased core body temperature originating from internal or external sources.
Sources include:
Maternal fever secondary to infection, cold or flu

External factors that increase maternal core body temperature (Hot tubs, Saunas, unsheltered summer heat, heat exhaustion from exertion).
Though the effect of elevated maternal temperature on early fetal development is rarely discussed, the scientific data is compelling. It is not a straightforward association as it is (like alcohol exposure) a function of the extent or intensity of heat, duration of heat exposure and at what gestational age the heat occurred.
The effect of heat on mammalian birth defects has been known for some time. Human studies have been most notable for identifying an association between heart defects and elevated maternal temperature early in pregnancy.
Regardless of where one stands on this topic from the standpoint of scientific proof, the consensus is that maternal fever early in pregnancy should be treated to avoid the potential adverse effects.
Ways to avoid excessive heat during pregnancy:
Avoid the heat on hot summer days.
Stay out of hot tubs and saunas
Stay well-hydrated
Take fever medication such as acetaminophen (Tylenol) as per your provider's recommendation.
Citation: Duke University Medical Center. "How fever in early pregnancy causes heart, facial birth defects: Research in animals suggests some defects could be prevented with a fever reducer." ScienceDaily. ScienceDaily, 10 October 2017. <www.sciencedaily.com/releases/2017/10/171010144407.htm>
11. Start a pregnancy journal:
Starting a pregnancy journal is the early weeks of your pregnancy makes so much sense. It is the one tip I wish I had known when I was first pregnant!
It gives you the chance to write down your thoughts and feelings about your early pregnancy. A journal is a great place to write down any questions you may have for your doctor and a great place to document your prenatal visits.
12. Gather the health history for you and your Partner
Prepare a thorough medical history of you and your partner to bring with you to your first prenatal visit. Recall any surgeries, medical illnesses, genetic conditions, allergies etc.. Also list any medications or herbal remedies. Having this information prepared and readily available will make your first visit more productive and will leave time to discuss any questions or concerns you may have, As I have stated many times, it is very important to have your partner attended the first prenatal visit if at all possible.
13. Make a dental appointment
You may have been told that bleeding gums is not unusual during pregnancy. Though this is common you do want to be particularly careful about dental health during pregnancy to prevent gingivitis. It is the hormonal changes during pregnancy that affect your gums.
14. Get a good pregnancy book
One of the first things you'll want to get is a good pregnancy book. There are so many changes that take place during pregnancy, you'll be glad to have a resource that explains them and can ease your concerns. Our recommendations for pregnancy books are below:
15. Take photos
Take lots of photos! Your pregnancy is going to go by so fast, you'll really cherish looking back at those early pregnancy photos.
You may want to take weekly photos and add them to your pregnancy journal. It is a simple and fun way to document your pregnancy! Take a photo as soon as you find out you are pregnant!
16. Check to make sure any medications you are taking are safe during pregnancy.
When you find out you are pregnant, if you are taking any prescription or over-the-counter medications or supplements, you'll want to check with your doctor to be sure they are safe to continue taking while pregnant.
Though this was discussed under potential toxic exposures, the medications we are referring to here are ones that you may have been taking for some time and anticipate having to continue during your pregnancy.
Ideally, such medications are best addressed before getting pregnant. For many, you will have already addressed whether a particular medication is safe to take during pregnancy.
17. Stop eating unsafe foods
Not all foods are safe during pregnancy, there are a few things you should avoid eating:
Foods that are not pasteurized

Certain types of fish- shark, swordfish, anything high in mercury

Raw eggs

Undercooked meats – lunch meats.

Caffeine- soda, chocolate. (Limit your caffeine to less than 200 mg a day)
If you are ever unsure of the foods you can eat, ask your doctor for a list of food items to avoid during pregnancy.
18. Sign up for the Amazon Baby Registry
Easily find items for your baby and keep track of everything in one place

90 days to return most items in the Amazon Baby Registry

Universal Registry uses Amazon Assistant which you can add to your browser extension to add

items from ANY site to your Amazon Baby Registry

Registry Checklist

Mobile Registry to manage your

Amazon Baby Registry on any device, anywhere

Amazon Family, if you are an Amazon Prime member get up to a 15% Completion Discount on eligible items!

Free shipping and free returns on most items! (orders over $25)

Automatically generates an address and Thank You list for those who send gifts through your registry!

Access to the most popular Baby Registry Gifts if you are looking for inspiration.

Prime members with a baby registry are eligible for other rotating limited time offers such as a Welcome Box, free parenting eBook, discounts from Tiny Prints, maternity savings, and much more!
19. Buy a pregnancy pillow for comfort and relieve low back pain and sciatica
First-trimester pregnancy fatigue is no joke. Feeling fatigued means you need more rest.
As soon as you find out you are pregnant, make a plan to handle your pregnancy fatigue. Plan an afternoon nap, don't feel guilty. Napping is good for you and your baby! It will help you reboot and feel better. A pregnancy pillow can help you feel more comfortable and sleep better.
20. Check out some helpful pregnancy blogs
When you find out you are pregnant, it is such an exciting time! It can often feel overwhelming though with so much to know and do in such a short period of time. Some days it's just nice to know that you are not alone.
There are so many amazing pregnancy blogs and we've chosen a few that really stand out to us as providers of quality pregnancy and parenting information.
Blogs you may find helpful: 
Other articles you may find helpful: