This post may contain affiliate links. We may be compensated if you make a purchase through our links. You can catch our full disclaimer at the bottom of this post.
Your first prenatal visit will undoubtedly be your longest office visit. As an obstetrician, I want to share what I believe are the 10 must-know tips for your first prenatal visit.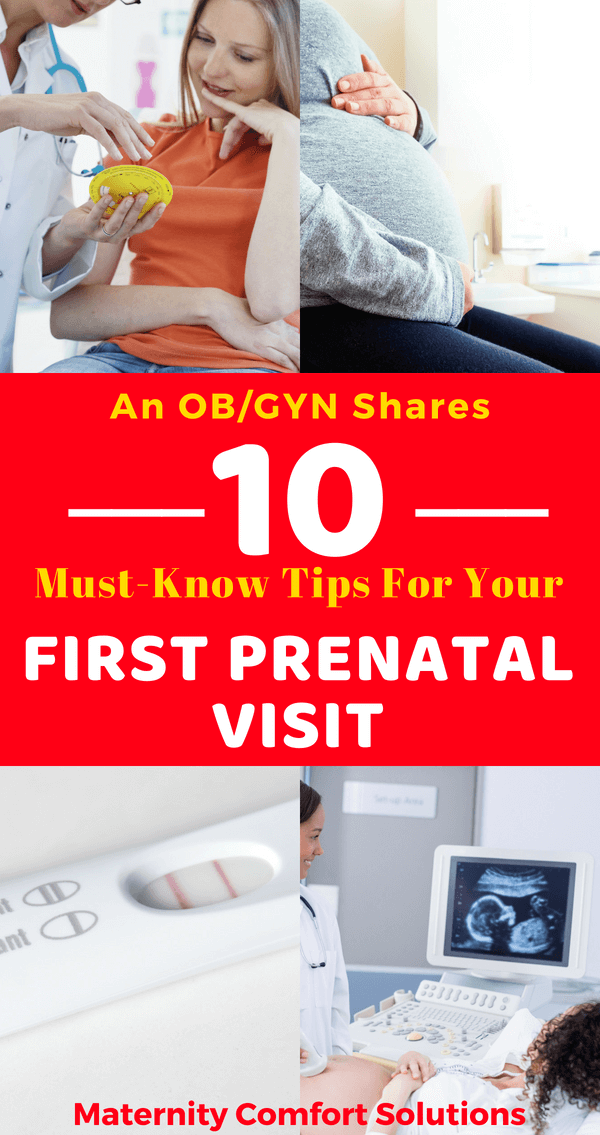 This post contains affiliate links. You can read our affiliate disclaimer at the bottom of this post.
At your first visit, you will be discussing a great deal of information:
You will be asked if there are any medical problems or inherited genetic conditions involving you or your partner and your families. Your family history may bring out information that could be relevant to the testing and management of your pregnancy.
Your first prenatal visit will also be when you will determine your due date (also known as the estimated date of confinement or EDC). Determining your due date may be easy or it may require additional information obtained through a blood test or ultrasound. Establishing an accurate due date is very important because it may be used to make important medical decisions during your pregnancy such as premature labor, etc..
NOTE: The accuracy of ultrasound for determining your due date is most accurate in the first trimester. The accuracy decreases by one week with each trimester:
For more information about using ultrasound to determine your due date go to:
What Every Pregnant Woman Should Know About Screening Ultrasounds
10 Must-Know Tips For Your First Prenatal Visit
1. Bring in a chart of your menstrual history during the three months prior to your first positive pregnancy test.
Your due date will set the stage for the remainder of your pregnancy.
You will want to make sure to have as much information available at your first visit to help your provider establish an accurate due date.
If you have very regular 28-day menstrual cycles and your clinical exam is consistent with your due date based on your last menstrual period, your due date will likely be set for the remainder of your pregnancy. The only way this date would be changed is if there was a significant difference between your menstrual due date and your due date by ultrasound (allowing for the margin of error, with earliest scans being the most accurate).
There are often many factors that can make the calculation of one's EDC (due date) more difficult:
If you do not have a regular 28-day menstrual cycle.
If your menstrual cycle is was not regular during the preceding months due to stress, diet, or exercise. All of which can affect ovulation.
You have other complicating factors such as being on birth control pills at the time of conception or have a medical condition or medication that has interfered with your regular menstrual cycle.
* For these reasons, more testing. (blood tests, ultrasound)  may be necessary to accurately determine your due date.
Try to have as much of the following information available for your provider to help determine your due date at your first prenatal visit:
Keep a detailed calendar of your menstrual pattern. (If you have no record, offer the best information you can.)
Chart menstrual intervals. Mark the interval (days) from Day 1 to Day 1.
If you skip menstrual cycles, note how often this occurs.
If you took home pregnancy tests, mark the date you first got a positive pregnancy test.
Most importantly, write down the first day of your last menstrual period.
If you were taking hormonal birth control, note when you stopped.
Keep a record of infertility problems or treatments. (Presumably, if you were managed for infertility, your due date should be very accurate.)
2. Bring your partner.
Have your partner attend your first visit if possible. If necessary, schedule your appointment later in the day. The amount of information discussed will be extensive.
Attempting to pass on all the details when you get home will be difficult. Though you can write things down, there is nothing better than having your partner present should any questions arise.
3. Arrange childcare.
If you have children, make arrangements to have them cared for by a family member or childcare provider well in advance of your appointment.
If possible, have your childcare begin the day before. Unforeseen events can come up in the morning and this can disrupt the flow of the entire day.
The worst scenario is that you miss your appointment and have to reschedule.
This might be alright for other health care appointments; however, when it comes to your first prenatal visit, there is a lot of time-sensitive information and testing to be done.
You will not want to have to reschedule.
Offices block off a lot of time for your initial prenatal appointment, so getting another appointment will cause a significant delay.
4. Get directions to the facility.
Many Women's Health medical practices are part of a larger facility (hospital or medical office building). Make sure to have clear directions to the medical facility and the location of the office within the building.
This information sounds very basic; however, I cannot count how many times prenatal patients have been late for their visit as a result of these logistical problems.
It is no one's fault when this happens, but the delay can change the first prenatal visit into a far more hectic experience.
You want to make every effort to ensure that your first visit goes smoothly. You will already feel enough anxiety/anticipation at your first visit, especially if it is your first pregnancy.
5. Make sure you get your prescription for prenatal vitamins.
You likely will have received your necessary prescription for prenatal vitamins, when you first booked your appointment.
Make sure when you leave your appointment you have received a prescription for your prenatal vitamins for the duration of your pregnancy.
6. Allow extra time for your first prenatal appointment.
Aside from your physical exam and bloodwork, you may find yourself getting an ultrasound to establish your due date.
Be prepared and expect your first prenatal visit will likely take a lot longer than planned.
It is most important to remember this as you have shorter visits later during your pregnancy. There might have been an initial
visit or emergency prior to your scheduled office visit. Medical practitioners always try to keep on time but there are events that
are not within their control. As we have said many times, don't hesitate to call ahead of your appointment to see if there is a
significant delay. Your provider would rather you be aware so you are spending the least amount of time in the waiting room.
7. Be sure to eat before you go.
If your first prenatal visit is in the morning, make sure to have an adequate breakfast.
During pregnancy, your metabolism increases and you feel hungry mid-morning and mid-afternoon.
If you get your bloodwork the same day, it is often better tolerated if you are not hungry or dehydrated for these tests.
8. Prepare your pregnancy history before your appointment.
If you have had prior pregnancies, offer as much detail as you can about every pregnancy, whether you had a miscarriage or carried to term.
Prior pregnancy complications are particularly important, such as toxemia/preeclampsia, premature labor, gestational diabetes, bleeding problems or bleeding conditions, etc.. Prepare this information ahead of time.
As you prepare your pregnancy history, there will questions that will come up. Write them down and decide what questions you want to ask at your first prenatal appointment.
9.  Bring your immunization record with you if you have it.
Immunization histories are often unclear. If you have any medical records documenting immunizations, bring the documents with you.
Immunization for hepatitis is just one example of where this can be helpful.
Interpreting tests to determine immunity can be confusing and inconclusive after immunization. Immunization status must be established at your first prenatal visit.
10. Write down any questions you may have about possible exposure to toxic substances.
Any concerns about toxic exposures during the early stage of your pregnancy will be discussed at your first prenatal visit.
This includes exposure to medications, herbal supplements, occupational exposures, radiology tests, smoking, alcohol, recreational drugs, etc.
Other articles you may find helpful:
FAQ's
You and your partner's complete medical history.
Any forms you received ahead of your first visit.
A thorough history of your prior pregnancies and all relevant information including mode of delivery and any prenatal complications.
Medications you have taken during pregnancy.
Concerns about any hazardous exposures since prior to and after you confirmed you were pregnant.
Any information you believe might be helpful for your health care provider to know (medical or non-medical) about you and your partner.
2. Can I eat before my first prenatal visit?
You should eat a normal breakfast or lunch before your first prenatal visit. There may be tests later in pregnancy, depending on your medical history or prenatal course that may require you to fast before your visit.  Pregnancy can get into a starvation state quickly due to the increase in your metabolism.