We may earn money or products from the companies mentioned in this post. You can read full disclaimer below.
Updated July 24, 2021
Are you looking for ways to make your baby's first Halloween memorable and stress-free?
Your baby's first Halloween is such an exciting time! Today, we share 10 tips to make your little one's first Halloween as stress-free and low-key as possible.
Halloween can be overwhelming for babies.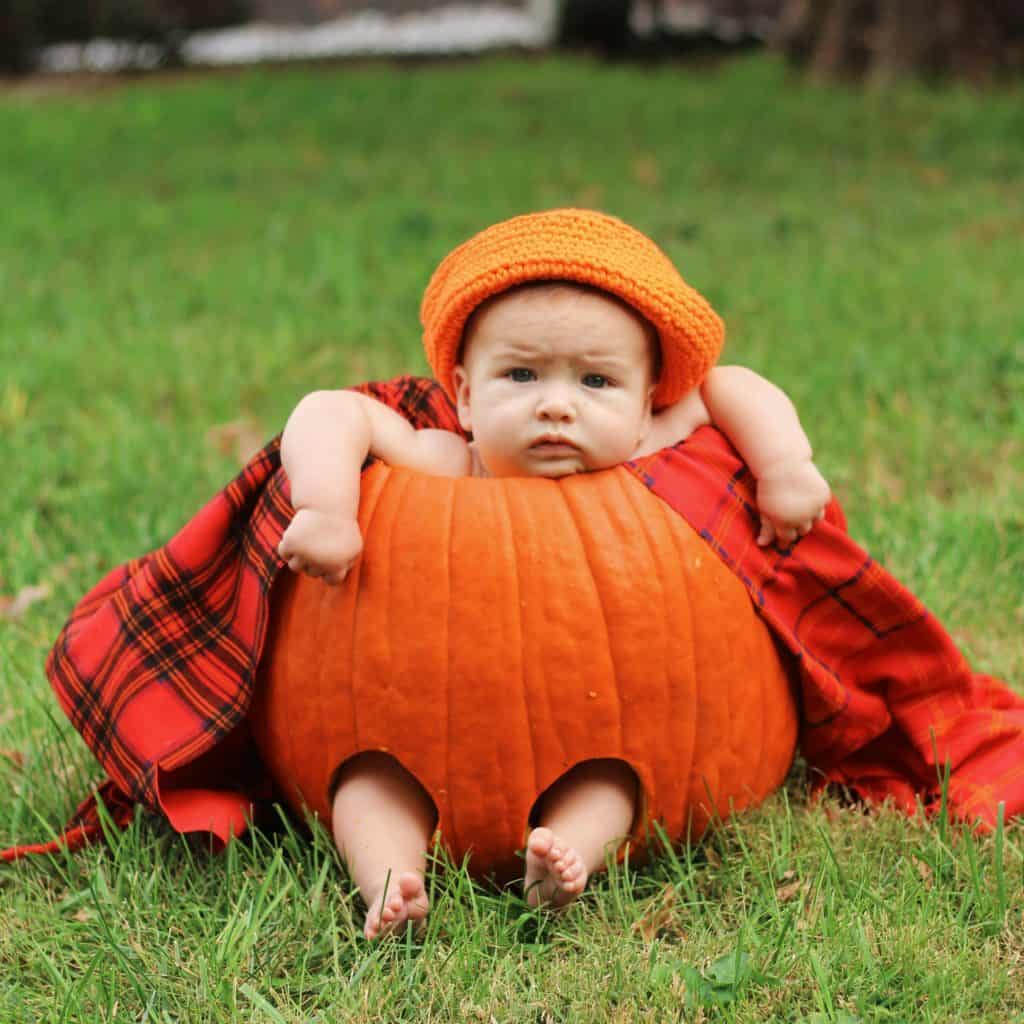 Many parents will begin searching the internet days before Halloween, looking for ways to calm their anxiety, anticipating a night of little horrors that will end in total exhaustion.
Learn from parents who have experienced a Halloween night with a one-year-old and have lived to tell about it!
It's all about knowing the forecast and being prepared! Go with the flow of the night and your baby.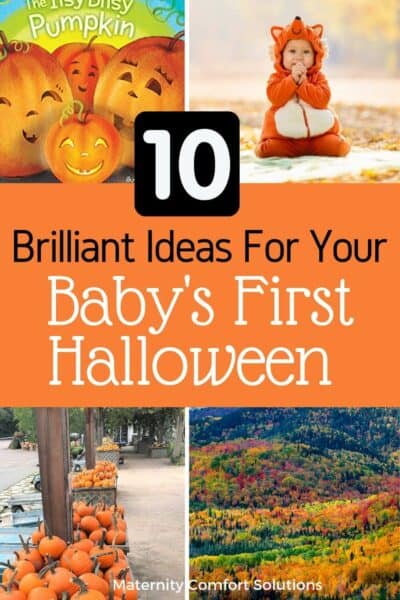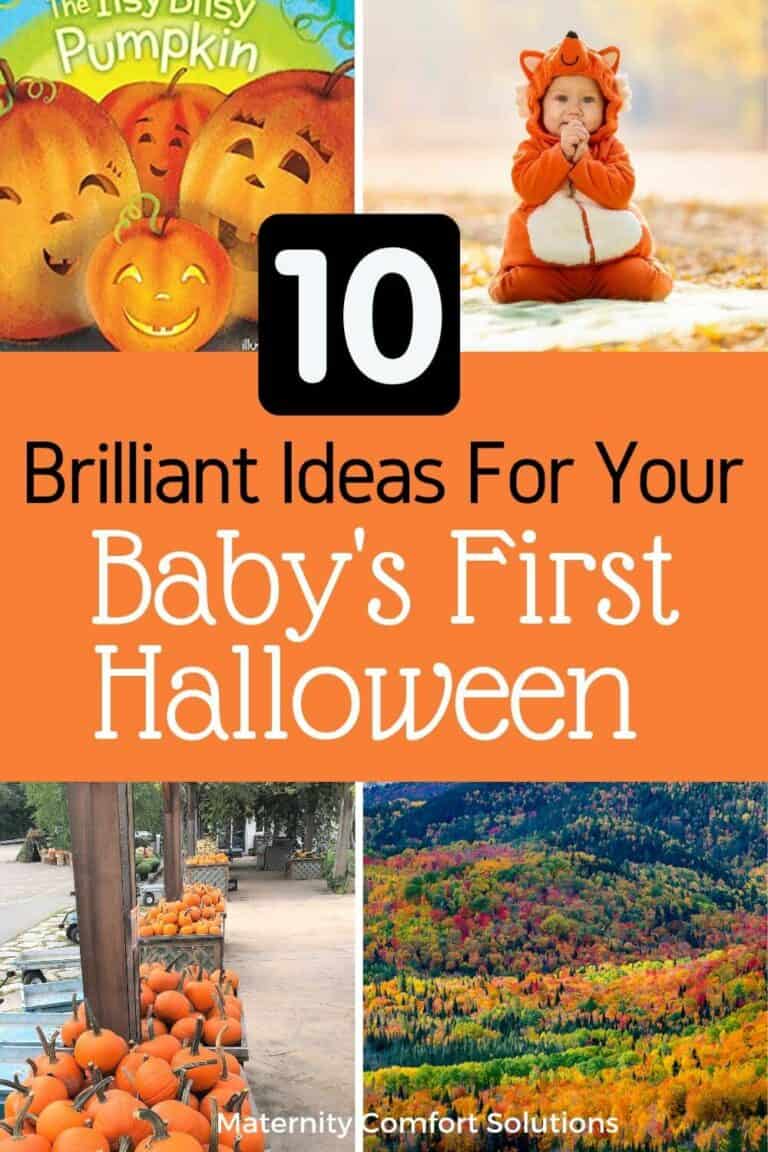 Here are 10 tips to take the spooky stress out of your baby's first Halloween:
1. Choose a simple costume for the first Halloween with your baby.
It is OK to go super low-key. The simpler the first year the better.
Make it as easy to get on and off as possible. Diaper issues can happen at a moment's notice.
The costume that was OK at home can be a no-go at the grandparent's house.
Be prepared. Bring a cute pair of Halloween pajamas with you.
They can double as a costume. Make sure the costume is warm enough, consider packing a jacket or sweatshirt too. Don't forget extra diapers and wipes!
We love this baby boy's first Halloween outfit we found on Etsy!
This could be your baby's Halloween costume or an after-the-festivities Halloween romper.
A cute little pumpkin hat and warm booties are all you need to make this the perfect low-key baby's first Halloween costume.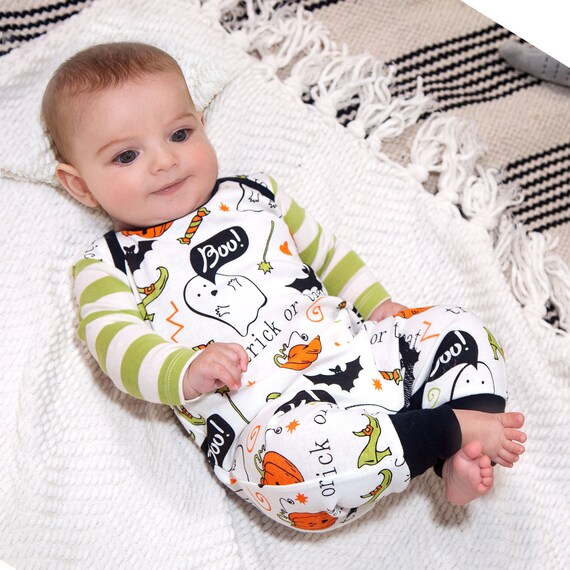 Baby Boy Halloween Outfit My 1st Halloween Baby Halloween
from: Etsy
Halloween onesies make a cute and simple Halloween costume for a baby.
If low key isn't your thing and you are ALL about Halloween then #2 is for you!
2. Pick out a really cute costume for your baby's first Halloween Outfit.
Keep tip #1 in mind, simple, but go for it when it comes to cute! This is your costume year mom! It may be the only one where your child doesn't fight your choice.
You can find some really cute costumes here: Baby Halloween Costumes (Amazon)
If you really have your heart set on something that looks more like a "costume" than an outfit you are in luck! There are so many adorable baby costumes available!
Amazon has some sweet baby costumes:
If you want both super cute and unique Etsy is the place to go:
Some of these baby Halloween costumes are the cutest outfits I have ever seen!
I'm head over heels for this cute little Ladybug costume on Etsy. It is simple, affordable, and best of all unique! I really like the long pants and that the bodysuit has long sleeves.
This is Ramen baby Halloween costume is an Etsy bestseller for 2019. We are in love with it! We think you will be too!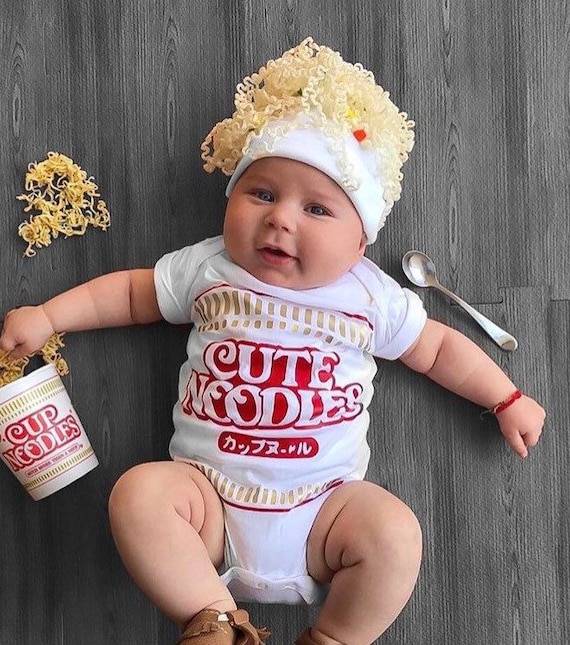 Ramen Baby Halloween Costume (Cup O Noodles)
Looking for a Halloween costume idea for twin babies?
Check out this ADORABLE costume made just for the twin's first Halloween!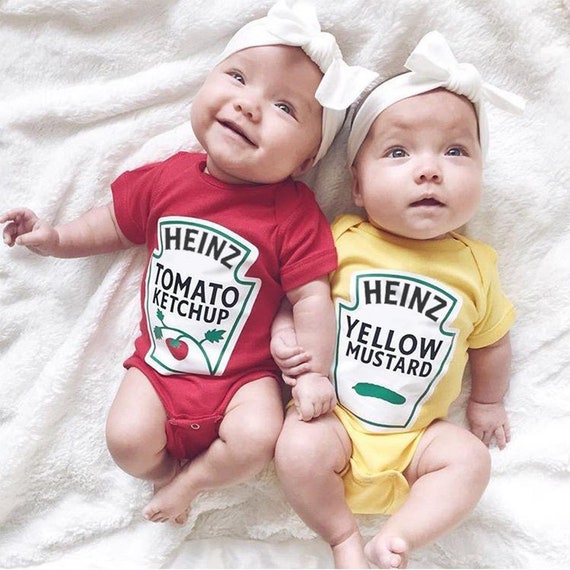 Halloween Costume Baby Twins Heinz Ketchup and Mustard
They also have this costume available for the triplet's first Halloween.
Check out this "Fab-Boo-Lous" baby girl Halloween costume!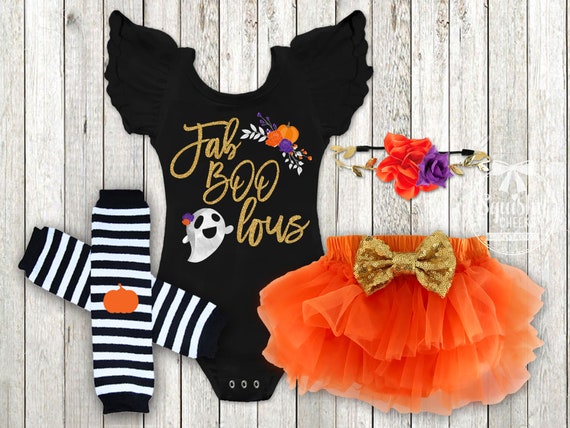 3. Take lots of Fall and Halloween pictures of your baby.
Make sure your phone and/or camera battery are fully charged. Babies grow so quickly, you'll cherish the photos you take when they are little, so take lots.
It's your baby's first Halloween, so take some pictures before even leaving the house if you are going trick or treating or to see friends or family.
Your baby's mood can change rapidly, a happy baby at home can be an unhappy baby as soon as you head out the door. A good camera is a must with a baby.
You won't go wrong with getting a really good camera.
The camera I use for my kid pics and for our blogs is the Nikon D 3300.
I have had the camera for 2 years now and still love it and use it every day.
The model has been upgraded, but they still sell the D 3300 and I think it is an excellent value.
Phone cameras have become almost as good, but I still feel having a good digital camera is a necessity to capture truly magical childhood memories.
You can check the price on Amazon.
I love my Nikon, as you can probably tell! But if I was going to buy a less expensive camera that took beautiful photos, it would this one!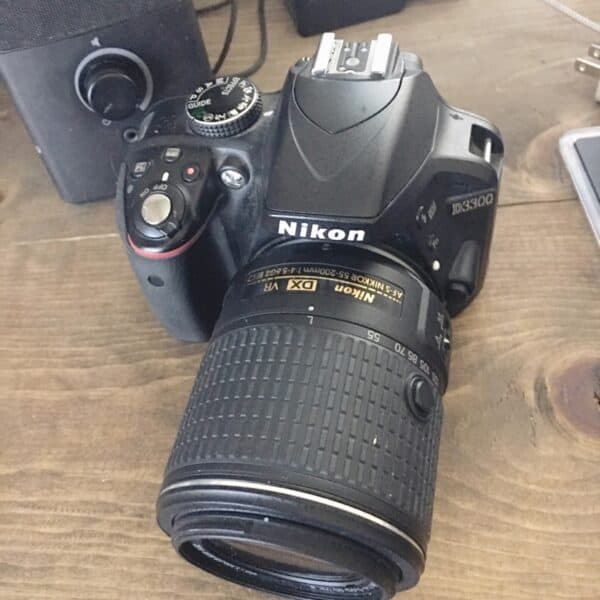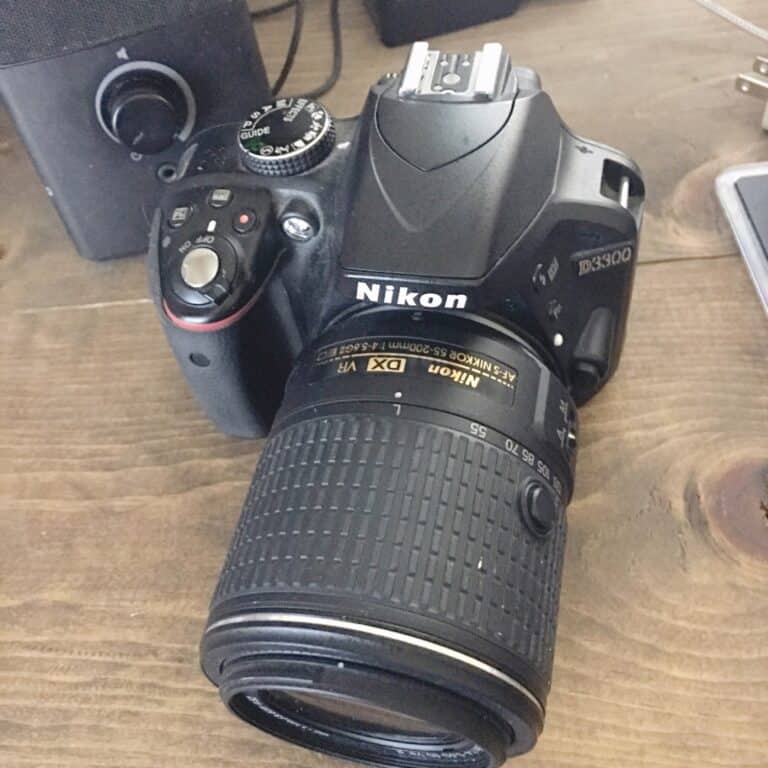 Image credit: Maternity Comfort Solutions
I have an iPhone 12 Pro, so I'm hoping to be able to use that more for some pictures.
In preparation for that, I have been learning more about photography in general.
It isn't all about the camera, it is the lighting, the backdrop, the props, and capturing those truly memorable "first-year moments".
That can be a little overwhelming to figure out as a new mom with a new baby! I know!
That is why you need to read this post Baby's First Fall Pictures on the Love Our Littles blog.
If you need inspiration for fall photos, photography tips, or would like to see some demos of how to capture the best shot and then easily edit the photos, you will want to check out her blog post! 
Ideas for Baby's First Halloween Pictures:
Classic baby in a pumpkin picture
Pumpkin patch
Fall Leaf Pile
Cute prop ideas: Hay bales, white pumpkins, candy corn, wooden apple baskets, wagon, corn stocks
Halloween smash cake or cupcake for an older baby eating solids
4. Host an early Halloween Gathering at your house. 
Invite all your friends over with their cute babies in costume for a little "party" at your place.
Update for 2021: The novel coronavirus is sure to put a damper on some of our Halloween festivities this year. You'll want to follow the advice of the CDC and your local health department on gatherings/parties to keep your family and friends safe. 
Invite the grandparents and your halfway to a quiet night of Netflix and leftover Halloween candy.
Snacks for the kiddos and moms, a little Halloween music, and some spooky decorations, and your good to go! We've got you covered with ideas:
Lots of DIY Halloween Decor Ideas!
This was my Halloween fireplace mantel last year! The bats I made out of construction paper.
The pictures on the mantel were made from free printables I found online.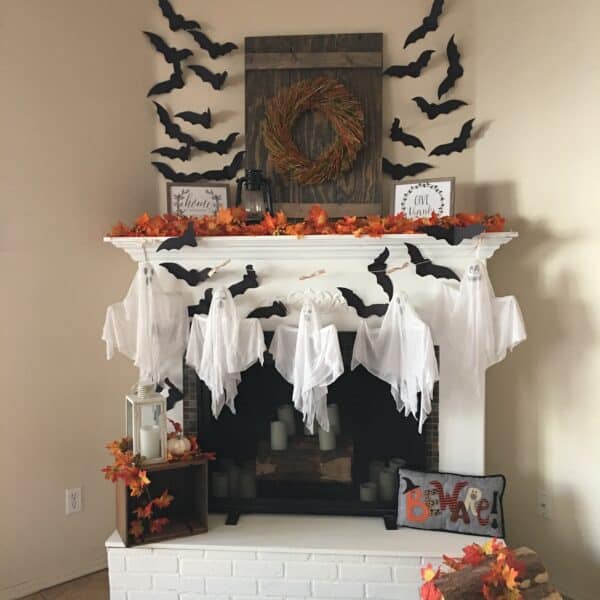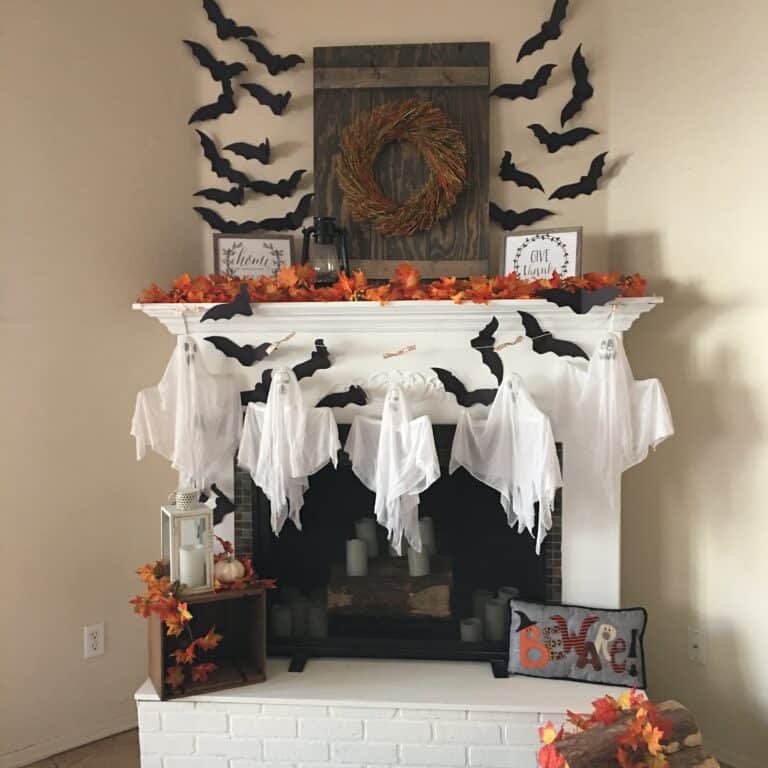 Image Credit: Maternity Comfort Solutions
Halloween Cookie Recipes! 
20 Homemade Halloween Cookies Your toddler Will Love
5. If you do trick or treat with your baby, go early or go to a local "Trunk or Treat" event.
Go Trick or treating early. Beat the mobs of neighborhood kids.
On your baby's first Halloween, consider going to visit relatives or the grandparents as an alternative.
They will be just as excited about your baby's first Halloween as you are! Go to places you feel comfortable.
Check to see if your city offers early trick or treat hours.
Some cities and towns are moving trick or treat to designated weekend nights and specific hours.
We have noticed that "Trunk or Treat" has become increasingly popular in several of our local communities.
Trunk or treat is often put on by churches or schools and is a safer alternative than going door to door in the dark on Halloween night.
Families park in the church, school, or a community parking lot, decorate the back of a car or truck with a theme, and kids go trick or treating from trunk to trunk.
6. Don't stress about the first Halloween with your new baby.
Things may not go as planned. It's OK. You may have a sleeping baby or a fussy baby.
Your little one may not want to wear his or her costume. Just remember in a few years they will totally be into Halloween and all the festivities.
Relax and have fun! Take the pressure off and do a before Halloween photoshoot in the costume you choose.
That way on Halloween if things don't quite go as planned no worries, you have cute pics for the grandparents, aunts, uncles, and friends who will be looking for Halloween pics of your little one.
As moms, we put so much pressure on ourselves to have things go "right".
Our kids never get that memo, especially babies.
So let go of perfection and enjoy all the seasonal fall firsts with your baby, including Halloween.
7. Start a Holiday reading basket for bedtime storytelling.
Halloween leads us right into the Thanksgiving and the Christmas Holiday season.
Your baby's first Halloween is the perfect time to start a reading basket.
Fill the basket with seasonal books you can read before bedtime.
A couple of books our kids have loved over the years are below:
Goodnight Goon
8. Use a lightweight stroller if you take your baby trick or treating. 
We live in a very family-friendly neighborhood with lots and lots of kiddos. So Halloween is crazy!
The one thing we often will see when it is a baby's first Halloween is exhausted parents carrying their fussy baby in the dark.
Don't do it. Make baby's first Halloween as stress-free as possible for yourselves.
Pro-Tip: Get a lightweight stroller with a canopy (in case it starts to rain). We left the stroller at home ourselves one too many times and learned the hard way. This is the stroller that our readers love the most.
Here are several more great deals on lightweight strollers.
9. Visit a pumpkin patch and pick out a pumpkin
Picking out a pumpkin is a great family tradition to start with your baby!
If you go in the late afternoon remember to bring a jacket for your little one, fall nights can cool down quickly!
Bring your camera!
The pumpkin patch is the perfect spot to take fall baby pictures and baby's first Halloween pictures.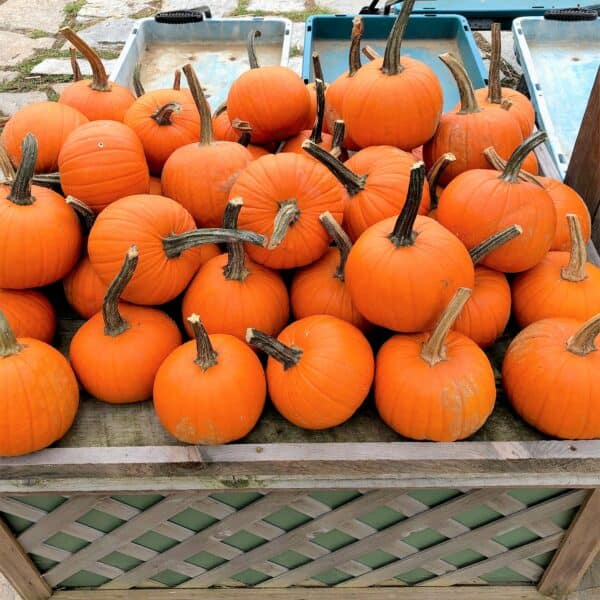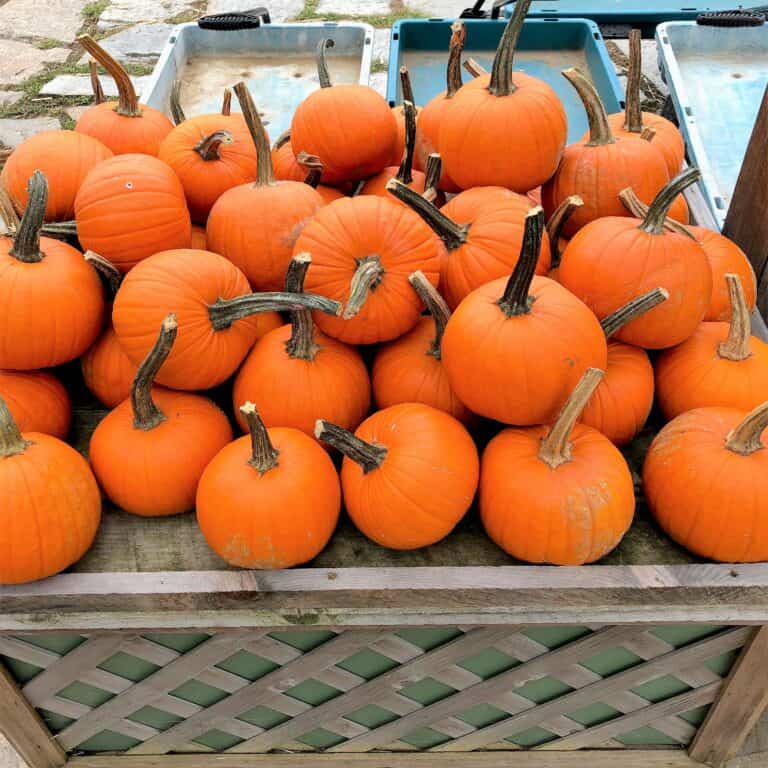 Photo: Maternity Comfort Solutions
Older babies will enjoy playing with the pumpkins and a fun (non-messy) activity to make a pumpkin guts sensory bag for them to touch and feel.
You can see a pumpkin sensory bag we made in the post below (Scroll to #4):

If your baby is older and eating solid foods, you can cook and mash up some pumpkin for them to try.
10. Netflix and stay home.
Whether you head out for an early trick or treat or never make it out the door, plan to celebrate at home.
Passing out candy on your baby's first Halloween, with your baby in costume is a fun alternative to trick or treat.
Consider making it a date night. Enjoy a spooky movie and relax after the baby Halloween festivities.
The most important tip of all is to have fun and be safe!
Other articles you might like: