Are you looking for memorable ways to celebrate your baby's first Christmas?
The Christmas holidays are surely one of the happiest and most magical times of the year.
However, with the addition of a new baby, this time of year can also become a challenge for even the most organized mom.
We are sharing our 15 tips for a baby's first Christmas to help your growing family make the most of the Holiday season.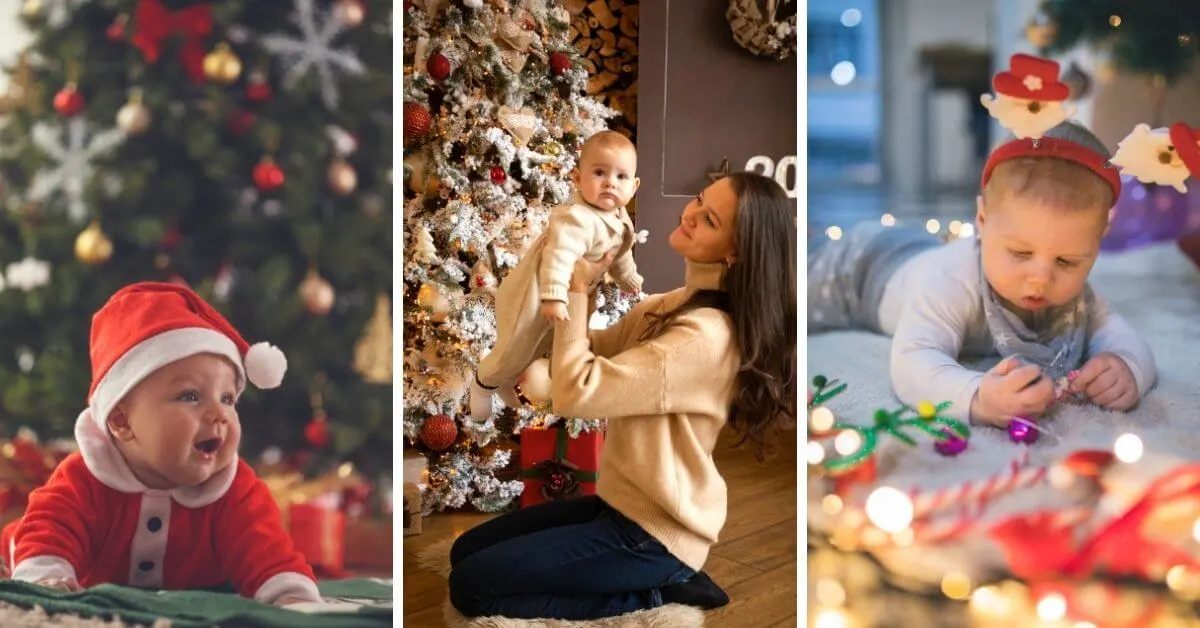 Your baby's first Christmas is one that will be magical and memorable for you as new parents.
It doesn't have to be stressful or overwhelming for you or your baby.
Let's chat about some ways you can make it special and keep it simple.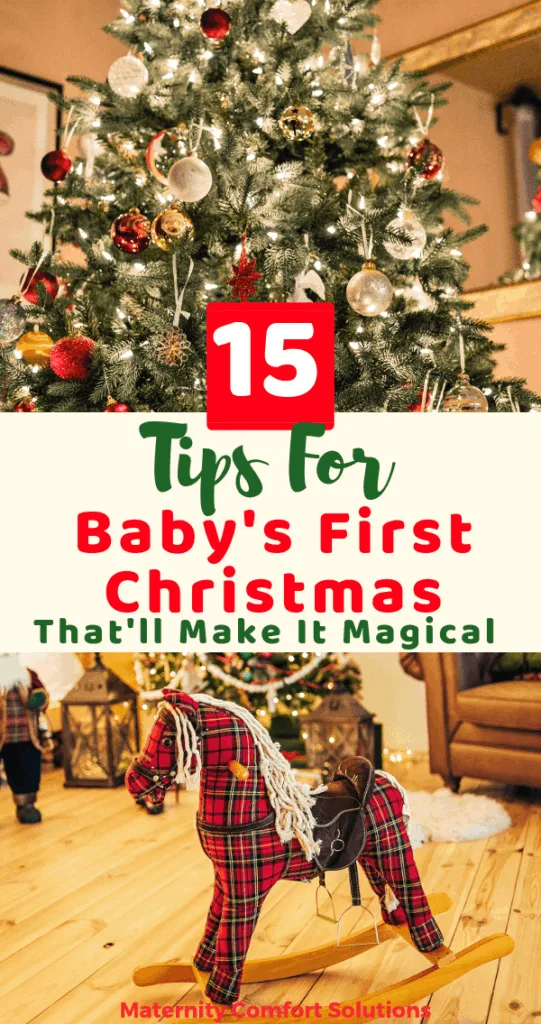 15 Tips For Baby's First Christmas:
1. Choose a cute Christmas Eve and Christmas day outfit
One of the best parts of celebrating a new baby's first Christmas is the cute outfits to celebrate this milestone.
You'll definitely want to choose a special Christmas Eve and Christmas day outfit.
A cute family tradition to start with your new baby is Christmas Eve pajamas.
A sweet family tradition we love is to wear matching pajamas! As your baby gets older and moves into the toddler and preschool years they will love and look forward to this every Christmas eve.
Christmas Eve Boxes are an exciting tradition to start for your baby's 1st Christmas.
They are fun to make and will become a beloved tradition your family will look forward to each year
Both on and offline, you will find numerous retailers marketing cute sleepers, onesies, and pajamas for "Baby's First Christmas"!
Why not splurge on your baby's first Christmas outfits to create lasting memories?
We found these adorable baby Christmas outfits and family pajamas on Amazon.
[content-egg module=Amazon template=grid next=3 hide=price cols=3]
I like outfits that are unique or handmade and Etsy is my favorite place to go looking for cute holiday outfits for babies and toddlers!
This adorable Christmas Dress is an Etsy Bestseller for 2021!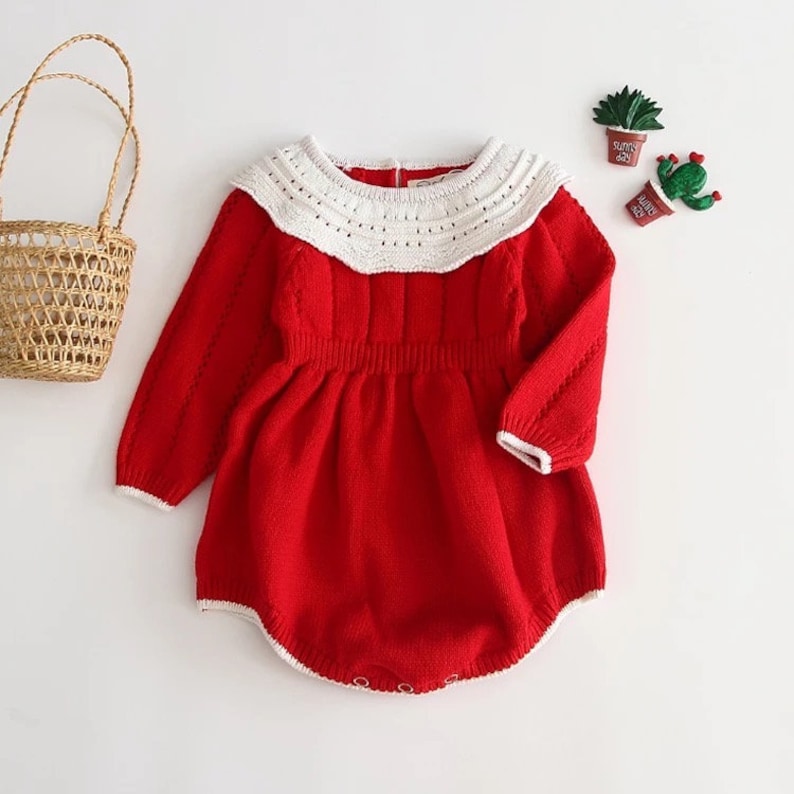 Baby Christmas Outfit Baby Christmas Romper Red Christmas
This darling Christmas Dress is embroidered with colorful winter animals and comes with a matching hair bow!
I think this dress would be perfect for a baby's first Christmas picture.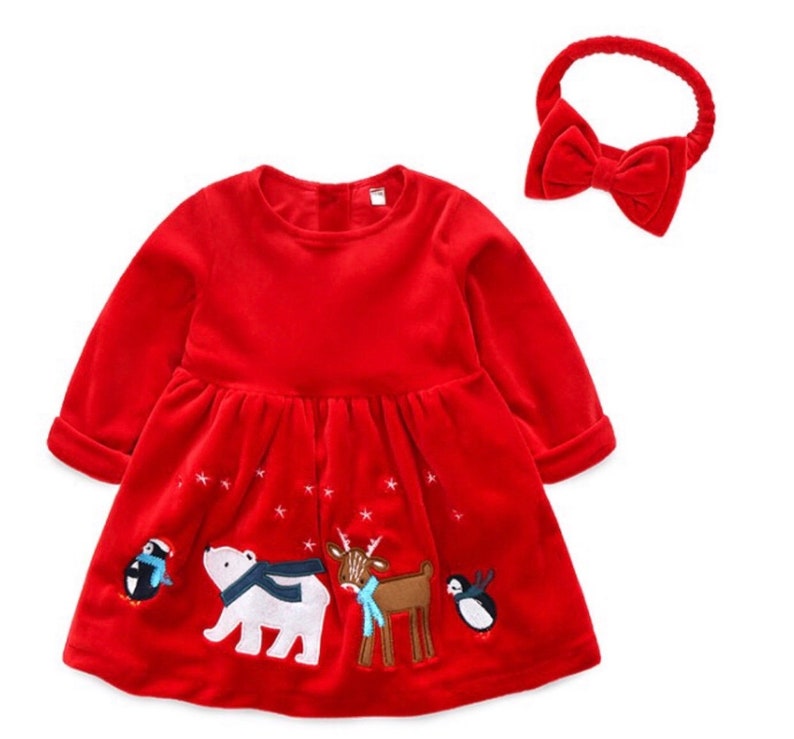 Baby Christmas Outfit Baby Christmas Dress Red Christmas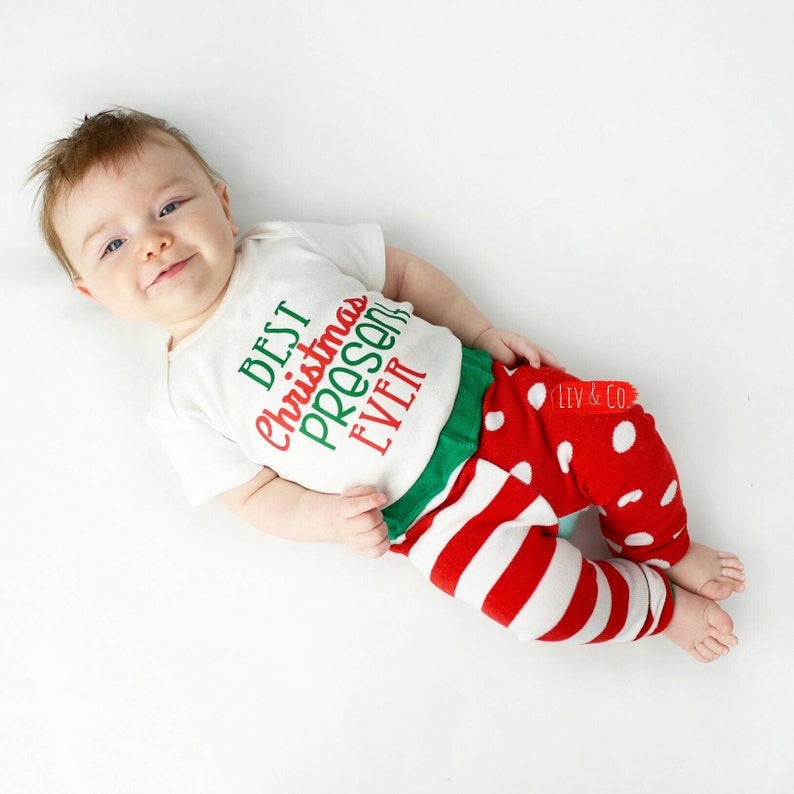 Best Christmas Present Ever Infant Newborn Baby Boy Christmas
from: Etsy
Check out this super cute Buffalo check Christmas romper!
Love this outfit for Christmas Day! Comfy and warm!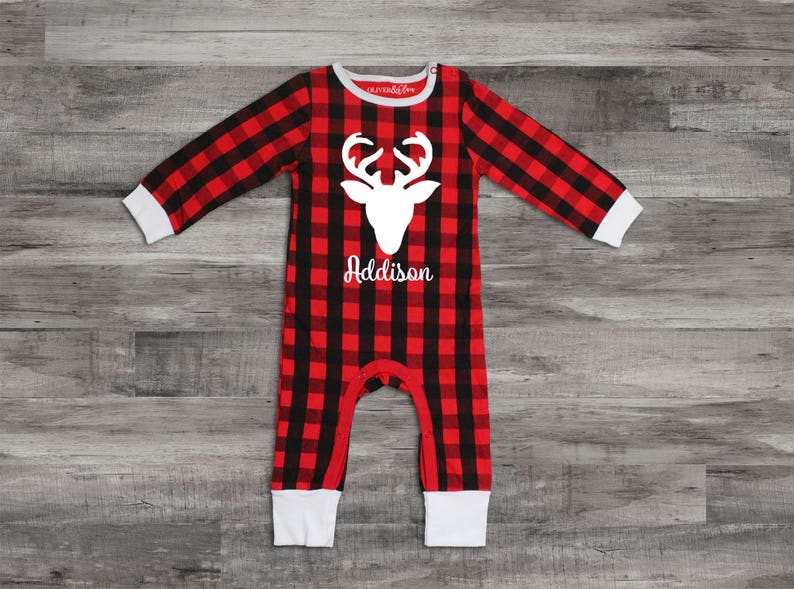 Baby Christmas Outfit Baby Christmas Romper Reindeer Outfit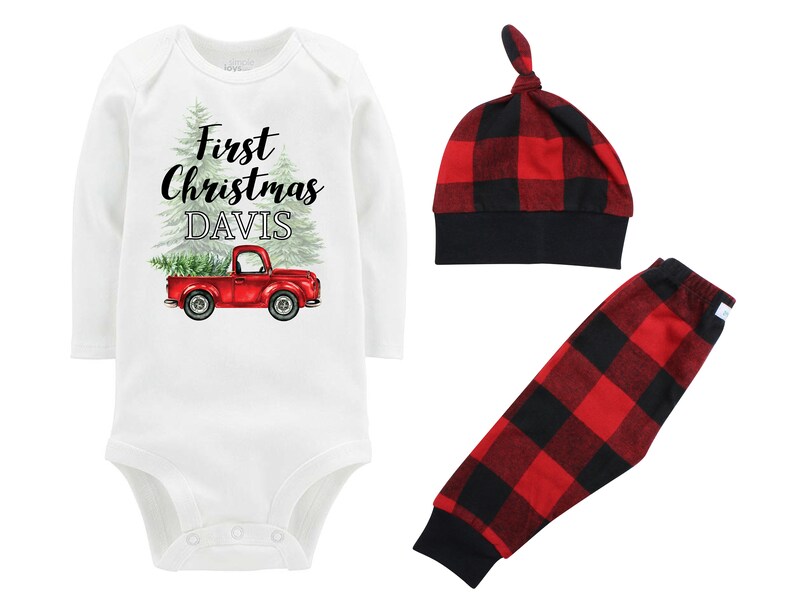 Boy First Christmas Outfit Personalized Old Red Truck
Baby's First Christmas Romper (Amazon)
2. Get holiday cards made or make your own.
Have some cute photos taken of your baby or take them yourself and have holiday cards made for you or create your own.
Family and friends really do appreciate seeing your new baby on a Christmas card.
We have been using Minted for Holiday cards for the past several years. I love all of their options and that their designs are made by independent artists.
These are some of the gorgeous Christmas card designs offered for 2022:

"Squished" – Customizable Foil-pressed Holiday Cards in Gray by peony papeterie.

"Christmas Classic" – Customizable Holiday Postcards in White by Jennifer Postorino.

"photo blocks" – Customizable Christmas Photo Cards in White by Eric Clegg.
It's also a great way to keep in touch. If you need an idea, how about a family pic in matching pajamas (including the dog!) in front of your Christmas Tree?
The idea is to not stress yourself out.
If you are too exhausted to do the whole card thing, skip it.
3. Choose a Christmas Stocking for your Baby's First Christmas
Choose a stocking for your baby's first Christmas that you really love.
Even though your baby can't enjoy it that much on her first Christmas, you'll have fun hanging it up and filling it up for Christmas morning.
If you are creative, use some glue and glitter to put your baby's name on the stocking as it will likely become a family heirloom.
However, if you are anything like me and you were not born with the "crafty" gene, buying the first Christmas stocking for your baby is a memory you'll treasure every year as they grow up.
We LOVE these Christmas stockings we found on Etsy!
Two things really made this stocking stand out from the rest.
First, it isn't a traditional "Baby's 1st Christmas" stocking which is only good for the first Christmas.
Second, it is gender-neutral, not the traditional pink or blue, and you can personalize it how you like.
It will work with whatever your home decor style is too.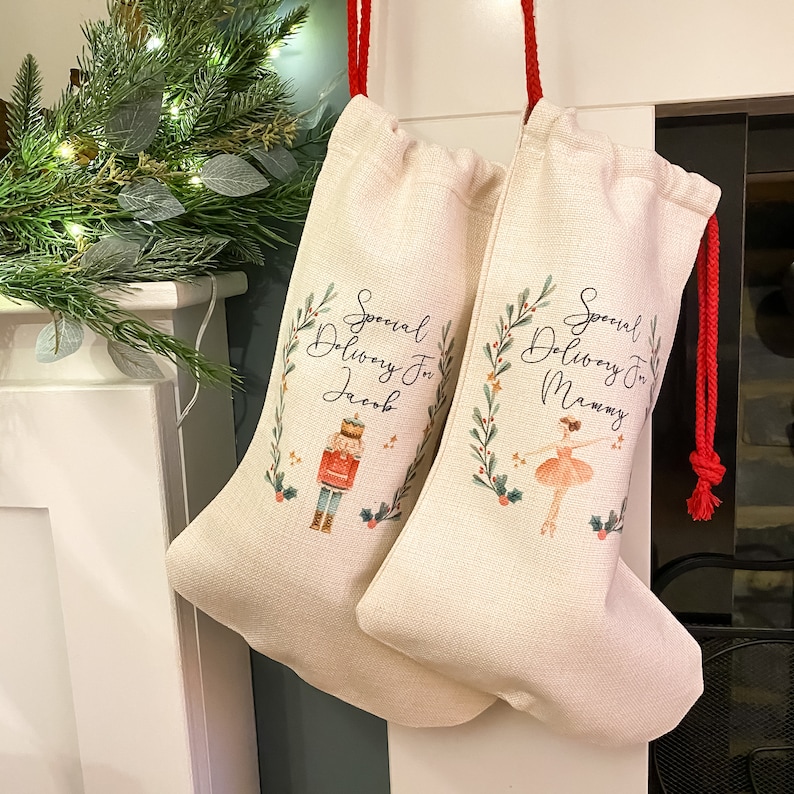 Personalised Christmas stocking Santa sack Nutcracker sugar
from: Etsy
4. Start your own family traditions.
Did you grow up in a house that always opened its gifts on Christmas Eve?
How about a house that always opened its gifts on Christmas morning?
Maybe your family had a big formal Christmas Eve dinner or maybe your partner's family did Chinese food on Christmas Eve.
You now get have an opportunity to decide what family traditions you want to carry on in your family.
There are many other traditions you can consider as well.
Perhaps you want to start a tradition of buying your new baby a Christmas ornament every year.
Starting a family tradition during the holiday season adds one more event for your child to look forward to and look back upon even into adulthood.
Some family Christmas traditions to consider:
Making ornaments

Wrap 25 books that you and your baby can open every night till Christmas
Go shopping for toys to donate
Sleep out next to the Christmas tree and keep the lights on all night.

Do the 12 days of Christmas from December 26 to the epiphany.

Leave your shoes out for Saint Nicholas on December 6 and give little gifts to your baby and your partner

Drive around the neighborhood and check out all the Christmas lights.
Christmas Eve Chinese food or Pizza
Elf On The Shelf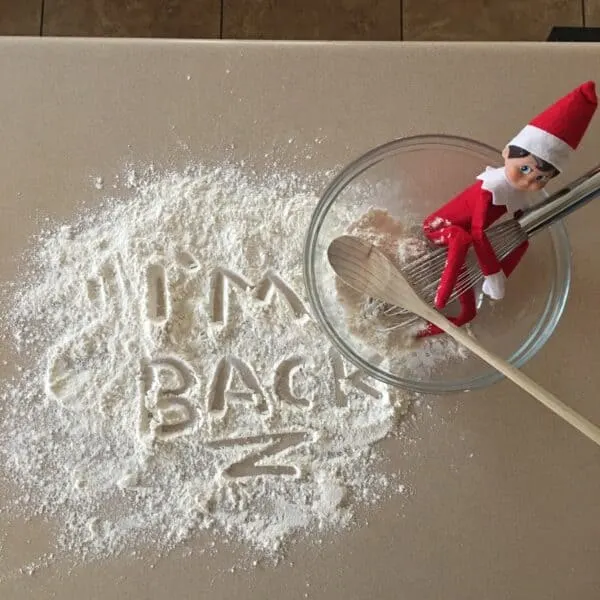 Photo Credit: Maternity Comfort Solutions
5. Visit Santa and have pictures taken.
Update for 2021: COVID-19 could impact some holiday events like visiting Santa. You can get the latest guidance on the virus from the CDC.
Sure it's your baby's first Christmas and your baby has no idea who Santa Claus is, but your family does and your baby will look back and be glad you took the pictures to pass on to future generations.
Grandparents love pictures of their grandbaby's first Christmas with Santa.
6. Take lots of casual Christmas pics.
Who doesn't know someone, including ourselves, who bought the latest camera or video camera with the birth of their child?
Your baby only has one "First" Christmas.
So take lots of photos during the Christmas season.
During Christmas, there are usually many great photo opportunities at home as well.
Set your little one up in front of the Christmas tree with the twinkling lights and snap away.
Do you live in an area with snow? Dress your little one up warmly and take some pictures after their first snowfall.
Another great photo idea for a baby's first Christmas is to take photos in front of the fireplace mantle all decorated with stockings and lights.
If you go to a tree farm to pick out your Christmas tree, remember to snap lots of pics!
You can use your phone camera or if you have a digital camera being outdoors in the daylight is the perfect time to get photos of your baby.
You can easily have them turned into Christmas cards to send to family and friends.
7. If you will be traveling, make sure you consider the winter weather.
The winter weather can be very unpredictable in many parts of the country during the Christmas holidays.
If you are traveling with your little one, keep an eye on the weather forecast and pack more warm clothing than you anticipate you will need.
Make sure you have a car emergency kit.
You can read more about this in our article about baby's first winter safety tips.
If you are flying keep an eye on your airline for weather-related announcements.
Update for 2022: COVID-19 could impact some travel plans and flights. You can get the latest guidance on the virus from the CDC.
An excellent place to find out about weather-related flight delays, cancellations, and no-charge flight changes is via Twitter.
Many airlines now have customer service people on Twitter who can assist you via direct message to change flights if impending winter weather could snarl flights in your destination city.
Twitter handles for 5 of the major US airlines
| Airline | Twitter Handle |
| --- | --- |
| Jet Blue | @jetblue |
| Southwest | @southwestair |
| American Airlines | @americanair |
| United | @united |
| Delta | @delta |
Be sure to have the airline app on your phone.
That way you'll be notified of any delays or cancellations.
Sometimes the airlines make their phone numbers hard to find on their websites. When you are traveling with a baby, you don't have time to play hide and seek.
Here are the 1-800 numbers of the 5 airlines most people seem to fly.
| Airline | Phone # |
| --- | --- |
| Jetblue | 800-538-2583 |
| Southwest | 800-435-9792 |
| American Airlines | 800-433-7300 |
| United | 800-864-8331 |
| Delta | 800-455-2720 |
8. Decorate the baby nursery for Christmas
This is a fun and festive tradition to start. Decorate your baby's nursery for the Christmas holidays. Your baby will love looking at the twinkling lights.
You'll feel the magic of Christmas for those late-night feedings. Some ideas are comfy Christmas pillows warm and cozy blankets, and if you're feeling energetic even a Christmas tree!
You can buy cheap frames at the dollar store and print cute Christmas printables in them for the nursery.
This is a great tip for all the holidays, you can simply switch out the printables in the frames, and change the whole look of the nursery very inexpensively.
9. Start a holiday book baske
t.
If you started a Halloween or Thanksgiving book basket you can simply switch out the books for Christmas books. Reading to your baby is a wonderful way to bond.
It is never too early to start ready for your child as this will help develop a love for reading as they grow older.
Holiday book baskets are a simple tradition to start and as your children grow older they will truly cherish the collection of holiday favorites.
Here are some Christmas books we really love:
10. Visit a Christmas Tree Farm.
If you live in an area where there are Christmas tree farms, a great family tradition is to pick out your own tree.
If you do not live near a Christmas tree farm and cannot have a live tree, you can make a family event out of assembling an artificial tree.
Make sure you take lots of pictures and enjoy some hot cocoa.
If you live near a city, bring your children to a Christmas Tree lighting. Even a baby will enjoy the lights.
11. If you can: Host either Christmas Eve or Christmas Day at your house.
While it may seem like a lot of work on the surface, being able to stay home with your new baby on Christmas Eve or Christmas day (at least one of them) is the perfect trade-off.
So much of the stress associated with the holidays is the travel and not simply nesting in your own familiar surroundings.
Again, when it comes to hosting the holidays, think of traditions you can start with your family to keep things interesting.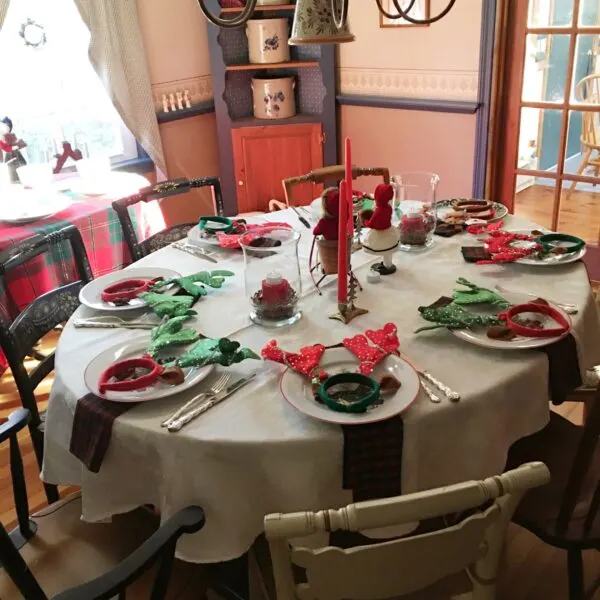 Photo: Maternity Comfort Solutions
You could serve different appetizers or just pizza and desserts.
The most important message to take away from this suggestion is to plan on spending Christmas Eve or Christmas Day at home.
When I was growing up my mother always hosted Christmas day and her reasoning was so I didn't have to leave all my new toys.
It makes so much sense if you think about it.
If neither is possible, don't sweat it, but be sure to take some time right before the holidays and certainly right after for yourself and your family to have alone time.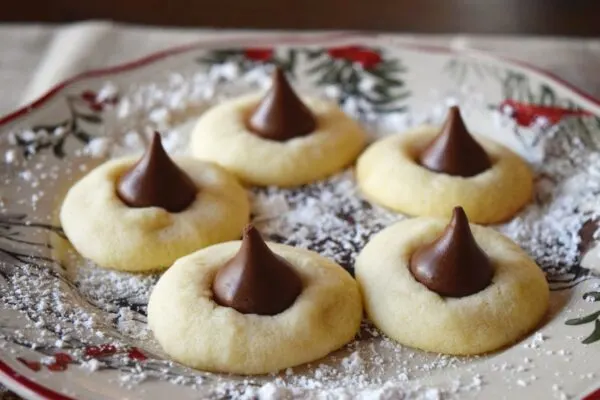 Photo: Maternity Comfort Solutions
12. Don't stress about your baby's first Christmas.
Try not to stress over the Christmas holiday.
This isn't as easy as it sounds with a new baby.
As a parent we often want things to be perfect for our child and if one truly thinks about this it is the parent that wants this as our child will never know the difference.
It's OK if things aren't perfect.
Things don't always go as planned.
Your baby could be grumpy or your baby could get sick.
The most important thing is to enjoy the holiday and accept that not everything will go right.
It simply doesn't matter.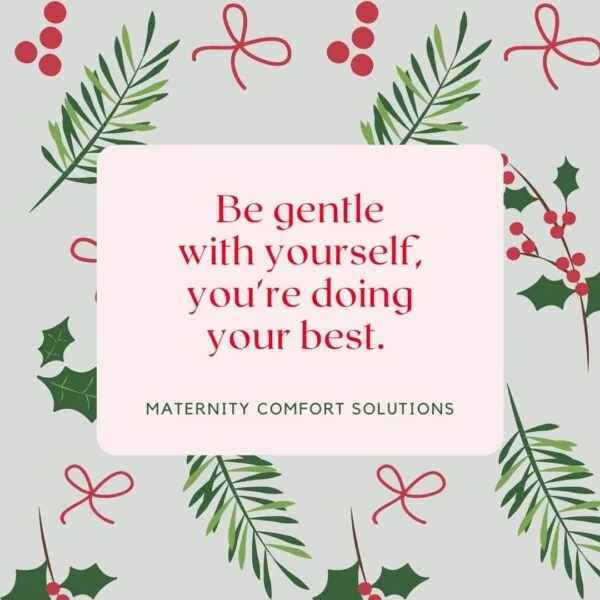 If you are dealing with family members who don't agree with your parenting style, take a deep breath, and remember you are the mom and when caring for your baby it's your rule period.
All too often others, be it family or friends, will have an opinion, and in the end, that's all it is an opinion.
Do what feels right to you, this simple suggestion can make all the difference.
13. Spend a quiet night at home with your spouse and binge on Christmas movies.
Having a new baby can put a strain on any relationship. You are both feeling sleep-deprived and overwhelmed.
The holidays are a magical time and are a very busy time.
This added holiday stress can make the strain feel even worse.
So take a night during the holiday season once your baby is asleep.
Curl up on the couch together with some hot cocoa and popcorn and binge on your favorite Christmas movies.
14. Keep it simple when it comes to baby gifts.
Your baby's first Christmas is the perfect time to keep it simple.
Though buying gifts or not won't be missed, I think it's a lot of fun to buy gifts for your baby's first Christmas as it is something our family has always done.
We get a few toys that the baby will enjoy and some practical items we know we will need throughout the year such as sleeper outfits, onesies, and skincare products.
Those items you can stock up on at one time limit the many shopping excursions you will be taking throughout the year.
15. Buy some Christmas bibs.
You may not want to splurge on a special Christmas outfit for every day of the season. But a fun way to celebrate the holiday season is to buy a bunch of Christmas bibs.
Places like Carters, sell bibs in bundles and when they have their semi-annual sale you can save a lot of money. Shopping their clearance items during their semi-annual specials can't be beaten.
A Christmas bib at the dinner table is always a good idea. If your baby is drooling because he is teething or if he is spitting up solid food, having plenty of bibs will give you peace of mind. So splurge on several Christmas bibs during the Fall sales.
Baby's First Christmas: Day in the Life of a New Mom
Related: