We may earn money or products from the companies mentioned in this post. You can read full disclaimer below.
Updated October 15, 2021
Your baby's first Thanksgiving can be an exciting, but often stressful time.
The holiday season is just starting to get into high gear and you are still recovering from what has been a year of challenging physical and emotional changes in your life.
The pregnancy experience alone is one year in duration if you include your prenatal care, delivery, and postpartum recovery.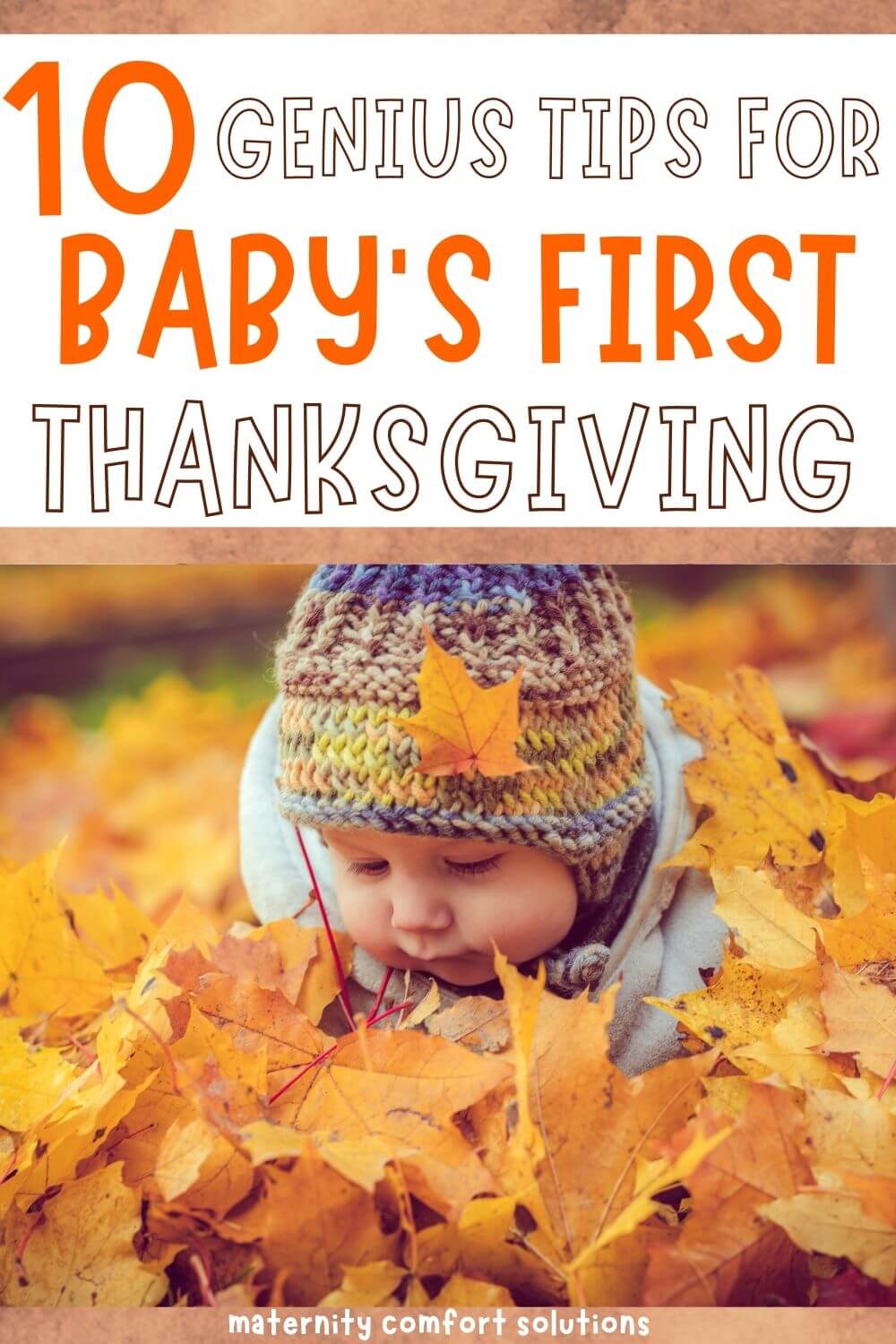 Your baby's first Thanksgiving is also a time when many relatives will be seeing you and your baby for the first time.
To them, it is an exciting time, meeting a new member of the family.
For older relatives, it can be a trying time, as they tend to forget what it was like and may overstep their boundaries.
For this reason, one of the most important tips is to establish boundaries.
If done the right way, your extended family and friends will not be offended. If not done at all, you will find yourself getting extremely exhausted.
You will be trying to please everyone when you should only be trying to please yourself. This is not being selfish and in the end, you will be much happier.
We hope the 10 tips listed below will help decrease some sources of stress that can occur during the Thanksgiving holiday.
10 Tips for Baby's First Thanksgiving:
1. Remember you are the mom.
Repeat after me "I am the mom". Now feel free to dismiss any unsolicited or unwanted advice from family on Thanksgiving. You know your baby best.
Not your mother, not your mother-in-law, father-in-law, or Aunt Mary. You are in charge.
You set the boundaries.
Make a plan with your partner on how you will handle well-meaning and not so well-meaning comments and advice from family. Holiday brings out the best and the worst in family dynamics, so it is best to be prepared.
It is understandable that you want to be polite and respectful, but always remember your baby, your choice.
2. Have a slow morning at home if possible.
Having a baby is exhausting. The first year is filled with many sleepless nights.
You may also be back to work full-time and caring for your newborn. So plan to spend Thanksgiving morning at home.
Watch the Macy's Thanksgiving Day Parade and enjoy a nice easy breakfast.
I always bake cranberry bread (and I use a box mix to make it really easy!) for breakfast on Thanksgiving morning.
It is simple, festive, and part of our family tradition for the holiday.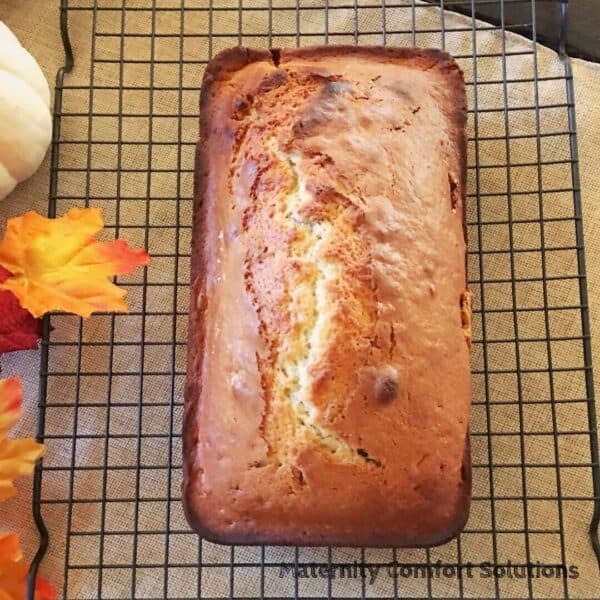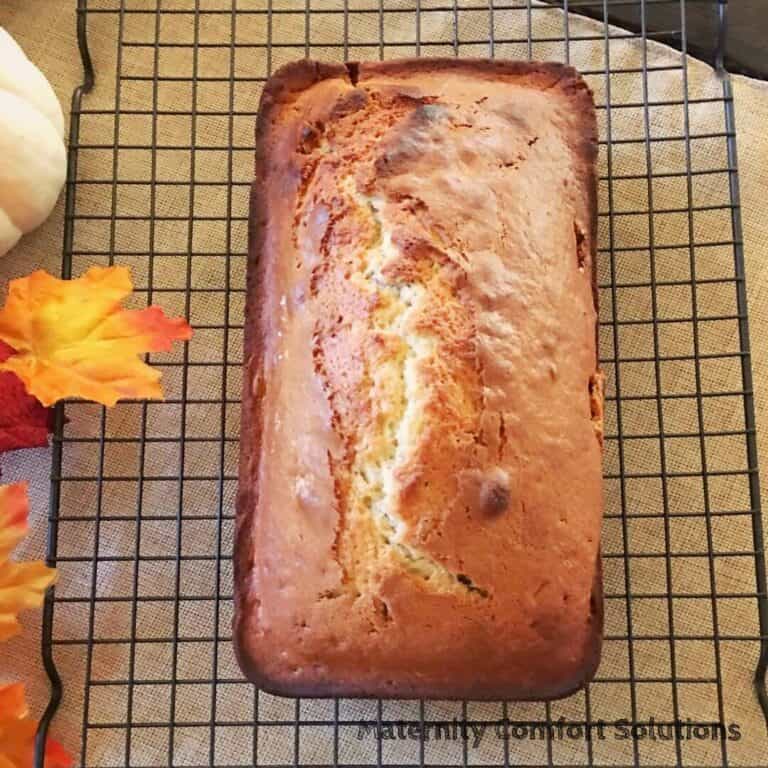 It is the perfect time for you to start establishing traditions for your new family.
3. Choose a cute Thanksgiving Day outfit.
One of the joys of having a new baby at the holidays is getting to dress them up in cute festive holiday outfits.
Don't forget some cute Thanksgiving PJs and a couple of festive bibs!
I can't get enough of these Thanksgiving onesies on Etsy! They are adorable!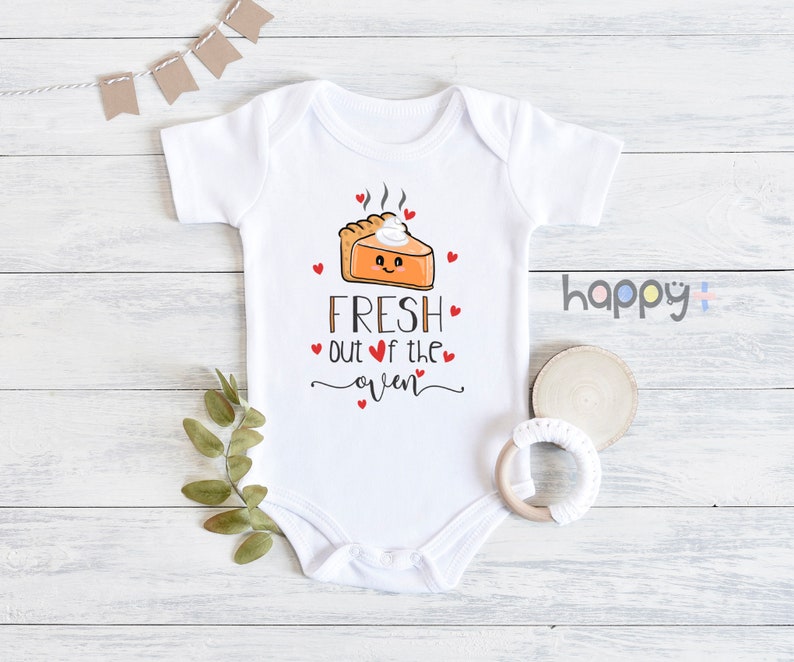 Fresh Out Of The Oven Onesie Cute Baby Shower Gift Newborn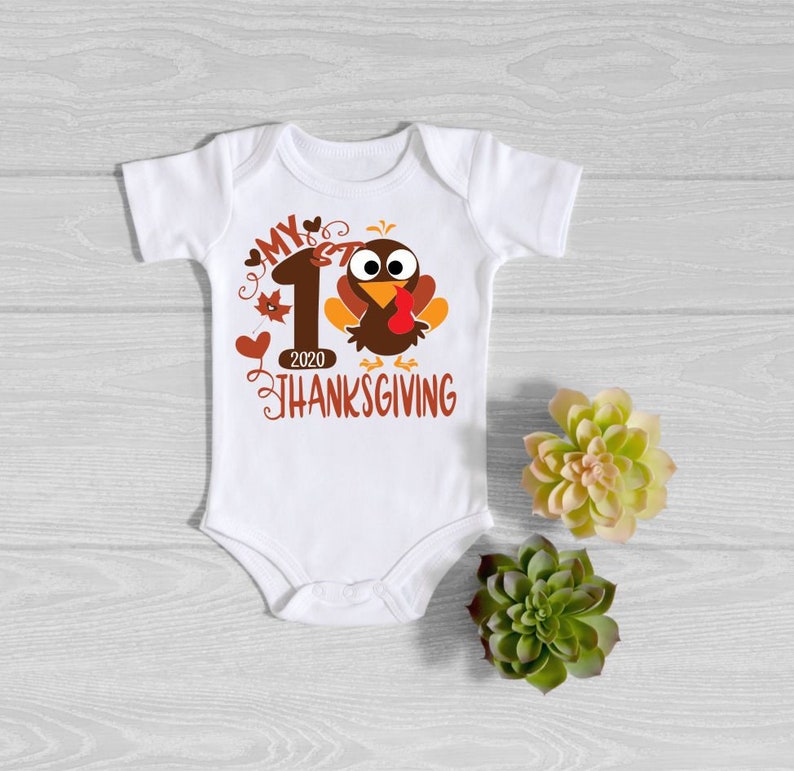 My First Thanksgiving Onesie® 1st Thanksgiving Baby Bodysuit 
It's your baby's first Thanksgiving, so take some pictures before leaving the house.
Your baby's mood can change rapidly.
A happy baby at home can be an unhappy baby as soon as you head out the door.
4. Relax and don't worry about things being "perfect"
Things don't always go as planned.
That's OK. Your baby may be fussy, grumpy, or not feeling well.
You may have not slept a minute the night before.
Maybe the turkey isn't thawed all the way or your in-laws are driving you insane critiquing your parenting.
Relax. Take a step back and focus on being present with your baby and your partner.
That is what matters.
That is what you will remember about the day.
My son would get sick every Thanksgiving.
We would spend the night before Thanksgiving in the emergency room with a sick baby and eventually a toddler who had febrile seizures every time he got a fever.
All you can do is stay relaxed and roll with it.
5. Pack more than you think you'll need.
There are always unforeseen circumstances when you are traveling with your baby and you want to be prepared.
Overpack.
Bring wipes, diapers, diaper rash cream, burp cloths, bibs, bottles, disposable bags, onesies, sleepers, blankets, and don't forget pacifiers and clips.
If you formula feed, bring extra formula and bottles just in case you run into any delays.
The weather can be unpredictable in the late fall and early winter.
6. Don't skip naps
It can be tempting to skip naps and think your baby will sleep on the way to visit family or when you arrive.
Don't assume that will happen.
New routines, your nervous energy, the running around can all lead to your baby being overstimulated and unable to sleep as you planned.   
Try to stick to your nap/sleep routine when visiting family.
Your baby is all about routine during the first year.
A tired baby may even be more likely to have a fear of strangers and new faces.
So if your baby is feeling overwhelmed or overstimulated help them settle down for a rest.
7. Bring your own gear
Though you don't want to go to a friend or relative's house and overwhelm them with enough baby gear to camp out for a week.
Be prepared and simply keep certain items in your car in the event they become necessary.
Bring items like a pack-and-play, baby swing, bouncer, and high chair.
Being over-prepared is never a bad thing when traveling with a baby.
No one wants to disrupt a holiday party when bringing a baby and only you know what may be necessary to keep your baby happy and occupied.
Bring your own gear or you may be offered to use equipment that is old and no longer considered safe.
Avoid any family issues over things like that and come prepared with your own baby gear.
8. Bring toys and books
Thanksgiving day is almost always a marathon.
Relatives catching up on the past year, more food than one can eat, football games, and visiting until late into the night.
Oh and can't forget the Thanksgiving Day parade!
So, during this time, can anyone wonder why you may need some activities for your baby's first Thanksgiving?
Make sure you bring your baby's favorite toys and books if you are traveling for Thanksgiving.
There will be a lot of time you will have to fill in between napping and feeding and you want to have those bases covered.
If you can bring your baby's swing and portable playpen.
Here are a few baby Thanksgiving books we love:
Duck & Goose Find A Pumpkin
9. If your baby is eating solid foods, bring your own.
As we discuss in our article on "Picky Eaters", when your baby is transitioning to solid foods, this can be a delicate situation.
You may want to maintain your feeding plan outlined in our article by bringing foods you know your baby will like.
If your baby is eating solid food, you may want to prepare your own at home and bring it with you.
You could also bring some pouch foods to make it easier on yourself.
Be firm with well-meaning family members who may offer your little one foods they are not ready to eat yet.
Eating too many new foods at once can cause digestive issues in your little one.
10. Be prepared for bad weather if traveling.
November can be unpredictable when it comes to forecasting weather and the weather can change quickly.
Make sure you have packed warm clothing in case the weather should become a problem.
You can always remove layers.
Also, I have known many friends who have had serious weather conditions interfere with their baby's first Thanksgiving.
If you are traveling far, where weather conditions could interfere with travel plans, bring extra clothing to carry you through. Just something to keep in mind.
More articles you may like: