Updated August 3, 2022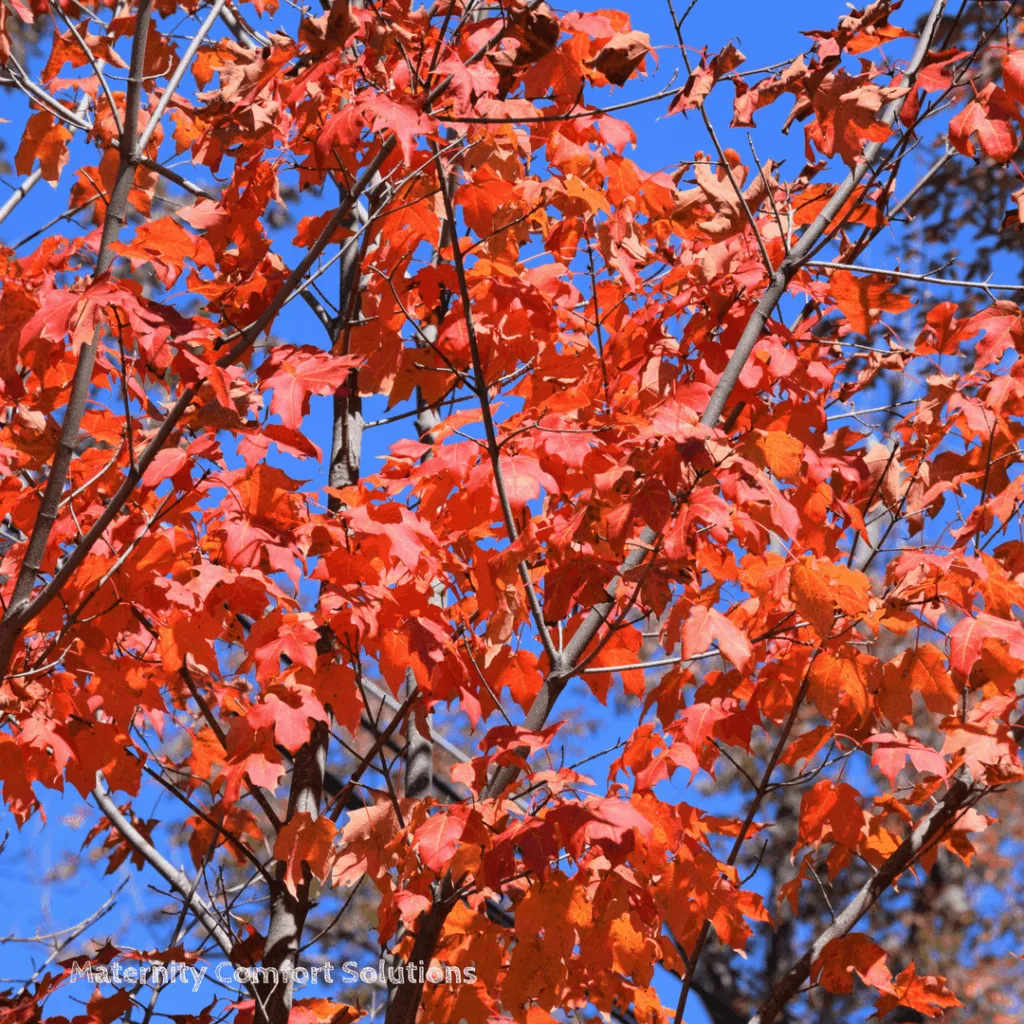 Fall is finally here! After a long hot summer, we are looking forward to enjoying a full bucket list of fall activities. Being from New England, fall is by far my favorite season! Sweaters, scarves, LL Bean boots, and an almost endless list of fun fall toddler activities.
The days are getting cooler, the leaves are changing color and there are so many opportunities for learning and exploring during the fall season.
Choosing fall activities for toddlers can be a fun, but sometimes overwhelming experience.
Today we are sharing 11 fall activities for toddlers that we have done with our kids over the years.
Many of the activities are free or use items you probably already have on hand.
I have updated and added some new ideas for the fall 2020 season.
Fall is the perfect time to get your toddler outdoors and introduce them to the beautiful world around them before the bone-chilling winter cold and snow creeps in.
Some of the activities, like going to a fair, apple picking or a pumpkin patch can be more expensive (especially if you have a large family!), so my suggestion, if the cost is an issue, is to choose one "pricier" fall activity and call or email them and ask about discounted days or tickets.
There are very often farms and pumpkin patches where toddlers are free or that are free to just walk around and look at things.
Many of the fall events around us offer free or discounted admission on certain days during the fall season. It never hurts to ask!
What your child will remember is the experience of doing these activities with you, they won't remember the cost.
Some of my best childhood memories were things we did that were completely free but were done together as a family.
Keep in mind the days can still be warm, but it can get quite chilly in the afternoons, so dress your toddler in layers or bring an extra jacket or sweatshirt.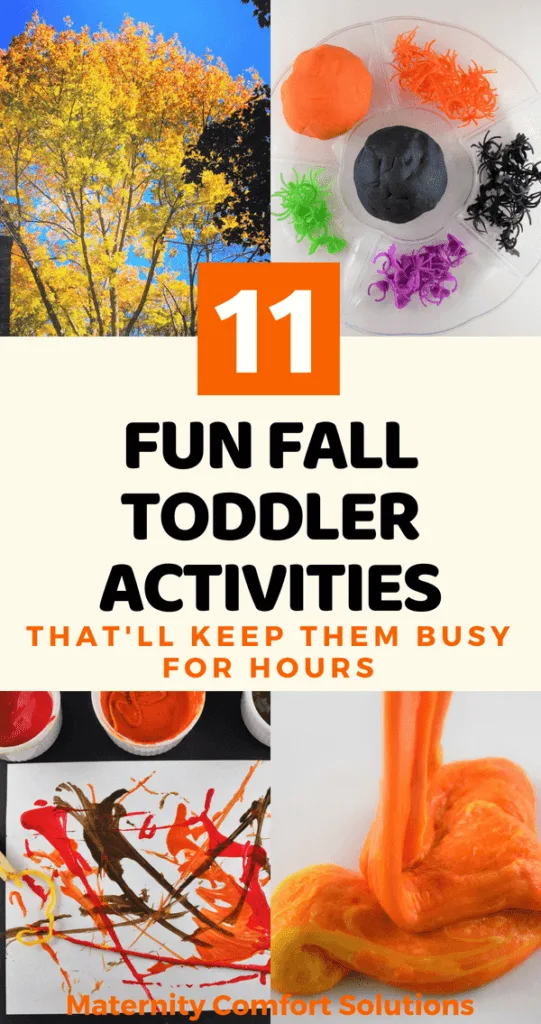 11 Fun Fall Activities For Toddlers:
1. Making Homemade Graham Crackers:
One of our favorite fall activities for toddlers is baking homemade graham crackers. Who doesn't like graham crackers especially when S'mores are on the menu?
Some people think making graham crackers is difficult. In fact, it's quite easy if you have the time.
Graham crackers are a part of almost every toddler's life. Seriously, who can't remember the first time they dipped a graham cracker in a glass of cold milk.
Well, hold that thought because you will be pleasantly surprised by how good this graham cracker recipe will be for the whole family.
Be warned, if you make them once, you will be making them many more times and for many occasions around the fall campfire.
I used a fall leaf cookie cutter to make these.
We've also used ghosts and bats cookie cutters. You can cut them into squares too.
These cookie cutters are perfect for making fall graham crackers with your toddlers. They are perfect for making all kinds of fall snacks and projects!
R&M International 1826 Autumn Leaf Cookie Cutters, Acorn, Ivy, Apple, Oak, Pumpkin, Maple, Squirrel, 7-Piece Set
The recipe I use for the graham crackers is from The Prudent Homemaker. I think it is the absolute best and easiest I have ever tried.
You can find the recipe here: Graham Cracker Recipe – The Prudent Homemaker
[wps_box title="Pro Tip: Making Homemade Graham Crackers" title_color="#FFFFFF" box_color="#9b520d" radius="0″]Make sure you roll out the dough thin enough. If you don't the crackers come out more like graham cookies. That makes them more chewy than crunchy. I have made them in a hurry a few times and didn't roll the dough out quite thin enough and they had more of a cookie texture. Make sure you spray your baking pans really well with cooking spray or use silicone baking mats. They will stick to the pan if you don't. I usually sprinkle them with a little sugar or cinnamon or both. My family also likes them with a little pumpkin spice sprinkled on before baking.[/wps_box]
Picture Credit: Maternity Comfort Solutions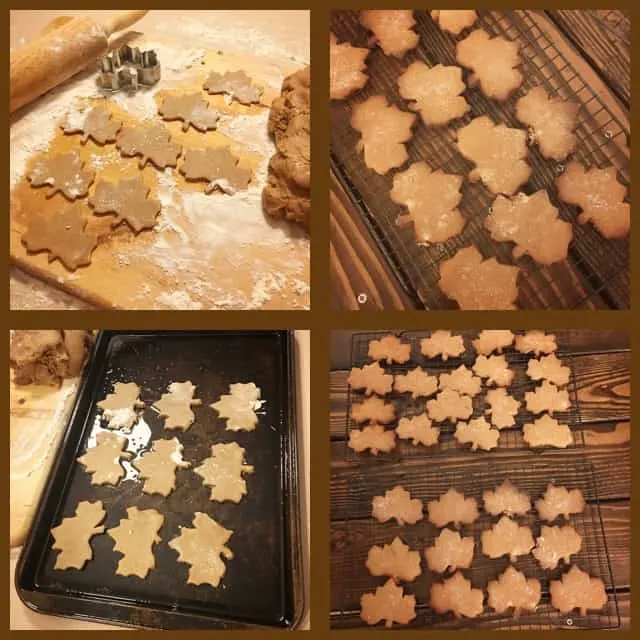 w
2. Make Pumpkin Slime
When it comes to fall activities for toddlers, there is nothing they like more than having a fun time with slime. I do use liquid starch to make slime and silly putty.
I was an early childhood teacher before I became an RN and liquid starch worked the best.
I never had a problem with children in the classroom or my own kiddos putting it in their mouth, but if that is a concern there are slime recipes that use different ingredients.
I make these two ways one is just orange slime and then I turn it into silly putty and the other is orange slime with pumpkin seeds. That one is a little gross looking but I'm a boy mom and the boys love it.
How To Make Pumpkin Slime
Ingredients:
1 cup Liquid Starch

1 cup White School Glue

10 Drops Orange Food Coloring or Tempura Paint

1 tsp Pumpkin Pie Spice
Recipe:
Mix all ingredients until it forms the consistency of slime. If you want silly putty, continue mixing and hand kneading for 5-10 minutes.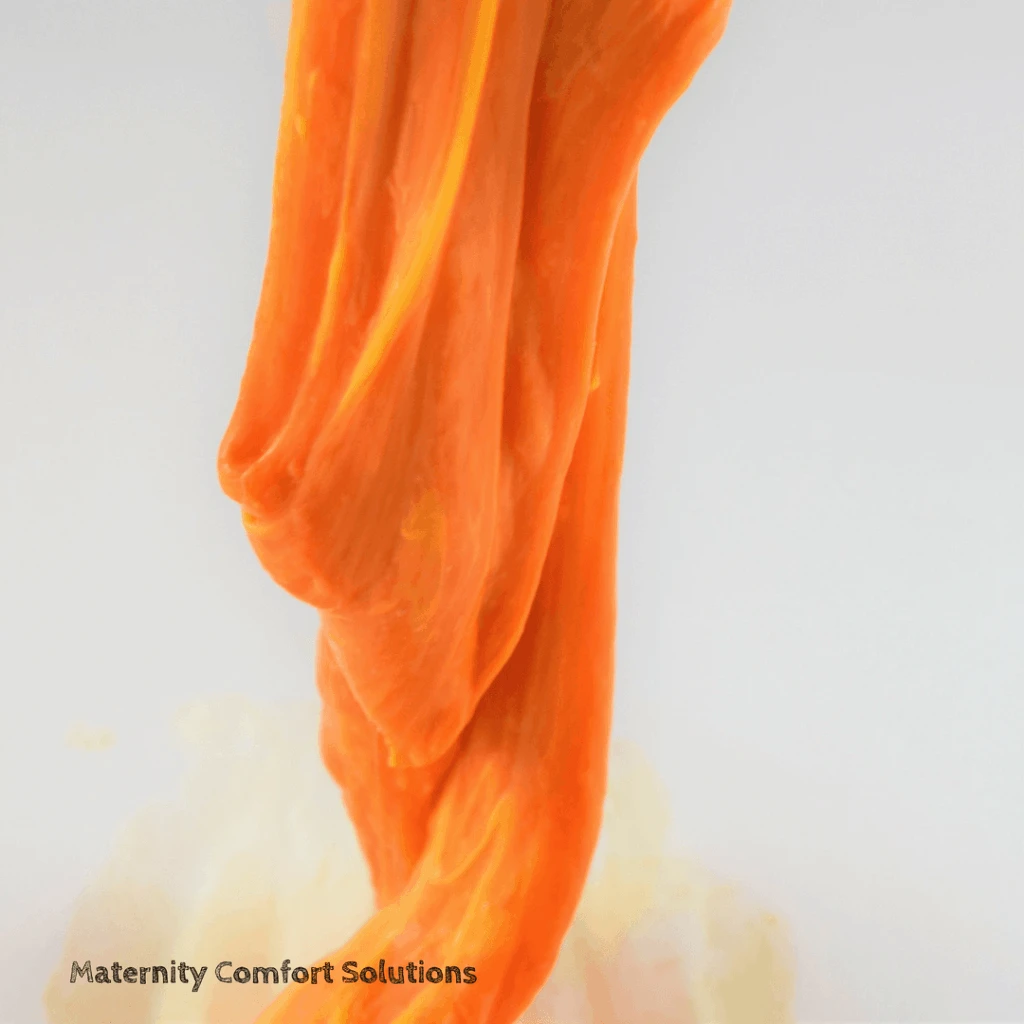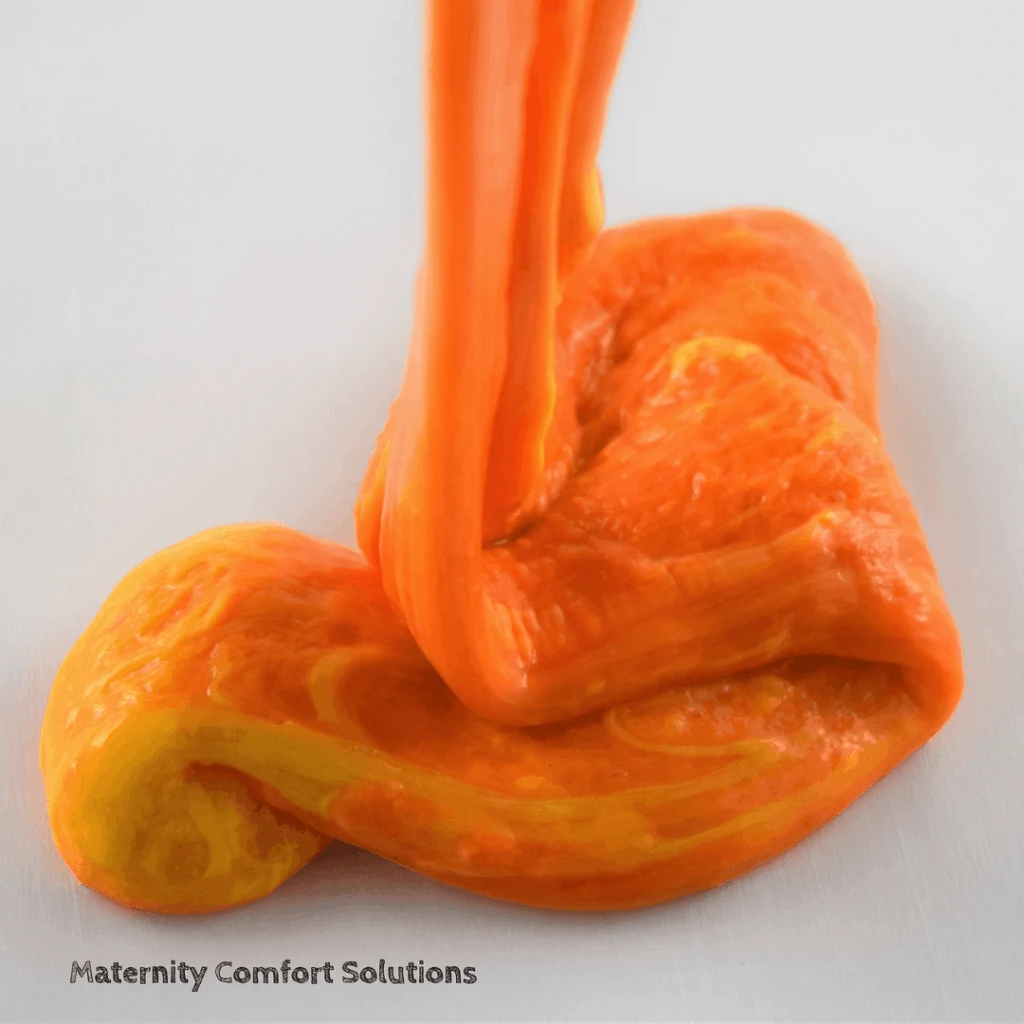 [content-egg module=Amazon template=grid next=3 hide=price cols=3]
3. Leaf Rubbing
Leaf rubbing is a simple and fun fall activity for toddlers and preschoolers.
You can collect leaves on a nature walk or while playing in the yard. An excellent way to introduce leaf rubbing to your toddler is to read some autumn books about leaves.
Begin to teach them about the changing of the seasons. Explain why trees drop their leaves in the fall.
One of the fun fall activities I talk about below is starting a seasonal/holiday book basket to foster a love of reading in your child. Leaf books we love to read during the fall are:
Leaf Man By Lois Ehlert
We're Going On A Leaf Hunt
Leaf Jumpers
Leaf Rubbing Instructions:
Find a fresh green leaf that has no bugs or holes (Maple or Oak leaves are best).

Place the leaf on a smooth, hard surface and tape down the stem.

Place a piece of plain white paper over the leaf.

Using a Crayon on its side, gently rub over the leaf and watch the pattern of the leaf transfer to the paper. You can then color or cut out the leaves, depending on how many you want to make for a particular project.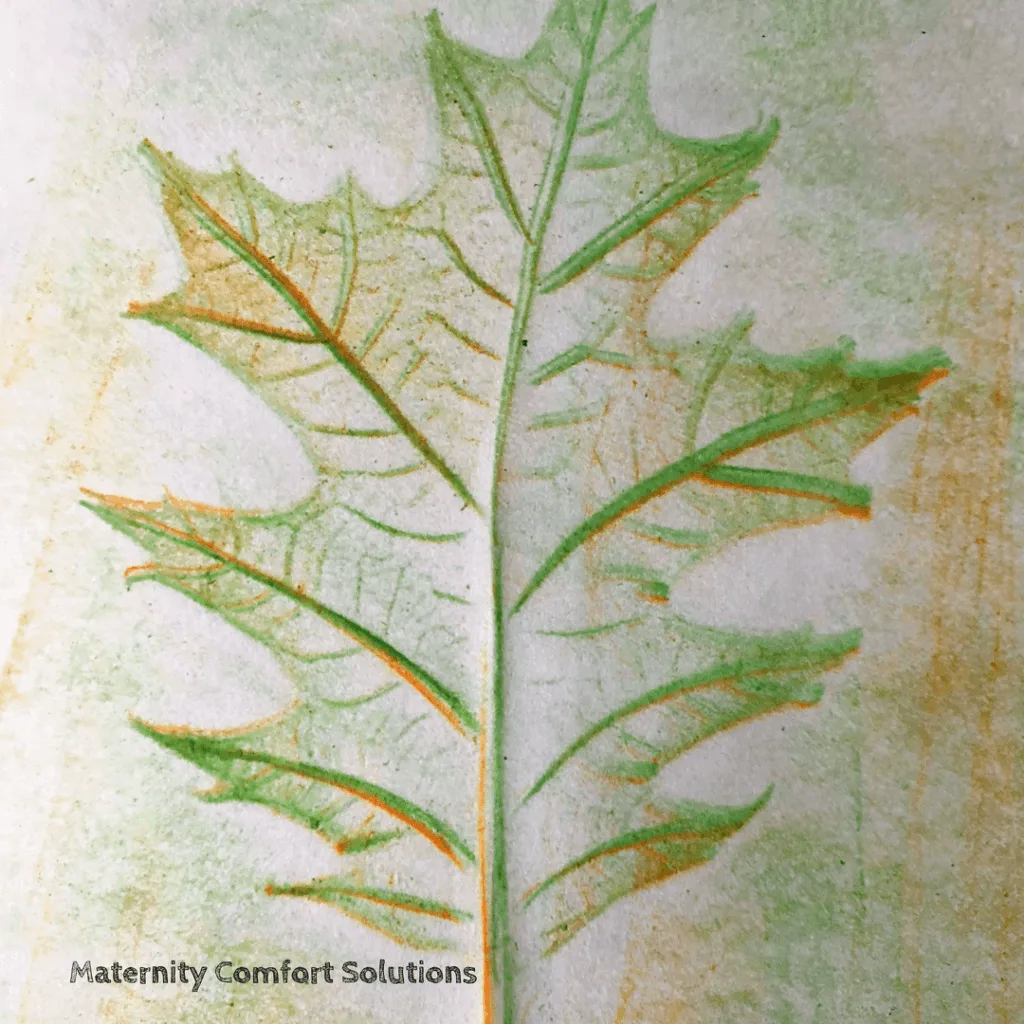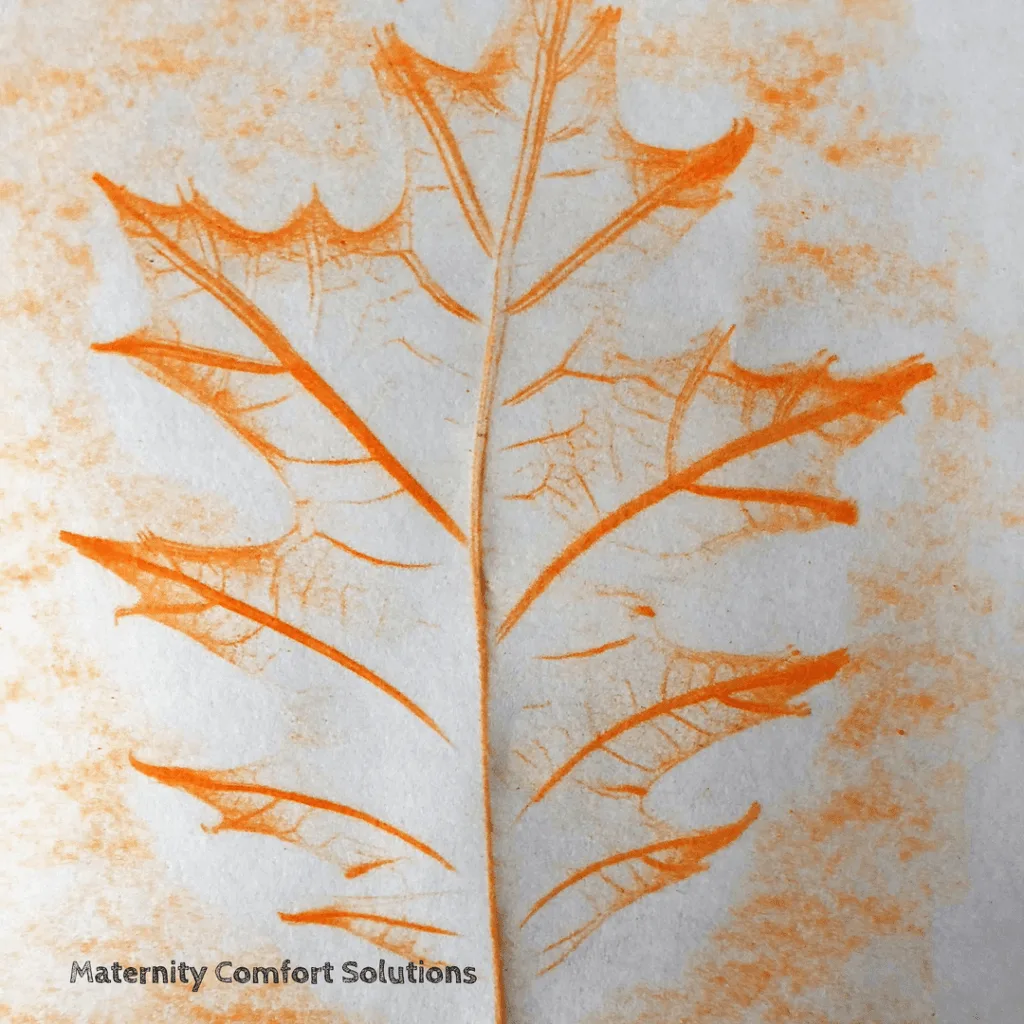 w
4. Visit a pumpkin patch, carve a pumpkin, and make a no-mess pumpkin sensory bag:
There are many reasons why visiting a pumpkin patch is always an exciting event for your toddler:
Visiting a farm is an opportunity for your child to expend energy. Especially if the farm is designed for children.

Pumpkin patches are very colorful and stimulate many senses.

Toddlers also look forward to going to a pumpkin patch because they know they will be getting a pumpkin.

What toddler doesn't want a jack-o-lantern?

Finally, sensory play is popular with toddlers. Simply putting the pumpkin guts

in a sealed plastic bag can result in hours of toddler

fun.

If you don't mind the mess, let them get their hands inside the pumpkin and scoop out the guts with you. Simple and easy sensory activity.
You may find some pumpkin patches in your area that also have corn mazes designed for small children which can be so much fun to do together as a family!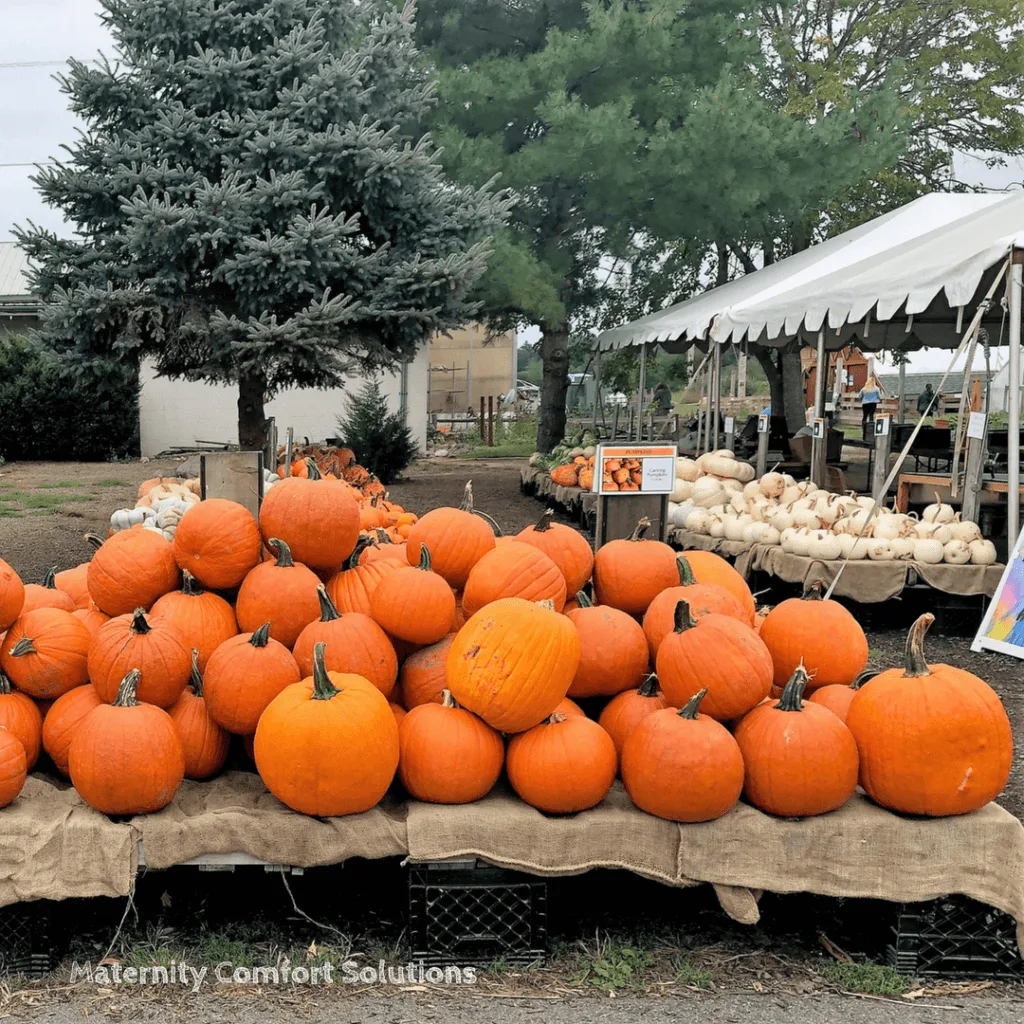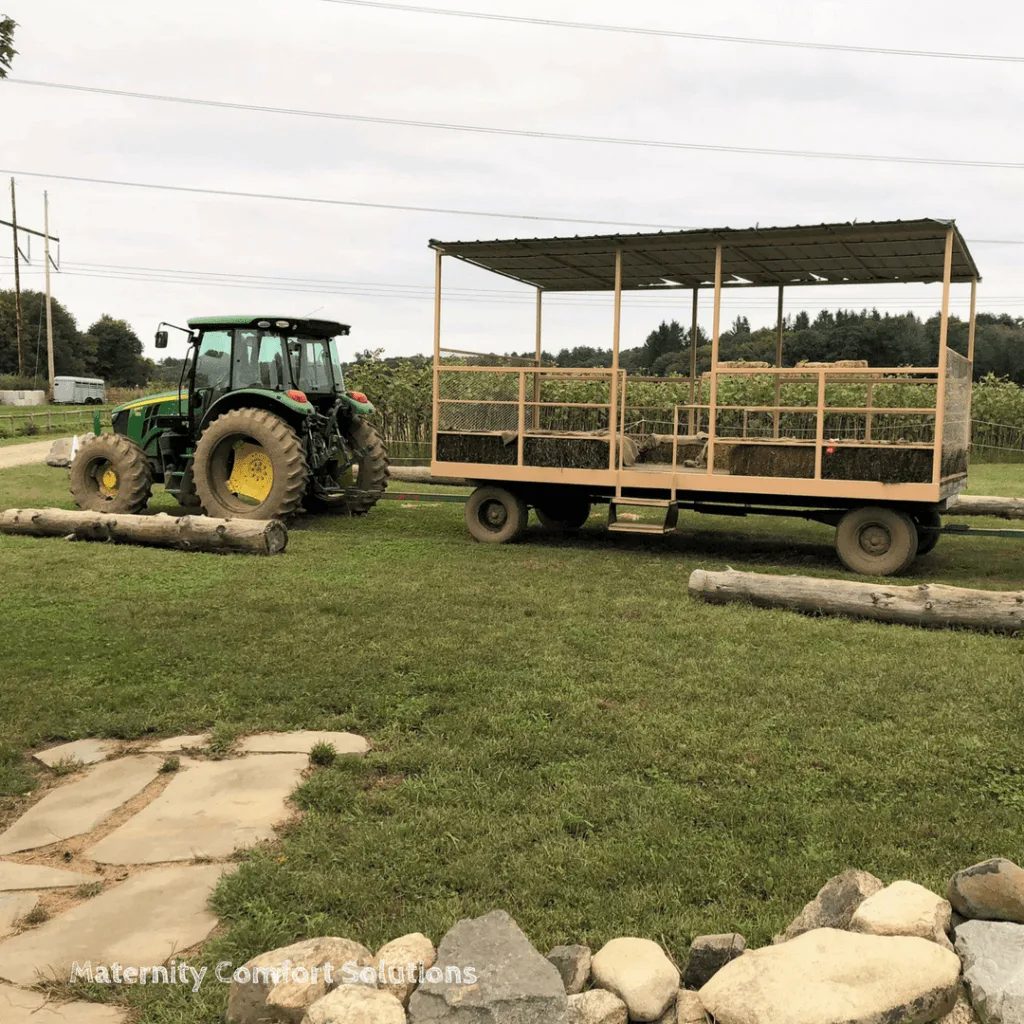 Pumpkin Guts Sensory Bag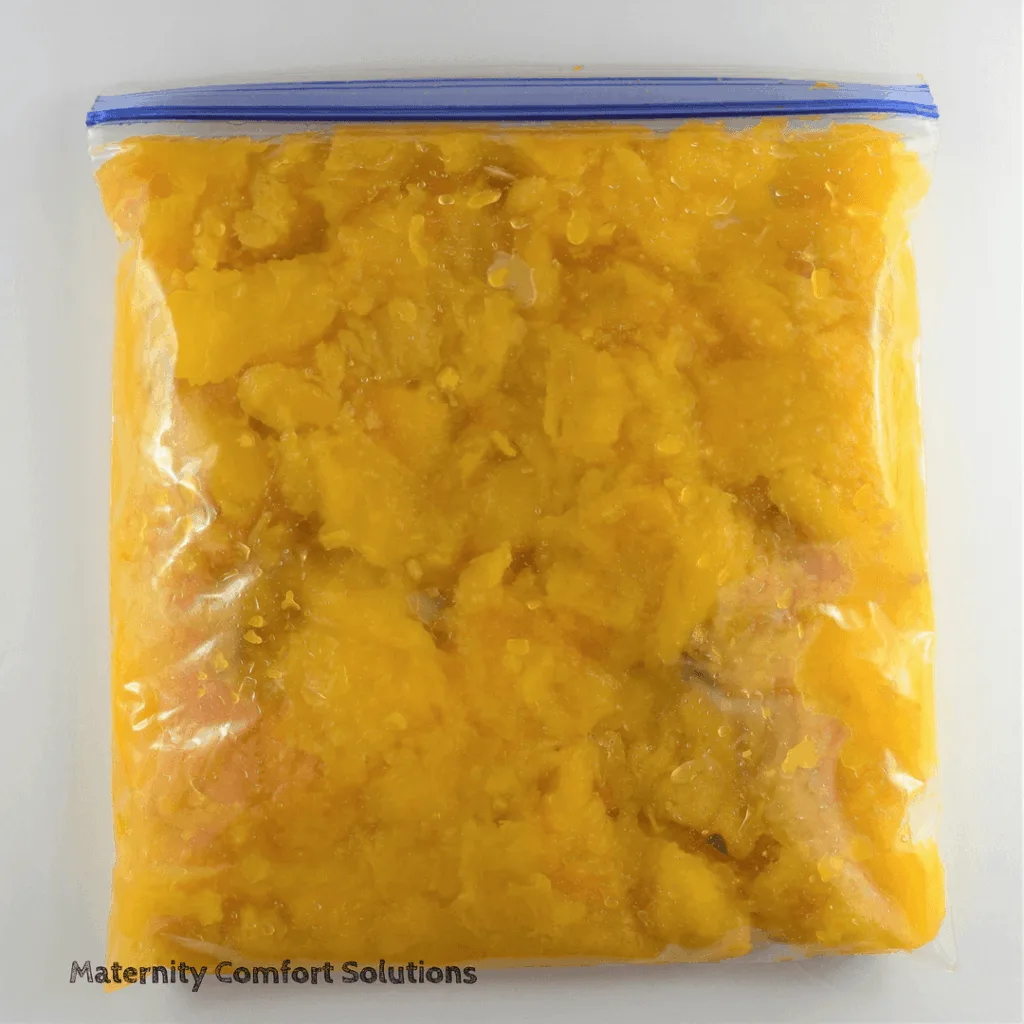 w
5. Bake Halloween Cookies:
Baking Halloween cookies is a fun and easy activity you can do with your toddlers. Below you'll find 20 delicious and simple Halloween cookie recipes!
If a recipe is complicated or time-consuming it isn't happening.
So if you need a delicious, easy, and fast cookie for Halloween, these are a great choice!
20 Easy Halloween Cookie Recipes
Halloween Shortbread Cookies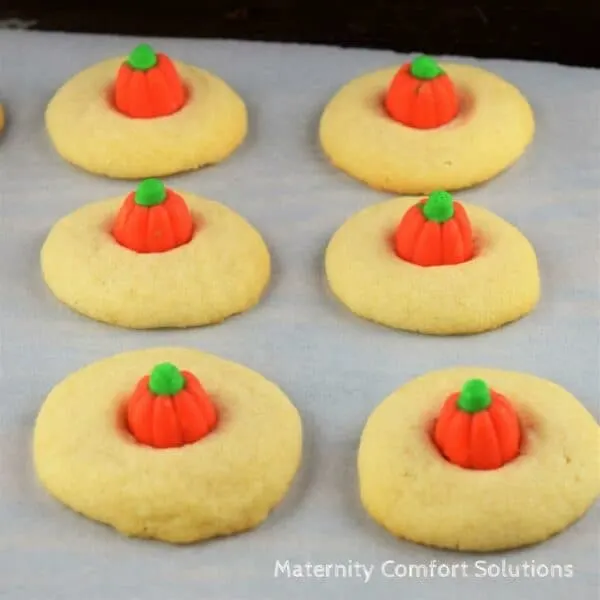 Most toddlers love to be in the kitchen and there are so many options for fall activities that can introduce your toddler to science and math concepts.
You can bake Halloween cookies, but another great idea is to make loaves of quick bread or muffins.
We love to make cranberry and pumpkin quick bread and sweet potato muffins.
Cranberry Bread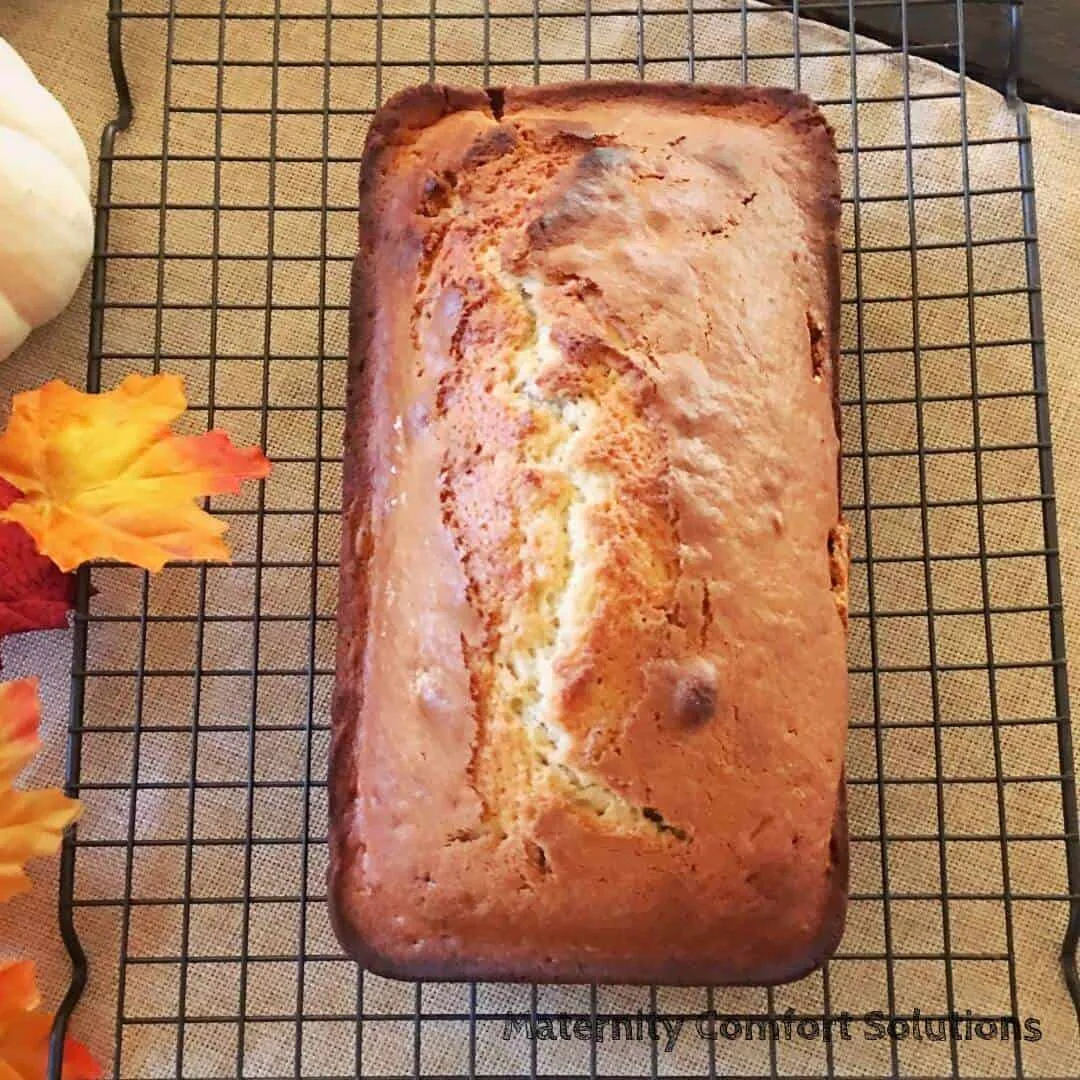 6. Make Fall Sensory Play Activities:
Colored brown rice with pine cones and green apples sensory bin
Simple to make Fall/Back to School sensory bin. The colored rice recipe is super easy to make.
4 cups of rice
1-2 Tablespoons of vinegar
Gel food coloring.
I added small pine cones, green apples, and cottonseed to the bin.
Not pictured are the little forest animals I added when they played with these bins. I picked up the apples, pinecones, and cottonseed at Michael's.
When you are done with the bin, the pine cones and cottonseed can be used for open-ended process art projects as well!
Fall Colored Rice Sensory Bins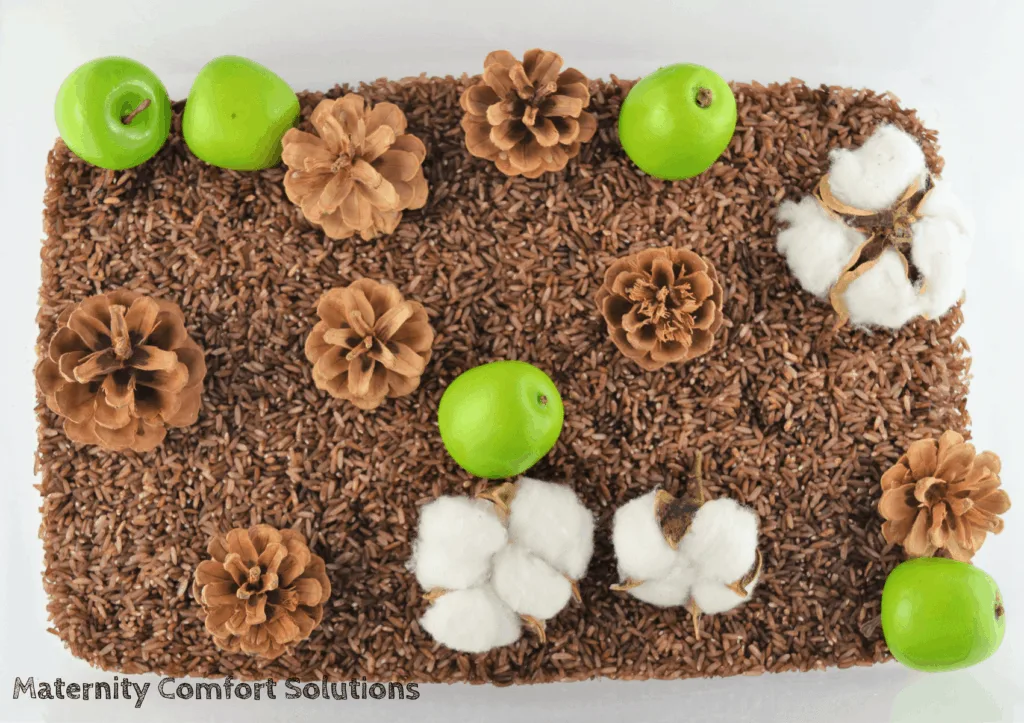 The black and orange-colored rice are great for Halloween sensory bins and art projects. You'll see below that we use colored rice for fall art projects too.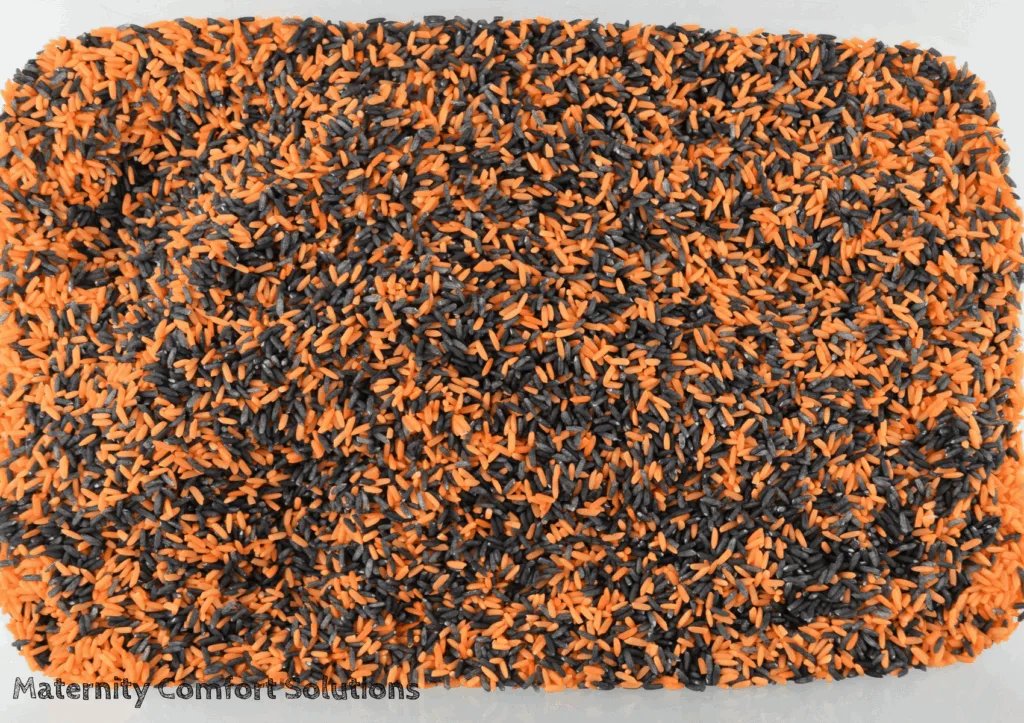 Playdough Halloween Invitation To Play
Playdough Halloween Invitation To Play:
Homemade black and orange playdough with simple Halloween toys from the dollar store.
Easy and fast homemade playdough recipe:
1 cup all-purpose flour

1/3 cup table salt

2 teaspoons cream of tartar

1 cup of water

1 tablespoon vegetable oil

Gel

food coloring
You'll want to use a large saucepan for this recipe. Pour the flour, salt, and cream of tartar into a pot, add water and oil.
On low-medium heat stir until it starts to thicken. It takes about a minute or two. Add food coloring when it starts to thicken and keep stirring until the dough begins to pull away from the sides and starts to stick to the spoon.
Remove the dough and place on wax paper to cool.
When it is cool enough knead it for a minute or two and it's ready to go. Store in an airtight container or if you are like me, throw it in a Ziploc bag.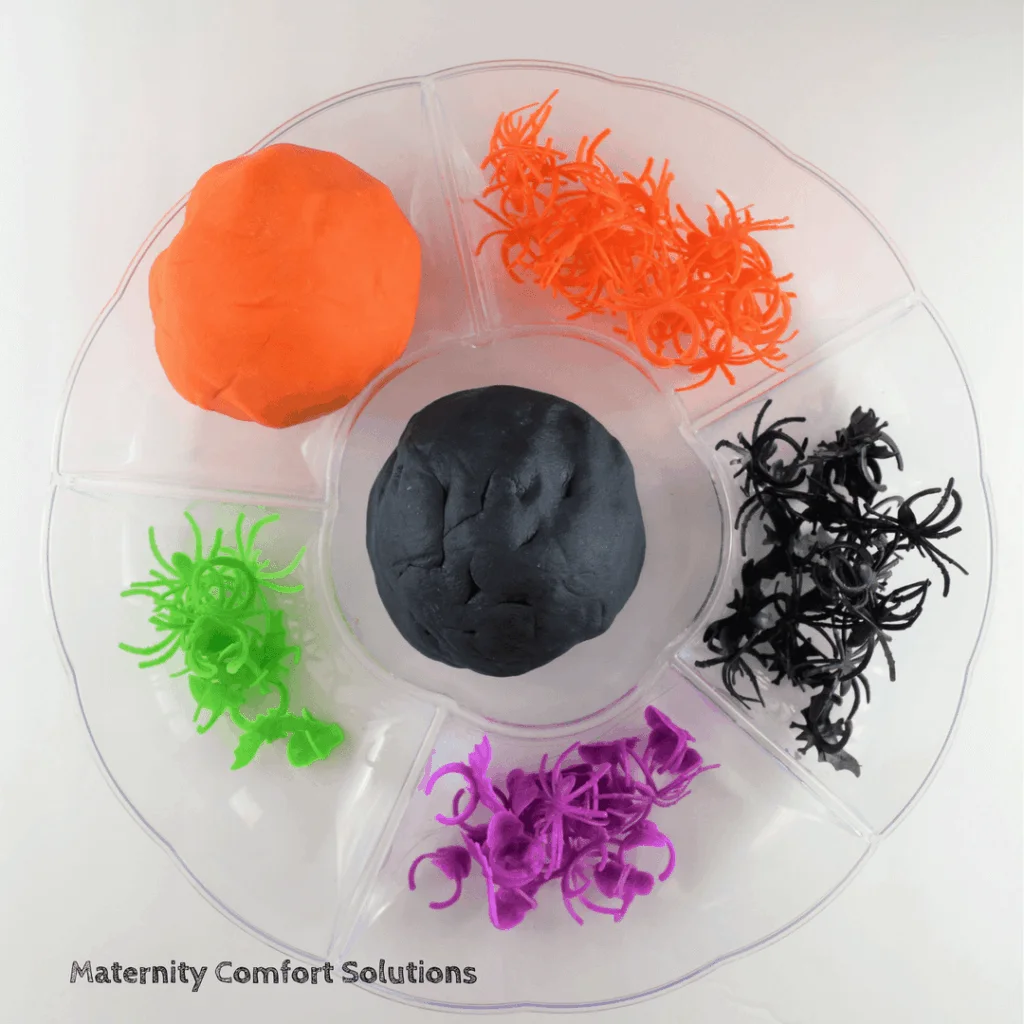 7. Go, Apple Picking:
There are a few activities we never forget. One might be the first time you went apple picking, depending on how old you were at the time.
Perhaps you might remember the first time you sat on your parent's shoulder to reach up for that perfect apple.
This activity can leave lasting memories and be very educational for toddlers.
Most toddlers have had apples or applesauce on many occasions. Effective learning is always about correlating an experience with a particular item or event.
Many apple picking orchards also have petting zoos, home-baked goods, and apple cider which can make for a full day of activities.
If you should decide to go apple picking with your toddler, the best way to find a place is to simply search "apple picking near me" on Google.
Depending on where you live, you may have one or many choices. If you have choices, look for an orchard that caters to children's activities and does not require an excessive amount of walking.
Some are even themed towards children with hayrides and playgrounds. Google maps should then have you on your way!
Don't forget to try the apple cider donuts! You can easily make both fried and baked apple cider donuts at home too!
I'll share my recipe for homemade apple cider donuts at the end of this post.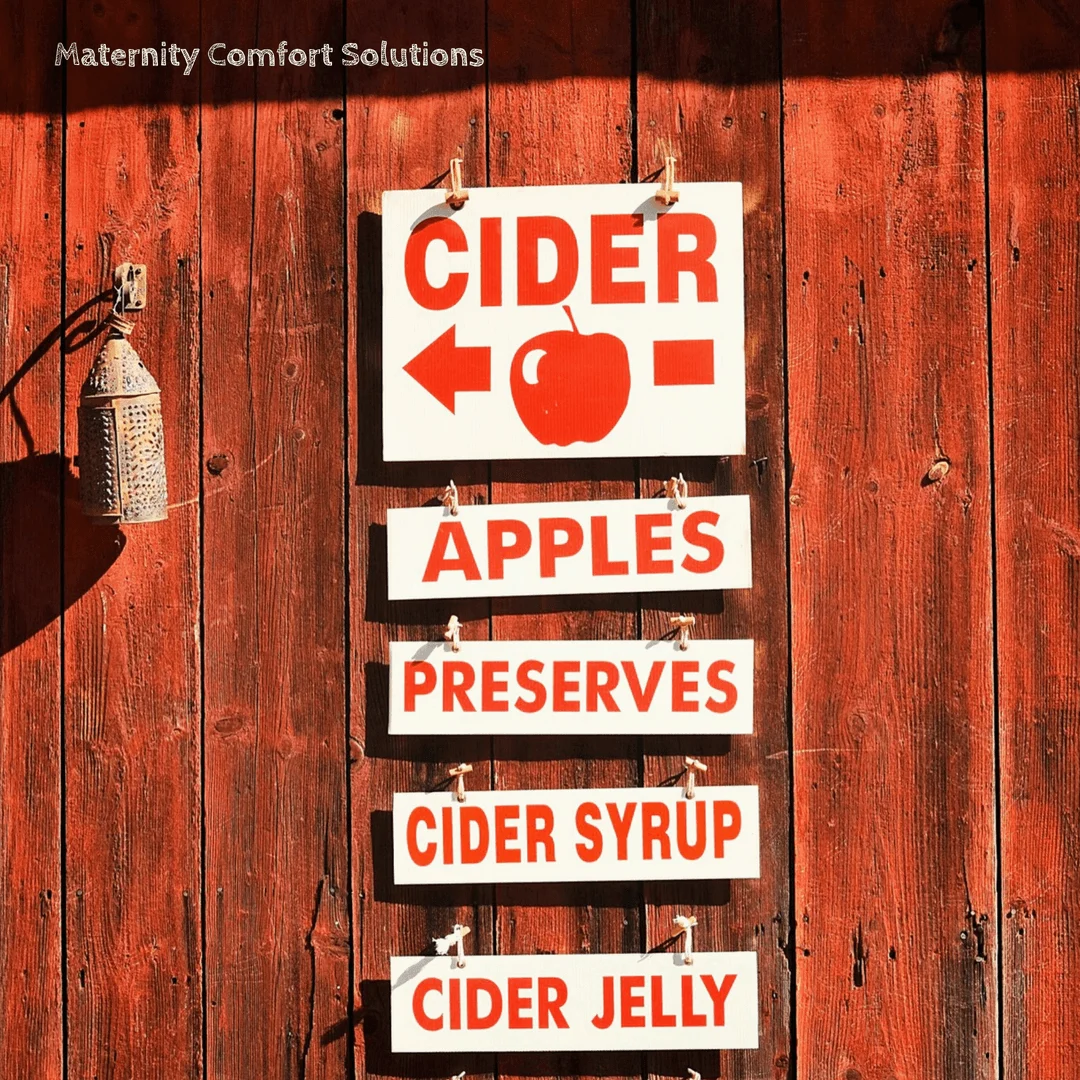 8. Take Your Toddler On A Nature Walk:
A simple and free event, when considering fall activities for toddlers is to go on a nature walk. Bring a bag along with you so your toddler can collect leaves for leaf rubbing or other art projects.
Bring your camera or phone to take lots of pictures of changing leaves or animals you might see getting ready for winter. Look for squirrels scurrying about searching for acorns.
Be sure to talk about the things they see and hear.
Point out the bright blue sky and listen to the leaves crunching underneath your feet. Let your toddler collect leaves, rocks, sticks, and acorns.
Fall is a great time to teach about colors. Point out the different color leaves.
Explain the changing seasons and how the animals are preparing for winter.
These are some of the sights we saw on a recent nature walk in the Boston, MA area: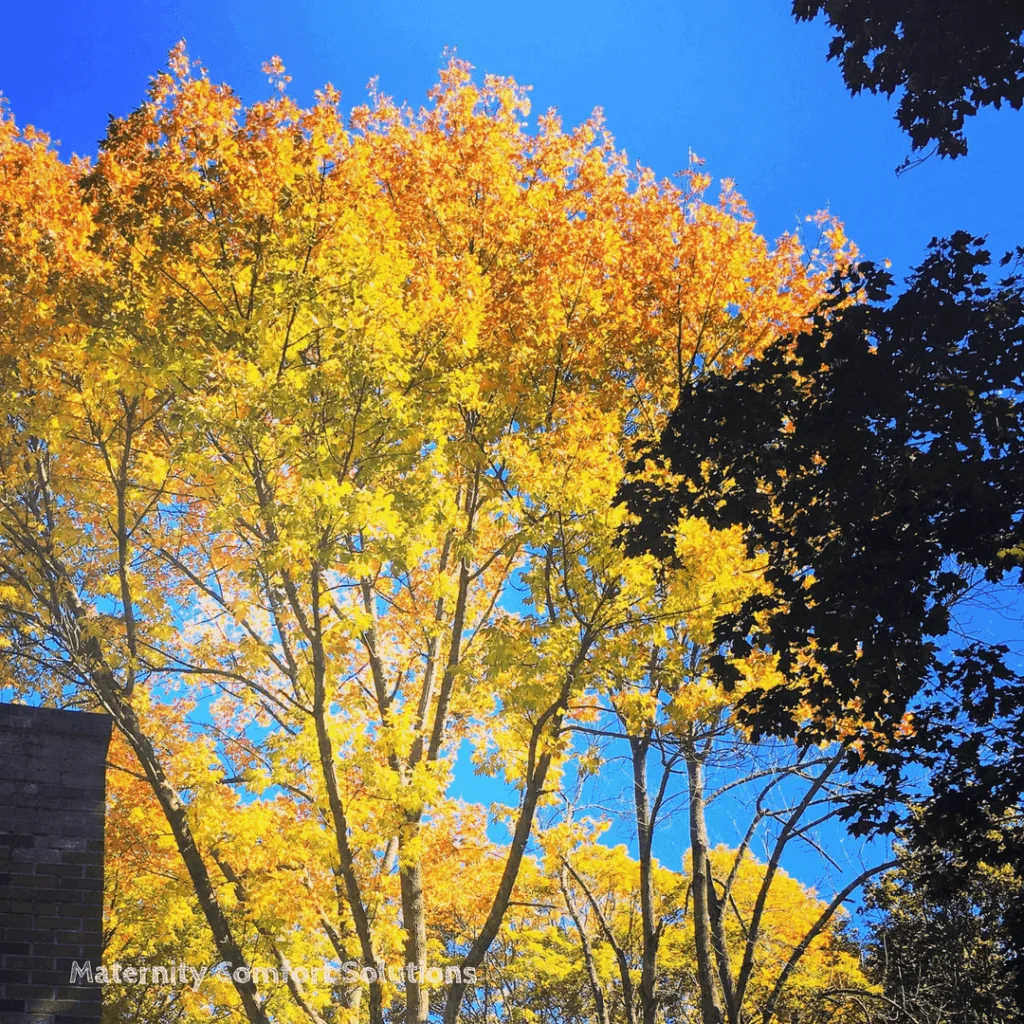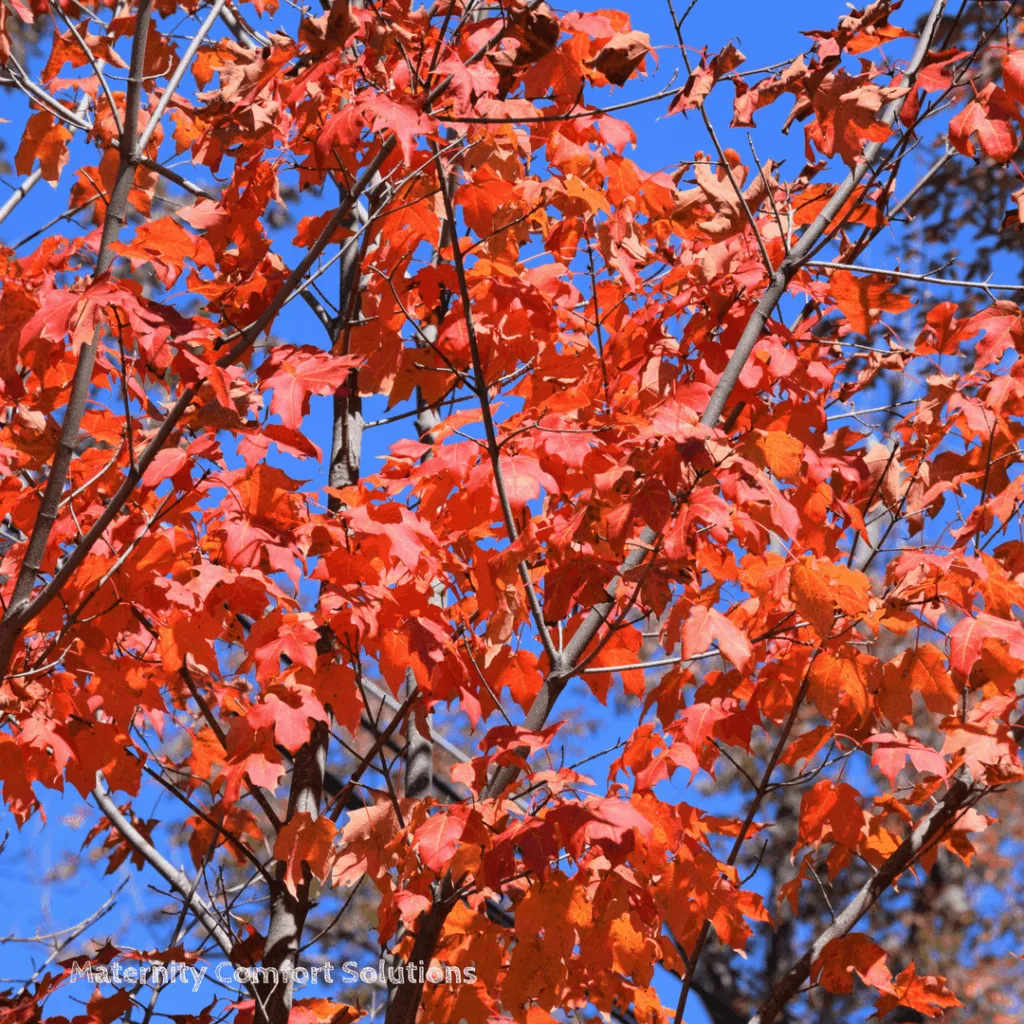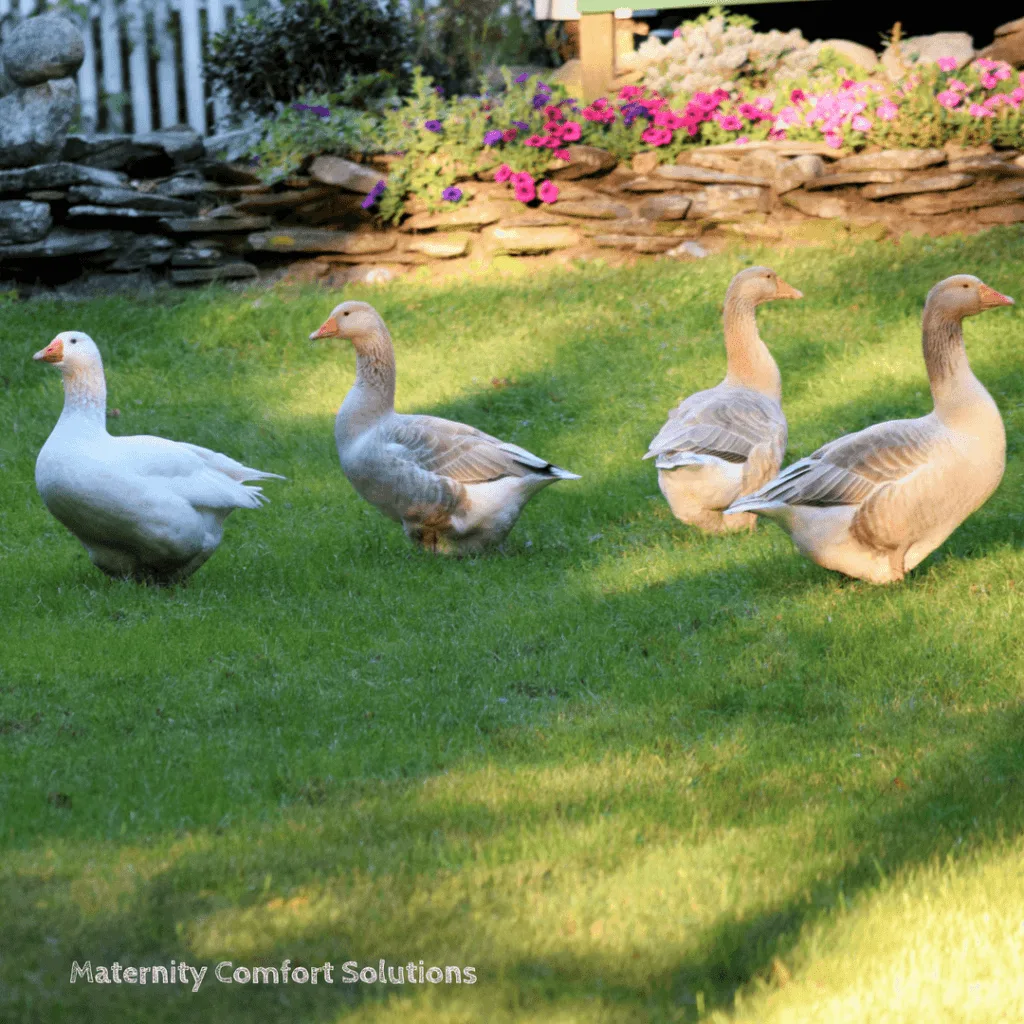 9. Do Fall Art Activities:
There are so many great fall art activities you can do with your toddler. I tend to like open-ended/process activities so things like string art, pinecone painting, marble art painting, and salt painting art are a few my kids have enjoyed.
String painting with fall colors:
We use tempera paint and attach yarn to a clothespin. It makes it easier for little hands to grab.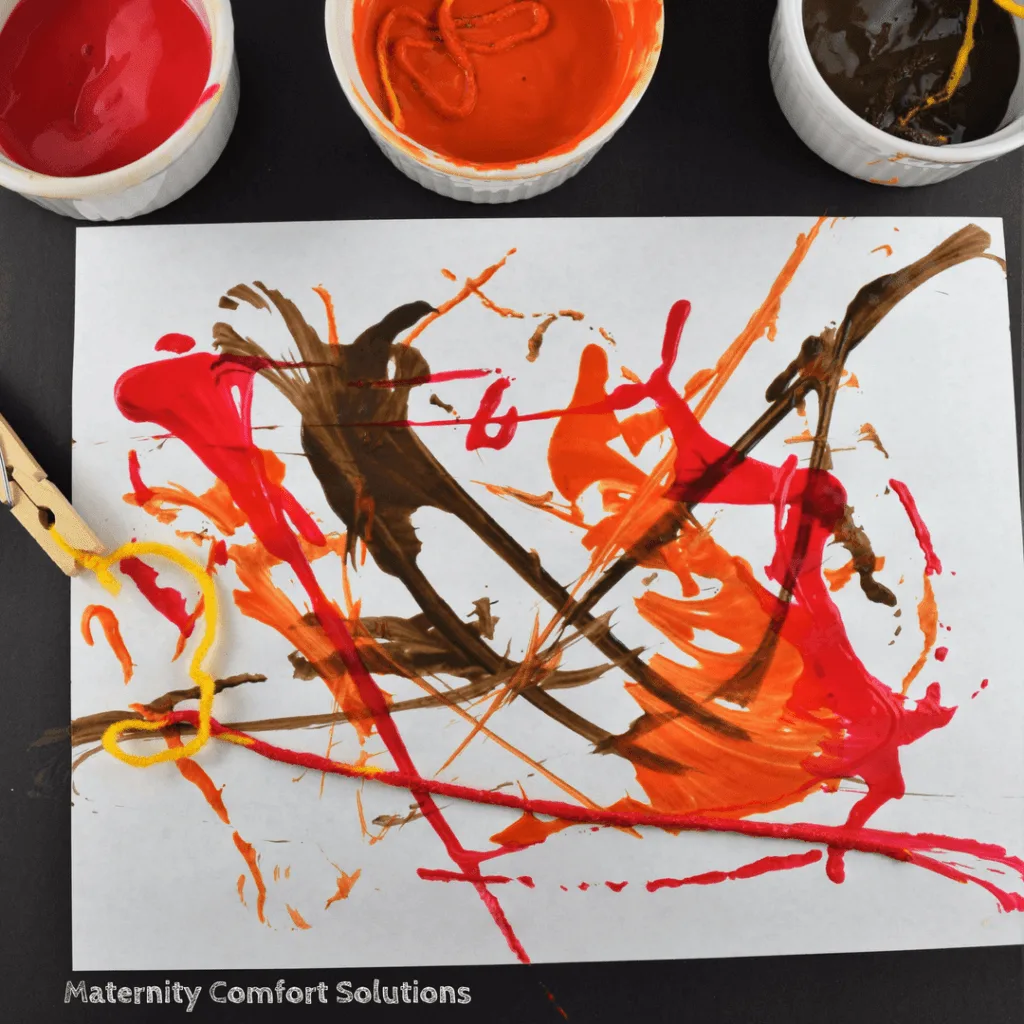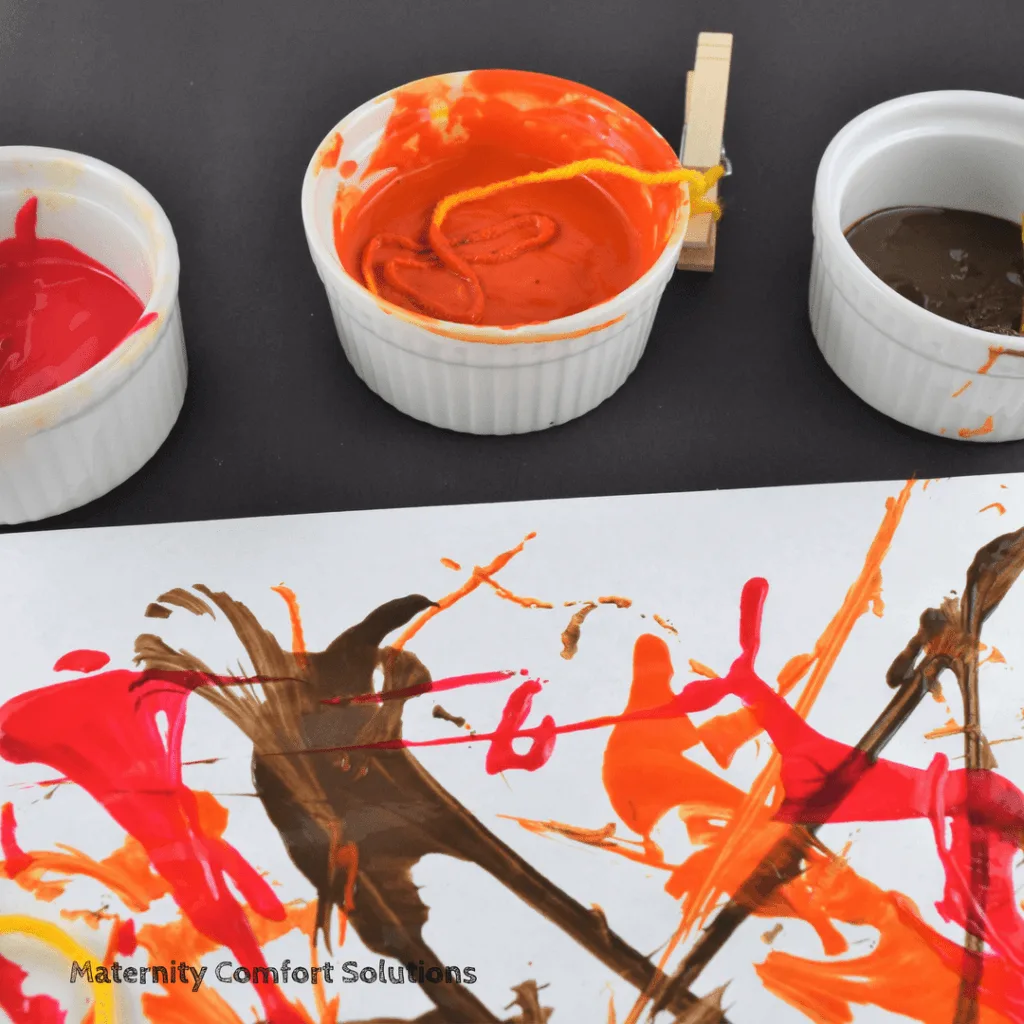 Fall Pinecone Painting:
For this activity, I let the kids paint with the pine cones and then they folded the page in half, pressed it down, and then opened it to reveal their design.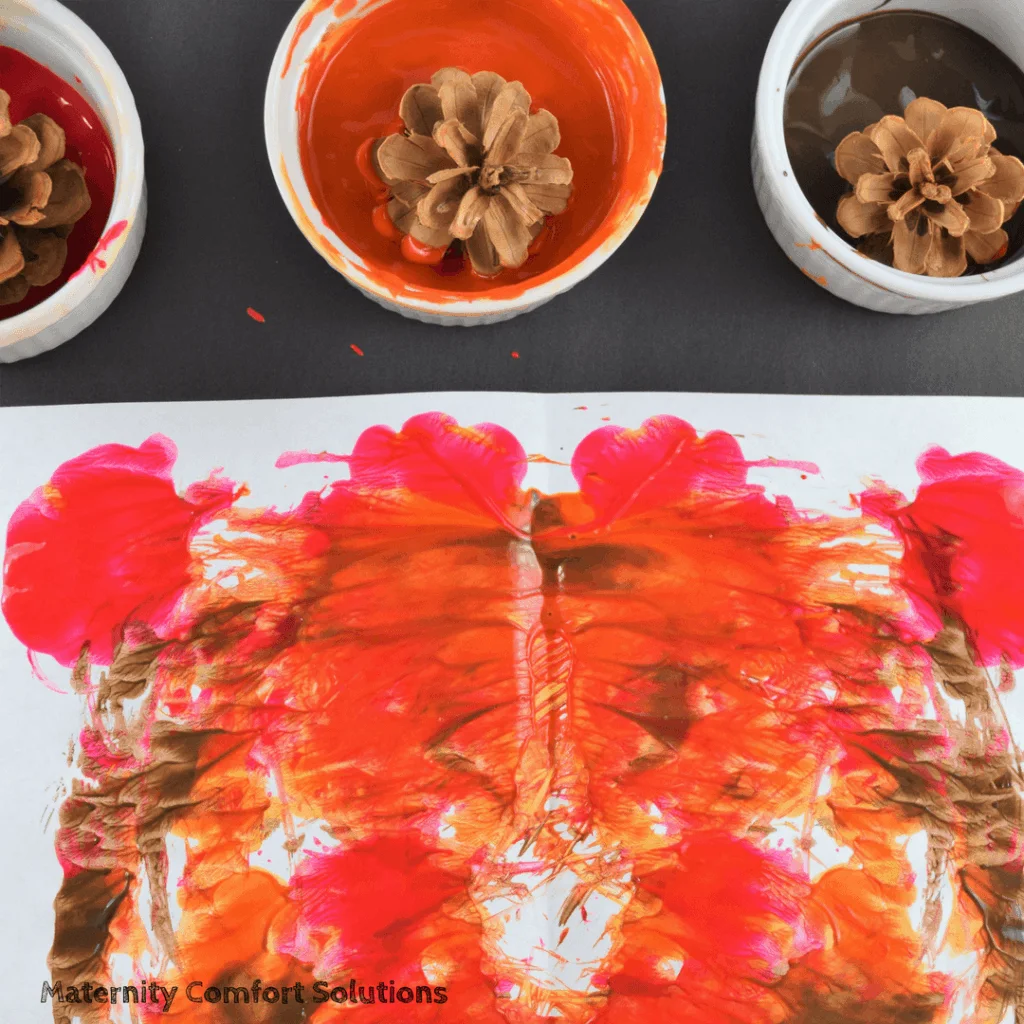 [content-egg module=Amazon template=grid next=3 hide=price cols=3]
Fall Salt Painting:
Salt painting is a fun activity that your toddler will love! It is easy to set up and you probably have the needed supplies already.
Supplies:
Black construction paper

Glue

Table Salt

Watercolor Paint or Tempera Paint
Make your design with the glue or you can do it as a process art activity and let your toddler make what they want. We did both when we did it. Cover the design with salt and shake off the excess.
Allow the glue to dry for a few moments and then paint the design with either watercolors or tempera paint.
It comes out better with watercolors I think, but I had tempera paint already out so we used that.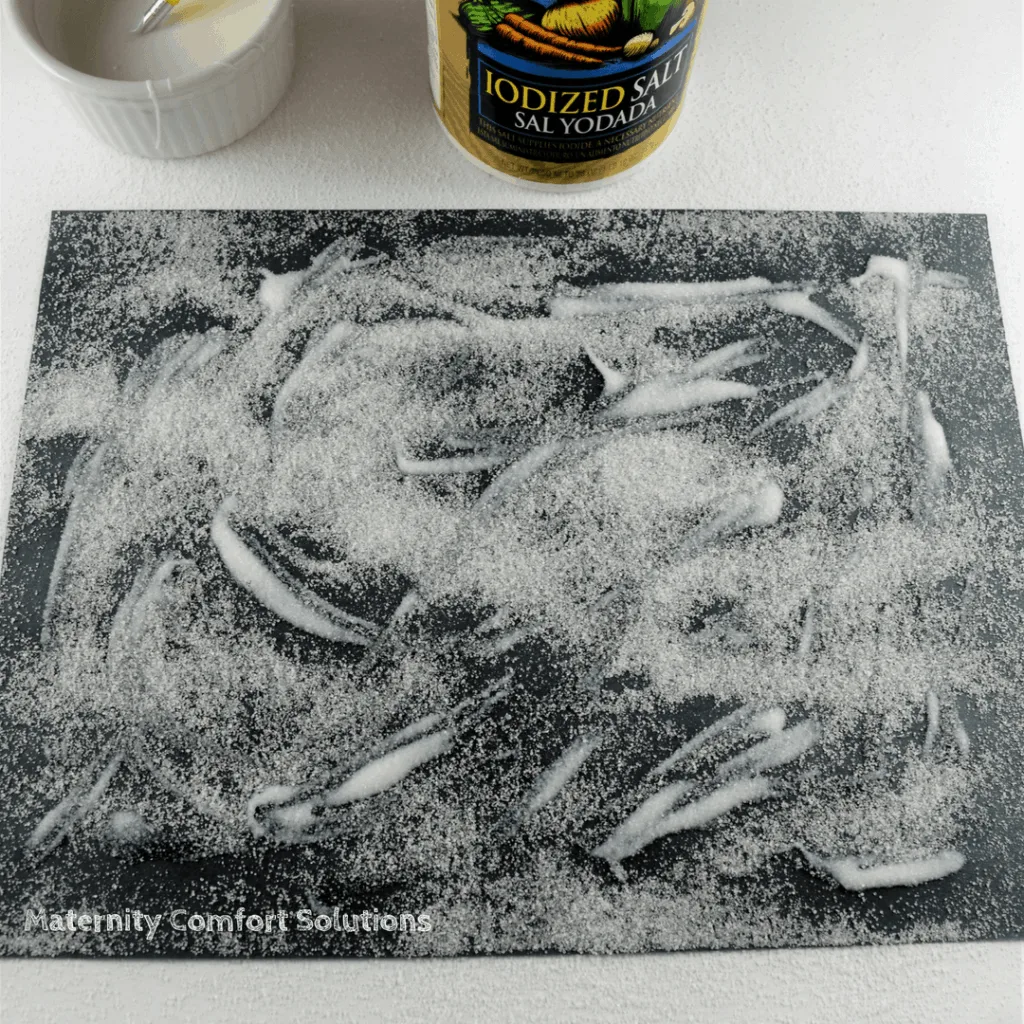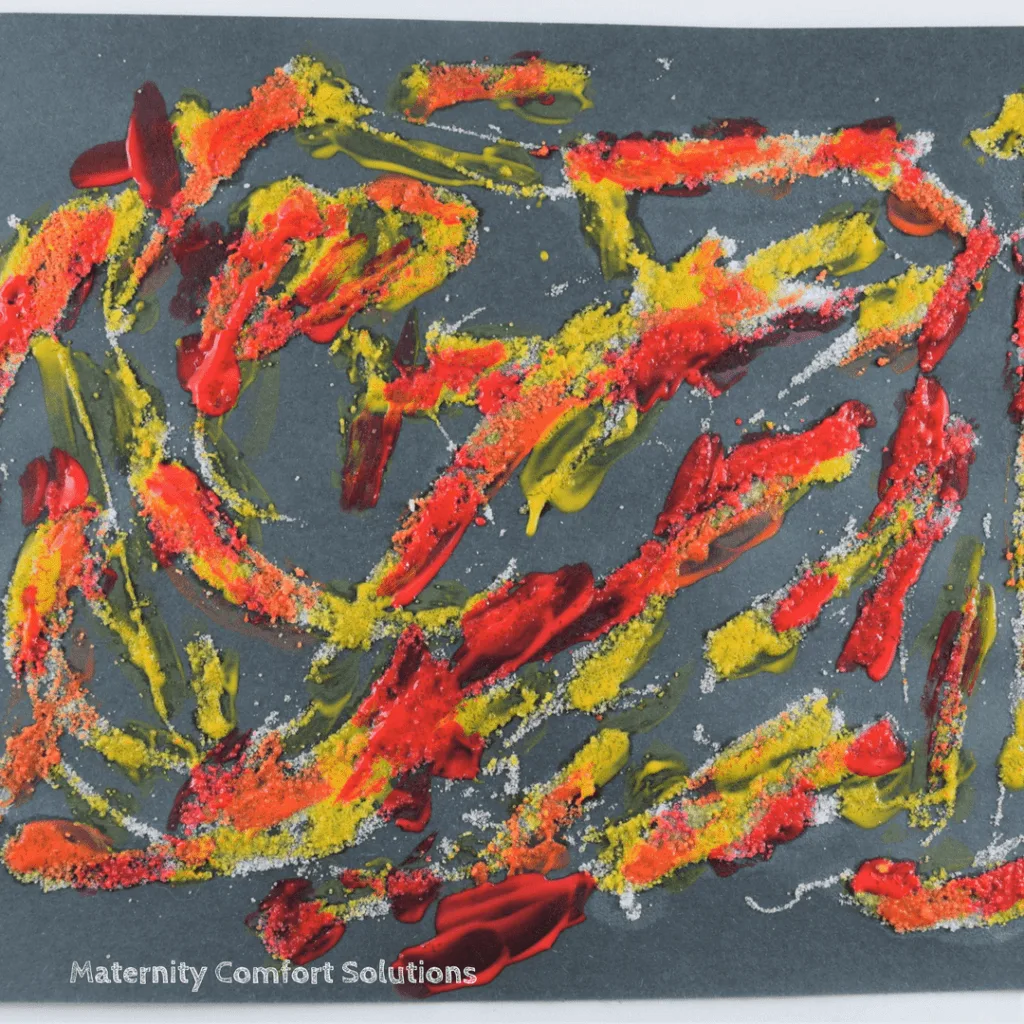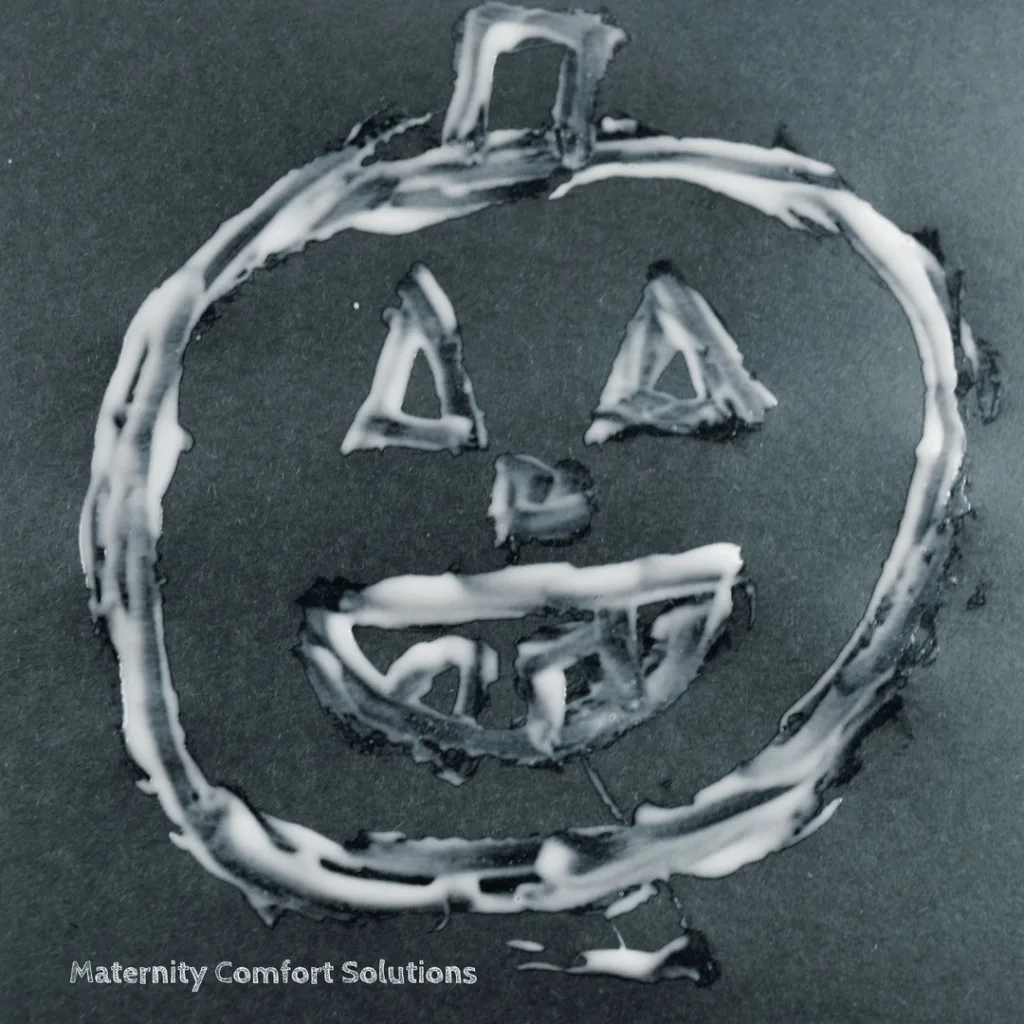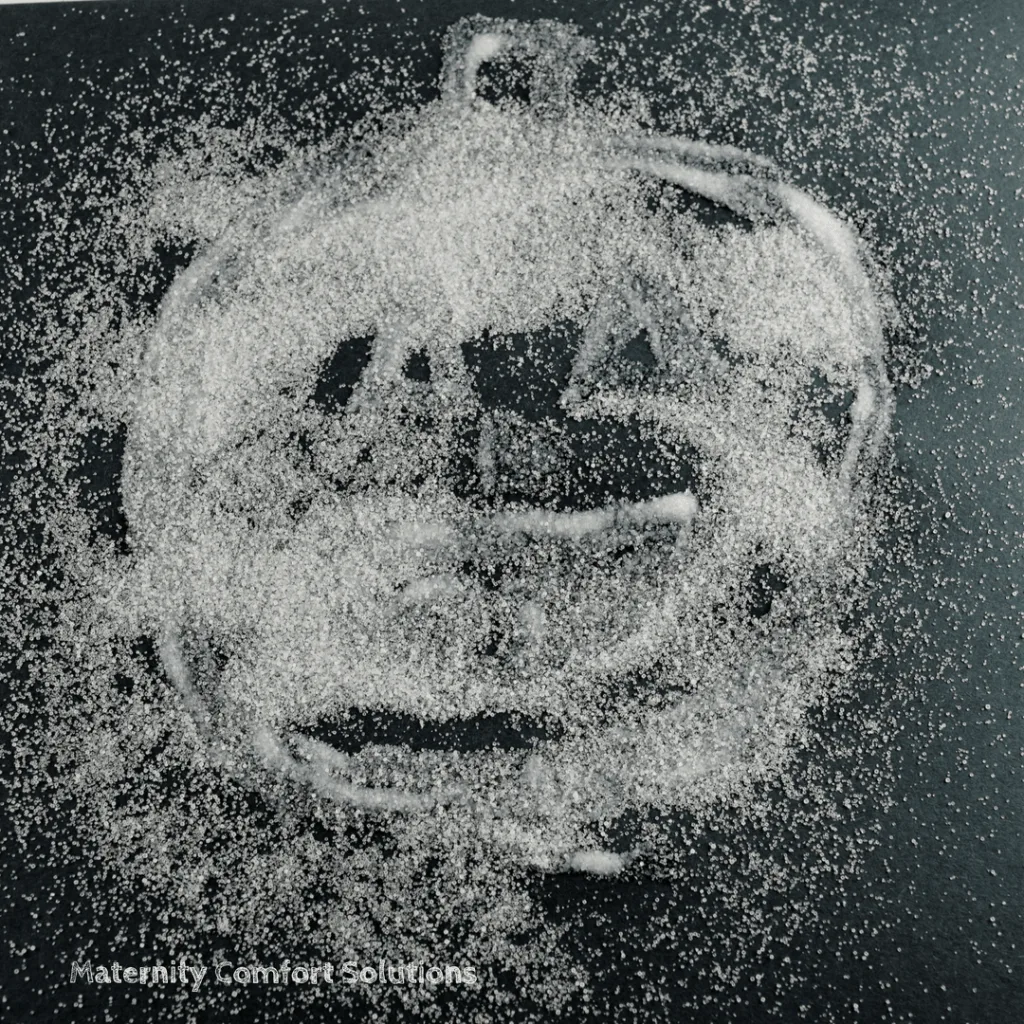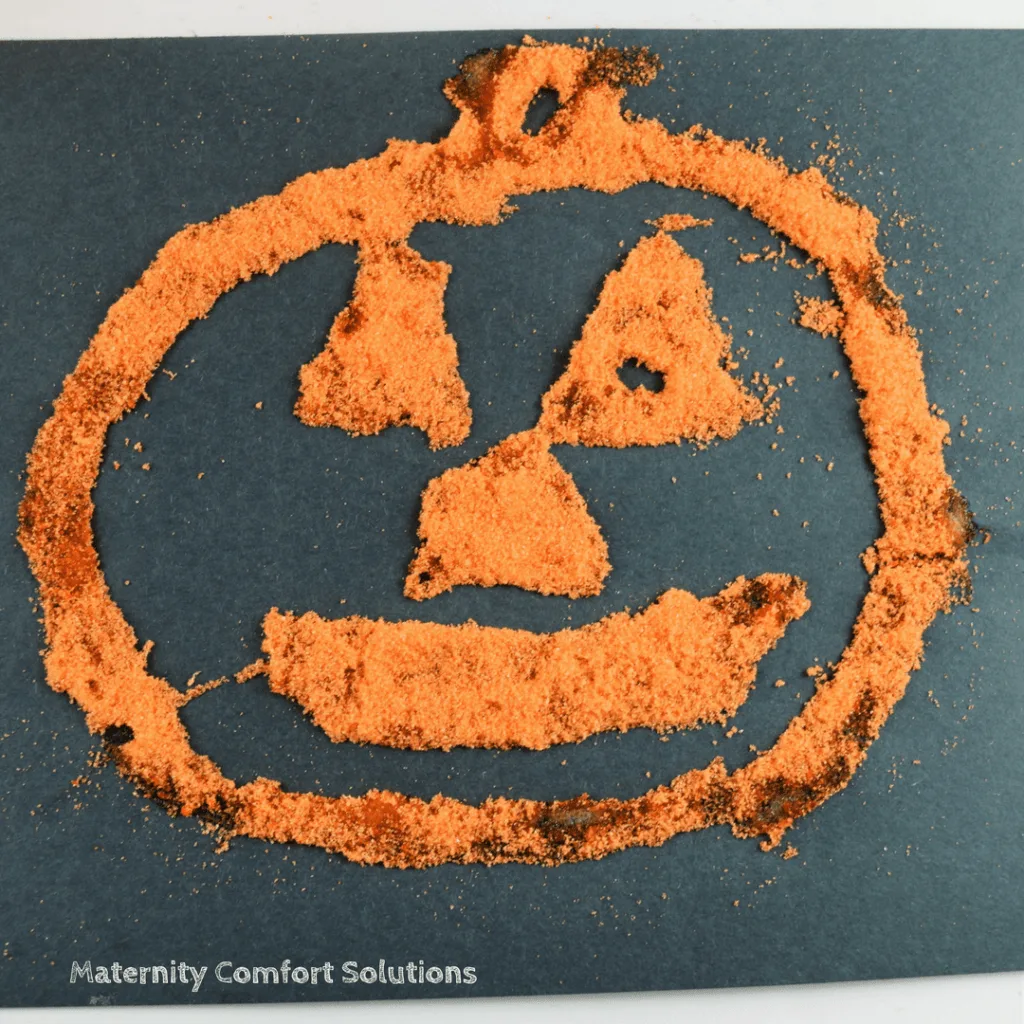 10. Start a Seasonal/Holiday Book basket:
The fall is the perfect time to start a seasonal/holiday-themed reading basket. You can add books about fall, Halloween, Thanksgiving and that rolls up right into all the amazing winter Holidays.
You can start a before-bed reading routine which helps foster a love of reading in your toddler and has the bonus of signaling that it is time to prepare for sleep.
Having nightly routines and enjoyable rituals help to cut down on power struggles over bedtime. Some of the Fall seasonal books we enjoy in our house include:
The Itsy Bitsy Pumpkin
The Busy Little Squirrel
[content-egg module=Amazon template=grid next=3 hide=price cols=3]
11. Go to a fair/petting zoo:
Country fairs can be one of the most exciting fall activities for toddlers. They are located in rural communities as animals and agriculture are the focus.
If you live in a rural area or make a point to bring your child to the countryside, fairs can be a great experience to show your child what goes on throughout the country if you live in the city.
Fortunately, most large country fairs are not far from major cities. There are also many State Fairs. For more information about this, check out the links below:
A recent visit to one of our local fairs: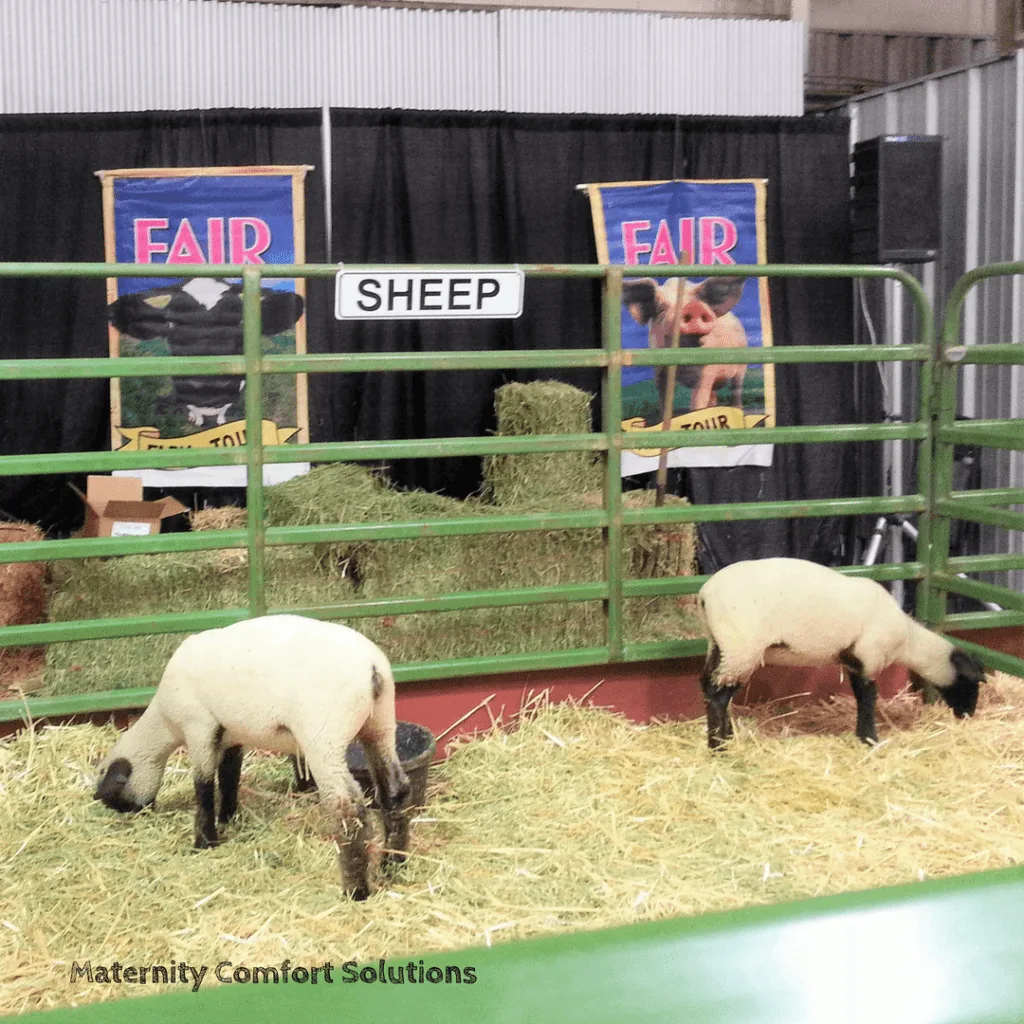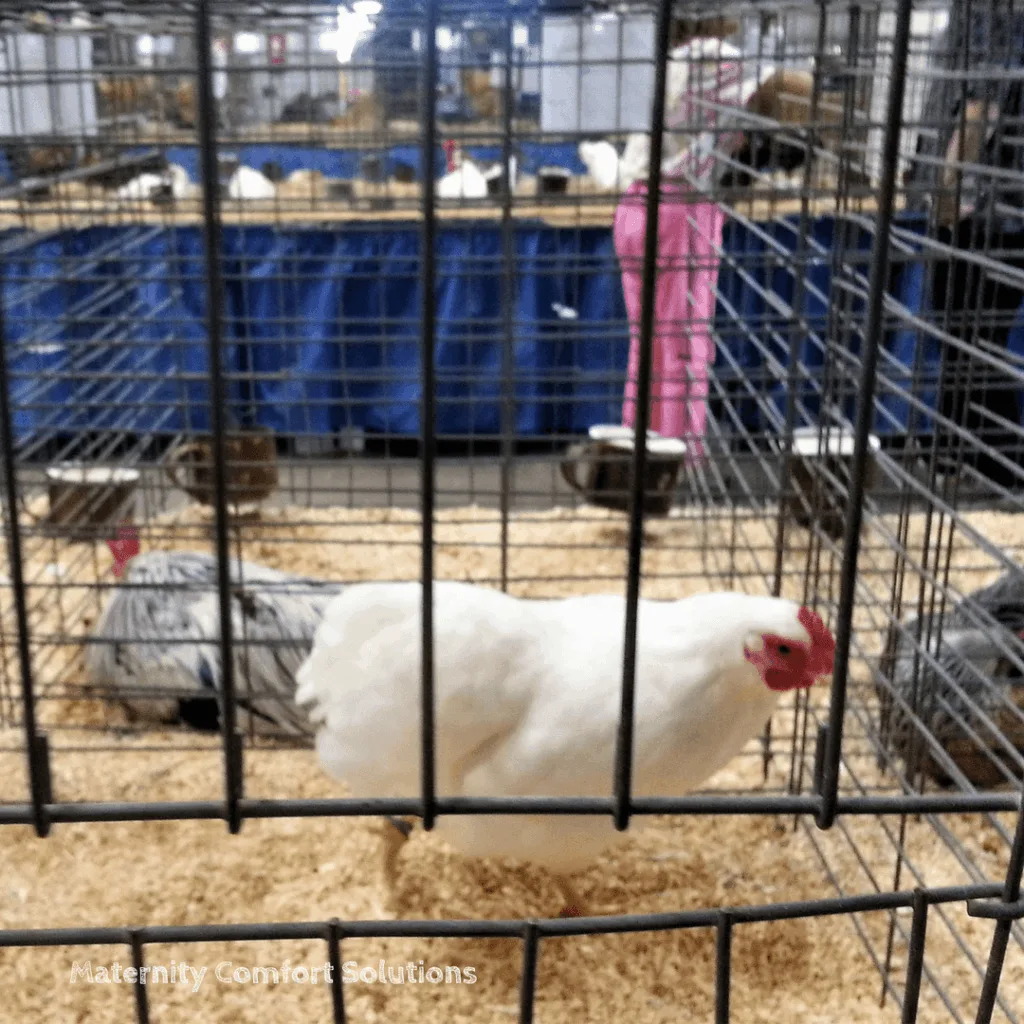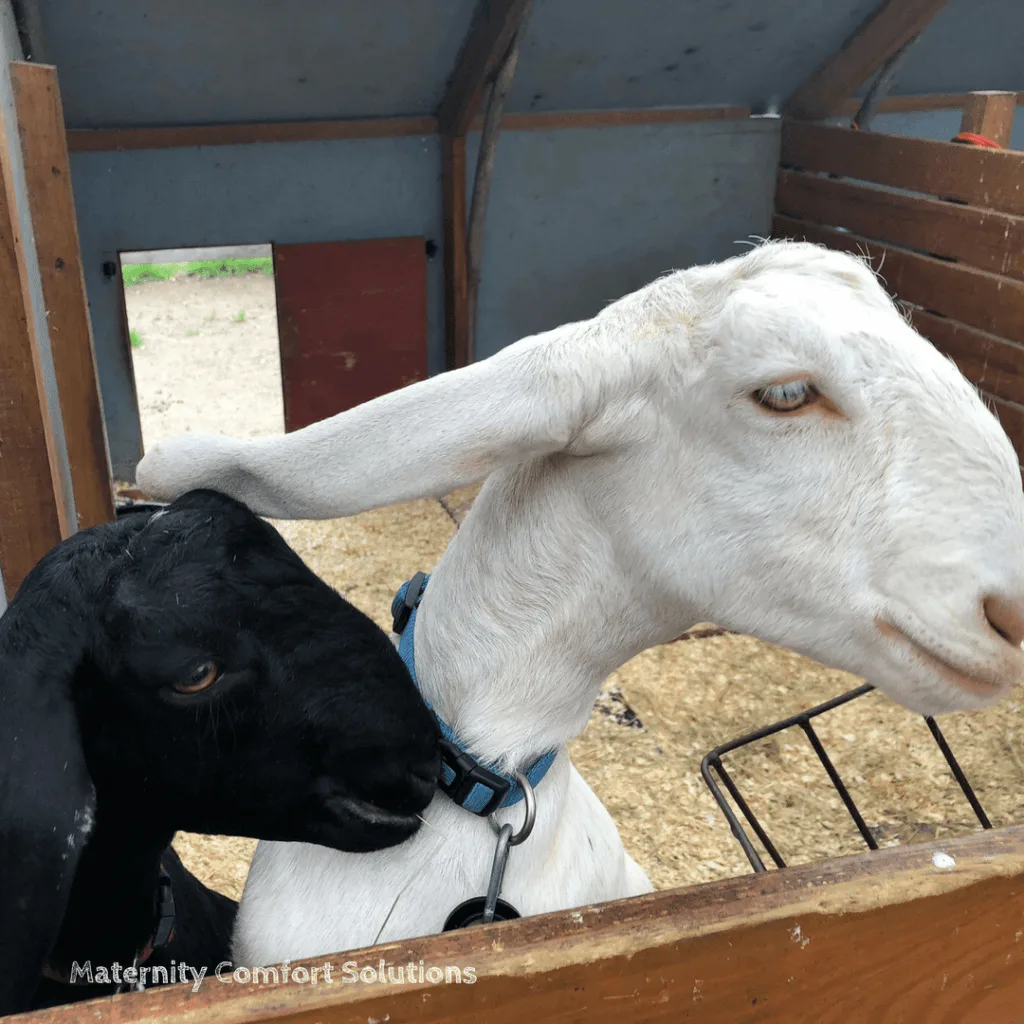 Additional Fall Activities For Toddlers:
Rake a big pile of leaves together to jump in.
Make a scarecrow
Other articles you might find helpful:
We hope you have found some of our suggestions helpful.
Remember things don't have to be expensive to be memorable!