Updated November 20, 2023
Thanksgiving is a time for family, feasting, and of course, a healthy serving of fun!
If you're wrangling toddlers and preschoolers during this bustling holiday, you know that keeping those little hands and minds occupied is as essential as the turkey on the table.
That's where these delightful Thanksgiving activity placemats come in—a cornucopia of entertainment and education that I've personally crafted with love and a sprinkle of holiday magic.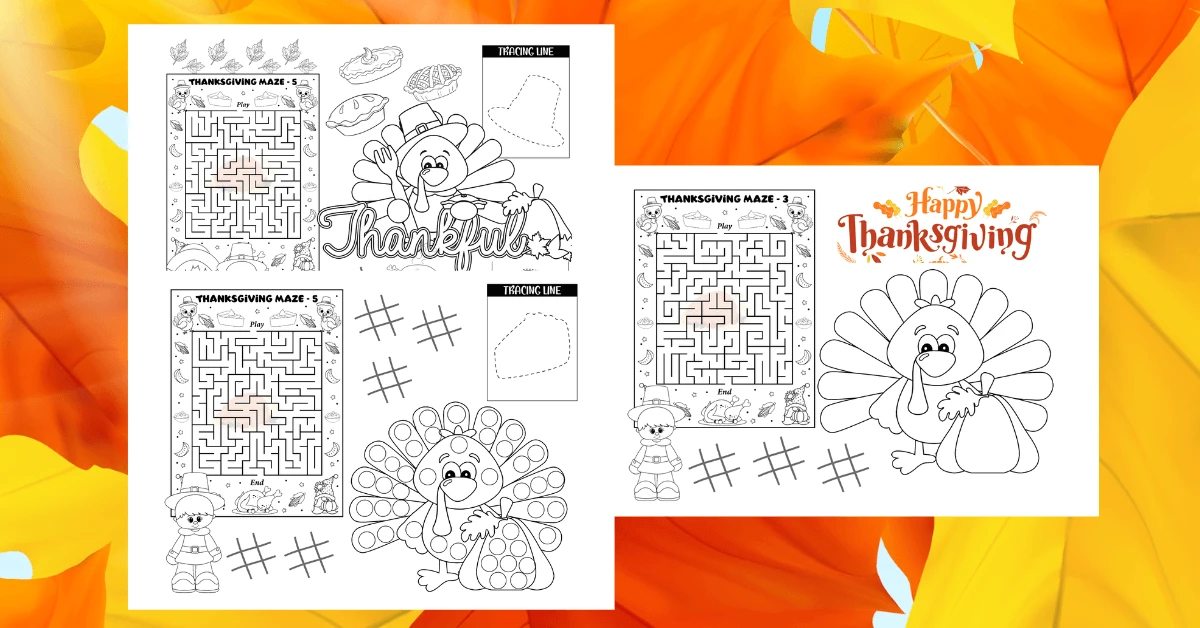 I use these Thanksgiving activity mats as sanity savers the week before Thanksgiving and Thanksgiving morning as I prep dinner.
They keep our kids, nieces, and nephews busy while we get Thanksgiving dinner on the table.
I have also found that using activity placemats helps my picky kids eat more
I hope you enjoy these free printable Thanksgiving placemats for kids as much as we do!
3 Thanksgiving Activity Placemats for Kids
1. Thanksgiving Maze with Pilgrims and Turkey:
This Thanksgiving placemat features a detailed maze where children can guide the pilgrim characters to a festive turkey, encouraging problem-solving and fine motor skills.
The border is decorated with thematic Thanksgiving elements like leaves and pies, adding to the festive spirit and offering additional coloring opportunities.
My kids love the turkey do a dot activity on this mat and I'm sure yours will too!
I tried to make sure these Thanksgiving placemat activities would be fun for toddlers!
Many of the Thanksgiving activity placemats I came across when searching for them were too advanced for toddlers and young preschoolers.
So I decided I was going to need to make my own and this is the first one I designed.
DOWNLOAD YOUR FREE ACTIVITY PLACEMATS HERE
2.'Thankful' Turkey Coloring Sheet:
Centered around a large, friendly turkey with the word "Thankful" above it, this placemat invites children to express their gratitude and creativity.
The turkey's feathers are spread wide, perfect for coloring, and the placemat includes additional Thanksgiving-themed tic tac toe games!
This is perfect for older preschoolers!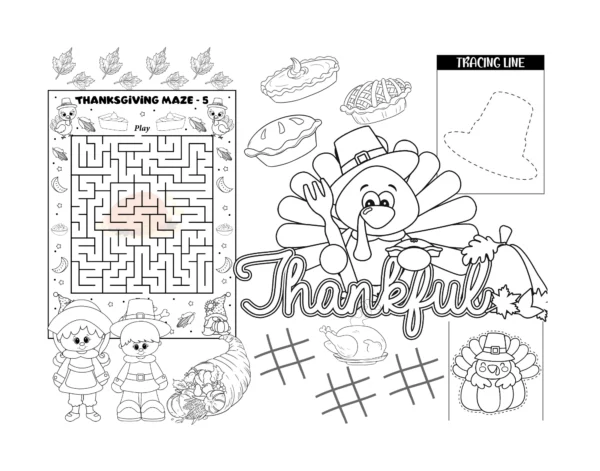 DOWNLOAD YOUR FREE ACTIVITY PLACEMATS HERE
3. Happy Thanksgiving Turkey with Decorative Elements:
This placemat is a cheerful coloring page that features a turkey in the center surrounded by decorative elements and the greeting "Happy Thanksgiving" in a playful font.
It's designed to capture the joy of the holiday and provides a fun way for children to engage with Thanksgiving traditions through art.
My kids love coloring turkeys during the Thanksgiving holidays so I knew this one would be a big hit.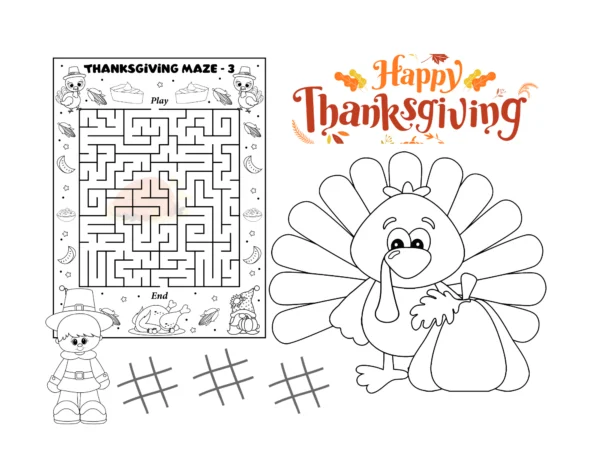 DOWNLOAD YOUR FREE ACTIVITY PLACEMATS HERE
Thanksgiving-themed fine motor activities
Thanksgiving offers a wonderful opportunity to engage toddlers and preschoolers in activities that not only celebrate the holiday but also help develop their fine motor skills.
Here are five easy and fun Thanksgiving-themed fine motor activities:
Turkey Feather Plucking Game:

Create a paper or craft foam turkey and attach clothespins as feathers. Children can practice their pincer grip by plucking the feathers from the turkey and then attaching them back on. This activity is excellent for developing hand strength and coordination.

Thanksgiving-Themed Playdough Mats:

Provide playdough along with laminated mats that have Thanksgiving pictures such as turkeys, pumpkins, or pies. Encourage kids to use the play dough to follow the outlines or add features like feathers to a turkey. Manipulating playdough is great for building hand muscles and enhancing creativity.

Pumpkin Seed Sorting:

After carving pumpkins, save the seeds for a sorting activity. Give toddlers tweezers or small spoons to sort the seeds into different containers. This activity is not only engaging but also helps with hand-eye coordination and fine motor control.

Corn Kernel Art:

Glue individual corn kernels onto a piece of paper to create a picture or pattern. This can be a turkey, a cornucopia, or a simple autumn leaf. Picking up and placing each kernel is a delicate task that improves precision and dexterity in little fingers.

Leaf Lacing Cards:

Create lacing cards using sturdy cardboard cutouts in the shape of fall leaves. Punch holes around the edges and provide yarn or shoelaces for children to thread through the holes. This activity is excellent for practicing hand-eye coordination and is a precursor to learning how to tie shoes.
Websites for Thanksgiving Activities and Printables:
DLTK's Holiday Crafts for Kids – This site is a treasure trove of Thanksgiving craft ideas, coloring pages, and printable activities tailored for young children.
Education.com – A fantastic resource for printable worksheets and activities that blend Thanksgiving fun with educational content, perfect for preschoolers and older toddlers.
Busy Toddler – Known for easy and engaging activities, Busy Toddler offers a variety of Thanksgiving-themed ideas that are perfect for little hands and curious minds.
Books for Thanksgiving Inspiration:
"Turkey Trouble" by Wendi Silvano: A humorous story that can spark ideas for turkey-themed crafts and activities.
"Balloons over Broadway: The True Story of the Puppeteer of Macy's Parade" by Melissa Sweet: This beautifully illustrated book is a great way to introduce the history of the Macy's Thanksgiving Day Parade and inspire parade-themed crafts.
"Thanks for Thanksgiving" by Julie Markes: A sweet, simple book that's perfect for sparking discussions about gratitude and family.
Blogs and Articles:
The Artful Parent: Known for its artistic and easy-to-do activities, this blog has several Thanksgiving-themed art projects that can be adapted for toddlers and preschoolers.
Pre-K Pages: A blog with a wealth of information and ideas on preschool education, including Thanksgiving activities that are both fun and educational.
Teach Preschool: Offers a variety of hands-on learning activities and crafts themed around Thanksgiving, ideal for young learners.