Are you wondering what to pack in your hospital bag for a c-section?
I've got the list of must-haves you need.
My first baby was born via emergency c-section.
I was unprepared. I was totally unprepared. Don't be me.
Whether you having a scheduled c-section or you are planning for a vaginal delivery, you need to be prepared with a few extra things in your hospital bag to make your delivery and postpartum stay easier.
Let me tell you all the things you'll need and what to expect after your c-section delivery.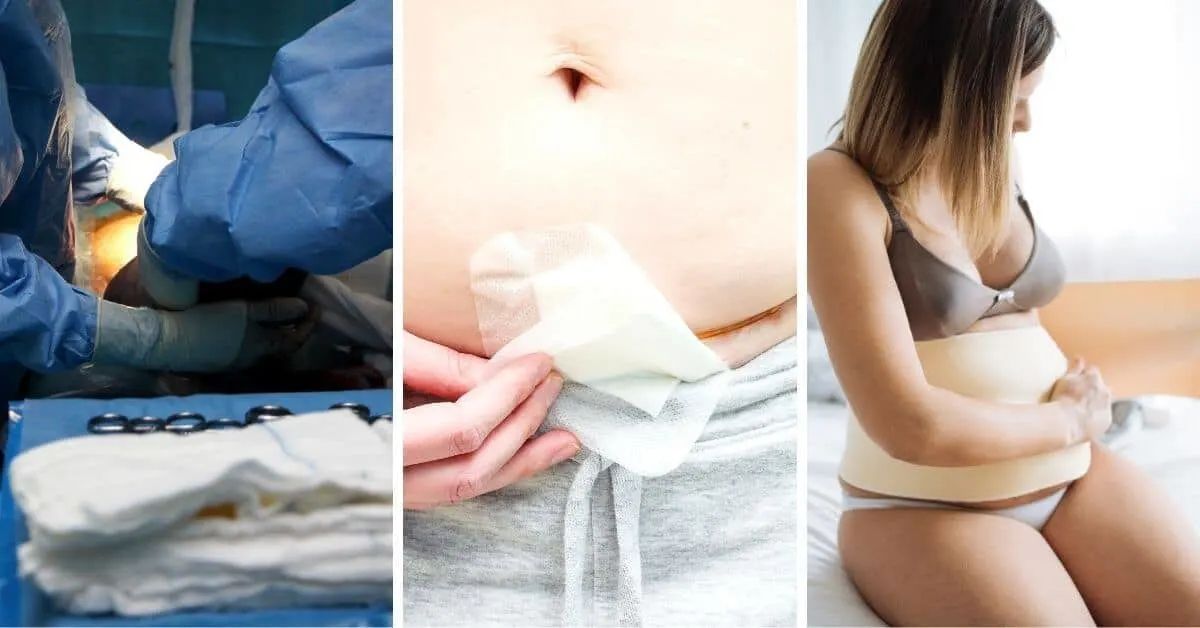 During the last weeks of pregnancy, you'll start packing your hospital bag.
Here is what to pack in your hospital bag for a c-section.
Packing for the birth of a first child is tricky.
Underpacking can be incredibly frustrating since there's no time to run out during labor and grab what was forgotten.
On the other hand, a stack of suitcases will only slow couples down, clutter their small hospital room, and do a big unpacking job for the very busy first days home.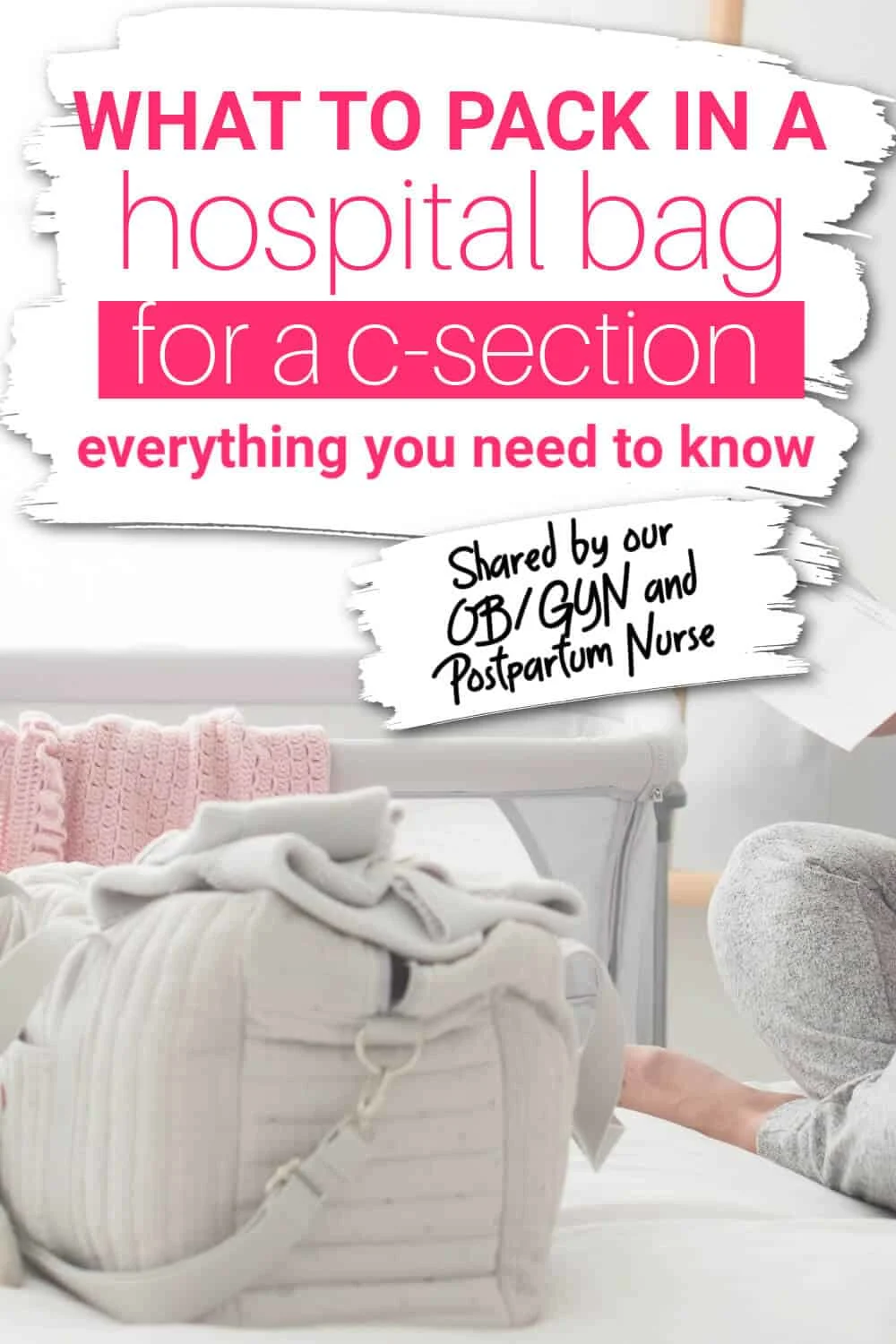 Hospitals provide much of what couples need during their stay, but here are the things no mom will want to be without.
If you are a new mom, you are probably overwhelmed with everything already, and having a C-Section may only add a bit of extra stress.
If you have delivered by C-Section before, you probably remember items that you took with you and those you wish you had taken with you.
Being prepared with some must-haves for a C-Section recovery will make things a little less stressful so you can enjoy the days after the baby arrives.
Here's a list of what to pack in your hospital bag for a c-section:
Hospital paperwork and insurance card
Couples should pick their paperwork up from their hospital of choice and fill it out early.
They will want to make certain these papers are one of the first things to go into the delivery bag.
Double-check with the hospital to make sure your registration is complete and to pay any required up-front fees, like your deductible.
Robe
Hospitals provide gowns, but you'll want a robe to wear when you get up to walk. Which you'll want to do as soon as your nurse OKs that you can get up and get moving.
It sucks and I'm not saying do laps around the postpartum floor, but do try to get up and walk a little.
It get things moving, it helps prevent blood clots, and it promotes healing.
Get a robe that feels comfy and will make you feel better after surgery.
Slippers
Comfortable slippers with good traction are a must for women walking the cold, tile hospital floors.
Get a pair of slip-on shoes, I love these slip-on shoes by Nike.
You may have swelling in your ankles and feet after your c-section. Normal shoes can be difficult to put on.
Slip-on shoes will help you keep from having to bend down to put on and tie the shoes.
Non-skid socks
Bring a few pairs of non-skid socks.
You'll be sore and getting up and down with the baby frequently is a likely scenario.
You don't want to slip and fall with the baby in your arms.
Hospital floors are notoriously slippery.
Loose Fitting Clothing
With either a C-Section or natural delivery, loose-fitting clothing to wear afterward and the days following delivery are a must.
Some moms wear skirts or dresses afterward because it is more comfortable, but sweats and lounge pants are fine too.
You want to wear clothes that won't irritate your c-section incision.
I had a vertical c-section cut and everything bothered my incision, but my c-section was an emergency and that type of c-section cut is very rarely done.
These jogger lounge pants with elastic waist and drawstrings were the only pants I could stand wearing for weeks.

Everyday Lounge Joggers | Black
from: Kindred Bravely
Your c-section incision will most likely be a very low, small, and horizontal incision. So sweats or loose-fitting lounge pants will be super comfortable for you.
After delivering, you want to be as comfortable as possible so wear whatever will help you.
Nursing Tops
If you plan to breastfeed your new baby, you'll want to come prepared.
Doctors, nurses, and well-wishers visit at all hours, so nursing gowns offer the best way to cover up while feeding the baby.
You can choose a comfy nursing gown or loose fitting nursing tops.
I preferred nursing tanks.
Nursing bras
You'll want some comfortable nursing bras if you are going to breastfeed.
I swear by Kindred Bravely for nursing bras and nursing tanks.
You can't beat them for quality and durability.
Get a couple of sets of nursing pads. whether you breastfeed or not, your breasts will leak colostrum for the first few days.

Organic Cotton Nursing & Sleep Bra | Sky Tie Dye
from: Kindred Bravely
Nursing bras make breastfeeding easier and they are made to provide support.
You'll be very glad you have them after your baby is born.
If you are formula-feeding, I recommend some supportive sports bras.
You will be uncomfortable until your milk dries up and a good sports bra can make all the difference.
Kindred Bravely has the best selection of nursing bras that new moms rave about!
I heard about this store in a new mom's Facebook group. I was not disappointed.
You will be so grateful you did. I wish I had the first time around.
Nursing bras are more than just easy access, they need to be supportive and comfortable. Because you are going to be sore and breastfeeding isn't always easy.
The very last thing I wanted anywhere near my breasts was an uncomfortable bra.
Here is a tip: You can get 10% off your first purchase by signing up for their email list.
Take 10% off your first purchase when you sign up for our mailing list!
If you are not going to breastfeed the following routine is best to avoid the letdown of breast milk and most efficiently stop breast milk production:
Apply ice packs to your breasts
Wrap a tight binder around your chest or wear a tight bra
Avoid any nipple stimulation
Avoid hot showers or hot tubs
A Pillow for Support
Having a support pillow after delivery can help relieve the pain in your incision area.
I believe a pillow to hold over your incision for when you cough, sneeze, or laugh is a must-have item after a c-section.
You may also get some relief by propping your legs up and a support pillow or pillows to prop yourself while sitting up to help you stay comfortable.
Mesh Underwear or "Granny Panties"
You will want something comfortable to wear under your clothes. Looks do not matter here. It is all about comfort.
High-waisted panties can be comfortable, but you will want to make sure they are high enough to avoid your incision.
Mesh underwear is also easily disposable, but you can wash them on a delicate cycle like you would with normal panties.
They will also help everything in place as well as catch any of the discharge that may happen after delivery.
The hospital will provide you with mesh underwear and pads.
You will still need them even though you are having a c-section.
The vaginal discharge you will have postpartum is called lochia.
Lochia consists of blood, mucus, and tissue (decidua) sloughing off from the uterine lining.
Vaginal bleeding will likely not be as heavy since the uterine cavity is inspected and cleaned at the time of delivery.
Maternity support belt
A maternity support belt or belly band can help you feel more comfortable moving around after a c-section.
When you stand up to walk it does feel like your insides are going to fall out.
It can be an uncomfortable sensation and wearing maternity belt can give you a little extra support during your postpartum healing.
Breastfeeding Pillow
If you are planning to breastfeed your baby, a breastfeeding pillow is helpful and will help make keep your C-Section incision protected.
Items for the Postpartum Hospital Stay
Telephone numbers of family and friends
Make a list of everyone to call with the good news.
Charging cables for your phone
Don't forget a charging cable for your phone.
You might want to pack an extension cord in case the only plug that works is not right next to the bed.
It happens and you won't feel like getting up and down every time your phone rings or pings.
You can also get a couple small power banks and charge them before you go to the hospital.
They work really great and you won't have to deal with plugs at all.
Toiletries
You should pack a toothbrushe and toothpaste.
Bring a hairbrush and ponytail holder if you have long hair.
I wouldn't go crazy bringing a lot of make-up or hair products.
C-sections are major surgery and you are going to be sore.
You are more likely to want to stay in bed rather than take a shower and put on make-up.
Treats for the delivery staff
It's a common practice to bake or buy tiny gifts for any doctors, midwives, or nurses who assisted with the delivery.
This is a nice way to say "Thank you".
Stick with pre-packaged snacks like chips, protein bars, granola bars, and candy.
But don't feel like you need to do this if money is tight.
It is not mandatory or expected by staff.
We'd rather you spend that money on yourself and your new baby.
Snacks for yourself and your partner
Bring snacks for your partner and yourself.
Consider pre-packaged snack-size packs of your favorite munchies.
It is super important to stay well hydrated if you are breastfeeding.
You may want to bring a few of your own waters or others drinks with you.
I know I got sick of hospital water fast.
Items to Pack for the New Baby
A few outfits
Hospitals provide clothes for the baby during their stay, but if moms want to dress their new babies up for photos or the ride home, they'll want to bring a few comfortable outfits.
Check with the hospital and see what their policy is. some hospitals only allow the baby to wear hospital-supplied clothing until discharge.
I kept my son in these newborn gowns in the hospital.
They made diaper changes so easy in the middle of the night.
Blanket, cap, and booties
It's likely the hospital provides these, but moms may want to toss them in just to be sure if the weather is going to be cold.
Carseat
The new family won't be leaving the hospital without one. Staff generally accompany parents to the car to see whether the car seat is properly installed, so parents will probably want to research this ahead of time.
Pacifiers
If you plan to use a pacifier, be sure to bring your own in case the hospital does not provide them.
There are some hospitals that have new policies about pacifiers and bottles. Ask if you are unclear about the policy.
Over 500 hospitals in the US now have the Baby-Friendly Hospital Initiative(BFHI) designation. The BFHI program is designed to offer women the support and education they need to successfully breastfeed their newborns (Baby-Friendly USA, 2018).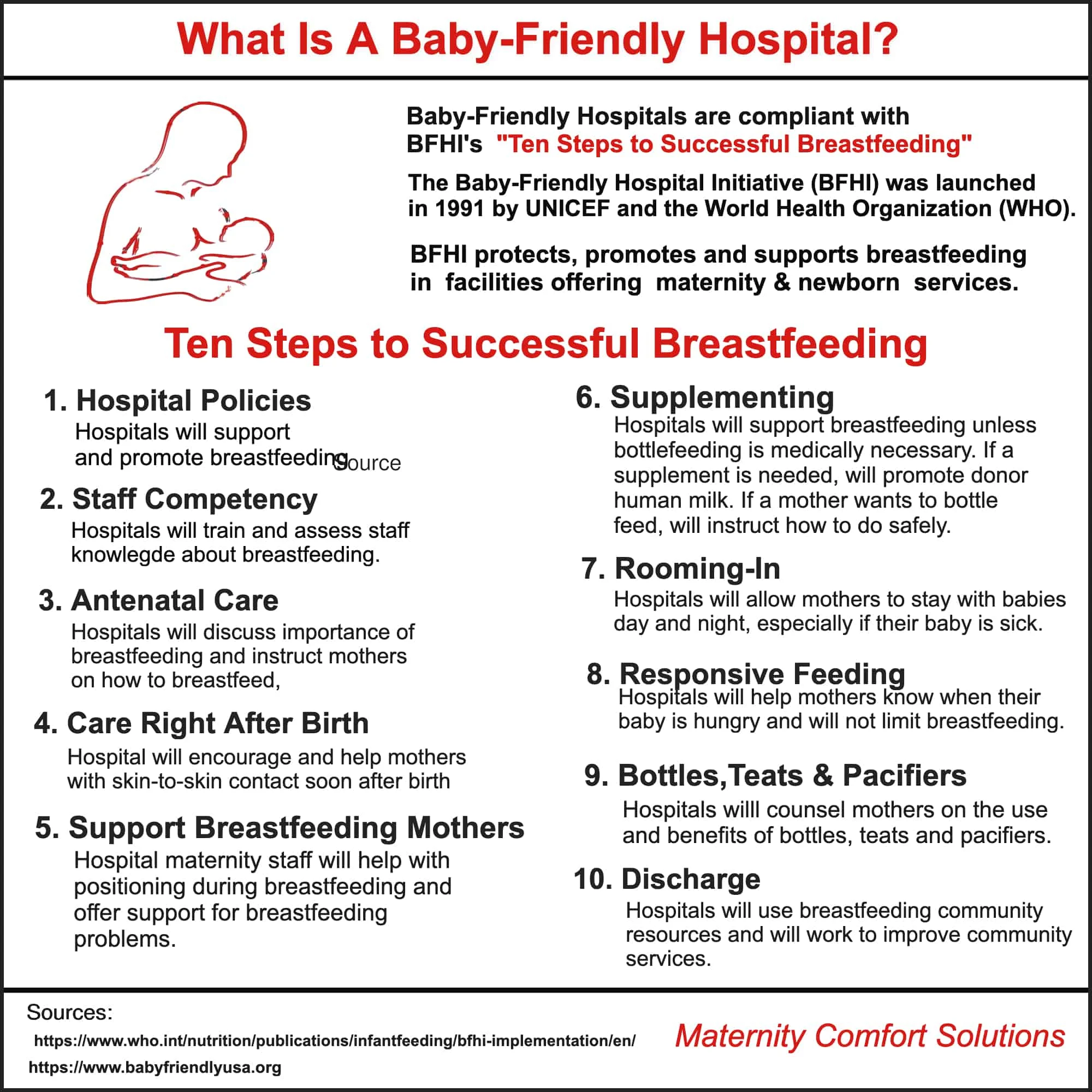 This is a great video on what to pack and not pack for scheduled c-section:
Final Thoughts
Packing a labor bag with all the essentials will help moms feel prepared when the big day arrives.
You certainly can't forget about the normal pregnancy must-haves and items for your new baby.
Going home clothes or both you and baby, a car seat, no-skid socks, a camera, and other items you will want to take along with you.
Don't forget the charging cables!
These are just a few of the must-have items you will want to take for a C-Section delivery.
No matter which way you are delivering, preparing to deliver your baby whether it is by C-Section or natural is stressful.
Packing a labor bag with all the essentials will help moms feel prepared when the big day arrives.
Remember, a C-Section is surgery so you will want to protect the incision and do an as little stretching, twisting, and turning as much as you can.