Many new moms wonder how long does a baby stay in newborn diapers?
This is going to vary a lot depending on your baby's birth weight.
Size 1 newborn diapers are meant for babies weighing from 8 – 14 lbs.
Since many babies are born over 9 pounds, it is possible your newborn might pass right through the newborn diaper stage.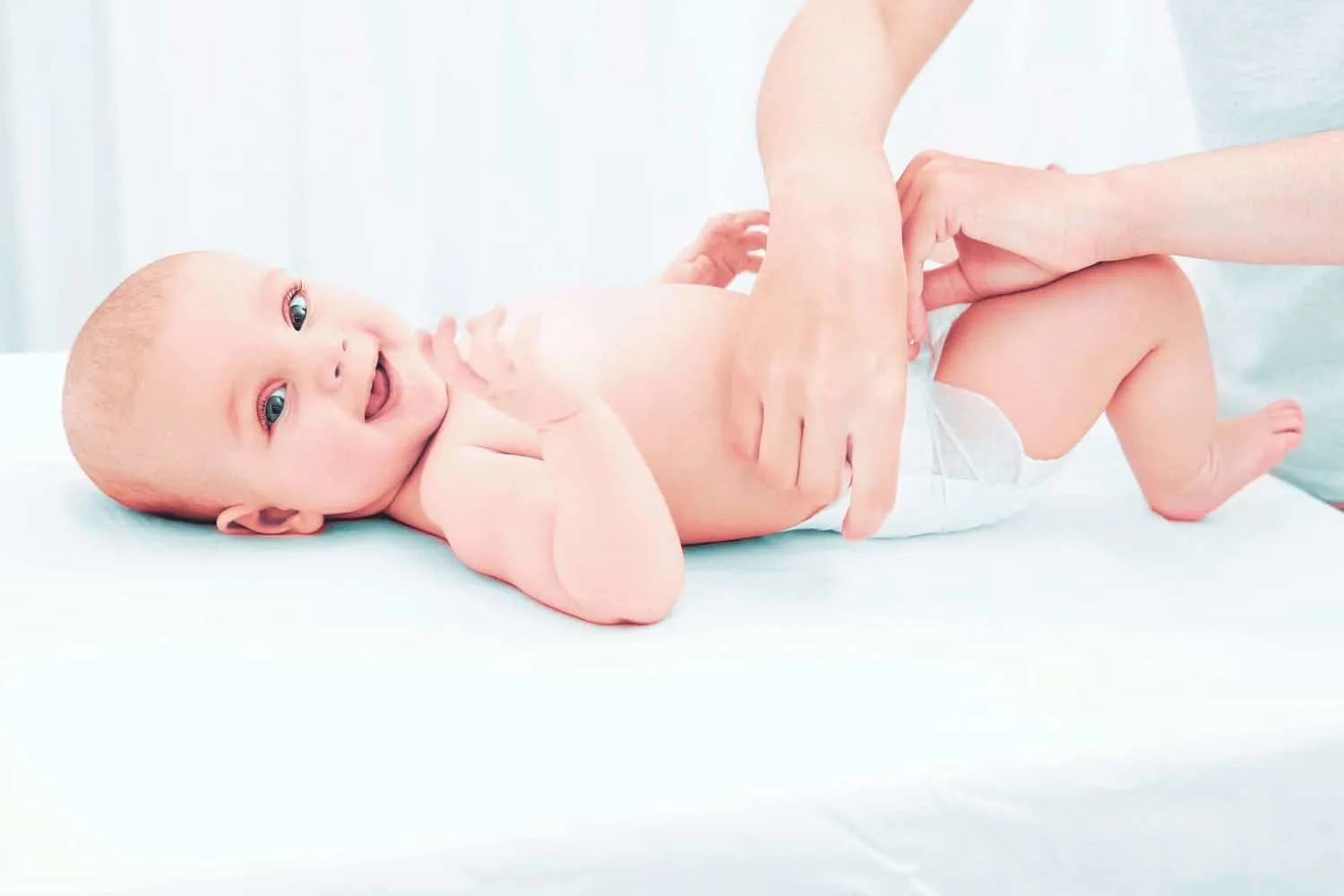 How Long Does A Baby Stay In Newborn Diapers?
Once you have determined the diapers you will need, the next step is to decide what products are truly necessary to properly change a newborn's diaper.
Though baby wipe warmers and other such items are appealing to new parents, an item such as this is not essential.
Most diaper-changing accessories offer no advantage over the simple items that have been used for many years.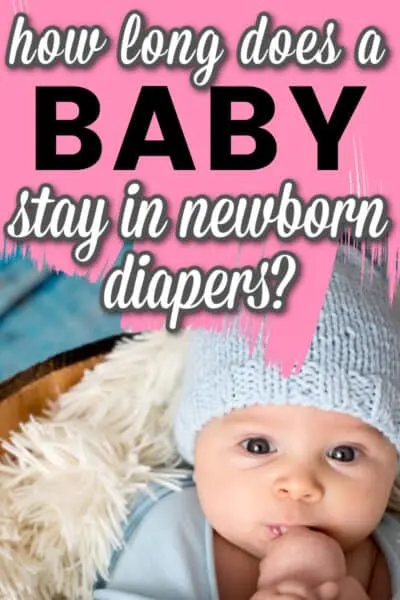 Newborn Diapers
There was a time when selecting diapers for your newborn was hardly a challenge.
You basically had one type, and that was white, square, cotton diapers. A lot has changed!
When you are choosing diapers for your newborn baby, whether you use disposable or cloth diapers:
Make sure the place you store the diapers is easily accessible.
Choose a diaper that fits your infant well. If a diaper is too tight, it can cause irritation and if it's too loose it can fall off or leak.
You may want to try different brands of diapers since one type might fit better than another. You may find that you will have to change a brand as your baby grows to prevent leaking or irritation.
One thing for sure, the cloth diapers our grandmothers used have changed a lot! Now there are cloth diapers with inserts, pockets, and covers. And if you combine these features you have all-in-one (AIO) diapers which are much like disposable diapers … without the disposable.
Pocket cloth diapers make diapering much easier since you can simply fill the pocket with a thick or thin liner, depending on your baby's needs.
CLOTH DIAPERS

BlueSnail Baby Bamboo Cloth Pocket Diapers 6.5 lbs. to 33 lbs.
DISPOSABLE DIAPERS
Diapers Newborn/Size 1 (8-14 lb)
Wipes
The number of different types of baby wipes that are now available can make any new parent's head spin.
As if there were not enough things to be concerned about.
This is because the wipes are now made with a number of additives to treat and prevent sensitive skin reactions.
What to look for when you buy wipes for your baby:
Check out the ingredients many stores carry brands made for babies with sensitive skin.
If your baby has sensitive skin and you are concerned about what is best to use, ask your pediatrician.
To save money, you can use organic cotton wipes and a gentle solution made for wipes. Then you can just throw them in the wash with the diapers. It is one extra step but it can be well worth it.
Babyganics Baby Wipes, Unscented, 400 Count
Diaper Pail
Though you can go without a diaper pail, you will need some system in place to dispose of diapers or ready them for the laundry:
You can use a small trashcan near your changing table with a pedal to lift the top.
Or you can go for the more elaborate diaper disposal systems that are now available.
Dekor Plus Hands-Free Diaper Pail, White
The preferred approach for many new parents is to simply take dirty diapers directly out to the trash.
There are still times when you need an even easier option and a diaper pail can be the perfect solution.
Diaper Rash Cream
Perhaps the most common problem for newborn babies that wear cloth diapers is diaper rash.
The best way to prevent diaper rash is to change cloth diapers more frequently or when you first notice your child has soiled a diaper.
Unfortunately, this is not always possible for new parents especially during the first six weeks postpartum.
Let's just say changing diapers more often is easier said than done and it has nothing to do with how good a parent you are.
Desitin Daily Defense Baby Diaper Rash Cream with 13% Zinc Oxide
Some say that babies do not need diaper rash cream with every diaper change. This is a decision each parent will have to make.
Those who choose not to use a diaper rash cream with each diaper change, often change their approach after the first encounter with a bad diaper rash.
Diaper rash creams are excellent at protecting a baby's sensitive skin.
Diaper cream provides a barrier of protection that significantly decreases the chance your baby will develop a diaper rash.
In our article about what type of diaper to use, Disposable vs. Cloth Diapers, we explain that the first step if your baby develops a diaper rash is to let the skin completely dry before applying any creams or putting on a diaper.
Changing Table
Changing tables to change a newborn diaper can run the full spectrum when it comes to cost and what is most important when selecting a changing table.
What is most important is that the changing table you choose is sturdy and able to keep your baby secure.
Getting distracted, or simply bending over to pick something up can be enough time for your baby to move and potentially fall.
Unless you are changing your baby's diaper on the floor or on a bed, you want to be sure the changing table has sides so your baby will not fall.
Many changing tables are very simple and having the safety of sides is again, one of those decisions you will have to make.
Since many changing tables are placed on dressers, desks, or tables, you have to consider how high this is off the ground should your baby fall off the table.
Along the same line, you want to be aware, especially when not at home, of what flooring is under the changing table. A tiled floor is going to be less forgiving than a rug if your baby was to fall.
This might seem like a "belt and suspenders" approach to changing a baby's diaper, but you will likely not have to look too far for changing table accidents that none of us ever think will happen.
A quick Google search returned this story. The mother felt so bad, she remained anonymous:
"My baby fell off the changing table and I feel so guilty about it. I turned

my back for one second and boom. We called the pediatrician and she said

if she seemed happy and alert then we didn't need to bring her in. She

seems ok besides the initial shock and crying. Anyone have a similar

experience?" – Anonymous
Keep cleaning wipes next to the changing table, but not out of your reach.
This will make it easy to wipe down the table after each diaper change.
Changing your baby's diaper is the most frequent task you will do caring for your baby.
It is a good time to bond with your baby Keeping things simple will make diaper-changing a whole lot easier.
So when it comes to answering the question:
How Long Does A Baby Stay In Newborn Diapers?
If your newborn is of average size, probably a few months.
The only thing that matters is that the diaper fits properly so it is not irritating and does not leak.