We may earn money or products from the companies mentioned in this post. You can read full disclaimer below.
Updated June 6, 2021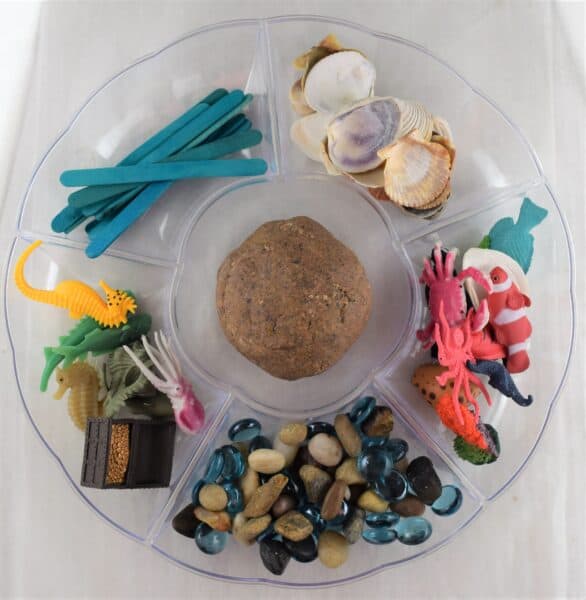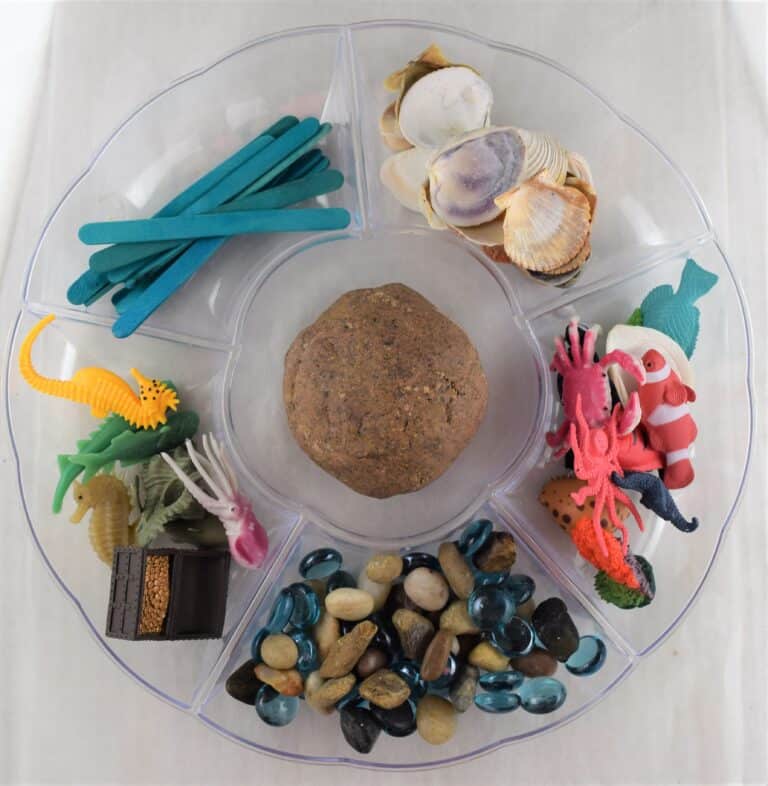 Are wondering how to make sand play dough? We've got the answer!
Making sand playdough is an easy and fun activity to do at home with your toddler.
Having lots of opportunities for sensory play is important to toddler development.
The invitation to play ideas we share are designed to encourage exploration and open-ended play.
They are also easily made at home.
Above all my goal as a mom is to keep it simple and help you do the same.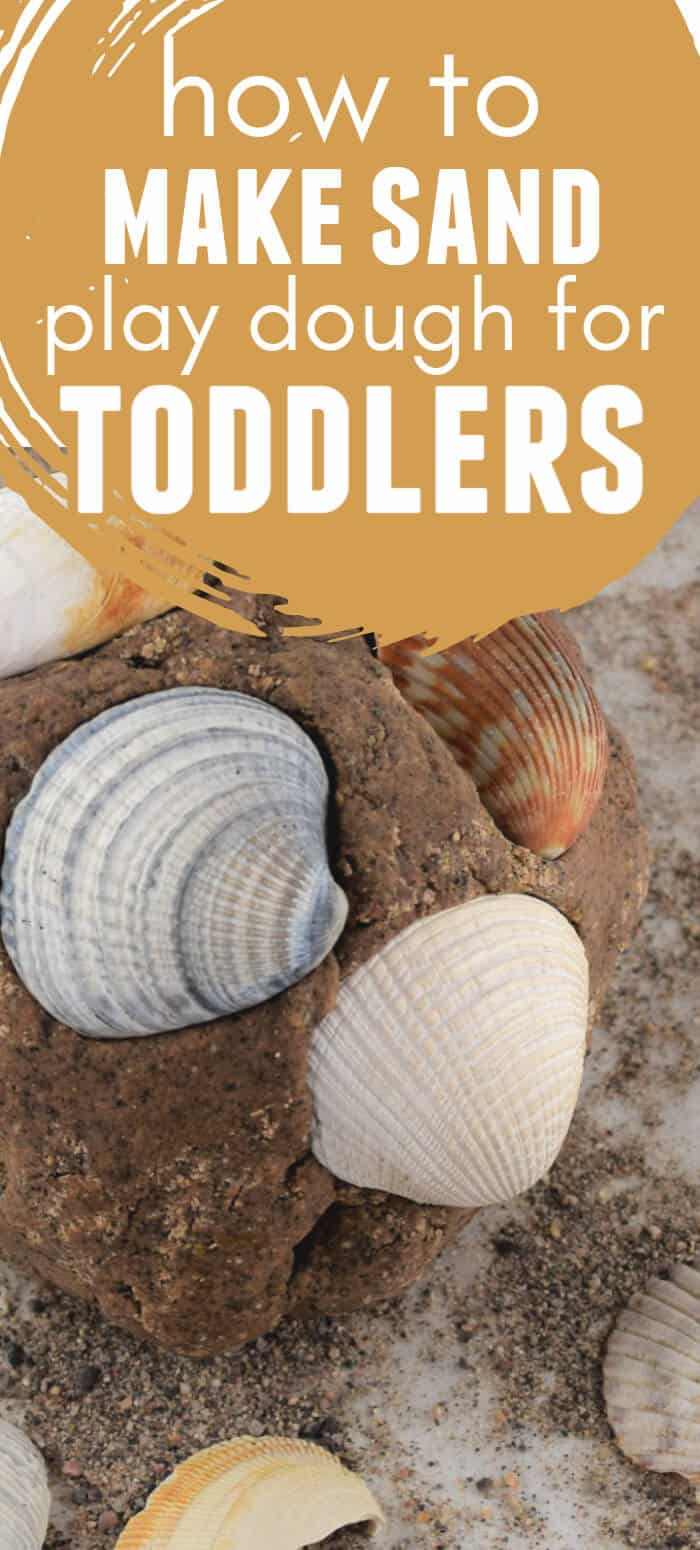 None of the playdough ideas below were expensive to make and none of them took more than 30 minutes from start to finish.
What is sensory play? 
Sensory play involves activities that use the five senses. These activities use the sense of touch, smell, sight, taste, and hearing.
Sensory play is vital to a child's brain development.
Research suggests pretend-play offers young children the opportunity to develop empathy and learn to regulate their behavior.
Toddlers learn about their environment and bodies through their senses.
Sensory play assists children with developing fine and gross motor skills and encourages problem-solving ability.
Sensory activities encourage open-ended play.
Therefore the child is free to explore and create without a set outcome or any expectation.
You can't go wrong with providing many opportunities for sensory play.
Playdough does not have to be expensive. It is very easy and inexpensive to make at home.
Most of the items I added to the trays came from the dollar store or were items we bought from Amazon.
One way to spark your child's imagination is to read some books about the ocean before you give them the sand play dough.
A list of my favorite ocean books for toddlers and preschoolers is below:
How To Make Sand Play Dough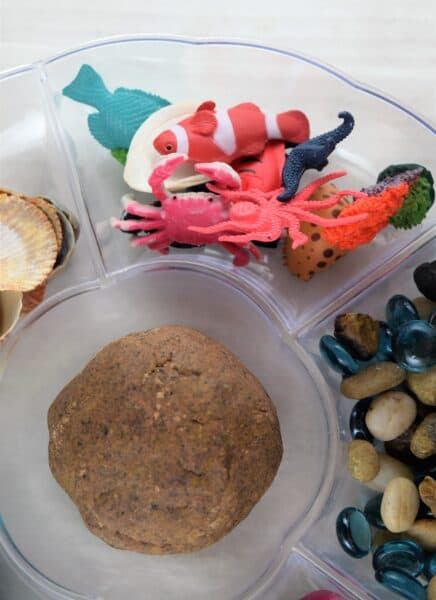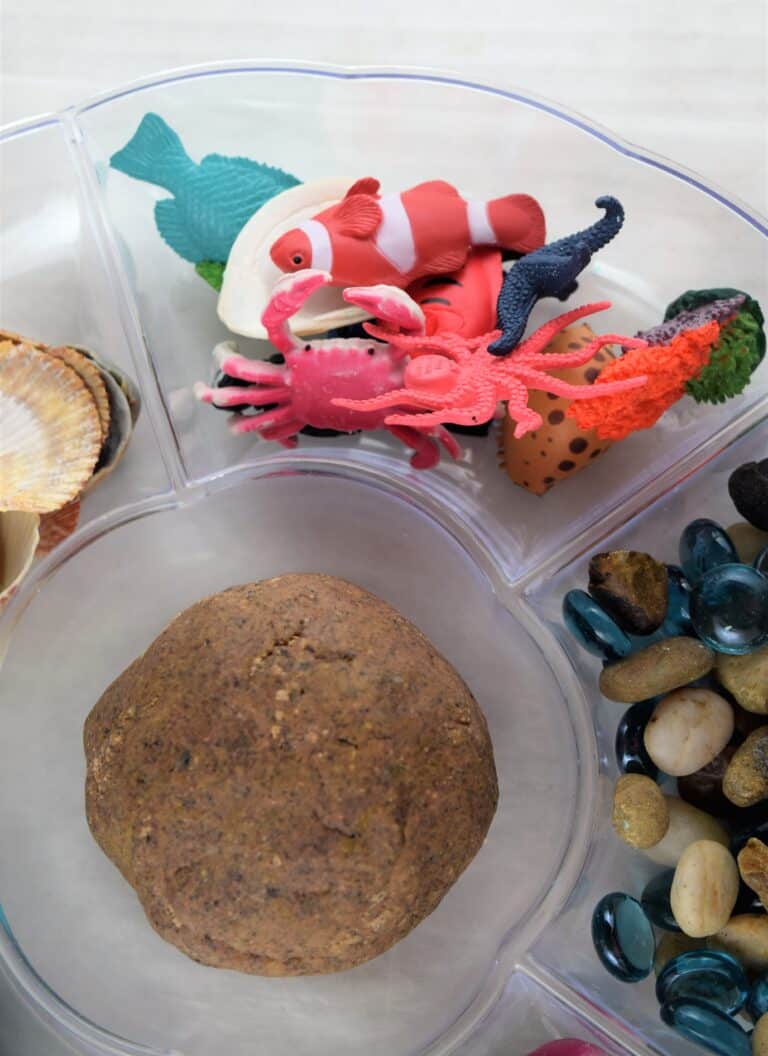 Sand play dough is fun and easy to make. It is a great rainy day activity.
We have brought it with us on beach vacations for the inevitable rainy day when we can't go to the beach.
The playdough makes an excellent boredom buster for a cranky cooped up toddler.
Recipe:
Ingredients
1 cup All-purpose Flour
1 cup Play Sand
¼ cup Salt
1 Tbsp. Cream of Tartar
1 Tbsp. Vegetable Oil
¾ cup Boiling Water
Directions:
Mix together the sand, flour, salt, and cream of tartar in a large bowl.
You can control the color of your sand by adding more or less flour.
You can also add some brown food coloring if your sand is very light in color.
I used brown food coloring in the sand playdough I made below. I wanted it to look like wet sand.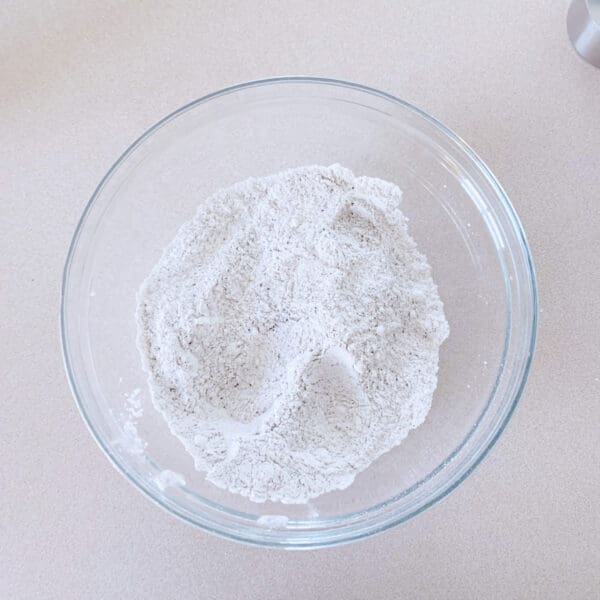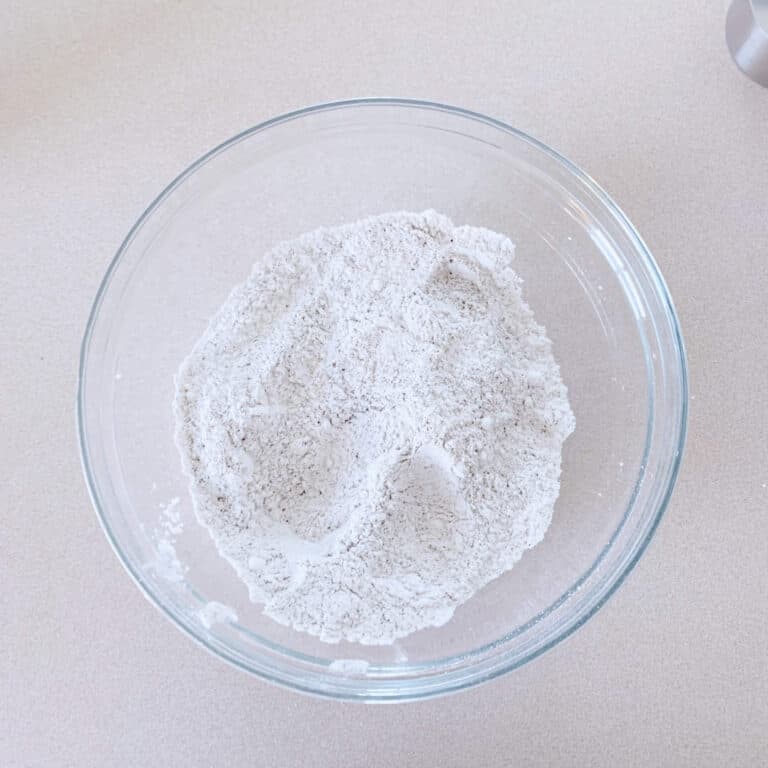 Add the oil and boiling water to the dry ingredients and mix well.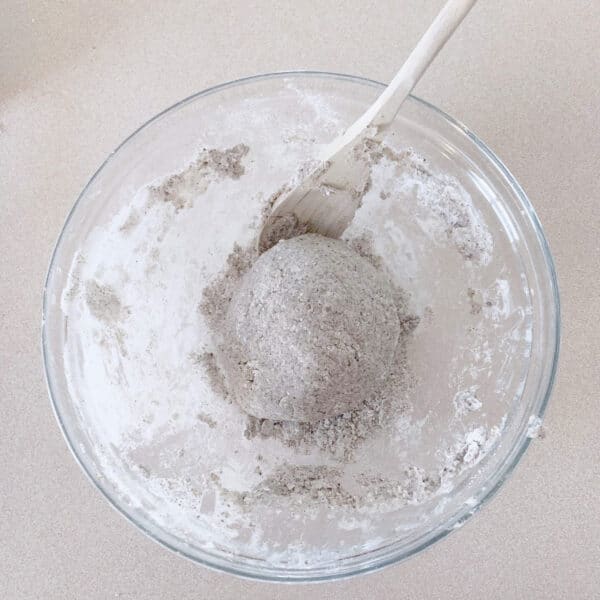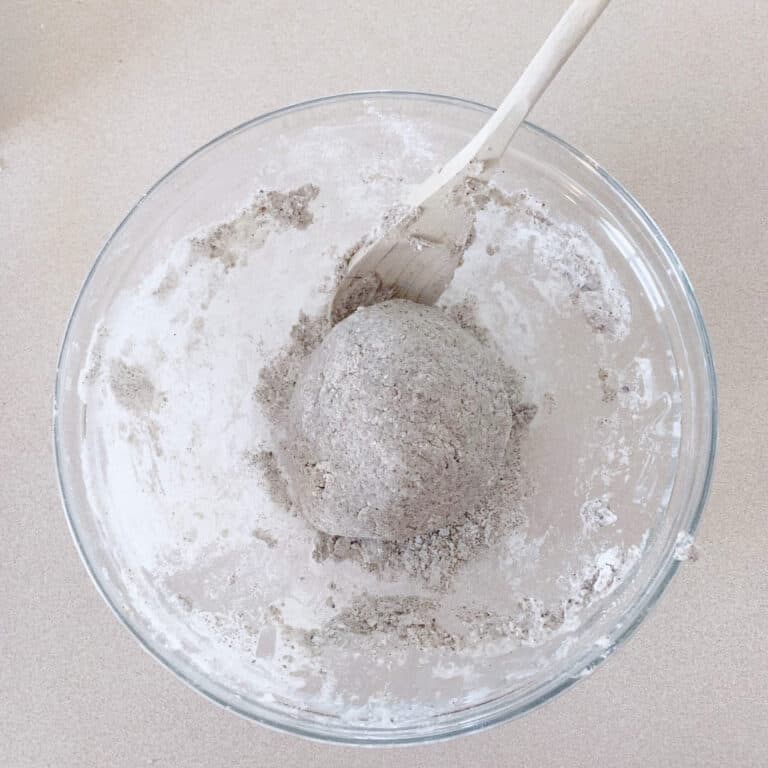 Knead the dough for 1-2 minutes until it is all smooth and combined.
Once it is cool, it is ready to use.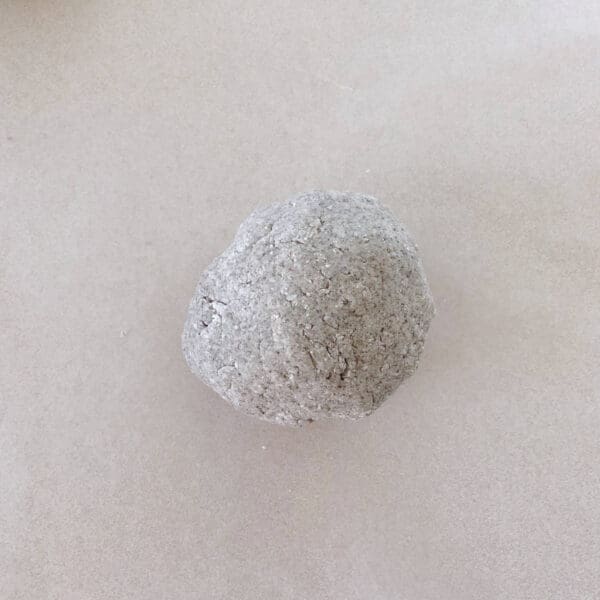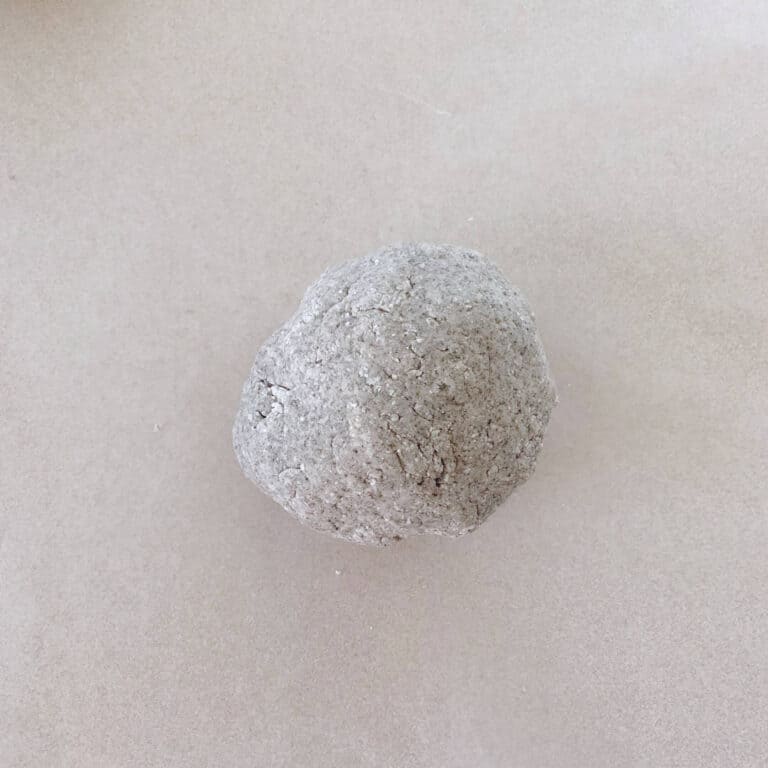 Are you planning a beach vacation with your toddler? We are sharing our 11 best time-tested tips to survive a beach vacation with toddlers. We really believe in keeping life as simple as possible. I am a work-at-home mom and vacation time is sacred.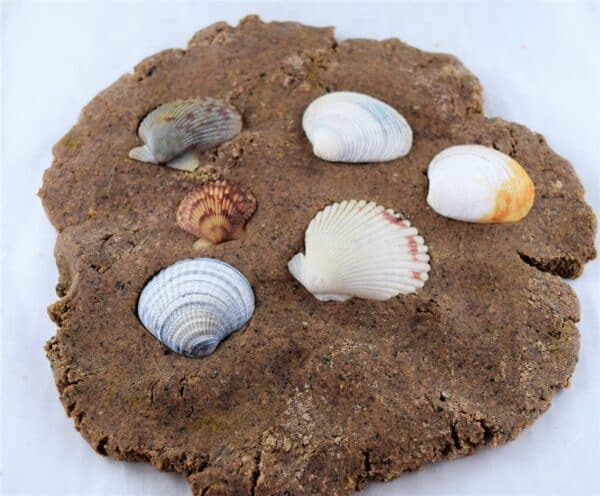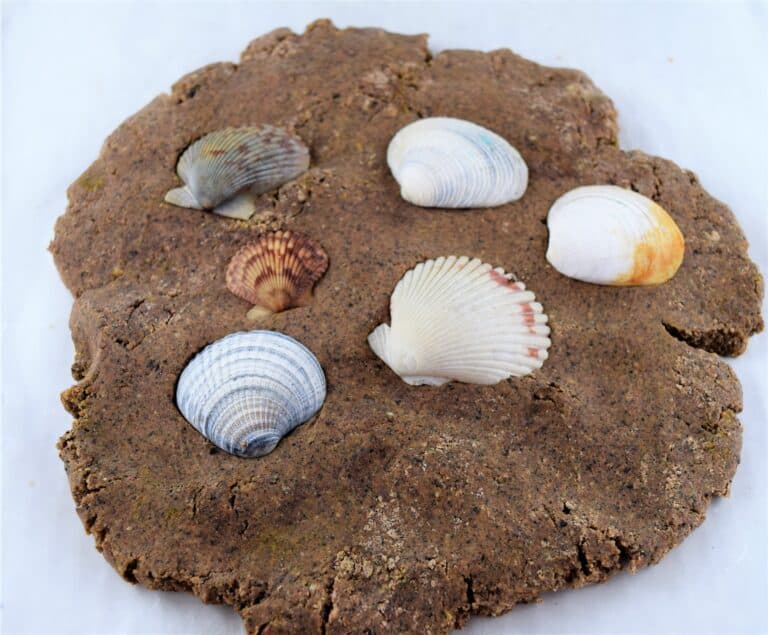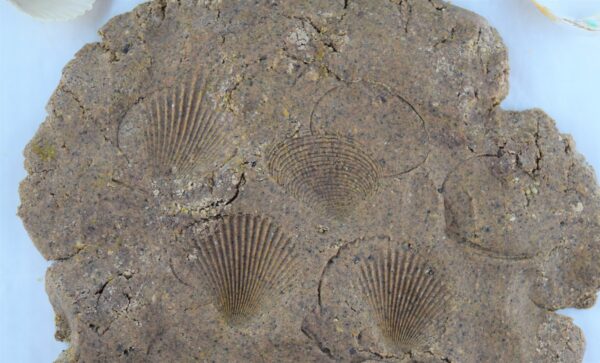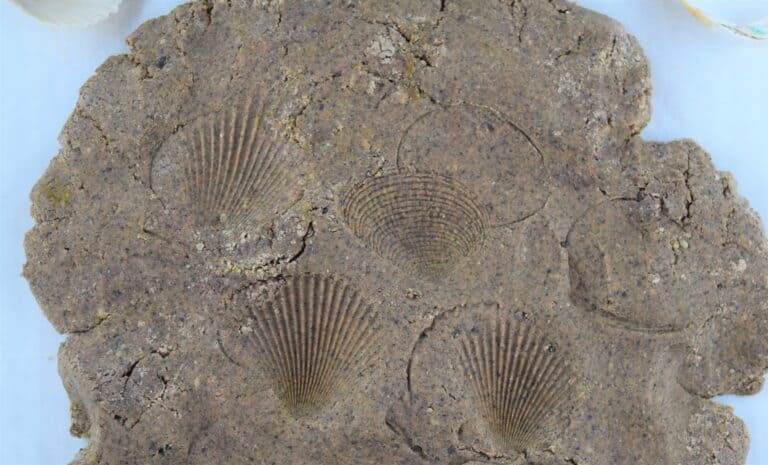 Shell printing with our sand dough.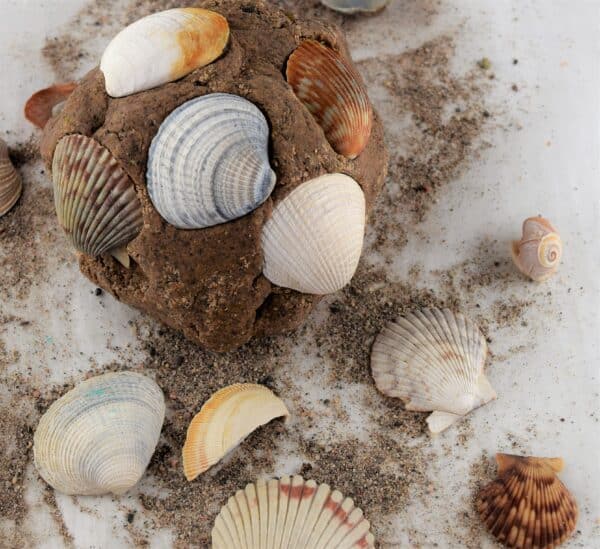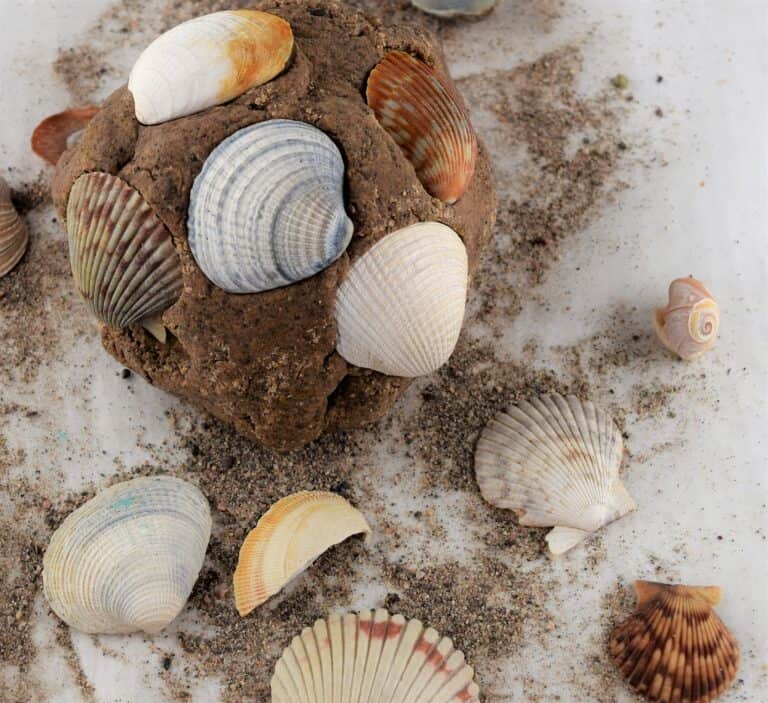 Sand play dough is not the same as sticky sand. It isn't moldable in the same way the sticky sand is. If you want to make sandcastles you'll need to use moldable dough like kinetic sand, moon sand, or sticky sand.
It isn't hard to make your own sticky sand dough that is perfect for building sandcastles. This is the recipe I like best for sticky sand.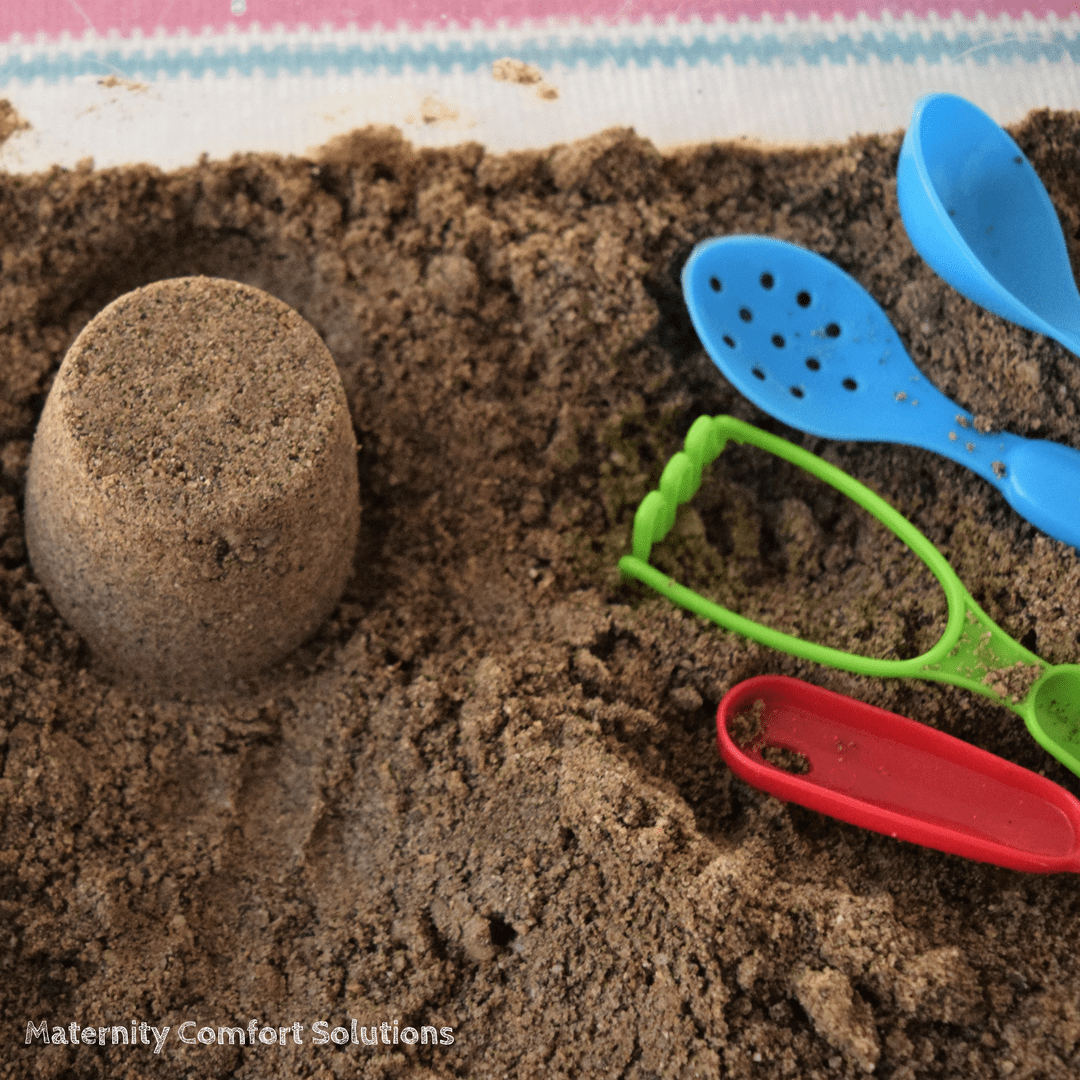 This is my regular playdough recipe.
Easy and fast homemade playdough recipe:
1 cup all-purpose flour
1/3 cup table salt
2 teaspoons cream of tartar
1 cup of water
1 tablespoon vegetable  oil
Gel food coloring
You'll want to use a large saucepan for this recipe. Pour the flour, salt, and cream of tartar into a pot, add water and oil.
On low-medium heat stir until it starts to thicken. It takes about a minute or two.
Add food coloring when it starts to thicken and keep stirring until the dough begins to pull away from the sides and starts to stick to the spoon.
Remove the dough and place it on wax paper to cool.
When it is cool enough knead it for a minute or two and it's ready to go.
Store in an airtight container or if you are like me, throw it in a Ziploc bag.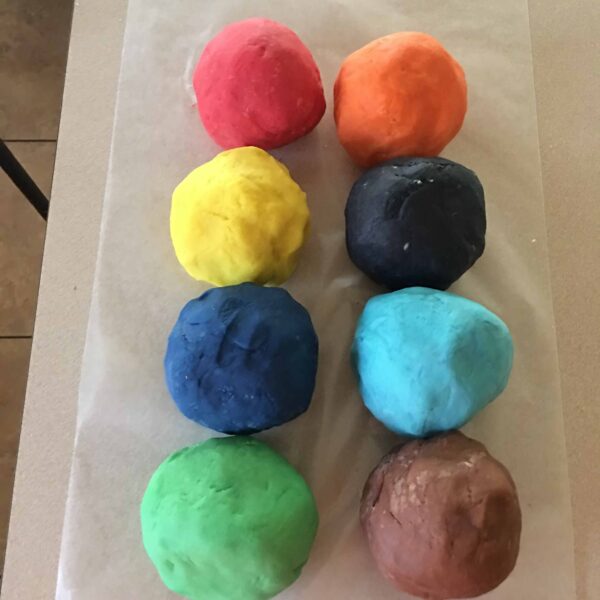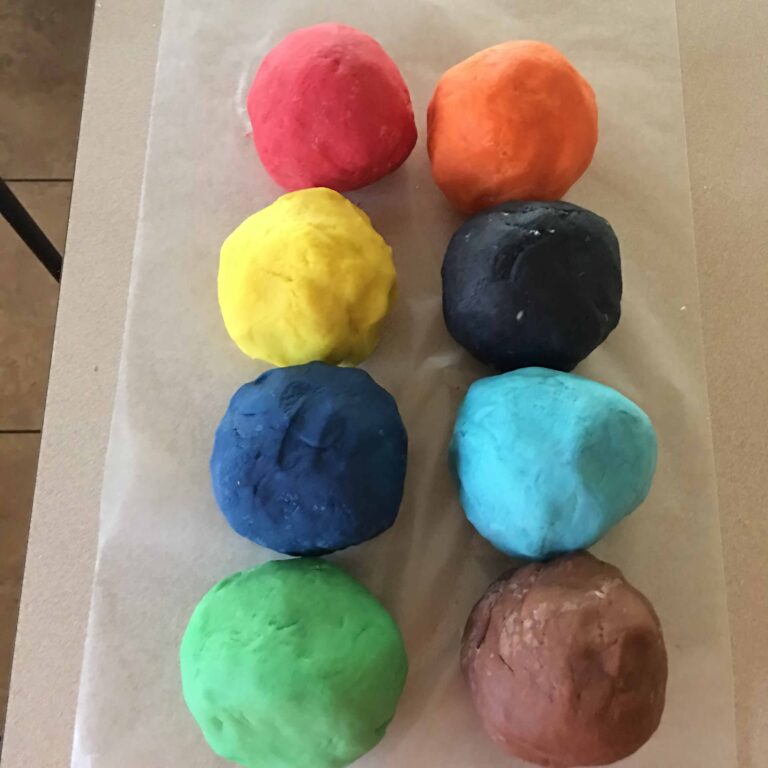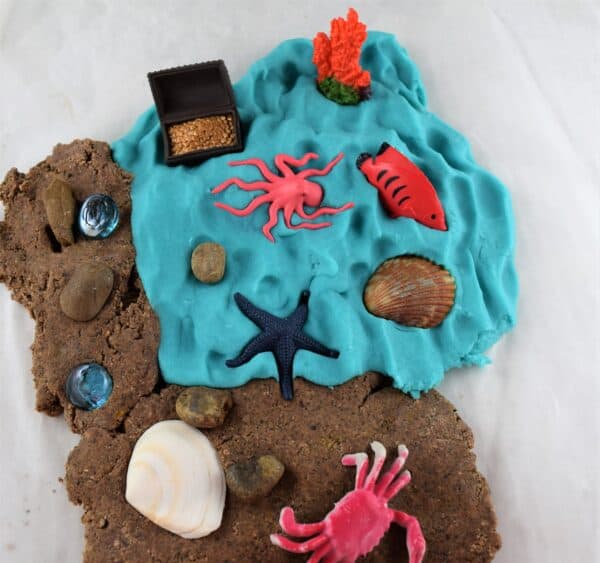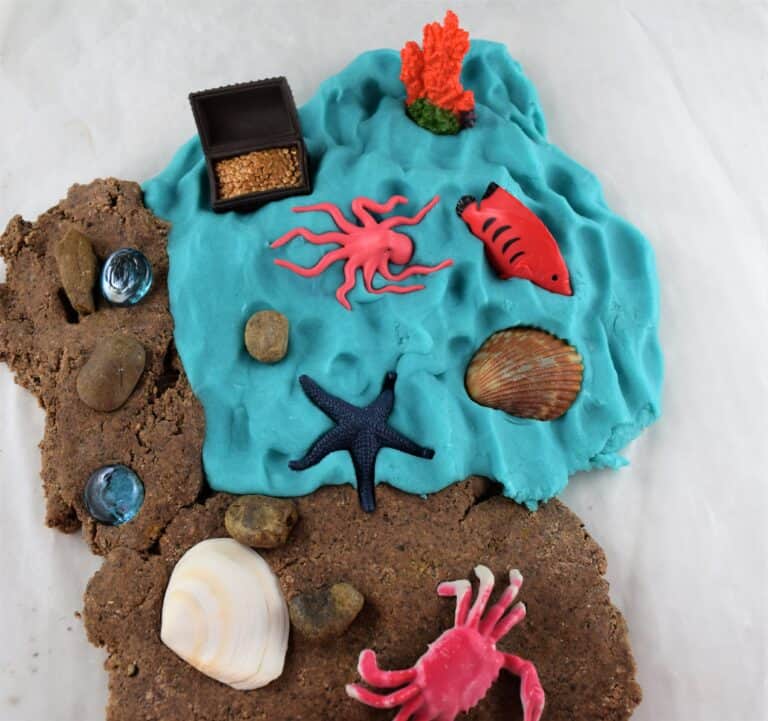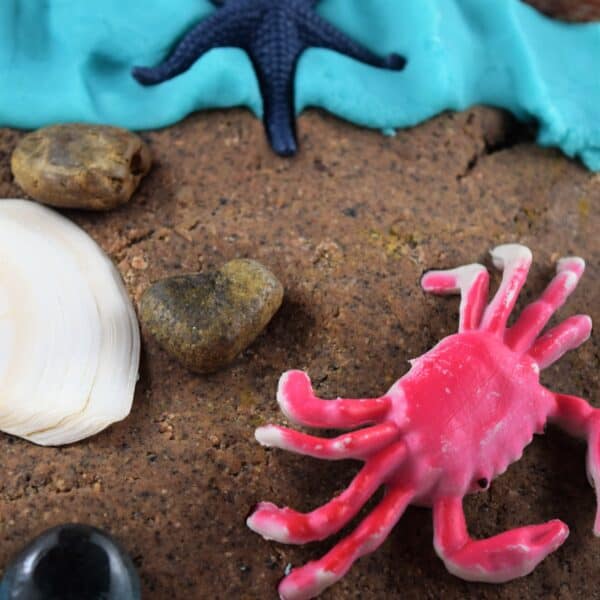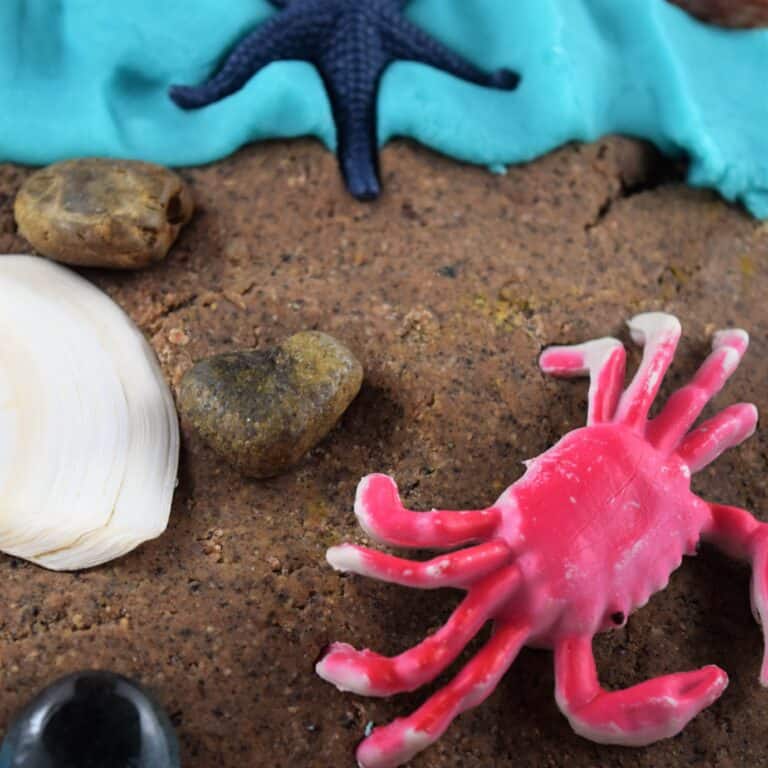 Making ocean sensory bins is an easy and fun activity to do at home with your toddlers and preschoolers. Having lots of opportunities for sensory play is important to a young child's development. The following sensory bins are designed to encourage exploration and open-ended play. They are also easily made at home.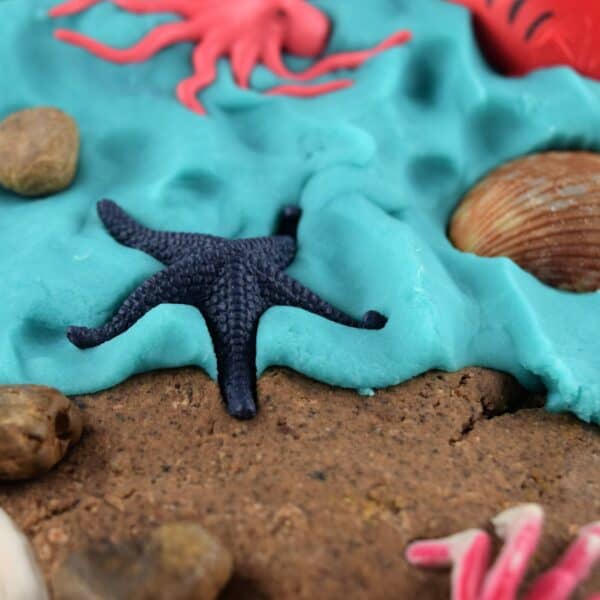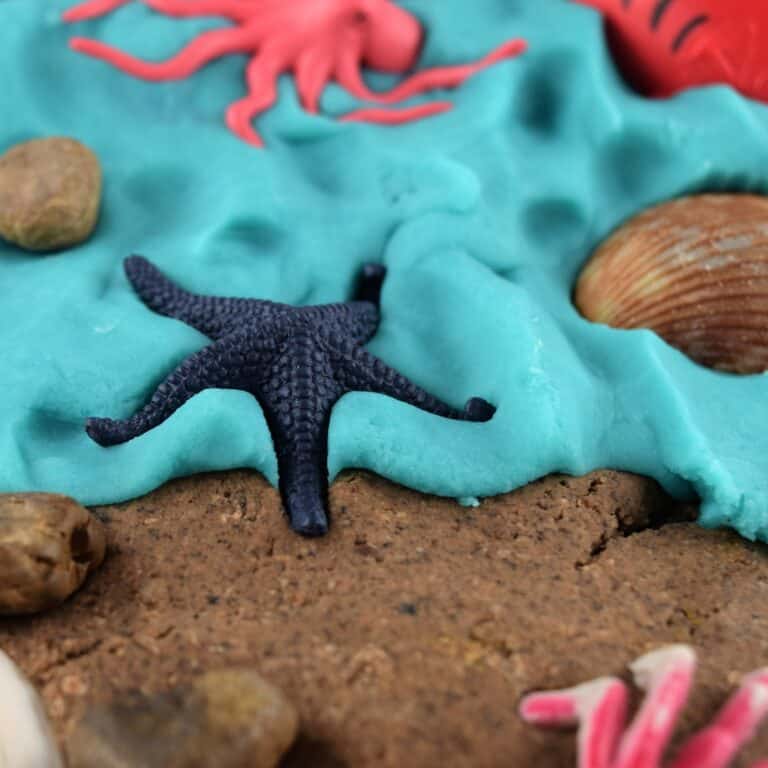 Looking for more ocean-themed playdough ideas? Here are several more ideas using regular homemade play dough (recipe up above).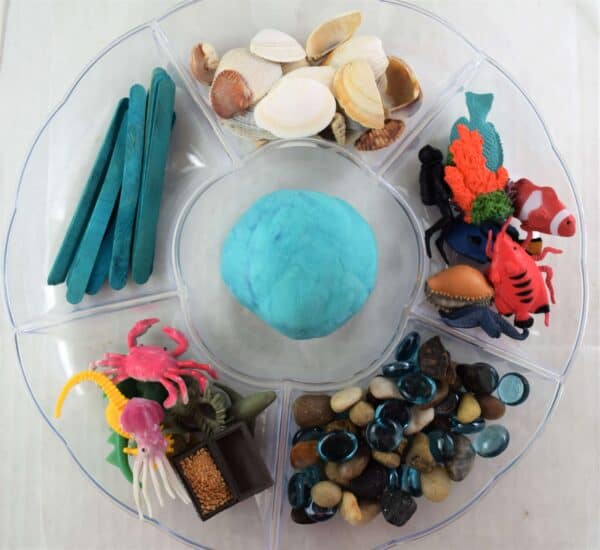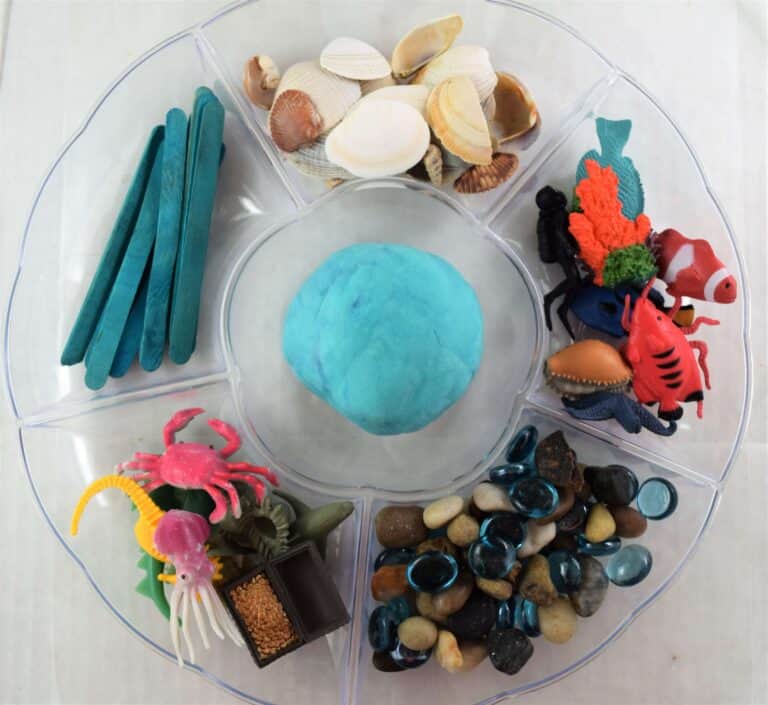 Shell fossils play dough theme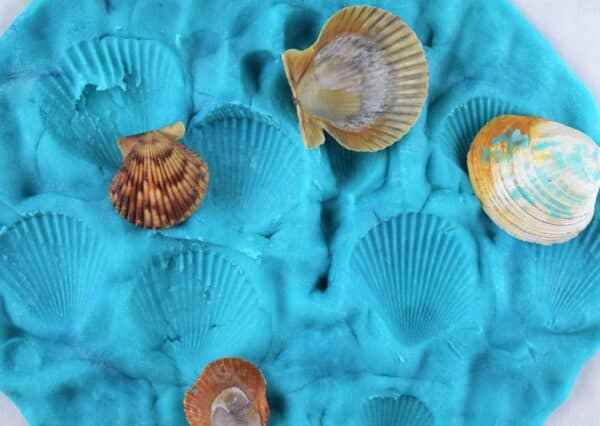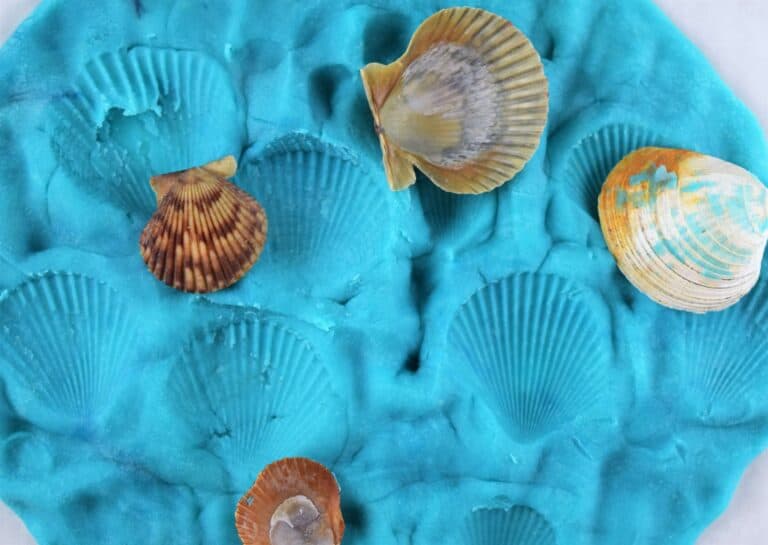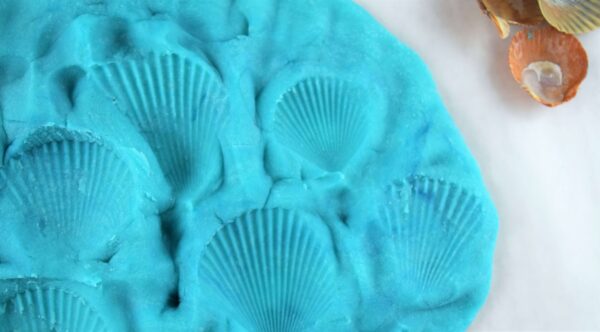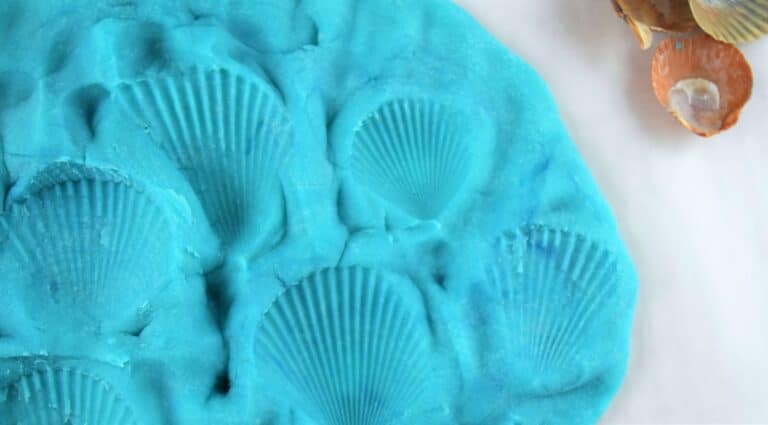 Making your own sensory bins is the way to go if you want a fast and frugal sensory activity for your toddler. I'm a mom and former toddler and preschool teacher. I have made 100's of sensory bins/sensory activities over the years. Today I'm sharing my 9 all-time favorite sensory bin ideas.