Updated
Making ocean sensory bins is an easy and fun activity to do at home with your toddlers and preschoolers. Having lots of opportunities for sensory play is important to a young child's development.
The following sensory bins are designed to encourage exploration and open-ended play. They are also easily made at home.
Above all my goal as a mom is to keep it simple and help you do the same.
None of these ocean sensory bins ideas were expensive to make and none of them took more than 30 minutes from start to finish.
One way to spark your child's imagination is to read some books about ocean before you give them the sensory bin.  
A list of my favorite ocean books for toddlers and preschoolers is below: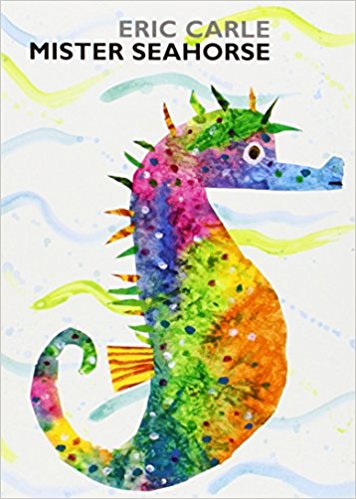 Mister Seahorse – Eric Carle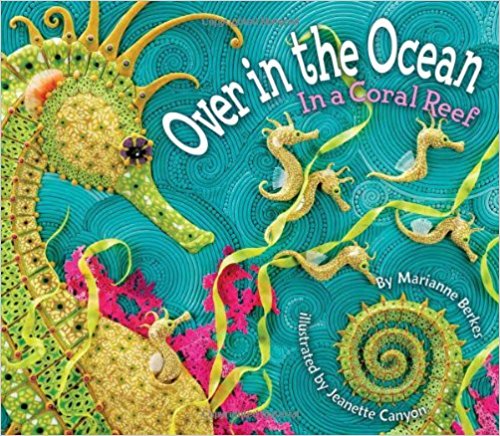 Over in the Ocean In a Coral Reef – Marianne Berker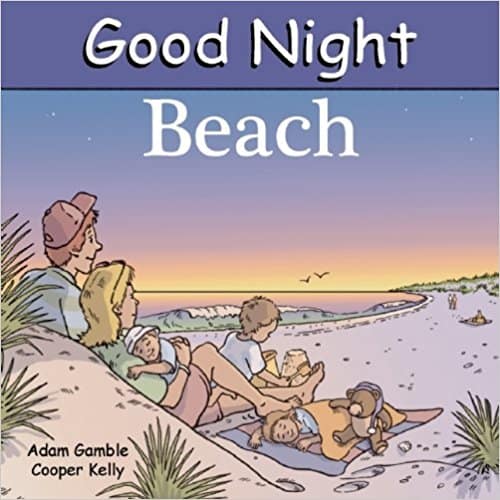 Good Night Beach – Adam Gamble and Cooper Kelly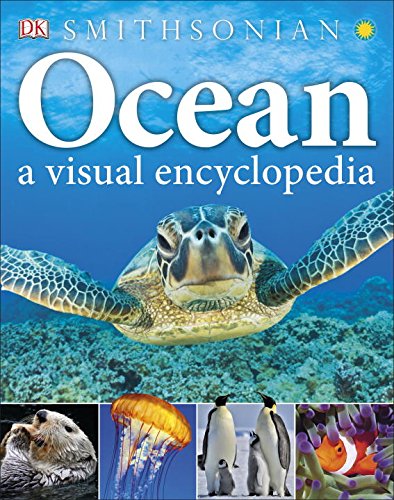 Ocean: A visual encyclopedia – DK
Before we dig into the ocean sensory bins ideas let's talk quick about what sensory play is and why it is so important to provide lots of opportunities for sensory play.
What is sensory play? 
Sensory play involves activities that use the five senses. These activities use the sense of touch, smell, sight, taste and hearing.
Sensory play is vital a child's brain development. Research suggests pretend play offers young children the opportunity to develop empathy and learn to regulate their behavior.
Toddlers learn about their environment and bodies through their senses. Sensory play assists children with developing fine and gross motor skills and encourages problem solving ability.
Sensory activities encourage open-ended play. Therefore the child is free to explore and create without a set outcome or any expectation.
You can't go wrong with providing many opportunities for sensory play.
Sensory bin fillers do not have to be expensive. They are very easy and inexpensive to make at home.
Most of the items I added to the bins came from the dollar store or were items we already owned. None of these bins took longer than 30 minutes in total to make.
You can speed up the drying time on the pasta and rice by baking them at 250 degrees for 10 minutes. Once they cool, you are all set.
The possibilities and combination for sensory play and sensory bin ideas are almost endless.
7 Ocean Sensory Bins For Toddlers:
1. Colored rice ocean sensory bin
You can find the recipe for coloring the rice here:  9 easy DIY Sensory Bins For Toddlers. It is super easy to make and we have been using the rice for over a month and it is still perfect.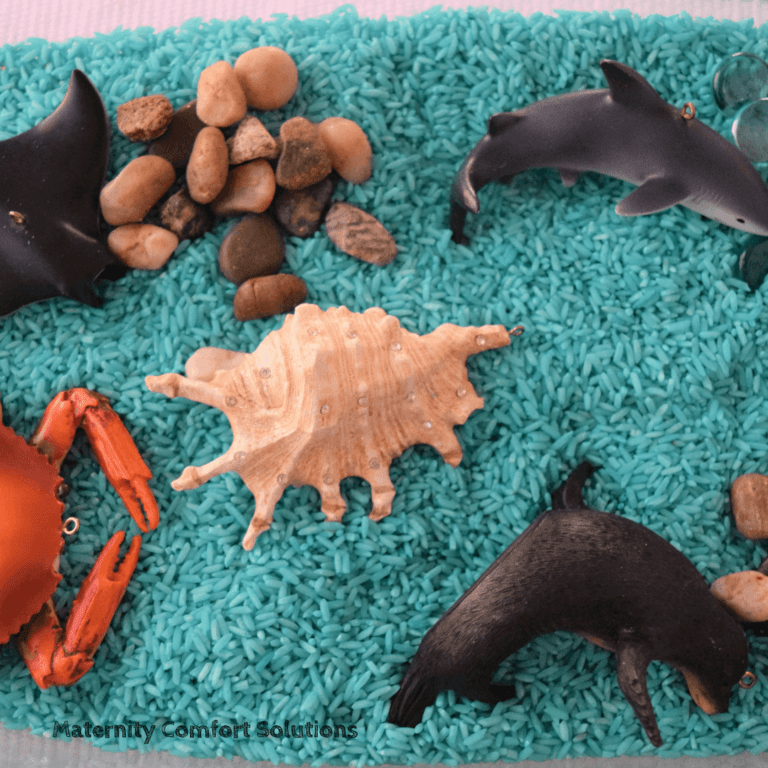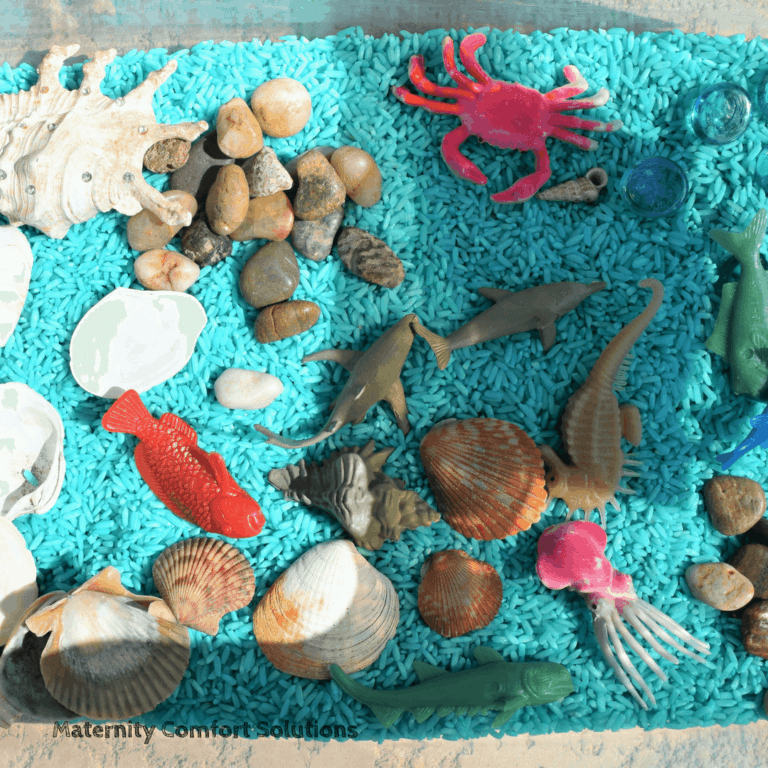 2.  Ocean sensory bins made with colored sand
You can find the recipe for the colored sand here. This recipe makes the prettiest sand. The sand is not sticky at all. The pic below is the sand in an ocean shell sensory bin I made.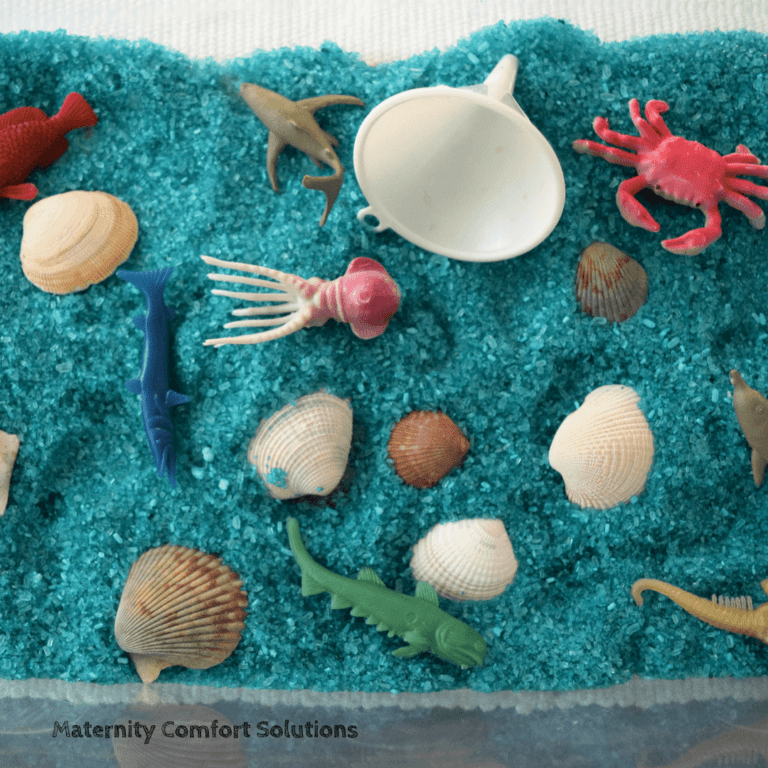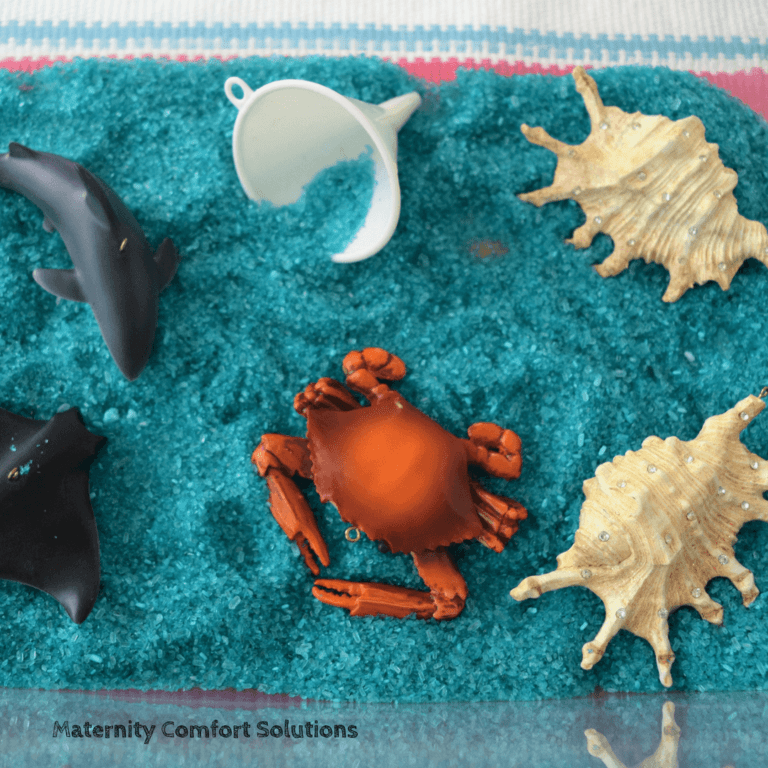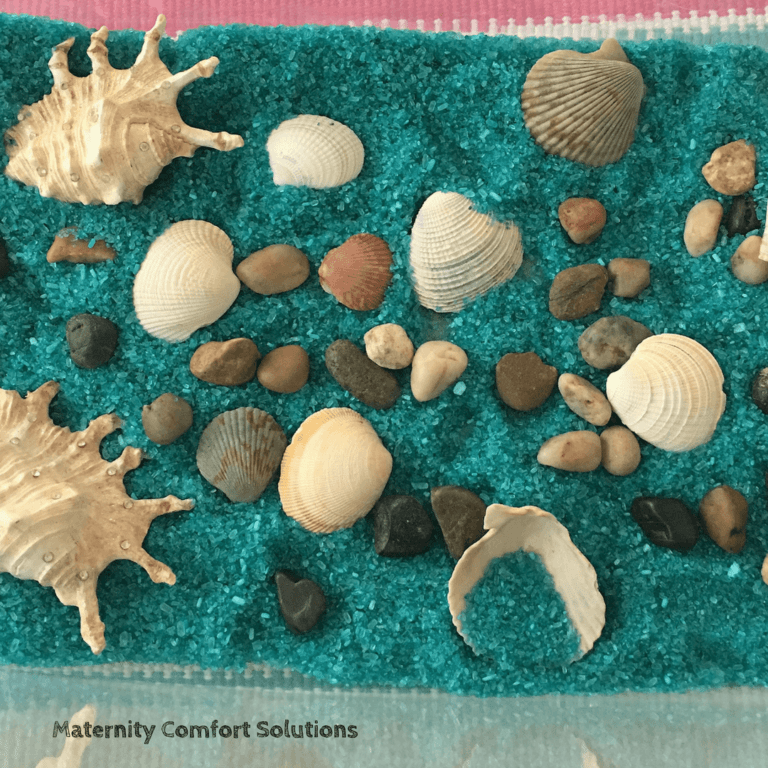 Using the same sand I made a "Blue" ocean sensory bin with all blue items. All of the items I added are from the Dollar Store.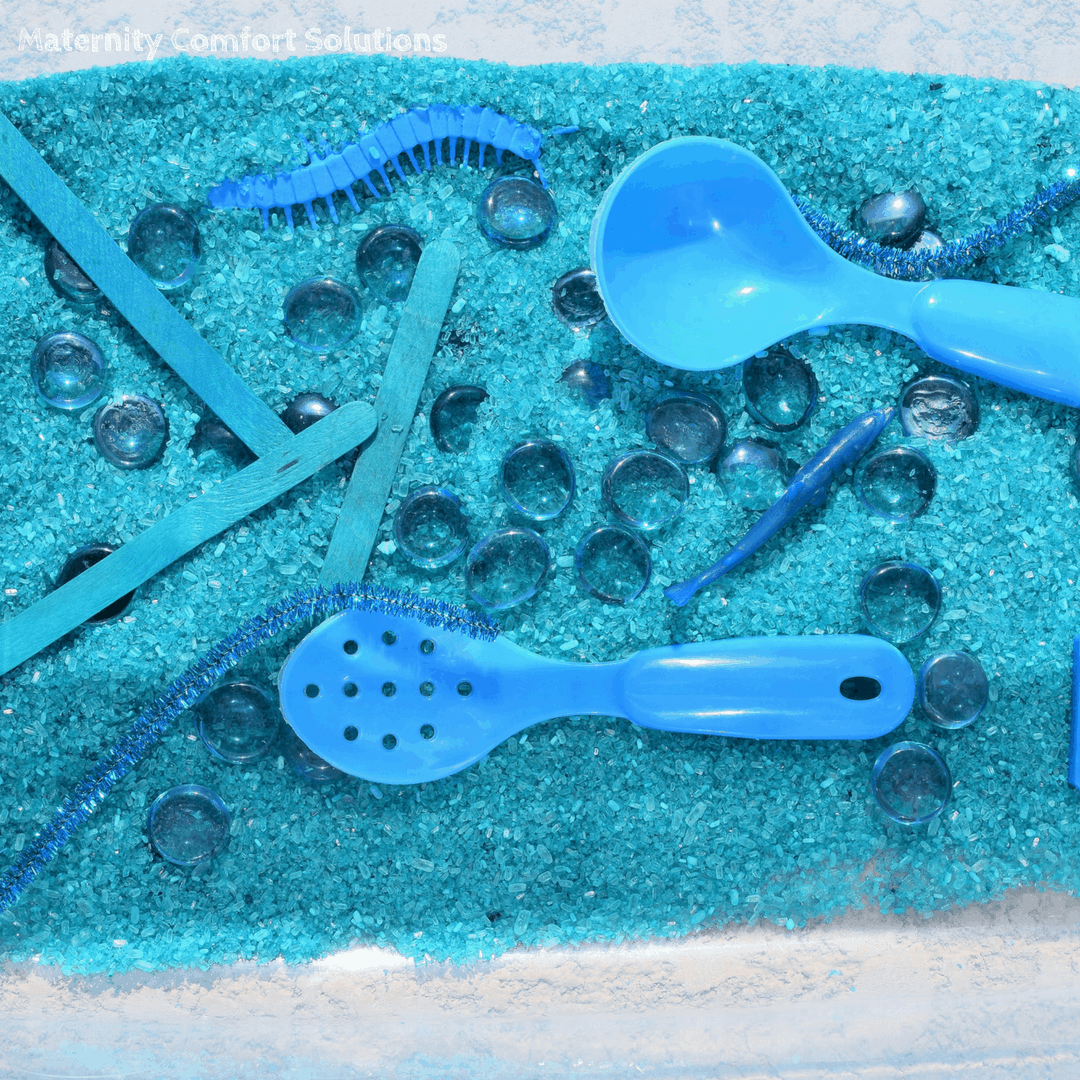 3.  Sand and water ocean sensory bins
Recipe for the blue colored sand is above. The tan sand is from the Dollar Store. I made a barrier with the rocks to separate the sand from the "ocean". It will get mixed when the kids play but, the colors are still really pretty even when the sand is mixed.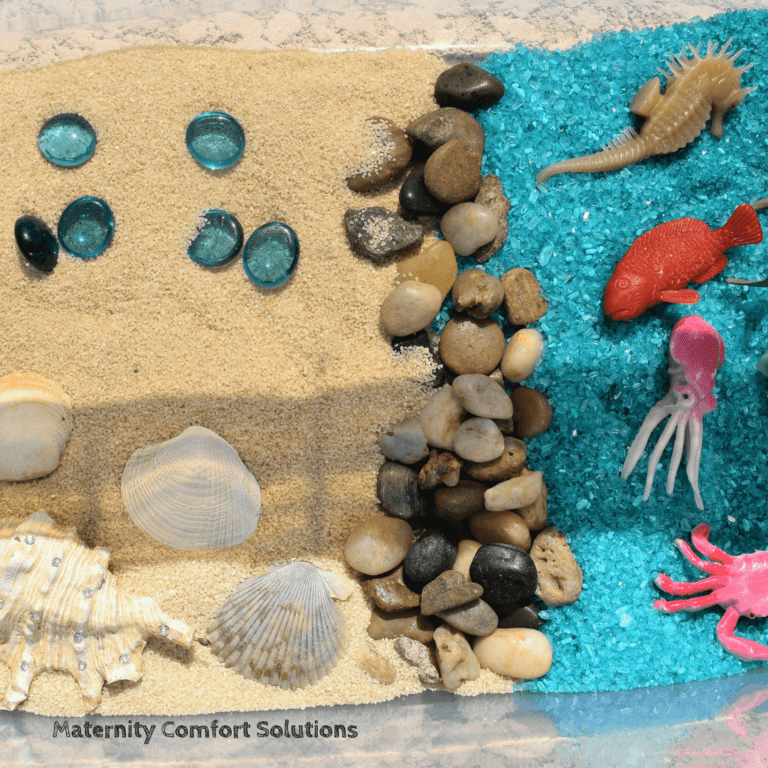 4. Ocean sensory bins made with craft sand and blue stones from the dollar store
This is a great option if you don't have the time to make any of the homemade sensory bin fillers. The sand is a $1 bag of craft sand, $1 bag of rocks and $1 bag of colored stones, all from the Dollar Store.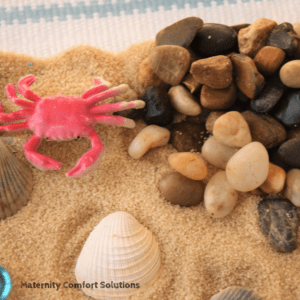 5. Colored pasta ocean sensory bins .
You can find the recipe for the colored pasta here. It is very simple to make. I added shells and sea life creatures I picked up at the dollar store.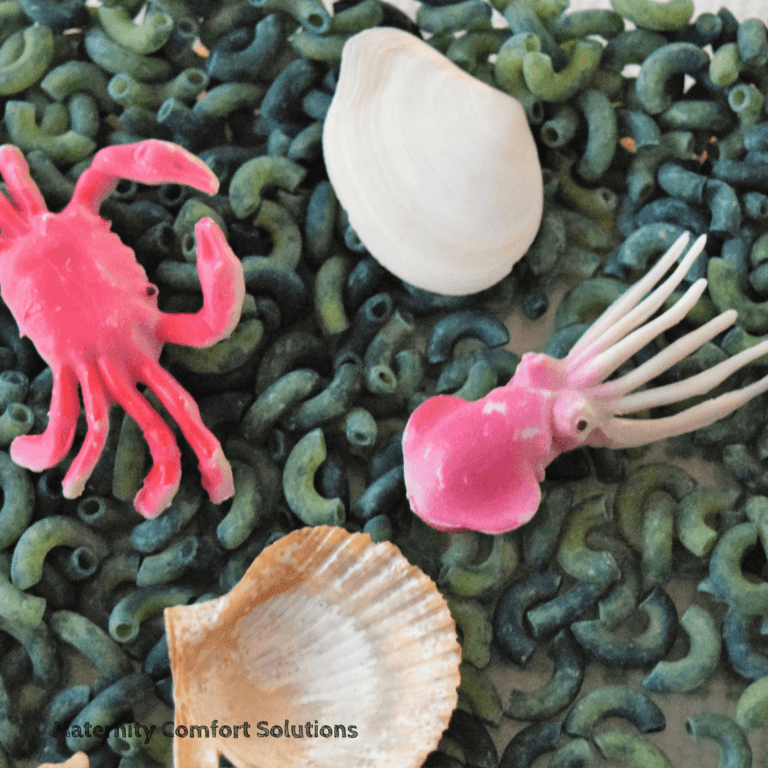 6. Ocean sensory bins made with homemade sand (2 ingredients only!)
The best part about this sand is that it is moldable! I added some shells and sea life creatures from the dollar store to the bin.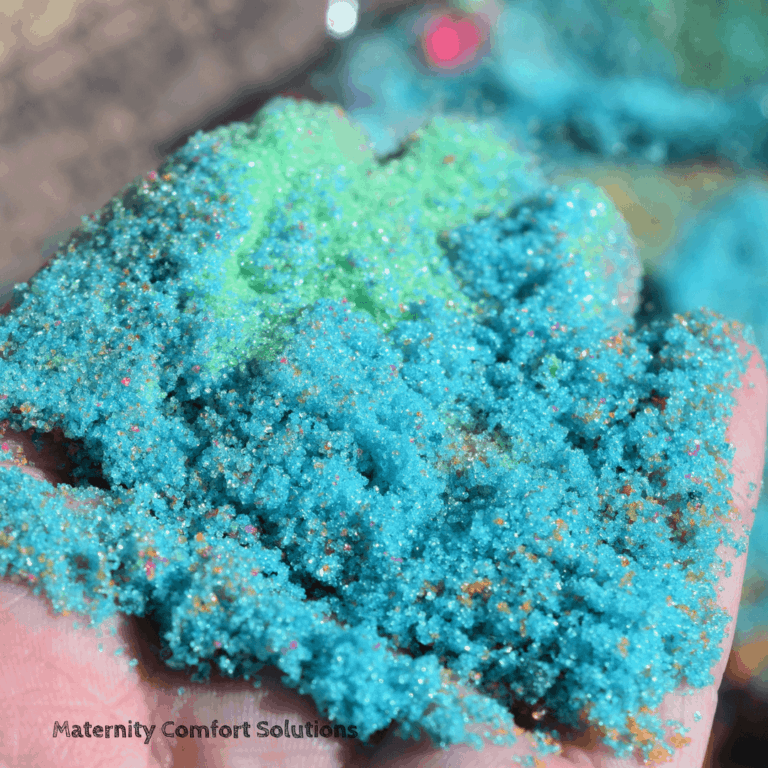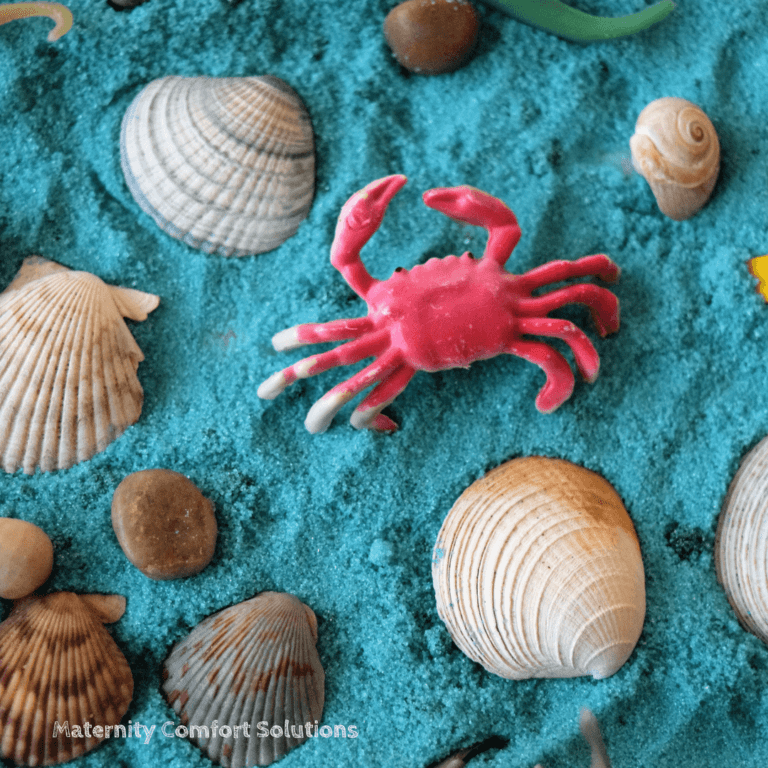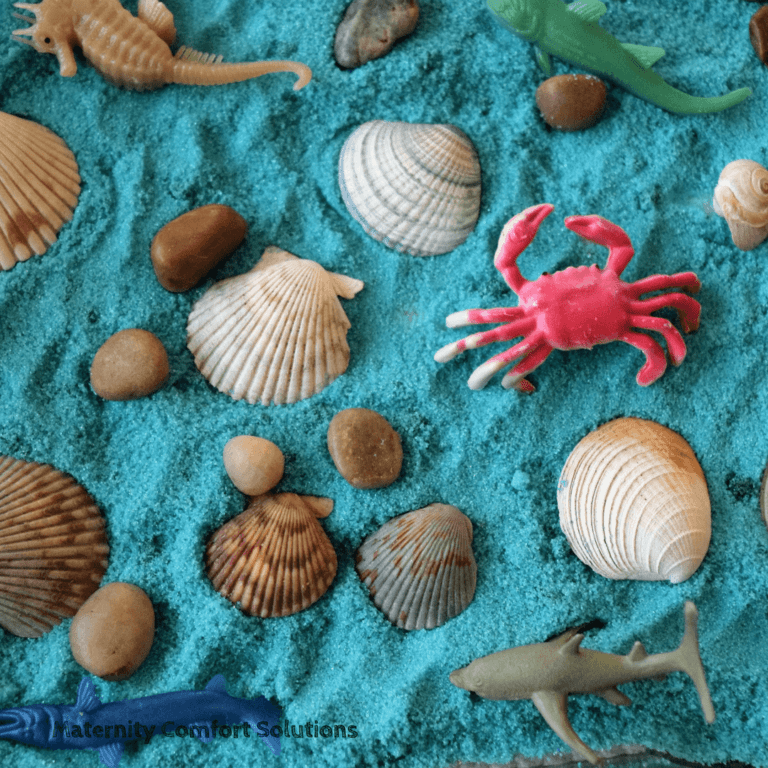 7. Finally last but certainly not least a colored beans ocean sensory bin.
I used pinto beans for this recipe. The color came out a vibrant blue.
You can find the recipe for coloring the beans here.
They can be a life-saver on a rainy day when the littles can't get outside to burn off some energy. Need more sensory bin ideas? Check out: 9 Easy Diy Sensory Bins For Toddlers and 5 Summer Bug Sensory Bins for Toddlers.