Today I'm sharing my top 11 tips for an epic summer beach vacation with toddlers. We really believe in keeping life as simple as possible. I am a homeschooling work-at-home mom, so vacation time is sacred. These are my best time-tested tips after years living at the beach and many beach vacations with our kids. This post contains affiliate links, you can catch our full disclaimer at the bottom of this post.
This post contains affiliate links. You can read our affiliate disclaimer at the bottom of this post.
This post contains affiliate links. You can read our affiliate disclaimer at the bottom of this post.
The Best Ways To Survive A Beach Vacation with Toddlers:
1. Rent a beach house with an outdoor shower.
If you are renting a beach house, rent one with an outdoor shower. You will be so grateful that you did! You can scoop everyone up from the beach and bring them back to the house and straight into a nice warm shower.
No sand in the house!
Everyone has a shower, rinses all the sand off, the shower helps everyone switch gears from the beach.
You can rinse all the beach toys off at the same time. It is a win-win for mom! While we are talking about after beach routines and outdoor showers…Don't forget flip flops/beach shoes, lots of extra towels, and any must-have bath products.
You can never have enough towels.
You may want to have an after sun lotion on hand with aloe or some Solarcaine spray (I never go on a beach vacation without it! It never fails, even with sunblock and rashguards, and tents somebody gets a sunburn).
2. Bring a new after beach activity.
Bring a new quiet toy or activity that you can bring out for that after beach period when everyone needs some "chill" time before dinner.
For young children some ideas may be a sensory bin (check out our ocean sensory bin ideas post for some great suggestions), a coloring book and crayons, reading books, sand playdough with shells you collected from the beach, or maybe a favorite movie.
This downtime is a must for us after spending all day at the beach.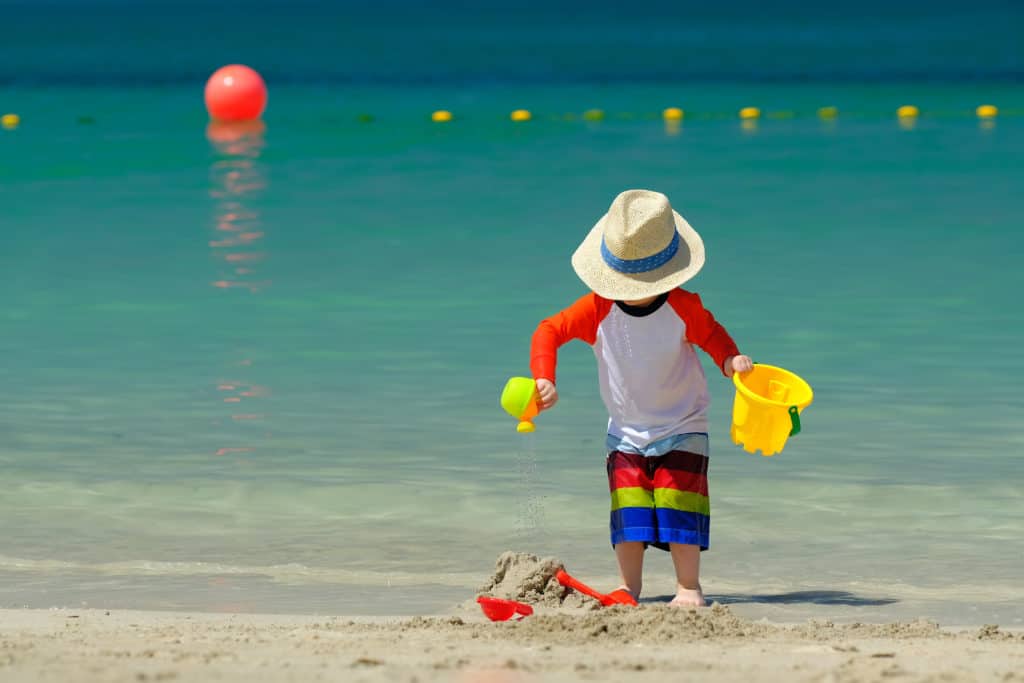 3. Use Sunscreen.
I know seems obvious, Obvious=easy to forget at home. I may have done that a time or two.
The American Academy of Pediatrics recommends using sunscreen with at least a SPF of 15 that protects against both UVA and UVB rays.
We use sunscreen with an SPF of 30 or above on kids and apply it about every 2 hours. You may need to apply more frequently if they are spending a lot of time in the water.
We have used and really like the Thinkbaby brand of sunscreens! The first application I use a lotion, but will switch to a spray for repeated applications if the kids are sandy.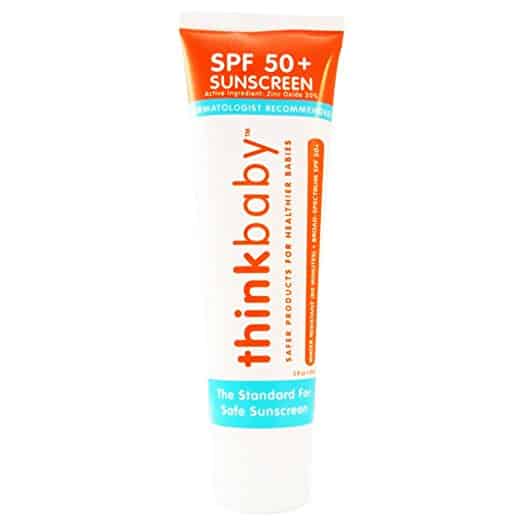 4. Rash guards/UV clothing.
We spent several year living on the beach in Southern CA. This was the first place I ever saw rash guards and they made so much sense for protection from the sun. We have used them ever since.
They are especially good for kid's who fight wearing sunscreen.
Here is our affiliate link to all the Rash Guards for Toddlers on Amazon. I really like the Simple Joys by Carter's Rashguards and Swim Trunks.
They are SPF 50 and the swin trunks have a drawstring and I think the price is right for the two piece sets.
Bring at least one change of clothing.
I have always found sometimes getting the wet suit off and putting on some cool comfy clothing can help the little one's settle down and maybe even nap a little.
5. Swim Diapers/Little Swimmers.
Make sure you bring more than you think you will need in your beach bag. Don't forget the wipes! There were a couple times that I forgot these. Nothing worse than a 30 pound soggy diaper at the beach.
6. Cornstarch/Powder for removing sand.
This is a brillaint one! Just rub it on the sandy areas and brush it off. This is especially good if you have to drive back to your beach house. It can be a long ride with sandy, sun-baked, and uncomfortable little ones.
7. Puddle Jumper.
Love the Puddle Jumper lifevest! I feel much safer using these than just using the inflatable armbands. Even though we are always with our kids the whole time, I like the peace of mind. Things can happen in a split second
8. Beach Tent.
Next to an outdoor shower, this is my #2 requirement for surviving a beach vacation with toddlers.
Umbrellas are great, but there is never enough shade and sometimes the little ones needs a place to just chill.
A beach tent is the perfect solution. It is a good place to have lunch and an even better place to take a rest.
9. Water Proof Safety Tattoos.
If you have ever had that panicked moment on a jam-packed beach trying to see your kid in the sea of kids playing, you'll appreciate these water proof safety tats!
Put your cell-phone number on it and add an extra layer of protection just in case.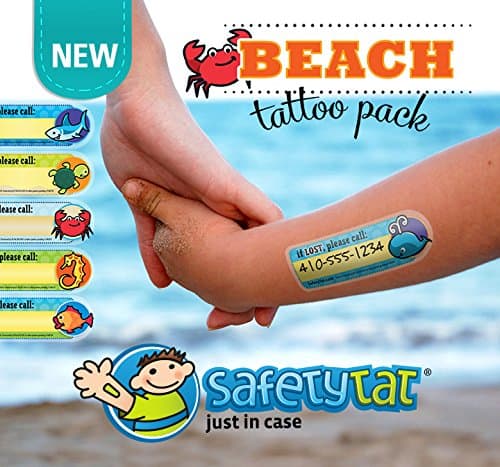 They are thicker than regular temporary tattoos so some children may not like them.
I think they are a must these days. They are also great for amusement parks like Disney.
Any place where it is very crowded and getting separated is even remotely possible.
10. Drinks/Snacks/First Aid Stuff.
Even if you plan to go back the place you staying for lunch, you'll want to have plenty of cold water and snacks available. Pack the cooler with water and snack-size portions of your kid's favorite snacks or lunch.
It is best to pack snacks into individual portions so you don't have a truck load of sand in your normal size bags of chips or cookies.
Remember to bring first aid stuff: Band-aids and Children's Tylenol are always in my beach bag.
11. Beach Wagon.
We spent more years than I care to admit hauling stuff without a beach wagon from the house to the beach. Then one day, I saw this family pulling this wagon full of all their beach gear. Genius!
I had to have one. It may seem like a luxury, but I don't consider things that save me either my time or my sanity as a mom a luxury and neither should you!
It will make your days spent at the beach so much more enjoyable.
These are my 11 mommy must-haves for surviving a beach vacation with a toddlers. I hope you find these ideas helpful! If you have any other tips or tricks for surviving the beach with a toddler please share with us!