Are you searching for easy Halloween Toddler Activities?
Today we are sharing FREE printable Halloween Counting Clip Cards 1-12!
October is a great month to work on counting skills with your two-year-old.
Take the opportunity to count all the fall things you see around you.
When you go on a nature walk, collect fallen leaves, and count them as you go.
There are endless opportunities for toddlers to practice their counting skills, practice pattern recognition, and develop their sense of one-to-one correspondence.
We love counting clip cards because they can help toddlers develop, improve, and deepen those skill sets.
They're also simple, require few supplies, and are super re-usable!
Let's jump into the supplies and directions for these free printable Halloween Counting Clip Cards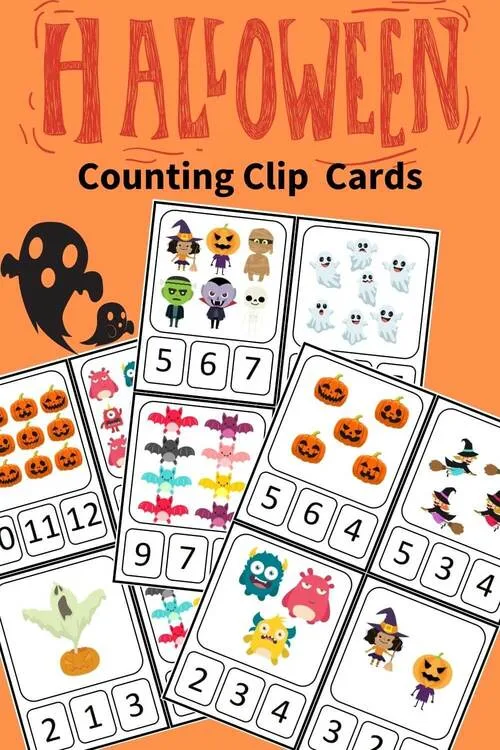 Directions:
A printer and card stock are a must for this crafts project.
If you'd like to re-use these counting clip cards, we recommend laminating them.
With that in mind, you'll need scissors to separate the cards (before you laminate them if you choose to!).
Cut each sheet into 4 separate cards.
This is a great activity to do with your toddler.
Let them practice opening and closing the clothespin and attaching it to the card.
Required Materials:
A printer along with paper or preferably card stock.
A pair of scissors to cut separate the clip cards.
Clothespins for your toddler to clip on the correct answer.
A laminator along with laminating sheets, or sheets of contact paper. (Optional)
Instructions:
First, print out the clip card sheets onto either plain printer paper or card stock.
Card stock will be slightly sturdier, which will help it last longer especially when laminated.
Then, cut the designs out with scissors.
You're going to want the sheets to be uniformly shaped, as it'll be easier to laminate and store with the others.
If you intend to reuse or display when finished, laminate the cut-out clip cards or use contact paper.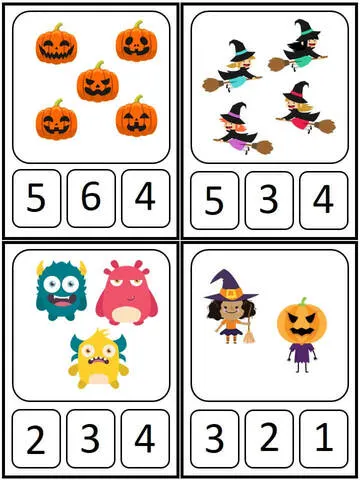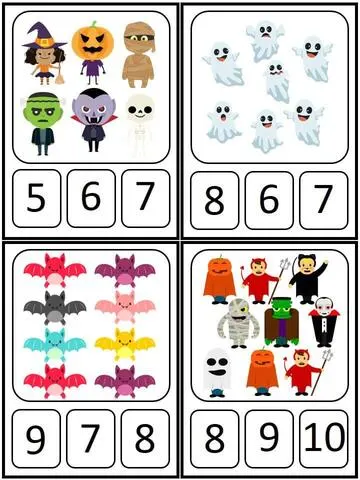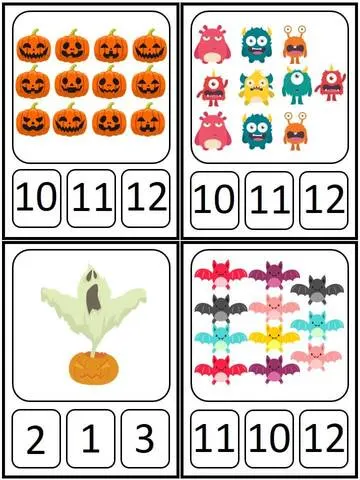 Halloween counting clip cards are an excellent counting and fine motor activity for your toddler.
It helps them develop their ability to grasp objects, improves eye-hand coordination, and makes more difficult skills like writing develop more easily.
Fine motor skills are crucial in academics, social interactions, executive functions, and other important areas of your toddler's development.
Halloween presents us with a perfect opportunity to do small arts and crafts projects that can help with these skills!
Your toddler will absolutely love the wonderful designs on the cards as they begin to count and play with the clips.
What are Fine Motor Skills?
Fine motor skills are essential when using the small muscles in fingers, hands, and forearms.
These muscles are essential during activities such as drawing, buttoning, constructing with Lego, and opening their lunch box.
These skills influence the quality of the outcome of your child's activities and speed.
To ensure your child performs the task accurately, they need to use different independent skills.
Some of the common fine motor skills are:
Pencil skills like coloring and drawing
Scissor skills such as cutting and rearranging the paper
Doll dressing and manipulation
Dressing, i.e., zips, buttons, lacing, and tying shoelaces
Basic hygiene like brushing teeth, washing their face, and combing their hair
Construction skills such as puzzles and Duplo
Why are fine motor skills important for toddlers?
It's hard not to emphasize the importance of fine motor skills in everyday life because they enable us to perform simple tasks.
If a child is unable to complete the basic everyday tasks, it will take a toll on their self-esteem, affecting their play, academics, and co-curricular activities.
Also, children without the appropriate fine motor skills will find it hard to get independent life skills such as feeding or dressing, which will have many implications on relationships with other peers.
That is why fine motor activities are so important for your toddler to get plenty of opportunities to engage in.
Thankfully, there are amazing activities that you can do to help kickstart those developments outside of normal day to day life.
Final Thoughts
We hope you and your toddler love these Halloween counting clip cards.
I keep small activities like clip cards in my handbag for a quick activity on the go.
If you'd like to do the same, I absolutely recommend laminating them as we suggested earlier.
These Halloween Counting Clip Cards offer a learning experience, fun holiday activity, and a positively lovely time with your toddler all in one.
We have plenty of other Fall, Halloween, and October toddler activities!