Updated May 8, 2023
We've tackled how to survive RVing with toddlers, but you may also be wondering, "What are the essentials I need to pack for RV camping with a toddler?"
After all, toddlers are completely separate animals from babies.
They're constantly active most of their waking hours.
Their attention flits from one activity to the next in mere moments.
And if you thought bananas were their favorite food, that was sooo yesterday.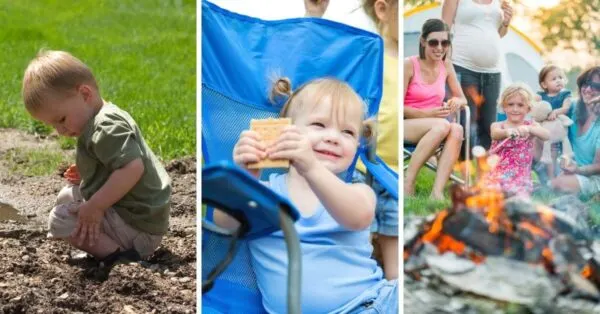 Your toddler's energy level, attention span, and eating habits are all things to consider when planning your next RV trip.
You know your child best, so it's simply a matter of organization and prep work.
Hitting the road with a young child in tow can have its challenging moments, but you can significantly reduce them by packing these Essentials for RVing with Toddlers.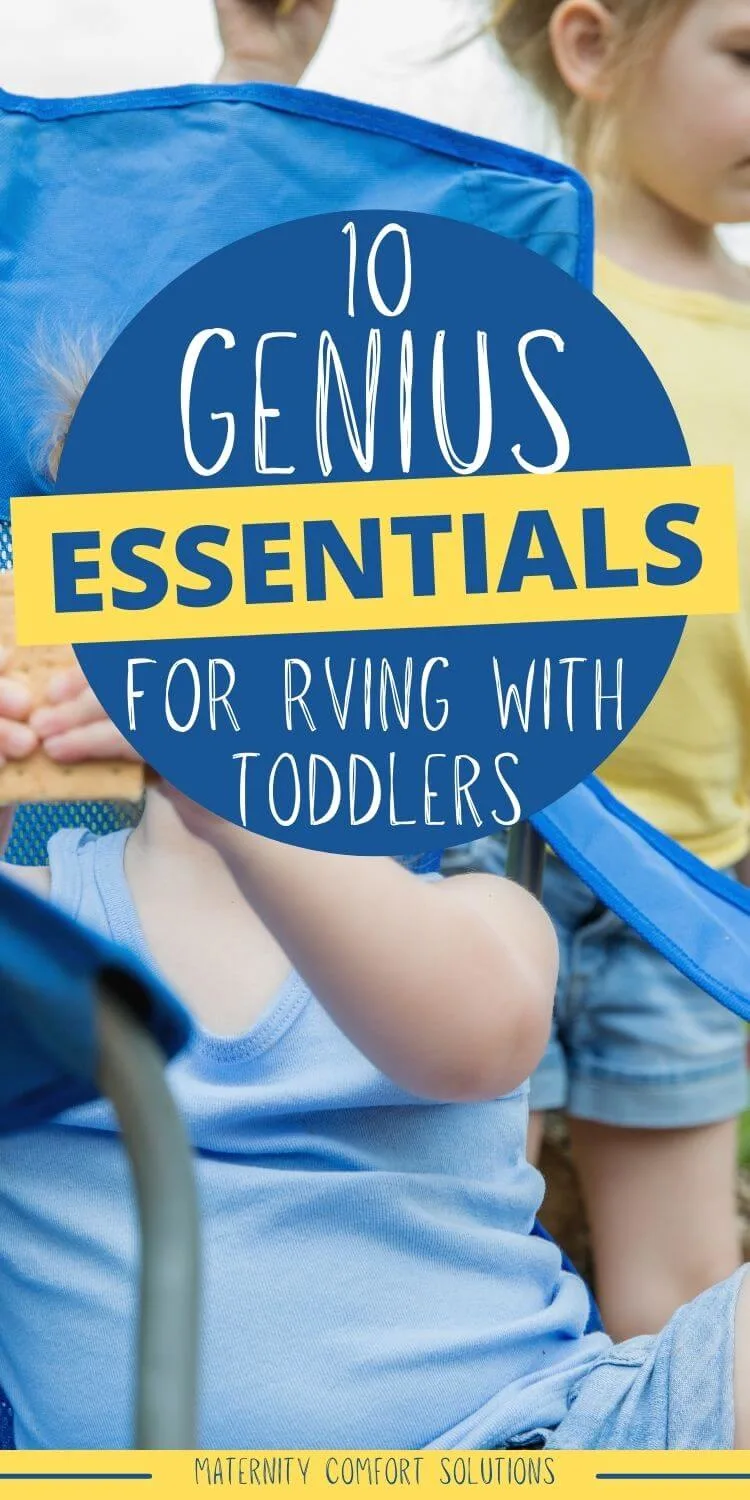 Considerations When RV Camping or Living With a Toddler
As mentioned above, taking your toddler RV camping is less stressful for everyone when you consider some important factors before setting out on your next adventure.
Meal Planning
While it's possible that you lucked out with your toddler in the eating department, most young children are notoriously picky eaters.
Therefore, it's best to stick with variations of what you know your toddler will eat when packing camping food for your RV.
This certainly doesn't mean that your entire family needs to exist on boxed macaroni and cheese and marshmallows for the whole trip, though.
The internet is full of family-friendly camping recipes that everyone is sure to love, like these 35 fun and easy camping meals for kids from Take the Truck.
Tip: Make sure to include toddler-friendly fruits like apples and bananas.
They don't need to be pre-cut, and you can combine them with other snacks to add a nutritional boost.
Nearby Amenities
If you're planning on staying at one or more campgrounds when RVing with a toddler, check out the included amenities.
Showers, on-site bathrooms, and play areas are all added bonuses.
In addition, they can make a world of difference when you're trying to clean a child who just spent the last hour playing in the mud.
Camping playgrounds are also an excellent way to burn your toddler's energy in between other planned activities.
Activities While Traveling
Given the frequently shifting span of young children, you'll want to pack several RV travel activities for toddlers while on the road to your destination.
You can copy and laminate these Summer Do a Dot Printables to use with wet-erase markers for reusable fun.
Tip: Since your toddler will be confined to their car seat for most of their time on the road, consider a travel tray where they can color, draw, and play with small toys.
Sleeping Arrangements
Although your RV sleeping setup will obviously differ from what your toddler is used to, try to give them their own bedroom area if space allows.
If your RV has a separate bunk room for kids, this is an ideal sleeping arrangement.
However, if space is restricted, consider a travel bed that can be folded or rolled up during the daytime.
Tip: "If the adults want to stay up late without waking up the kids, a sound machine is perfect for drowning out noise in another room.
It also blocks out the noise coming from outside the camper. " ~Trailer Life
Keeping a Schedule
RV travel with toddlers can be beneficial when it comes to keeping their regular schedule as normal as possible.
You can easily divide up travel hours into constructive travel activities, mealtimes, and naps.
Toddlers are very routine-oriented, and you can easily avoid tantrums by being consistent.
10 Essentials for RVing With Toddlers
Toddler RV Travel Essential #1: Car Seat
Since all child safety laws apply when RVing with a toddler, they will need to be securely fastened in a car seat while on the road.
You can use a car seat that you already have, which may work best because your toddler is used to it.
You can also purchase a car seat specifically for RV travel so that you don't have to worry about moving it from vehicle to vehicle.
Tip: If you want to purchase a travel toddler car seat, consider either the Graco Extend2Fit Convertible Car Seat or Britax One4Life ClickTight All-in-One Car Seat.
They'll grow with your child so that you can avoid needing a different one in the future.
Toddler RV Travel Essential #2: Stroller
Whether you're planning on RV camping with a toddler or planning on visiting tourist destinations to see the sights, a stroller is vital to everyone's happiness.
Toddlers are very energetic, but even they grow tired after a while.
Regardless of where you're traveling, a jogging stroller provides the smoothest ride.
Jogging strollers also weigh less and are more compact than others, which is why we recommend something like the Joovy Zoom 360 Ultralight Jogging Stroller.
Toddler RV Travel Essential #3: Sturdy (and washable) Outdoor Shoes
Young children are well-known for jumping in every mud puddle they can find, so durable outdoor shoes are a must when it comes to toddler RV travel gear.
It's wise to pack both a pair of tennis shoes and easy-to-clean sandals for water play.
We suggest machine-washable options like Stride Rite Made2Play sneakers as well as Crocs Unisex-Child Crocband Sandals.
Toddler RV Travel Essential #4: Travel Crib or Mattress
Although RVs can be much roomier than tent camping, you also want to maximize interior space to avoid letting things get too cramped.
A travel mat is the perfect RV toddler bed because it can be folded compactly and stored when it's not being used.
Try the Milliard Portable Toddler bed and a toddler-sized pillow to keep your little one comfy and cozy at night.
Toddler RV Travel Essential #5: Toddler-Friendly Travel Activities
Creating a list of RV travel activities doesn't have to be a mind-numbing task. You need to include multiple small items that can fit into your toddler's backpack or travel bag. You can find many kid-friendly travel ideas with Emily Krause's 50 Road Trip Activities for Toddlers and Preschoolers.
If you're searching for toddler RV camping activities, try the following:
Bring an

inflatable kiddie pool

for your toddler to splash around in

Dig for Treasure

Play Flashlight Tag

Sort Rocks

Go on a Nature Discovery Hike

Blow Bubbles
Toddler RV Travel Essential #6: Portable Camping High Chair
One of the most essential toddler items for RVing is a place for your toddler to eat during mealtimes and relax outdoors.
You'll want a chair that folds for easy storage, and a tray attachment is a must.
The ciao! baby Portable High Chair fits the bill, and we like that the eating tray is covered in vinyl for quick and easy cleanup.
Tip: Toddlers have a hard time holding on to their toys and sippy cups in the best of circumstances.
To avoid rinsing dirt off your child's favorite drink cup 20 times a day, try these VU Stretchable Silicone Toy Safety Straps.
They'll keep all the essentials securely attached to high chairs, strollers, and more.
Toddler RV Travel Essential #7: Bug Repellent
Bugs are an unfortunate by-product of spending time in nature, and pesky bites can make your toddler miserable.
So if you plan on RV camping with a toddler, make sure to pack kid-friendly products like Repel Lemon Eucalyptus Natural Insect Repellent.
It's Deet-free and lasts for up to 6 hours.
Tip: For added protection from biting insects, try these BuggyBands Mosquito Patches for Kids.
They're a colorful way to repel mosquitos, and they last for around 24 hours.
We recommend using them in conjunction with regular repellent.
Toddler RV Travel Essential #8: Spare Clothes and Diapers
If there's one thing we've never heard a parent say, it's that they packed too many sets of spare clothes when taking their toddler RVing.
It's just a fact of life–toddlers are messy. That's why it's always wise to include at least 3-4 extra outfits for your toddler and even more diapers. You'll thank us later.
Tip: Your family will have accumulated quite a few dirty clothes by the end of your trip, and you don't want them mixing with the remaining clean ones.
Save space by using compression packing cubes in your RV to keep everything separate.
Toddler RV Travel Essential #9: Bath Wipes
Let's face it–you could be taking your toddler to the Smithsonian, and they would still find a way to get covered in something sticky.
In the words of Cruise America, "If you are obsessed about keeping your toddler clean, kiss that notion goodbye."
When RVing with a toddler, you're going to run into plenty of situations where a quick wipe-down is needed, and a shower just isn't practical.
In these cases, it's best to pack disposable bathing wipes.
We also strongly recommend the Munchkin Arm & Hammer Diaper Bag Dispenser.
If you've ever been stuck in an RV with a poopy diaper, you'll understand why.
Toddler RV Travel Essential #10: Rain Gear
No matter how many times you check the forecast, there's always a chance that the weather doesn't fully cooperate with your plans.
That's why proper rain gear is a must-have essential for RVing.
There's not a rain puddle your toddler won't want to hop around in.
So you might as well embrace the chaos, put your little boy or girl in their rain jacket and boots, and let them splash to their heart's content.
Final Thoughts
Taking your toddler Rving doesn't have to be a stressful experience.
With organization and planning, you can avoid many of the traveling pitfalls that other parents experience.
It's important to consider factors like toddler-friendly meal planning, activities, and keeping a consistent schedule.
Once you have a firm grasp on these, the rest will fall into place.
And finally, packing the essentials for RVing with toddlers will prevent that last-minute panic that you've forgotten something crucial to your trip.
Remember, taking your toddler RVing can be an incredibly special experience for everyone.
So just relax, smile, and have fun as a family.