Updated August 5, 2022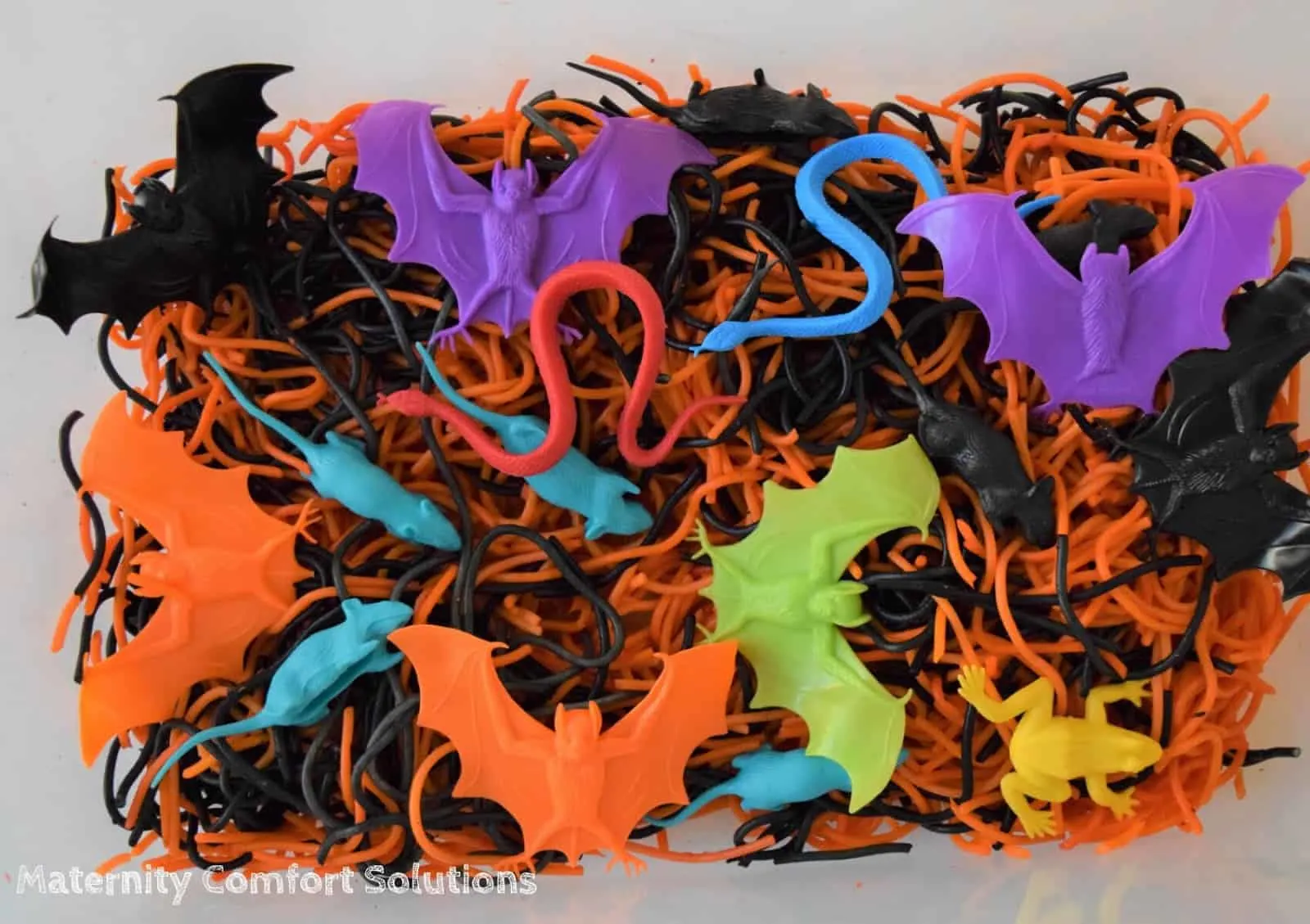 Today I'm sharing 10 DIY Halloween sensory activities for toddlers.
Making Halloween sensory activities at home is a frugal and simple way to educate, encourage, and entertain your toddler.
October is flying by! The leaves are changing colors, and the last bits of summer are fading away with chilly mornings and earlier sunsets. It feels like fall.
The weather in the fall can be unpredictable and it isn't unusual for much of the United States to get more than a few rainy days and weekends. That can mean a cooped-up toddler.
That can quickly escalate to a bored and cranky toddler.
These DIY Halloween sensory activities and add-on activities including books to read and process art projects we have included will keep your active toddler busy!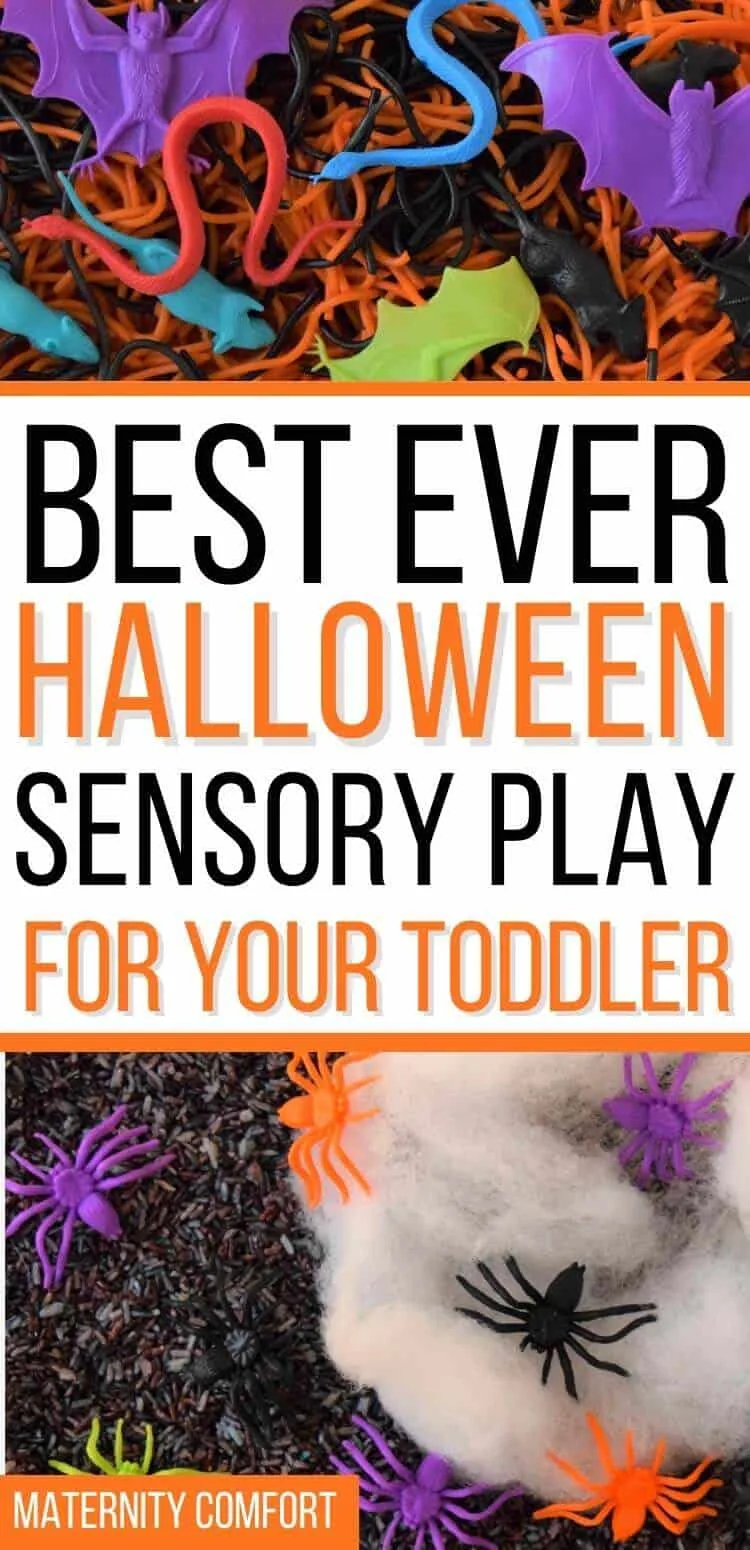 I have shared my 20 Fall Sensory Bins For Toddlers but didn't share a post about specific Halloween sensory activities we have tried and really enjoyed.
The sensory bins in this post are made from food products. We used colored rice and cooked colored pasta. If that doesn't work for your family, I have suggestions for substitute non-food sensory bin fillers you might want to try instead.
Let's jump into sensory play and the Halloween sensory activities!
What is sensory play?
Sensory play helps to promote early childhood development by encouraging exploration, and imaginative play and helps young children use their five senses to begin to make sense of their world.
Research has demonstrated that sensory play promotes self-learning and can influence behavior and personality.
Why offer sensory play activities to your toddler?
Offering sensory activities introduce toddlers to the basics of math, critical thinking, and the scientific method. Sensory play helps with the development of motor skills, language, and problem-solving skills.
It provides the opportunity for the development and practice of empathy and kindness.
Two skills we consider to be extremely important to encourage and develop in our children.
Sensory activities for young children encourage free and open-ended play.
Sensory play is all about the process, there is no right or wrong way to explore or create with the materials.
Your child is free to explore, create, and imagine whatever they want. As their parent, you can encourage them by asking open-ended questions during sensory play activities.
In my experience as both a parent and former early childhood educator, you can never go wrong with offering your toddler sensory play activities!
Sensory play activities do not have to cost a fortune to create.
It helps to build a sensory activity stockpile over time, so you have lots of materials on hand to make DIY sensory play activities when you need them.
OK. Now you know why sensory play is important, so let's jump right into these spooktacular Halloween sensory play ideas!
10 DIY Halloween Sensory Activities For Toddlers:
1. Halloween Pumpkin Scented and Pumpkin Seed Slime
Pumpkin scented slime and pumpkin guts slime are a favorite fall activity but make a perfect Halloween sensory play opportunity!
The pumpkin guts and seeds slime stays pretty wet and slimy, so I put parchment paper down before I let the kids attack it.
The pumpkin spice slime has a more pliable texture to it. If you have toddlers with touch or texture sensitivity they might like the pumpkin spice slime more.
If you knead the pumpkin spice slime for about 5-10 more minutes to can turn it into Halloween silly putty!
The pumpkin slime recipe:
Ingredients:
1 cup Liquid Starch
1 cup White School Glue
10 Drops of Orange Food Coloring or Tempura Paint
1 tsp Pumpkin Pie Spice
Pumpkin seeds (if you choose to use them)
Recipe:
Mix all ingredients until it forms the consistency of slime. If you want silly putty, continue mixing and hand kneading for 5-10 minutes.
This is pumpkin-scented slime without seeds and made with Tempura paint.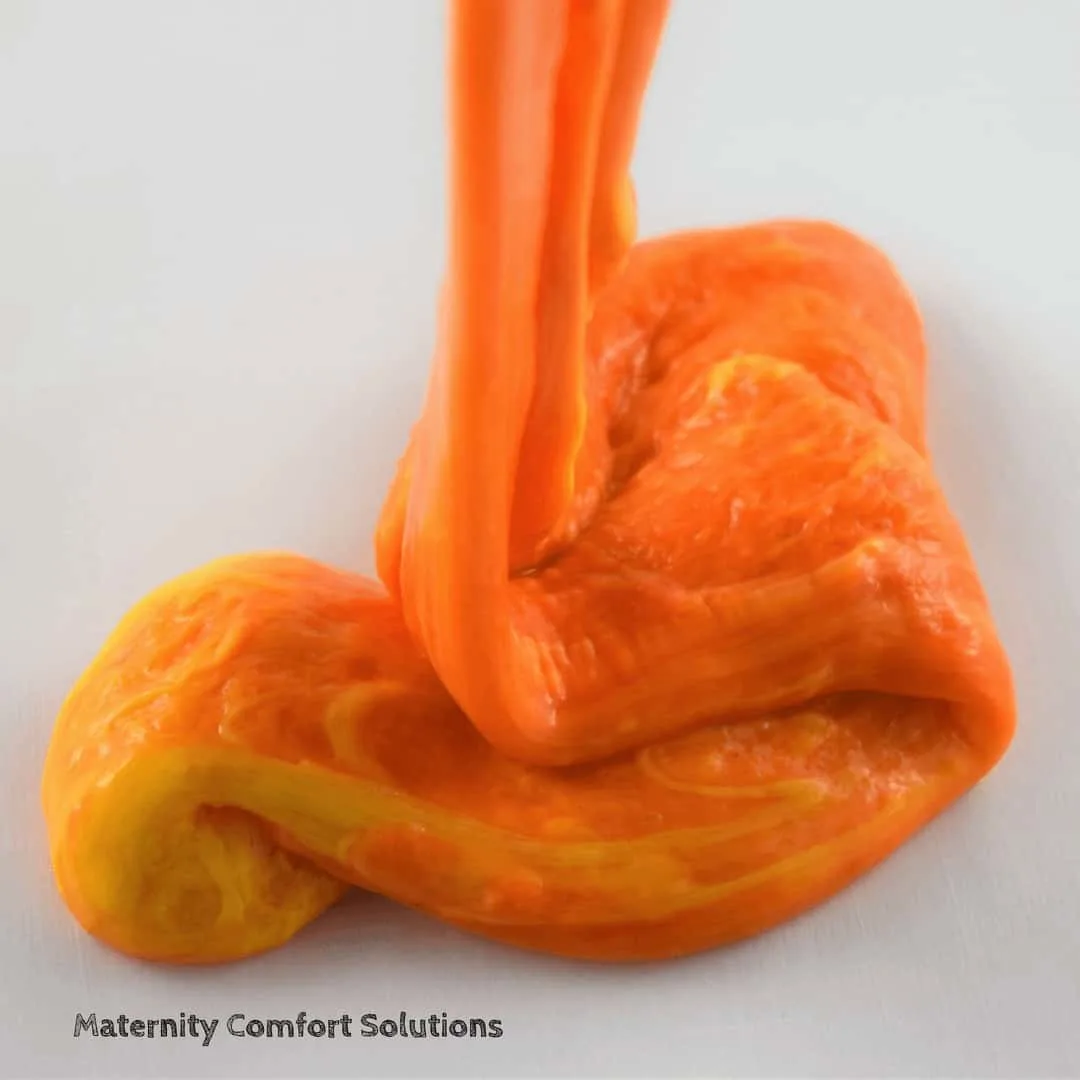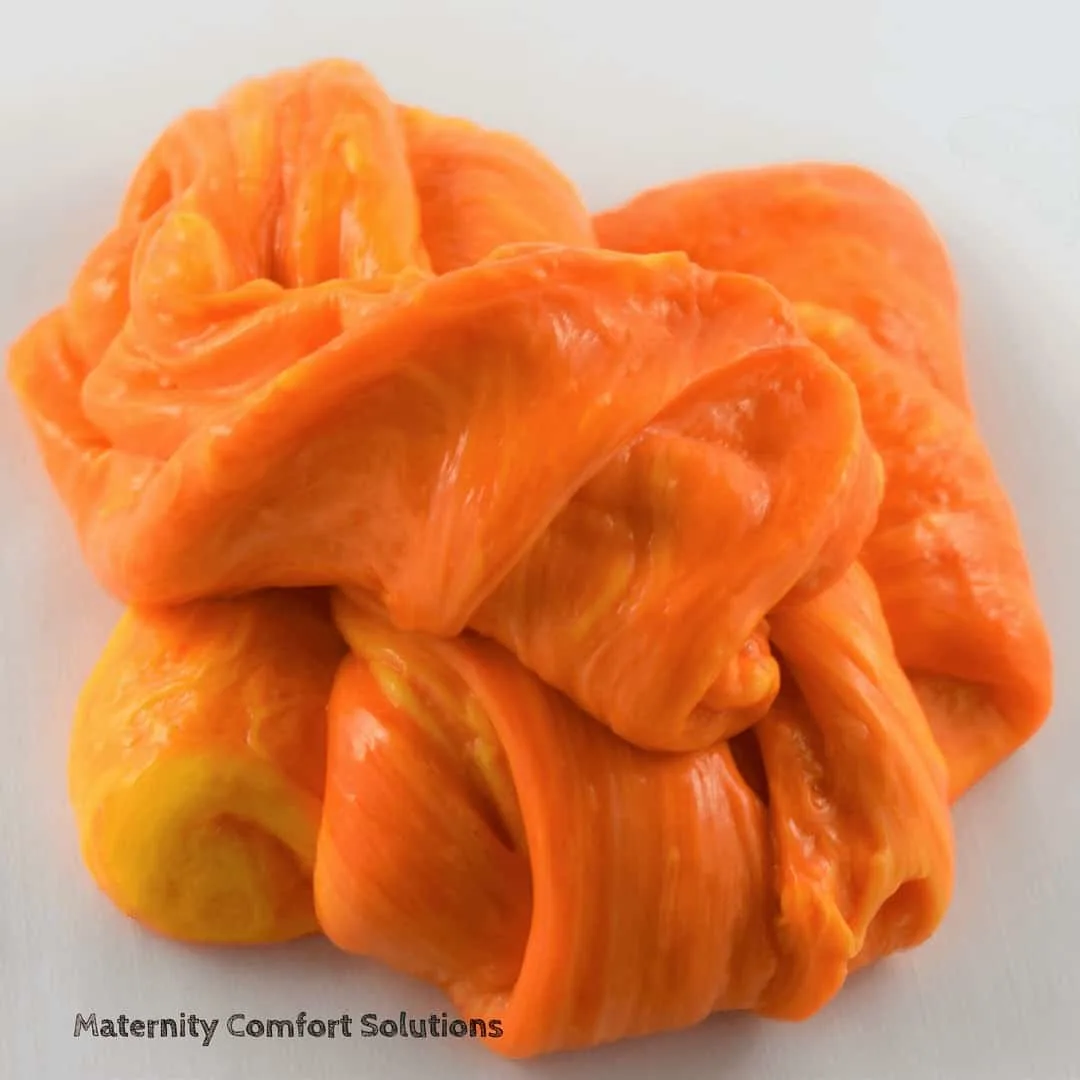 This is pumpkin scented slime made with pumpkin seeds and tempura paint.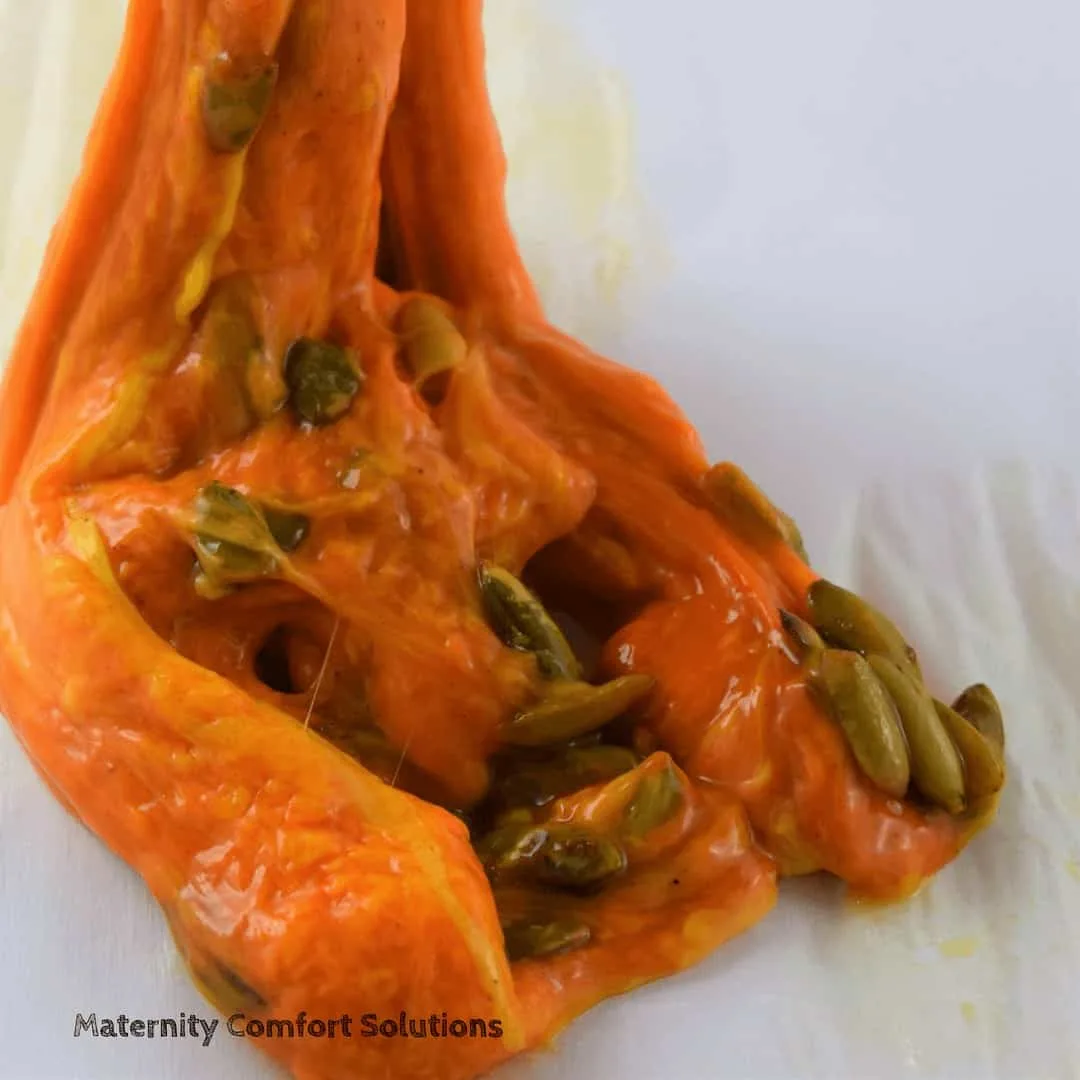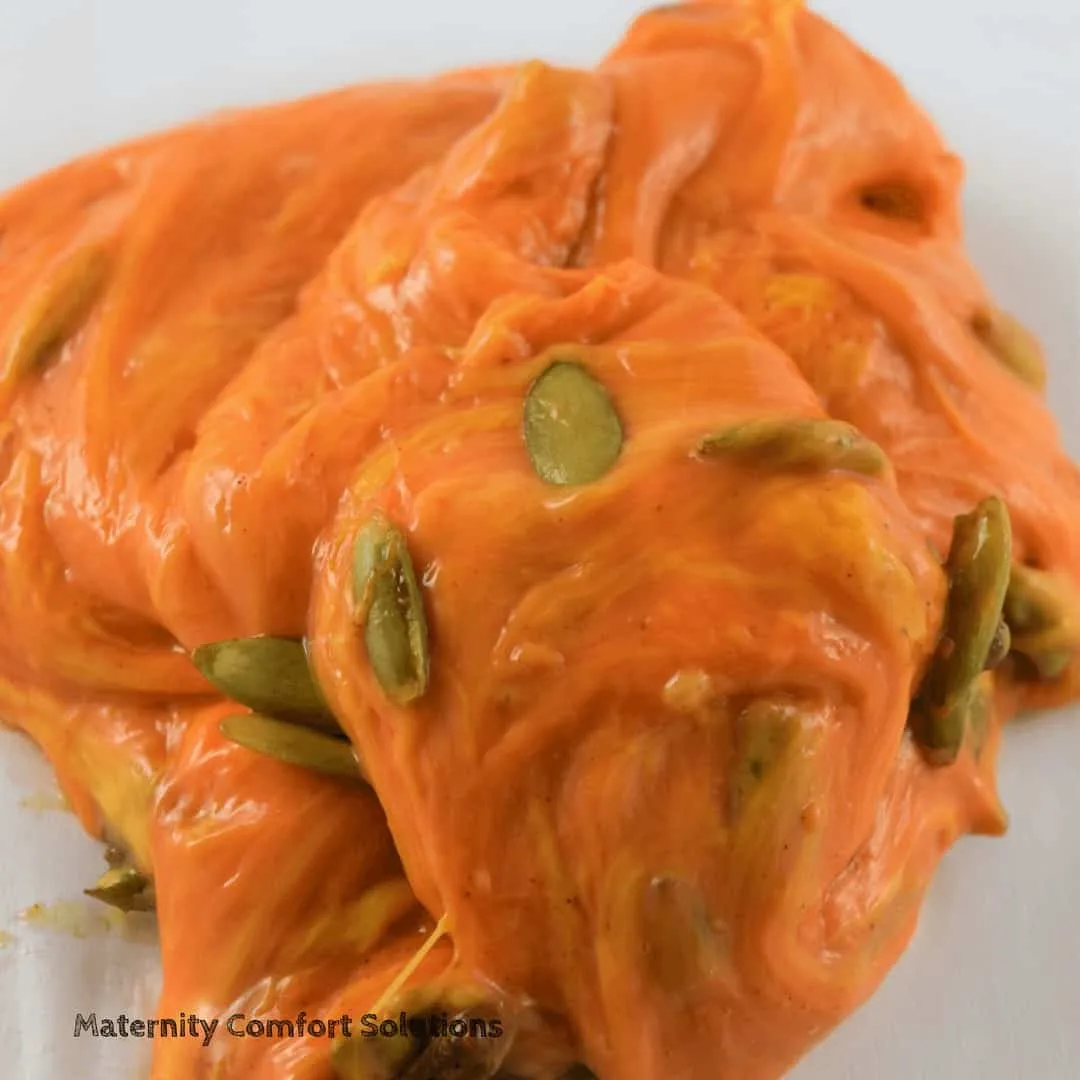 You can make this as a stand-alone fall/Halloween sensory activity or what we like to do is use it as part of a Pumpkin/Halloween week theme in our homeschool.
Some other things we have done along the theme are fall process art activities, reading a pumpkin book, or putting on an audible book (free trial from Amazon) about pumpkins.
We may watch a video about how pumpkins are grown and harvested. We visit a pumpkin patch to pick out a real pumpkin.
Once they are done with the pumpkin-scented slime, you can use it to make another Halloween sensory activity for your toddler or preschooler.
If you knead the pumpkin spice slime for about 5-10 more minutes to can turn it into Halloween silly putty!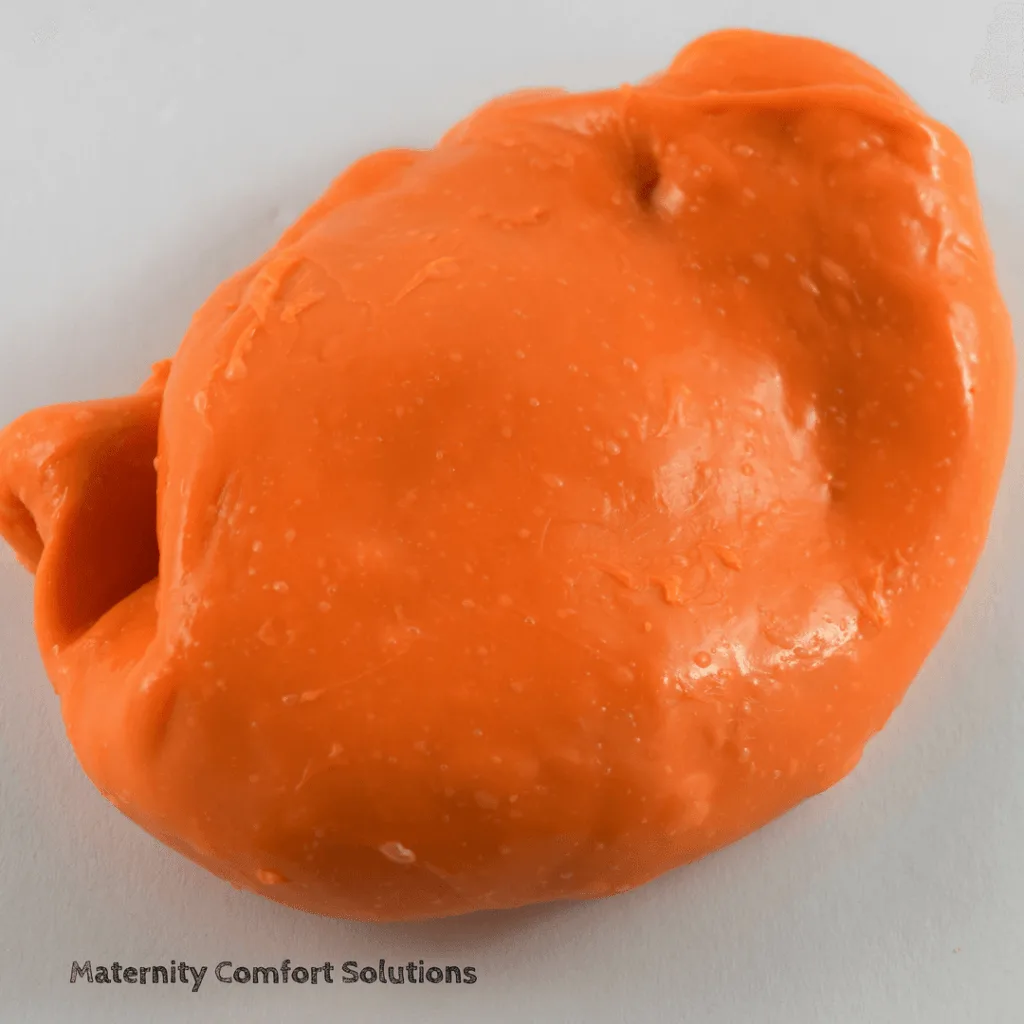 Some of our favorite books about pumpkins that your toddler might like too:
[content-egg module=Amazon template=grid next=3 hide=price cols=3]
Related: 11 Fun Fall Activities You'll Regret Not Doing With Your Toddler
2. Witches Brew Rice Bin
What would Halloween be without the witches' brew?
There are so many different sensory options for making Witches brew.
I chose to make it with dark purple-colored rice because I knew I'd be using the rice again in another Halloween sensory bin.
If you want light bright purple rice. you should use gel food coloring that comes with that color purple.
It can find be hard to find in stores during the fall and winter, but you can always order it on Amazon.
Some other ideas would be to make it with colored Epsom salt or you could color its white sand.
This is the white sand we love to use in sensory bins.
Colored Rice Recipe:
2 cups of white rice
1 tsp vinegar
Several drops of red and blue gel food coloring to make purple. You can also use purple gel food coloring which will make the rice a light purple color.
I have found the best way to make the rice is to use gallon zip-lock bags.
Pour the 2 cups of white rice into the bag, add 1 tsp of vinegar, and several drops of food coloring, squeeze the air out of the bag as you zip it, and then shake until the rice is fully colored.
Spread the rice out on a parchment paper-covered cookie sheet and allow it to dry for a few hours.
If need to dry it faster, you can dry it in the oven at @250 degrees for 10 minutes.
Let it cool and it is ready to use.
Here are the two witches' brew sensory bins I made. I used purple-colored rice and added plastic toads, bats, rats, and snakes.
I used a plastic bin because our black plastic cauldron has gone missing this year.
It worked out better for pictures I think as the rice came out really dark.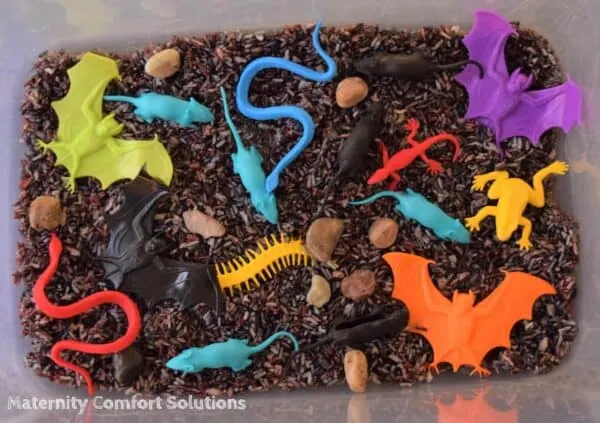 The second witches brew Halloween sensory bin I made was with rats, bats, and wooden spoons.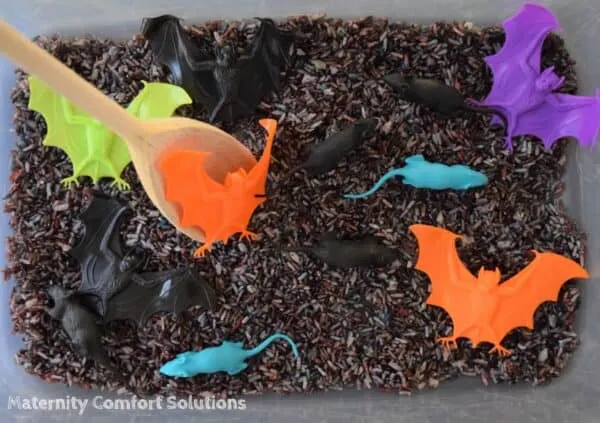 Additional witches brew activities for toddlers:
We love the book Room on the Broom and it makes a great companion for the witches brew sensory play activity for toddlers.
Another fun activity to keep the witches brew theme going is to make a witches brew macaroni and cheese recipe for lunch or dinner.
I whipped up a smaller version of it yesterday (pictured below) to show you what it looks like and how it works really well as a Halloween-themed food.
It is a good way to sneak in some veggies too.
Purple-shaved carrots can be the "eye of newt or toads".
I have been able to chop up the spinach and add it to the bright green and sometimes the purple version that I make and nobody noticed!
The cheese sauce is what I dye green and then add cooked pasta to the cheese sauce.
The purple pasta is cooked pasta that I colored purple with just a few drops of food coloring and toss a little into the green pasta right before serving so it stays super purple. but has the cheddar cheese flavor.
Our kids love it when we take ordinary foods and turn them into something fun for a Holiday.
It is one of our personal tricks for getting picky toddlers to eat and try new things.
It is family traditions like these, that children grow up and remember.
Witches Brew Mac N' Cheese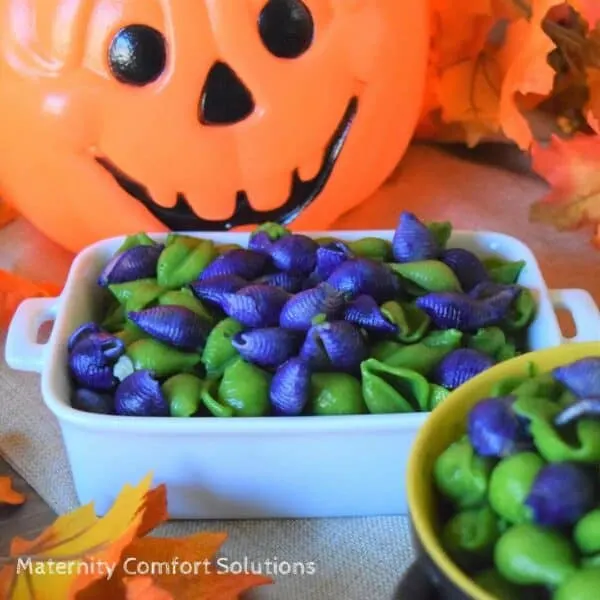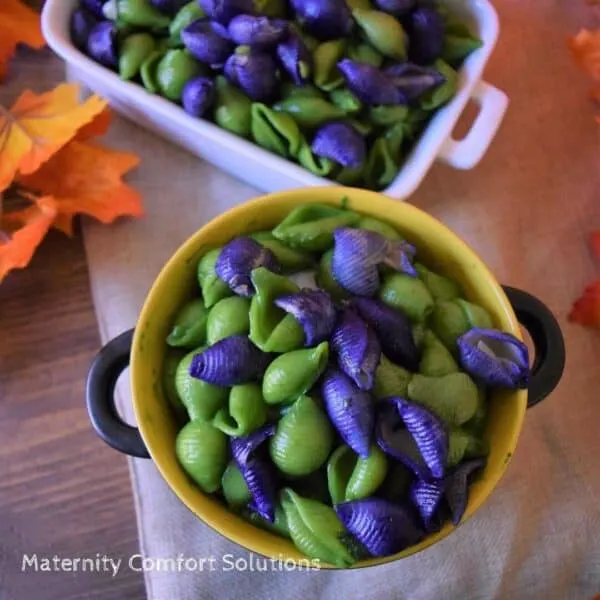 [content-egg module=Amazon template=grid next3 hide=price cols=3]
3. Halloween Spider Nest Rice Bin
This sensory bin is a super fun one that my kids have always loved. It coincides with us decorating the outside of our house and yard with big purple spiders, webbing, hanging ghosts, and bats.
The spider nest rice bin is super simple to make. You can use any color of rice you want. I used the purple rice from the witches' brew, a bag of colored spiders, and the bagged spider webbing you can buy at Walmart.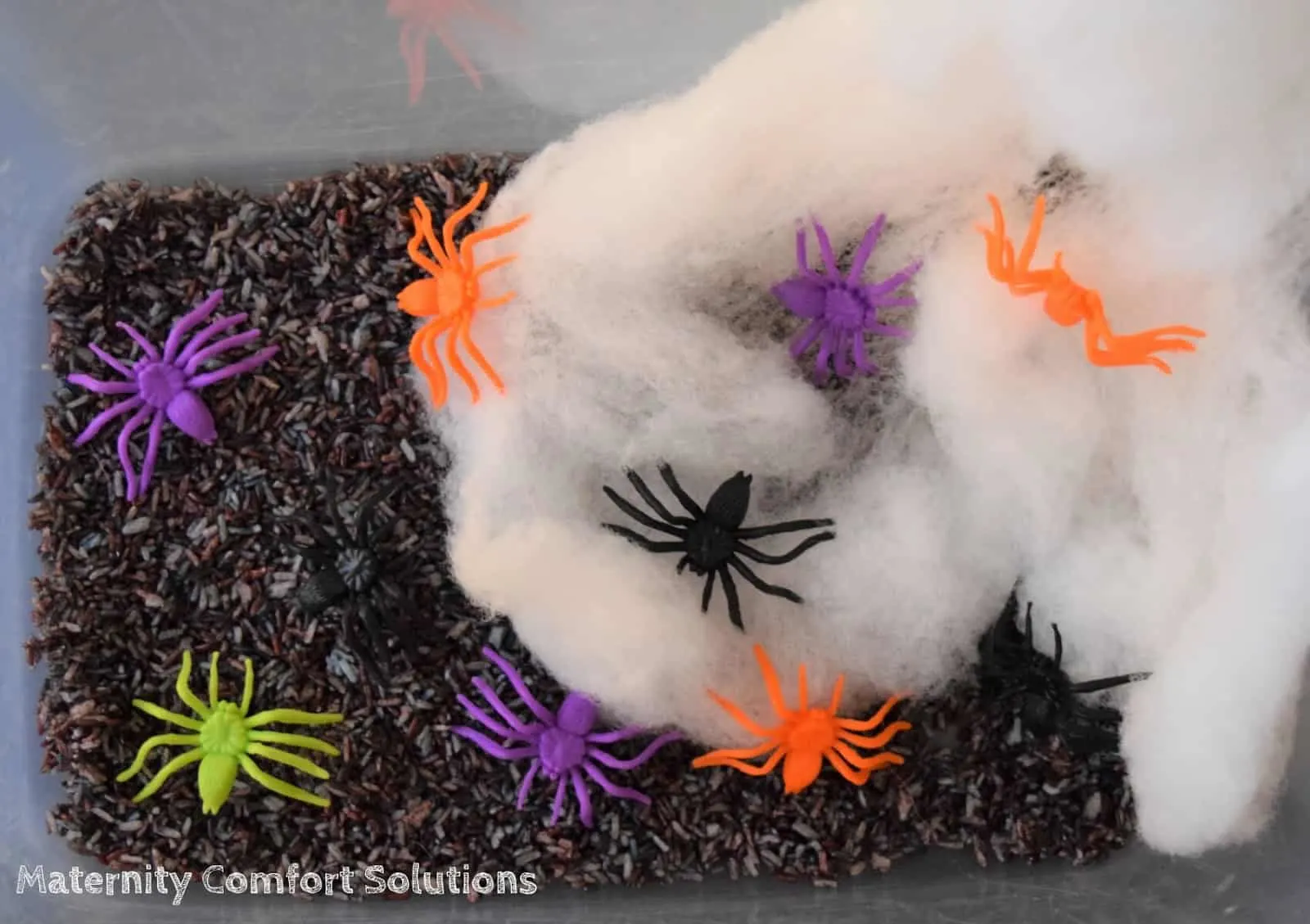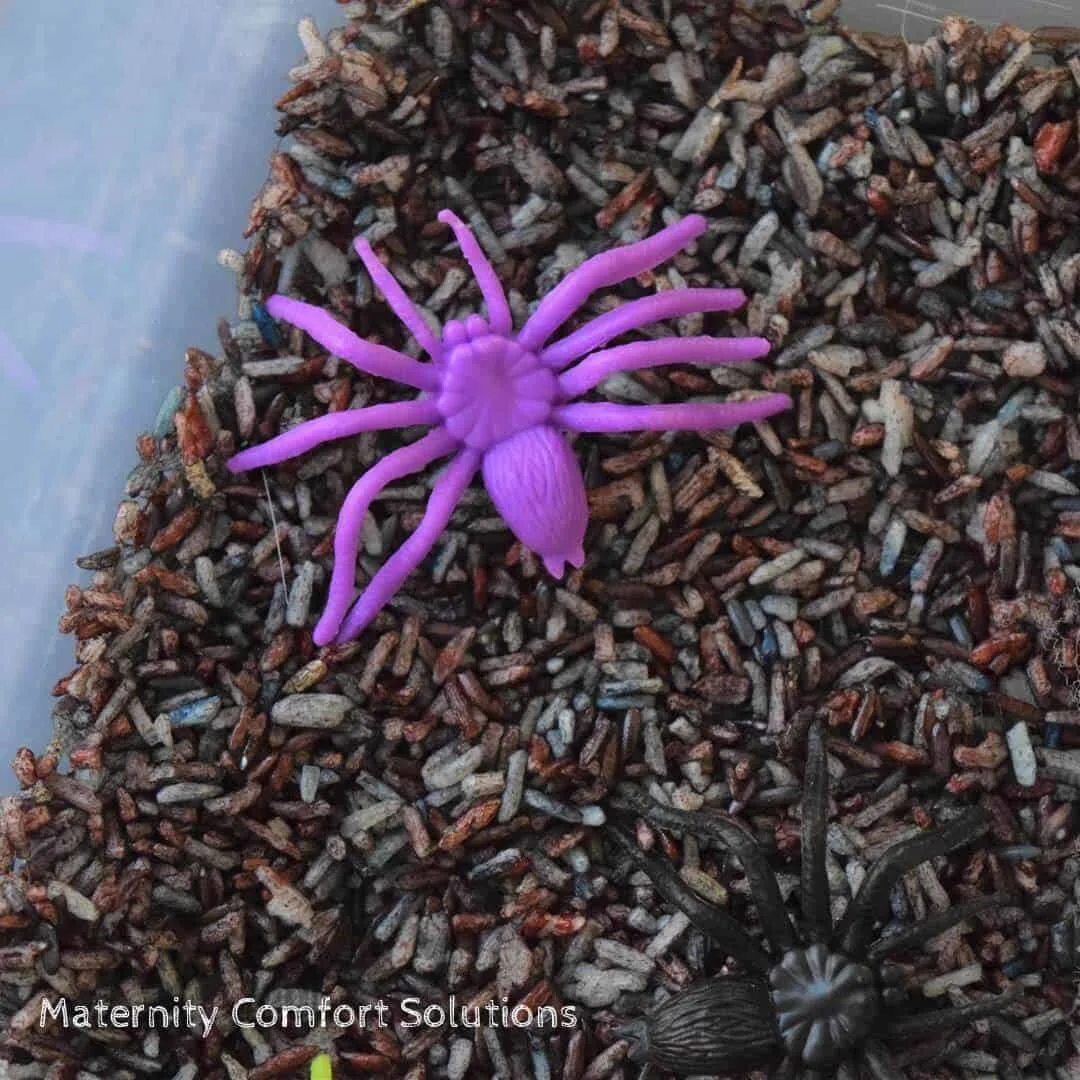 Additional Spider activities for toddlers:
We make spooky spider cookies as a Halloween treat when we make this sensory bin and decorate the house.
These spiders can be used in many activities for a Halloween theme or spider theme week.
We do process and open-ended art projects with our toddlers and preschoolers so when doing a Halloween or spider-themed week, I would use these spiders again in a spider painting/stamping activity.
Some of our favorite books about spiders that your toddler might enjoy too:
[content-egg module=Amazon template=grid next=3 hide=price cols=3]
4. Playdough Halloween Invitation to Play
Homemade black and orange playdough with simple Halloween spiders.
Halloween sensory activities for toddlers do not need to be complicated. This is a simple Halloween invitation to play using spiders from the spider's nest rice sensory bin.
You could make so many different Halloween invitations to play once you have the dough made.
Easy and fast homemade playdough recipe:
1 cup all-purpose flour
1/3 cup table salt
2 teaspoons cream of tartar
1 cup of water
1 tablespoon vegetable oil
Gel food coloring
You'll want to use a large pot for this recipe. Pour the flour, salt, and cream of tartar into the pot, and add water and oil.
Using low-medium heat on your stove-top stir until the ingredients start to thicken.
It takes about a minute or two.
Now add the food coloring when it thickens up and starts to look like dough.
Keep stirring until the dough begins to pull away from the sides and starts to stick to the spoon. That is how you will know it is done.
Remove the dough and place it on wax paper to cool.
Pro tip: When I make playdough I make several different colors at one time. I find it more efficient to batch-make many of the homemade sensory play items and bin fillers we use.
You do what works best for you and your family.
It is faster to make the black and orange playdough without making the other colors. Do what works.
Parenting toddlers is hard, tiring work. If you like the Halloween invitation to play but have no time or interest in making play dough, you can buy black and orange playdoh on Amazon.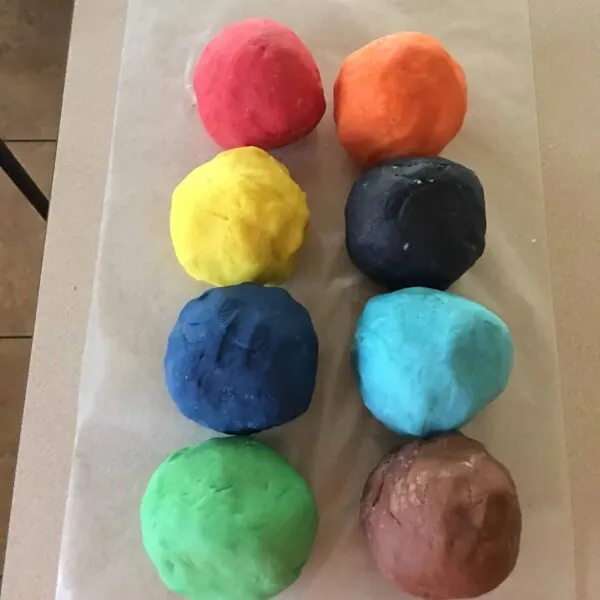 Photo credit: Maternity Comfort Solutions
When it is cool enough, knead it for a minute or two and it's ready to go.
Store in an airtight container and you can use it over and over again.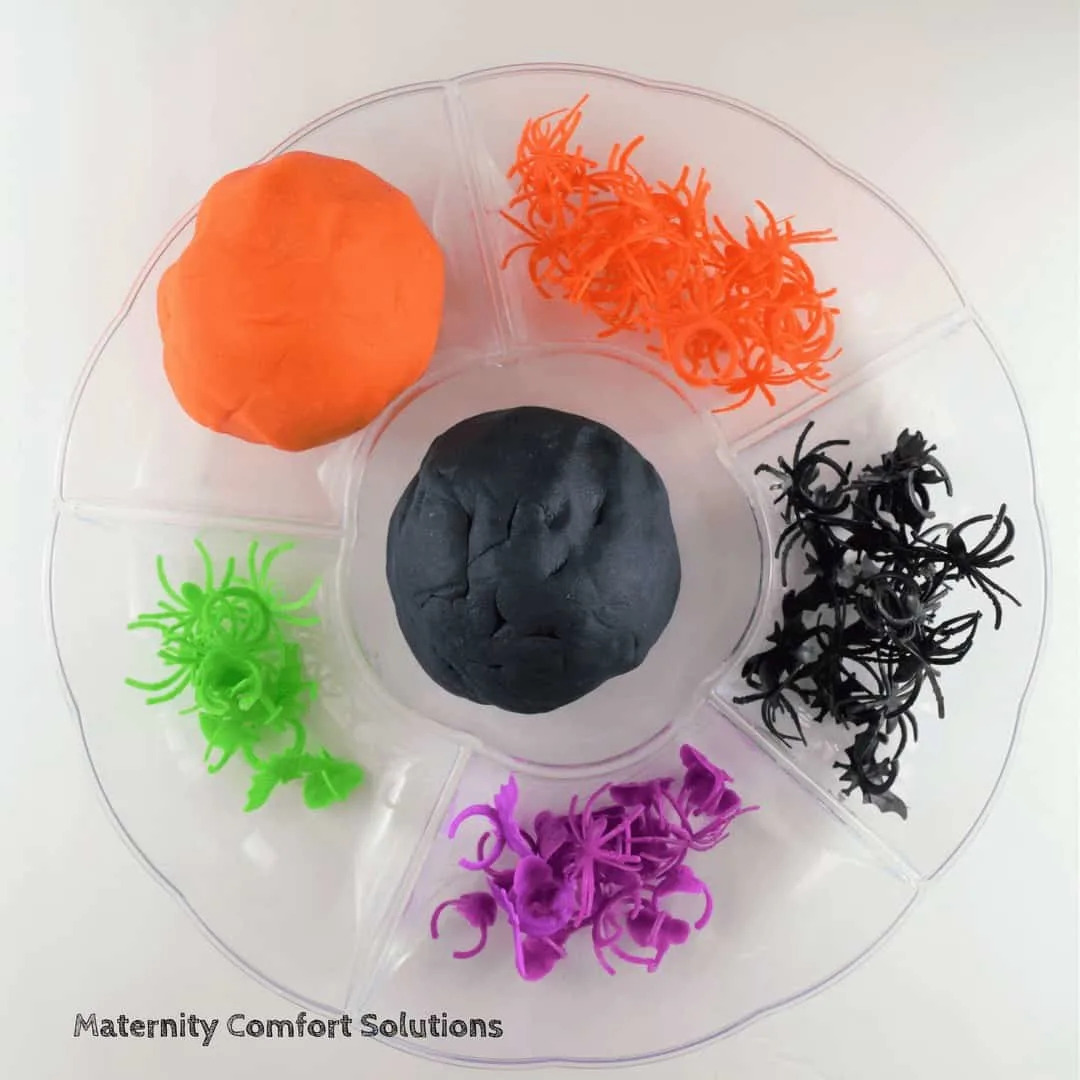 5. Black Colored Rice and Bugs Sensory Bin:
Cute Halloween sensory bin idea for toddlers. Black-colored rice sensory bin with bugs and snakes. You can get bugs and snakes on Amazon.
The colored rice recipe is the same one I used in the witches' brew sensory bin above.
You can make this type of sensory bin with colored Epsom salt or black craft sand as a non-food alternative.
This is a versatile sensory activity that is great for Halloween, insect, spring, and summer sensory activities for toddlers.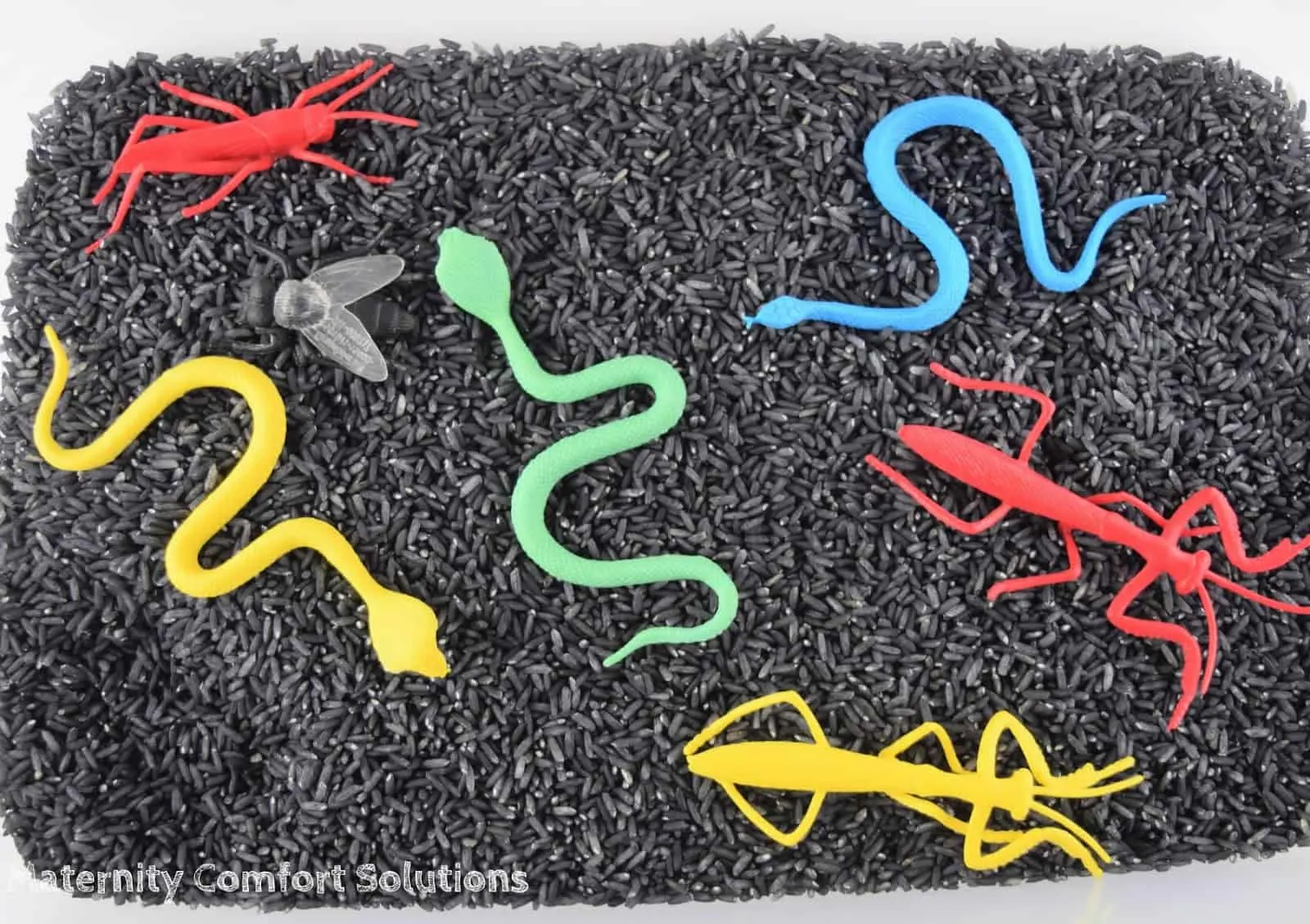 6. Red and Black Spaghetti Worms and Rice Sensory Bin:
This is a really fun Halloween sensory bin to make for toddlers.
I made this with cooked spaghetti that I dyed red and black for the worms.
The colored rice is the same recipe used above in the witches' brew sensory bin. You could make a similar sensory bin with thick red and black yarn.
I added blue and black rats (from Walmart) and cut out the gravestones from the posterboard I had.
We treat this as a silly sensory bin. We put on Halloween music for kids on Spotify or music for kids from Amazon.
If you have Amazon Prime it includes Amazon Music streaming for FREE.
Make it even easier with Amazon Alexa via a compatible device and do it all by voice. When you are parenting toddlers or having a baby or both, you need to conserve time and energy wherever you can.
If you are looking for more Halloween worm-themed sensory activities for toddlers you could easily use playdough and make an invitation to play.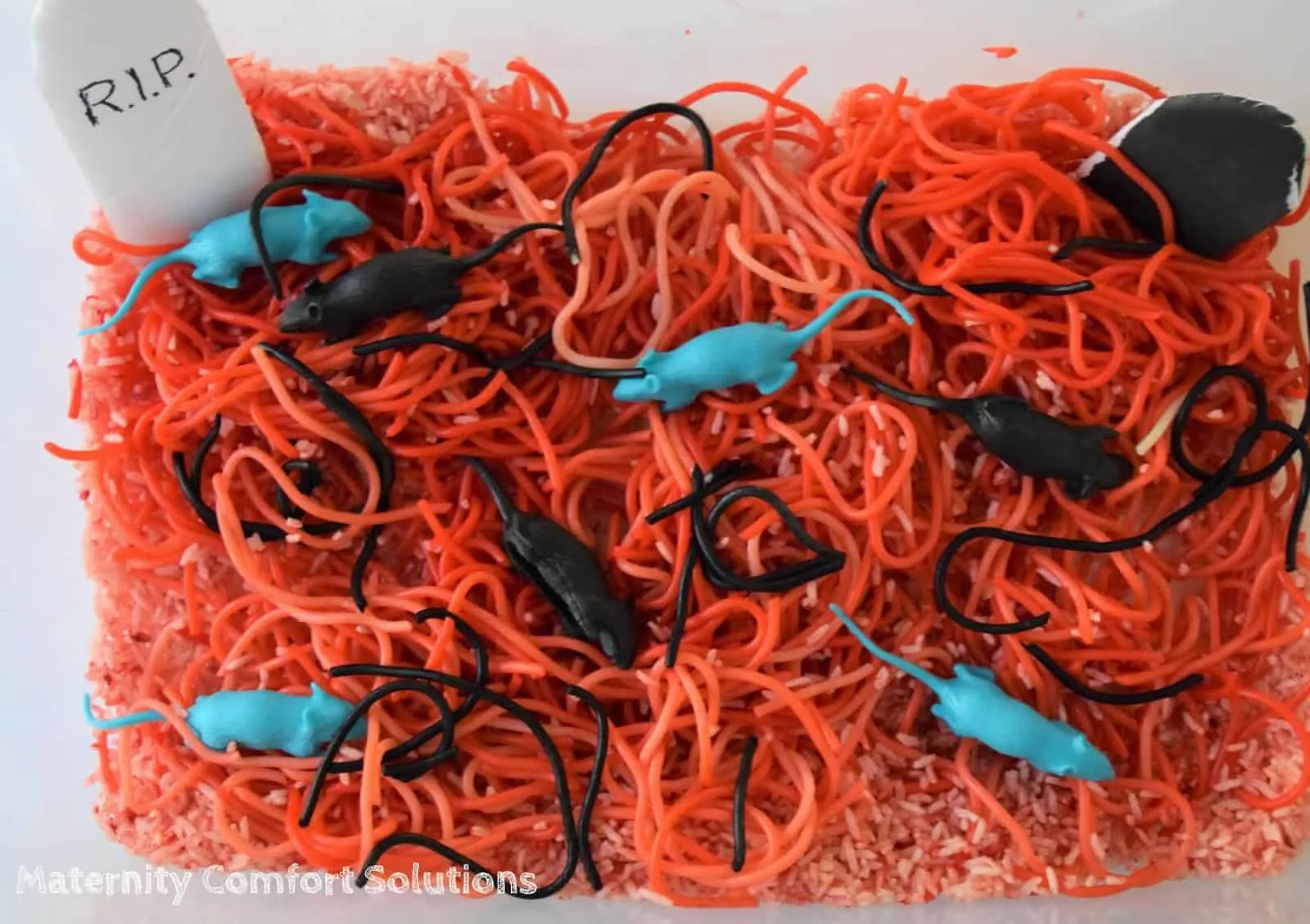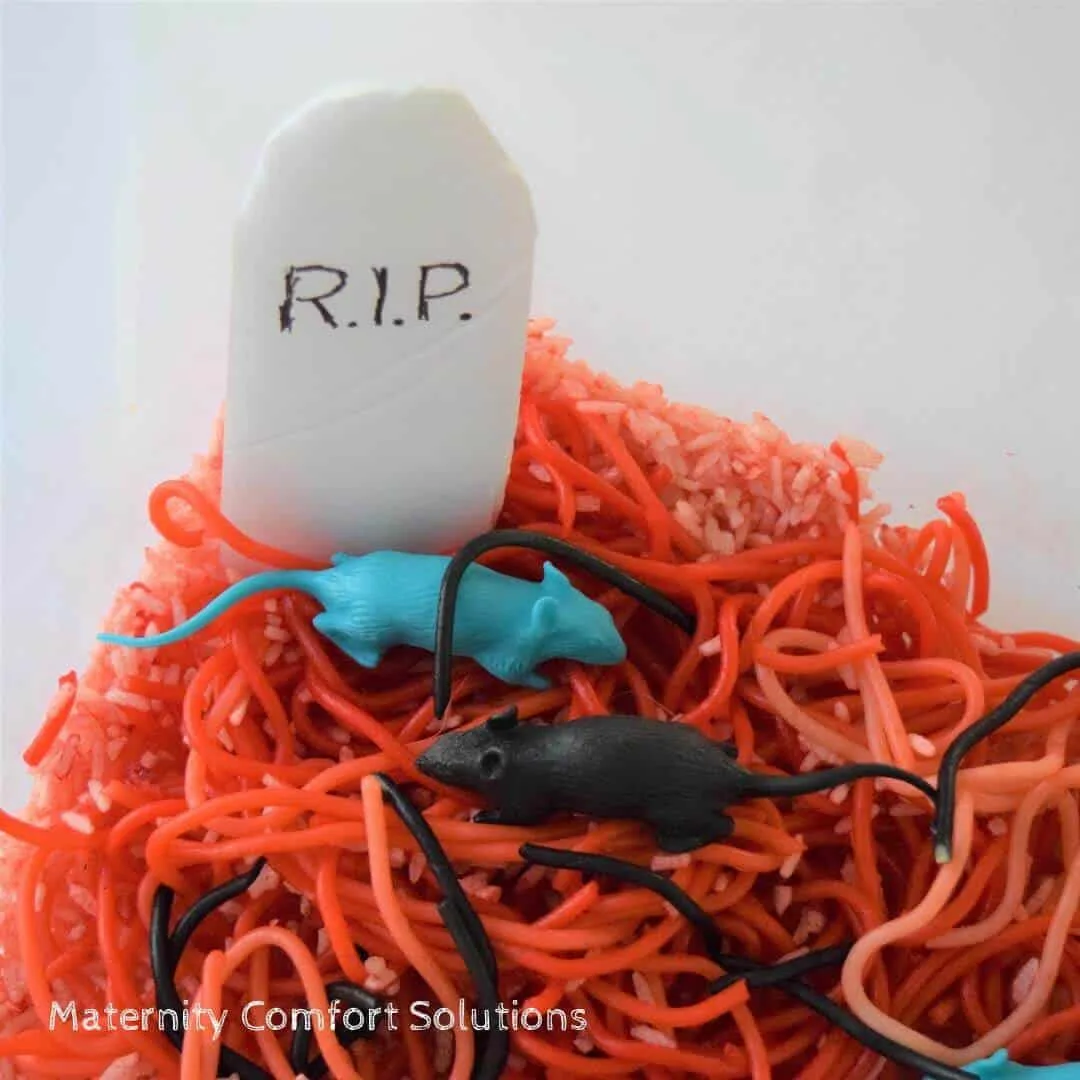 7. Black and Orange Colored Halloween Rice Sensory Bin
Halloween sensory bin made with black-colored rice, orange-colored pasta, and orange craft sticks.
You could add all kinds of cool Halloween items like spiders and bats.
This is basic black and orange Halloween-colored rice. It never fails for Halloween sensory play with toddlers.
You can make simple sensory bins with this. Add scoops, funnels, and cups to pour into and you will have one happy and an engaged toddler who is learning through play.
Sensory play opportunities do not need to be complex or involve lots of steps.
This is a great Halloween sensory activity that takes very little time and uses items you probably already have in your kitchen.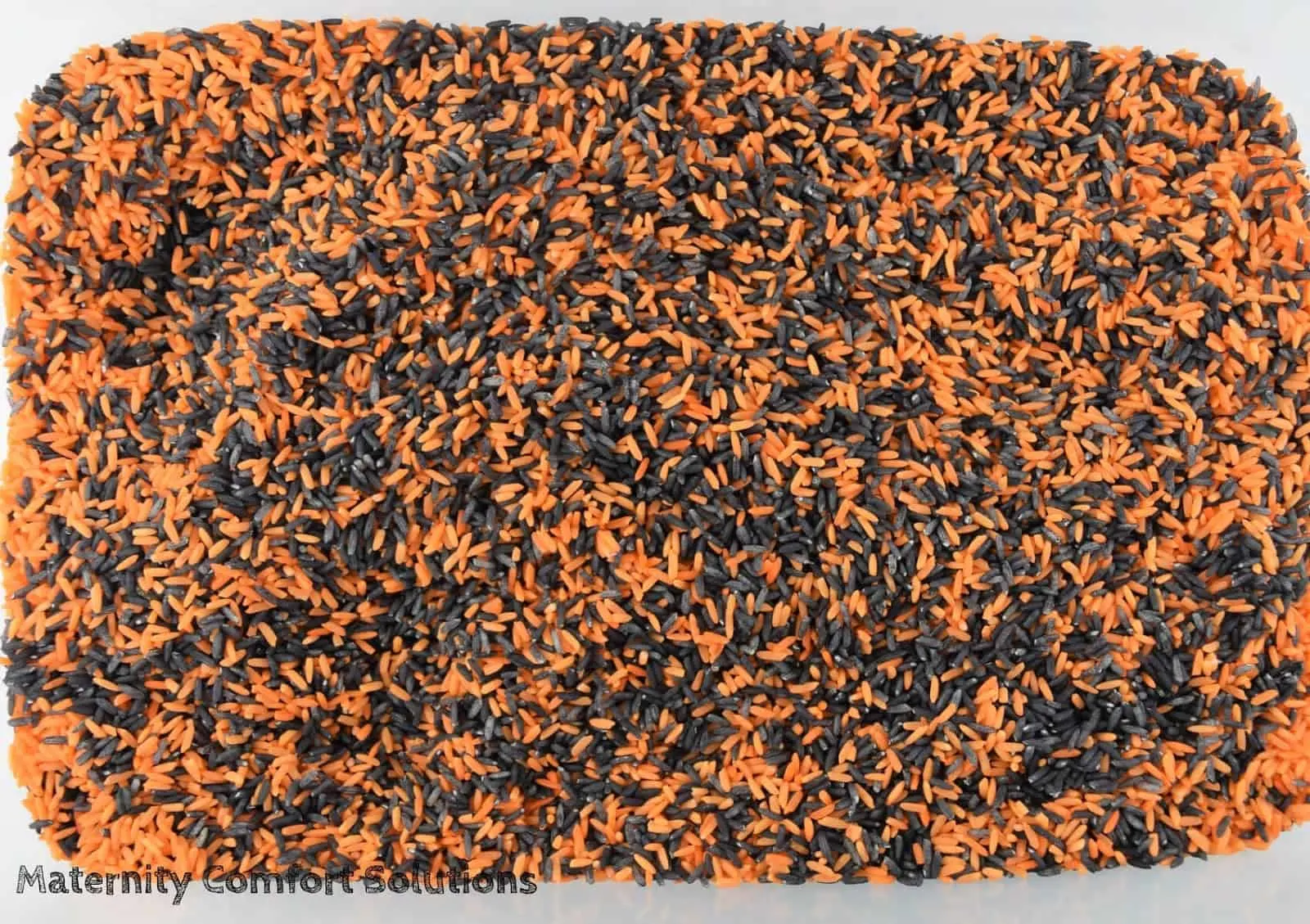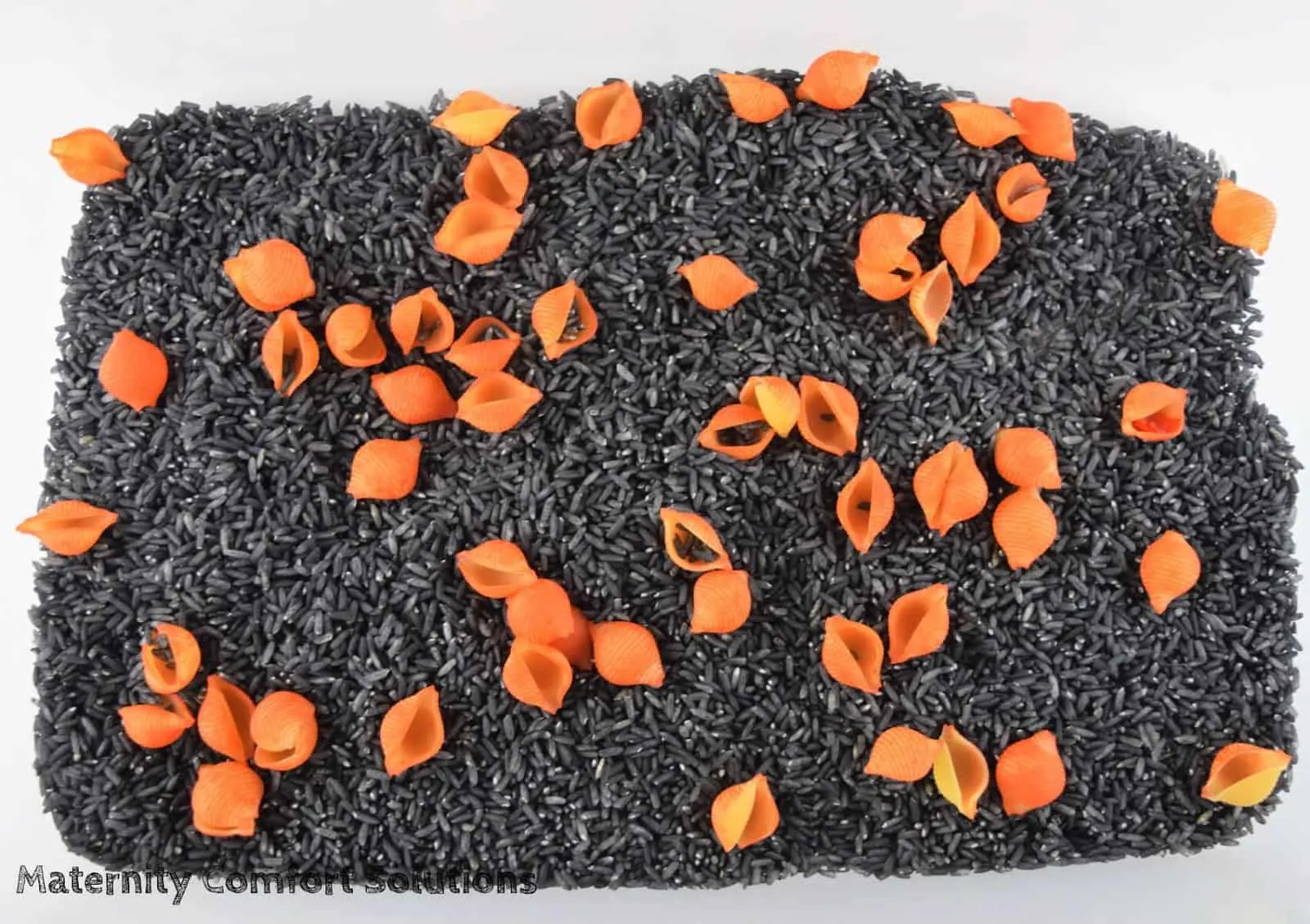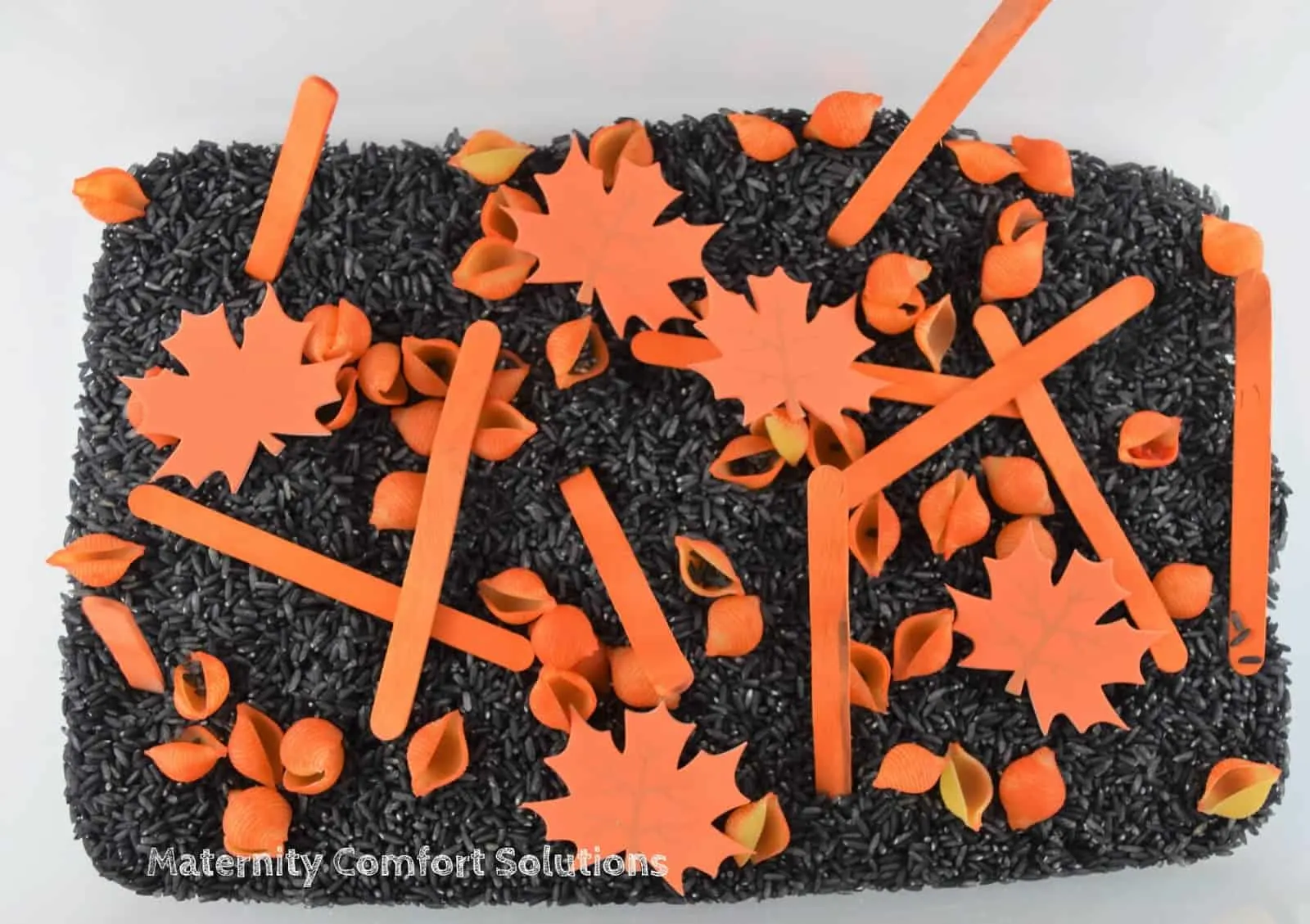 8. Black and orange worms with bats, rats, and snakes:
Black and orange-colored spaghetti are what make this Halloween sensory activity for a toddler so enthralling. I added colorful bats, rats, toads, and snakes.
The pasta is simple to make. I cooked it and then split it into two zip-lock bags.
I added a tsp of vinegar and gel food coloring until the pasta was just the right shade of Halloween black and orange.
If you are looking for a non-food way to make a similar-looking sensory bin, I would use thick-colored yarn.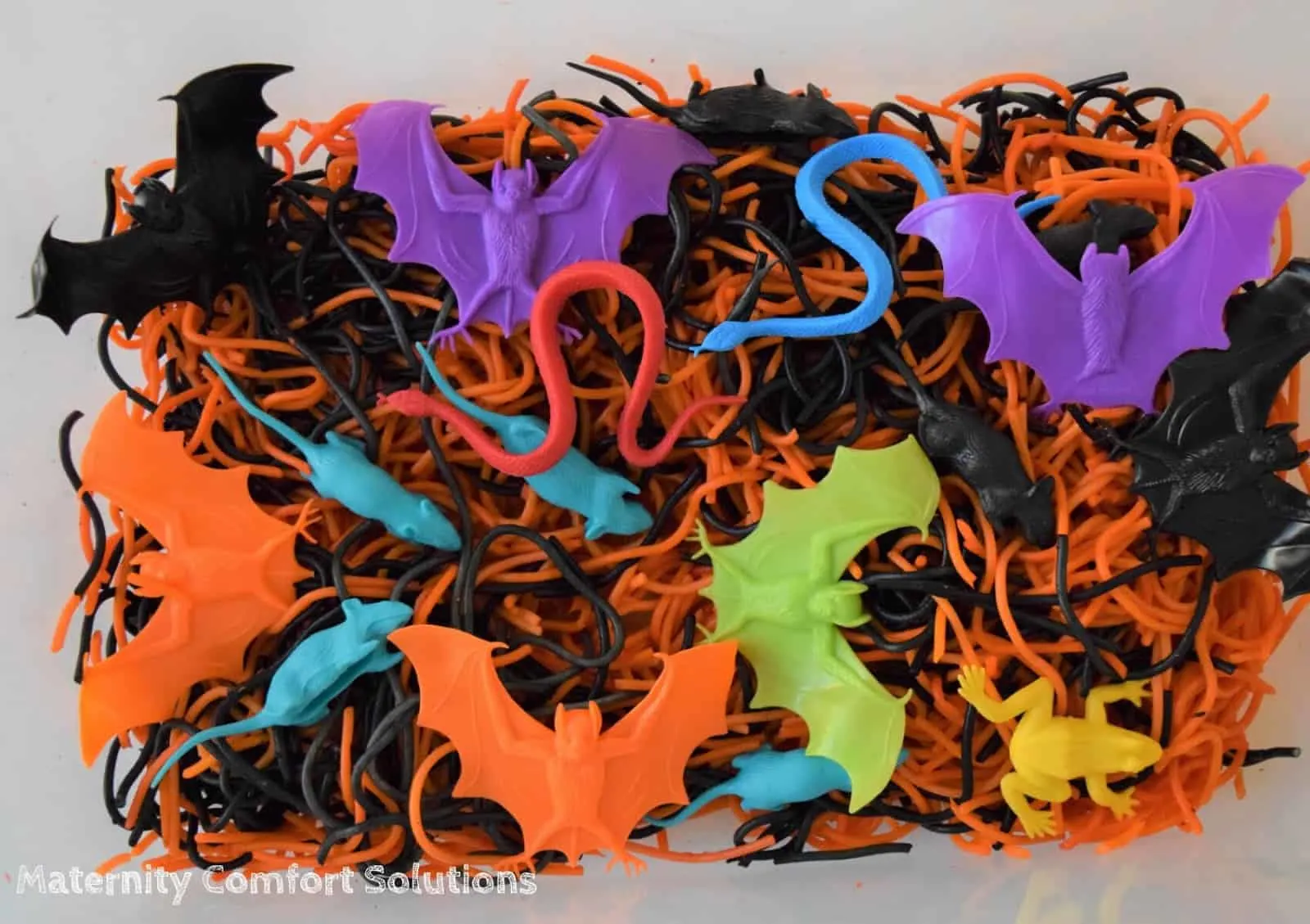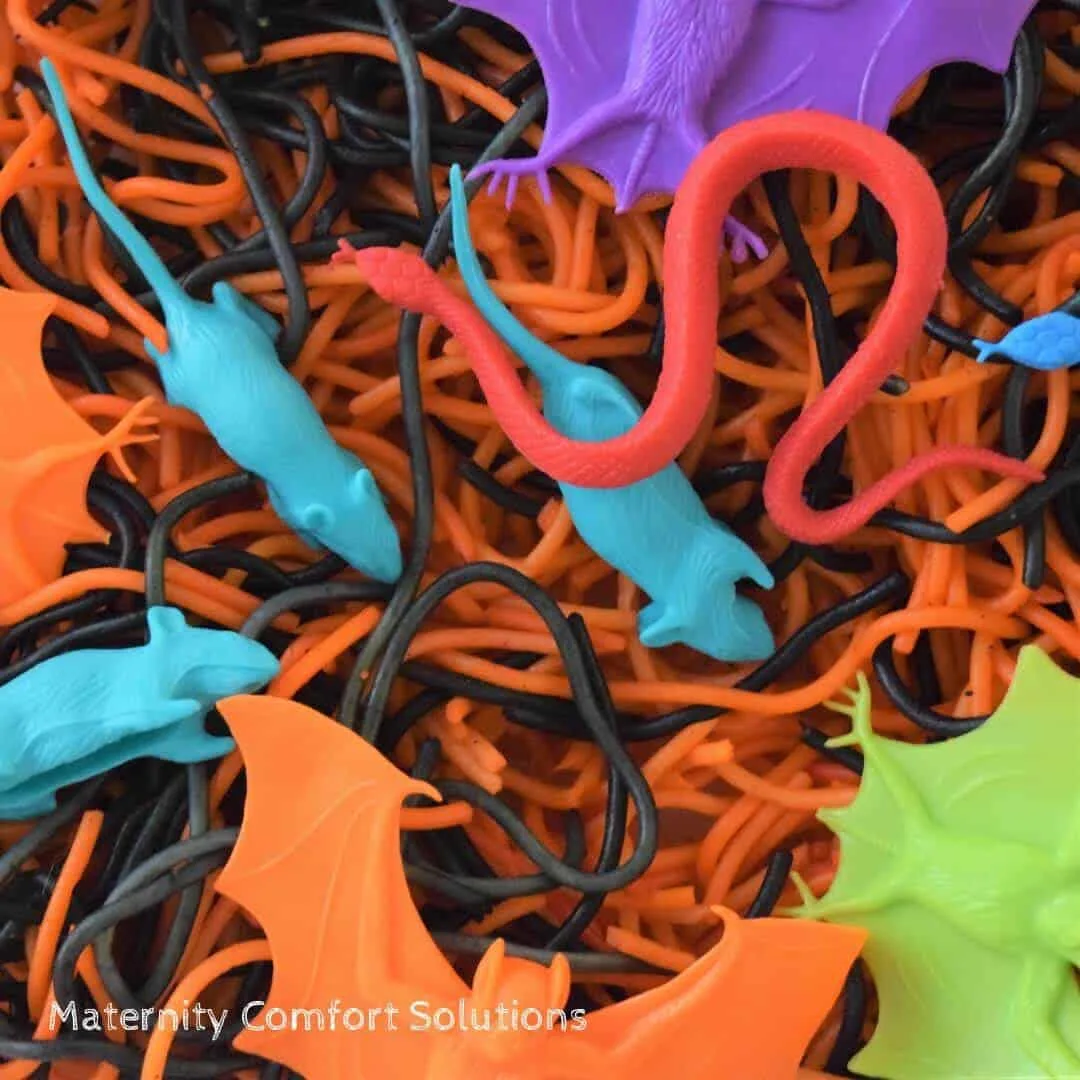 9. Spider nest and web slime:
The spider nest and web slime recipe:
Ingredients:
1 cup Liquid Starch
1 cup White School Glue
10 Drops of White Gel Food Coloring or Tempura Paint
Recipe:
Mix all ingredients until it forms the consistency of slime.
I added plastic spiders to make a spider nest and then as the slime was stretched it looked like a spider web.
These are the same spiders I used in the spider web sensory bin.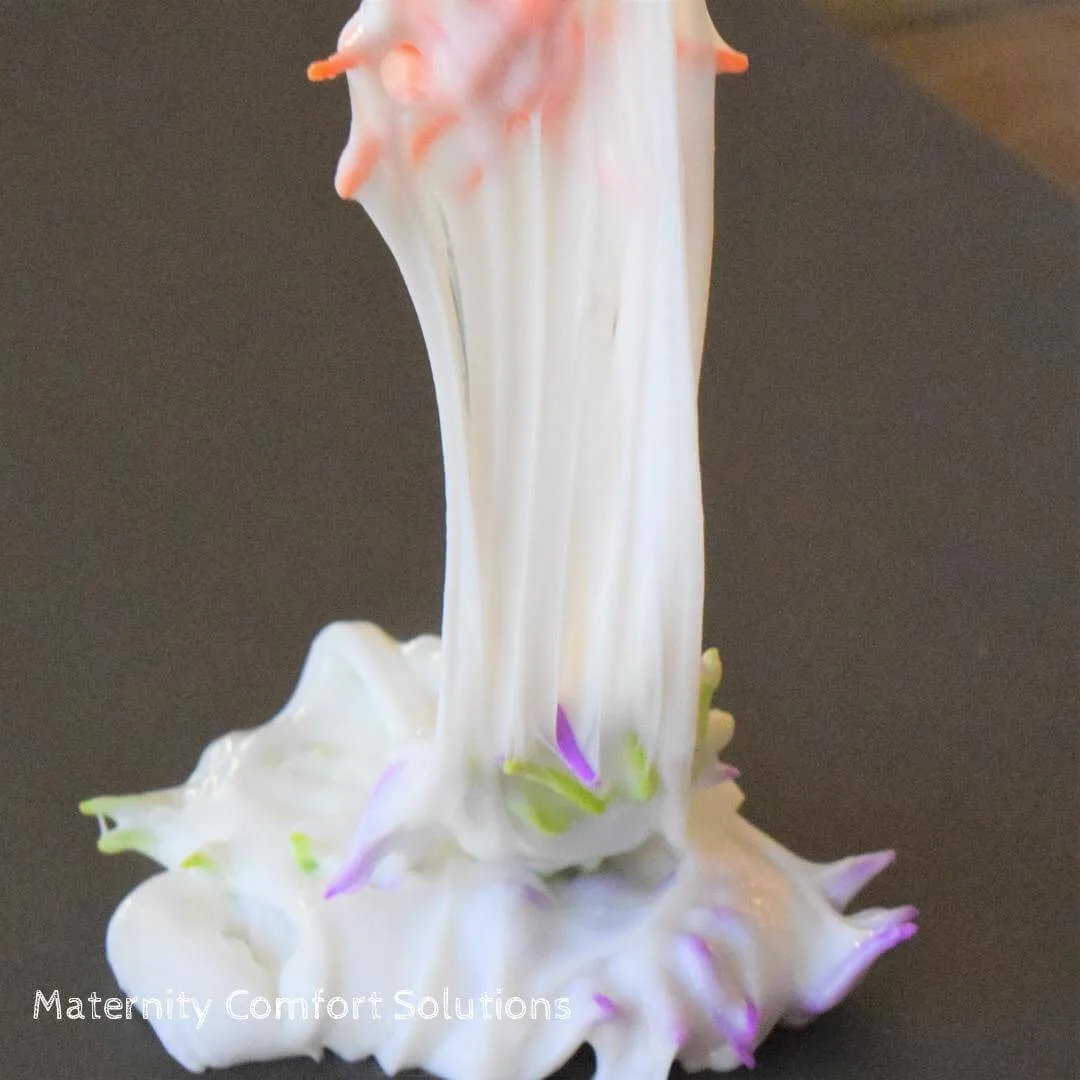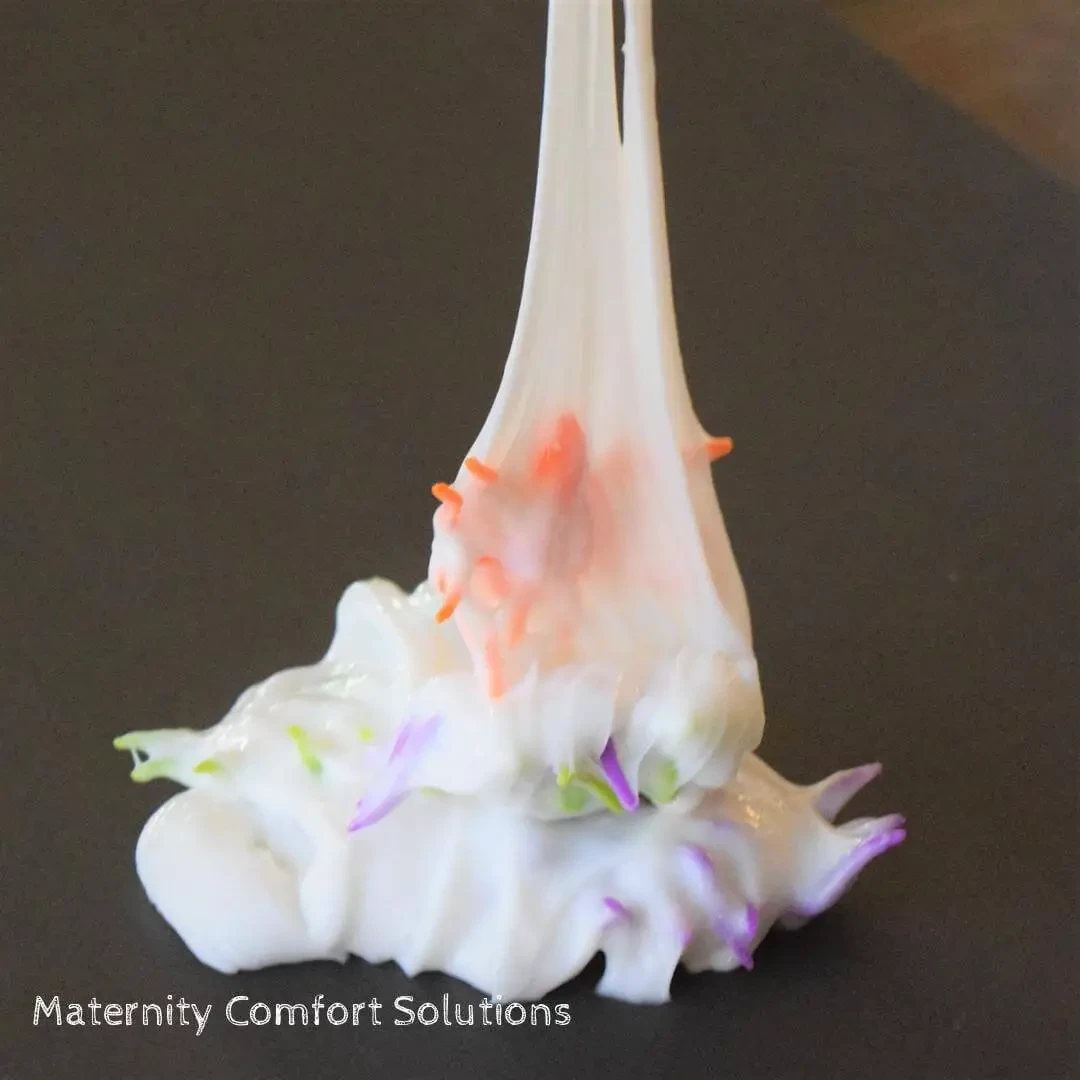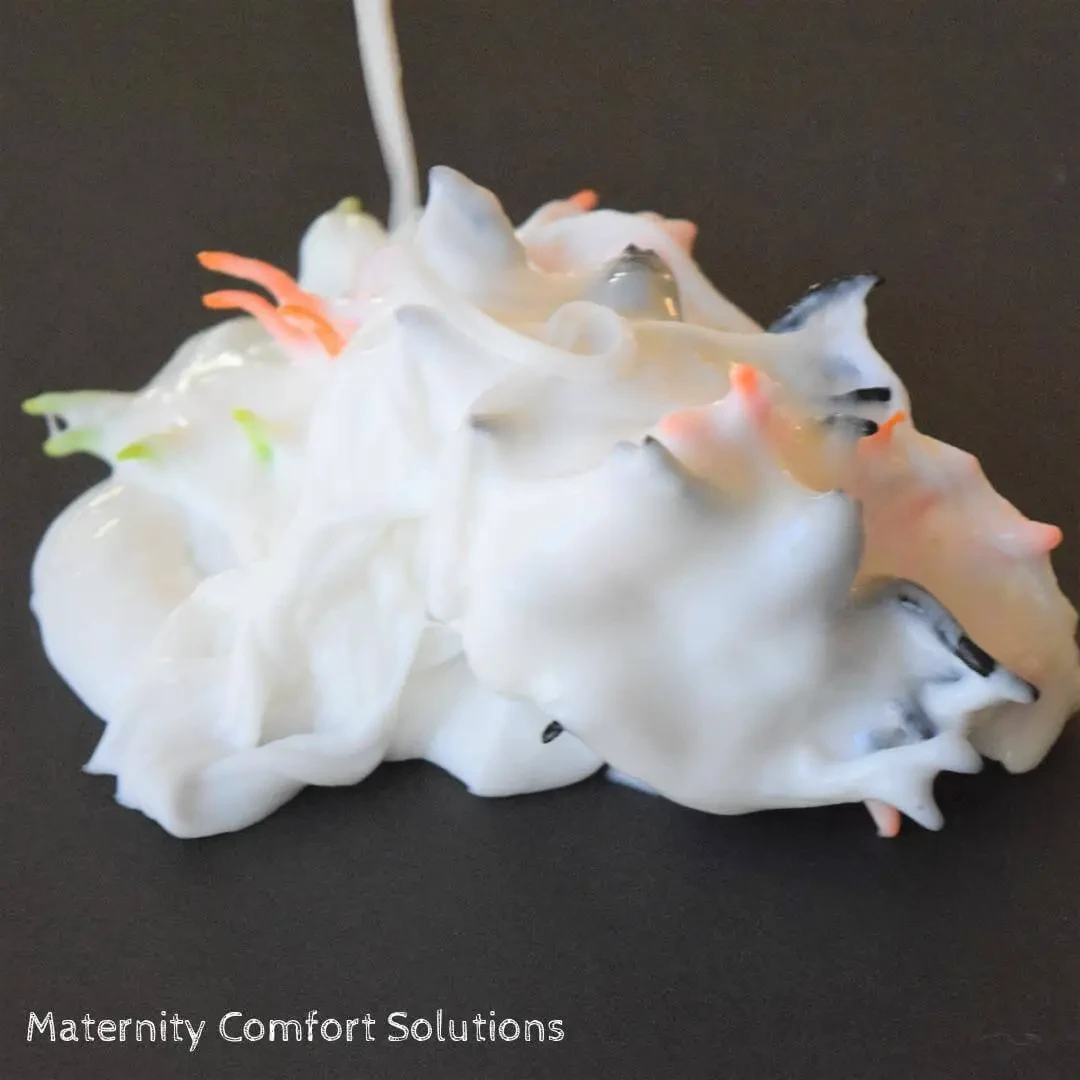 Additional spider web activities for toddlers:
Take an early morning nature walk around your home. It is often much easier to see spider webs in the early morning as the sun rises and shines on them.
10. Red Slime With Eyeballs:
Blood red slime with eyeballs is always a Halloween favorite. We used the slime recipe above, we made the slime a little thinner and it was messier.
I was cleaning red slime off of things for days in my kitchen, but it was lots of fun to play with. I would suggest stirring it longer until it is thicker.
Blood slime with eyeballs recipe:
Ingredients:
1 cup Liquid Starch
1 cup White School Glue
10 Drops of Red Food Coloring or Tempura Paint
Recipe:
Mix all ingredients until it forms the consistency of slime.
Add plastic eyeballs or you can use candy eyeballs.
I used candy eyeballs this time and they dissolved in the slime. I think plastic eyeballs are a better choice.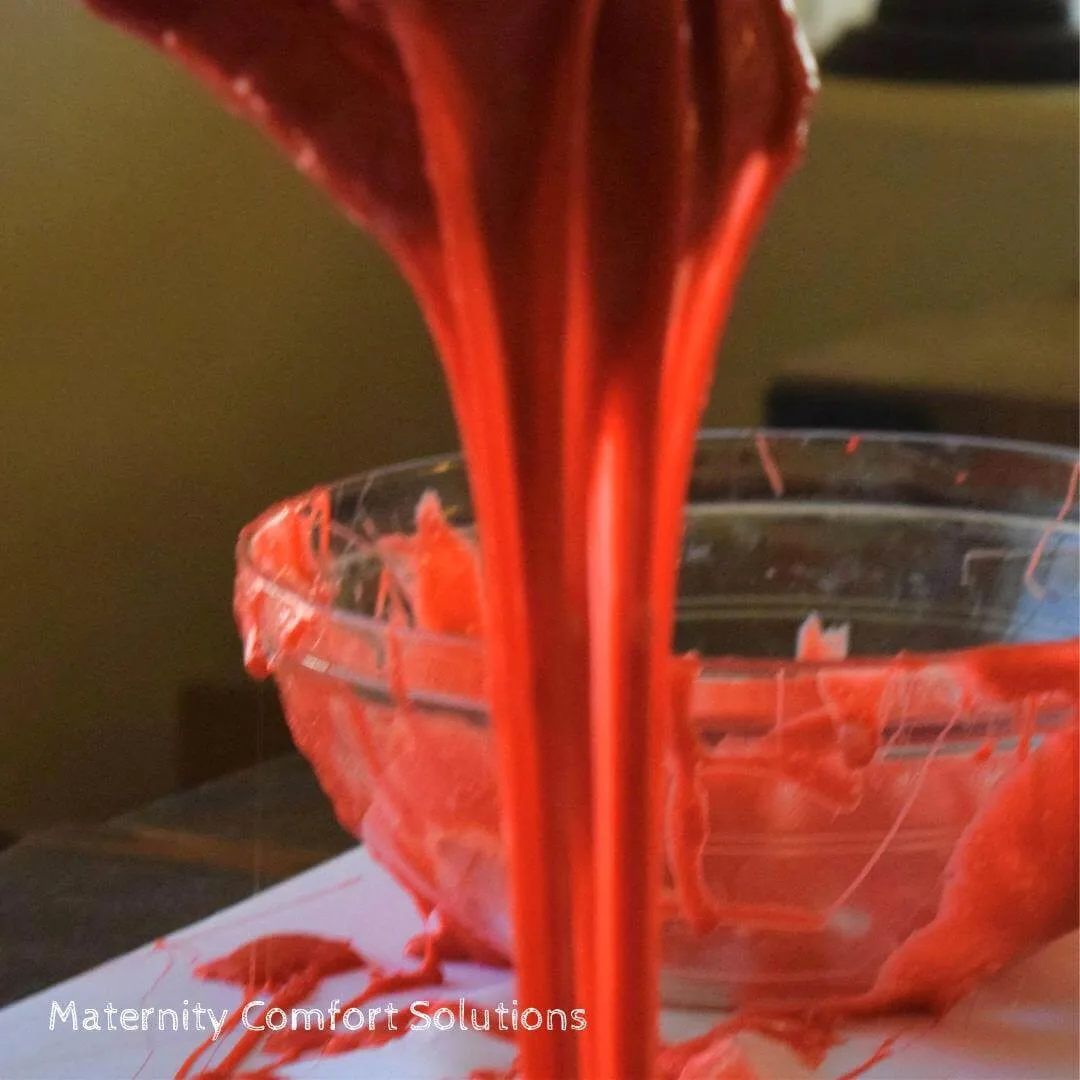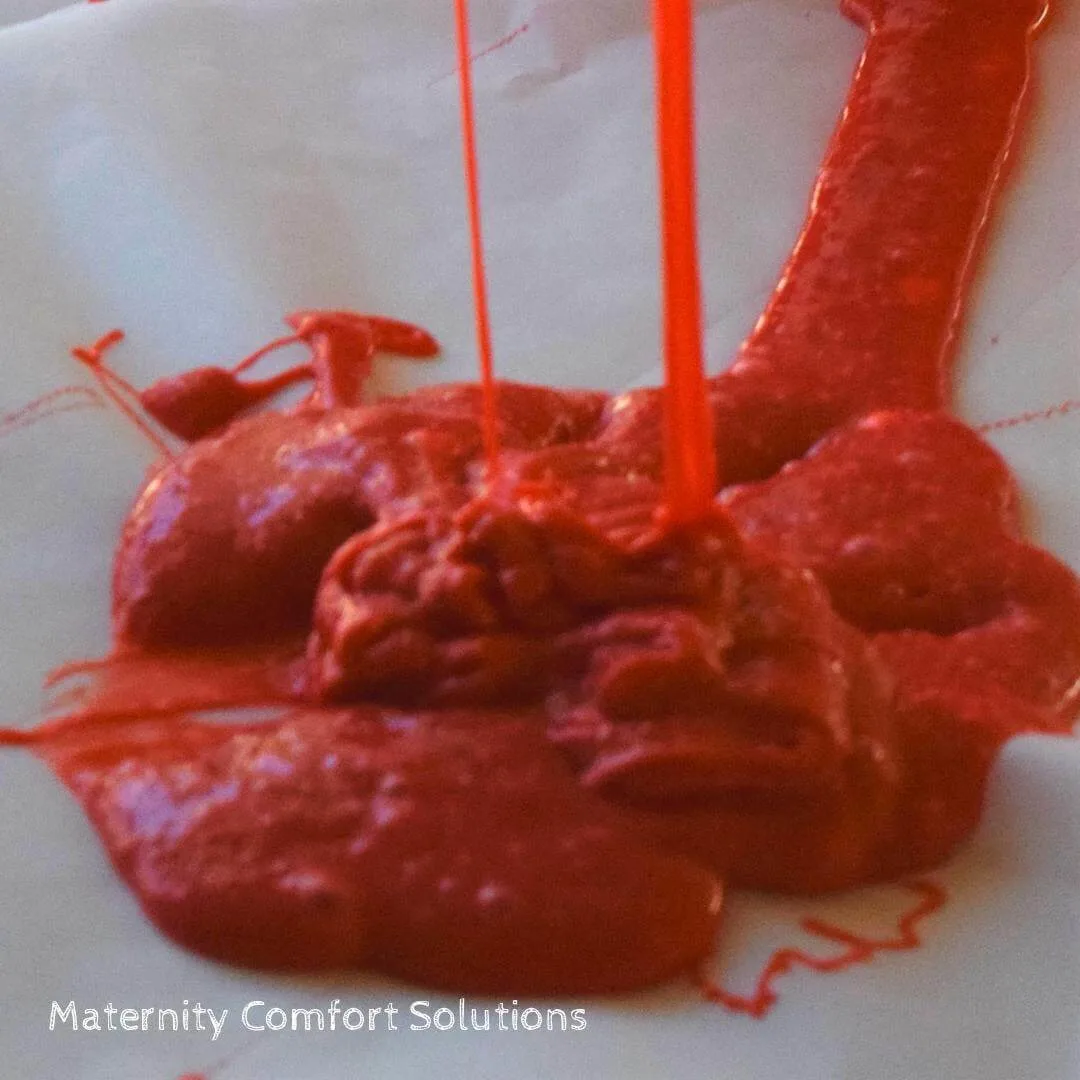 [content-egg module=Amazon template=grid next=3 hide=price cols=3]
Conclusion:
October is a fun and festive month for families with toddlers. This first full month of fall kicks off the start of the holiday season.
There are so many opportunities for indoor and outdoor sensory play during the fall!
Sensory play activities that encourage toddlers to use their five senses help them make sense of their world.
They begin to learn the basics of science, math, and language. Using Sensory bins in play activities can help your toddler practice the skills of empathy and kindness.
Halloween is an October holiday that offers almost endless sensory play activities for toddlers.
We have shared 10 DIY Halloween Sensory Activities for toddlers and additional developmentally appropriate activities to introduce the sensory play activity or to be used in addition to the sensory play.
We shared some of the hands-on activities our family has enjoyed over the years.
We hope you feel inspired to create some Halloween sensory play activities for your toddlers.
Remember, these activities do not need to be expensive or time-consuming to make.
Sometimes I'll make slime or silly putty, sometimes a rice sensory bin, spaghetti makes great worms and Halloween scented playdough is always a big hit.
All of these sensory activities are meant to be used with adult supervision at all times.
Have a safe and fun Halloween!