There are countless baby hacks in this new age of technology and enhanced communication. Never before has it been so easy for new moms to share their clever ideas, products, and newborn care solutions. New moms clearly have the best ideas and to be able to pass on what they have learned to first-time moms is invaluable.
This post contains affiliate links. You can read our affiliate disclaimer at the bottom of this post.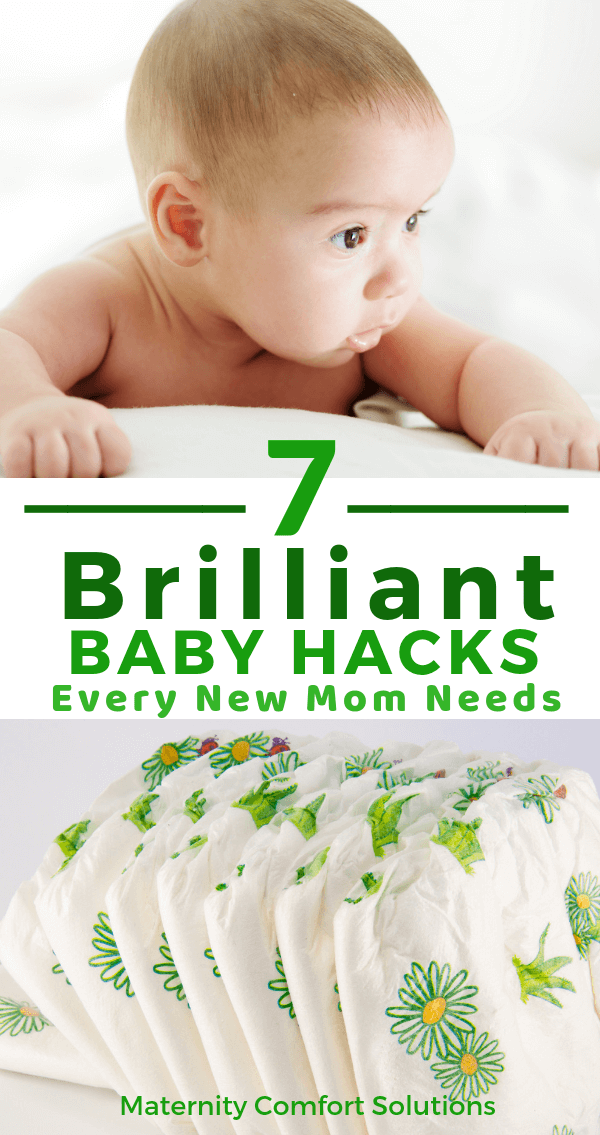 This post contains affiliate links. You can read our affiliate disclaimer at the bottom of this post.
The 7 baby hacks mentioned in this article are just a few of literally hundreds of ideas you can find online. We chose ideas that can ultimately save you time, energy and money. There are always more expensive alternatives but it doesn't mean they're better. Everyone has their reason for searching for a particular baby hack solution. It could be a shortage of time, a need for more rest or a need to save money.
This article has been written to inform new moms of the fact that there are answers to many common problems right at their fingertips….. just a Google search away!
7 Brilliant Baby Hacks Every New Mom Needs To Know:
1. Baby Changing Stations
During the course of one day, you will be surprised how many trips you will make to the nursery, changing table, linen closet, etc..
Consider stocking a few baby stations throughout your house. If your house is big this can be a life-saver considering the times you may be going up and down stairs.
To do this buy in bulk at a store such as Costco, Sam's, Amazon or BJ's. You will ultimately not only save your energy, you will also save a lot of money over the course of your newborn's first year.
All too often we buy things when we run out and need to get them. Many stores are ready for you charging 2 to 3 times as much for the convenience.
Think of the fact that this is about saving your time and energy. The money you will save is simply an added benefit.
What to put at your changing station:
Diapers

Consider a basket to put in the trunk of your car
If needed and very affordable:
*These extra items are extremely affordable. Take a moment to think about how much easier your life will be not having to go back or upstairs to the nursery every time nature calls!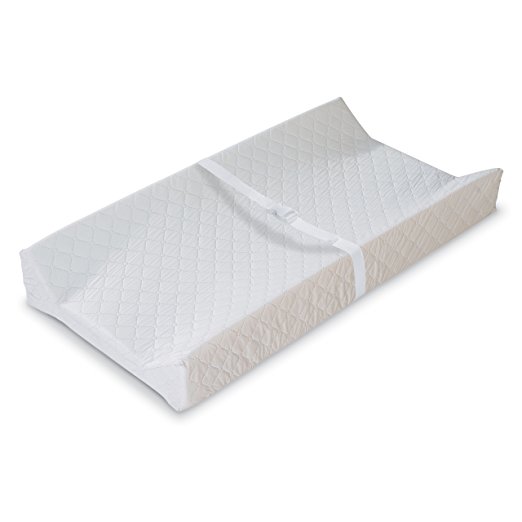 Changing Pad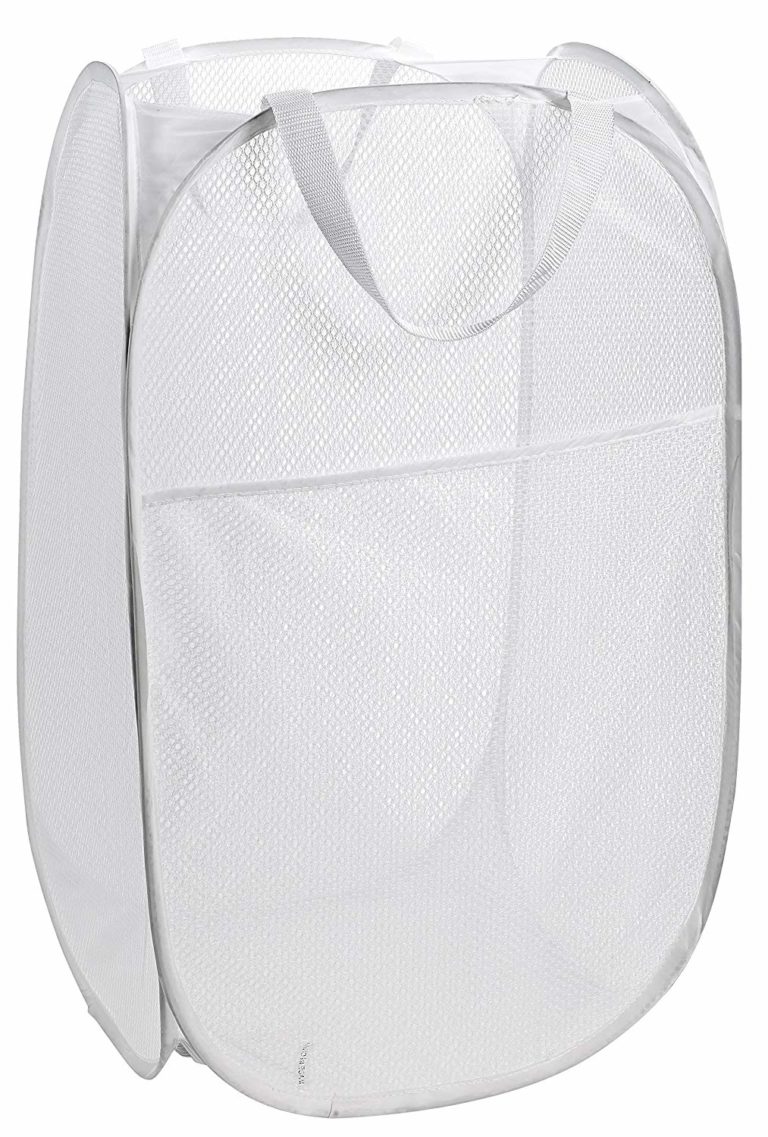 2. Bib Patrol
How many times do we find ourselves looking for a bib and settling for whatever is within arm's length?
For the cost of "bibs in bulk"  why not get enough to always have one readily accessible on the back of the high chair.
Then simply go to the dollar store, Amazon, etc. and get a large hook with adhesive to stick to the back of the high chair. If the high chair is always in the same spot and next to a wall or inside a cabinet put a hook there. Anywhere, where you can reach for a bib without missing a beat. Bibs can be like socks. You can have more than enough and yet finding one pair can cost precious time. One big difference is when you need a bib you need it NOW, there's no time to go searching.
Think about this. Grabbing for a bib in an emergency can save you time and money. That favorite holiday onesie might just be "saved by the bell" or rather by the bib! Cost of another onesie can buy you 5 more bibs.
If you are looking for a completely new age bib concept that catches food and wipes clean, check these out!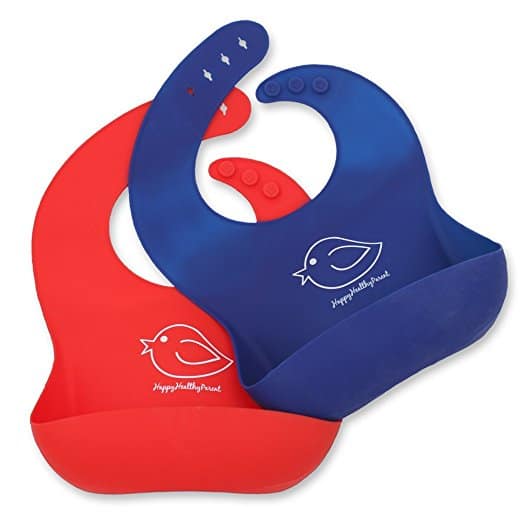 Waterproof Silicone Bib Easily Wipes Clean! Comfortable Soft Baby Bibs
Keep Stains Off! Spend Less Time Cleaning after Meals with Babies or Toddlers! Set of 2 Colors (Red / Blue) 
3. Curtain Call
It is interesting how many beautiful nurseries still use sheer curtains. During the day they are wonderful and make the nursery bright and inviting.
But if you want to put home decor aside for a sec without compromising anything. Consider getting darkening curtains. Perhaps these are not as popular in nurseries because they can tend to made of heavier fabric. However, if you look around you will find what you want.
What can result from baby hacks like this? A good night sleep for you and your baby.
For some, this will seem obvious but for those who have not been told about this, it can be a game-changer. Anything will seem obvious once you know about it!
4. "Tone It Down" With An Odor-Free DIY Diaper Pail"
If you live in tight quarters or simply want to curb your air-freshener budget. This hack may be just what you are looking for and costs next to nothing.
When you have an empty Wipes or similar container. Fill it with very inexpensive plastic bags from the dollar store. You can even consider using the same poo bags you might be using for your pet.
SImply grab a bag from the dispenser and put the #2 diapers in a bag and you have solved a problem that might otherwise linger for an hour or two.
Even if you use cloth diapers, this can be a great way to deal with used diapers until the next wash.
5. Techie Baby Hack
If you are a techie or anticipate your child will be, secure their email address and handles on various social media networks. This is not for everyone, though when your child is older they will thank you dearly for having thought about them from Day 1. You want to implement baby hacks like this when you think of them since these opportunities will be lost forever.
6. Onesie Burritos
Do you roll up and tuck your socks to save hours of sorting over and over? If you do, why not take this a step further with your newborn and start making onesie burritos with all the fixins.
Just arrange a few color-coordinated outfits and neatly line them up in your baby's dresser. During a diaper change, you can just reach over and grab a clean outfit with one hand.
This is so simple and can make life a lot easier.
How to make a onesie burrito:
Flatten out a onesie

Fold in the arms

Add the items to the outfit.

Roll up starting at the top.

Snap together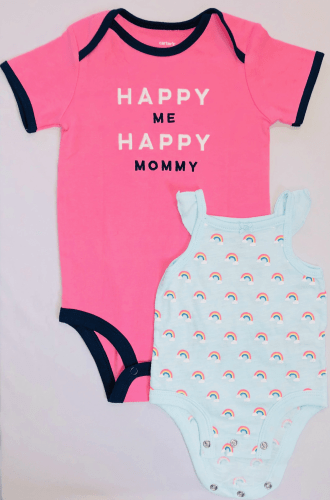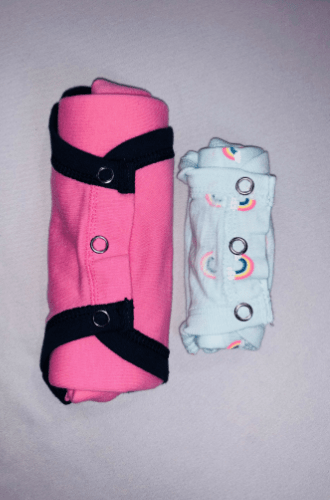 7. Newborn/Infant Sleeper Gowns:
These are amazing!! Out of all the baby hacks, I have used this is by far my favorite and the one I recommend most to new moms and moms to be. They make diaper changes a snap. I can't recommend them enough to any new mom or mom-to-be. They have elastic bottoms so there is no messing with snaps or zippers in the middle of the night.
Other articles you may find helpful:
Baby hacks can truly change your life. Avoid hacks that are ingested or any solutions or creams for your newborn's skin and always consult with your pediatrician if you have a concern. Make sure, a baby hack is safe and age appropriate.