Updated
Trying different Halloween cookie recipes can be a lot of fun, especially if your children actively participate. Families with young children often find Halloween to be one of the best holidays to bring the family together.
Halloween festivities bring out a child's creativity and encourage children to develop social skills and collaborative play.
We are sharing 20 easy Halloween cookie recipes that will get you in the mood for holiday baking! We love Halloween and we love cookies! You can't go wrong with these simple-to-make cookie recipes your family is sure to love.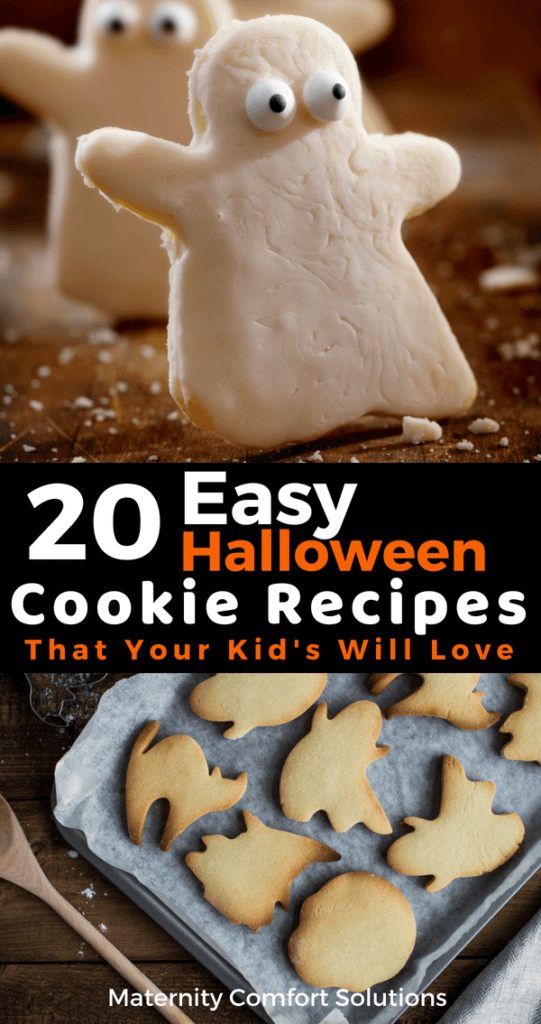 This post contains affiliate links. You can read our affiliate disclaimer at the bottom of this post.
20 Easy Halloween Cookie Recipes:
These cookies are a Fall favorite of ours! They are soft and chewy with the perfect amount of peanut butter flavor. They are simple to make and use ingredients you probably have on hand in your kitchen. So Yummy!
If you need a delicious and simple Halloween cookie to make for a Halloween Party, Gooey Monster cookies are for you! This has to be one of the easiest Halloween cookie recipes I have ever made. Class party tomorrow? No problem, these cookies are done in under an hour!
Are you a chocolate lover? These cookies are chocolate nirvana! I had to modify the recipe a little because it called for an ingredient I didn't have on hand, but they still tasted amazing!
These Halloween Monster Eye Cookies will quickly become a family favorite! So easy to make. You'll want to make them again and again!
We love these Witch Hat cookies! Simple to make, and it will look like you spent hours making them. You can make these cookies in about 30 minutes and they are crazy good!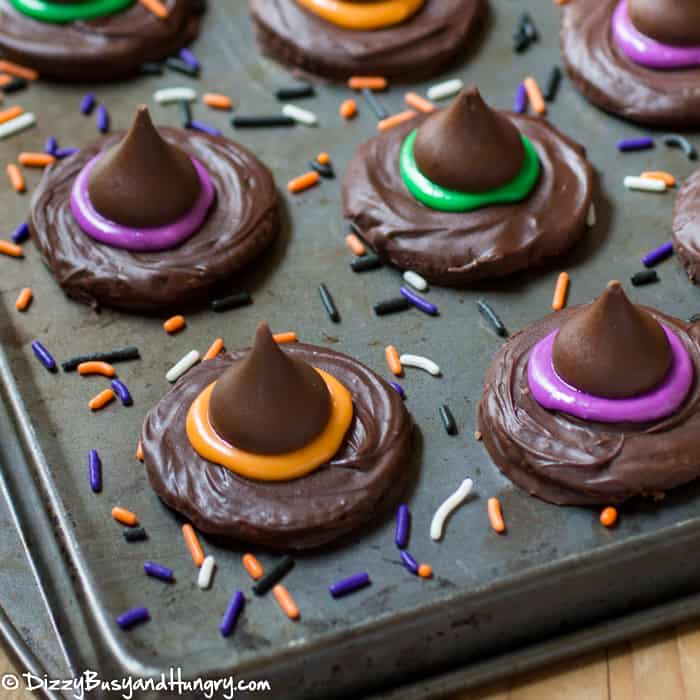 Last updated on January 19, 2020 1:09 am
We all love Halloween cookie recipes that start off with the word "Easy" and these cookies live up to their name. These are fun to make with your kiddos as a Halloween baking activity.
Chocolate and M&Ms make this close to the perfect cookie! These cookies are a great choice for Halloween parties and a fun activity to do with your kids.
Candy corn is my favorite Halloween candy! These cookies are so soft and so buttery, they melt in your mouth. If you like a super sweet cookie, these are sure to please!
The name of these cookies says it all! The perfect combination of chocolate and peanut butter in a soft and chewy cookie. So simple to make! They will certainly be another family favorite!
If you have ever made bird's nest cookies at Easter, you'll recognize these cookies! What a simple and fun Halloween Cookie recipes. If you are looking for a quick and easy Halloween treat to make with your kiddos, this is the one!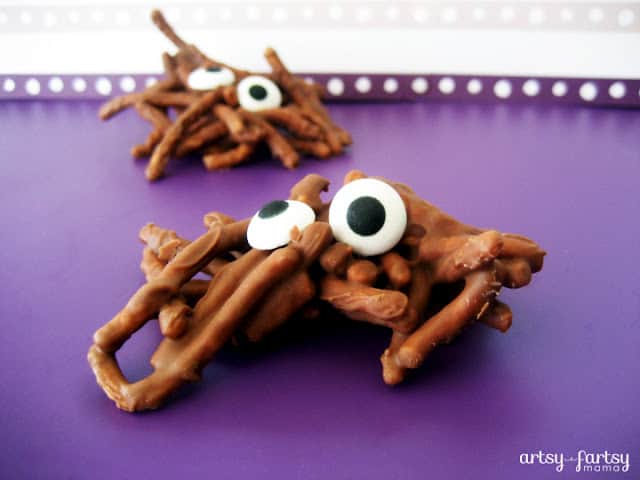 An easy to make chocolate cookie with buttercream frosting! Yummy! If you are in a rush, you can easily use a store-bought frosting for these cookies.
These cookies are so cute and so EASY! A simple Halloween treats your family will love! These would make a great choice for a Halloween Bake sale or a class party.
Funfetti Halloween Cookies are easy-to-make treats for Halloween parties or family gatherings. These cookies are always a crowd-pleaser! 
Don't get spooked by these cookies! They are really simple to make. They make an easy treat for a classroom party or a cute snack for after school.
This is the best recipe if you need an easy and fast cookie for a Halloween celebration. You can use any dough, store-bought is perfectly fine. They are the perfect spooky treat!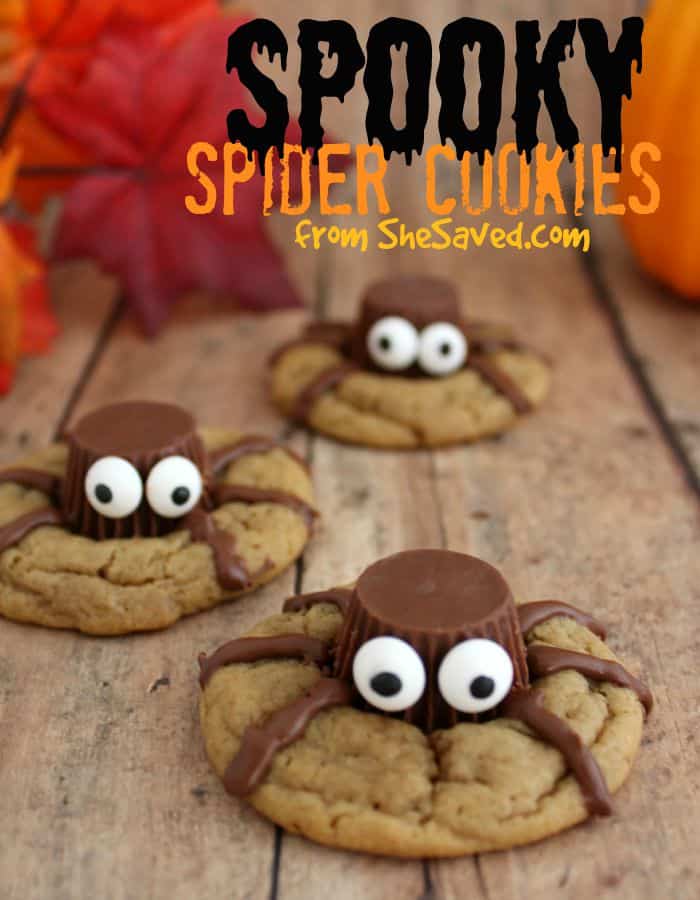 Last updated on January 19, 2020 1:09 am
If you love dark chocolate and peanut butter these are your Halloween cookies! The recipe uses dark cocoa powder which makes the cookies almost black and perfect for a Halloween treat!
If you are looking for a soft and chewy party favorite, look no further. These creepy chocolate chip Spider cookies will hit the spot! Your kids will love them! The spookier the better!
We love these One-Eyed Monster cookies! They don't get much cuter than these! Another easy recipe that uses store-bought ingredients and makes a tasty cookie any kid will love!
Don't let these scary cookies fool you! Underneath that tough exterior is a delicious sugar cookie with buttercream frosting decorations! If you are looking for great Halloween cookie recipes, these cookies are a real party pleaser at any age!
Last updated on January 19, 2020 1:09 am
Halloween Shortbread Hershey Kiss Cookies

– Maternity Comfort Solutions (Recipe Below)
These shortbread cookies are my go-to cookies for the holidays. They melt in your mouth and are delicious! They are so easy to make. As a busy working homeschool mom, I need easy. If a recipe is complicated or time-consuming it isn't happening. So if you need a delicious, easy and fast cookie for Halloween, these are a great choice!
Halloween Shortbread Hershey Kiss Cookies
1 cup Butter (Room Temperature)
1 1/2 cups all-purpose flour
1/4 cup Confectioner's sugar
1/4 cup Granulated sugar
1/4 tsp Vanilla extract
Hersheys Kisses, unwrapped
Colored Orange Sugar
Combine sugar and butter in the bowl of your stand mixer. Beat for 4-5 minutes until light and fluffy. Mix in vanilla extract. Add flour. Mix until combined. Do not overmix.
Preheat over to 350 degrees. Line your baking sheet with parchment paper. Roll dough into balls, use about 1 tablespoon of dough for each ball. Roll each ball in the orange-colored sugar until completely coated. Place on a baking sheet. Bake for 10-12 minutes.
Remove from oven and cool on cookie sheet about a minute. Gently place a Hershey kiss in the middle of each cookie. Use light pressure, they crack easily. Allow them to cool about 5 minutes on a baking sheet then move to wire to cool completely.
Other articles you might like: