This post may contain affiliate links. We may be compensated if you make a purchase through our links. You can catch our full disclaimer at the bottom of this post.
Updated June 7, 2021
Buying classic toddler toys is not as easy as it used to be.  Years ago, a cardboard box could rock your toddler's world for hours. Within seconds, a box that was ready for the trash was suddenly
transformed into a new home, a palace, a fort, the possibilities were endless. Who knows?…. a child's imagination might one day design the next architectural wonder.
Parents need not worry. When a large cardboard box arrives at the front door, it will still be penciled into your child's busy schedule. It just may not buy you the time it used to.
As toys have evolved, so have our children.  Times have changed….big time!
Before we get into the classic toys of today …… If that makes sense? Let's not overlook the toys that molded our childhood from toddlerhood through preschool.
They will never be forgotten:
Xylophone
Melissa and Doug Wooden Toys
Cabbage Patch Dolls
Tickle me Elmo
Curious George
So what are the characteristics of a classic toy?
They are almost always educational.
Durability
They are a favorite for both the child and parent.
So what are the classic toys for today's toddlers?
Interestingly enough, many of the classic toys of tomorrow are produced by the same manufacturers. These companies have known what worked in the past and have stayed ahead of the curve. As you go through this list think about the manufacturer and what other toys they make that might spark your child's interest.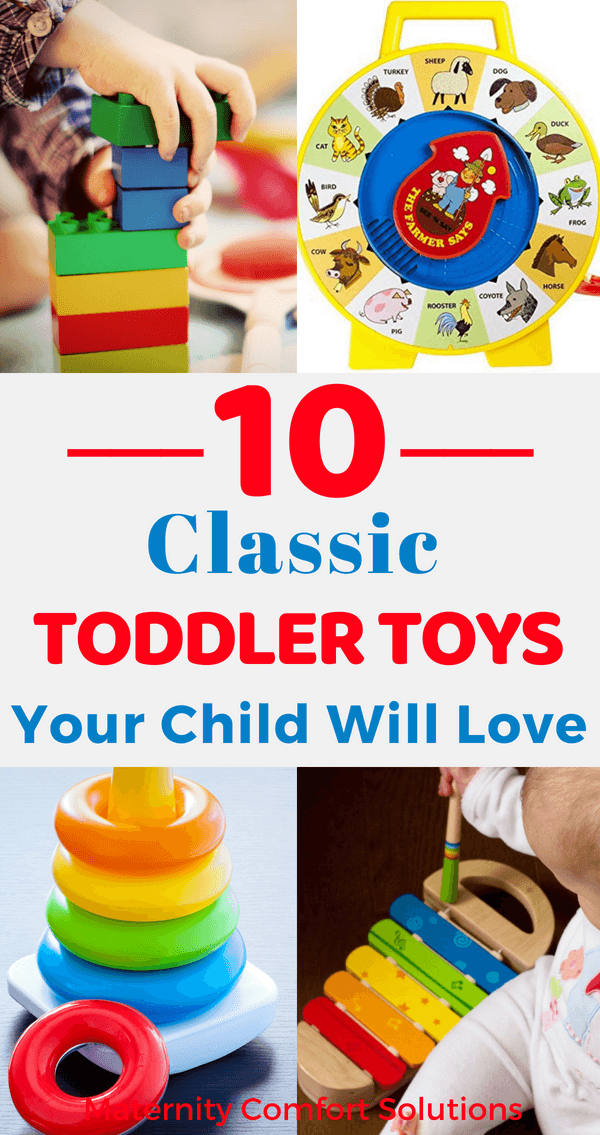 This post contains affiliate links. You can read our affiliate disclaimer at the bottom of this post.
Why classic toys?
Simple, when something is considered "A Classic", be it a movie, a book, a car, or YES even a toddler toy, it has become a classic for a reason. It has withstood years of scrutiny by literally millions of toddlers.
Many of the toys mentioned in this article may spark memories from your childhood. Who can forget the popcorn popper? A favorite among toddlers! Unfortunately, it can be a nightmare for many parents seeking a moment of peace and quiet. Such is the case with many toys for toddlers.
Toys like the popcorn popper, rise to the top of the best-seller list time and again. These toys win "The People's Choice Award" or perhaps, in this case, we should say "The Toddler's Choice Award".  As with so many things in life, we may never know why an item, movie, or book becomes a classic. IT JUST DOES!
What is wonderful about "classic toddler toys" is that they never go out of style. Even in the face of tech creations beyond our wildest dreams. One only has to read Amazon's reviews and star ratings to know what toddlers really want. Toddlers have discriminating taste and can't be easily swayed.
Watch two tots fight over a toy and you quickly realize they mean business. This is why durability was factored into our list of classic toys.
Toddlers can be hard on toys. Only toys that can withstand years of use become classic toddler toys.
Our list is based on:
Personal Favorites
Amazon Favorites
Public Opinion
Sales Volumes
Duration On Best Seller List
Durability
We hope the following list will make shopping for your toddler a little easier throughout the year. Yes, throughout the entire year as classic toddler toys are not seasonal!
10 Classic Toddler Toys Your Child Will Love:
Mega Bloks encourage toddler creativity, offering endless possibilities for them to express themselves.
You can learn a lot from simply watching your child play with Mega Bloks. The random nature of this toy can
show what your child is thinking about and finds fascinating about the world. Parents can learn a great deal
by just observing playtime with no rules.

The Fisher-Price Corn Popper has been a classic as long as most can remember. Is it the noise, the vibration or simply the havoc it can cause within the household.
Toddlers have there own set of rules when it comes to what they think makes a classic toddler toy!
Classic musical pull toy! This toy fosters fine motor skills and eye-hand coordination.

Curious George Jack in the Box is an Award-Winner.
Plays "Pop Goes the Weasel"! For 18 months and up.
 
The Classic Wooden Toy that will last generations!
Helps your child with color and shape recognition. Develops hand-eye coordination and imaginative play.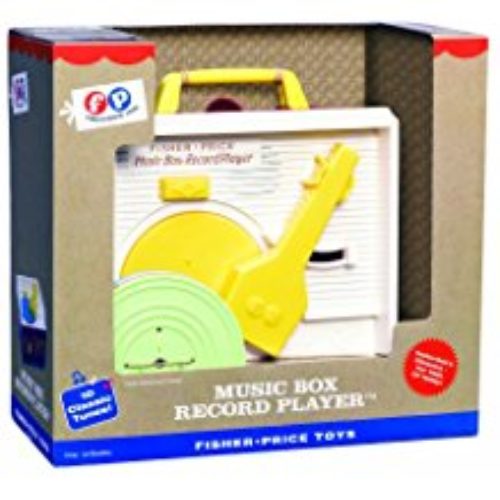 The name has changed, but this toy is still the "Original 1971 Fisher Price Change-A-Record Music Box".
Vinyl records may have been replaced by digital technology but that doesn't mean your child won't enjoy this musical wonder!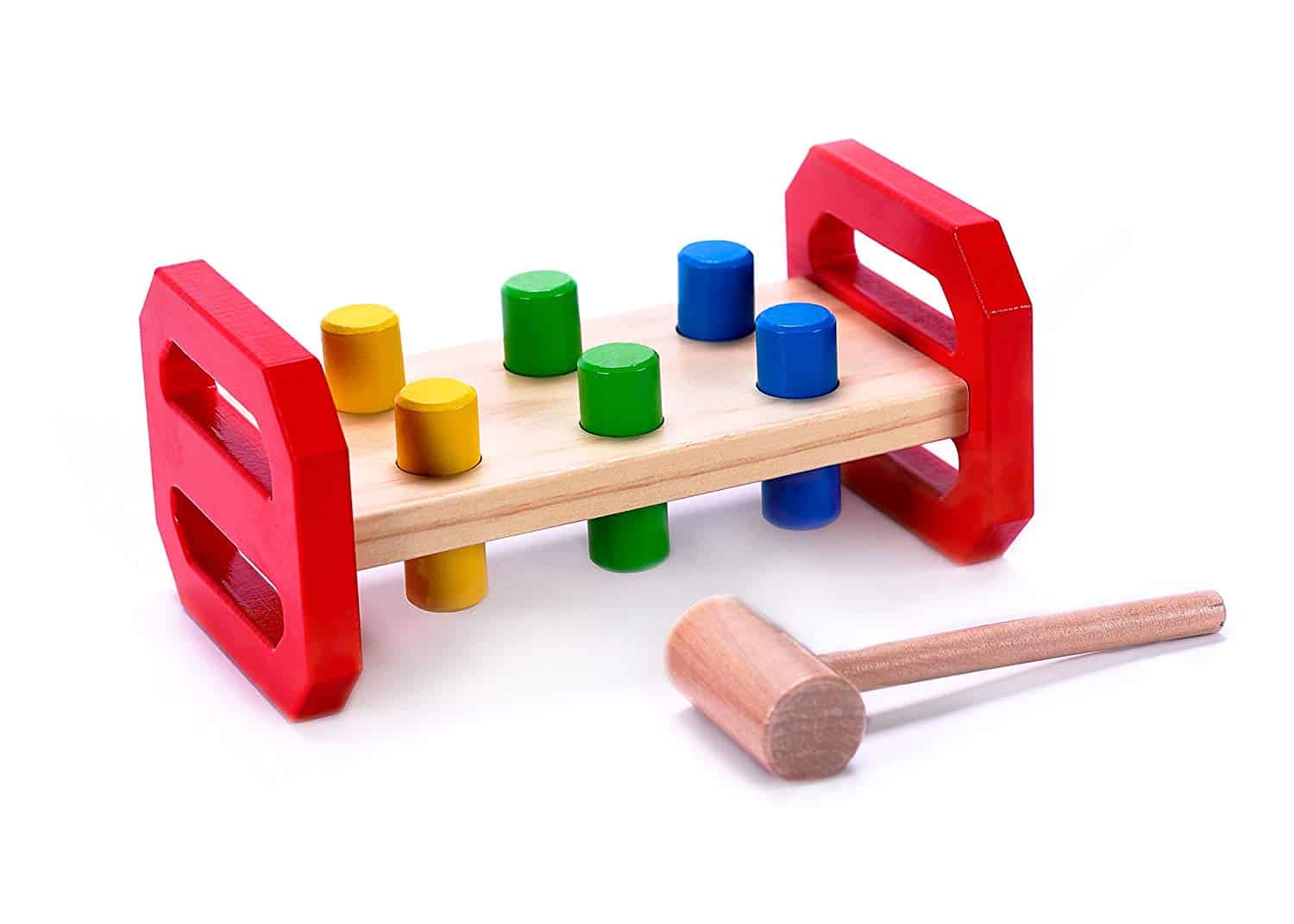 Perfect for developing hand-eye coordination in (12 months+)
Comes with a 5 Year Cubbie Lee Toy Company Warranty….the sign of a true classic!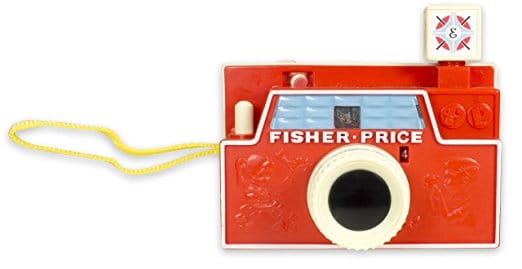 This classic Fisher-Price Disk Camera was first introduced in 1968 and remains a favorite among toddlers. 
This classic toy helps your child associate pictures of animals with the sounds they make.
There have been many variations of this classic toy. Nostalgic appeal with sturdy wooden construction. Teaches colors and shapes and problem-solving skills. 
Other articles you might like: