Updated August 3, 2022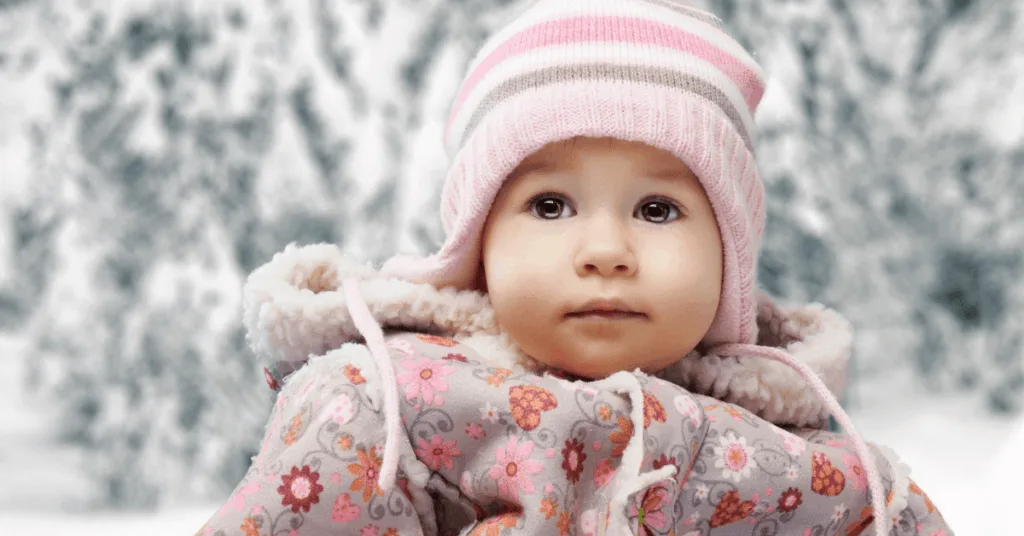 Preparing for your baby's first winter is very important, especially if you live where winters can bring severe weather.
Though a baby's first winter is a very exciting and joyful time, it is also a time when we need to update various safety measures both inside and outside of our home.
Baby's are far more sensitive to temperature changes than older children.
They also have an immune system that is more susceptible to colds and the flu.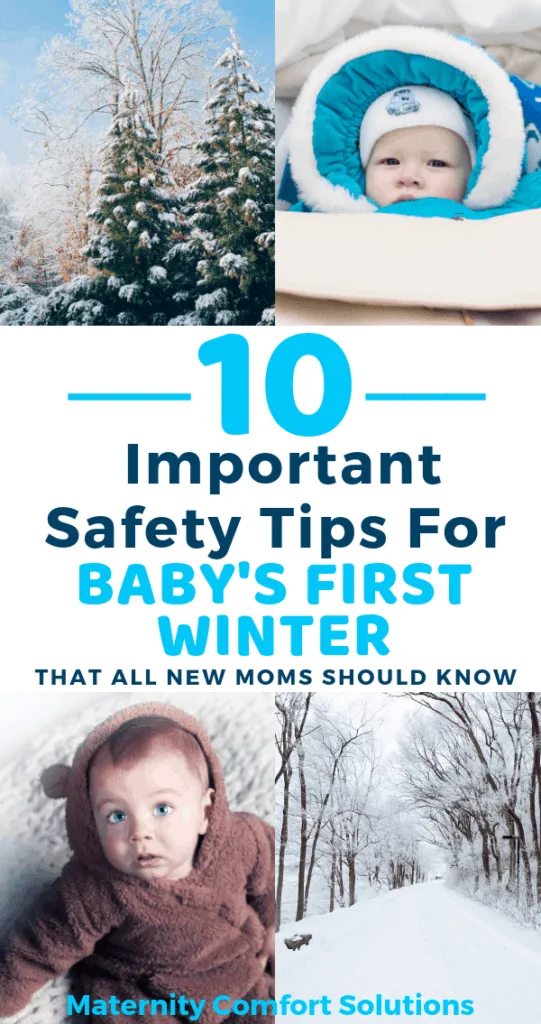 This post may contain affiliate links, you can catch our full disclaimer at the bottom of this post.
Having a baby in your family reminds us of how important it is to maintain a healthy and safe environment for the entire family.
10 Safety Tips for Baby's First Winter:
1. Dress your baby in layers.
Babies can't regulate their body temperatures the way adults can. The rule of thumb when dressing your baby during the cold weather months is to add one more layer than you are wearing.
So if you are wearing a coat and hat, your baby should be wearing an outfit, coat, hat, and another layer.
Babywearing is a great way to keep your little one warm in the winter if you need to be outside.
Be sure to remove their coat or snowsuit before you put your baby in a car seat.
You want to take off their coat because if you get in an accident the car seat straps could compress the jacket and leave a space in which your baby is not secured in the seat. (Source)
If the car is cold, cover your baby with a blanket or their coat after you secure them in their car seat.
If you need to take your baby out in the car during cold weather, it is a good idea to pre-warm the car.
It is very important that you check on your baby frequently.
You do not want your baby to be over-bundled and overheating or too cold.
Fresh air and sunshine are good for you and your baby! Just be sure to properly bundle up your little one and don't stay out too long.
Try to not keep your new baby outside in the cold or snow for long periods of time.
If you are cold and uncomfortable, you can be sure your baby is too!
2. It is cold and flu season, how to keep your baby healthy.
The biggest concern for new parents during their baby's first winter is how to prevent illness.
[wps_highlight background="#eded28″ color="#000000″]The number one precaution you can take to prevent the spread of germs to your baby is to wash your hands.[/wps_highlight]
Other important ways to keep your baby healthy during the winter are:
Wash their toys

Wash your baby's hands

Ask anyone who wants to hold or touch your baby to wash their hands or use hand sanitizer.

Keep up with your baby's well-baby checks and vaccinations

Stay away from large crowds and avoid people who are sick during the cold and flu season.

Cover your mouth when you cough or sneeze with tissues or shirt sleeves, not your hands.

Get a flu shot
If your baby gets a cold…don't beat yourself up!
It is normal and impossible to avoid! Babies usually get 6 to 10 colds a year!
Just do the best you can to limit exposure.
You may need to take extra precautions with premature infants or infants with compromised immune systems, they are at greater risk of developing more severe and potentially dangerous illnesses.
Is your baby at risk for severe RSV?
According to the Centers for Disease Control (CDC), almost all children have had Respiratory Syncytial Virus Infection (RSV) by the time they are 2 years old.
RSV generally causes mild cold-like symptoms in most children.
RSV can be dangerous to some babies including premature infants and babies with compromised immune systems.
You can read more about RSV at the CDC website: RSV in Infants and Young Children
3. Keep your baby's skin moisturized.
Babies have delicate skin that can dry out easily from bathing too frequently in the winter months. Bathing your baby every day is not necessary during the winter.
When you do bathe your baby, use warm, not hot water.
Don't let your baby soak too long. Though it may be tempting to let them sit in the warm water, warm water can really dry out their skin.
When you remove your baby from the tub, wrap her up so she is warm and dry her completely.
Apply a moisturizing lotion every day, especially after a bath.
4. Have a Car emergency kit.
Winter weather can be unpredictable. It is important to have an emergency kit in your car should you become stranded or break down during the cold winter months. You want to be prepared if you are traveling with your baby.
Things to include in your car emergency kit:
For Baby:
Diapers

Wipes

Extra Blanket

Extra Clothes

Towel

Extra pacifier

Ready to Feed Formula

Bottled Water

Book/Toy
For You:
Bottled Water

Blanket

Extra clothes (include an extra hat, gloves, and socks)

Foldable Shovel

A small bag of cat litter for traction

Car charger for your cell phone

Flashlight and batteries

Energy bars/snacks
In the winter months, it is really important to be sure your vehicle is in good mechanical condition. Have your vehicle winterized before the bad weather.
You don't want to break down in the cold or snow if you can avoid it.
Make sure you keep your gas tank at least half full.
[content-egg module=Amazon template=grid next=3 hide=price cols=3]
5. Be prepared for winter storms at home.
Keep an eye on the weather reports during the winter months.
A snow or ice storm could keep you home for several days and could knock out your power.
Living in the Northeastern United States has taught us to be prepared for winter storms and for forecasts that can change very quickly.
A storm that was forecasted to be all rain can easily become a blizzard in a matter of hours.
An excellent investment to make once you have a baby is to buy a weather radio.
A weather radio gets forecasts directly from the National Weather Service, which is often faster and more accurate than weather apps or local news channels.
You'll be notified of watches and warnings which can give you time to prepare for the incoming weather.
[wps_alert type="note"][wps_icon icon="check" background="#31b522″ color="#ffffff" size="20″ padding="6″ radius="0″]This is the weather radio we have. We have lived all over the US and our weather radio has always been put to good use.
Especially in places where the weather can be really bad and unpredictable. I feel much safer as a mom having the weather radio. I know that my family will be prepared should a powerful winter storm be heading our way.[/wps_alert]
You can read the reviews and check the price on Amazon.
Midland – WR400, Deluxe NOAA Emergency Weather Alert Radio
Prepare in advance for possible power outages during bad storms:
A couple of safety tips that are very important:
Never use a generator indoors (keep it at least 15 feet from the house)

Do not use your oven to heat your home

Install carbon monoxide detectors

Do not use gas grills or charcoal grills indoors.
Tips to help you through a winter storm:
Be sure you have enough food and water for several days, including snacks

Bathe your baby before the storm

Have all other adults or children in the house shower or bathe before the storm

Be sure to have infant/children's Tylenol, diapers, wipes, pacifiers, extra blankets

If your baby is eating solid foods, be sure to have extra baby food on hand. You could be snowed or iced in for several days.

Keep ready-to-feed formula just in case.

Have entertainment for yourself and older children. If you have power, consider Netflix or if you have Amazon Prime, you can watch lots of movies and TV shows for free on Amazon.

Have sand or rock salt ready to spread on icy stairs and walkways.

Make sure your snowblower or snow removal equipment has been checked for the storm. If you shovel, take it slow to avoid overexertion.
Your baby's first Thanksgiving can be an exciting, but stressful time. The holiday season is just starting to get into high gear and you are still recovering from what has been a year of challenging physical and emotional changes in your life.
6. Have your heating system cleaned and inspected:
If you purchased a new heating system or a new home, you will have a service contract and the manuals necessary to maintain and service your heating system.
For many of us, the heating system in our home is not new and the service manuals and contracts are often lost or no longer in effect.
In 2017, one home fire occurred every 88 seconds in the United States, and about half of the insurance claims relating to fire were made by homeowners. That same year, 77% of all fire-related deaths occurred in the home. In Canada, 19,062 structural fires were reported in 2014.
Especially if the system was installed by a previous homeowner.
The following are some important safety tips to keep in mind:
Have your system inspected by a company authorized to work on your particular brand of heater and type (Oil, Gas or Electric). If you are not working directly with a dealer, have the servicing agent show that the company is certified to work on your heater. This is often overlooked as many independent contractors are not certified.

To be sure your system operates safely and efficiently, it is best to have it inspected annually in the Fall. Air-conditioning should be inspected in the Spring.

Clean vents and change air filters based on factory recommendations.

Have your chimney inspected and cleaned before the winter. Chimney fires are not uncommon.

If you use wood, coal, or another alternative heat source be sure it has been cleaned, inspected, and serviced before the cold weather arrives.
Check to be sure smoke detectors and carbon monoxide detectors are working and change their batteries in the fall.
Your heating system will have different maintenance requirements based on whether it is gas, oil, or electricity.
Courtesy of www.usfa.fema.gov
7. Don't overdress your baby indoors.
It can be tempting to overdress your baby to keep them warm indoors.
Unfortunately, the rate of SIDS increases in winter months, and many experts believe that it is due to overheating. (Source)
Keep your baby's room between 62-67 degrees, dress her in clothing that is warm enough to sleep in without blankets. Avoid loose blankets, they can lead to suffocation in the crib. (Source)
A baby sleep sack is a great alternative to using a loose blanket.
Parents should check for signs of overheating in their infant which can include sweating and feeling hot to the touch.
8. Be prepared for holiday gatherings.
The arrival of the winter months means holidays and holiday gatherings. Be prepared ahead of time. Your biggest priority is keeping your baby healthy during the winter months.
Colds and cases of the flu run rampant from November through March.
Be firm with family and friends that they wash their hands or use hand sanitizer before they hold your little one.
As an RN, this is non-negotiable with me. Wash your hands and if you are sick please keep your distance from my kiddos.
[wps_alert type="warning"][wps_icon icon="check" background="#31b522″ color="#ffffff" size="20″ padding="6″ radius="0″]According to the Centers for Disease Control and Prevention (CDC) handwashing and keeping our hands clean is one of the best ways to protect our health and prevent the spread of germs to other people.[/wps_alert]
If your baby has started on solid food, consider bringing your own.
If you bring your own, you know how it was prepared and what is in it.
Be prepared to get lots of advice about everything from breastfeeding to bottle-feeding, sleeping, feeding solids, and so much more! Remember you are the parent. Your baby, your choices.
If you are traveling be aware of the weather forecast for the areas you are traveling too.
Weather in many places is unpredictable during the winter months.
9. Secure the area around fireplaces/wood stoves.
Once our children become mobile, there are many precautions we need to take.
If you use a fireplace or wood/coal stove, be sure the area around the stove is secure and that your baby can't get close to it.
Always supervise your baby when in the room with a fireplace or wood/coal stove. Accidents can happen in seconds.
They make fireplace and woodstove enclosures that keep your baby at a safe distance away from the heat source.
10. Be sure walkways and driveways are clear of ice and snow.
If you live in a wintery climate, especially where winters can be severe, you cannot be too careful.
It is hard enough to safely get yourself out the door in one piece after a heavy snowstorm or ice storm.
Now try carrying your baby and a few baby supplies (to avoid that second trip) and it can be a challenge.
Many of us can relate to this scenario as we head out of the house in the morning. Some of us can even relate to this potential disaster more than we care to admit.
I will never forget the time I was rushing out the back door and after one step onto the ice-glazed brick steps and I was flat on my back. The thought of carrying my baby at that time instead of my briefcase is truly frightening.
During the winter, whenever you go out with your baby in your arms, be very careful.
Make sure you have properly removed any snow and sanded and salted any ice patches.
Salt may melt the ice but sand is what will keep you on your feet.
What to read next: