There are many benefits of babywearing. Babywearing is not a fad and has been practiced for centuries by mothers around the world.
So much has changed with baby raising and motherhood during that time, but the convenience and practicality of babywearing have remained constant.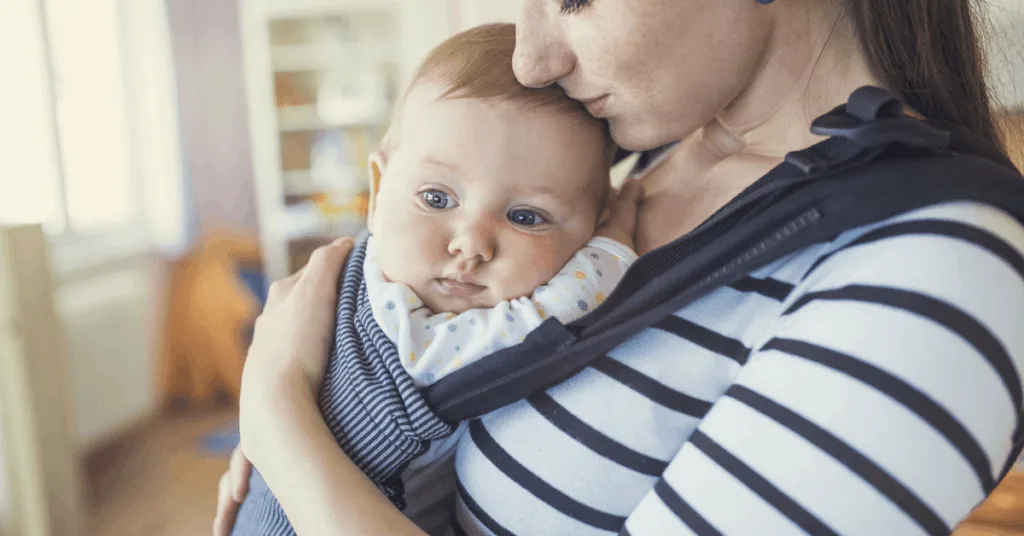 Today we are sharing 10 Key benefits of babywearing that are all about convenience, practicality, and making mom life easier.
Time is our most precious asset and balancing the demands of modern motherhood has many of us looking for shortcuts where ever we can find them.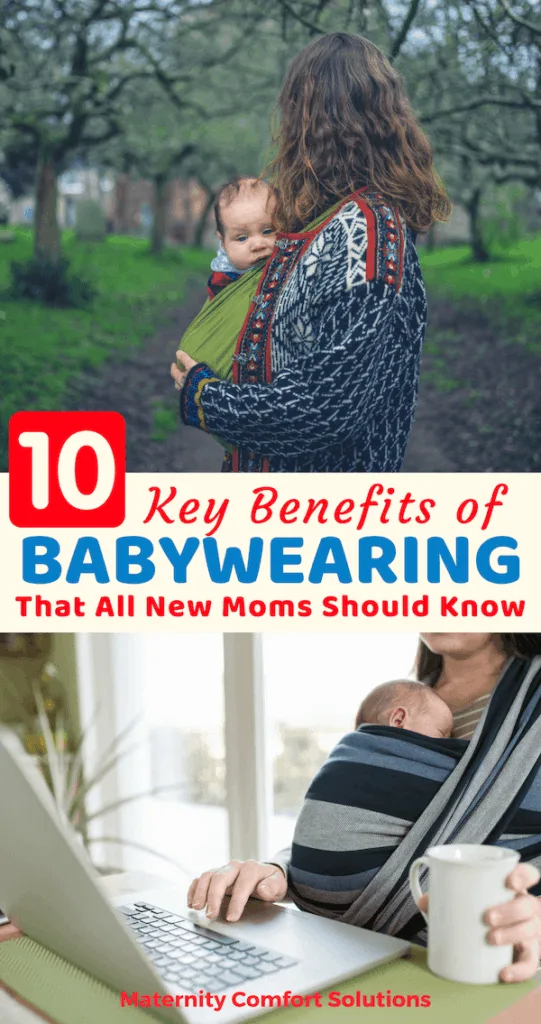 Babywearing is an affordable and simple parenting hack to help new moms get more done in less time.
What is babywearing?
Babywearing is just what it sounds like. Wearing your baby in a wrap, sling, pouch, or other types of carrier. Babywearing allows you to be hands-free to get things done.
Babywearing has been going on for centuries. It is often associated with the attachment parenting lifestyle.
Babywearing is not just for the crunchy moms or people who practice attachment parenting. I'm about as mainstream and non-crunchy as it gets.
I love babywearing. It is completely practical for me.
I went back to work two weeks after I had my son.
There is no way that would have worked without babywearing.
I'm sharing 10 reasons for new moms to consider babywearing that are all about practicality, convenience, and making mom life easier.
10 Reasons For Baby-Wearing That All New Moms Should Know:
1. Frees up your hands to do other things.
The number one reason for babywearing is that you can get other stuff done! Have a fussy "Cant' put her down for a second" baby?
Babywearing helps solve that problem and lets you be hands-free!
Babywearing gives you the opportunity to make dinner, help older kids with projects or homework, do laundry, do your own hair and makeup, walk the dog, work on your computer, or surf blogs you love.
If you are like me, and you work from home (or want to!!) babywearing is your secret weapon for getting things done in your job or business.
Babywearing became a savior for me with my son. He was born a few weeks early, was colicky and I had an emergency c-section with him.
My recovery was painful and slow, but I had to go back to work two weeks after having him.
I ran the office in my ex-husband's business and he needed me back at work.
Wearing my son was done out of necessity,
I needed my hands free to answer calls, book appointments, and handle billing and payments.
I quickly realized the benefits of babywearing.
I could get other things done, he wasn't crying as much during the day and he was sleeping better at night too.
Getting things done at home was so much easier.
We were showing dogs when my son was born and there were dogs to feed, kennels to be cleaned, and dogs to be walked.
Babywearing made it so I could accomplish those tasks and not have to leave my son unattended in the house or wait for my husband to get home.
2. No need to drag a big bulky stroller around.
The second benefit that became quickly apparent was that we didn't need to drag out the big bulky stroller to run into stores, go to festivals, walk the dog, get around the airport, and wait in lines at restaurants.
Babywearing made navigating real life so much simpler.
Babywearing just felt safer in a crowded space and let us move about more freely through crowds than we could when we used the stroller.
We love the outdoors and outdoor activities.
Babywearing allows us to go hiking and walk in places we could never go with a stroller.
It made city living easier.
3. Babywearing your newborn frees you up to handle older kids
Have a toddler or preschooler and a new baby?
Babywearing can help you decrease jealousy and free you up to devote time to your older kiddos who are demanding of all your time too.
It can be a difficult transition for a toddler to have to share a mom with a new baby.
They may feel like they have to compete for your attention.
Toddlers can also be unintentionally rough.
Babywearing gives you more control over the toddler-baby interactions and leaves your hands free to snuggle, help or play with your toddler.
Just that time spent with you can make all the difference in their adjustment and behavior around the new baby.
4. Happier and calmer baby.
Some newborns and babies are champion sleepers and super calm from practically day one.
Some are not quite so happy and calm.
They are much needier and do not want to be put down.
Babywearing is the perfect solution for many of these little ones.
Studies show that babies that are worn, cry less.
Less crying? Sign me up.
A happier and calmer baby equals a calmer and happier mom.
More feelings of calm mean fewer stress hormones being released and less anxiety for both you and your baby.
Less stress and less anxiety are always a good thing.
5. Baby carriers are a budget-friendly baby gear
Baby gear can get crazy expensive.
If you are looking for ways to have a baby on a budget, a baby carrier is a versatile and affordable piece of baby gear.
We would rank it in importance with a baby swing.
A baby carrier for babywearing ranks a close second on the must-have list.
If you can borrow a friend's to try before you buy one that's a good idea to see which type works best for you.
There are many options and each person will have their own preferences.
6. Keeps your baby safe.
Babywearing helps keep your baby safe and secure.
When you are wearing your baby, you can see and hear them.
Life happens and sometimes you need to take your eyes off your newborn and this can be difficult in a house with other small children or pets.
Babywearing helps you get things done and keeps the baby safe. It is a win-win for mom.
7. Helps you lose the baby weight faster.
Carrying around a baby for hours at a time is no joke. It is a calorie-burner.
It is better for your back, neck, and shoulders than just carrying your baby on your hip.
Losing weight after having a baby is on the mind of most new moms.
It isn't easy, especially if you are breastfeeding too.
Babywearing just gives you an added boost in the calorie burn department, while you get to do other things too.
8. Promotes baby development and early speech development.
Babies who are carried see and hear more of the world.
They hear you talking all the time.
You'll talk to them more.
I would tell my son what I was doing if we were in the office at work, cooking, or even just walking the dogs.
Studies have shown that carried infants have better speech development because they are exposed to more adult conversations.
I noticed other people talked to him more and interacted with him more.
He was always at a level that made it easy to see and talk to him.
Customers would talk to him all the time.
He received a lot of attention and interaction with adults every day and was very alert to his surroundings.
9. Helps prevent flat head syndrome in your baby.
Keeping your baby's head elevated during the day can also put less pressure on your infant's head and allow the bones that comprise the baby's skull to fuse properly.
This can help to prevent Flat Head Syndrome which is also called positional plagiocephaly.
The most common cause is the baby sleeping on their back. Which is extremely important in the prevention of SIDS.
Babywearing during the day counteracts the sleep position at night, hopefully preventing flat spots from developing.
10. Helps baby and you sleep better.
Babywearing doesn't just decrease crying, it can help your baby sleep better.
If your baby sleeps better, so will you.
Babywearing can help a fussy baby settle. It can help a baby with reflux feel better and can help your baby nap.
Babies who nap are babies who will often sleep better at night.
They are not as overtired and cranky.
More for older babies than newborns, but getting them on the path to good sleep is something you can't start soon enough.
Babywearing Safety:
Babywearing is not a government-regulated activity or product such as an infant car seat or infant swing.
Therefore, the responsibility is on the parent to make sure you babywear correctly and use common sense at all times.
Often when an activity is trendy or fashionable, an individual may not pay enough attention to safety.
Fortunately, the non-profit organization: Babywearing International (BWI) offers a great deal of support for new moms interested in practicing safe babywearing.
The following are the main babywearing safety guidelines published by BWI:
Protect your child's airway at all times. Be able to observe your baby breathing at all times and do not let your baby's chin rest on her chest. If breastfeeding, always put your baby in an upright position when done.
Purchase your carrier from a reputable manufacturer and inspect the carrier each time you use it, to make sure there is no loose stitching or weak spots.
Practice carrying your baby over a bed or couch and low to the ground. Be comfortable with front carrying before trying back carries and have someone spot you. If you visit the website link above, you will find that there are Volunteer Babywearing Educators.
Do not babywear in the car. Your baby must be in an approved car seat.
Make sure your carrier offers adequate support of your baby's neck and back. Refer to the BWI website for more details.
What to read next: