This post may contain affiliate links. We may be compensated if you make a purchase through our links. You can catch our full disclaimer at the bottom of this post.
Updated June 20, 2021
Are you a mom-to-be wondering what to wear postpartum in the hospital? 
You are not alone!
I was not prepared at all when I went into labor with my first baby at 37 weeks.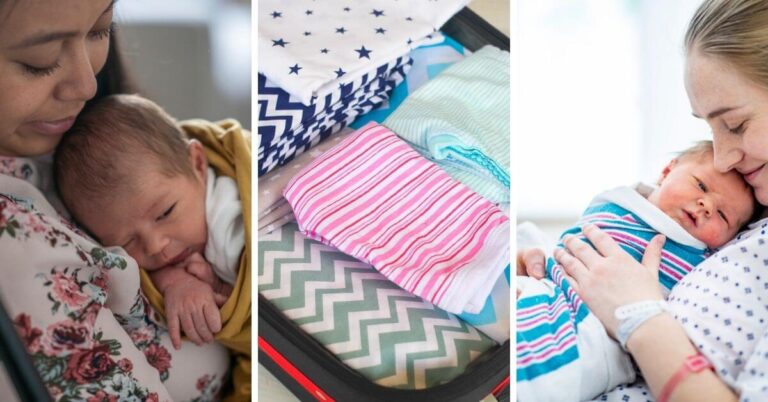 I had nothing with me because I went to the hospital straight from my OB/GYN's office.
I had been out of the house when my water broke.
Fun times.
But the good news is the hospital has a lot of the little things you'll need if you forget them.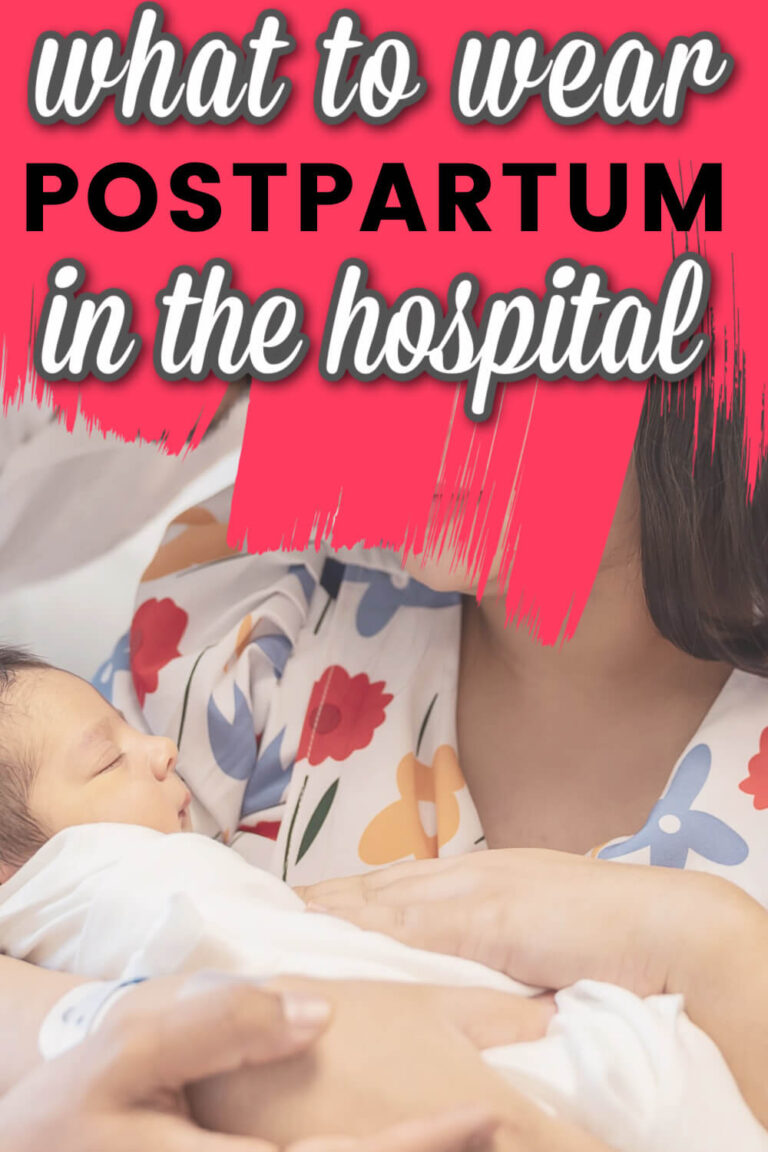 I did get all the things I needed from home after the birth, but not having my hospital bag with me taught me a valuable lesson:
Pack your hospital bag by 36 weeks and put it in the trunk of your car or back of your SUV. 
So let's talk about what to wear postpartum in the hospital and then we can get into what to wear postpartum at home.
What To Wear Postpartum In The Hospital:
1.  A comfortable robe.
Hospitals provide gowns, but you'll want a robe to wear because hospital rooms are almost always cold. 
You'll want a robe for when you get up to walk around after your delivery.
Which you'll want to do as soon as your nurse OKs that you can get up and get moving.
It doesn't matter if you have had a vaginal delivery or a c-section, getting up and walking right after delivery sucks.
I'm not saying do laps around the postpartum floor, but do try to get up and walk a little.
It gets things moving, it helps prevent blood clots, and it promotes healing.
Get a robe that feels comfy and is warm.
A nice robe can help you feel better after delivery.
2.  A loose-fitting nursing gown.
One that provides easy access for you to nurse your newborn and is accessible for nurses and doctors to examine you after birth. 
You can stay in a hospital gown if you'd like. 
The choice is up to you.  
I chose to stay in a hospital gown after I had my baby.
I did have a nice robe that my mom bought me and brought to me in the hospital.
It was such a warm and comfortable robe. 
My Mom always seems to know what I need.
I had an emergency C-section. 
My in-hospital recovery wasn't great. 
Staying in a hospital gown for that postpartum hospital stay made sense.
You may want a more comfortable nursing gown to wear during your postpartum hospital stay.
Grab your FREE hospital bag checklist with a bonus postpartum water habit tracker!! (No email required)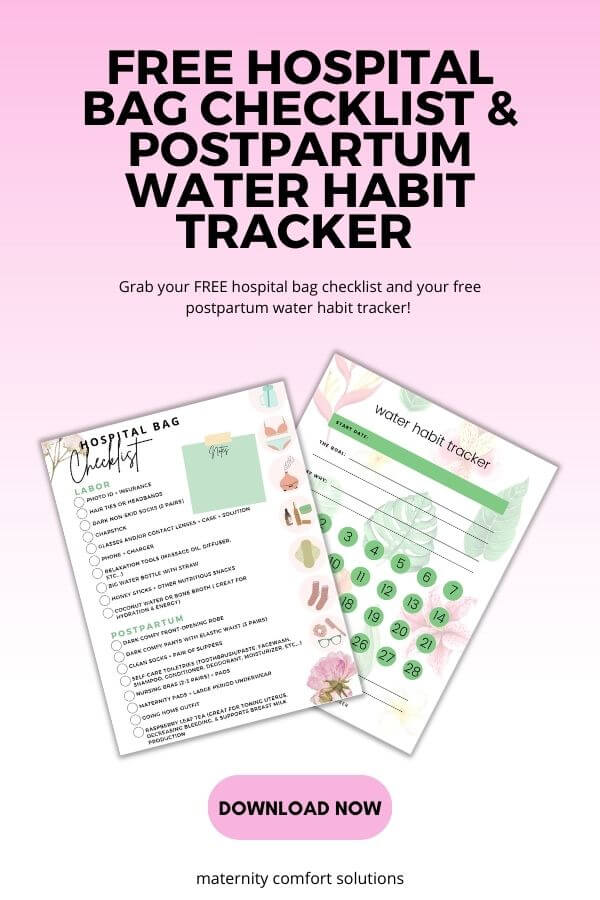 3. Slippers
Comfortable slippers with good traction are a must for walking around on cold hospital floors. 
You'll be getting up and down frequently to get your baby from their bassinet for feeding, diaper changes, or cuddling time.
Get a pair of slip-on shoes, I love these slip-on shoes by Nike.
You may have swelling in your ankles and feet after your delivery. 
This is especially true if you have had a c-section.
Slip-on shoes will help you keep from having to bend down to put on and tie the shoes.
These shoes are ideal to slip on at night for those nighttime nursing and diaper change sessions.
4. Warm non-skid socks.
Don't forget non-skid socks! Your feet will get cold without socks.
Non-skid socks are a must on slippery hospital floors.
5. Postpartum Underwear aka "Granny panties"
The hospital will provide you with mesh underwear and big thick pads.
You might want to stick with those while you are in the hospital. 
You will likely have heavy vaginal discharge and bleeding after delivery for a few weeks. 
This discharge is called Lochia and it is normal.
If you had a c-section you will still have some discharge and bleeding, but it won't be as heavy.
You can bring your own underwear or disposable postpartum underwear if you don't want to use mesh underwear.
You'll need some big comfy underwear for when you go home though. 
This is the postpartum underwear our readers swear by and couldn't go without.
6. Nursing Bras
Nursing bras make breastfeeding easier and they are made to provide support. You'll be very glad you have them after your baby is born.
If you are formula feeding, I recommend some supportive sports bras.
You will be uncomfortable until your milk dries up and a good sports bra can make all the difference.
Kindred Bravely has the best selection of nursing bras that new moms rave about!
I heard about this store in a new mom's Facebook group. I was not disappointed.
The quality of their nursing bras is unmatched. They sell all kinds of pregnancy and postpartum clothing and essentials.
If nothing else, get a couple of good nursing bras.
You will be so grateful you did. I wish I had the first time around. 
Nursing bras are more than just easy access, they need to be supportive and comfortable. Because you are going to be sore and breastfeeding isn't always easy.
The very last I wanted anywhere near my breasts was an uncomfortable bra.
Here is a tip: You can get 10% off your first purchase by signing up for their email list.
Take 10% off your first purchase when you sign up for our mailing list! 
My choice for the best nursing bra is the French Terry Racerback Nursing & Sleep Bra.
This is the most comfortable nursing bra for sleeping and nursing. 
It provides one-hand access for breastfeeding and comes in a variety of colors.
7. An outfit to wear home 
You'll need to bring an outfit to wear home once you have been discharged from the hospital.
I chose comfortable and casual.
I wore a maternity outfit home.
My c-section incision made the idea of wearing anything else out of the question.
8. A zip-up sweatshirt or comfy cardigan sweater.

 
I would put a zip-up sweatshirt at the top of my what to wear postpartum in the hospital essentials list.
Especially if you don't get a thick robe to wear.
The hospital will be cold.
I'm a nurse and I wear a long sleeve shirt under my scrubs when I work in a hospital.
Packing that extra layer to throw on if you are cold can increase your comfort level immediately.
If you are not nursing, you can bring your favorite hoodie.
A hoodie can be a little tough if you are nursing or pumping.
Grab your FREE hospital bag checklist with a bonus postpartum water habit tracker!! (No email required)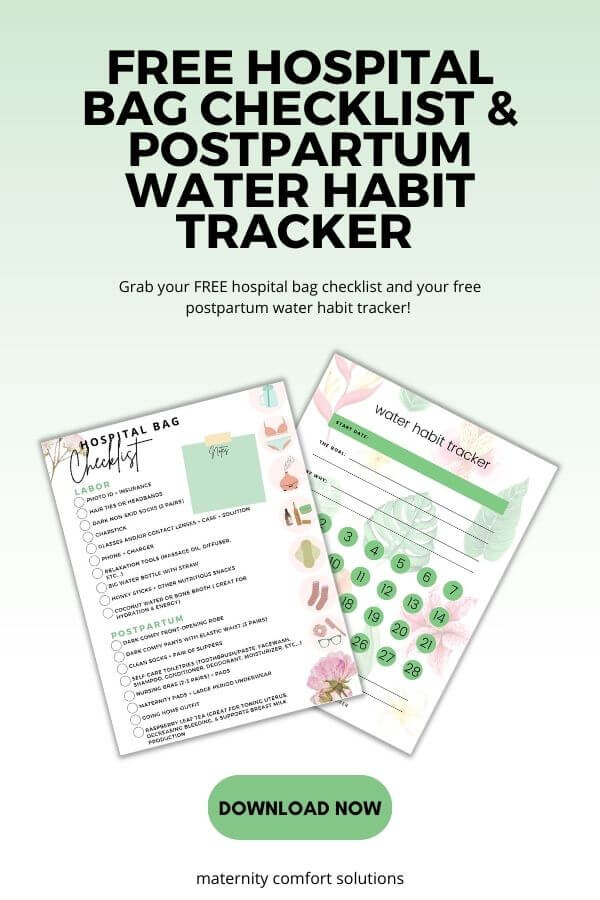 What To Wear Postpartum At Home
The key to a smooth recovery is to have as many of these things ready as possible before the baby arrives.
When you are discharged home from the hospital with your baby, you are going to be sore and exhausted.
Whether you have a vaginal delivery or a c-section, you'll need time to let your body heal.
You'll probably be spending a lot of time on the couch or in bed feeding and holding your new baby.
You'll want to be as comfortable as possible.
Plan to wear loose-fitting clothes.
This breastfeeding nightshirt will make nighttime feedings a breeze.
Loose-fitting jogger pants and sweats will likely be your go-to for the first couple of weeks, at least.
Don't put away your maternity clothes yet. 
It takes several weeks for your new postpartum belly to return to its pre-pregnancy shape.
If you are nursing, you'll want a couple of nursing tops to make it as easy as possible to nurse.
Our readers love these nursing tanks.
I found that in the summer a nursing tank and a flowing maxi skirt were light years more comfortable than pants.
These postpartum nursing dresses are great too.
If you click on the dress you can check out all the colors available.
The most important thing to remember is to wear the clothes that make you the most comfortable.
Pro Tip: During your first few weeks postpartum if it isn't about rest, bonding, feeding, changing your baby, or spending time with your other children, it can wait.
Visitors can wait. Laundry can wait. Cleaning can wait.
Your responsibility is to heal and take care of your little one. Let people take care of you.
Make sure you have some things to do that you enjoy. Get Netflix or Amazon Prime Video, books you enjoy, podcasts you love…things that are just for you!
Final Thoughts
Preparing your hospital bag and knowing what to wear postpartum in the hospital can be super stressful.
Especially for a first-time mom.
You are most likely going to be exhausted and sore after your labor and delivery.
So don't feel you have to overdo it and look perfect.
Wear the clothing you are most comfortable with postpartum.
It is your time to bond with your baby, heal, and recover from childbirth.