We may earn money or products from the companies mentioned in this post. You can read full disclaimer below.
Updated May 26, 2021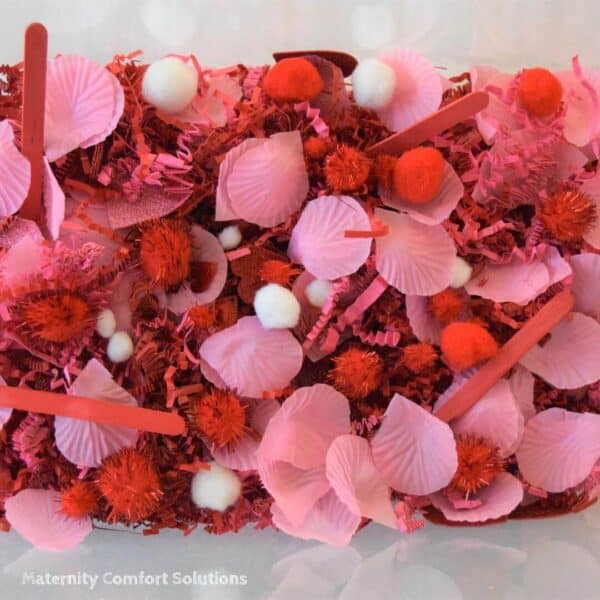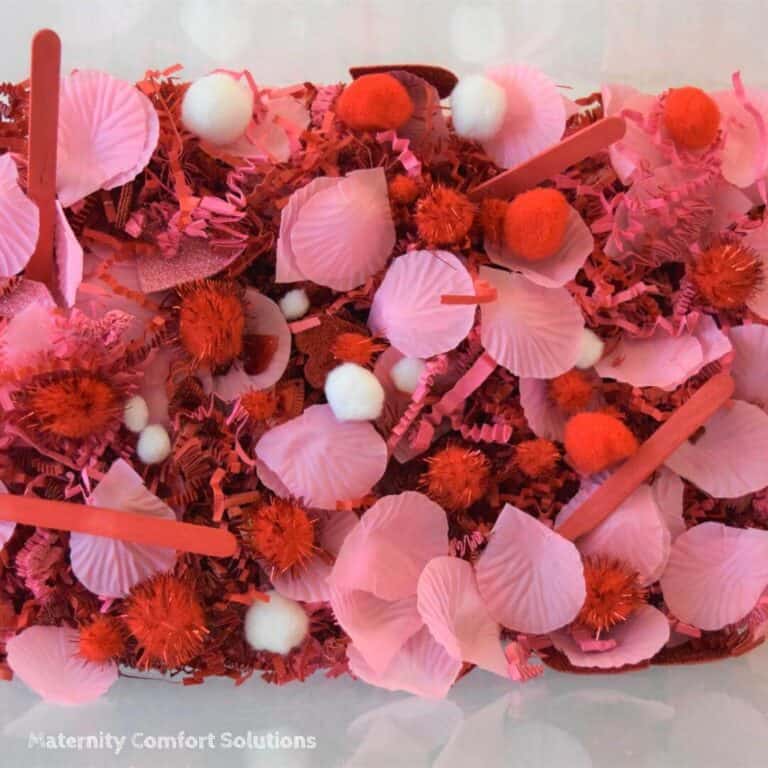 Are you looking for some creative Valentine sensory activities for toddlers?
Sensory bins and other sensory learning activities offer a lot of great benefits for toddlers and preschoolers.
For instance, sensory play helps encourage the development of their fine motor skills, language development and helps encourage scientific thinking while they learn to problem-solve with the hands-on activities included.
Another great benefit of sensory play is that it can be calming for younger children and enhance their memory learning while helping them complete more complex learning tasks as they grow older.
With Valentine's Day just around the corner, here are some fun and educational Valentine's Day-themed sensory play bins and activities that preschool-aged children and toddlers will love.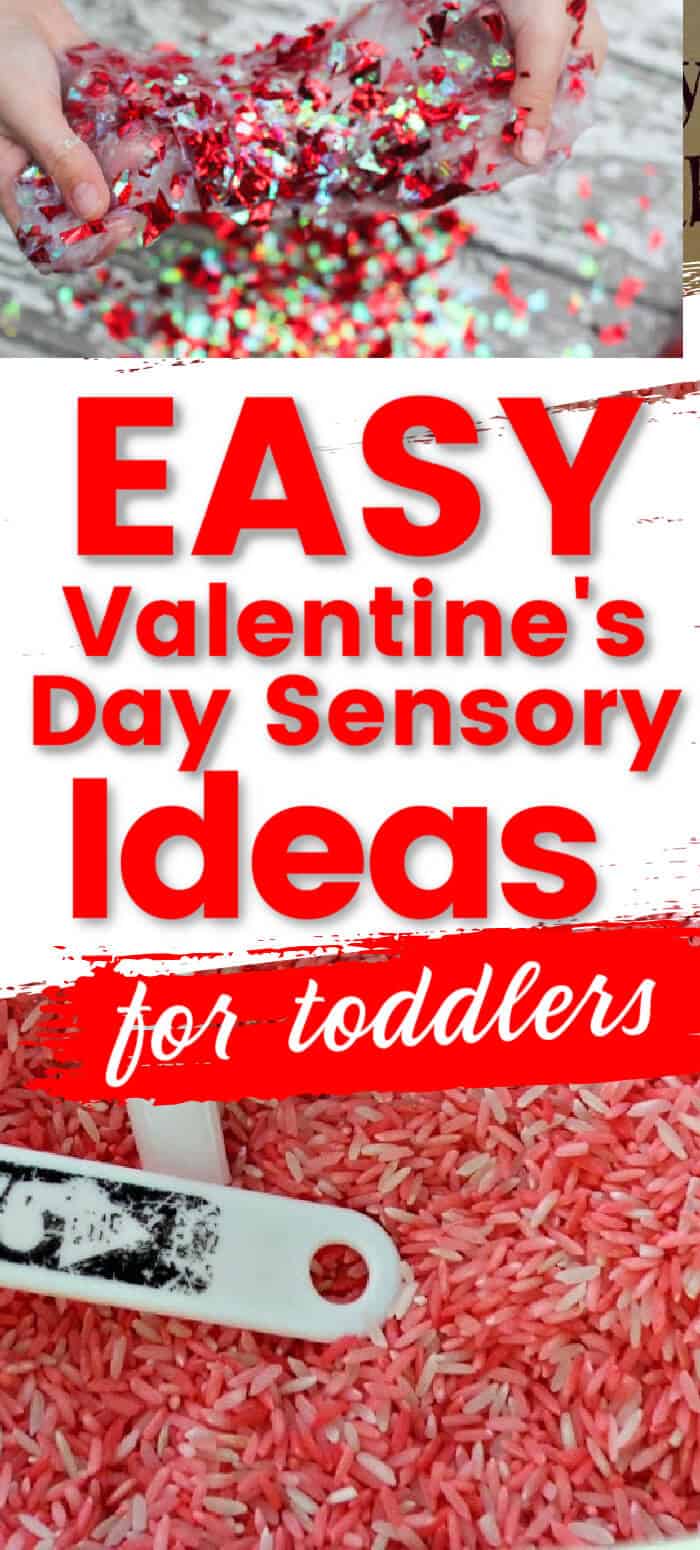 What is sensory play? 
It has long been known that sensory play promotes early childhood development.
Sensory play helps a child learn and then integrate the five senses: smell, touch, sight, hearing, and taste.
This encourages exploration and promotes creativity.
Research has demonstrated that sensory play promotes self-learning and impacts a child's behavior and personality.
The habits and behaviors of our children begin to evolve the day they are born and the learning process never ends.
Why offer sensory play opportunities?
The sensory play introduces the child to the basics of the scientific method.
Sensory play helps with the development of both fine and gross motor skills, language development, and problem-solving skills.
Sensory activities for young children encourages free and open-ended play.
Open-ended play is play with no set outcome, no expectations, no prodding, or feeding of ideas.
Your child is free to explore, create, and imagine whatever he/she wants. They learn to trust themselves, their internal motivations, and learn to self-validate their own experiences.
In my experience as both a parent and former early childhood educator, you can't fail with providing lots of opportunities for sensory play.
It doesn't have to be expensive or even time-consuming.
My mom motto is "It needs to be simple or it's not happening"
Sensory Bin Fillers:
You can buy tons of fillers for your sensory bins. Many of the ones below you can easily make at home.
Most of the toys you'll see included as "ideas" are just simple dollar-store toys or toys we had kicking around the house.
None of the ones I made below took more than 15 minutes in total to make.
I sped up the drying time for the colored rice by putting it in the oven on Bake at 250 degrees for 10 minutes. Let them cool down and you are good to go.
They did not bleed any color once they were dry.
Be creative with your ideas! Allow your child to engage the senses in a fun and educational way.
The possibilities and combinations for sensory play and sensory bins are endless.
Before we give our kids sensory activities or sensory bins we like to tie them together with a book.
These are a couple of our favorite Valentine's day books for toddlers:
10 Valentine Sensory Activities For Toddlers: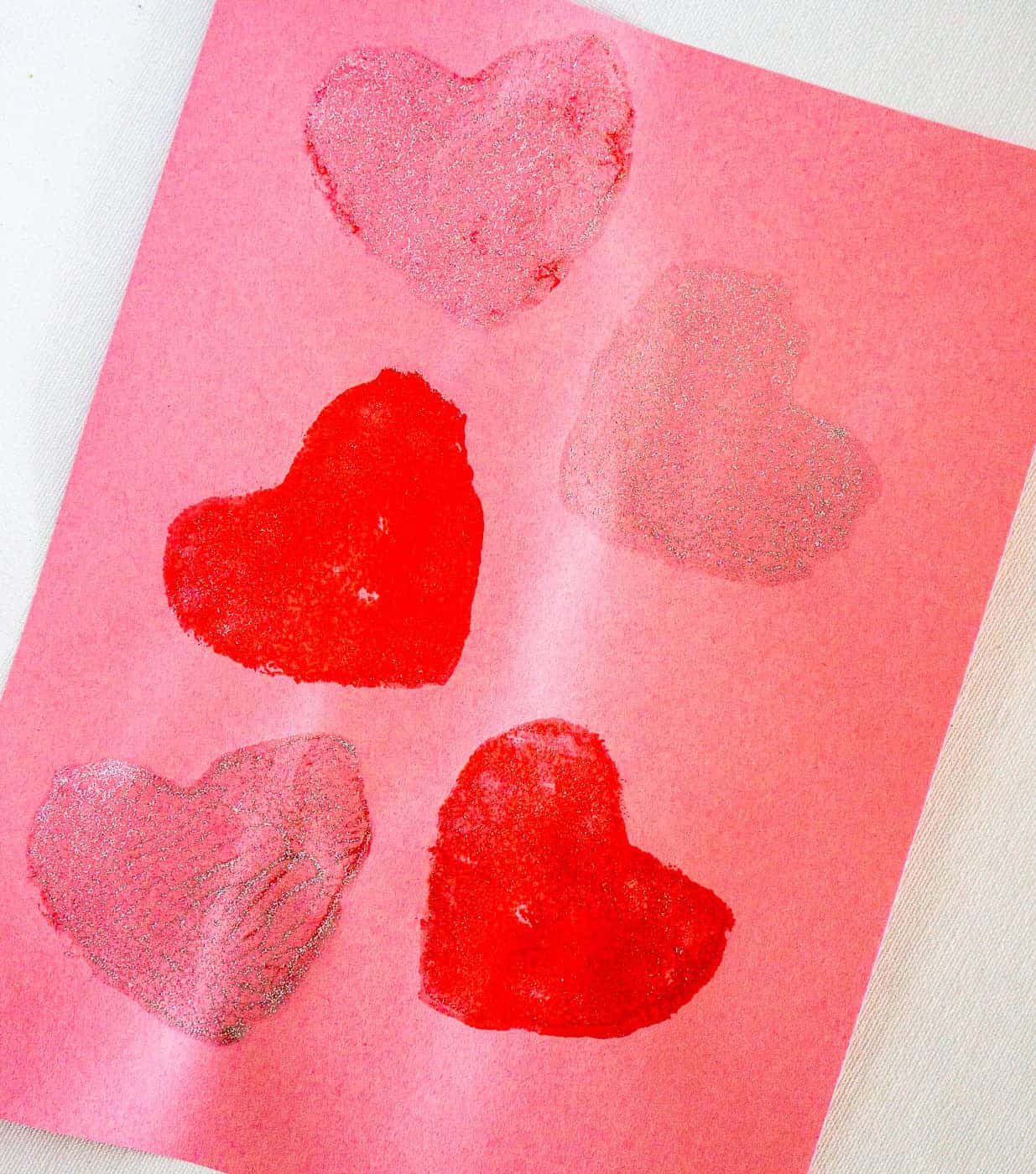 A super easy Valentine's Day toddler sensory activity that only needs about 2 minutes of prep: sponge painting!
You'll need just a couple of common household items to do this heart-themed sensory activity with your child.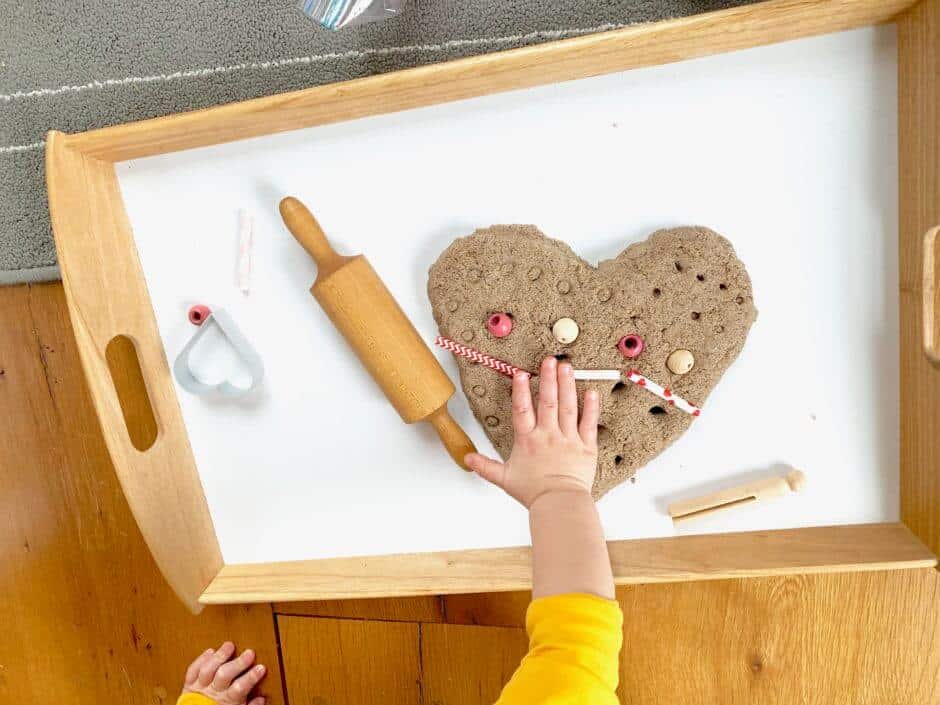 Kinetic sand is a great hands-on sensory item for kids to play with.
It helps encourage open-ended play and can be used for various learning activities.
Kinetic sand is easy to make, but if you don't have time to make it, this is the kinetic sand our readers buy most often.
If you need a cute Valentine's day gift or non-food Valentines for a school class we love these Kinetic Sand Valentines.
So adorable and a budget-friendly DIY project that toddlers and preschoolers will love.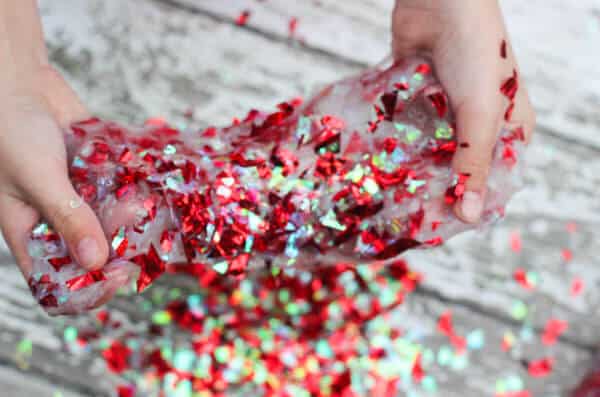 Slime is always popular with children, no matter what their age.
This easy Valentine's Day slime is a simple and fun sensory activity for toddler and preschool-aged kids.
I don't know about your kids but I know ours love slime.
Slime is super easy to make and many people don't know this but when your kids are done playing with the slime if you need the slime for another 5 to 10 minutes it turns into silly putty.
Which gives you another new activity for your toddler or preschooler.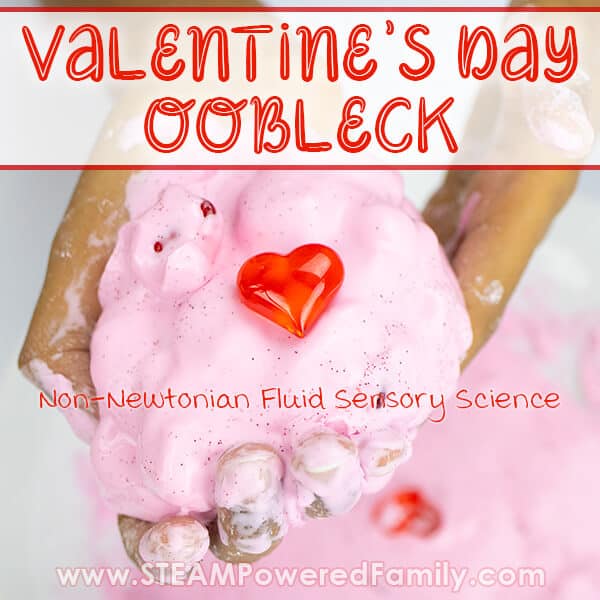 Valentine's Day Oobleck or non-Newtonian Fluid is an easy, non-toxic, incredibly fun sensory activity.
The activity makes for a great science-themed sensory activity.
Making Oobleck is a must with your kids.
It's liquid until you put it under pressure and then it becomes solid and when you let it go it becomes liquid again.
Your toddler will love Oobleck and so will you!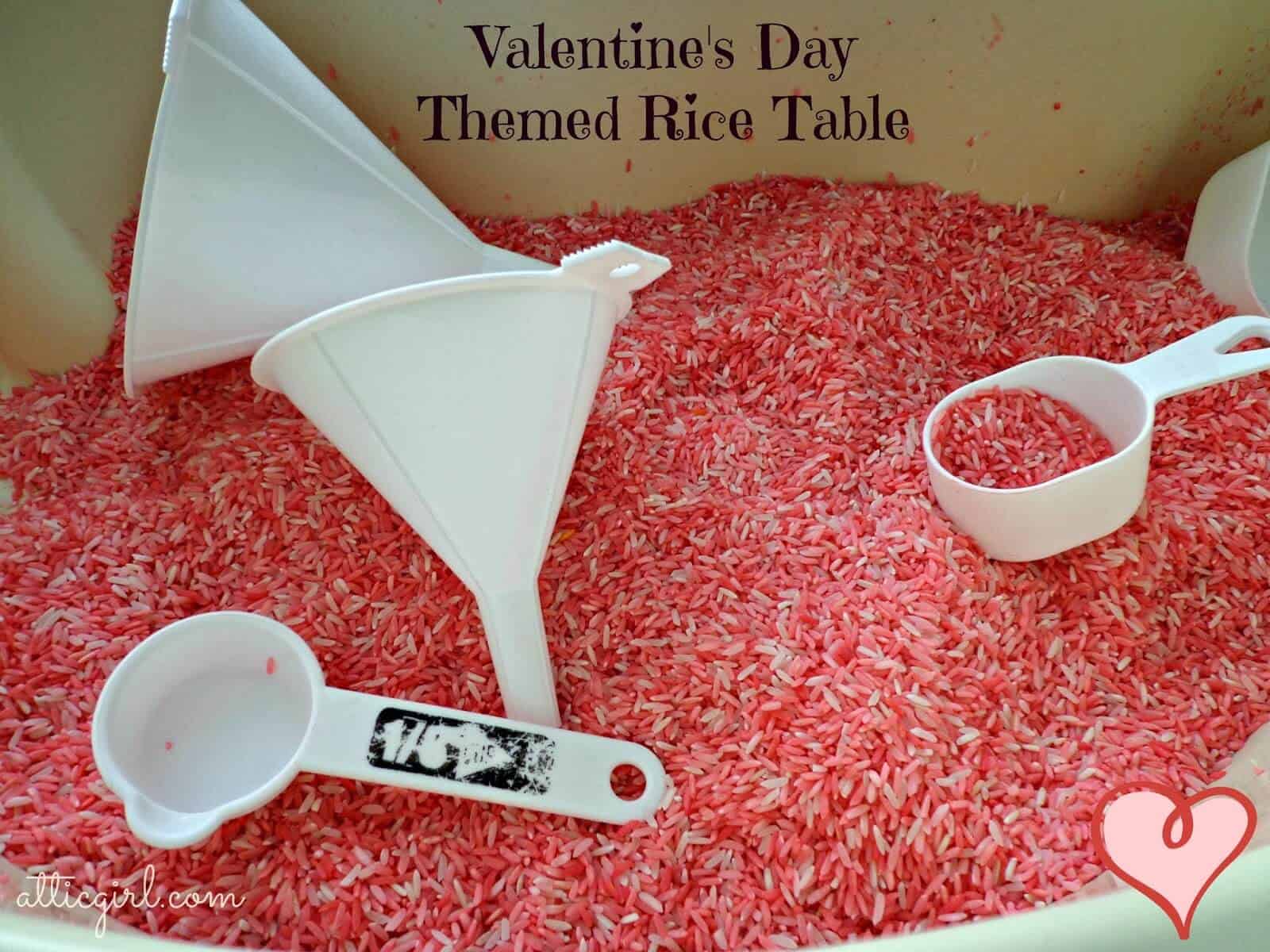 Kids love using their hands to play with rice. Rice allows kids to bury and dig up their favorite toys while they are working on problem-solving.
You can easily color the rice to make it more fun and colorful if you choose.
Colored rice is easy to make and a perfect sensory bin filler.
It is excellent for practicing fine motor skills like pouring scooping and filling. 
This is an excellent sensory been for Valentine's Day and a really easy recipe for colored rice so be sure to check it out.
Do your little learners enjoy sensory activities? This Valentine's Day sensory bin is perfect for February in your preschool or pre-k classroom. Add some loose parts and fine motor tools to create a fun and engaging Valentine themed sensory experience your kids will love!
Numbers 7 through 10 are sensory bins or sensory play activities we have done with our own kids recently.
The first one is Valentine's Day Playdough invitation to play.
7.  Valentine's Day Playdough Invitation To Play – Maternity Comfort Solutions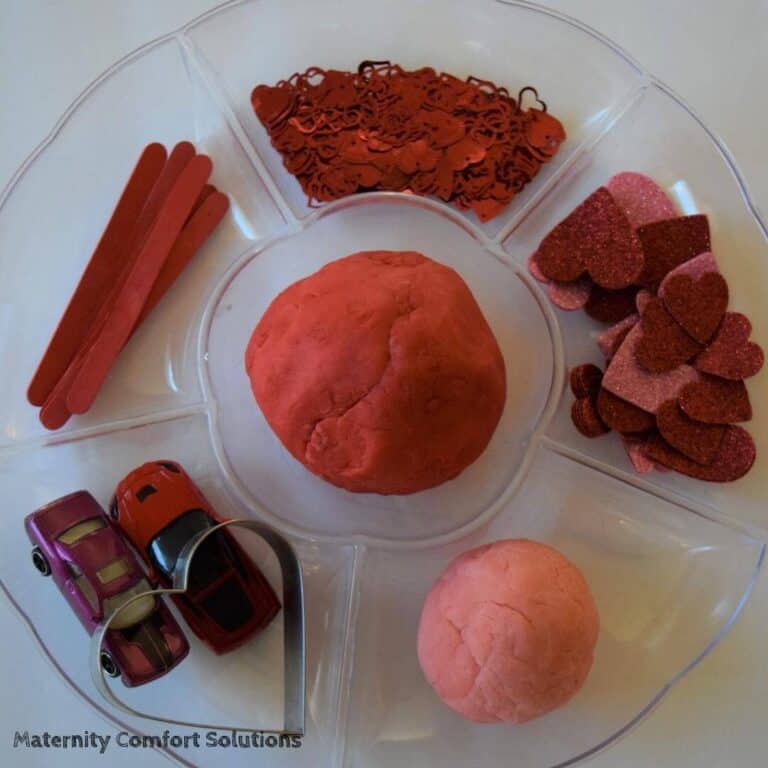 Does your toddler like playdoh? We made this Valentine's invitation to play with items we already had.
Most of the items we use in sensory play are toys from the Dollarstore or we purchased the items on Amazon.
If you haven't tried it with your toddler yet, Valentine's Day is a great day to make it together.
It's easy to make, the cost is pennies a batch, and kept in an airtight container will last a month.
Easy and fast homemade playdough recipe:
1 cup all-purpose flour
1/3 cup table salt
2 teaspoons cream of tartar
1 cup of water
1 tablespoon vegetable  oil
Gel food coloring
You'll want to use a large saucepan for this recipe. Pour the flour, salt, and cream of tartar into a pot, add water and oil.
On low-medium heat stir until it starts to thicken. It takes about a minute or two.
Add food coloring when it starts to thicken and keep stirring until the dough begins to pull away from the sides and starts to stick to the spoon.
Remove the dough and place it on wax paper to cool.
When it is cool enough knead it for a minute or two and it's ready to go.
Store in an airtight container or if you are like me, throw it in a Ziploc bag.
It will last for several weeks.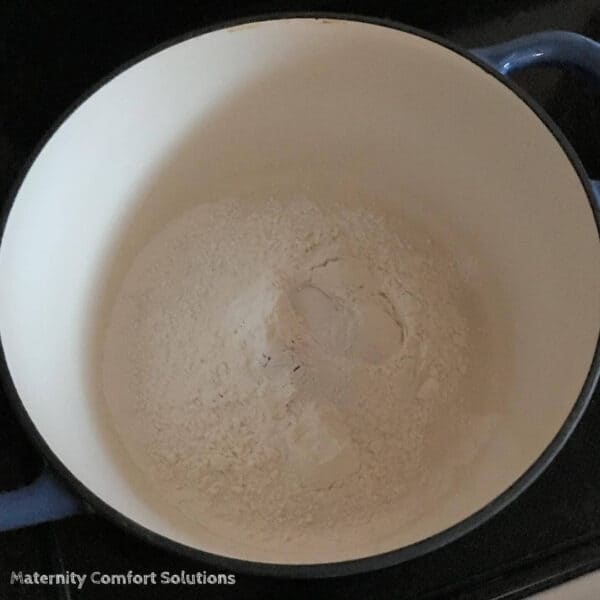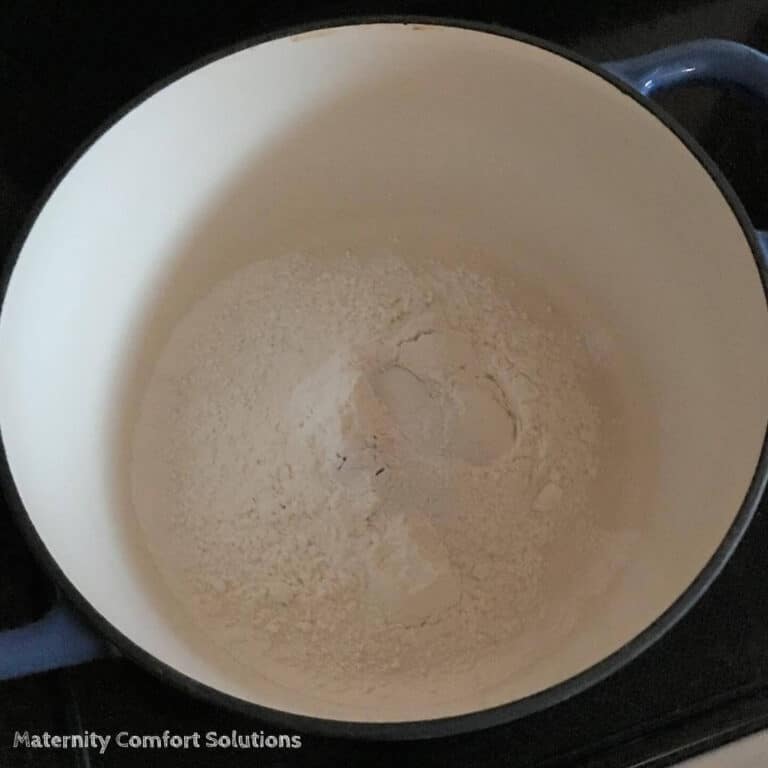 Add the flour, salt, and, cream of tartar into a medium to a large pot and add 1 cup of water and 1 tablespoon of vegetable oil.
I use gel food coloring when I make my playdough I think it works best but you can use whatever you have on hand. I add the gel food coloring to the water and then I add that into the pan.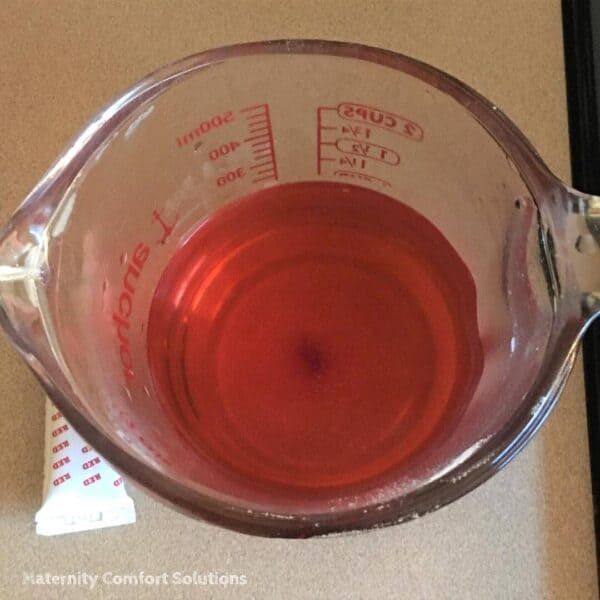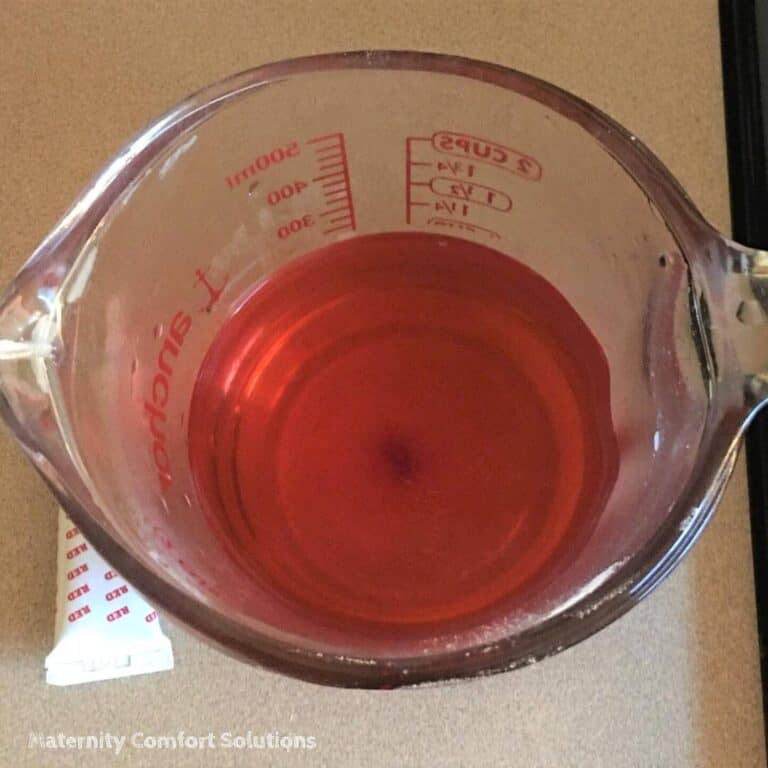 I start on low heat and when it starts to form dough I can tell the color it's going to be. 
When I made the pink I didn't need to add any extra color. If you want a deeper, darker, or more vibrant color this is the time to add more food coloring to your dough.
You can add a few drops at a time and stir until you get the color that you want.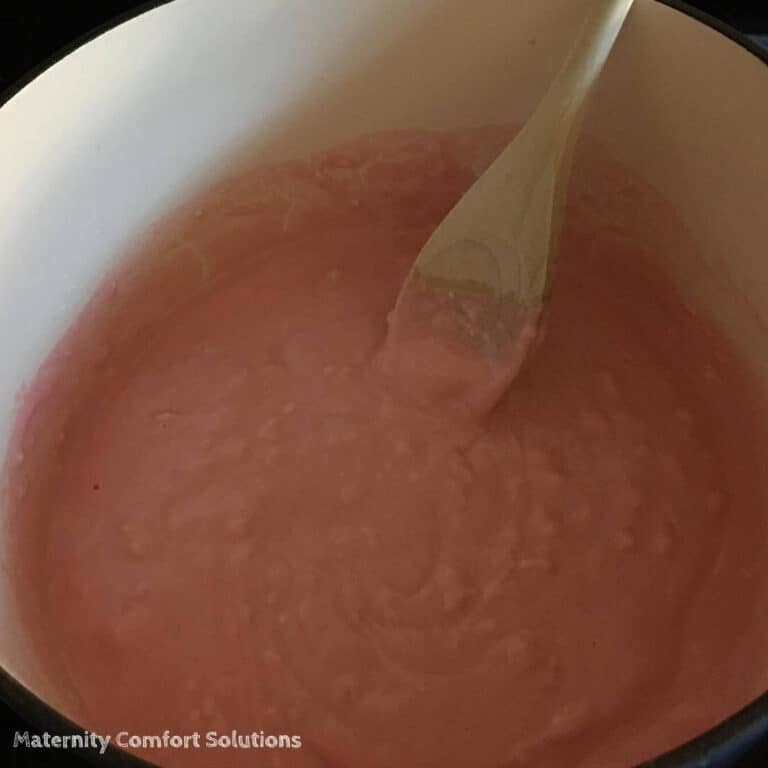 When it forms a dough ball, remove it from the pot, place it on wax paper until it cools.
Then you're ready to go.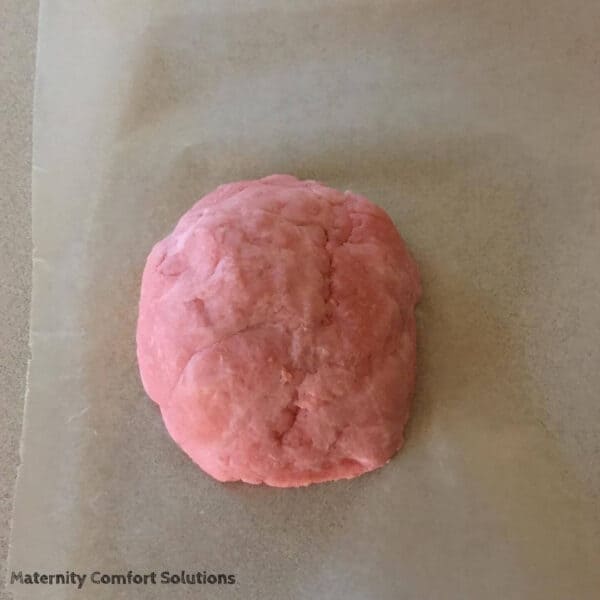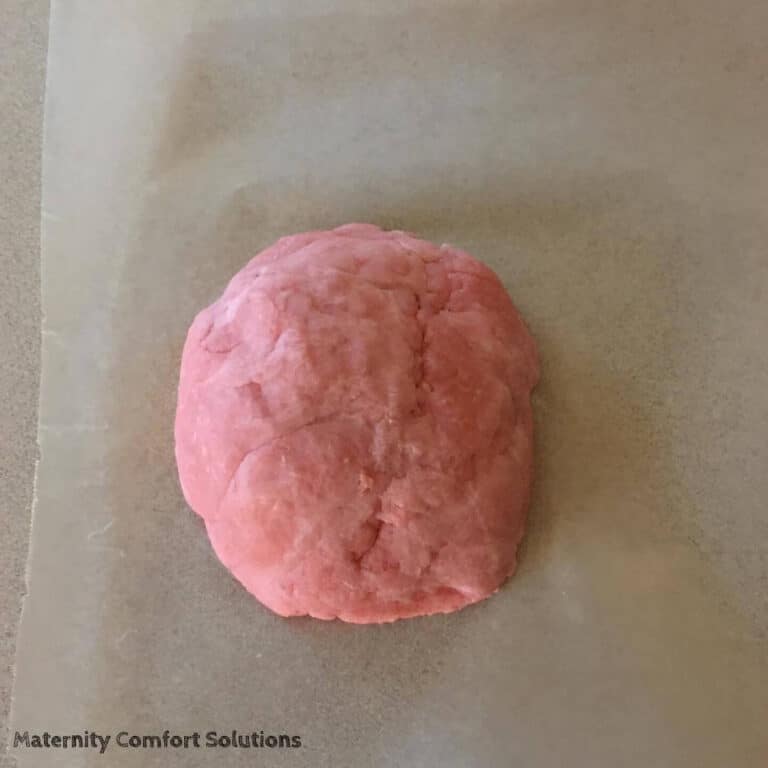 I use round plastic serving trays and fill each compartment to make the invitation to play enticing to my toddler.
You can sometimes find the serving trays at the dollar store, but if not Amazon has the best deal I have found on the plastic trays. The one pictured below I bought at Walmart, but it was expensive compared to the 4 pack of trays deal at Amazon.
I use these trays for all kinds of toddler arts, crafts, and sensory play activities.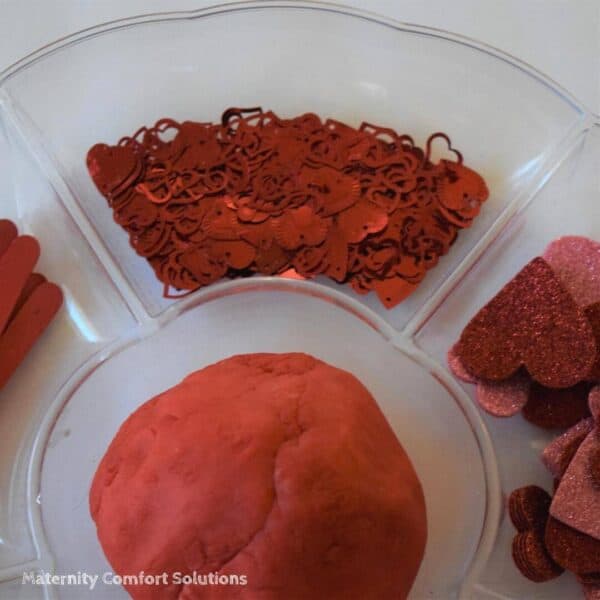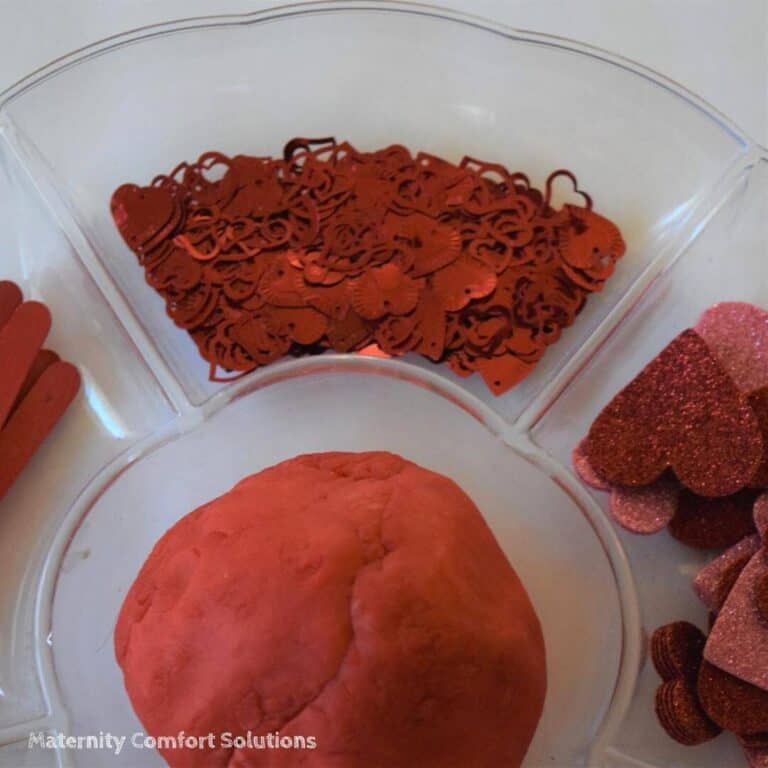 I put the red playdough in the center and added Valentine's day materials they could use to create with the playdough.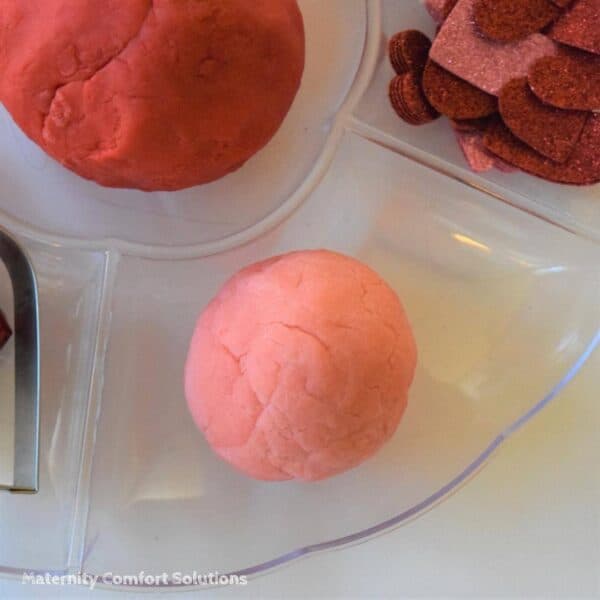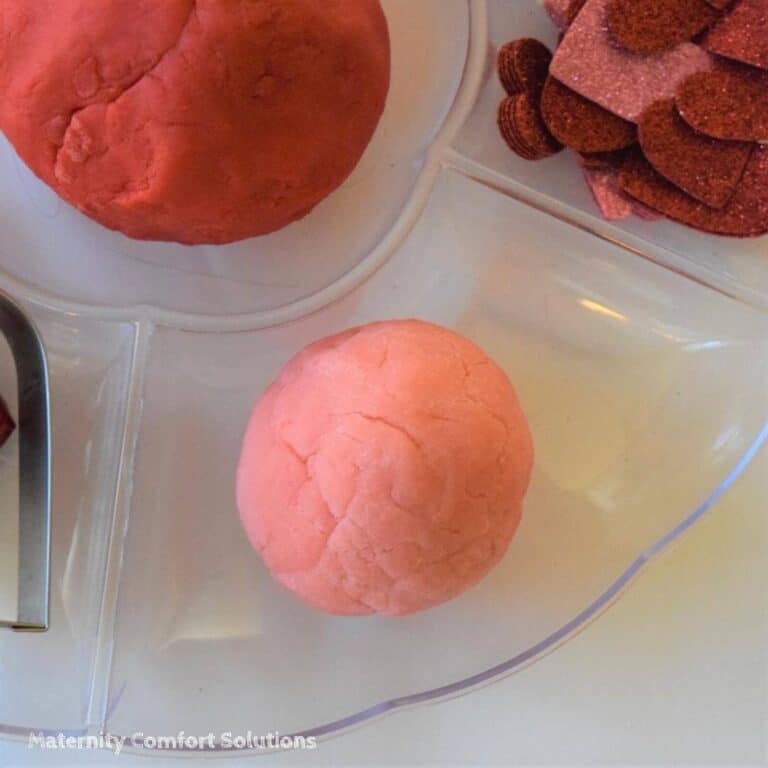 When your toddler is done playing you save the playdough in an airtight container or Ziploc bag to be used again on another day.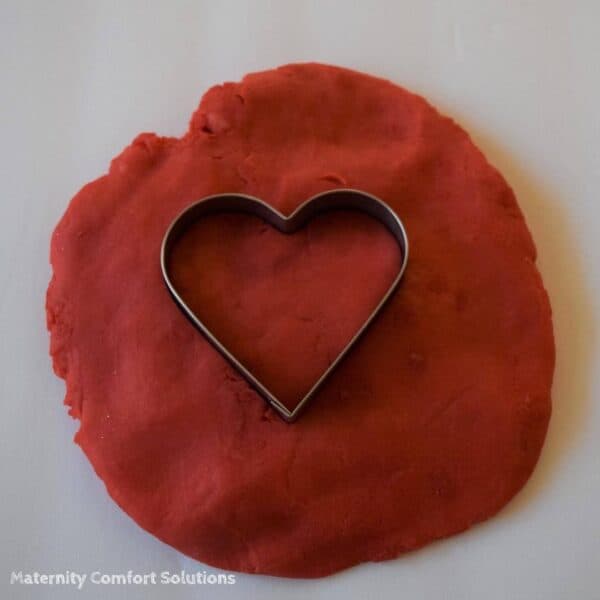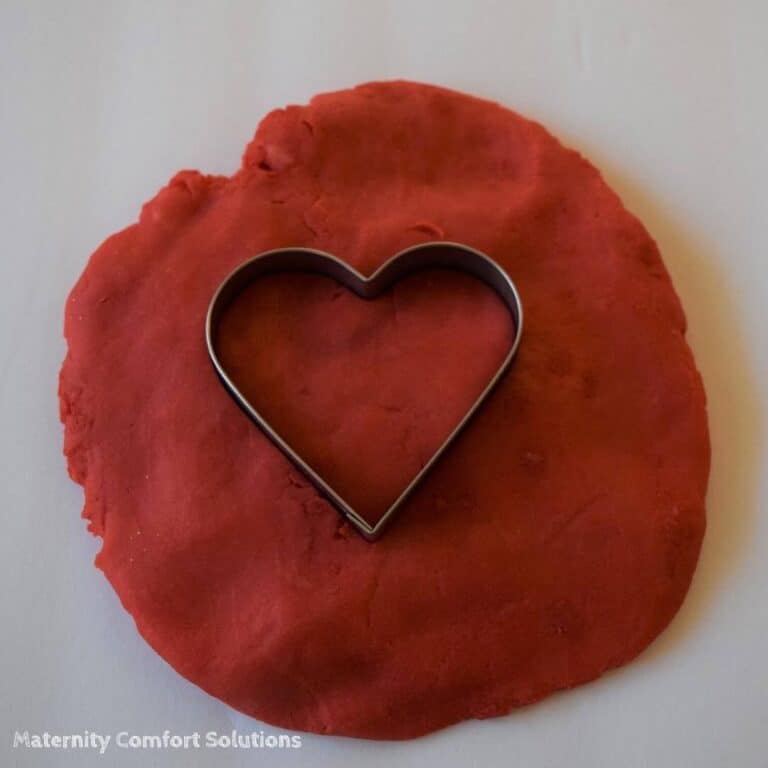 in stock
20 new from $9.26
as of June 1, 2022 7:05 pm
in stock
24 new from $21.88
2 used from $20.79
as of June 1, 2022 7:05 pm
in stock
as of June 1, 2022 7:05 pm
Last updated on June 1, 2022 7:05 pm
8.  Valentine's Day Rice Sensory Bin For Toddlers
Here is a super simple Valentine's sensory bin for a toddler or preschooler.
Red-colored rice, puffy and felt hearts from the dollar store, red crafts sticks, and measuring cups for pouring are the only items you need.
Colored Rice Recipe:
2-4 Cups of rice
1-2 Tablespoons vinegar
Gel food coloring
Mix in a Ziploc bag until the desired color.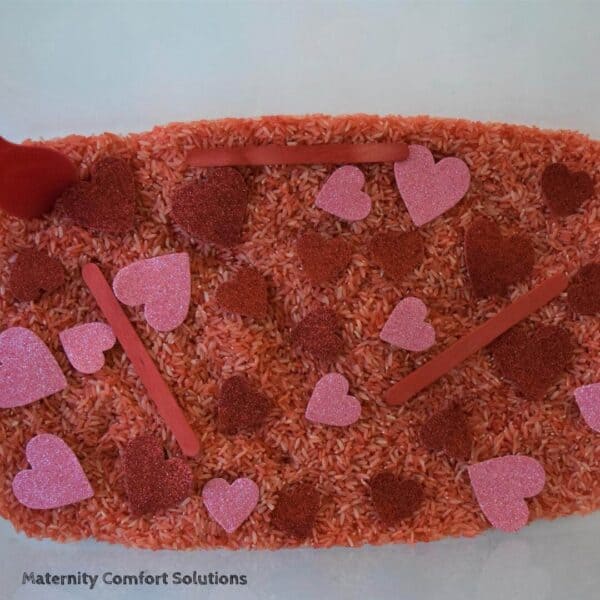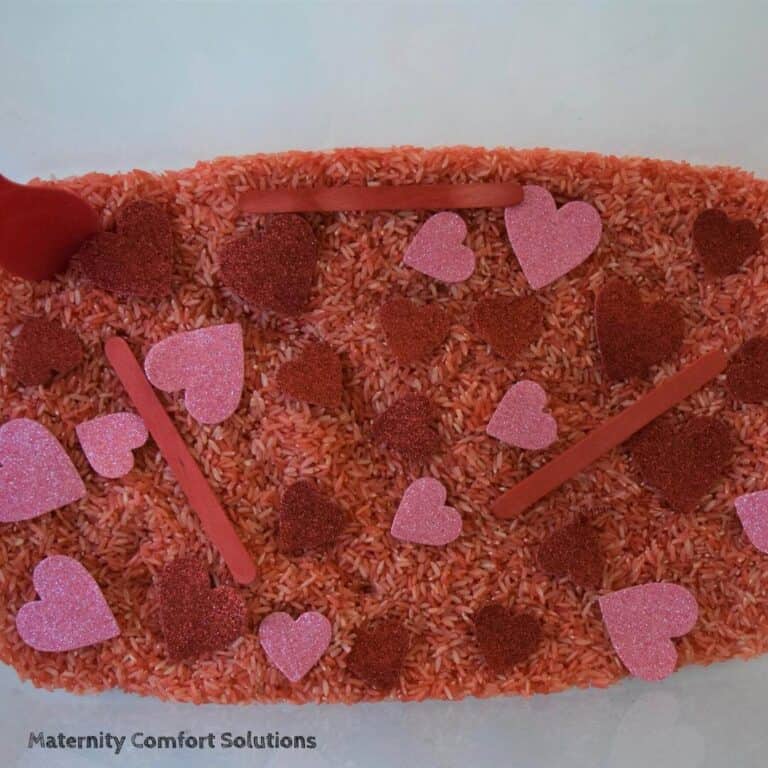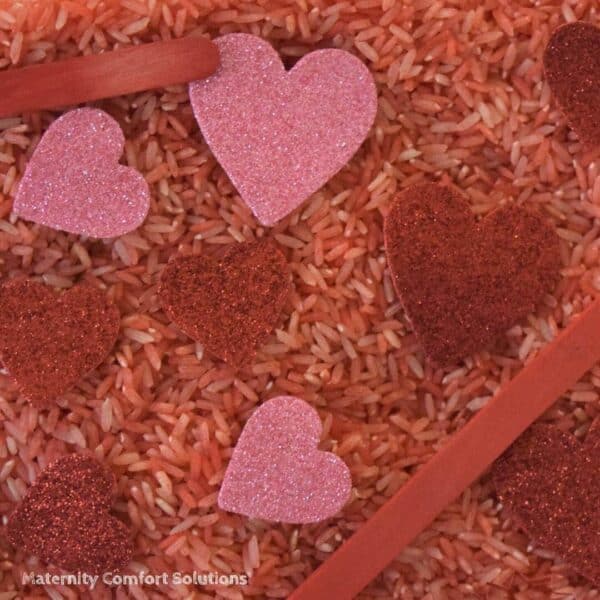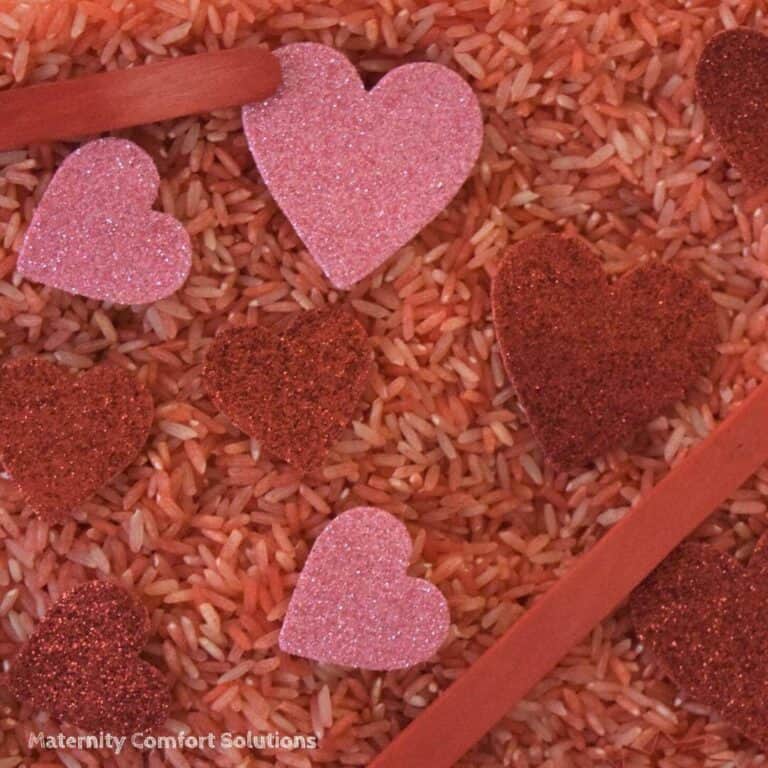 Related: 10 Adorable Valentine's Day Crafts For Toddlers
9.  Valentine's Day Heart Shapes Sensory Bin
This is an example of an easy dollar store sensory bin you can make at home for your toddler.
The supplies do double duty too!
They are the same materials we use in our toddler Valentine's Day craft projects.
Encourage your toddler to get their hands into the bin and scrunch and squeeze the different materials.
When your toddler is done, bag up the materials in a gallon Ziploc bag to be used in another Valentine's day project.
That is one of the nice things about sensory bins made with non-food items, you can recycle them into other projects and other sensory bins. Nothing goes to waste.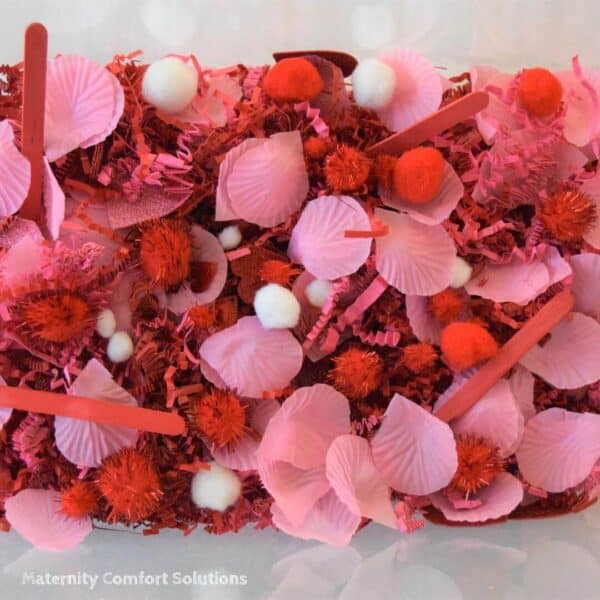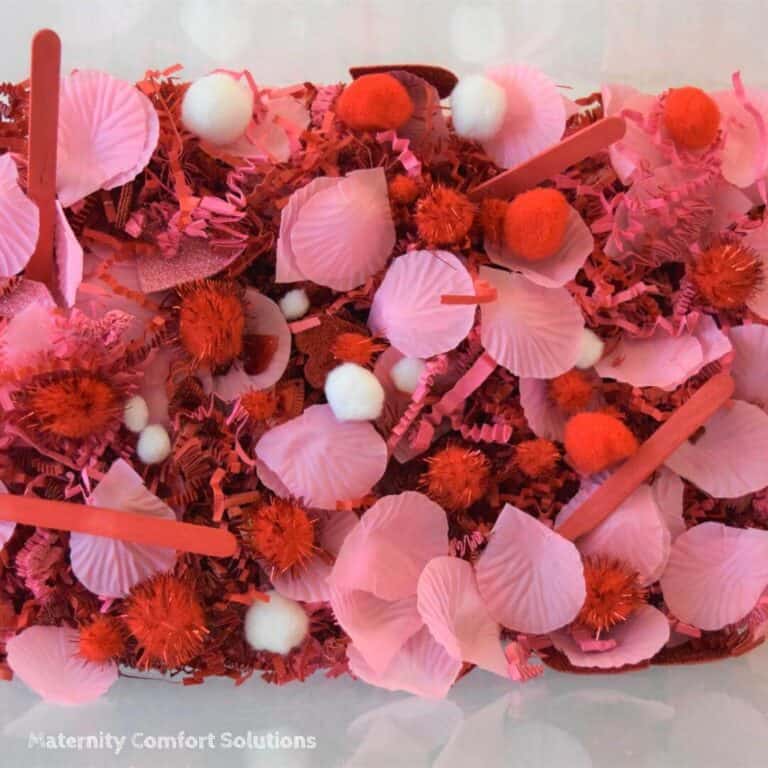 10.  Snow Painting Sensory Bin For Valentine's Day
We love snow painting! Shortly after we did our DIY frozen snow painting activity, Doug had the idea to make an indoor Valentine's sensory bin as a surprise.
You'll need a plastic bin, snow, watercolors or food coloring, paintbrushes, scoops, and small shovels.
He painted the heart design in the snow and we used it as an invitation to play.
It is a fun and simple way to bring the outdoors in on a day when it's too cold to be outside playing for long.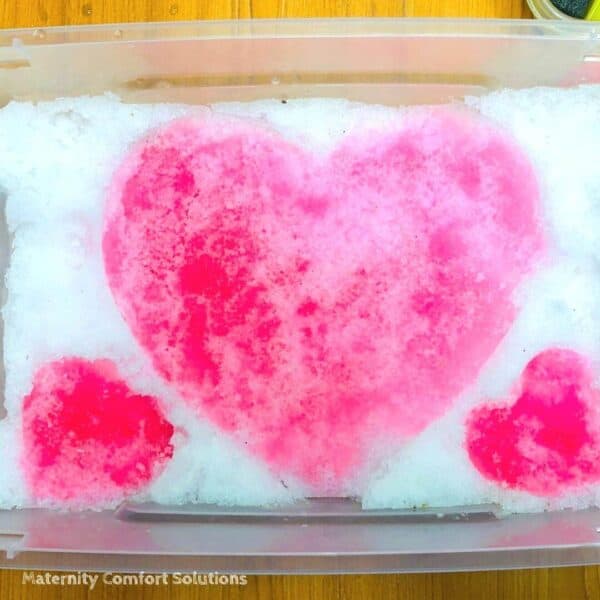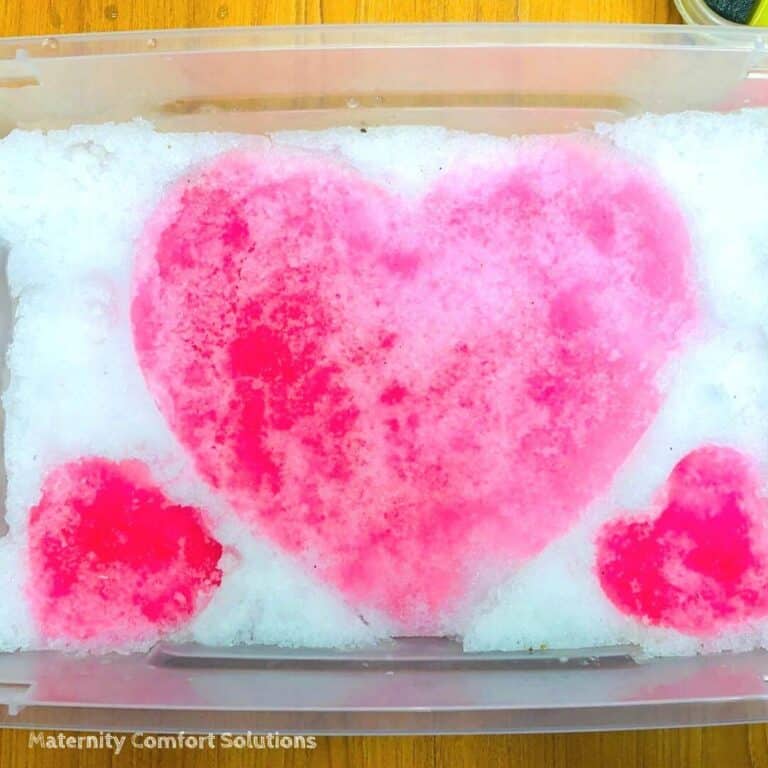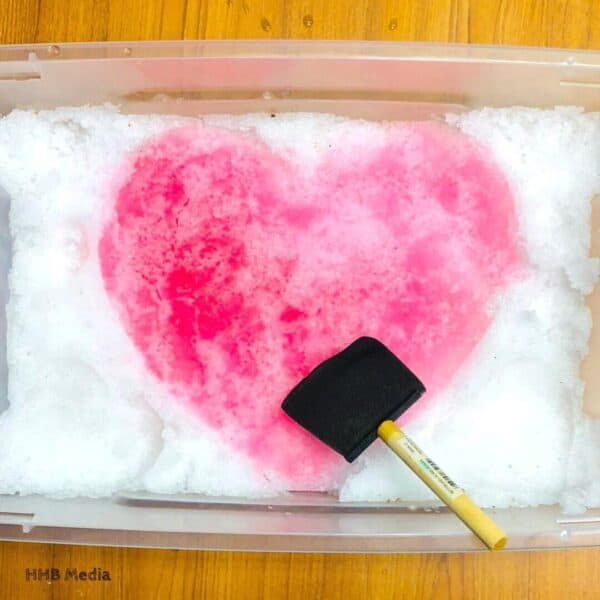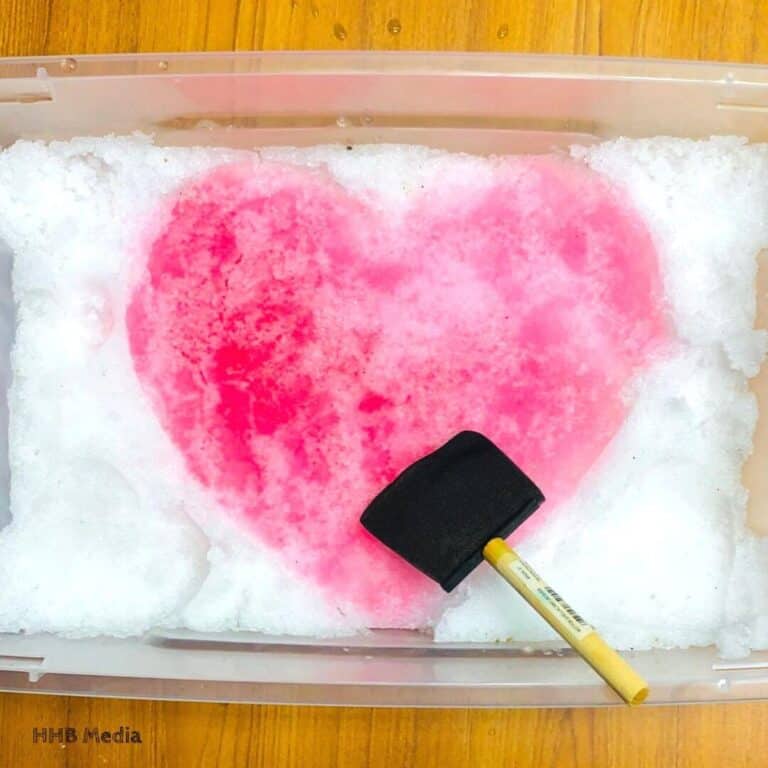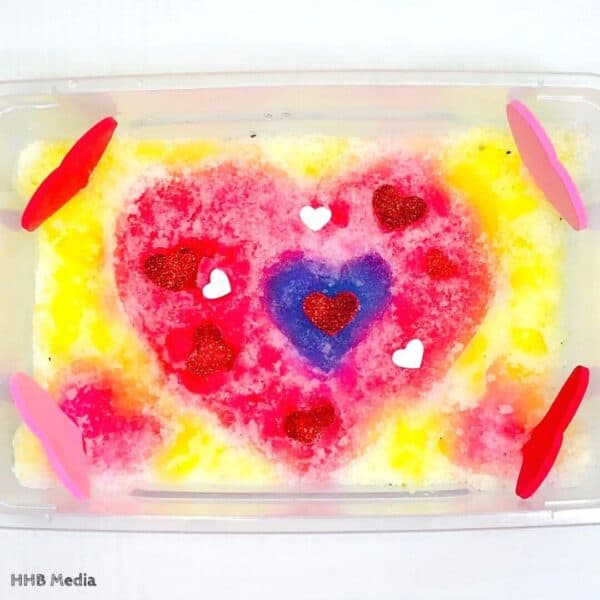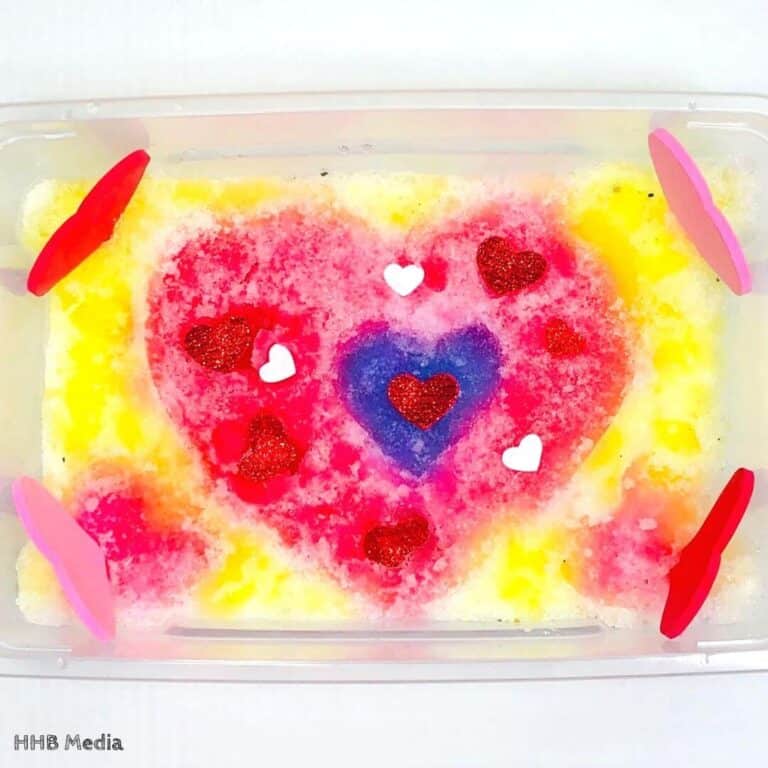 Conclusion:
We hope you found some inspiration and ideas for making Valentine's Day sensory activities for your toddler.
Sensory bins do not have to be expensive to make.
You can use free items that are common in most households and the dollar store is an excellent source of holiday-related craft items.
These are fun and educational Valentine's Day sensory activities that preschool-aged children and toddlers will love.