Updated March 12, 2023
The first time I googled DIY busy board ideas for toddlers was right after a Zoom meeting with our team during which my toddler decided to get his inner Picasso on all over our freshly painted office walls.
My smart idea to let him loose with a coloring book and crayons while I jumped on a quick video call was in hindsight not too smart at all.
But it did lead me down a few "HOW CAN I KEEP MY TODDLER BUSY" rabbit holes on google.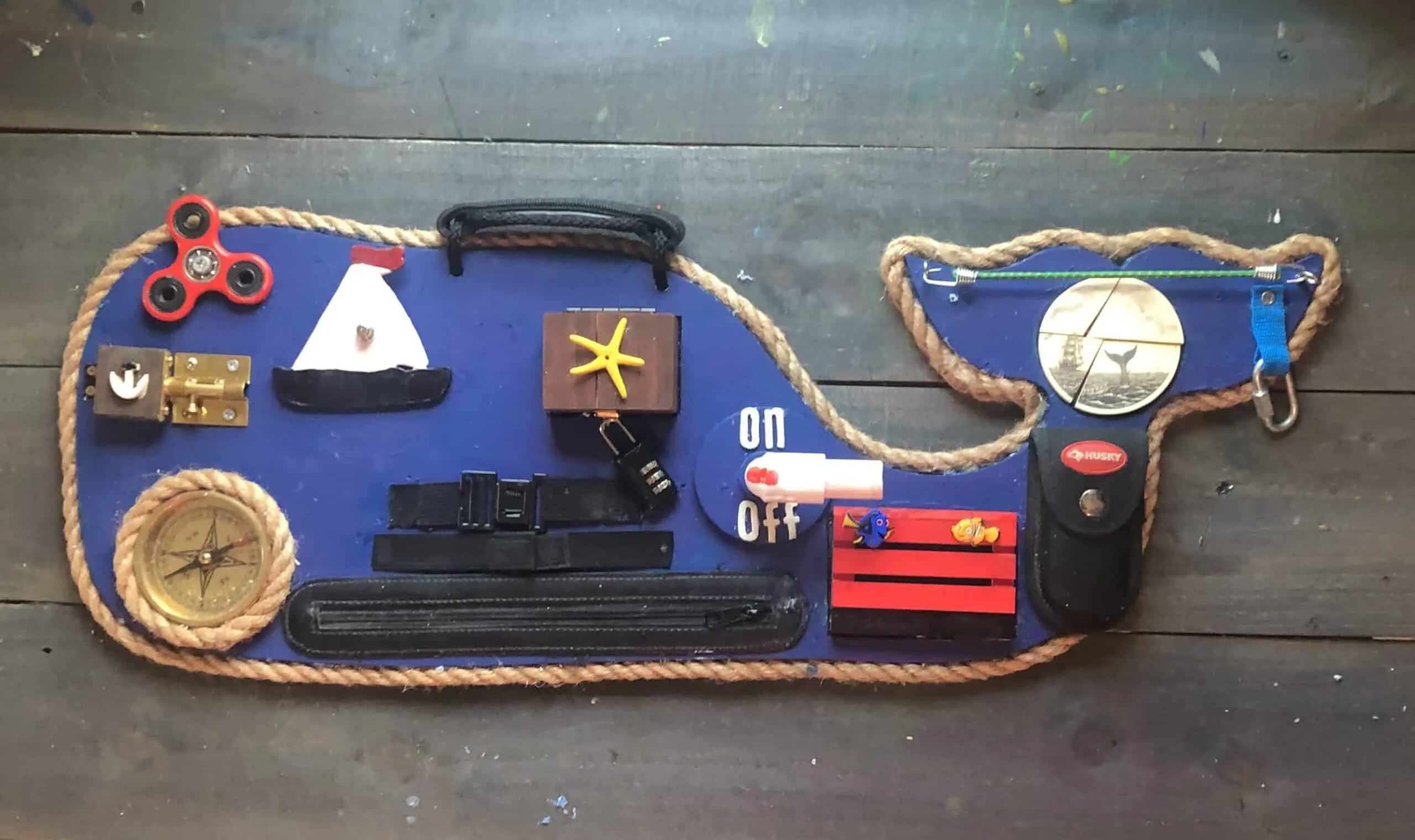 A toddler busy board was one of the first suggestions that came up.
I was sold. They looked like they were so much FUN!
We made a nautical-themed busy board and I give it to our toddler when I HAVE to get work done.
It works like a charm, no more Picasso-ing the walls when I turn my back for a minute.
Today we are sharing the whole process with you and we are sharing some of the other inspirational busy board ideas we found.
Busy boards are super easy to make at home!
DIY Busy Board Ideas For Toddlers
What is a busy board?
A busy board or activity board is a mess-free, screen-free, sensory toy made from household objects.
They are very educational and your child will retain more information because they involve active participation.
In terms of early childhood development, busy boards are a very effective way to develop sensory and motor skills.
But best of all … toddlers love busy boards.
If you are looking for the perfect holiday gift for your toddler, consider making a homemade busy board for toddlers. Busy boards can entertain your child for hours and are educational.

If you have the time and like craft projects, making a busy board can be a rewarding experience for parents as well. Unlike many educational toys for toddlers, a homemade busy board for toddlers becomes a family heirloom.

As a parent, building a DIY busy board for your toddler allows you to choose tasks that best suit your child's interests, and level of development.
Example: For this project, we decided to make a nautical busy board.
We chose to make a nautical busy board because our kids love the beach.
There are many reasons why a busy board can be the perfect gift for your toddler:
No two boards are the same so there will always be different tasks to accomplish.
You can choose a theme that you know your toddler will love.
Your child will have fun while developing their fine motor and sensory skills
Busy boards keep your child's attention.
A great tool to teach the details of daily living: Opening doors, unlocking locks, zipping zippers, and tying shoes.
You can buy or make a busy board for your toddler!
How to design your DIY, busy board:
Choose a theme with tasks you want to teach our child.
Select sensory and motor activities that you want to include. (Remember to avoid any objects that could cause harm such as sharp or spring-loaded items.
Create a board template that compliments the theme. (ie. house, boat, work sign, barn, animal, etc..)
No two boards are the same. To keep your child's attention, don't hesitate to make the tasks a little difficult, toddlers love a challenge.
Busy boards are a great way to teach your toddler the activities of daily living.
How to make a homemade busy board for toddlers:
1. Choose a Theme:
We chose a nautical because our toddlers love the water and all things associated with the beach.
There are also many motor and sensory skills associated with this topic:
locks
compass
zippers
buckles
2. Create a themed board.
Use a durable material, not cardboard or foam. The best material is ½ inch plywood.
I have seen busy boards made of ¾ inch plywood, which is fine, though the board will be heavier.
If your toddler wants to carry the board around the less weight the better.
Cut the board into the desired shape, we chose a whale.
You can make it out of a square or rectangular piece of plywood or you can purchase pre-made wooden shapes at craft stores like Michael's or Hobby Lobby.
Make it large enough to fit the number of items you have selected to use.
Finish with paint, stain, or sealant.
If you are good with wood burning a burned wood finish can go well with some themes.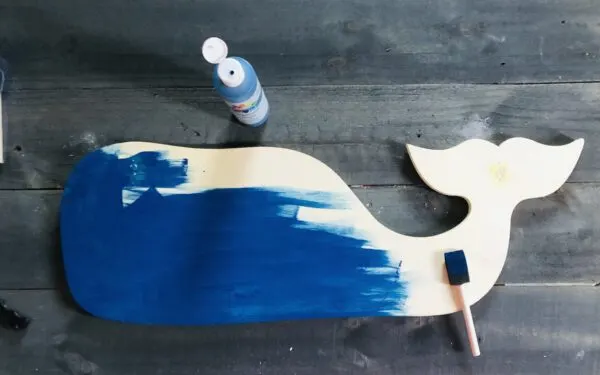 Cut Template and Finish Surface
3. Collect the materials needed to make the activities:
It is best to make the board first so you will know how much room there will be for activities.
When collecting the materials to be used on the board (ie. seashells, buckles, sliding locks, zippers, etc.) first think of things you might have around the house.
You may have items you plan to throw away that have activities attached to them (below).
For this project some of the activity materials were obtained from an old suitcase and life vest:
Here is a list of items that can be a source of busy board ideas for toddlers before they end up in the trash:
Clothes can be a source of materials to create several interactive activities for toddlers.
Shoes
Furniture
Old Board Games
Toys (particularly from older siblings
locks
latches
light switches
Suitcase: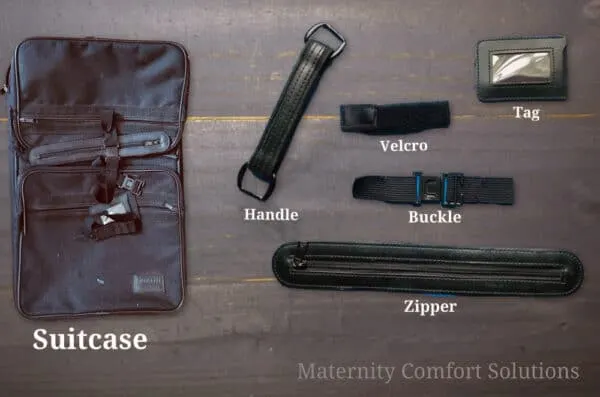 Life Vest: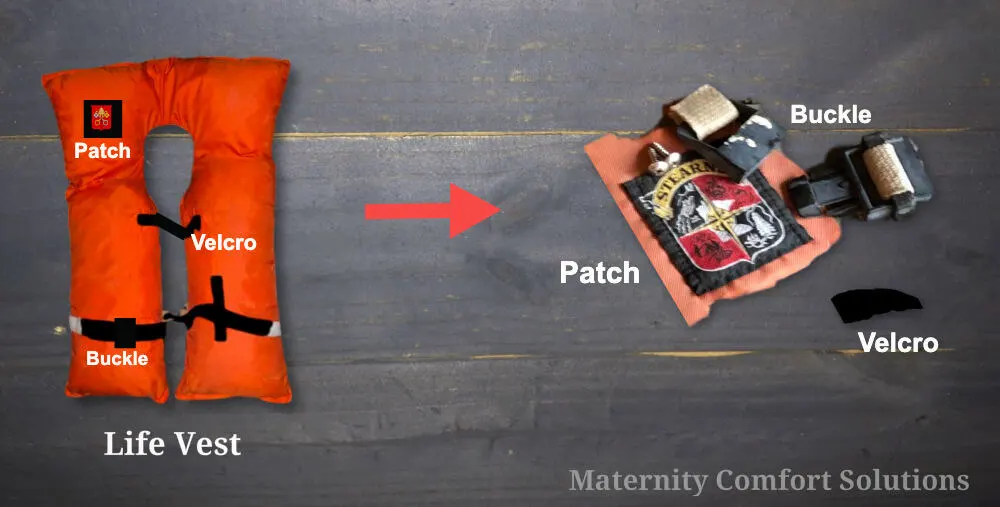 4. Configure and attach the activities to the board.
Once you have the materials needed, spread them out and start to think of activities you can create and how they should be configured on the board:
Spread out the items you have collected to determine how they can be configured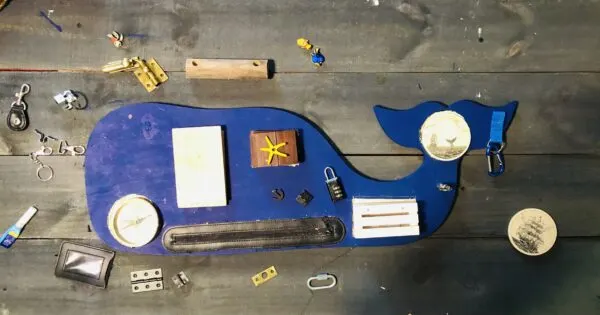 Space the tasks out on the board and then securely attach them to the board.
Attach a handle to the busy board so your child will be able to easily transport the board.
In this case, we used the handle from the suitcase.
If you will be keeping the busy board in one place, you can skip this step.
5. Test out each activity:
Having completed the busy board, this last step is important.
Test out each activity and again check for any sharp edges.
Zipper
Combination lock
Compass
Spinner
Disc
Buckle
Key chain release
Treasure Chest
Lobster trap
Spinner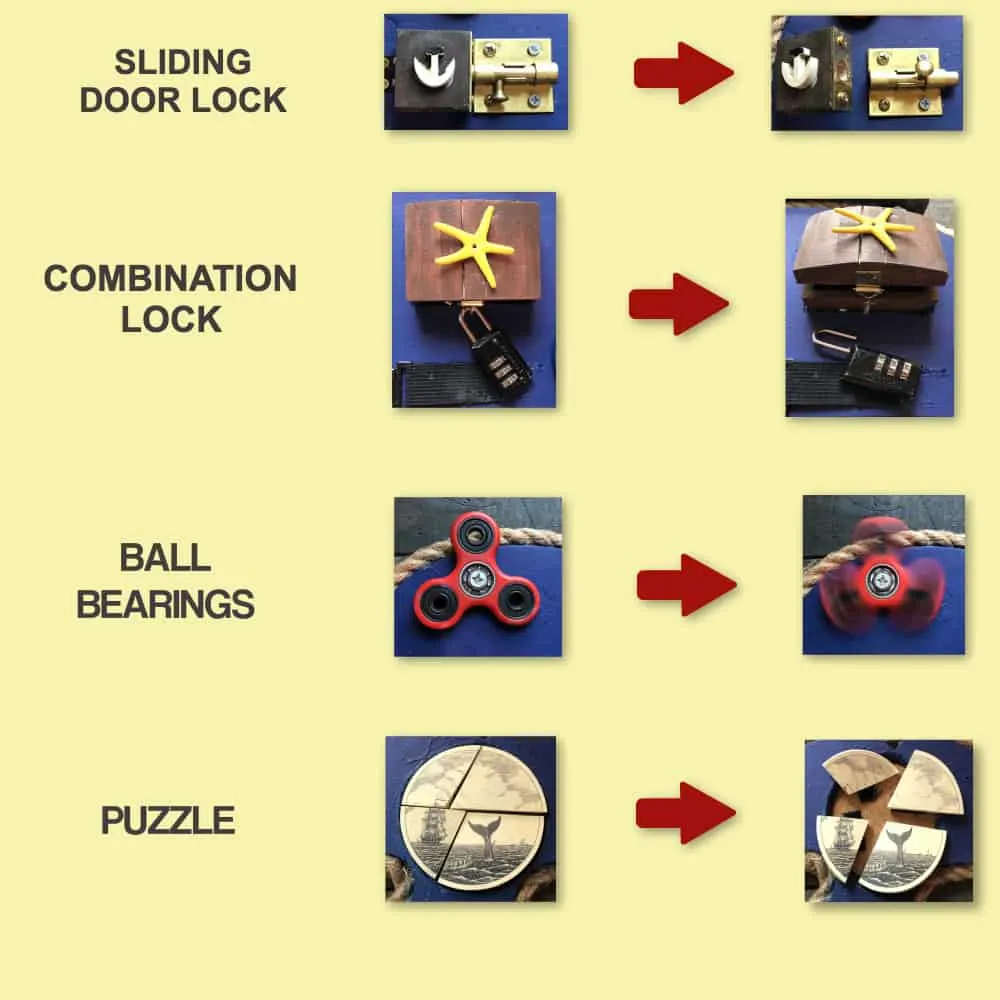 Toddler busy board ideas we found on Etsy!
We LOVE these super creative busy board ideas on Etsy.
These would be easy to make yourself, but if you don't have time, these handmade busy boards might be precisely what you are looking for.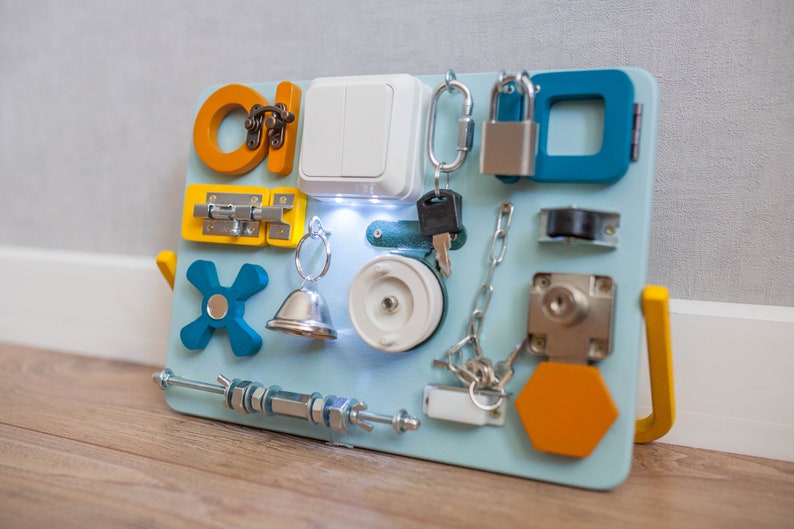 Busy board toddler Activity board Trip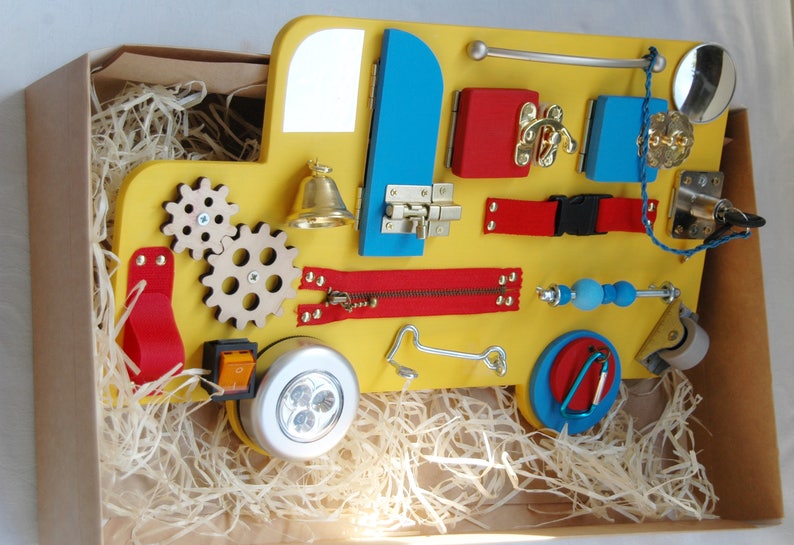 BUSY BOARD for 1-Year-old Baby 1st Christmas gift Sensory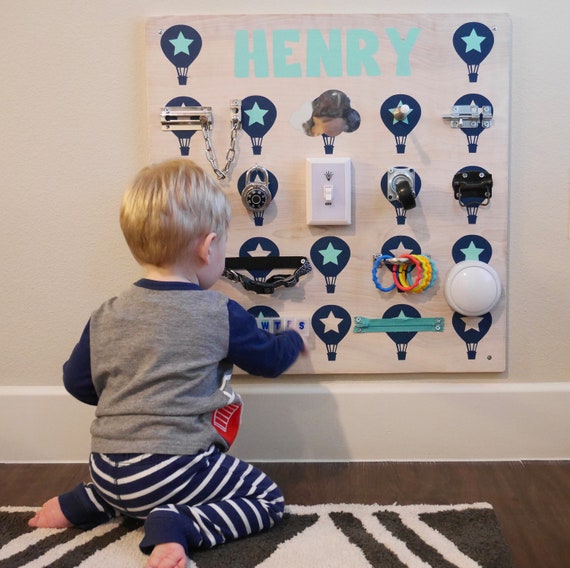 CUSTOM Toddler Busy Board Perfect 1st Birthday Gift Activity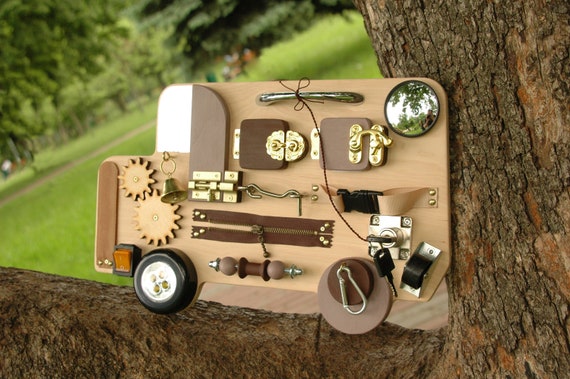 Montessori toddler busy board perfect gift for 2-year-old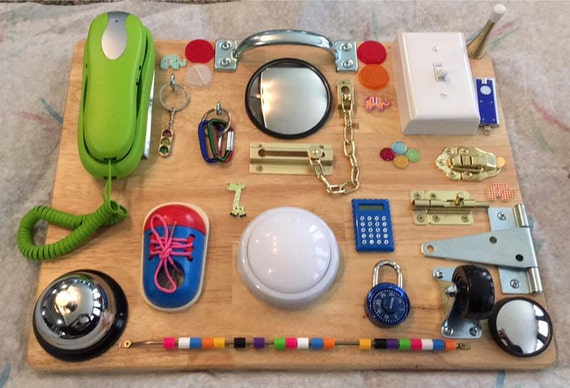 Toddler Busy Board Busy Board Activity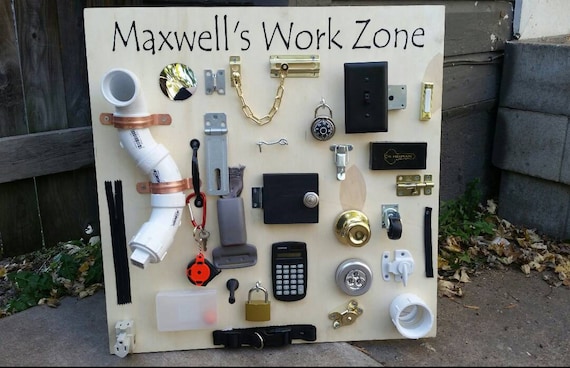 Busy Board pipe and raw wood-style Best busy board
What can I put on my toddler's busy board?
You can customize your busy board with different items to keep your toddler entertained and learning.
Items such as knobs, locks, latches, spinning wheels, shapes and pictures, and small toys or tools that fit into compartments or slots.
You can also add colorful ribbons you tie onto the board for fun.
What should be on a busy board?
You want to fill your busy board with items that are safe and developmentally appropriate.
Choose objects that will encourage exploration, problem-solving, fine motor skills, and hand-eye coordination, and help build cognitive skills as well.
It's also important to make sure the activities you choose can be done independently by your toddler.
Examples of items to include on a busy board are:
– Turning door knobs and locks
– Sliding latches and buckles
– Flipping switches
– Threading beads onto ribbons or strings
– Gently pounding nails with a mallet or hammer
– Matching shapes or colors
A DIY busy board for your toddler is a gift that is sure to provide hours of entertainment.
A busy toddler is a happy toddler and that makes for a happy parent every time.
You can make the busy board as simple as you want and remember to keep the activities age-appropriate so your toddler doesn't become frustrated.