We may earn money or products from the companies mentioned in this post. You can read full disclaimer below.
Updated June 4, 2021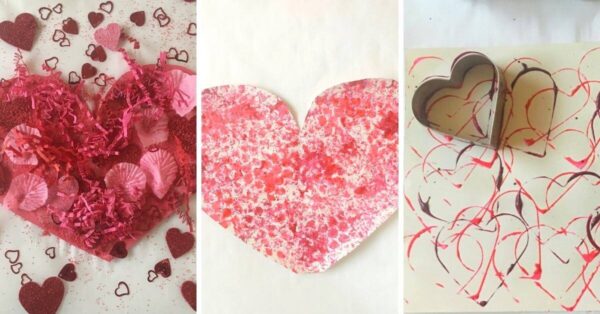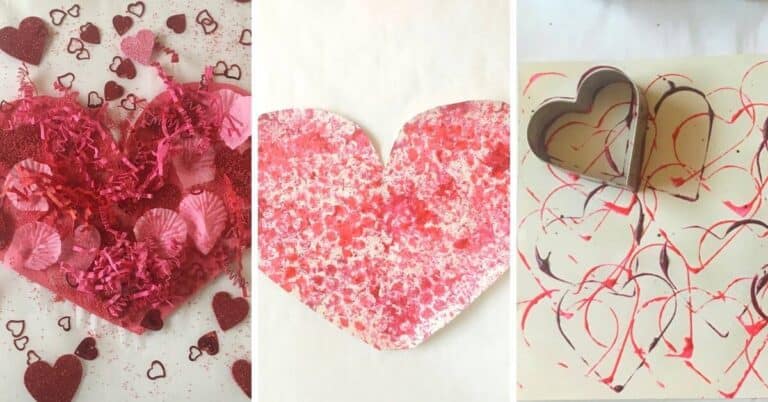 Are you looking for fun and simple Valentine's Day crafts for toddlers?
You have come to the right place!
We have lots of easy craft ideas to share with you.
Not only are these crafts fun to make, but they will also help your toddler to develop their sensory and fine motor skills.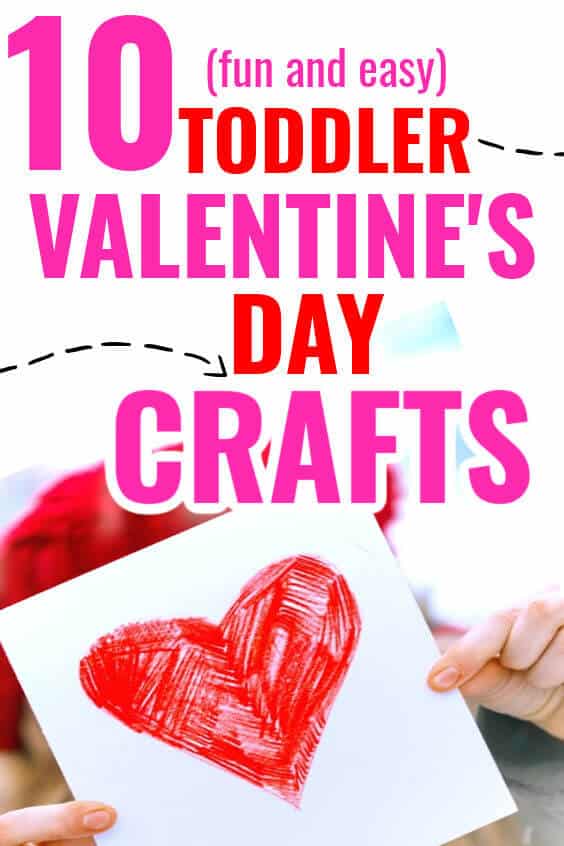 Valentine's Day Crafts for Toddlers: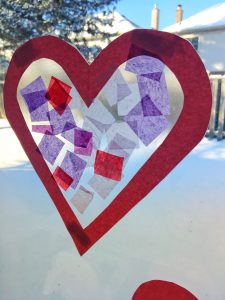 This craft is simple to do and will give your toddler a sense of accomplishment.
Making a "Suncatcher Valentine" can be the perfect activity for a toddler Valentine's day craft.
The preparation is easy and the activity is fun.
When completed the "Suncatcher" is ready to display on the window.
No need to wait for paint or glue to dry.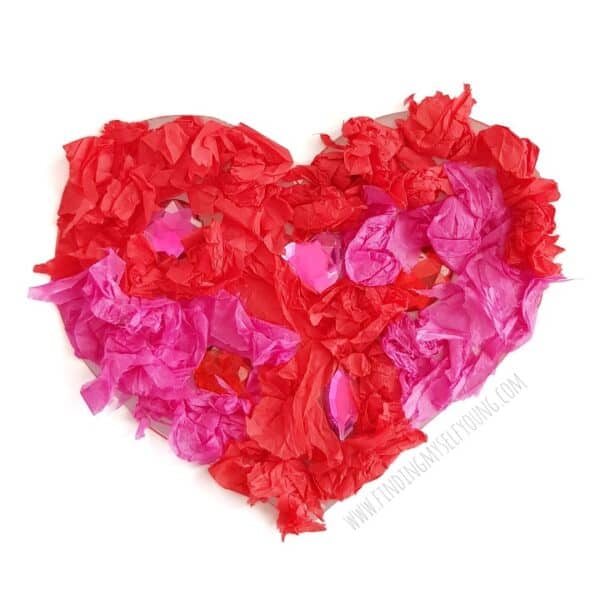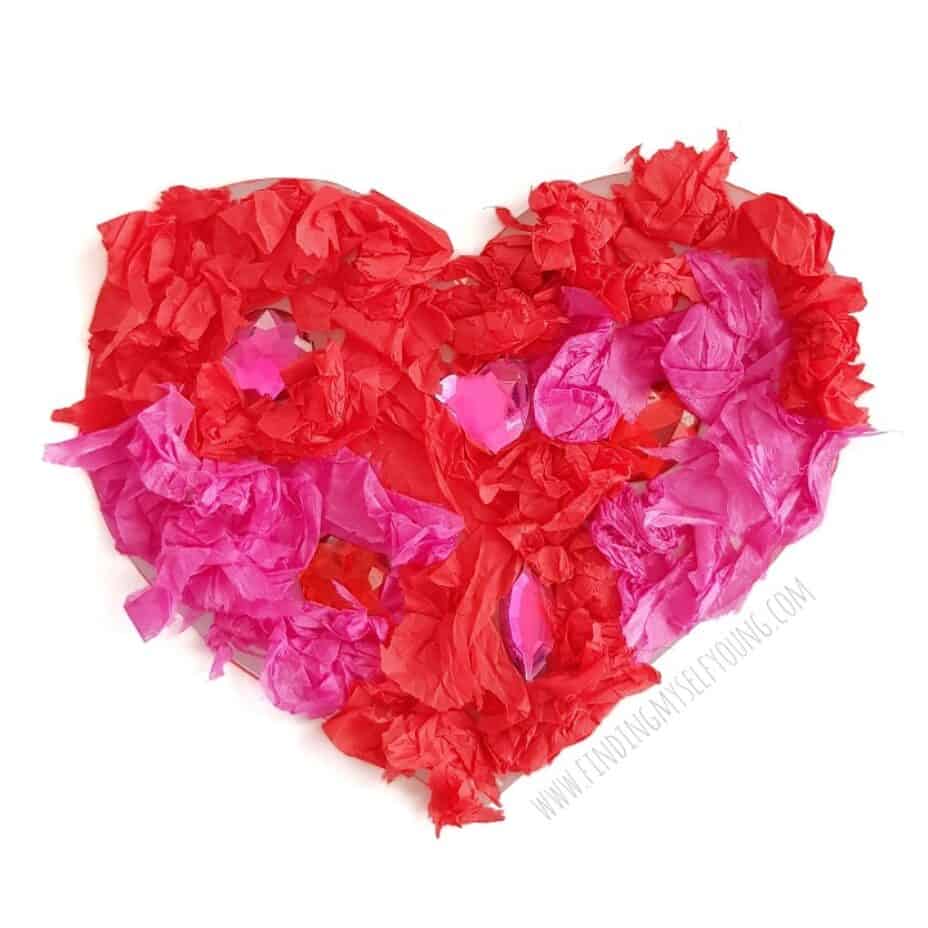 Are you looking for a homemade Valentine's day craft for the grandparents?
This simple craft from Finding Myself Young makes an adorable Valentine's Day card.
When your toddler makes a card and gives it to someone, it is a valuable childhood experience.
This craft is not difficult and requires minimal crafting supplies.
Card-giving is an act of appreciation and thoughtfulness.
It is never too early to teach your toddler to appreciate others.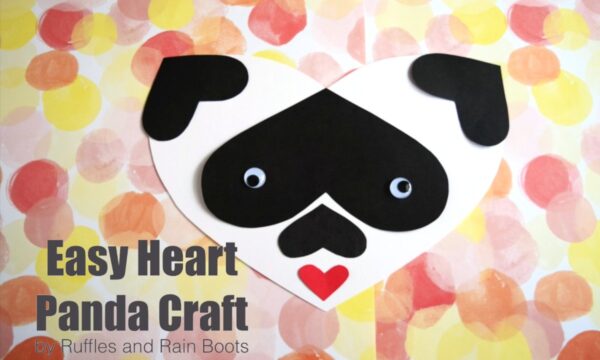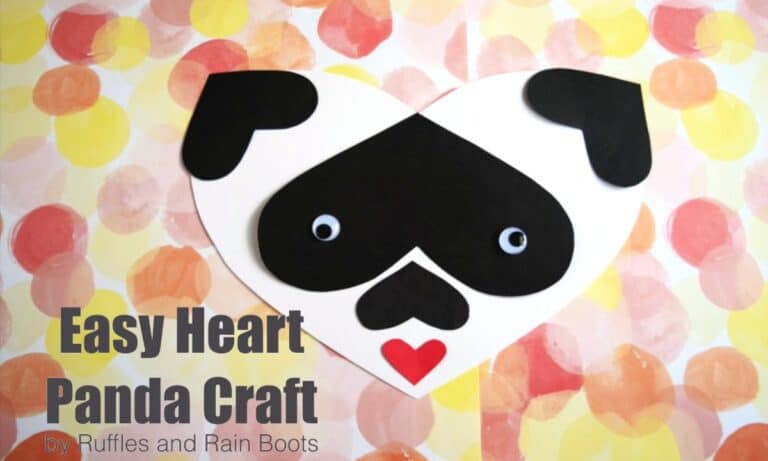 For toddlers who like hearts, this craft is sure to be a hit.
Hearts in different sizes and colors are all they need to make a Panda or a Fox.
When finished, the craft makes a great gift for a family member.
This is a great visual and fine motor sensory activity for toddlers.
Using only hearts to create the animals helps your child's brain learn about spatial orientation.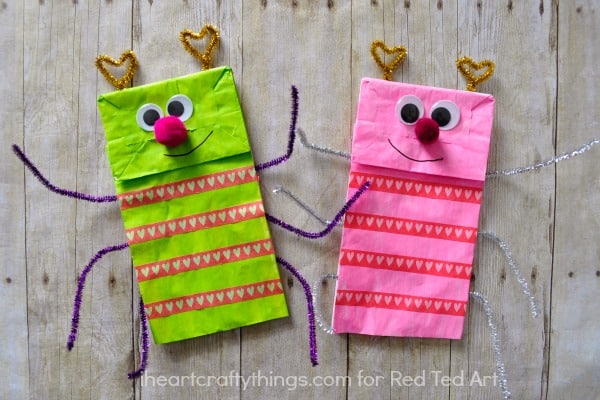 We love Red Ted Art craft ideas! Have you heard of this website?
These "Love Bug Puppets" are an adorable and easy craft to do with your toddlers for Valentine's day.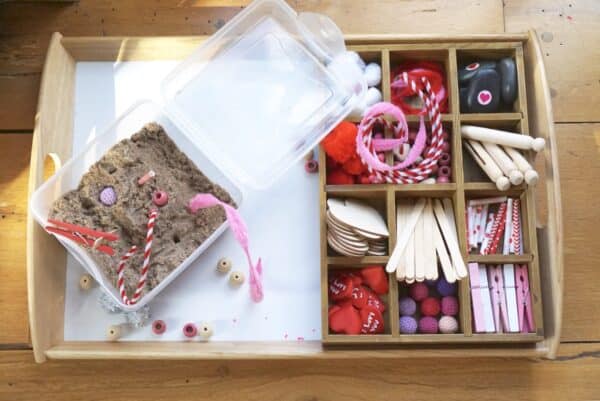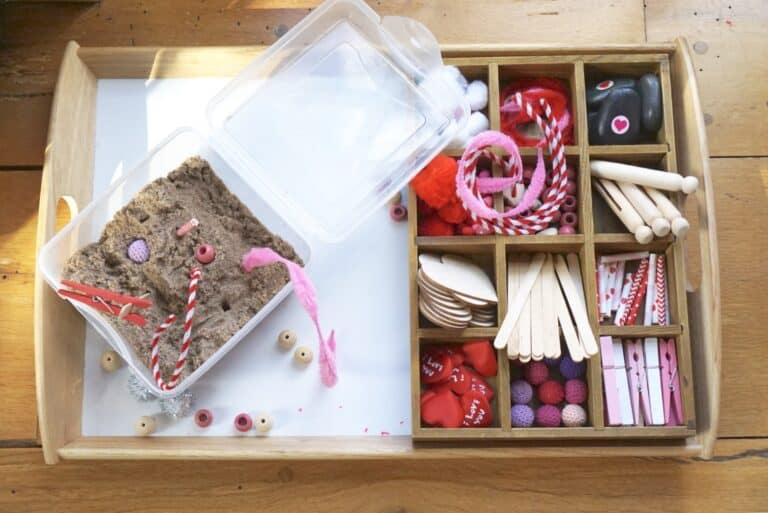 With this toddler activity, the sky is the limit and the themes are endless.
For Valentines Day: The U Ready Teddy Blog has you covered with the Valentine Tinker Tray.
Who doesn't like to tinker?
Ever wonder what to do with all the items around the house that can be part of a themed tinker collection?
This is a great craft for toddler sensory play and can focus on any or all of the five senses.
This is very similar to a Toddler Sensory Bin.
Another activity to integrate the five senses (sight, sound, touch, smell, taste) and inspire creativity.
Though tinker trays are very similar to sensory bins, in some ways they are very different.
The way you design the tray and the items you include will guide your toddler's creativity towards the construction of items related to a particular theme.
Though this is a DIY sensory activity it is very much in line with the concept developed by Lego and the Erector Set.
Most adults still have vivid memories of the first items they created.
The Valentine Tinker Tray will likely keep your toddler's interest longer than many crafting projects.
This is definitely an excellent idea if you are currently looking for great Valentine's Day Crafts for toddlers.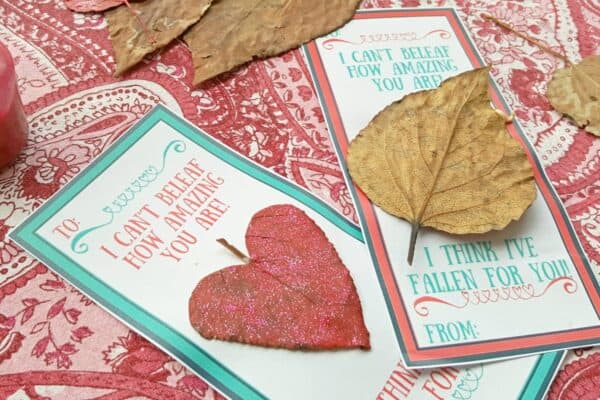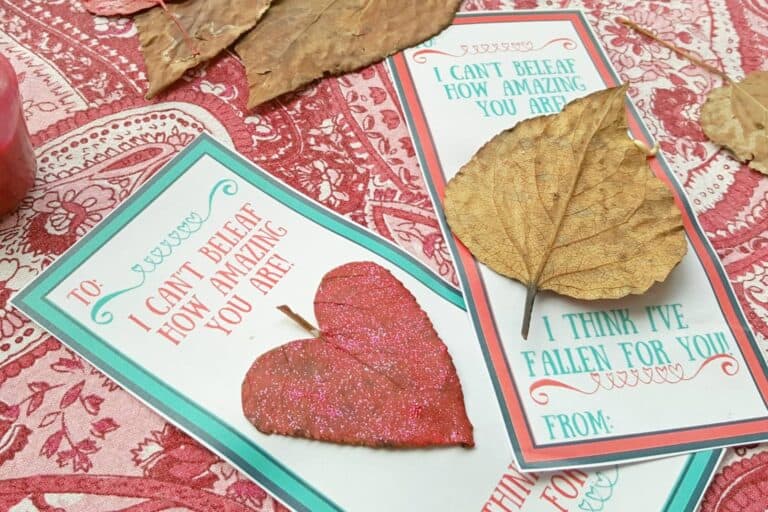 We love this easy nature craft that makes an adorable Valentine's Day card when your child is finished.
The best part is it will get you and your toddler outside for a mature walk as you gather the materials you'll need for the project.
It is never too early to take your child on nature walks.
As someone who grew up in a rural area, I have to remind myself that many children live in large cities without easy access to green space or wooded areas.
Even if you live in the city, take your toddler to the park and you should have no problem finding the items you'll need.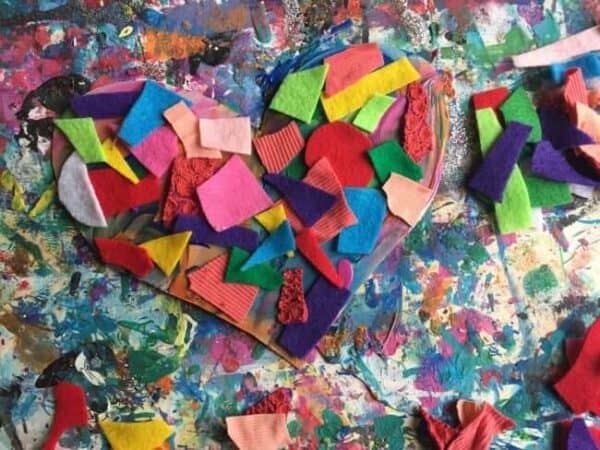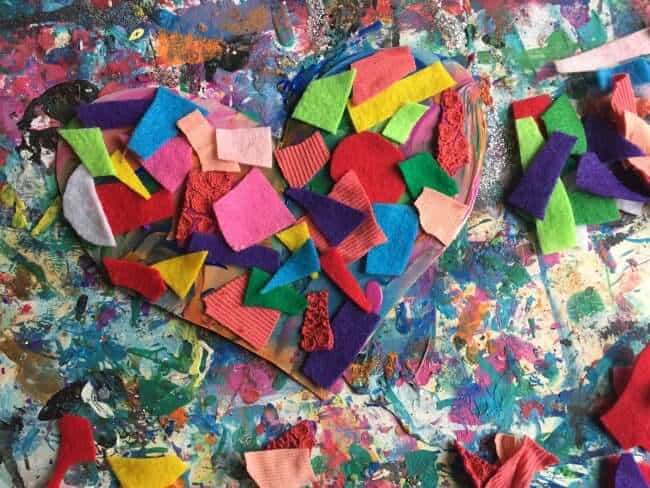 Such a cute Valentine's Day activity!
This activity uses materials that would otherwise be discarded.
It is an excellent opportunity to teach your toddler about recycling and upcycling
Upcycling items is a great way to practice eco-friendly living.
The activity focuses on the sense of touch and helps promote fine motor skills.
By including materials with different textures your little one is able to learn what different materials feel like.
8.

 Valentine's Day Bubble Wrap Stamping

– Maternity Comfort Solutions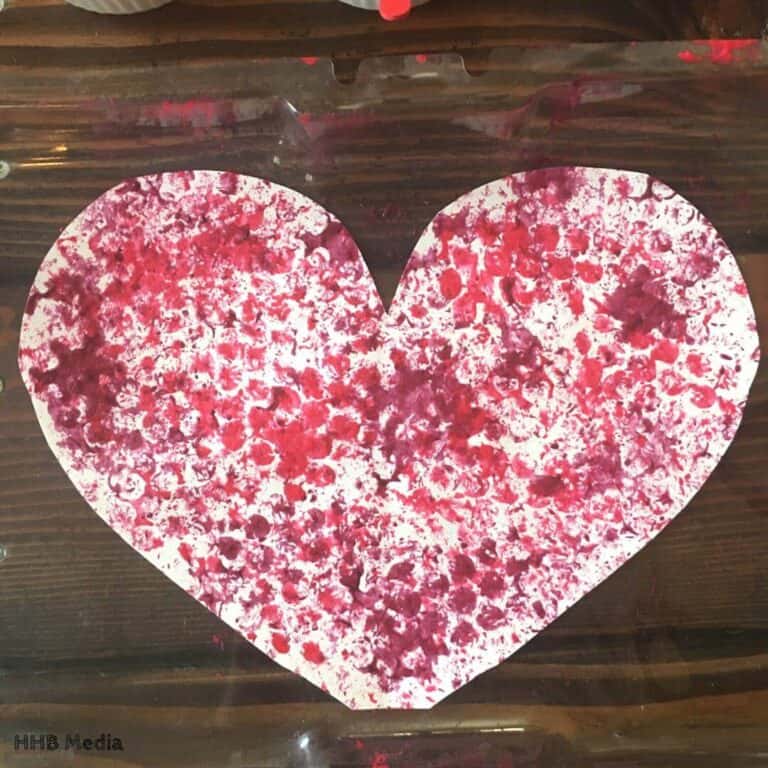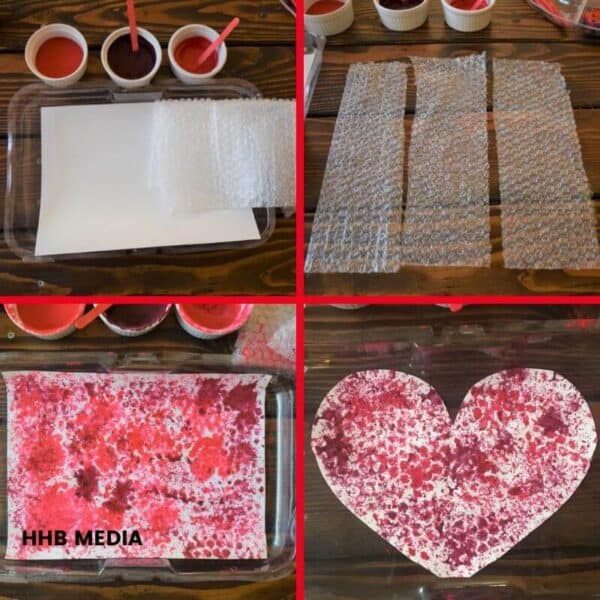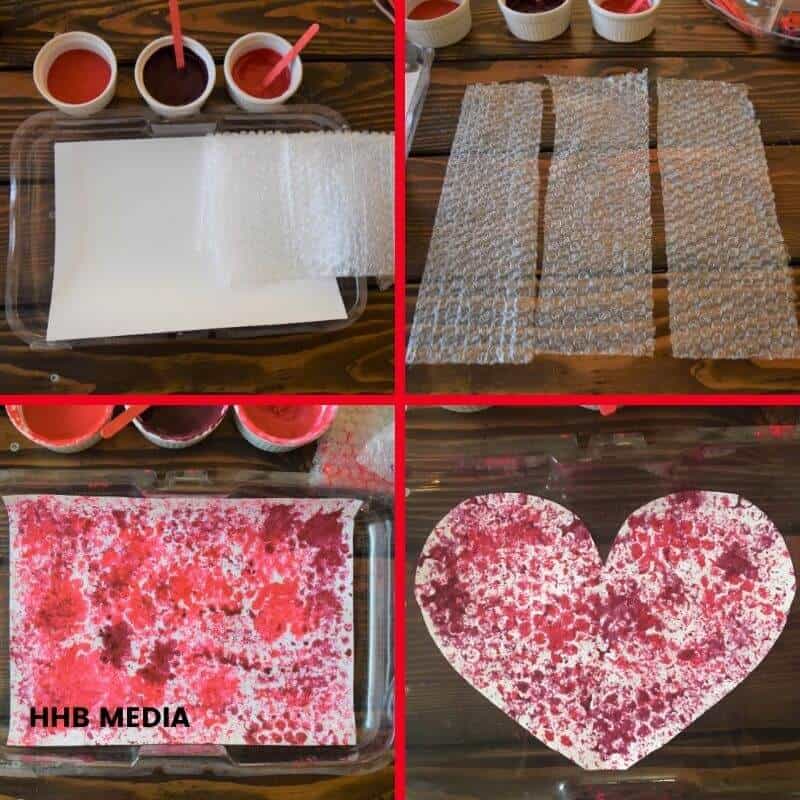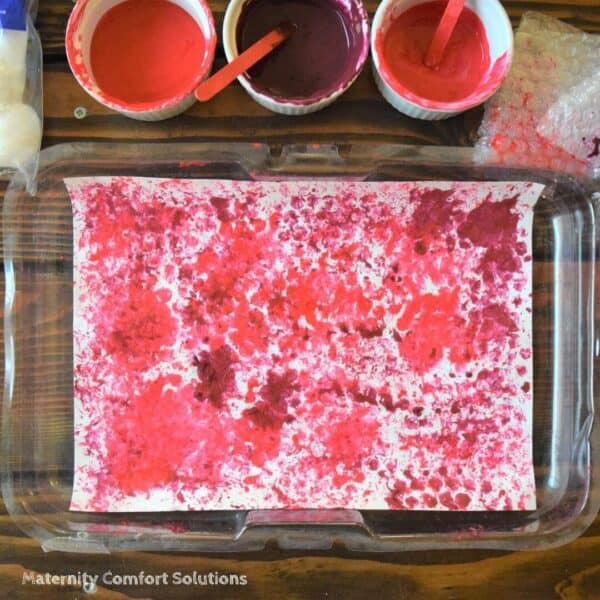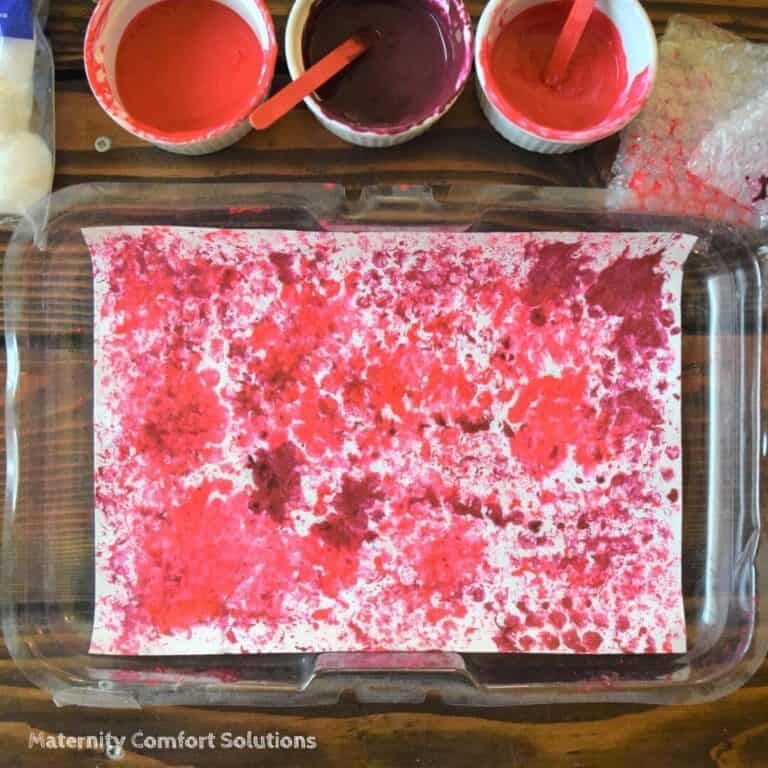 Need a fun, simple, and budget-friendly Valentine's craft idea for toddlers? Valentine's Day Bubble Wrap Stamping is a winner.
You can find bubble wrap at Walmart or get a roll of it on Amazon. Bubble wrap stamping is one of our favorite activities.
Our kids love to play with bubble wrap anytime they can. To be fair so do we. 😂
This is simple to set up and can keep your toddler busy for hours!
Supplies:
Tempora children's paint
Bubble wrap (small bubbles)
Square plastic container at least 10"x12"
Card Stock or Construction Paper
Directions:
Prepare the activity set-up ahead of time. Perhaps plan to do this as a morning activity or after your child takes a nap.
Having your toddler with you while setting things up will take far longer and could get messy.
Line up the 3 cups and fill them halfway with the Tempera paint you are going to use as your main color.
We chose RED for Valentine's Day but you can choose any color based on a particular holiday or event.
To stay with Valentine's theme, create other colors but stay with the same primary color (RED) to make different shades of red.
Starting with a small amount of white Tempora paint and mix the paints to get the desired color.
Line the bottom of the plastic container with a sheet of paper.
Cut bubble wrap into strips.
Have your child take a strip of bubble wrap, bunch it up and dip it in the paint and stamp the bubble wrap over the paper.
Hearing the bubble wrap pop will keep your toddler entertained.
9.  

Valentine's Day Heart Collage

– Maternity Comfort Solutions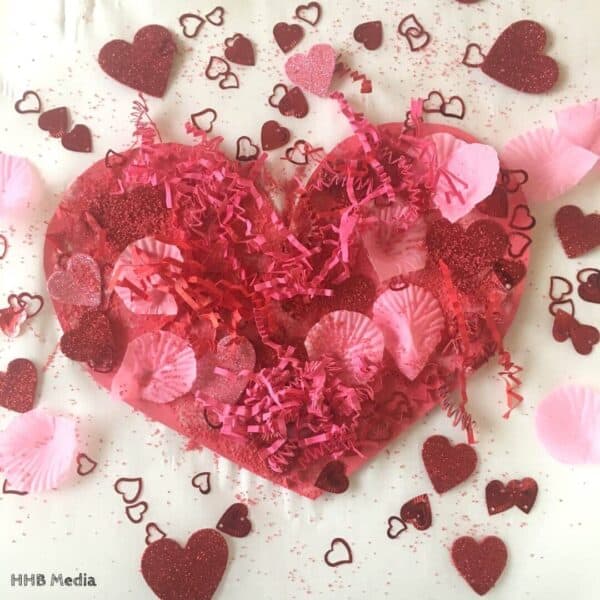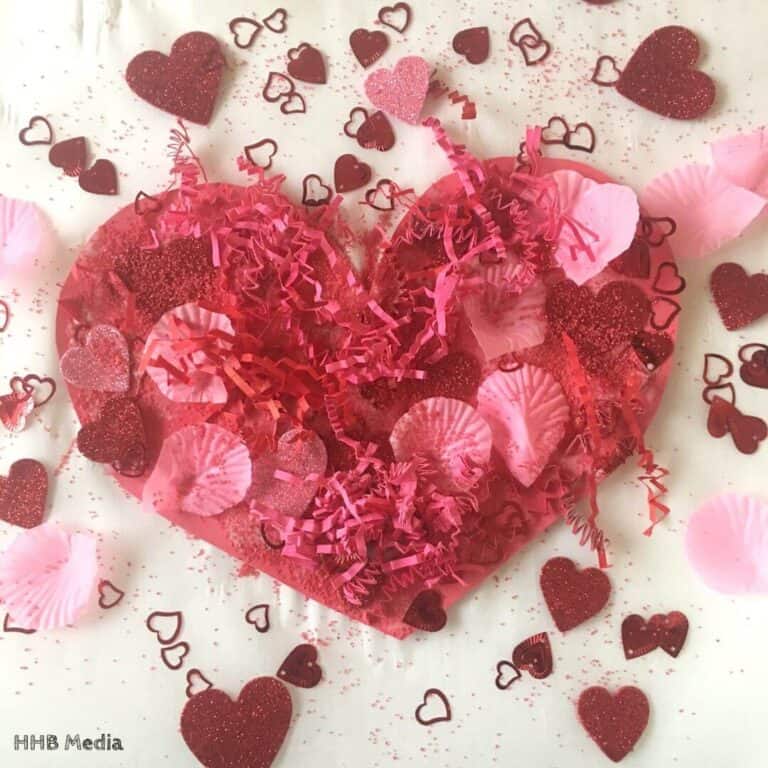 This craft activity is also very simple to set up. The supplies can be obtained at any dollar store.
Supplies:
Sectioned plate (below) or any container that can keep craft materials separate
Sand
Glue
Heart template (wood, foam, paper)
Decorative Valentine's Day supplies.
Once you have all the supplies, place the decorative items in a sectioned off container.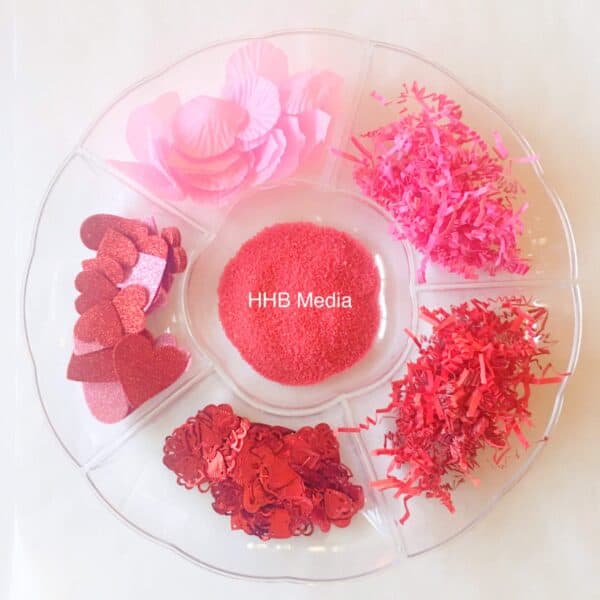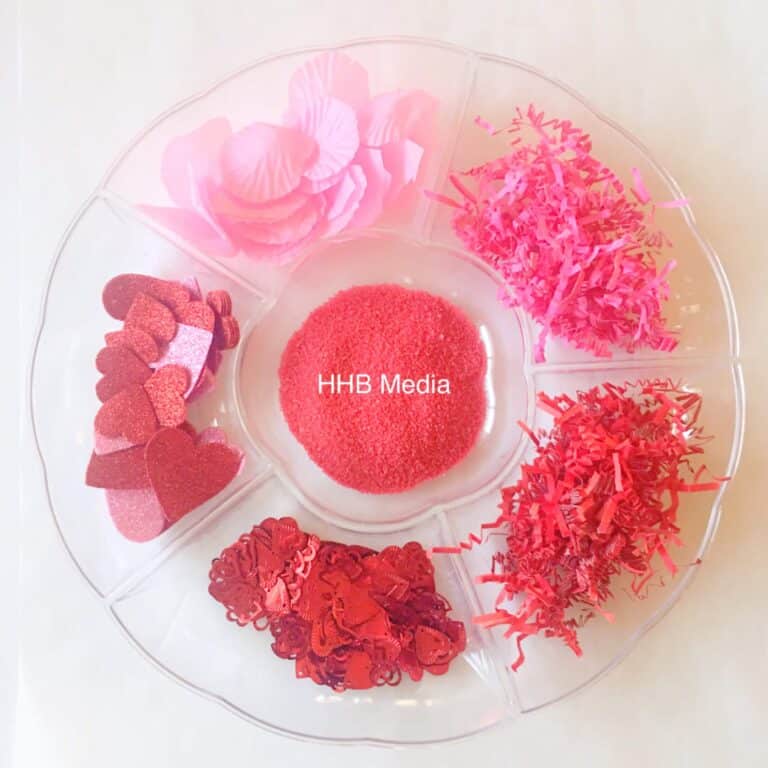 We have found the best way to do crafts like this with our younger kids is to let them paint the glue on the heart and then create their masterpiece.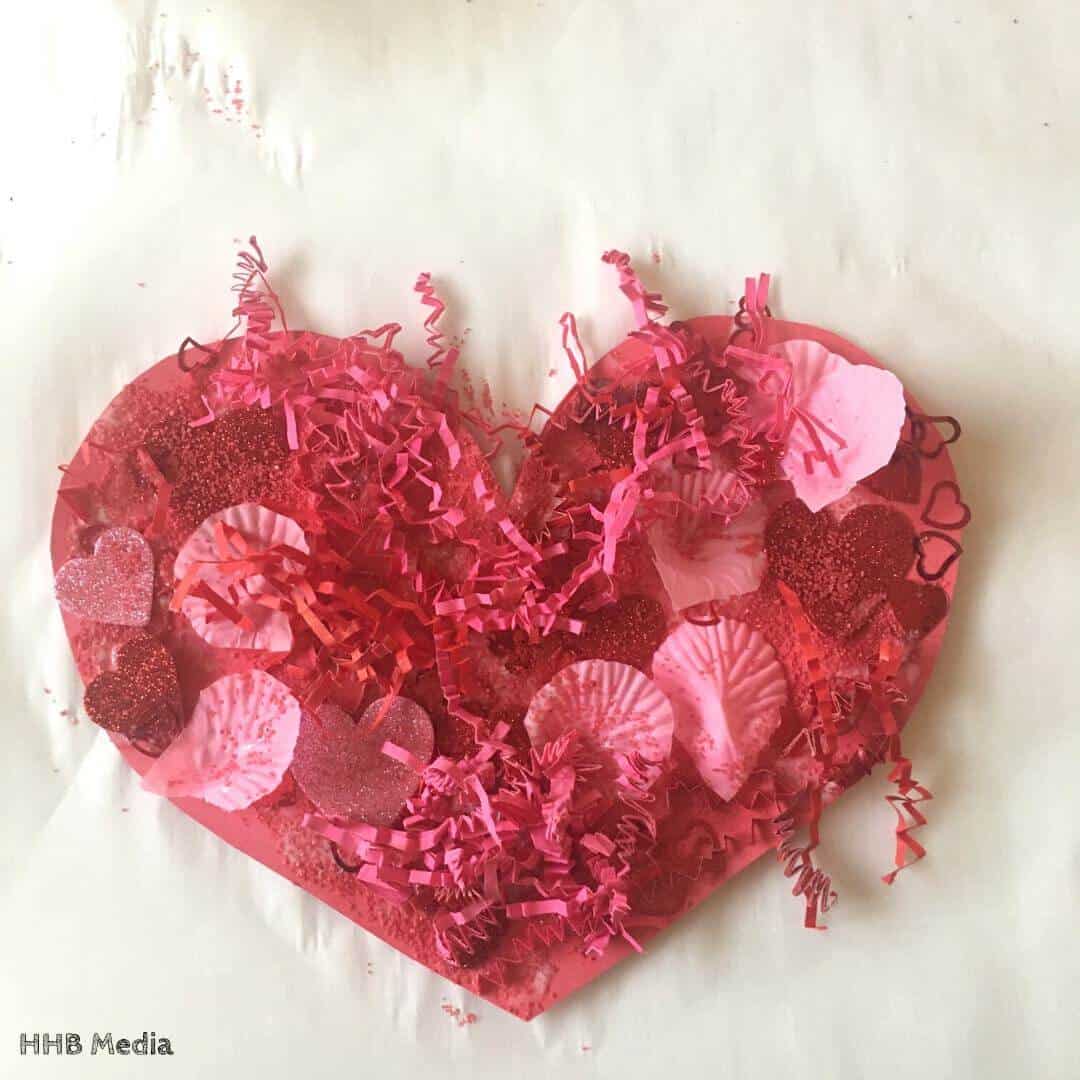 10.

Cookie Cutter Heart-Stamping

– Maternity Comfort Solutions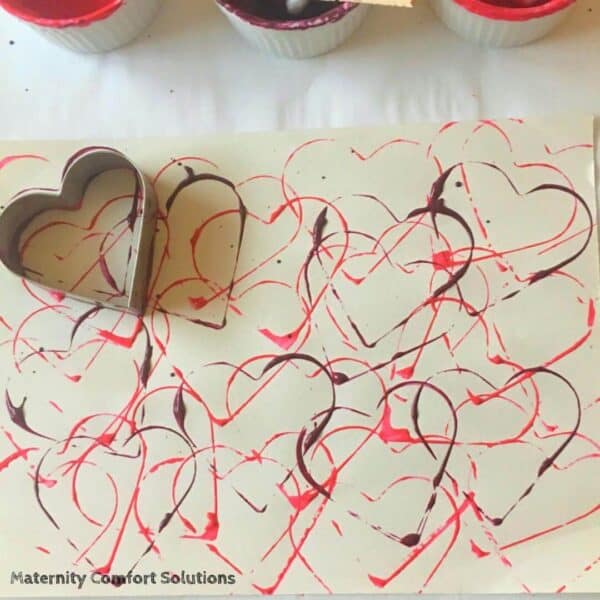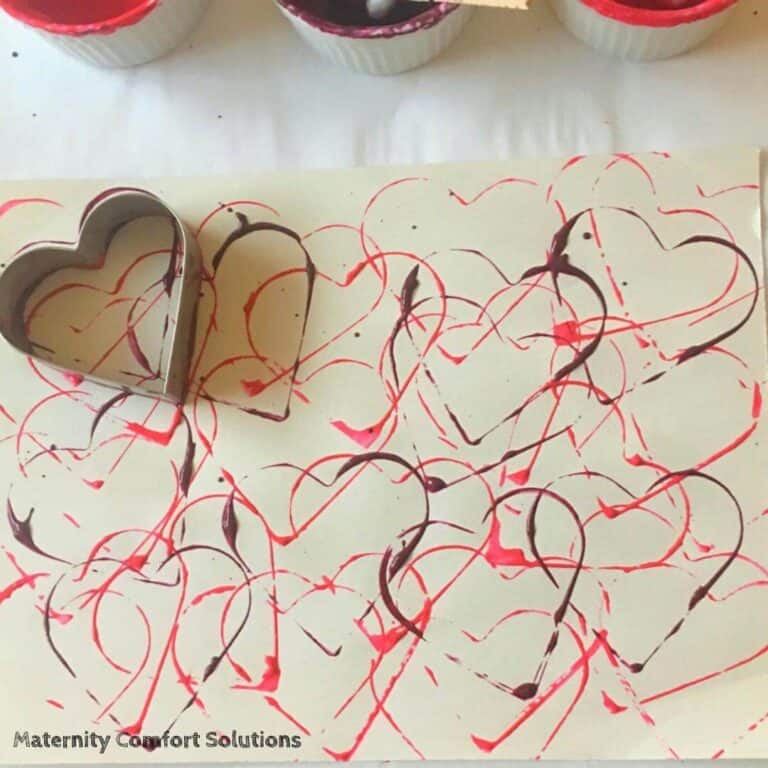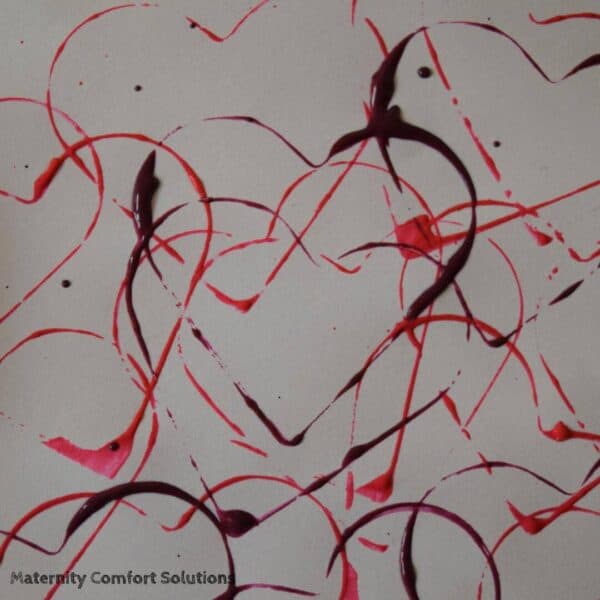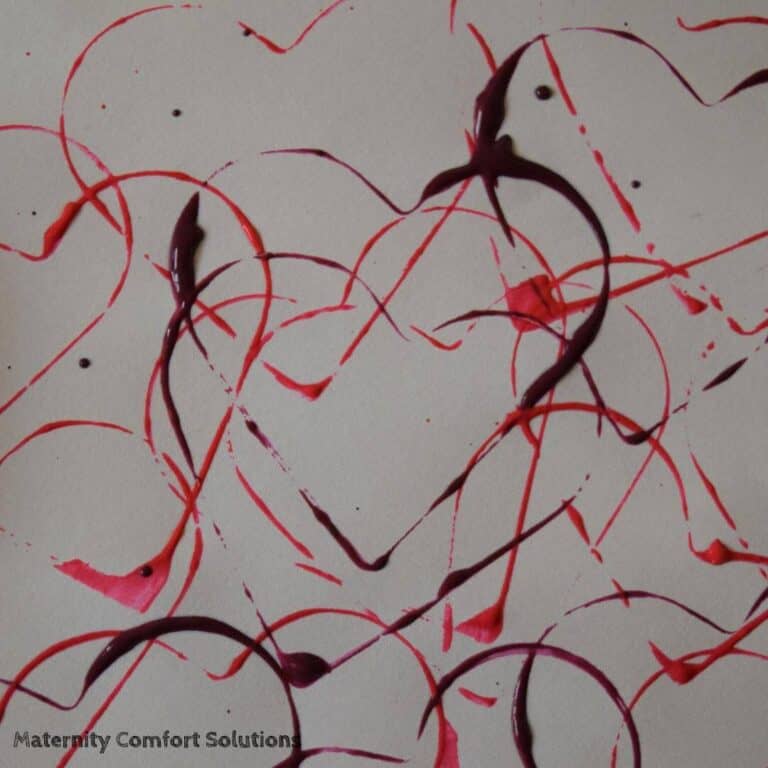 Easy-peasy toddler craft project using a heart cookie cutter!
Conclusion:
Coming up with adorable (and easy) Valentine's Day craft projects for toddlers doesn't have to be a struggle! We hope you found some inspiration in the craft ideas our fellow bloggers were kind enough to allow us to share with you.
Please go check out all of their amazing Valentine's day crafts for your toddlers! Bookmark this post as we will be adding more awesome Valentine's craft ideas as we try them!