Updated August 3, 2022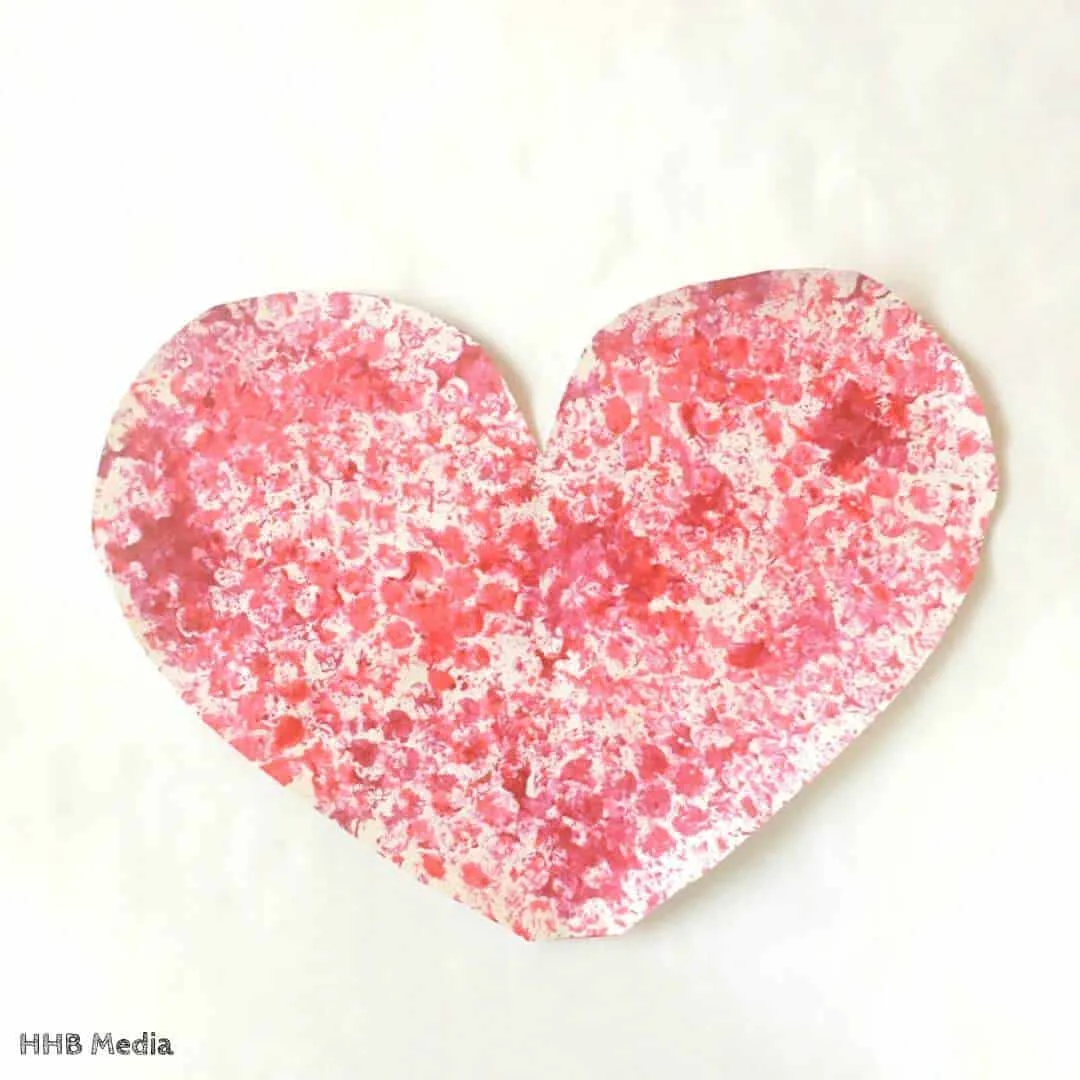 Are you looking for a simple, and budget-friendly Valentine's craft idea for toddlers? Valentine Bubble Wrap Stamping is a winner.
You can find bubble wrap at Walmart or get a roll of it on Amazon. Bubble wrap stamping is one of our favorite activities.
Our kids love to play with bubble wrap anytime they can. To be fair so do we. 😂
This is a very simple activity to set-up.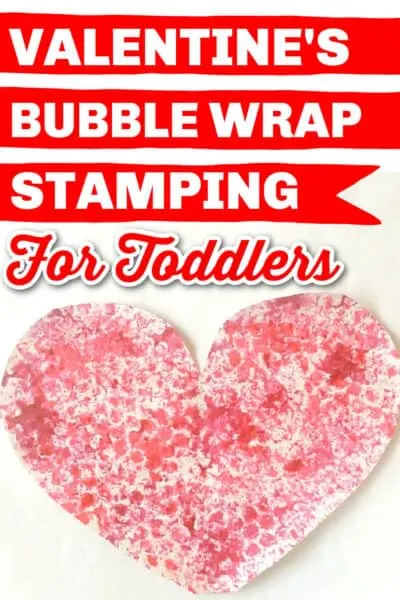 Our experience has been that our young kids stay engaged with bubble wrap painting and bubble wrap stamping for longer than many other toddler art activities.
If we keep the paper flowing, they love to keep bubble wrap stamping.
Which is a good thing in February in New England.
We love our outdoor time.
But the temps this weekend have been in the single digits.
And we are expecting a snowstorm today.
That means lots of indoor activities are part of our plan for the day.
Valentine's Day bubble wrap stamping is the perfect indoor toddler activity to kick off the month of February.
Valentine Bubble Wrap Stamping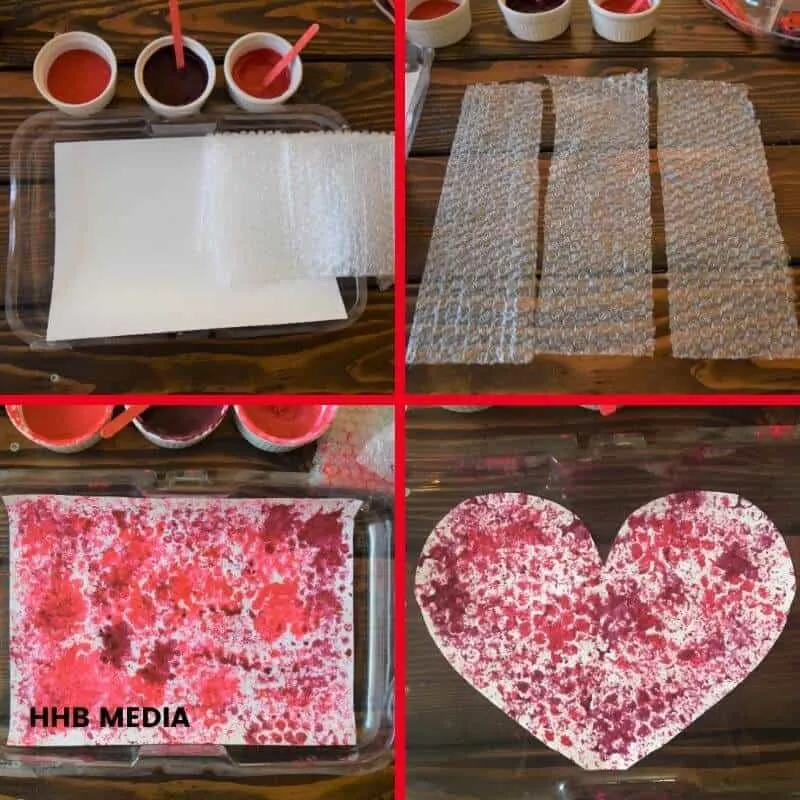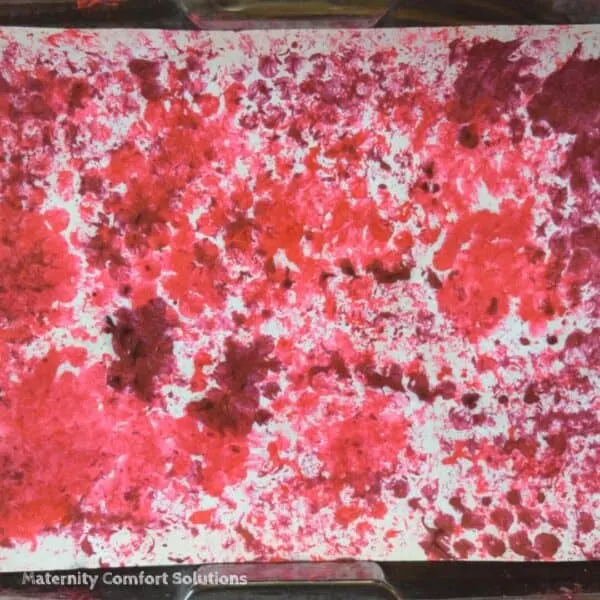 Supplies:
Tempora children's paint
Bowls or trays to hold your paints
Square plastic container at least 10"x12"
Card Stock or Construction Paper
Directions:
Prepare the activity set-up ahead of time. Perhaps plan to do this as a morning activity or after your child takes a nap.
Having your toddler with you while setting things up will take far longer and could get messy.
Line up the 3 cups and fill them halfway with the Tempera paint you are going to use as your main color.
We chose RED for Valentine's Day but you can choose any color based on a particular holiday or event.
To stay with Valentine's theme, create other colors but stay with the same primary color (RED) to make different shades of red.
Starting with a small amount of Tempora blue or White mix the paints to get the desired color.
Line the bottom of the plastic container with a sheet of paper.
Cut bubble wrap into strips.
Have your child take a strip of bubble wrap, bunch it up and dip it in the paint and stamp the bubble wrap over the paper.
There is no right or wrong way to stamp with the paints. Ask your toddler when they are done if they want to cut their bubble wrap stamping into a heart shape.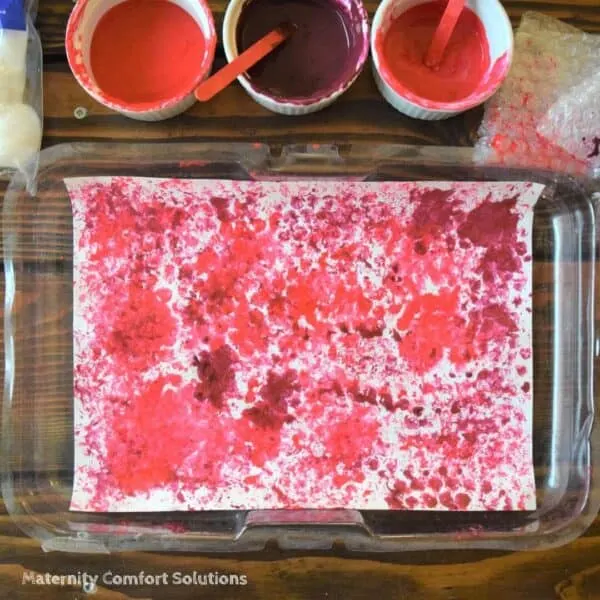 Popping the bubbles is so much fun!
What I love about this toddler valentine's day art project is that it fits so nicely into both a process art project and a sensory play activity.
What is sensory play? and why does it matter for my toddler?
What is sensory play?
The sensory activity for toddlers in this post will help engage your toddler in sensory play that uses some of their five senses.
These five senses are touch, smell, sight, taste, and hearing.
Sensory play is vital to a young child's brain development.
Research suggests pretend-play offers young children the opportunity to develop empathy and learn to regulate their behavior.
Toddlers learn about their environment and bodies through their senses.
Sensory play assists children with developing fine and gross motor skills and encourages problem-solving ability.
Sensory activities encourage open-ended play.
Therefore the child is free to explore and create without a set outcome or any expectation.
Free to explore and create without a set outcome is also the main idea in offering your toddler or preschooler process art activities.
In process art, there is no set outcome, no sample art to follow, no step-by-step instructions, and no pressure to do things "right". There is no right or wrong. It about the experience and open exploration. (Source)
We try to tie crafts, art projects, and sensory play activities to literature.
Valentine's Day is a great time to start a holiday book collection.
A couple of Valentine's Day books our kids have loved over the years are below:
LovefromTheVeryHungryCaterpillar
PetetheCatValentine'sDayIsCool
Tips for making arts and crafts for enjoyable for your toddler:
Play music
Encourage movement
Discuss their art with them. Write down the words they use to describe their art if they want you too.
Allow them to do more than one art project. Get them more paint and paper if they ask.
If weather allows do art projects outside in nature.
Laugh, sing, and smile.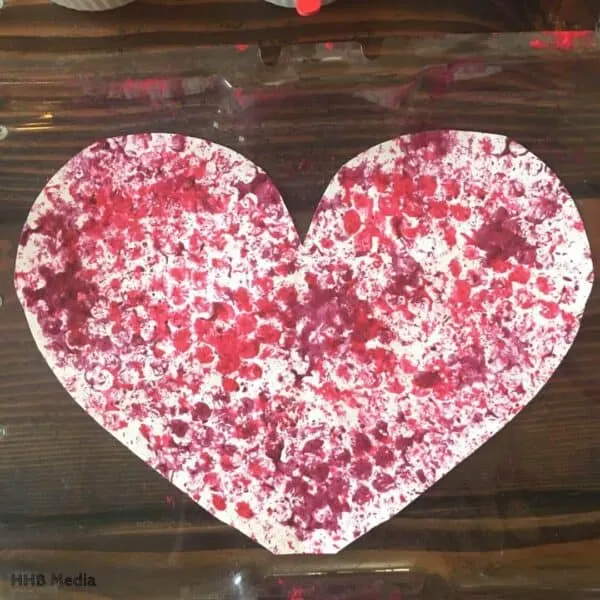 More Valentine's Day Art Projects For Toddlers!
We hope you and your toddler enjoy this valentine's day craft! Bubble wrap stamping should be in the easy indoor toddler activities arsenal of every parent. We have even more Valentine's Day crafts for toddlers!
Don't forget to add in some Valentine's Day Sensory Play Activities for your toddler or preschooler.