Updated August 3, 2022
Are you looking for a fun and simple way to celebrate your baby's first Easter?
You are not alone!
Today we are sharing a few of our favorite meaningful ideas for celebrating the Easter Holiday and the much-anticipated arrival of spring with your new baby.
Growing up and living in New England Easter is an important holiday in my family. Both for its religious significance and because it is the "gateway" to the arrival of spring.
Easter means that spring is right around the corner.
After the long harsh New England winter, any hint of spring is joyfully welcomed.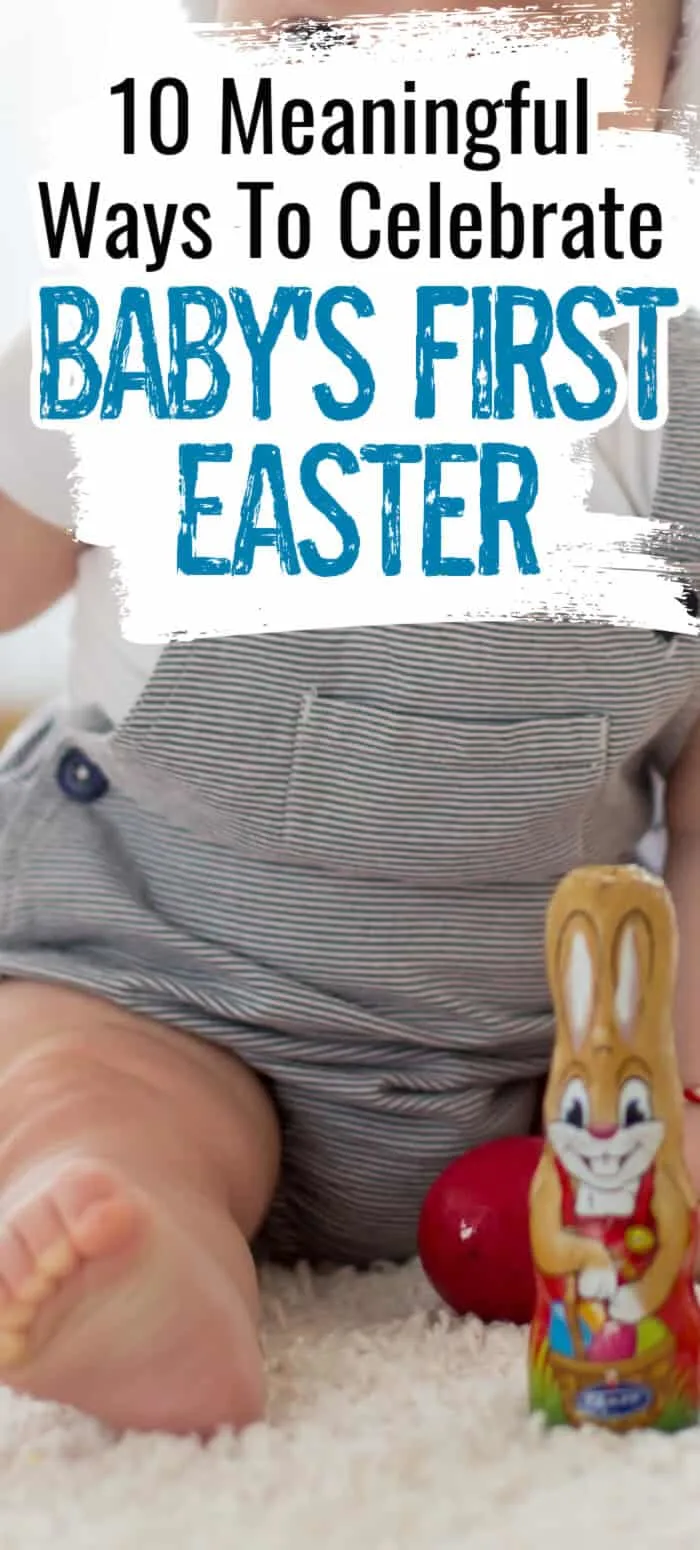 Easter and spring are made for celebrating new life and new babies!
Holiday celebrations and traditions were such a big part of my life growing up and we try to keep those traditions going with our own children.
So here are our 10 best baby's first Easter ideas:
1. Choose some colorful and adorable Easter outfits.
You don't have to celebrate Easter on just one day. Bring Easter and spring into your baby's wardrobe and celebrate Easter week with cute spring and easter rompers, onesies, hairbows, and socks.
Save the dressiest outfit for Easter Sunday.
Buy an outfit that is adorable for your baby and functional for Mom.
👉 I love this Burt's Bees one-piece romper! It is just perfect for springtime!.
Burt's Bees Baby Rompers are 100% organic cotton, zip-up front (no dreaded snaps!), and machine washable.
They run a little large because they are made for sleep and play. So keep that in mind when purchasing.
They are an Amazon best-seller and you can read the reviews here.
[content-egg module=Amazon template=grid next=2 hide=price cols=2]
Super cute Easter onesies on Etsy: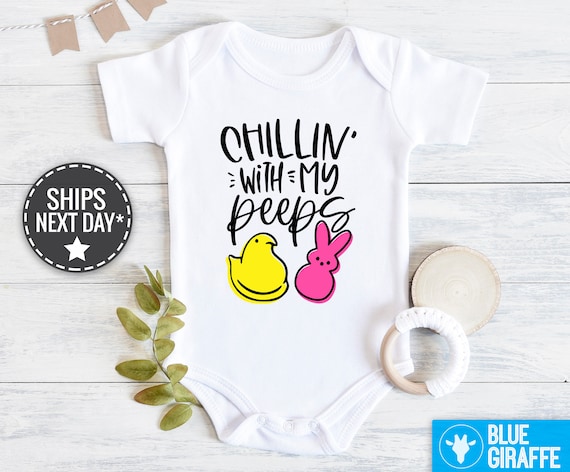 Funny Easter Onesie Chillin With My Peeps Baby Bodysuit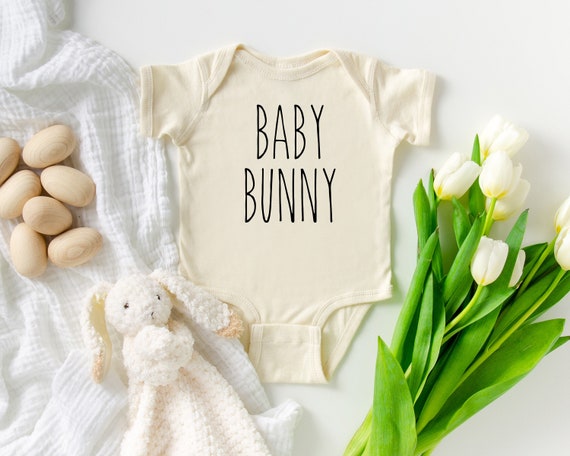 Baby Bunny Easter Onesie® Rae Dunn Inspired Sibling
We love this Easter romper we found on Etsy!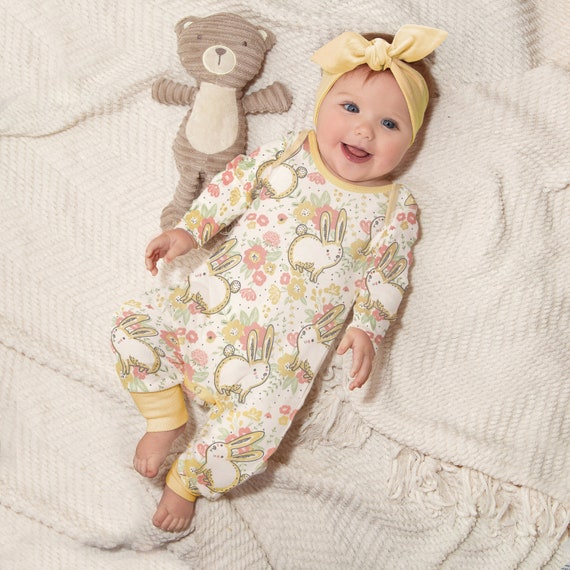 Baby Girl Easter Outfit Yellow Bunnies Romper
Check out this spring romper (also on Etsy)! I had to get this for my new niece as an Easter gift.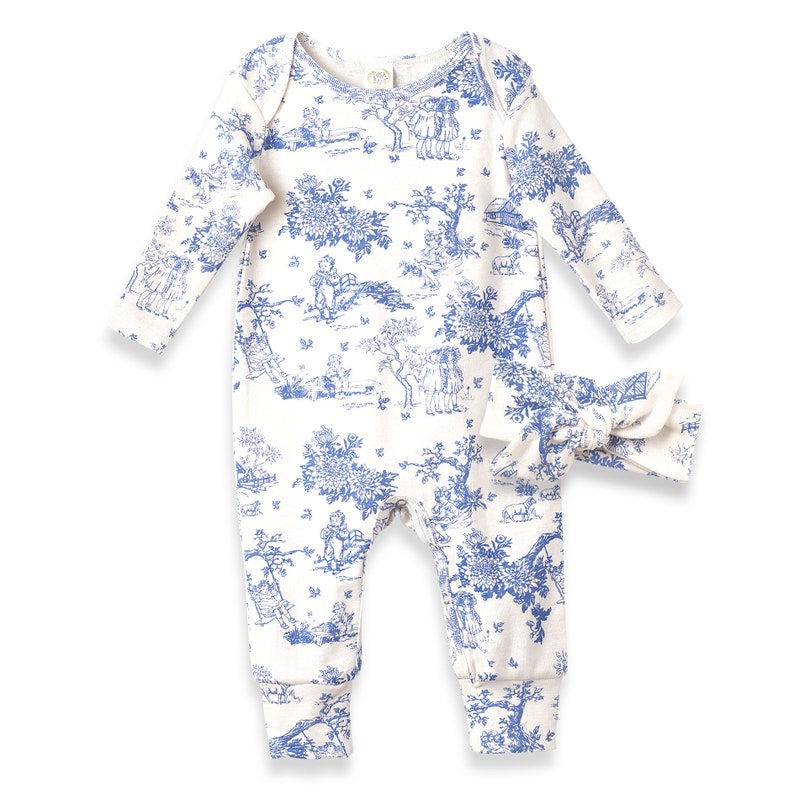 Baby Girl Outfit Blue Toile du Jouy Cotton Floral Romper
Check out this cute boys Easter romper and hat that we found on Etsy!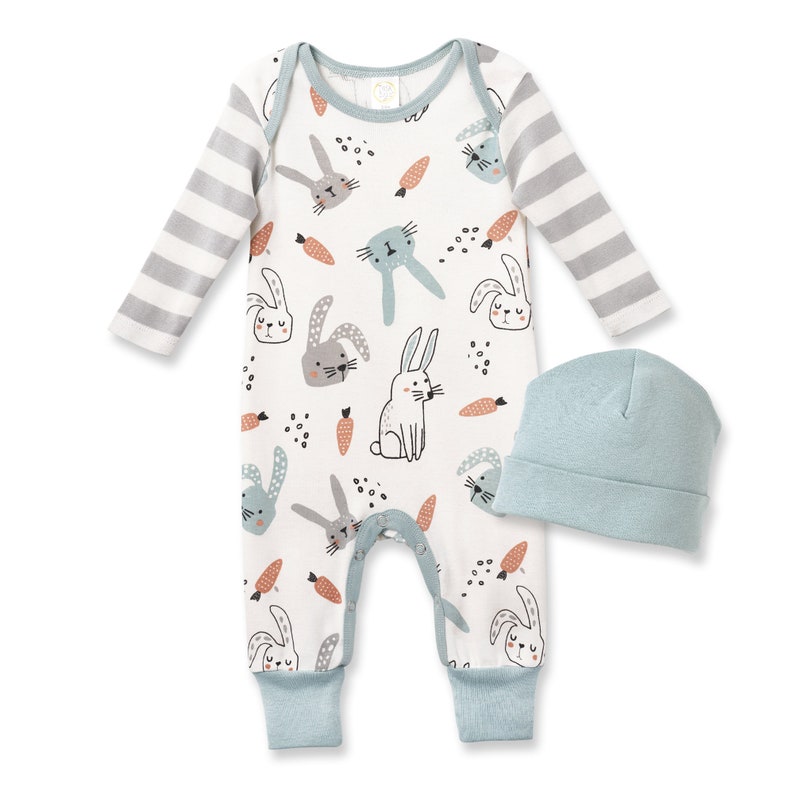 Baby Boy Easter Outfit Bunny Baby Romper in Blue & Grey
2. Make your baby an Easter basket (even if they are too little to have a clue).
The Baby's first Easter basket is more for the new parents than for the baby, but that is OK!
Start building memories and traditions as a family as soon as you can.
We are loving these personalized Easter baskets we found on Etsy. They are an Etsy bestseller.
No Surprise they are adorable: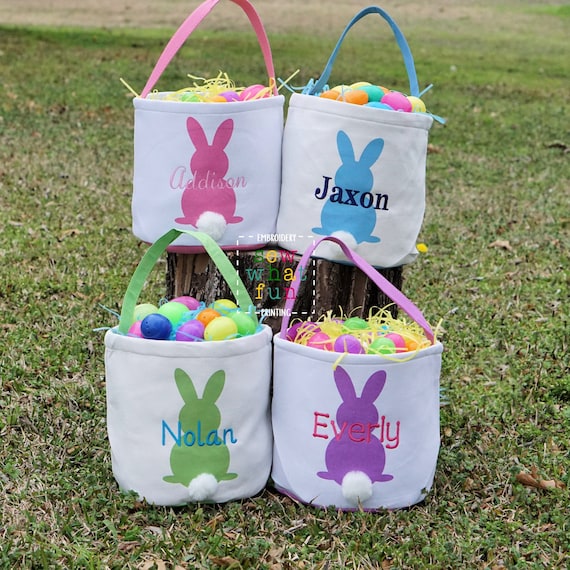 Easter basket Personalized Easter Basket monogram easter
Some things to put in your baby's first Easter basket are teethers, a stuffed animal or lovey, an Easter book, a new outfit, and candy for mom and dad.
You deserve the candy. New parenting is rough.
3. Set-up up an Easter photoshoot for your baby's first Easter in their first Easter outfit.
You can have the photos taken by a professional photographer or take the photos yourself.
They make sweet photos to give to the grandparents as an Easter gift.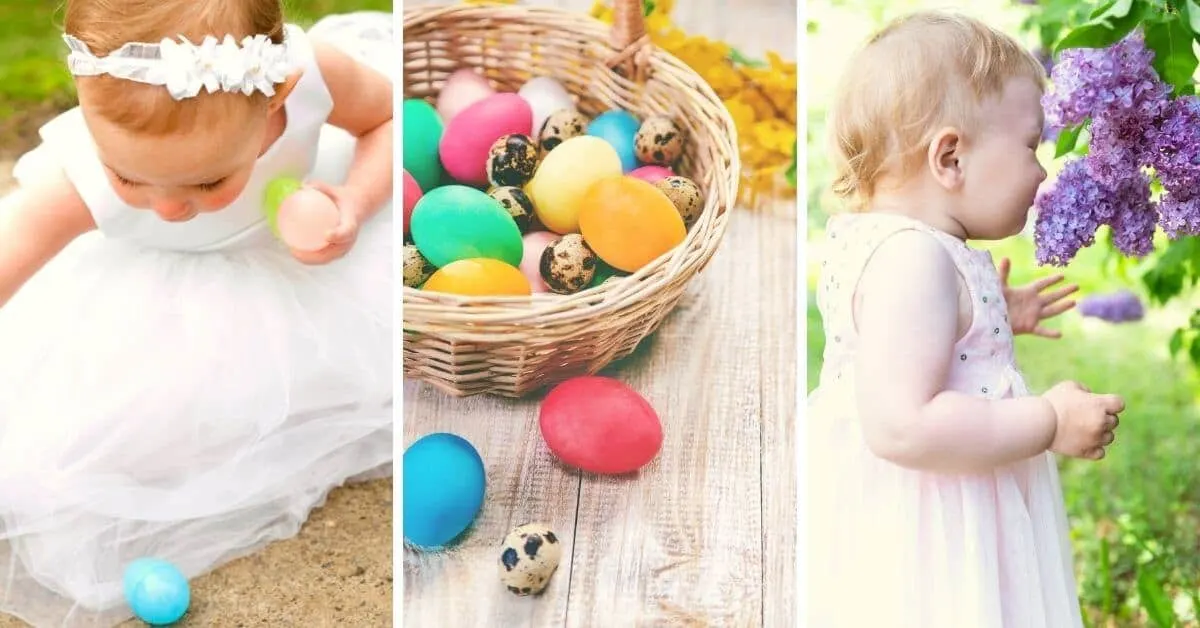 4. Decorate the nursery for spring.
Easter is the perfect time to bring springtime into the nursery.
Consider adding baby safe greenery or flowers, springtime-themed throw pillows, and add spring bunny or flower prints for the walls.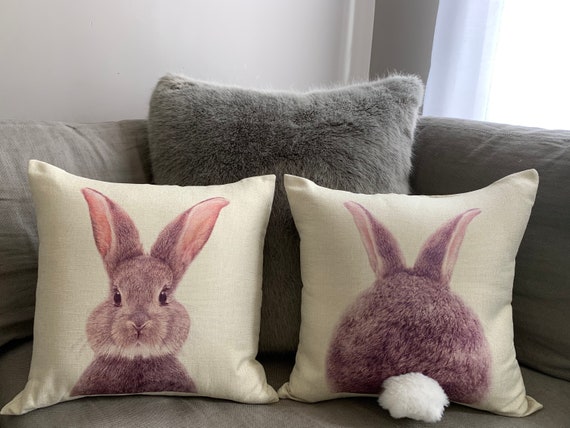 Easter Bunny Pillow Cover with Faux Fur Tail Easter Decor
A simple vase or jar can be used to hold fresh spring flowers.
Flowers add a pop of color to the nursery and will make the room feel lighter and more springlike.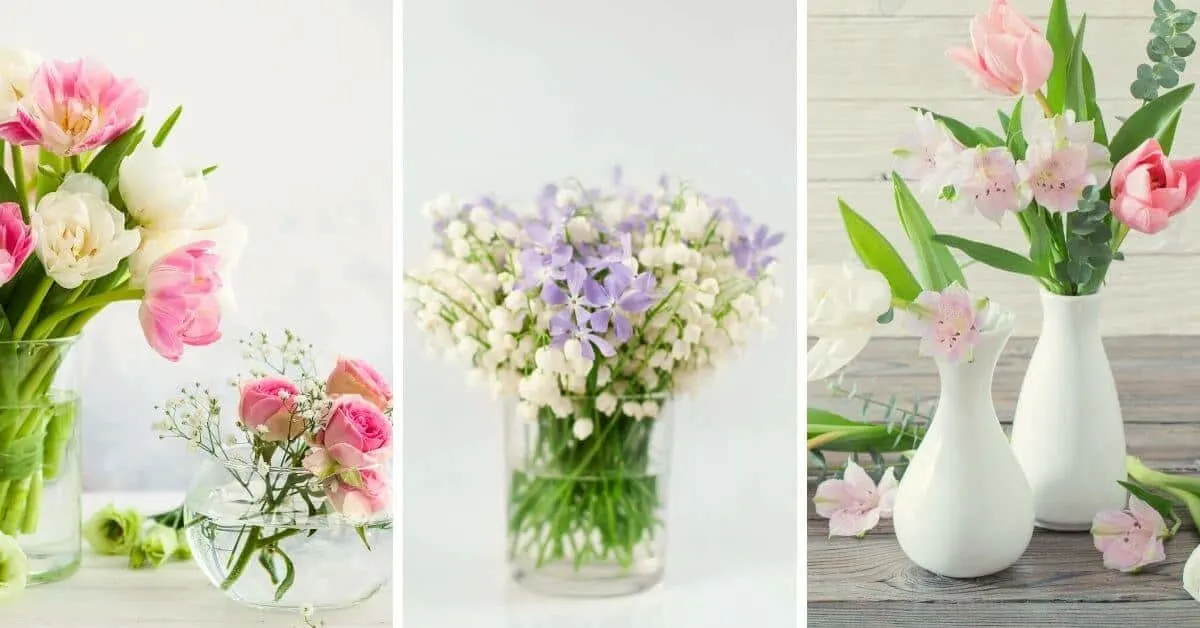 5. Get your baby an Easter gift to go with their first Easter Basket.
Your Baby's first Easter is special. You may be looking for the perfect easter gift ideas for your baby or maybe you are the grandparent or special auntie lookie for the best Easter gifts for babies.
We have gathered a list of the best easter baby gifts your little one is sure to love!
[content-egg module=Amazon template=list next=3 hide=price]
We found these adorable toys for baby's first Easter on Fun.com:

Peter Rabbit Beatrix Potter Jack-in-the-Box
from: Fun.com

Squishable 15″ Little Llama Plush
from: Fun.com

Eric Carle's Very Little Library Book Set
from: Fun.com
6. Baby Easter sensory play activities you can make at home.
You can make simple Easter sensory play activities for your baby at home.
DIY Easter sensory bags are a fun mess-free and budget-friendly activity.
Here are a few ideas for inspiration:
20 Genius Easter Sensory Bins For Toddlers – Maternity Comfort Solutions
One of my favorite Easter spring sensory bins for babies and toddlers is the "Spring hatchery".
Spring has arrived and that means new baby animals are being born on the farm.
We hatch and raise new chicks in the spring.
I love to make this sensory bin during the week before Easter.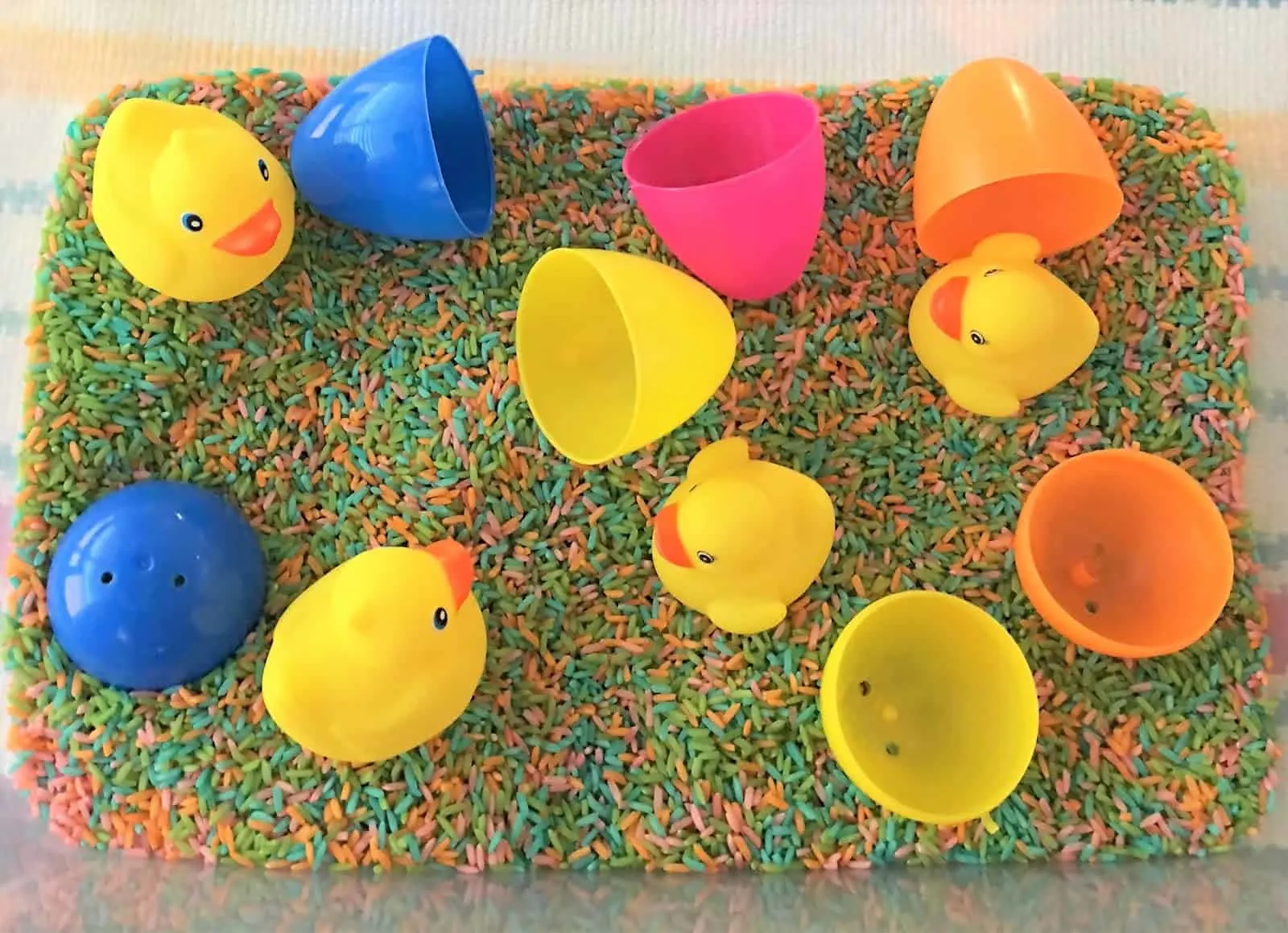 This hatchery sensory bin is a favorite of our little ones and simple to make.
If you have not made your own colored rice before, this is my go-to method for coloring rice:
Colored Rice Recipe:
4 cups of rice
1-2 Tablespoons vinegar
Gel food coloring
Mix together in a Ziploc bag until the desired color. Colored rice is safe to keep and reuse for
I added plastic eggs and small rubber ducks to multi-colored rice.
You can make this with edible sugar if your baby puts everything in their mouth.
Mix 2 cups of sugar with 8 drops of food coloring and you have edible sand for your Easter sensory bin.
7. Start or add to your baby's holiday book collection.
Easter leads us right into spring and summer. Your baby's first Easter is a great time to start a holiday book collection.
Fill the basket with seasonal books you can read to your baby.
It is never too early to start reading to your little one.
A couple of books our kids have loved over the years are below:
The Tale of Peter Rabbit
Little Blue Truck's Springtime
Llama Llama Easter Egg
Baby Animals
The Itsy Bitsy Bunny
8. Visit the Easter bunny
Visiting the Easter Bunny has always been an exciting annual event for newborns and older children.
Though first holidays may not be remembered by your baby, the pictures you take will always be around.
Years from now, you can be sure your child will like seeing the pictures and sharing them with family members as well as their future spouse.
Unfortunately, with the current pandemic, the need for mask and social distancing has had a significant impact on the annual event.
Though public health measures have been put into place to reduce exposure to the COVID-19 virus, the decision will ultimately have to be made by you.
9. Start a new family tradition for Easter
Starting new family traditions is always a fun idea when there has been a new addition to the family.
Traditions are not only fun, they also help to keep track of various childhood milestones that will one day be cherished as your son or daughter looks back at their early years of development.
Here is a list of some of the more popular ones you might want to consider for your new baby:
1. Easter egg hunts are a fun annual event your kids will look forward to!
2. Make a growing stick and mark events besides the growth marks. This will become a conversation piece for years to come!
3. Color/dye easter eggs.
4. Take time to write about their first Easter in their baby book. Include a picture from the day.
5. Have an Easter picnic if the weather is permitting.
Creating a memory book for your baby and writing things down as soon as you can will help ensure those first precious few months of new parenthood and first holiday celebrations don't get forgotten.
10. Take a spring nature walk in your neighborhood or local park.
If the weather is warm enough take your baby out for a walk to see, hear, and smell the wonders of spring!
If your Easter weather is still cold and not spring-like, you can visit a local nursery with an indoor greenhouse.
They will have the common Easter and early spring flowers and plants in stock.
You and your baby will be able to enjoy the sights and smells of spring flowers and greenery.
Conclusion:
Baby's first Easter is one of the most exciting Holidays for new families.
Photos, time spent together, and family traditions are never forgotten.
We hope you found inspiration in some of the ways we have celebrated Easter with our little ones.
Remember: You can keep things as low-key as you want.
We love helping you find simple and low-stress ways to make your baby's first holidays magical and memorable.
Happy Easter!