Are you coming up on your third trimester of pregnancy? Are you wondering what third trimester essentials you shouldn't live without?
You are not alone.
We talk a lot about all the things that you need to get ready during your third trimester for when your baby arrives.
But what we rarely talk about are the things that you need in the third trimester to make yourself more comfortable.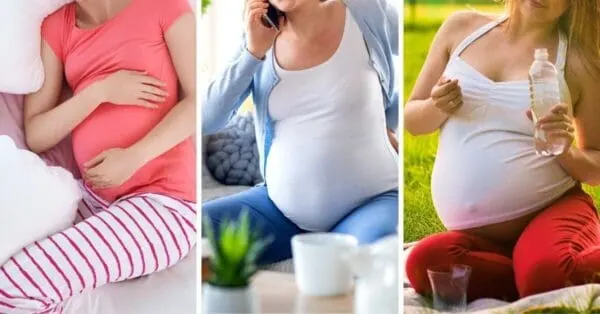 We wouldn't be true to our roots at maternity comfort solutions if we didn't talk about maternal comfort during the third trimester.
The third trimester of pregnancy is challenging.
Your baby bump is growing,
Your joints and ligaments are loosening to get ready for delivery.
The fatigue you felt during the first trimester is returning with a vengeance.
You're uncomfortable.
It's difficult to find a comfortable position to sleep where to sit or to sit or to stand.
I know during my third trimester of pregnancy I was miserable.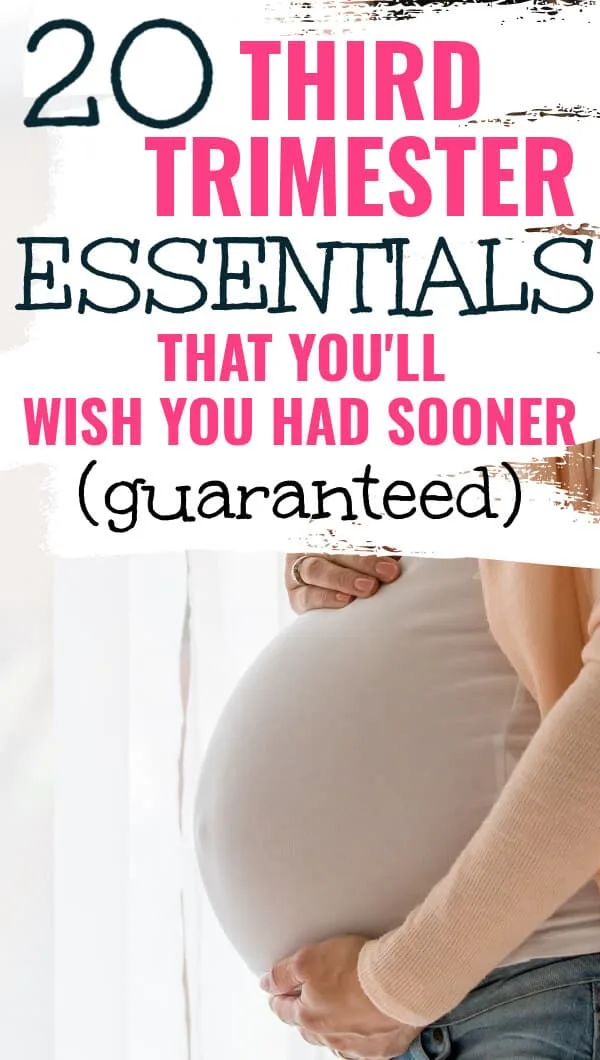 Everything hurt, I felt huge, and no matter what I did I could not find a comfortable position to be in.
But I did find with a little bit of research some third-trimester essentials that made things a lot better and I realized I couldn't live without them.
Your third trimester of pregnancy may not be easy but it certainly doesn't need to be a hot mess.
So let's jump in and talk about the third-trimester essentials you shouldn't live without.
Third Trimester Essentials
1. Pregnancy pillow
A good pregnancy pillow isn't a luxury item.
It is an essential and therapeutic third trimester must-have.
I was a complete skeptic about the value of maternity pillows until I was given as a gift.
I was on bed rest for premature labor risk.
That pregnancy pillow saved me from so much pain and discomfort.
I became a pregnancy pillow evangelist.
We've written about them extensively.
You should start your search for the right pregnancy pillow with our ultimate pregnancy pillow guide for 2022.
PharMeDoc versus the Queen Rose pregnancy pillow:
| | | |
| --- | --- | --- |
| Basis of Comparison | Queen Rose | PharMeDoc |
| Shape | U-Shaped | C-Shaped |
| Price | Check Price | Check Price |
| Warranty | 90-day refund or exchange guarantee | Life-time |
| Material | 100% Cotton | 100% Cotton |
| Hypoallergenic | Not Available | Available |
| Satisfaction | NA | 100% Guaranteed |
| Cover | Zippered | Double-stitched |
| Benefit | Support belly and helps in sleeping and nursing. | Excellent body contour support. |
You can't go wrong with choosing either one of these.
If price is a concern then the pharmedoc pregnancy pillow is budget-friendly.
2. Emergency numbers for your doctor or midwife, the hospital you'll be delivering yet, and your Doula if you are using one.
Make sure you have the emergency numbers for your doctor, hospital, and your doula if you have hired one.
Make sure your partner has a copy of these phone numbers too.
3. Maternity support belt
Maternity support belts can dramatically help alleviate musculoskeletal aches and pains associated with pregnancy.
Maintaining good posture during pregnancy is critical and this is where maternity support belts can make a big difference.
It can make a huge difference.
I found out about maternity support belts after I delivered.
I was miserable during my third trimester.
My baby bump was ginormous in comparison to my 5-foot tall body.
My joints and ligaments hurt so much I could barely waddle around.
A maternity support belt would have made so much difference during those last weeks of pregnancy.
I'm sure of it because I did get one to help support my postpartum c-sectioned belly recovery.
Yes, you can use them after you have your baby during your postpartum recovery.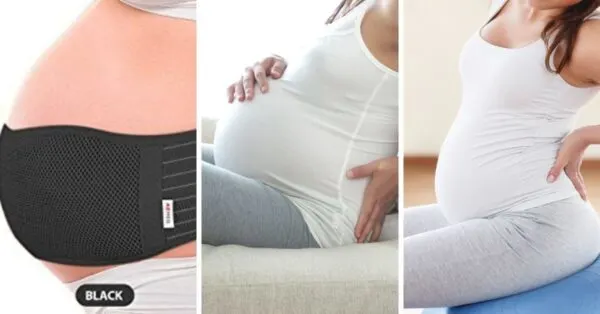 4. Microwave heating pad kit
The third trimester of pregnancy is often filled with lots of aches and pain.
A heating pad can help.
I prefer microwave heating pads to electric ones.
They are easier to move and reposition quickly.
I love microwave heating pads like this kit on Etsy.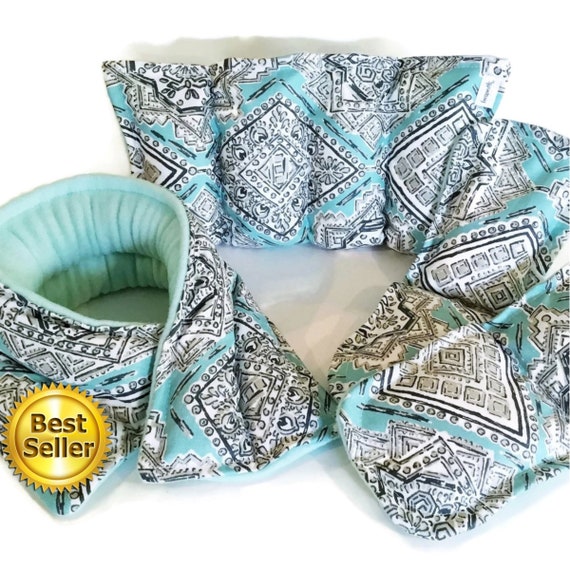 Gift Set for Women Pregnancy Mom Survival Kit New Mom Care
from: Etsy
5. Prenatal yoga/prenatal stretching
Prenatal Yoga– Yoga helps you stay flexible and increases strength while being low-impact.
Prenatal yoga can help you learn proper breathing and relaxation skills which may be beneficial to you during labor.
(Be sure to clear exercise activity with your provider.)
Stretching and prenatal yoga can help prepare your pelvis for childbirth.
Exercise also releases mood-elevating endorphins which can help you sleep better.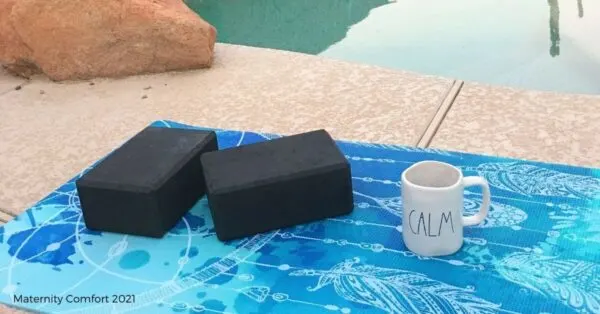 6. Compression socks
If you have some swelling in your legs or feet you might find compression socks provide relief.
They can also be helpful to wear when you get home from work.
They help tired and sore feet feel so much better.
7. Water bottle with cool water
Keeping yourself well-hydrated during pregnancy is essential, especially during your third trimester.
Keeping a water bottle with you at all times is a third trimester essential.
Hydration is the most important when it comes to your immediate health and well-being.
Dehydration can cause contractions.
They may not be labor contractions; however, it is hard to determine this without making sure the cervix is not dilating.
Unfortunately, during the third trimester, many pregnant women will be at their health care provider's office being evaluated for premature labor due to contractions caused by being dehydrated.
You can avoid this during your third trimester by keeping a water bottle with you and drinking 10-12 glasses of water a day.
If you don't enjoy plain water, you can try a water infuser.
A water infuser will let you add fruits, vegetables, and herbs to your water to improve the flavor.
Some of our favorite infused water recipes are below: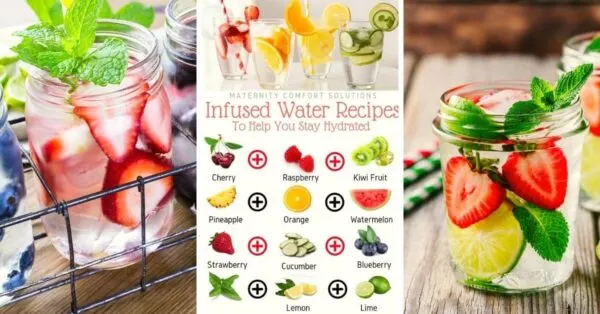 8. Tylenol
Tylenol is considered safe to take during pregnancy.
It can help relieve the normal aches and pains that come with the third trimester of pregnancy.
You should check with your doctor or midwife to be sure it is safe for you to take during pregnancy.
When it comes to taking acetaminophen (Tylenol), you want to take the lowest dose you need to relieve your pain or discomfort.
If you are a regular user of acetaminophen you probably just grab two 500 mg tablets without even thinking about it.
Now you need to think about it more carefully.
That dose is generally considered safe for pregnant women, but you're better off to start by taking 325 mg and see if that relieves your pain or fever.
In other words, don't take more than you need to.
9. Tucks medicated pads for hemorrhoid relief.
Another third-trimester pregnancy gift many women get, myself included, is hemorrhoids.
Tucks or any of the generic varieties will work fine.
They have witch hazel in them which is magic for relief of hemorrhoid pain.
It is a good idea to get these during your third trimester to put into your postpartum care kit.
It is not uncommon to develop hemorrhoids after delivering a baby.
10. An ottoman or leg elevation pillow
One 3rd trimester pregnancy essential that gets overlooked is an ottoman or pillows to elevate your legs.
Elevating your legs can help prevent or reduce swelling.
Putting your feet up can help alleviate pregnancy fatigue and make you feel more comfortable.
11. Humidifier
If you live in an area where the air is very dry a humidifier can help increase the moisture in the air.
Dry air can make your nose and throat dry which can cause discomfort and an increased risk of illness from cold or flu.
12. Be prepared for labor, delivery, and postpartum to reduce anxiety
One of the best things you can and your partner can do during your third trimester is to get well prepared for your labor, delivery, and postpartum.
More third trimester essentials that I think are worth every penny!
These next items fall under the category of making your third trimester easier and more enjoyable.
This list is intended to help you endure and possibly even enjoy your third trimester and postpartum recovery.
Are there items or suggestions on this list that are either not appealing to some? Absolutely.
If you are reading this, you are either in your third trimester, physically spent, and barely able to put your socks on.
Or, you have just gone through childbirth, a life-changing milestone by any standard.
Let alone if you had to deal with many common, unexpected events that made your pregnancy a little more than you were anticipating: cesarean section, mastitis, toxemia, etc.
So as you read through this list, you will find some suggestions are more feasible than others.
Adding one or two of these items listed below can make a huge difference in your comfort during your third trimester:
13. Keurig
We LOVE our Keurig so much.
It is easily the most used appliance in our kitchen.
The Keurig is not just for coffee either.
You can make tea, hot chocolate, hot apple cider, and hot water for instant soups.
A Keurig is a third trimester essential and definitely a postpartum essential for new moms.
14. Brand new sheets
You need to get more rest during your third trimester.
I think new sheets are an essential spiff you should give yourself during the third trimester.
I can't promise they will help you sleep better, but sliding under new sheets will make you feel better.
15. Nest security camera or Ring doorbell camera
When I was pregnant I was put on bed rest for premature labor.
I did not have my security cameras at that time.
So every time the doorbell rang, I had to struggle to get up and waddle over to the door to see who was there.
I would get comfortable in bed or on the couch and the doorbell would ring.
I may have said "FML" under my breath a few times.
I would not do that again and you shouldn't have to do it at all.
Get a camera on your doors so you can easily see on your phone who is at the door.
I suggest the Nest security cameras because those are what I am most familiar with.
You can go with the Ring doorbell camera as well.
I believe the Ring doorbell offers two-way communication too.
If those are outside the baby budget, there are more budget-friendly options in security cameras too.
Most important to me would be that it has an app so you can see who is at the door.
16. Air purifier
Doug Penta, MD, our OB/GYN feels strongly that every home should have an air purifier.
The best way to reduce dust, soot, dander, and allergens in the home is to use an air purifier.
Air purifiers are designed to remove the particulate matter along with the germs (viruses and bacteria) that can lead to cold and flu symptoms.
Less dust means less dusting and that's a good thing during your third trimester.
[content-egg module=Amazon template=grid next=3 hide=price cols=3]
17. Amazon Echo Device
I was torn on recommending an Echo device.
I have a first-generation and several echo dots around the house.
I love it. It gets used all the time.
18. Hire a postpartum doula.
Postpartum doulas care for mom and baby after birth in the hospital and continue that care at your home after you are discharged.
Postpartum doulas are often hired by new parents to come during the day and help with the baby or give mom a chance to rest.
They can assist with family bonding and help older siblings adjust to the new baby.
Having the proper postpartum help can be critical in helping you and your baby be successful at breastfeeding.
Struggling with low milk supply issues isn't uncommon.
Two major causes of low milk supply are lack of sleep and dehydration in the new mom.
If your baby is formula-fed they can feed the baby and take care of the baby so that you can sleep.
Sleep deprivation increases your chances of developing postpartum depression and postpartum anxiety.
Utilizing the services of a postpartum doula will ensure you get the rest you need, help you stay hydrated, and give you non-judgemental support as you navigate new motherhood.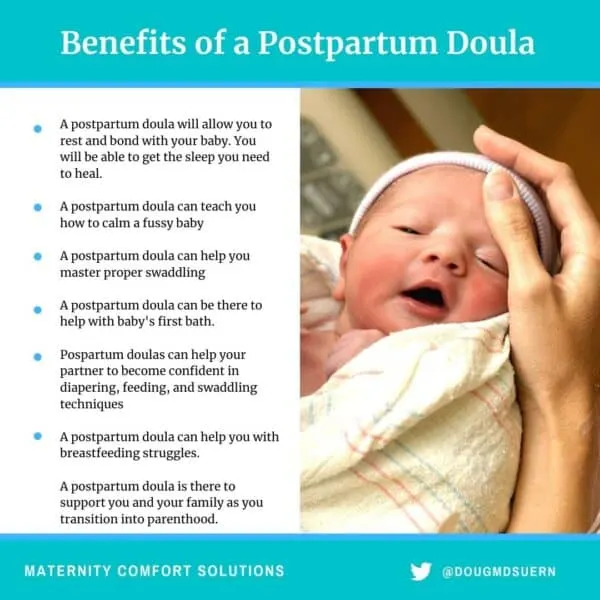 19. Grocery delivery or pick-up
Give yourself the gift of shopping online and having your groceries delivered or do curbside pick-up.
You deserve the break.
20. Nest thermostat
I absolutely love our Nest thermostat.
It is a smart thermostat that connects to the WI-Fi in your home.
It comes with an app for your phone.
You can control the temperature in the house without leaving the comfort of your couch or bed.
During the third trimester of your pregnancy, it is the little things that help so much.
If you have an Amazon Alexa device you can also tell Alexa to change the temperature up or down on your Nest thermostat.
What To Expect During The Third Trimester Of Pregnancy
A pregnant woman's third trimester can be challenging.
Here is what to expect during the final weeks of gestation and how to be as comfortable as possible.
The third trimester of a woman's pregnancy can be challenging.
The final months of gestation are taxing on the body and mind.
Here is what an expectant mom will likely experience in her last trimester:
Exhaustion and Shortness of Breath
By now, a pregnant woman has gained a significant enough amount of weight to cause sluggishness, but she may also be dealing with swelling and other assorted aches and pains, which can add to the tiredness.
The third trimester can be especially difficult when combined with the responsibilities of a job or caring for other children.
Be sure to get frequent rest, concentrate on proper diet and fluid intake, and avoid prolonged sun exposure or pushing the body beyond the point of fatigue.
Remember, soon the baby will be here, and the exhaustion now only practices for the real thing! Meanwhile, the expansion of a soon-to-be mommy's uterus can cause diaphragmatic pressure and shortness of breath.
A pregnant woman's lungs also have less room to expand fully.
Believe it or not, exercise can help to alleviate this problem, as can sleeping with the torso supported by a few extra pillows.
Braxton Hicks Contractions vs. Real Labor
Typically painless but uncomfortable, Braxton Hicks contractions are practice contractions, preparing the body for actual labor.
Many pregnant women describe the sensation as a temporary tightening and hardening of the tummy.
Braxton Hicks contractions do not gradually increase in intensity or regularity, unlike real labor contractions.
Falsely believing that actual labor is starting often occurs due to anxiety over approaching labor.
As the long-anticipated due date draws near, it is normal to feel anxiety about the inevitable event that will soon occur.
Some pregnant women feel more prepared for labor and delivery after taking an education class through their doctor or hospital.
Asking plenty of questions can also help to ease the fear.
Frequent Urination and Indigestion
The baby's larger size and position in the pelvis during the third trimester can lead to increased pressure on the bladder and more frequent urination.
While annoying, this is normal.
It is important to continue frequent fluid intake for proper hydration.
Be sure to empty the bladder fully each time.
If pain or burning accompanies urination, a doctor should be consulted to check for a urinary tract infection.
Yet another side effect of pregnancy, indigestion, often intensifies during the third trimester as well.
The hormone progesterone is the culprit, which relaxes muscles in the esophagus.
Luckily, most pregnant women experience complete relief from indigestion immediately after birth.
Back Pain and Clumsiness
Baby's continued growth triggers pregnancy hormones to loosen the joints in the pelvis, often causing backache during the third trimester.
To ease the pain, try frequent rest and heat applied to the area.
Specific back exercises may be prescribed by a pregnant woman's doctor as well.
Also, since an expectant woman's center of gravity shifts dramatically during the third trimester, it is normal to experience clumsiness.
Dropping things more? Bumping into things?
Have trouble getting off the floor?
All typical of the third trimester!