Updated August 3, 2022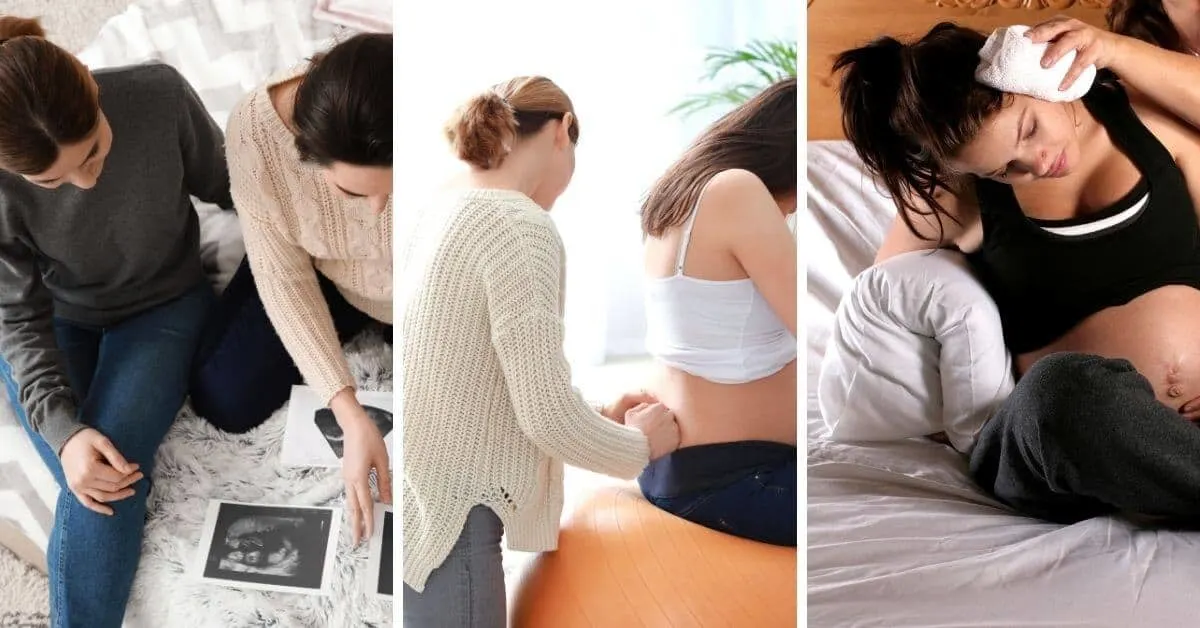 Have you been wondering "Should I hire a birth doula for my labor and delivery?"
Birth Doulas have become a trendy necessity that many expecting women are hiring to help them through the birthing process.
Doug and I had seen birth doulas on the labor and delivery unit for many years, but it is only in the past few years that we have seen the idea of hiring a birth doula become mainstream.
As a mother who had an emergency C-section and difficult labor, I would have loved to have a birth doula.
But using the services of a birth doula isn't a topic without some controversy and hiring a doula isn't going to be the right or even an option for everyone.
But in this post, we will help you sort out some of the pros and cons of hiring a birth doula for your upcoming delivery.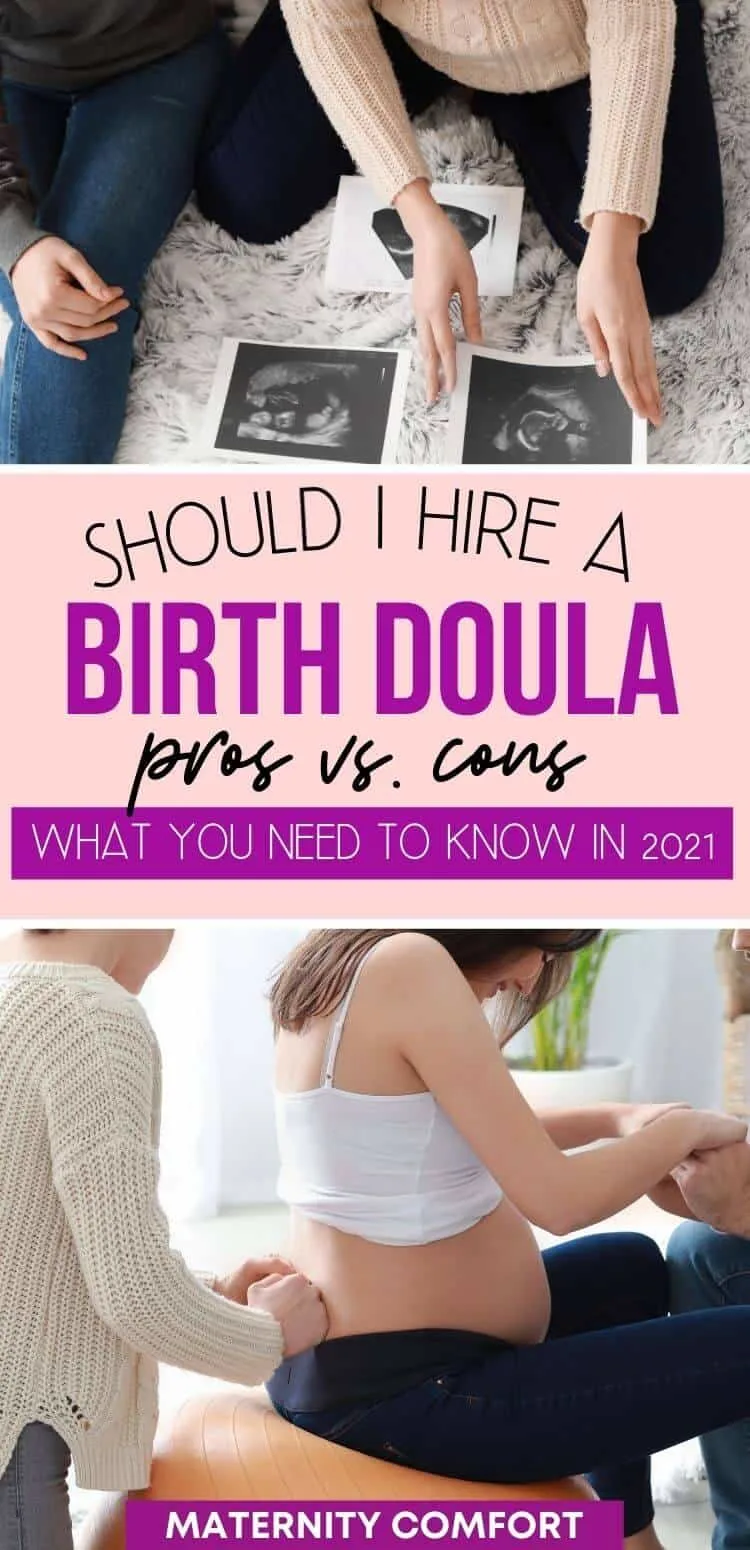 Should I Hire A Birth Doula?
Birth Doulas are there to support your labor and delivery.
From the first time, we heard about birth doulas Doug and I were sold. Doug, as an OB/GYN, and I as an RN recognized the need and potential benefits of birthing women having access to a doula.
Having somebody that you know is specially trained to emotionally and physically support you through labor and delivery the whole time is amazing.
It sounds perfect, and it can be.
But it isn't always and you need to know the pros and cons that we have seen and heard about from colleagues before you decide.
Let's take a deep dive into the question "Should I hire a birth doula?
Let's look at the definition of what a doula is again so we can use that definition to help discuss the potential pros and cons of hiring a birth doula.
According to DONA, a doula is a trained professional who provides physical, emotional, and informational support to a woman before during, and shortly after Labor and Delivery.
The Doula is there to make sure that the laboring woman has the best experience possible.
This post may contain affiliate links. We may be compensated if you make a purchase through our links. You can catch our full disclaimer at the bottom of this post. A question that is very often asked by pregnant women is "Is it necessary to take a hospital tour before my delivery?"
Pro #1 for hiring a birth doula:
It would be wonderful if every woman had a supportive partner with her during childbirth.
But the fact of the matter is some women don't.
Sometimes the partner is really nervous and they don't make a good labor support person.
Sometimes there isn't a partner or their partner is away or deployed during the birth.
We suggest you develop a birth plan where you can openly talk about these types of things.
A birth plan can help you put your birth team together and decide what role each person should handle.
Unfortunately, some partners can be disengaged and uninvolved.
They may be there for the delivery, but they're not really doing anything to support their partner.
L&D nurses see this quite frequently.
If you think your partner is the type who is going to sit there on their phone the whole time and not be very supportive, having a doula can make a huge difference in your birth experience.
They can help the partner of the new mom understand the birth process.
They can teach the partner proper techniques for massage, counter pressure, and visualization.
They can help both you and your partner understand the changes that new parenthood introduces into your relationship and how to stay connected as a couple.
Your birth doula will be there with you both to smooth out your new transition into parenthood.
Pro #2 for hiring a birth doula:
When you go into labor and you're in the hospital, you have a labor and delivery nurse.
Your labor and delivery nurse is there to keep you and your baby safe.
Your doula is there to keep you comfortable. Their sole focus is on you. They have one job.
Your L&D nurse's primary role is to monitor your labor and the baby to make sure that everything is going exactly as it should.
That means monitoring you and the baby, charting in your medical record, speaking with your doctor or midwife. Your nurse may have another patient to take care of as well.
But if you hire a birth doula, they are there for you throughout your whole labor and delivery.
If you need water, if you need ice, if you need a cold cloth and you need it now, your doula is going to get it right then.
Pro #3 for hiring a birth doula:
Should your labor come on quickly, your doula is one more support person who you can reach out to.
Granted, having your partner, your family, and your doctor or midwife is comforting.
It is also helpful to know your doula is also fully devoted to your care.
One more level of support that can help alleviate the anxiety associated with childbirth.
Your doula can come while you are in very early labor and help you relax even before heading to the hospital.
Pro #4 for hiring a birth doula:
They can help you have an unmedicated birth if that is your choice.
A birth doula understands the stages of labor and can assist you with natural pain-relieving techniques.
Your doula can offer tips on positioning and help you find the best laboring and birth position for you.
They can help you focus on your breathing and make sure you are using the technique that will provide you with the most benefit.
Each doula is going to have their own bag of tricks to draw from to help you as you progress through the stages of labor and delivery.
💡Some studies suggest a decrease in interventions and a lower need for pain medication when you have a birth doula.
Pro #5 for using birth Doula:
If you need to have a c-section or you are having a planned c-section hiring a birth doula is an excellent option.
They can offer so much support to you and your partner during the delivery.
They are a Godsend for help with your immediate postpartum care.
Make sure the Doula you hire will be with you in both recovery and when you move to your room.
It isn't unusual to be pretty out of it after a c-section and the pain is no joke.
Most hospitals have rooming-in now. That means the baby is with you 24/7 during your stay.
They may not even have a well-baby nursery available.
You may want to hire a postpartum doula as well, but your birth doula should be there with you in the hours after your c-section.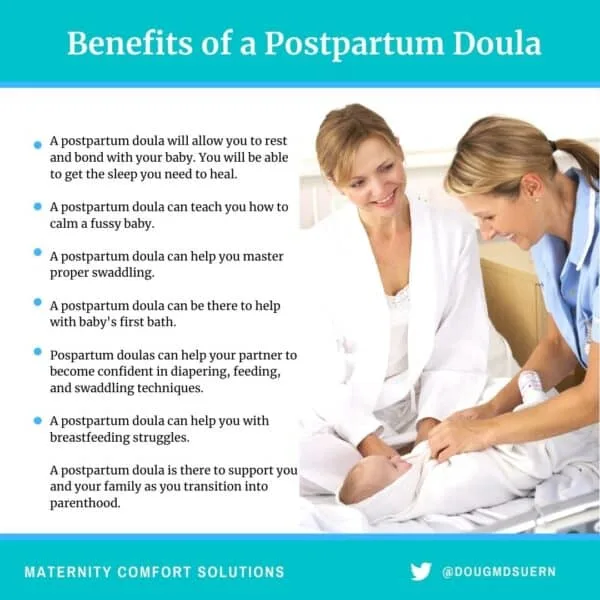 There are some potential cons in hiring a labor and delivery doula, that many pregnant women may not know or may have not considered.
We want to share those so you can make the best choice for your childbirth experience.
Let's talk about some potential cons of hiring a birth doula.
Con #1 for hiring a birth doula:
Before you make the decision to hire a doula it is important to know they are not trained medical or nursing professionals (usually).
It is really important to understand that.
Questions and concerns about your labor and delivery should be directed towards your labor and delivery nurse, your OBGYN, or your certified nurse-midwife.
During childbirth, things can go wrong quickly.
If you have a concern about a procedure or something that's been suggested should be done or you have a question about the way things are happening you need to talk to your labor and delivery nurse or your doctor or midwife.
Your labor and delivery nurse can speak to your doctor or midwife about any questions or concerns you have.
Your doula's job is to support you in labor physically and emotionally and they should encourage you to advocate for yourself.
But they have a limited understanding of labor and delivery.
Your nurses, your doctor, or midwife know and understand the complications that can occur very fast during labor and delivery.
They are the ones you need to direct your questions to.
Con #2 for hiring a birth doula:
It is essential when you are interviewing potential birth doulas that you make sure you share the same values and beliefs about the childbirth process.
For example:
Over 70% of all pregnant women get an epidural when they are in labor. (Source)
If you want an epidural or change your mind as your labor progresses your doula needs to respect your choices.
I have had women share with me that their doula was not supportive when they decided they wanted an epidural or refused them as clients altogether when they discussed having an epidural.
You don't want to have any conflicts with the doula you hire.
Especially not in the middle of labor.
Con #3 for hiring a birth doula:
Your doula may not provide the services you expect or paid for.
This article is an important read for any expectant parents considering hiring a birth doula.
There is a chance your birth doula may not show up or that the care they provide you may not meet your expectations.
Doulas often have more than one client and the baby's arrival can be unpredictable.
They should have a qualified back-up doula available to attend your birth.
It is important to take the same amount of care in hiring a doula, as you did with your choosing a pediatrician or choosing your OB/GYN or Midwife.
If your birth doula uses back-up doulas to cover for them, make sure you meet them as well.
Con #4: Birth doulas can be expensive.
The cost for a birth doula ranges from $500-$3000. The costs are going to vary regionally, but our research found $2000 to be the average rate quoted.
This cost is not usually covered by insurance. But be sure to check with your insurance provider.
They may be willing to reimburse you for some of the costs.
We would suggest interviewing several birth doulas in your area.
Prices and services will vary widely.
Frequently asked questions about birth doulas:
What are the risks of having a birth doula?
The two biggest risks are that your birth doula won't meet your expectations or won't show up.
You can mitigate this risk by hiring an experienced doula that comes with a long list of references and happy clients.
Make sure they have a back-up doula available in case something happens and they can't attend your labor and delivery.
Would you feel strange hiring a doula who has never had a baby of their own?
No. I wouldn't.
I think the training and experience they have as a doula is far more important than if they have had a baby of their own.
Each woman's birth experience is unique and personal.
What works for one woman in labor may be the complete opposite of what will make you feel comfortable.
Are Doulas really helpful?
It depends. If you hire the right doula then yes they are helpful.
If you hire the wrong doula, it could be a waste of money.
Do your homework. Take your time. Ask for references.
Ask Your doctor or midwife about doulas they have worked with and would recommend.