Updated May 11, 2023
Lemon printing for toddlers is a fast and budget-friendly art project to add to your summer activities.
Our kids love any kind of paint stamping or printing activity.
We love it because it can engage a bored and restless toddler in seconds.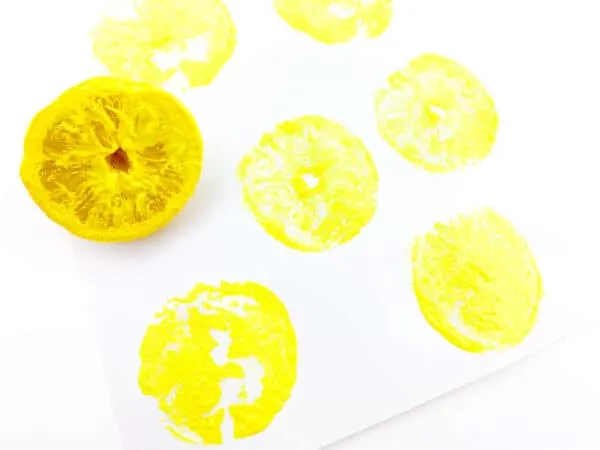 It is perfect for doing outdoors in the summer.
We set this up in the morning before the heat of the day makes us run for the a/c or pool.
The paint is easily washed off with the hose or under the sprinkler after the activity is done.
You can find lemons at your local grocery or farmer's market.
Paint printing is one of our favorite activities.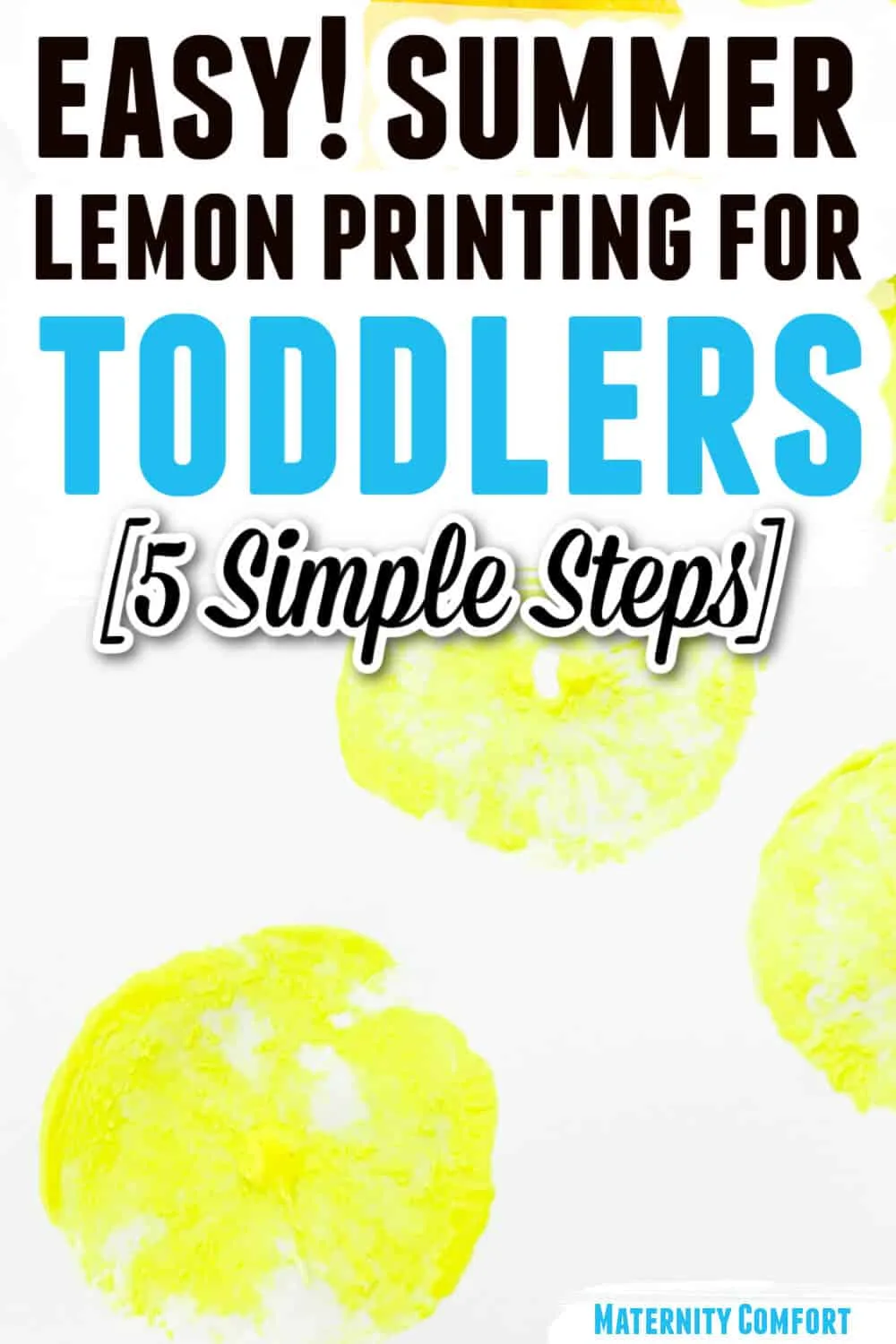 Lemon Printing For Toddlers
Supplies:
Lemons
You only need one lemon if you are only using one paint color as we did.
If you want to use multiple-color paints, you'll need a few more lemons.
Paper plate
If you using more than one color of paint, you'll need a paper plate for each color.
Yellow paint
You can get washable kid's paints at Walmart, Target, and Michael's, or have them shipped to you via Amazon.
White paper
We used plain white paper from our printer, but you could use heavier white paper and it would probably work better.
Paper towel
You'll need a paper towel to dab the juice off the lemon before you dab it in the paint.
If you don't remove some of the juice the paint can become runny.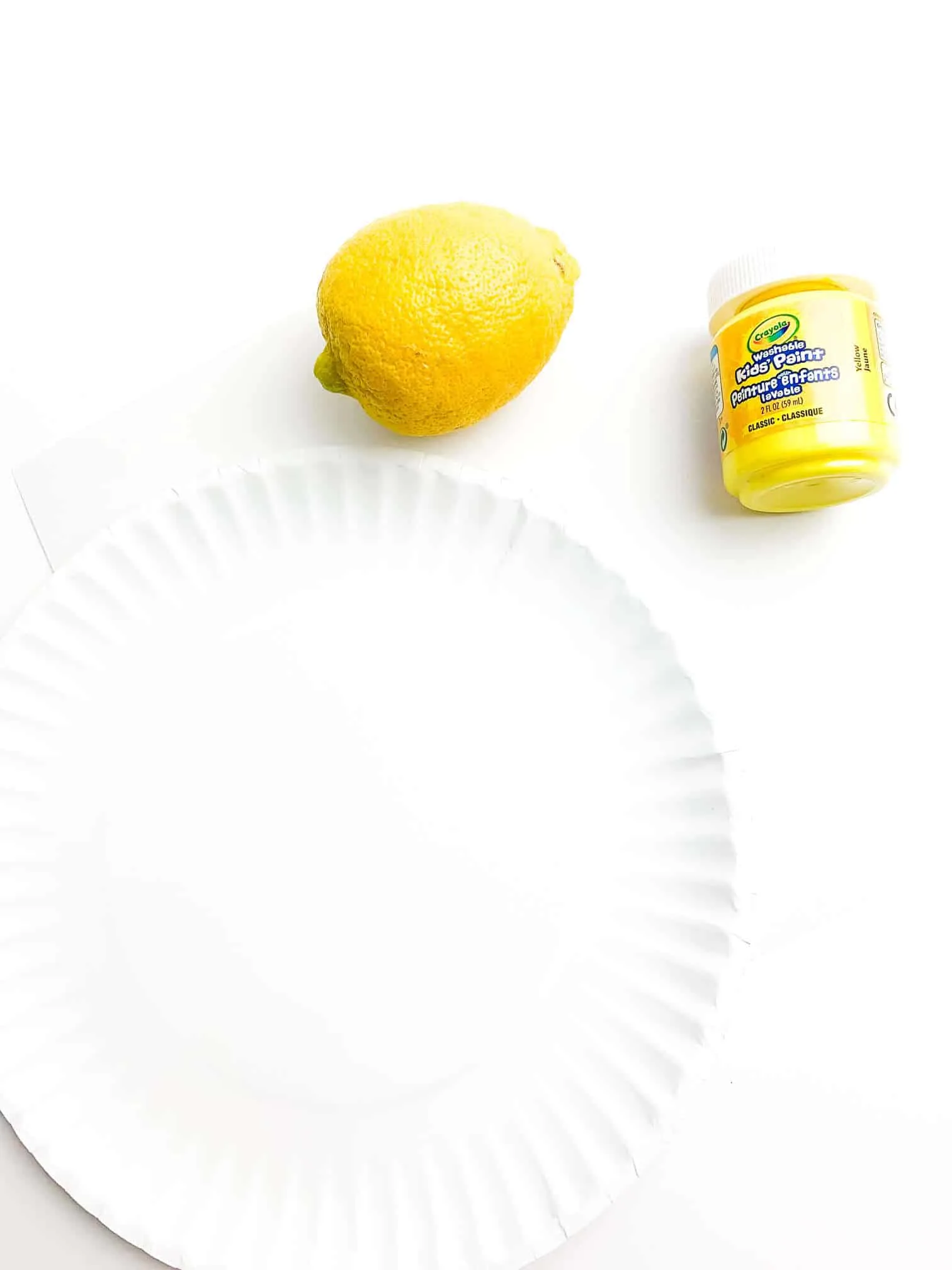 Directions:
1. Wash and dry the lemon.
Cut a lemon in half.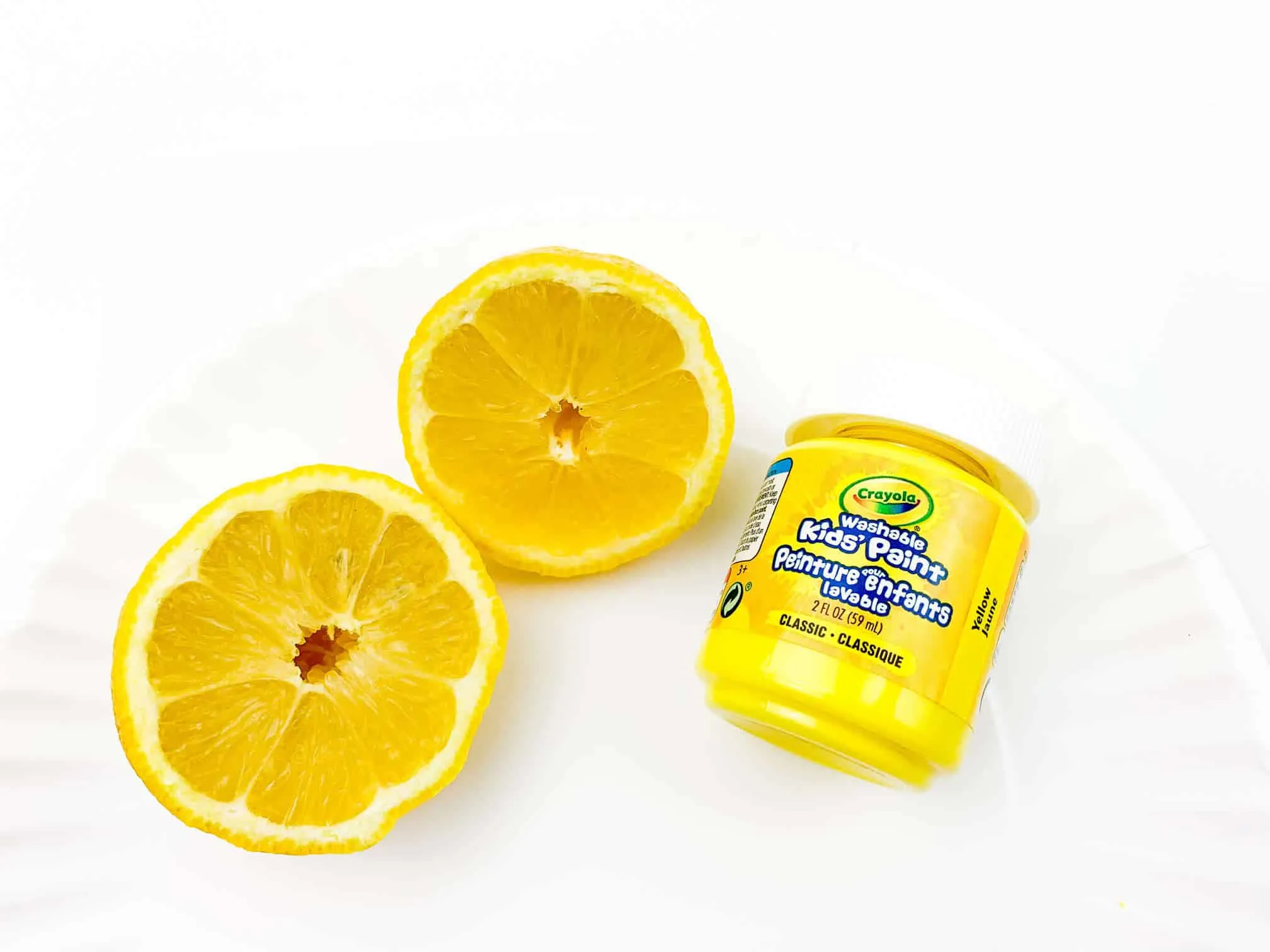 2. Gently dab the lemon half that you will be using to paint with on a paper towel to remove excess juice.
It will be ok to get some juice on the paper when painting – it will dry.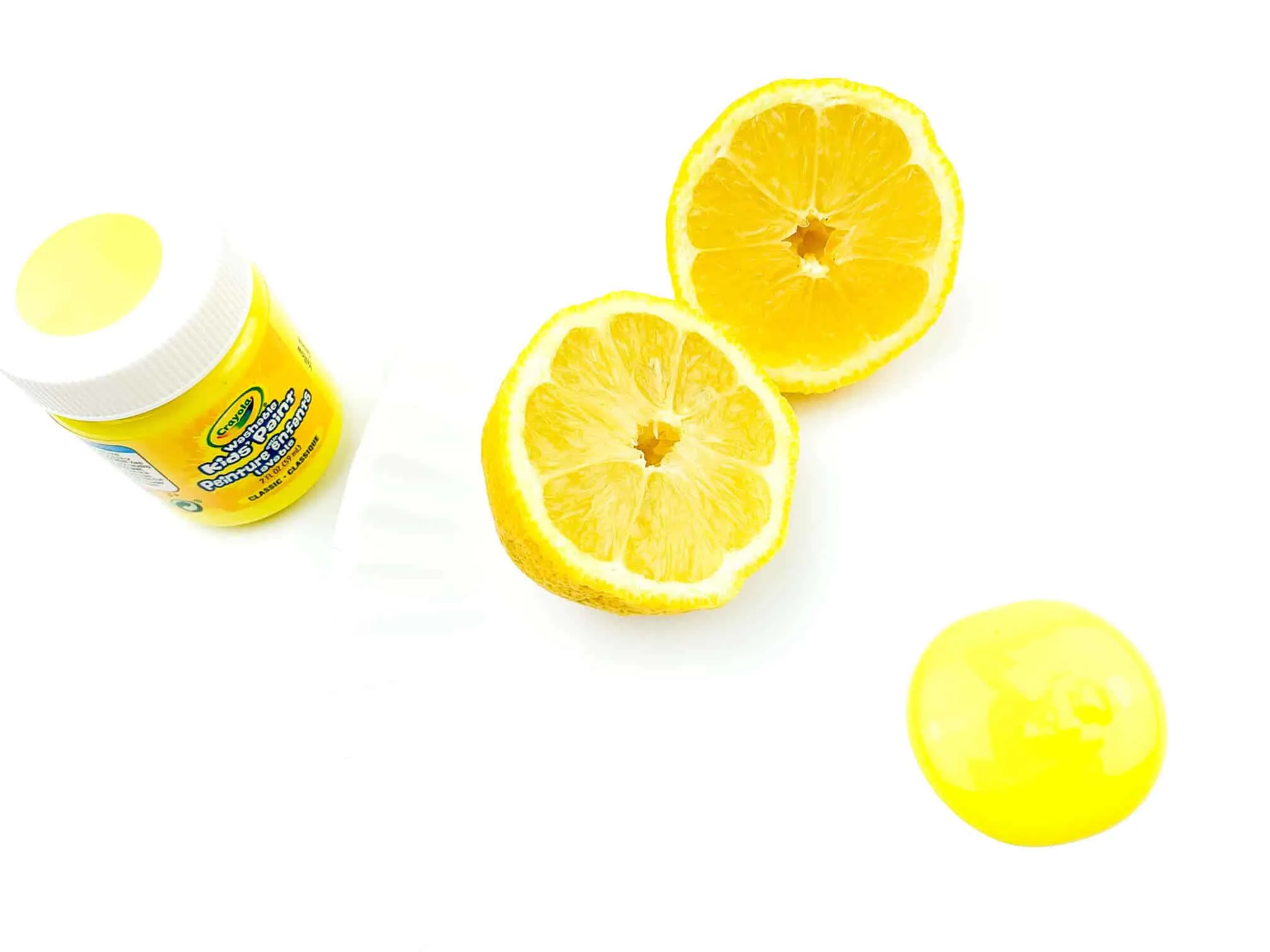 3. Pour paint onto the paper plate.
Swirl the plate gently to even out the paint.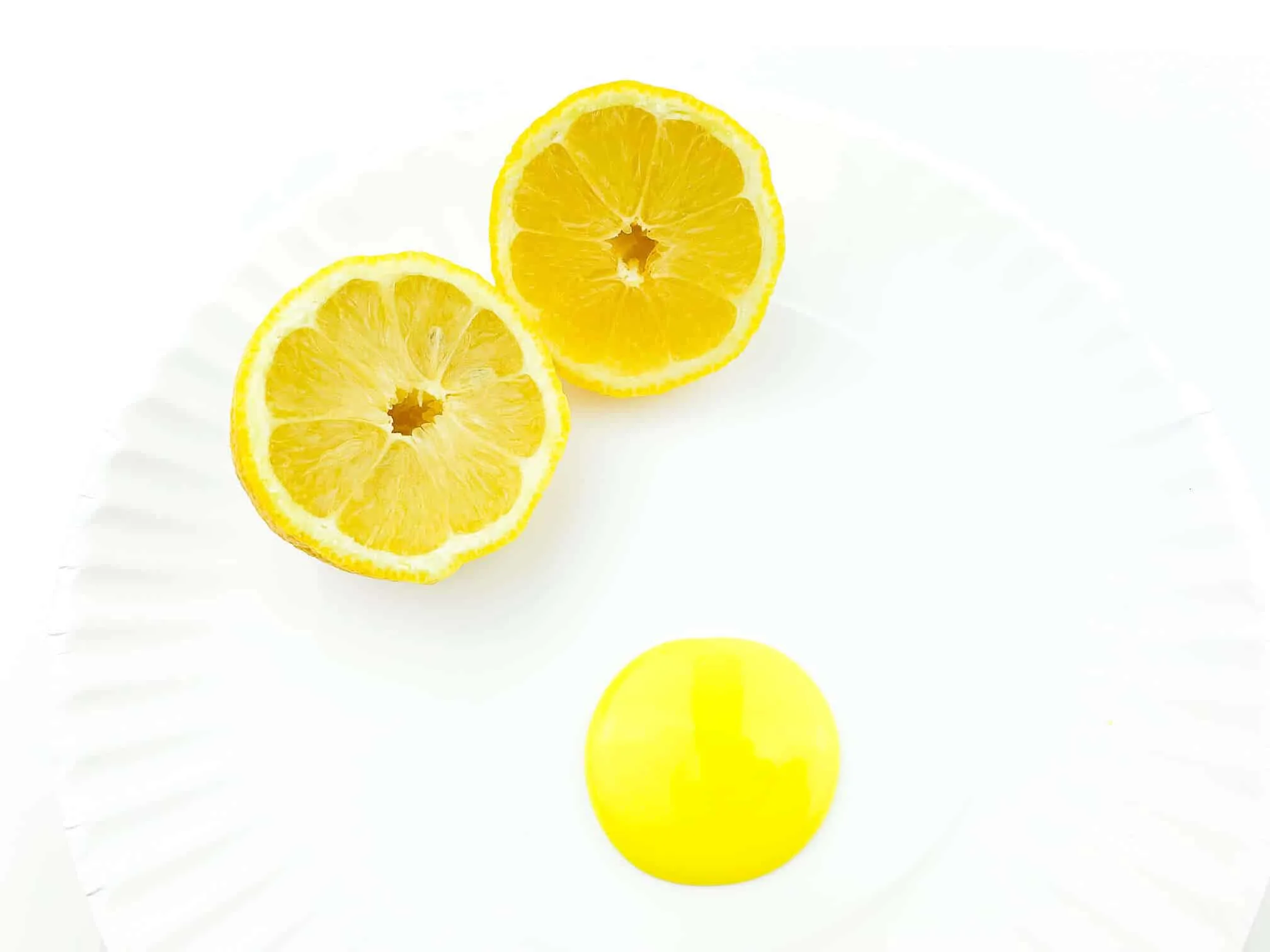 4. Dip the lemon half into the paint.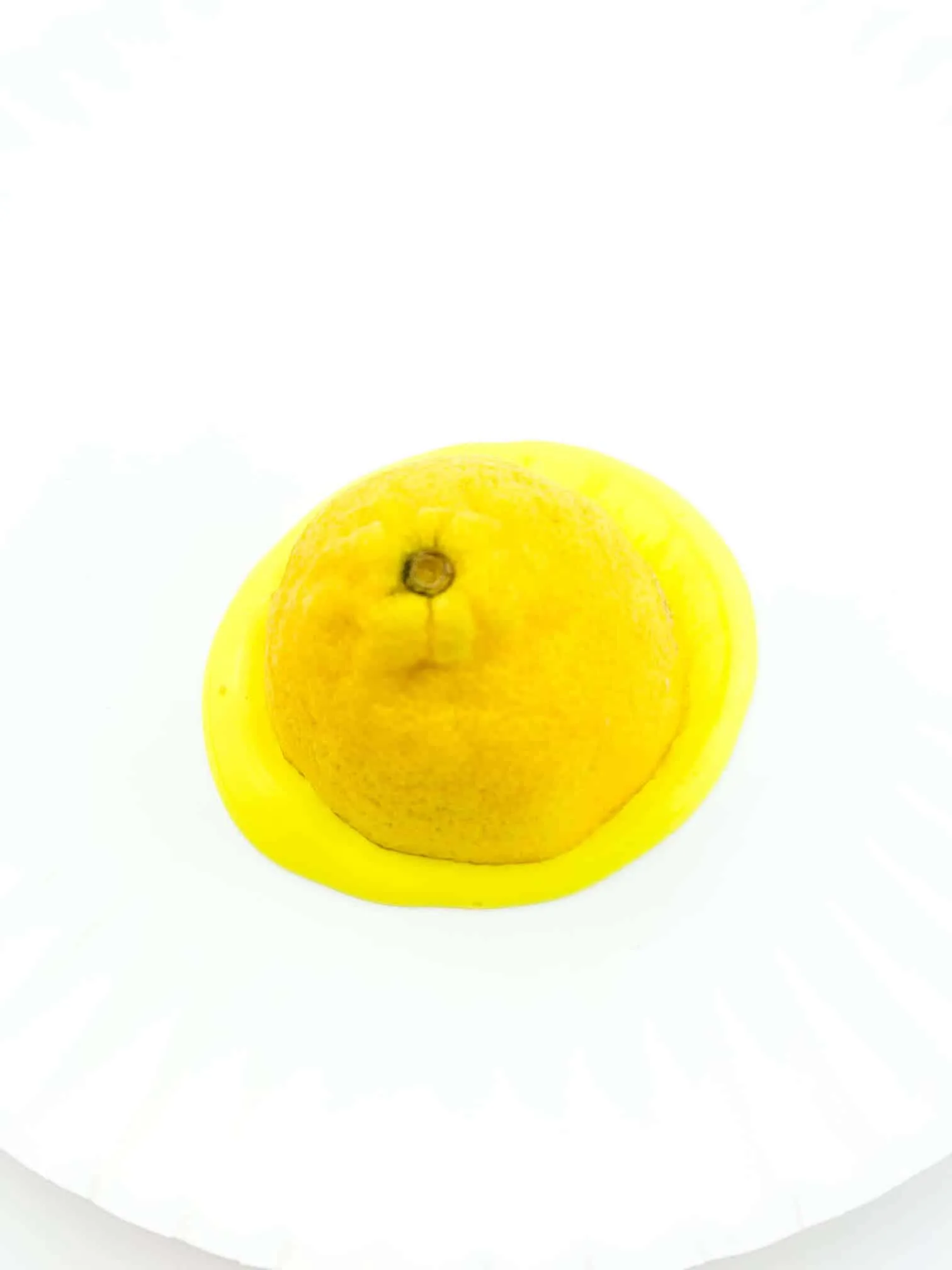 There may be excess paint on the lemon half.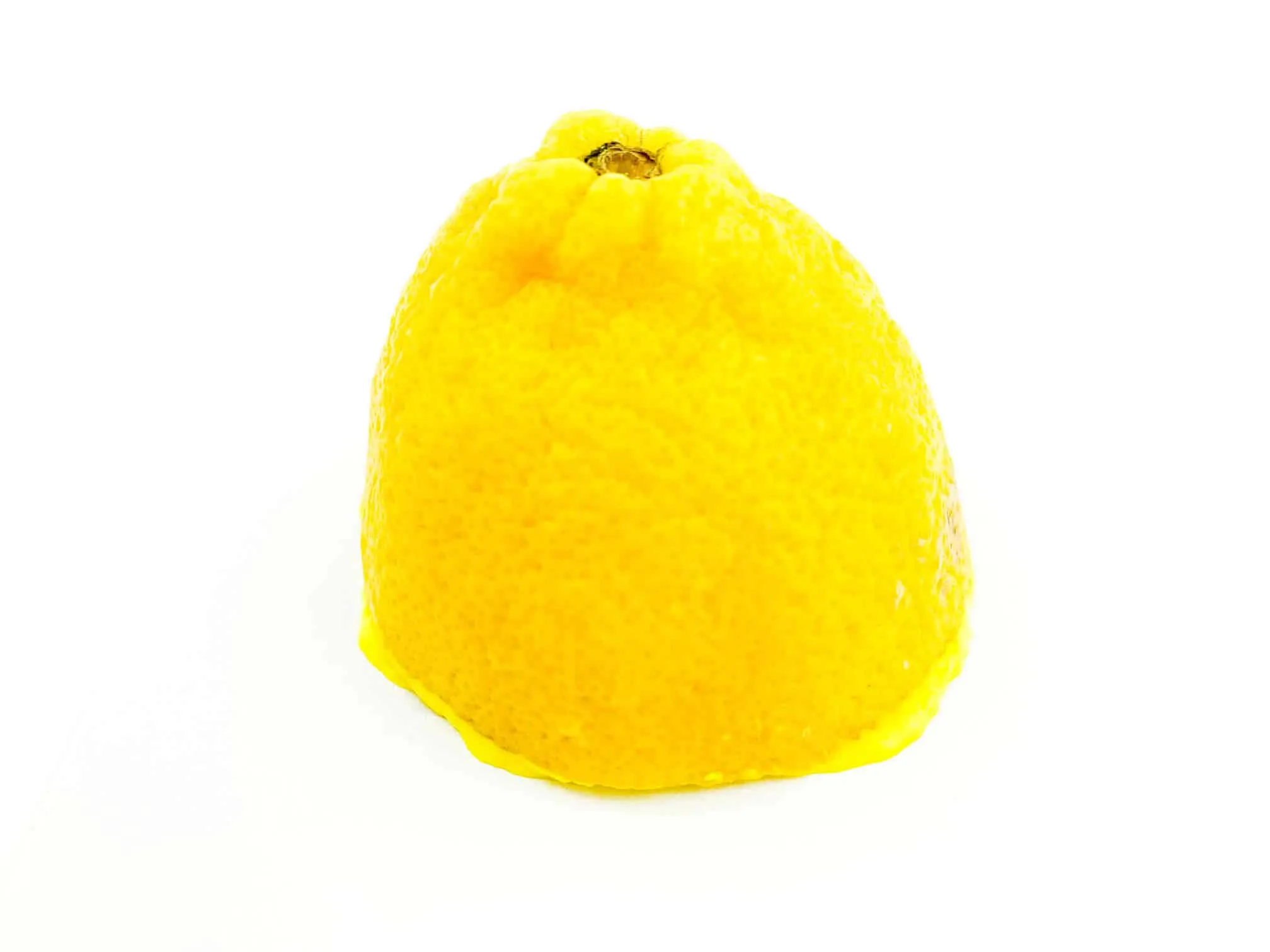 You can use the paper plate to dab some of the excess paint off.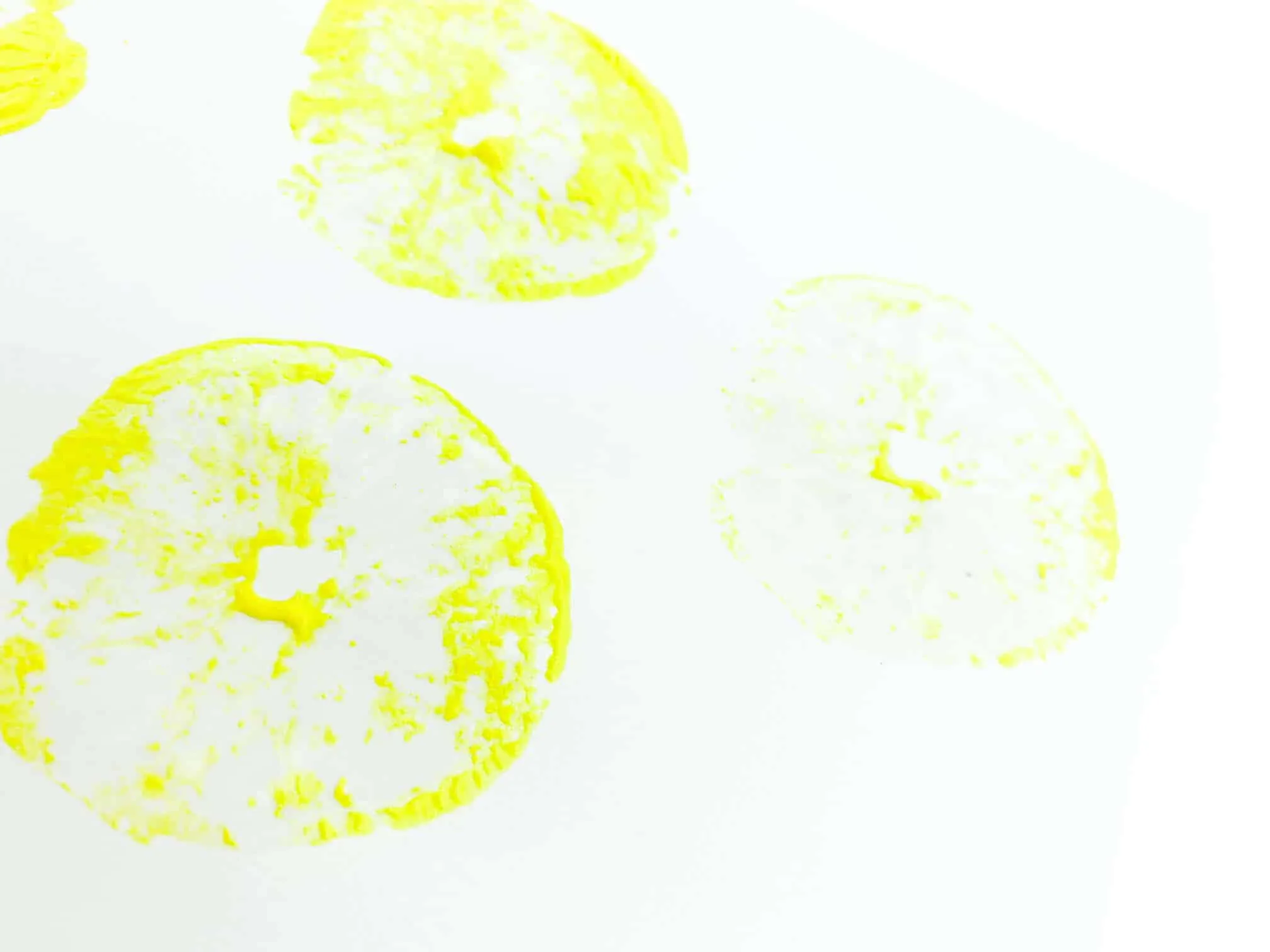 Pro-tip: We try to tie process art, invitations to play, or our sensory bins into literature.

You can never read your toddler too many books. You can never encourage your toddler or preschooler enough to enjoy reading.

There is a connection between a lifelong love of reading and learning and creativity.

Much of that begins in early childhood.

These are some summer books our toddlers have loved: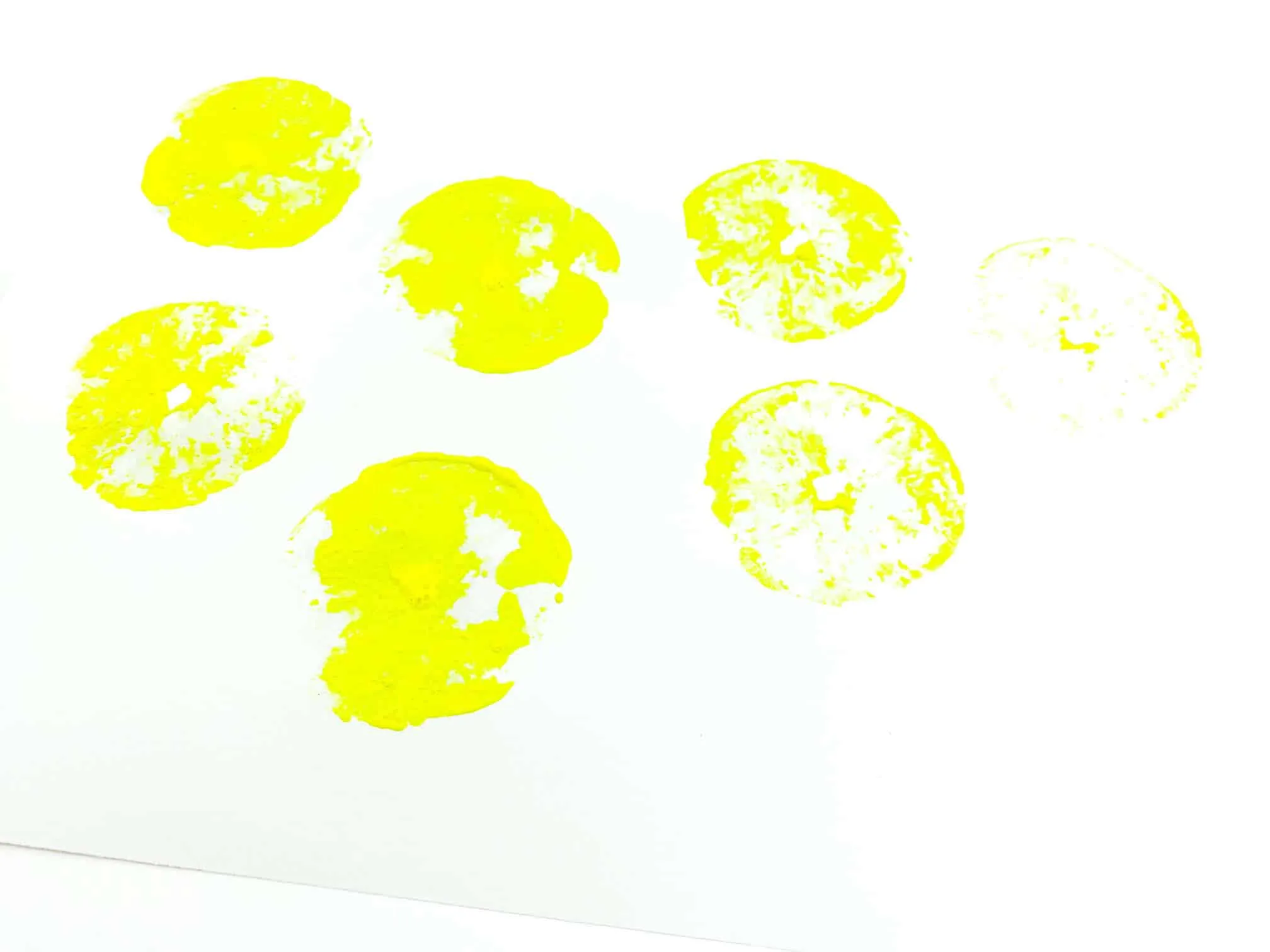 5. Have your toddler gently press the lemon half onto the paper.
This is where the fun starts.
Encourage your toddler to stamp the lemon on the paper until all the paint is gone.
If you are using multiple colors, you can have your toddler try another color and stamp until all the pain is gone.
Let your toddler keep printing until they decide their picture is done.
You can offer more paper if your toddler wants to do more lemon printing on a fresh piece of paper to extend the activity.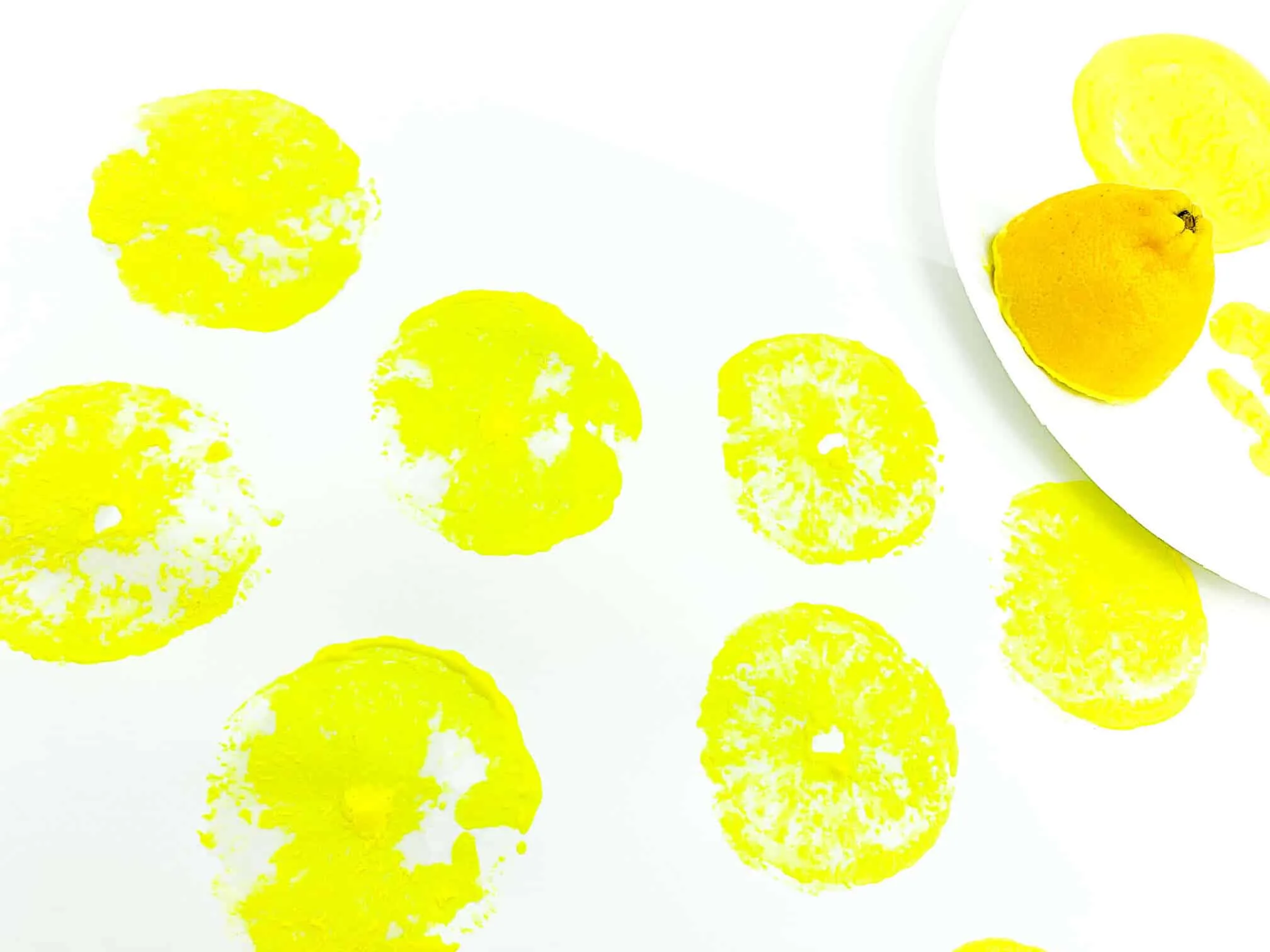 Remove and repeat the process above, stamping the lemon half onto the paper desired amount of times.
Allow painting plenty of time to dry before displaying!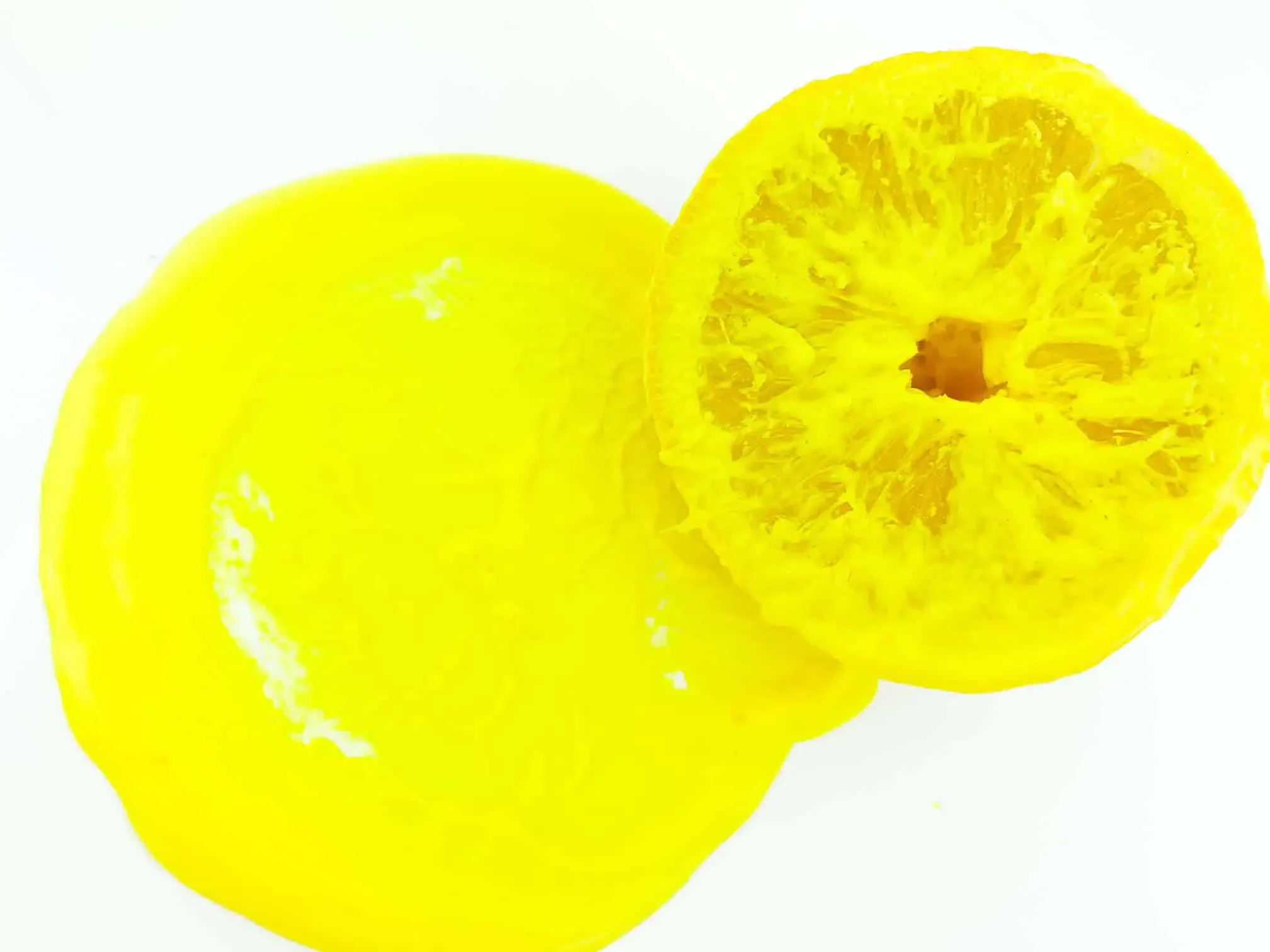 Tips for making arts and crafts enjoyable for your toddler:
Play Music
Encourage movement
Discuss their art with them. Write down the words they use to describe their art if they want you to.
Allow them to do more than one art project. Get them more paint and paper if they ask.
If the weather allows go outside and do art projects outside in nature.
Laugh, sing, and smile.
Take nature walks and collect items like leaves, feathers, flowers, and rocks to use in art projects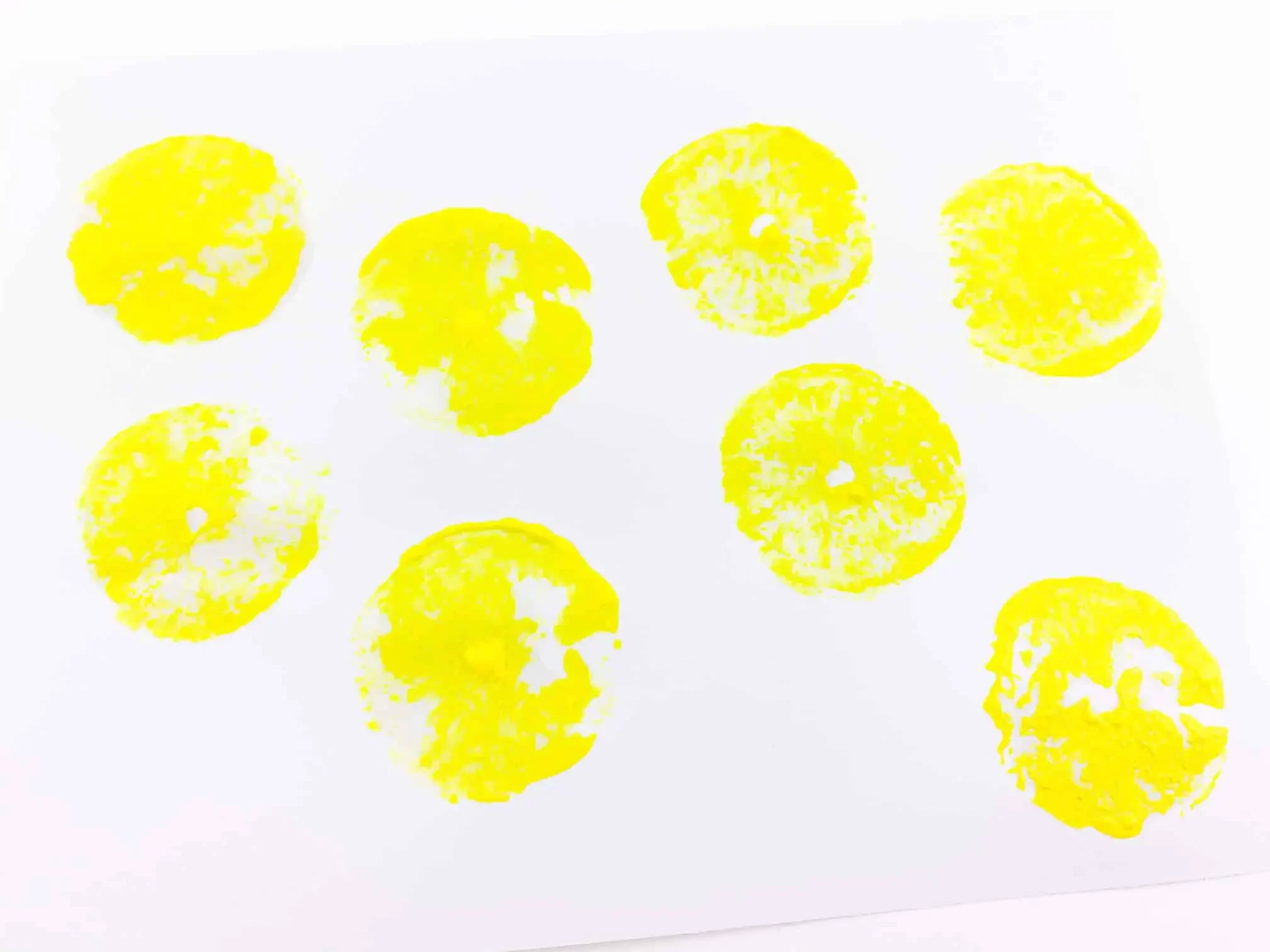 What is process art?
Before I became a nurse I was a preschool teacher.
The childcare facilities I worked for focused on open-ended activities and lots of process art opportunities for the children.
I was also lucky to attend a college that had a NAEYC-accredited childcare center.
We were taught to design early childhood activities that focused on providing choices, encouraging autonomy, and learning via open-ended play-based activities.
We allowed the child to focus on the process, not a pre-determined goal defined by us.
This was a very new concept to me having grown up attending Catholic school and being taught by nuns (let's just say the product was all that mattered).
I often wonder if that is why I have no creative ability at all.
If it wasn't for Pinterest and step-by-step directions for arts and crafts, I'm doomed.
Way too much focus on perfection.
Thanks, Sister Grace.
Having experienced teaching in a way that encourages a toddler's choice, exploration, and creativity has made me a huge fan and believer in offering toddlers and preschoolers as many open-ended and process-oriented activities as we can.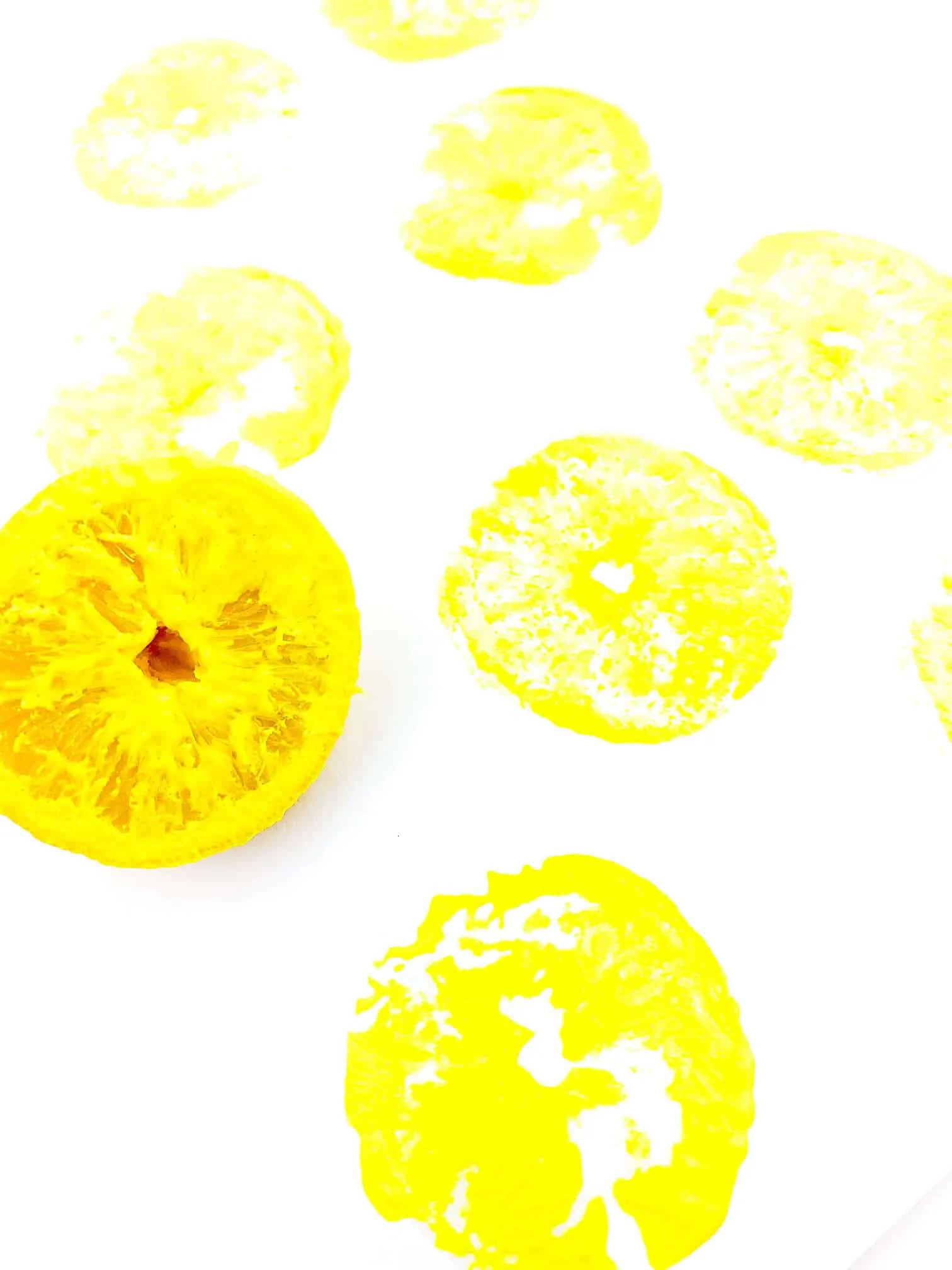 What does open-ended play mean? What does process art mean?
It means that the play and the products are child-centered and child-directed.
There are no samples made, no directions given, and the child is allowed to create and explore all on their own.
What I like about lemon printing and stamping is that they're open-ended and process-oriented.
There's no end product in mind it's all up to the child.
So as you set up this open-ended process art activity for your toddler keep that in mind that it's not about the end result.
It's not about what it looks like (though give your toddler an opportunity to describe their creation to you), it's not about being good enough, it's about exploration and creativity.
There is a time and place for directed activities for toddlers and preschoolers but as a parent and a teacher, I try to limit those, and I try to make sure that it's not in the area of arts and crafts.
The creative process is so much more important than the end result.
We hope your toddler enjoys this summer lemon printing art activity and that you found it helpful in keeping your toddler busy, engaged, and learning!