Updated February 17, 2023
Are you in search of St. Patrick's Day crafts for toddlers? Lucky you!
We've got you covered this St. Patricks Day with the cutest, greenest, and easiest crafts around.
These easy projects will look adorable on display in your home and keep your kids and adults alike entertained.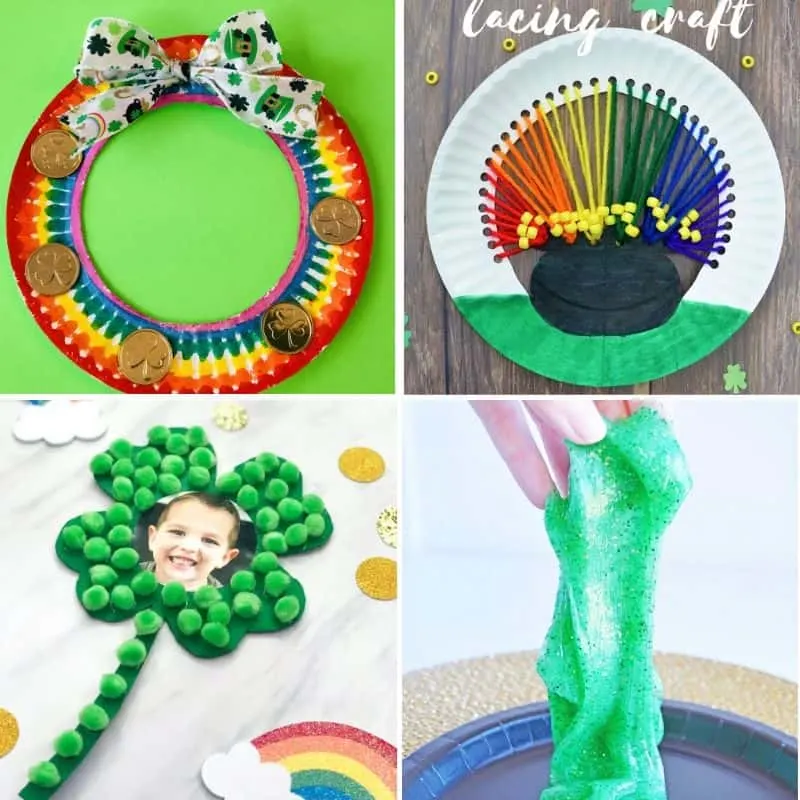 Make some adorable keepsakes, dress up with Irish headbands, create paper rainbows, and more!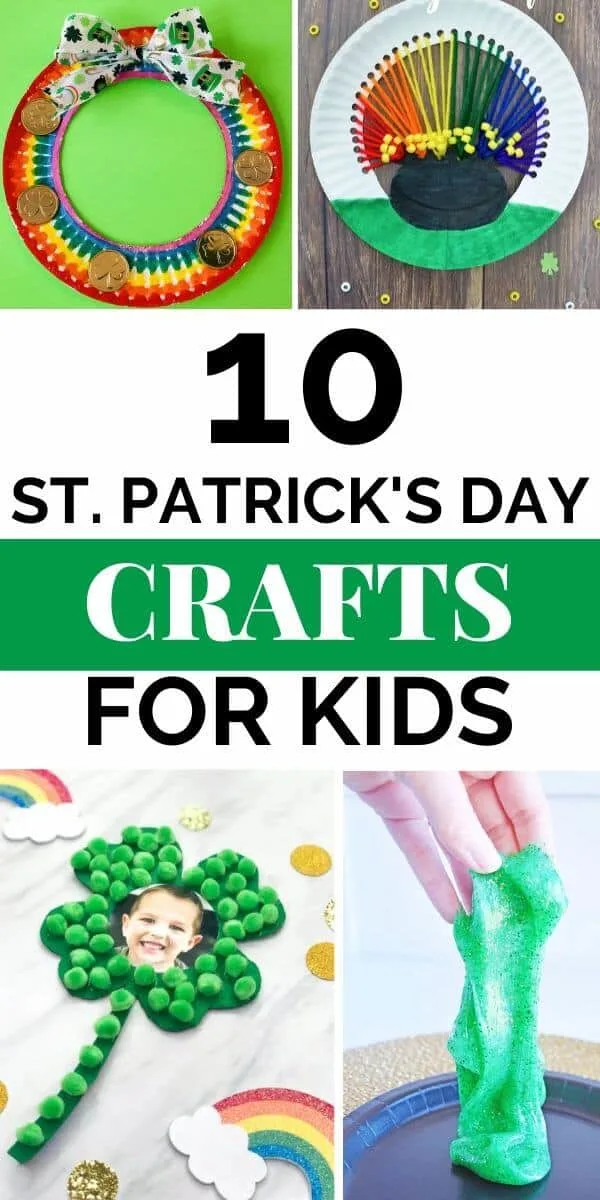 Maybe it's the luck of the Irish or maybe there's just an overload of cute crafts for kids these days – but either way, you've just struck gold!
You are likely to find that at least one of these St. Patrick's Day Crafts for Toddlers will entertain your child on this special holiday.
They also make fun preschool craft ideas for the holiday!
10 Easy St. Patrick's Day Crafts For Toddlers
Make this adorable photo shamrock craft to save a festive keepsake of your child! Projects like this will bring back memories and smiles for years to come.
TIP: It is a good idea to put the date on any crafts you do with your child that you plan to keep.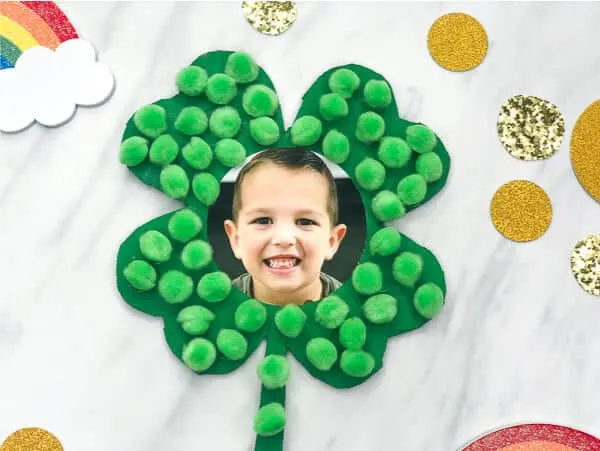 Help your child practice their fine motor skills with this cute rainbow craft. Typically, when a toddler gets involved with an activity such as this, they become very focused and often do not want to be disturbed.
This type of fine motor activity requires their undivided attention as it requires their ability to integrate more than one of the 5 basic senses (touch and sight).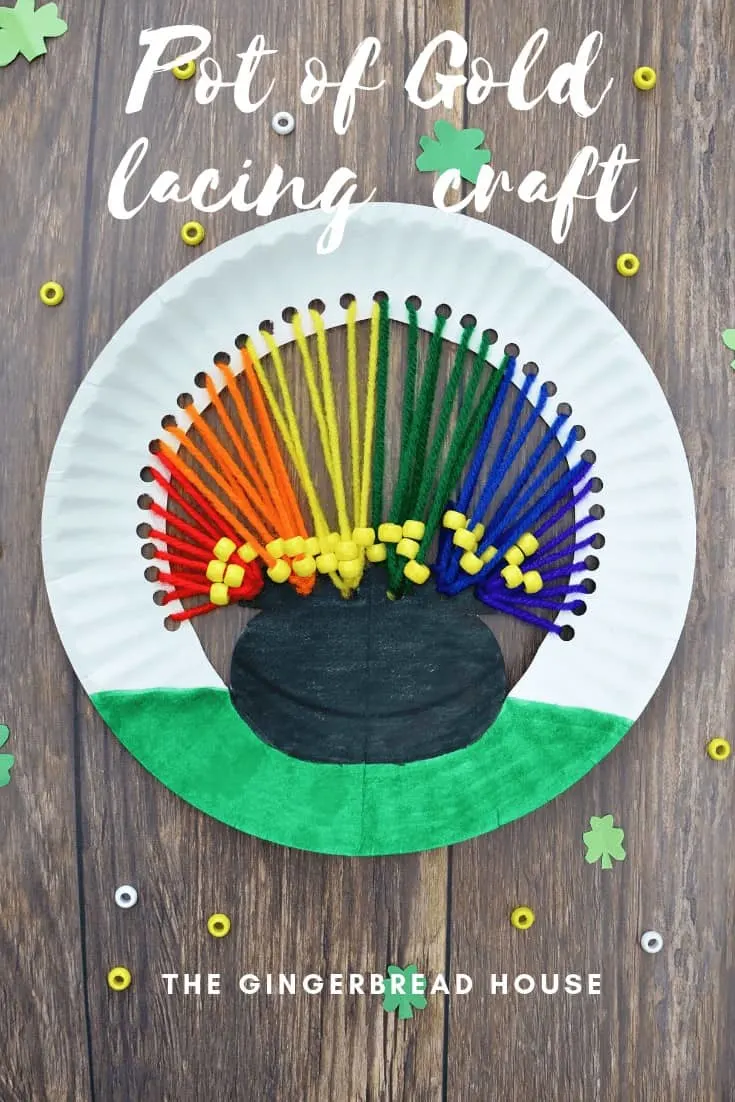 Slime is all the rage these days so I'm sure your kids will just love this St. Patrick's Day-themed recipe.
When it comes to choosing the best St. Patrick's Day Crafts for Toddlers this is a sure bet!
This craft requires minimum planning and is sure to get both you and your child in the holiday spirit!
The simplest crafts are oftentimes the most enjoyable.
This is one of my favorite easy craft ideas for kids on St. Patrick's Day!
They keep your child's attention just long enough, avoiding the frustration and over-tired behavior that can occur with more challenging projects.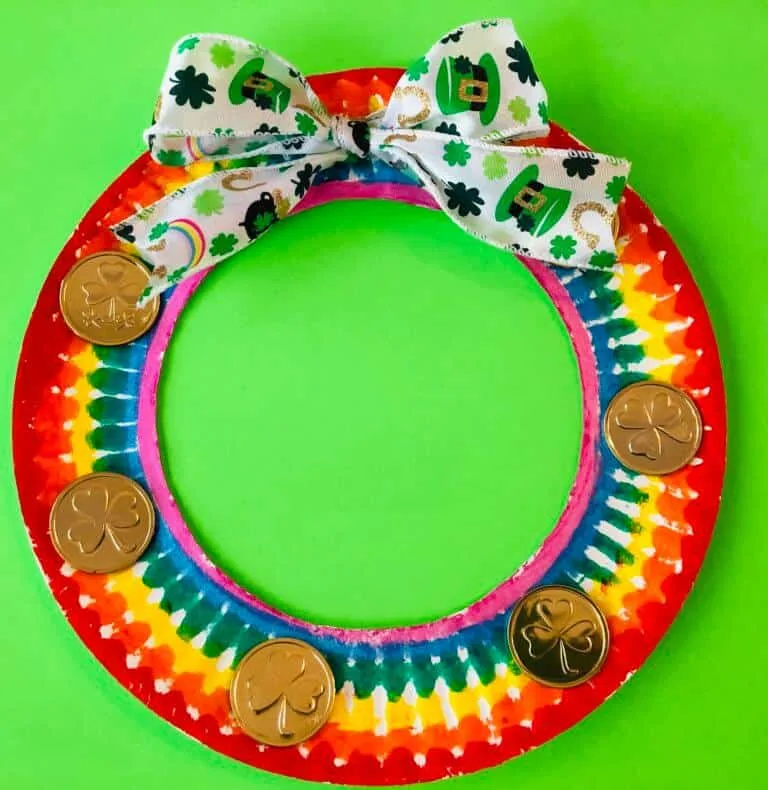 This easy leprechaun handprint craft will be so much fun to create with your child and makes for a fun keepsake.
When children grow up, they are always fascinated by crafts that illustrate a little of themselves as a child.
A plaster imprint of their hand, their fingerprint, or footprint using paint. Even the height marks etched into the kitchen molding often make for many conversations.
Tip: If you are measuring your child's height on the wall monthly or yearly, put the month/day/year by each mark.
Also if you have more than one child, you will want to label which measurements go with which of your children.
This might seem obvious, but when you look back 20 years, it can be hard to remember.
It is interesting to look at the rate of growth of your children.
You will be able to see their growth spurts and when they stopped growing.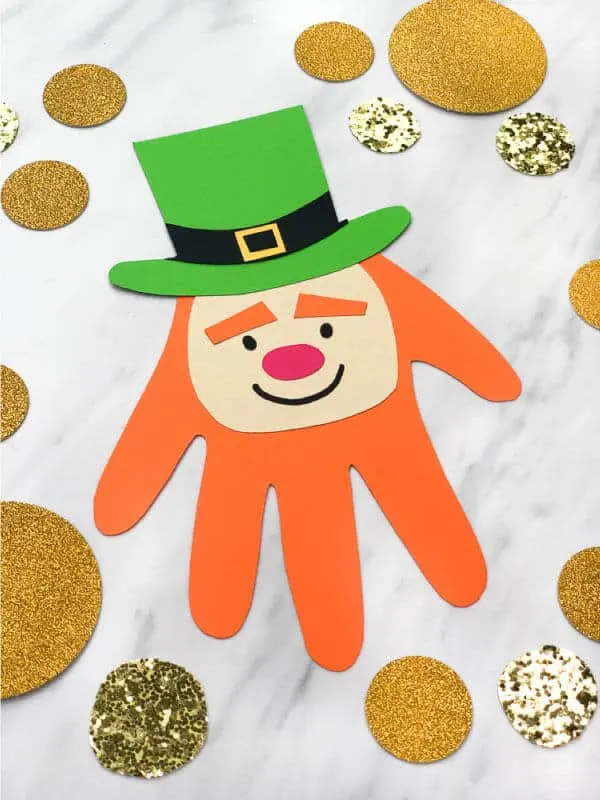 Making sensory bins is the way to go if you want a fast and frugal sensory activity for your toddler. I'm a mom and former toddler and preschool teacher. I have made 100's of sensory bins/sensory activities over the years. Today I'm sharing my 9 all-time favorite sensory bin ideas.
Bring a smile to your guest's faces by hanging this cute St. Patrick's day craft on your front door or in your doorway.
There is something special about seeing a child's crafts hanging on a door.
In addition, children love to see their work on display and hear visitors comment on it.
If we have more than one child, we have to remind ourselves we had better have more than one craft greeting family and friends.
Kids love to feel included and letting each child express themselves fosters a good relationship between them.
If there is a significant age difference between your children this may not be as important.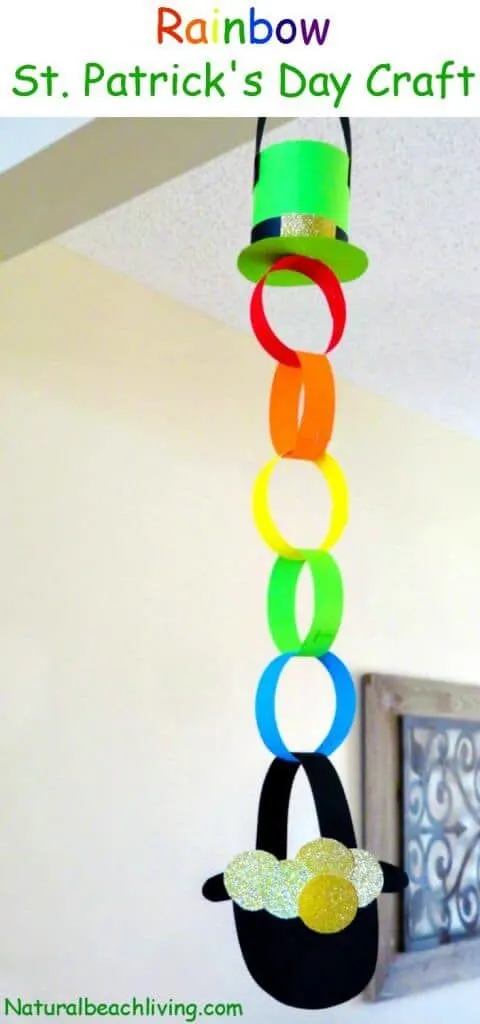 This adorable Leprechaun paper bag puppet is simple to make and you probably have all these supplies around your house. Making crafts that your toddler can use after it is complete is good practice.
This leads to a feeling of accomplishment and is a great way to develop your child's social skills if this activity is done with another family member or friend.

Pretend that you and your kids are Irish this St. Paddy's Day.
A good Irishman needs an Irish hat and what is more, fun than creating a cute little Leprechaun Hat Headband to wear for St. Patrick's Day?
Children love to wear hats, especially if they see a response from others. Other hats that can change a child's behavior in a flash are fireman, superhero, and Disney hats.
As parents, we have to remember just how much children love to pretend.
This can be one of the simplest activities to get a good chuckle from your child.

This is an extremely simple imaginary play activity.
It's a whole lot of fun and is a lot easier and more appealing than making a mess of flour in the kitchen and leaving little Leprechaun footprints all over the place.
For an activity your toddler will love but may require some cleanup, a sensory bin activity is always an option: 9 Easy Sensory Bins For Toddlers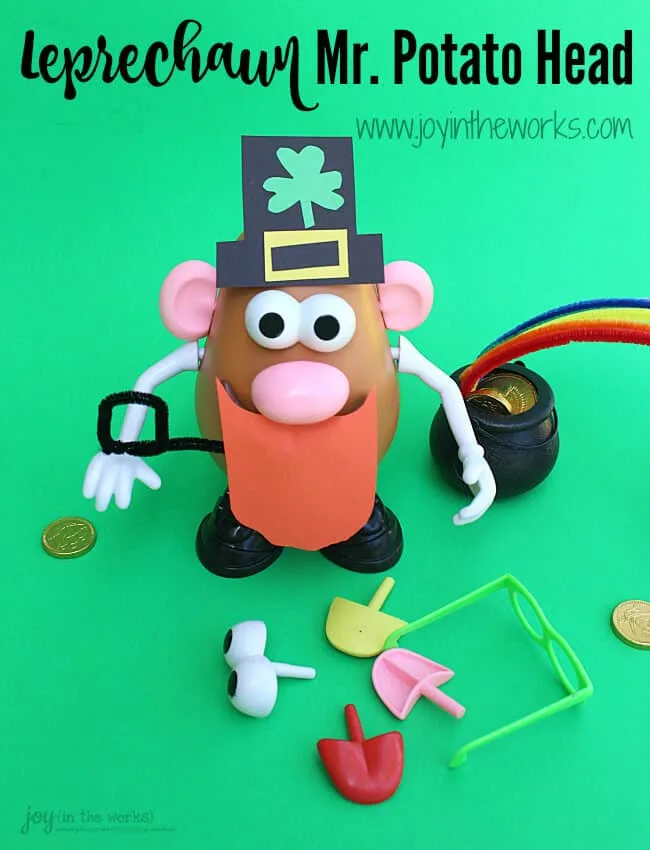 This easy-to-make, leprechaun paper plate craft is such a clever idea and it's sure to make you laugh every time your child puts their head in the hole of the paper plate.
We hope you were inspired by these adorable and easy St. Patrick's Day crafts for toddlers.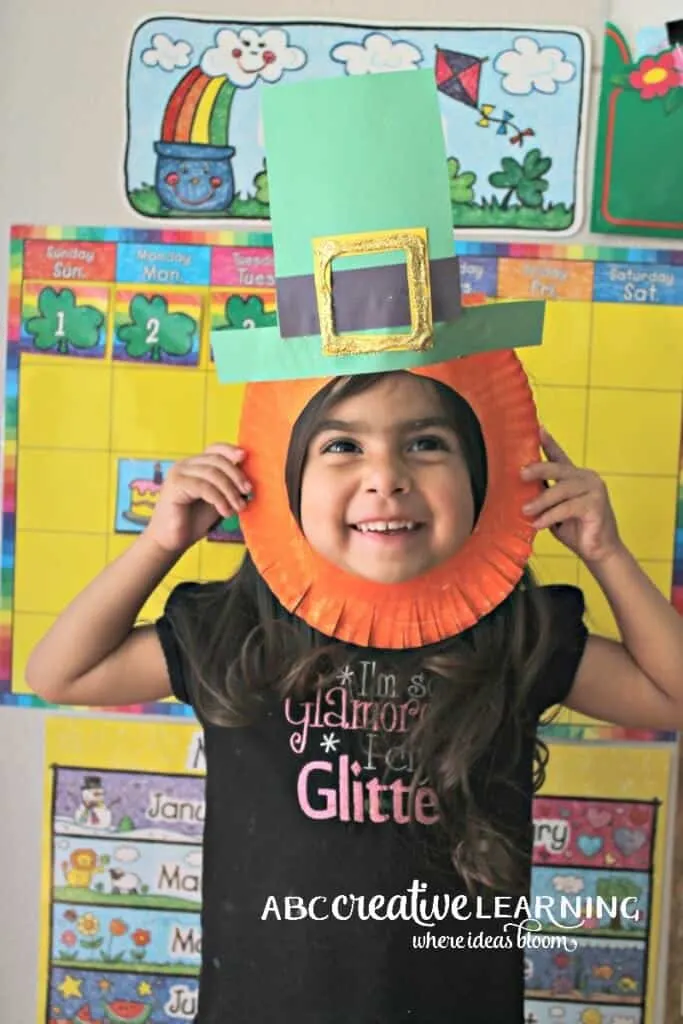 How do you explain St Patrick's Day to a toddler?
St. Patrick's Day is a day to celebrate the patron Saint of Ireland, who brought Christianity to Ireland long ago.
It's also a time for fun!
You can show your toddler green decorations and get them excited about wearing green clothes or accessories.
Activities like painting shamrocks, making leprechaun hats, or paper plate crafts are great ways to help your toddler learn about the history and traditions of St. Patrick's Day.
Letting them explore and have fun with various activities that relate to St. Patrick's Day is the best way for little ones to really understand the meaning behind this special holiday!
We hope you found some inspiration and ideas for your toddler St. Patrick's day craft projects!
St. Patrick's day crafts for toddlers do not have to be expensive or complicated to make.