When you are decorating a nursery on a budget, you will be amazed to find out how many ways you can affordably design your dream nursery. Being creative on a shoestring budget is easier than you think!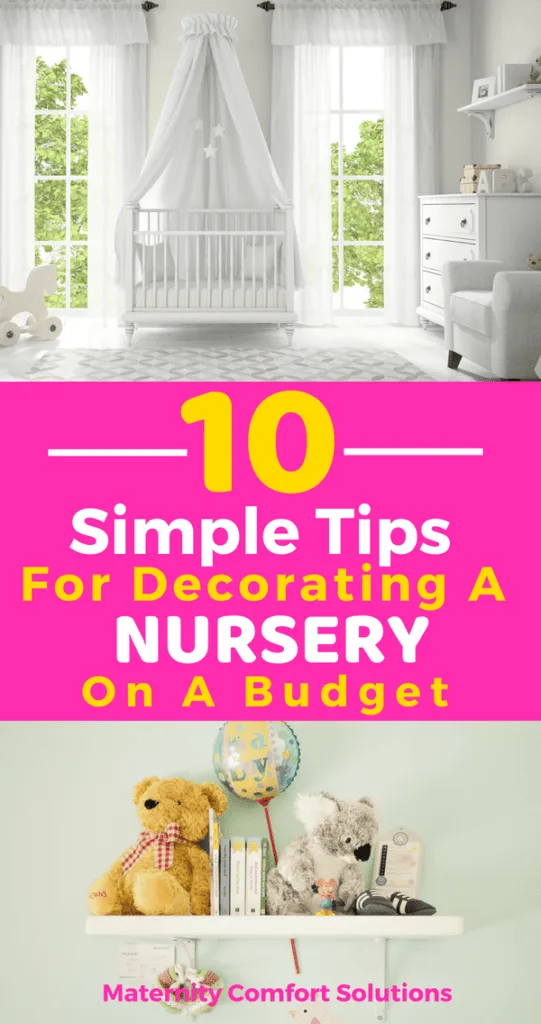 This post contains affiliate links. You can read our affiliate disclaimer at the bottom of this post.
1
0 Simple Tips for Decorating A Nursery On A Budget:
Plan your nursery early during your pregnancy.
Create a plan and design out your dream nursery so that you'll know what you'll need to buy, make, or get rid of. Need inspiration? Check out Project Nursery for all your drool-worthy nursery ideas. Think dual-purpose whenever you can.
Shop sales.
It is easy in the excitement of your pregnancy to rush out and buy "All the things" at full-price, but when the budget is a concern, it is best to buy slowly and thoughtfully. Shop the clearance and discount racks. Stick to your plan and your budget.
Retail stores are well aware of the mindset of expecting parents. The joy of having a child can overrule our logical thinking when it comes to budgeting. In actuality, this is one time in our lives when budgeting should be a priority. First-time parents, in particular, are prime targets and marketing agencies are well aware of this.
Make a list of the items you plan to buy for the nursery. Use Pinterest, Amazon, IKEA, and YouTube before walking into a baby store or purchasing online.
There are also software solutions when it comes to decorating a nursery on a budget. In the end, if you take this approach, you will likely save money as you will be sticking with one theme.
Try some cool IKEA Hacks
This is one of my favorite suggestions. Ikea is known for their inexpensive furniture and Pinterest is filled with amazing DIY hacks to transform your ho-hum Ikea furniture into the nursery of your dreams.
Bring the outdoors into your nursery
Bring some nature into the nursery with plants, flowers and even branches from outdoors. You'll want to be sure to use non-toxic plants, but there are many plants to choose from.
Use Spray paint to freshen up older items
Spray paint is a DIY hack that can save you so much time! You can completely change the look of items you have, items you find on clearance or items you may find in thrift stores.
If you are artistic, consider painting designs on furniture or patining a wall mural.
Look for thrift store and yard sale items
Thrift stores and yard sales are great places to find items for your nursery! You may need to do a little DIY and redesign, but your budget will thank you. You'll want to be sure to check for any safety recalls if its a baby related item and always be sure to attach dressers. etc to the wall securely.
I have many stories about getting some amazing items at a garage/yard sale. Not used items, more often new items that were either received as gifts at a baby shower or after delivery. This has also been my experience with wedding items.
Two items I purchased for a steal were the following:
A high-end baby stroller with all the accessories and never used. Retail $ 299. Found it at a yard sale for $30.

Nespresso coffee machine brand new with 100 espresso cartridges for $20. Clearly was a wedding gift that was never used. Still working fine! Retail with cartridges was over $300!
(These types of items are not hard to find and are priced to sell either because the seller already had one, didn't know the value or simply were not looking to make a lot of money as they didn't pay for it in the first place.)
Paint old items to look new again
It is amazing what a new coat of eco-friendly paint can do to make an older item look new again. You can transform any room into a dream nursery with the right colors of paint. Try adding bright pops of color to an accent piece in the room.
Once again, if you have an artistic flair or a friend, who is artistic, consider painting a mural on the nursery wall to compliment the theme of the room. This can make the room appear a lot larger.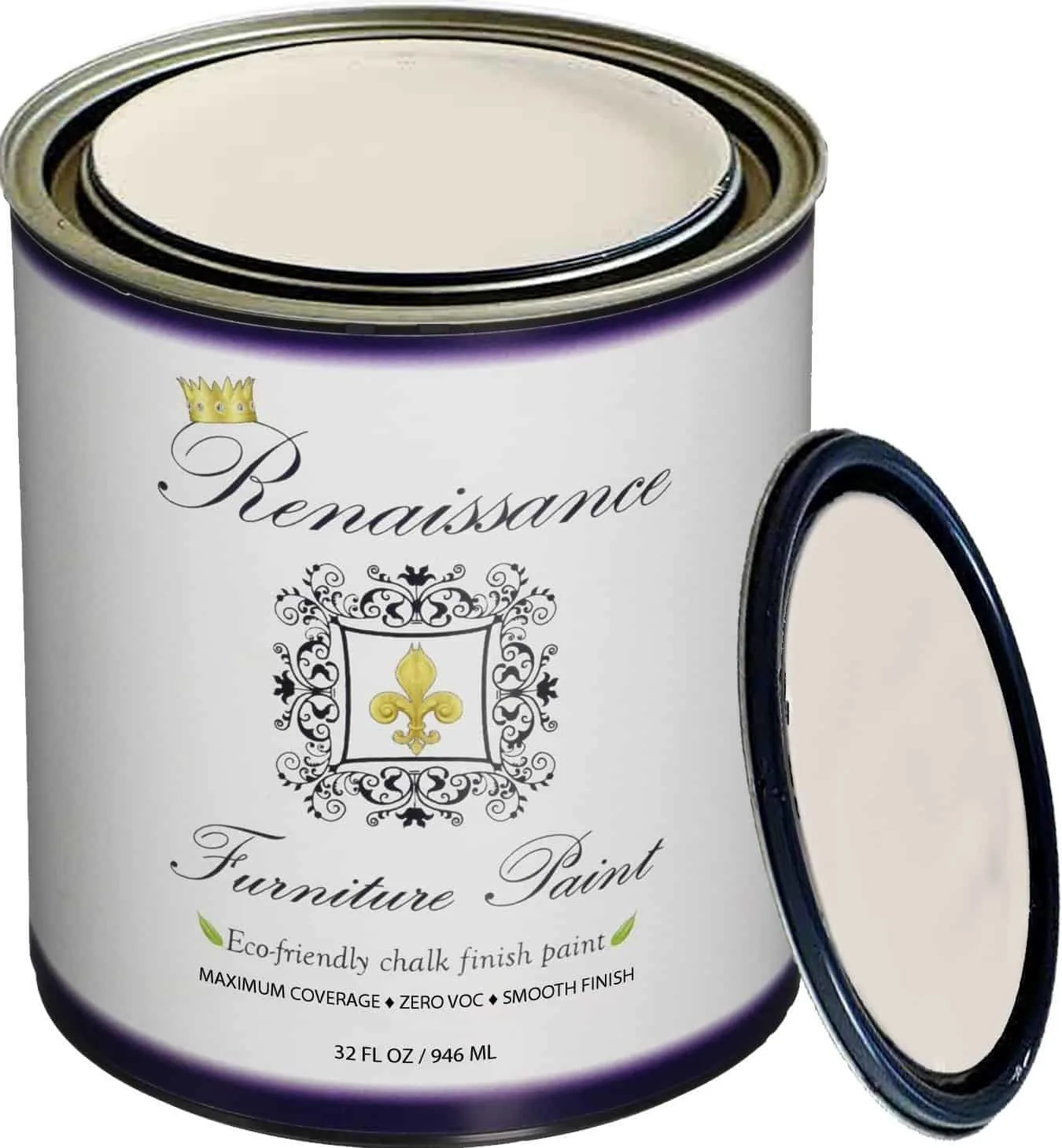 Use covers on furniture, and make simple fabric wall hangings.
If you can't replace furniture or paint, you can use covers. Pick up some cute quilts or blankets and cover the furniture! That will really brighten up the room and make it feel new.
When decorating a nursery on a budget, you can make simple and easy wall hangings with fabric. You can pick up fabric in your color scheme or theme on clearance.
Put items you really want for your nursery on your baby registry
Is there an item you'd really like but is just out of the budget? Put it on your baby registry and let your immediate family know it's something you'd really love. Most grandparents look forward to shopping for their grandchildren!
If you have not signed up for a baby registry yet, the two we recommend most are the Amazon Baby Registry and Project Nursery Baby Registry.
We recommend the Amazon Registry because of ease of use, the number of products available, and just about everyone uses Amazon.
They have all the baby gear any new parent needs and it is only a click away.
Plus they send you a really cool welcome box, filled with free goodies when you register. Register with Amazon and it makes it easy for family and friends to order and ship you gifts!
Go register with Project Nursery and pick out a few items that are unique or you find truly beautiful.
This will give family or friends who want to get you something special and unique a place to go and buy you something you will love.
Click to set up a baby registry with Project Nursery
Get creative
Don't be afraid to try new ideas! Get inspired by Pinterest, baby blogs, and magazines.
There are so many places to find inspiration.
Check out our baby nursery ideas board on Pinterest:
Other articles you may find helpful: