Updated November 1, 2022
Are you looking for adorable pumpkin pregnancy announcements?
Fall is a fun and festive season to announce your pregnancy to family and friends
If you're looking for a creative way to announce your pregnancy this fall, look no further than these 10 pumpkin pregnancy announcements.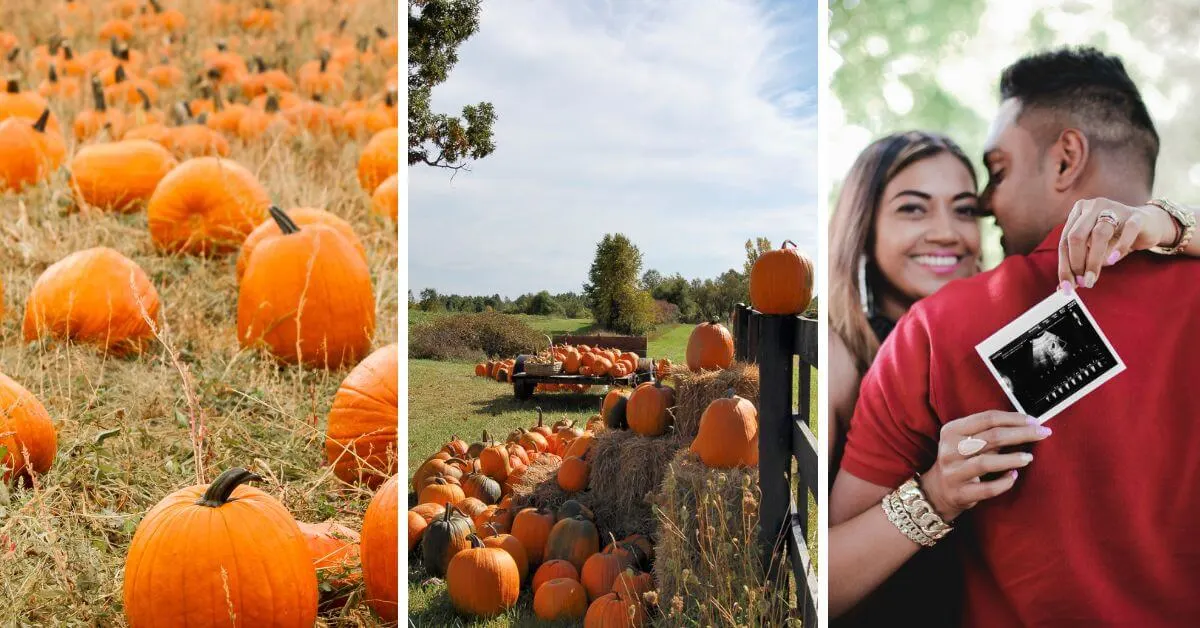 From carved pumpkins to clever puns, these ideas are sure to get the whole family excited for your new arrival.
I loved announcing my pregnancy in the fall
10 Ideas for Pumpkin Pregnancy Announcements
1. Use a stencil to add your due date to a pumpkin and take a picture with it.
This is a classic fall pregnancy announcement idea that never goes out of style!
Pumpkin season is upon us and it's the perfect time to get creative with pumpkin announcements.
If you're expecting a little pumpkin of your own, why not try using a black stencil to add their due date to the pumpkin?
Take a cute picture with the pumpkin for a unique way to announce your pregnancy.
The pumpkin can also serve as an adorable decoration for any fall-themed baby showers or gender reveals.
And after your announcement, you can carve the pumpkin for Halloween for some pumpkin spice added fun.
So grab your stencil and pumpkin and get ready to share your special news in a unique and festive way.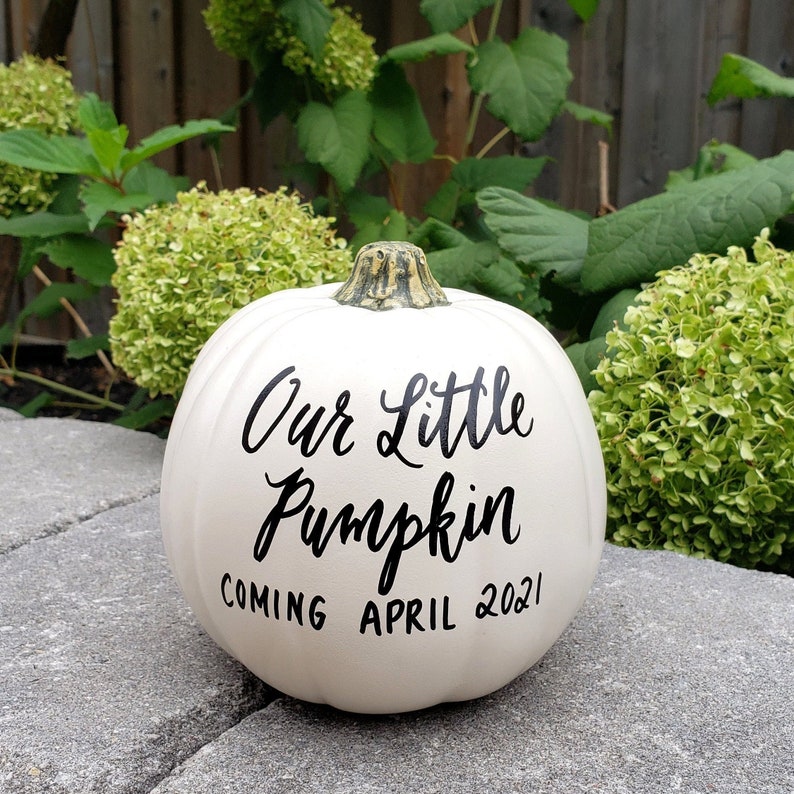 Pumpkin Pregnancy Announcement Oh Baby Pumpkin Sign White
from: Etsy
2. Make a sign or cute shirt that says "We're expecting a little pumpkin" take a picture of yourself holding it/wearing it in front of a pumpkin patch.
Such a cute and simple idea for announcing your fall pregnancy!
Go visit a pumpkin patch and take a photo with a sign or shirt that says "We're expecting a little pumpkin".
If morning sickness and fatigue are kicking your butt during the first trimester, this is a fast and easy pregnancy announcement to do.
Plus getting outside in the fresh autumn air may help you feel a little better.
This cute idea is perfect for fall, and pumpkin patches often have beautiful backgrounds for photos.
You can also continue the theme by using pumpkin-themed decor for your baby shower or gender reveal party.
Make sure to get your picture in front of some pumpkins for added cuteness!
And don't forget to share it with family and friends on social media or in photo cards.
Your loved ones will surely be delighted by your creative pumpkin pregnancy announcement.
Don't forget to pick up a pumpkin for yourself!
And it is safe to have a pumpkin spice latte on the way home if you are craving one.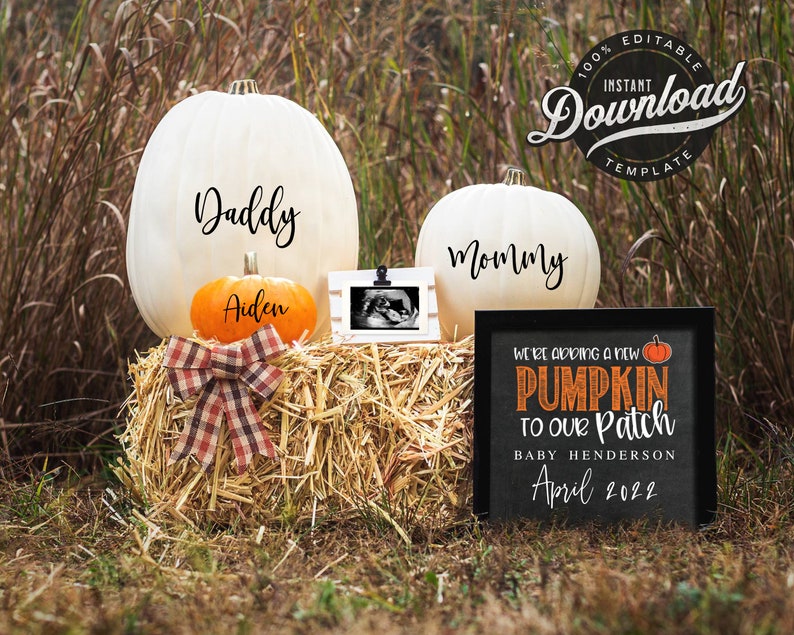 Fall Pregnancy Announcement Digital for Instagram Editable
from: Etsy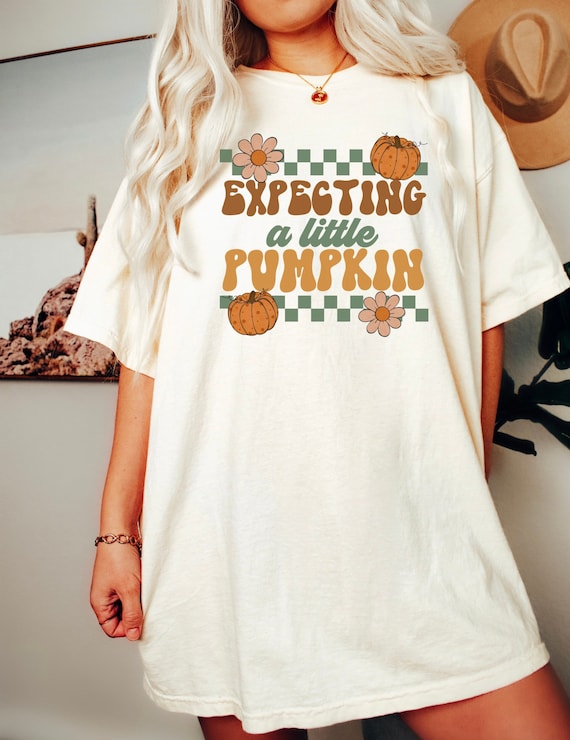 Retro Fall Pregnancy Announcement Sweatshirt Expecting A
from: Etsy
3. Let the grandparents know a little pumpkin is on the way with this adorable hand-knit pumpkin and baby booties announcement.
I love this Etsy baby announcement for the grandparents.
Are you and your partner excited to announce your pumpkin pregnancy to the grandparents? Look no further than this adorable hand-knit pumpkin and baby booties announcement set.
The pumpkin can be personalized with the due date, and the booties feature a tiny pumpkin on the front.
Presenting this funny and cute announcement is sure to bring joy to excited grandparents-to-be.
Plus, the hand-knit pumpkin and booties make for a creative keepsake that can be cherished for years to come.
So let your family know about the impending arrival of their little pumpkin with this unique pregnancy announcement set.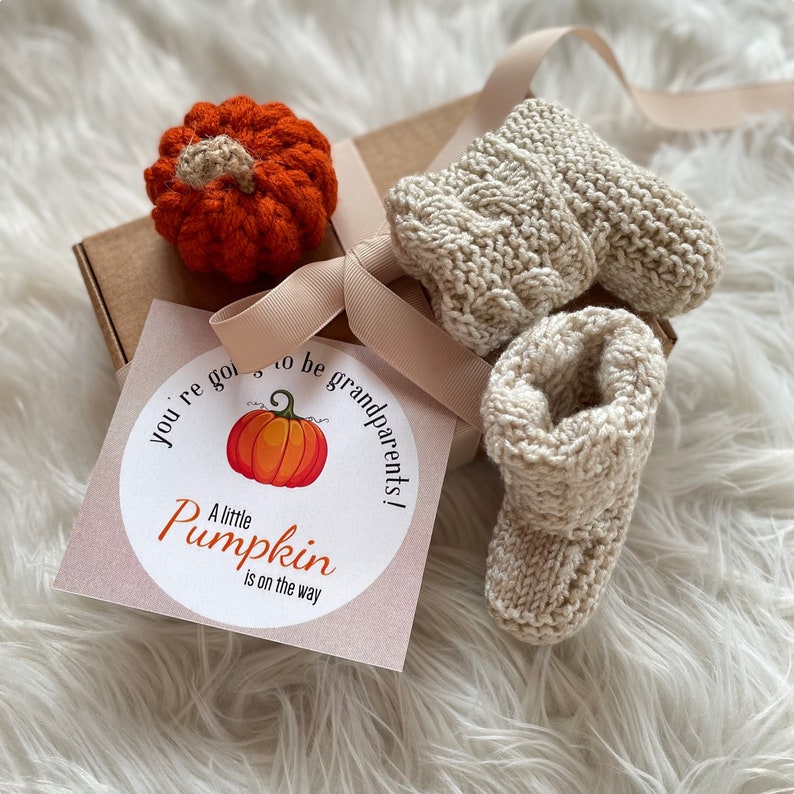 Fall Pregnancy Reveal Autumn Baby Announcement Little
from: Etsy
4. Use pregnancy announcement shirts to share your big reveal.
Take a picture of yourself wearing a pumpkin seed T-shirt that says "Our little pumpkin is growing!" or wear it to a fall family gathering like a Halloween party or Thanksgiving.
Pregnancy announcement shirts are a trendy and memorable way to share your big news.
These shirts typically feature punny phrases, ultrasound pictures, or an adorable pumpkin design to reveal your pregnancy.
Not only do these shirts make for a unique photo op with family and friends, but they also make a great keepsake to cherish for years to come.
So instead of sharing the news over text or social media, consider getting creative with a pregnancy announcement shirt!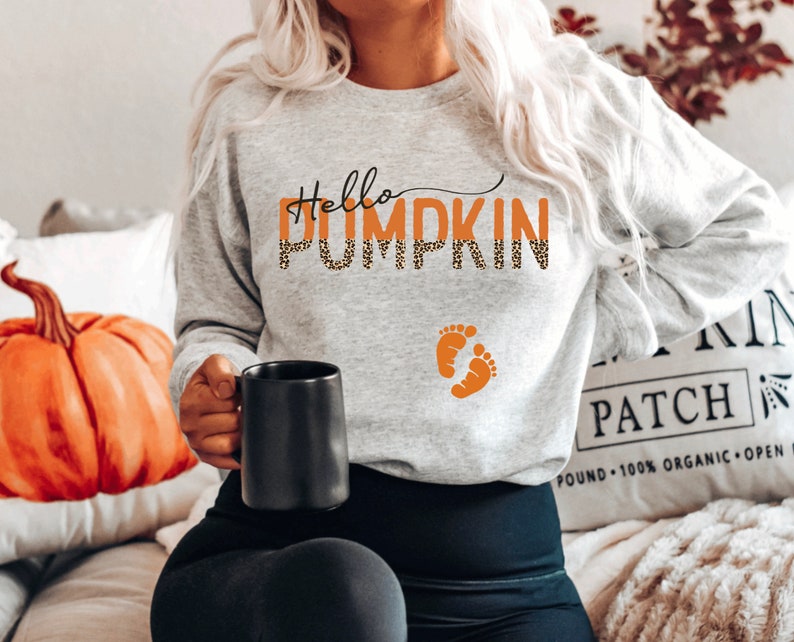 Hello Pumpkin Pregnancy Sweater Hello Pumpkin Pregnancy
from: Etsy
5. Paint or carve your pumpkins to spell out "BABY".
This would make a fun Halloween or Thanksgiving day pregnancy announcement!
You can hollow out the pumpkin and put artificial candles to light up the letters that spell out baby.
I would make it into a centerpiece to announce it.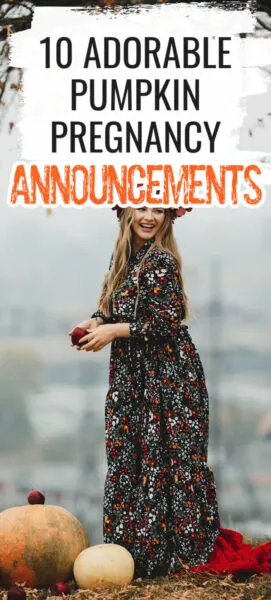 6. Decorate a pumpkin with baby's handprints or footprints.
You can use baby footprint or handprint stencils to decorate pumpkins or carve into jack-0-lanterns for a cute autumn pregnancy announcement idea.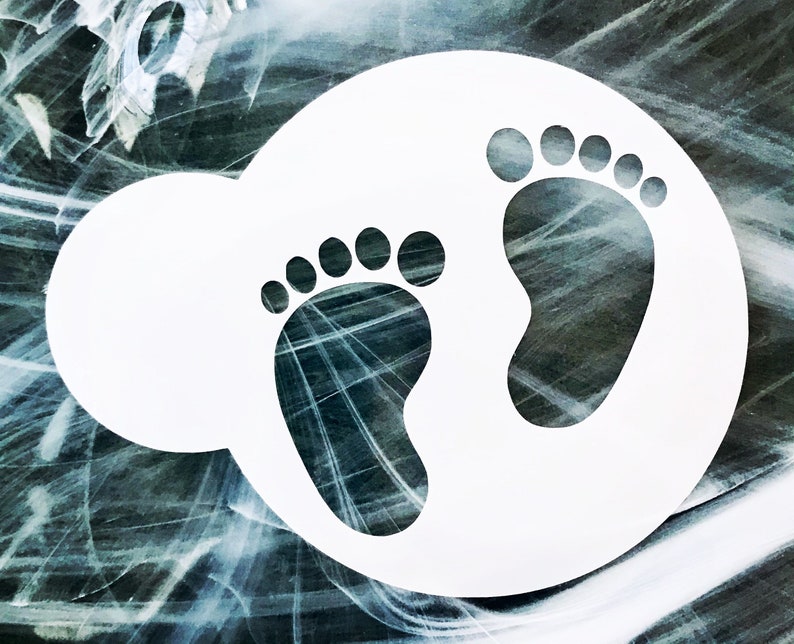 Baby Feet Baby Shower Stencil Reusable Baby Feet Cookie
from: Etsy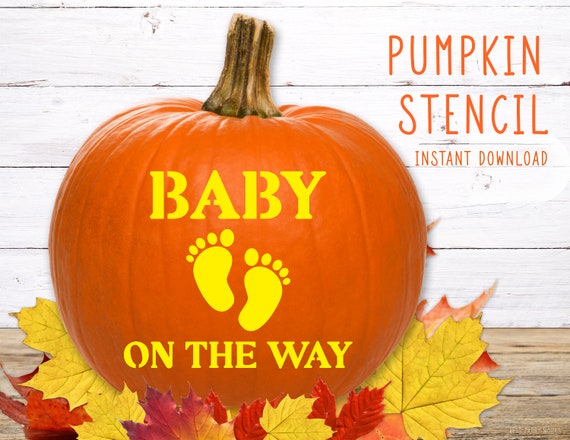 Baby on the Way Pumpkin Stencil PRINTABLE Pumpkin Stencil
from: Etsy
7. Buy some mini pumpkins and put baby clothes on them (onesies, socks, etc). Take a picture of them all lined up with the caption "our little pumpkins are coming soon!"
This is an adorable fall pregnancy announcement idea.
Why not try dressing up mini pumpkins and snapping a photo with the caption "our little pumpkins are coming soon!"
Not only is it adorable, but it also adds a seasonal touch.
In addition to the pumpkin babies, you could also include fall foliage or pumpkin-themed props in the background.
Just make sure to pick pumpkin varieties that have firm, stable stems so they can support the weight of the clothing without tipping over.
And don't forget to snap some solo pumpkin baby portraits too!
Get creative, have fun with it, and you'll definitely have an announcement photo worth sharing with family and friends.
8. Take a picture of yourself holding two pumpkins in front of your belly with the caption "Our Greatest Blessings Grow from tiny seeds"
If you're looking for a unique way to announce your pregnancy, why not try a pumpkin-themed photo shoot?
To start, find two pumpkins of differing sizes, representing your current growing family.
Then, simply hold the pumpkins in front of your belly and snap a picture.
Make sure to add a playful caption, such as "Our Greatest Blessings Grow from tiny seeds."
Not only is it a cute nod to fall and pumpkin patch season, but it also serves as a sweet reminder that all life starts from small beginnings.
And don't forget to share the photo with friends and family for some pumpkin-spiced joy. Happy announcing!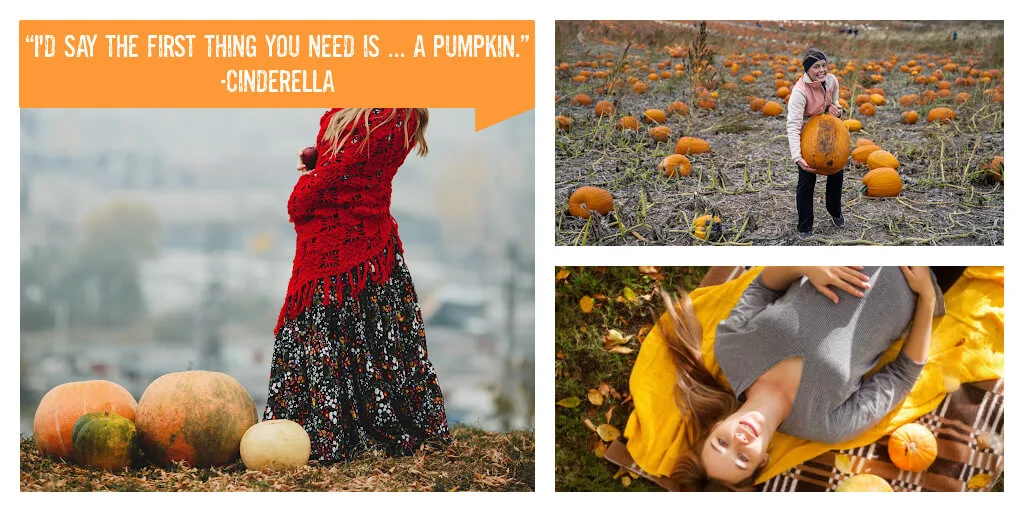 9. For a cute Halloween pregnancy announcement, carve two big and one small pumpkin with heart eyes and put them side by side with the caption "we're going to be parents!"
Pumpkin pregnancy announcements are a fun, creative way to share the exciting news of your growing family.
The simplest approach is to carve one pumpkin with hearty eyes and add a personalized caption such as "we're expecting!" or "baby on board."
For a twist, try carving two big pumpkins "parents" and one smaller pumpkin "baby," adding heart eyes to each.
Another option is to carve three pumpkins in the shapes of ghost, goblin, or pumpkin faces, and add the caption "our family is growing by three!"
As always make sure to take safety precautions while carving and for added warmth and ambiance, place tealights inside each pumpkin.
Whether you go for cute or spooky, a pumpkin pregnancy announcement is sure to be a hit with friends and family.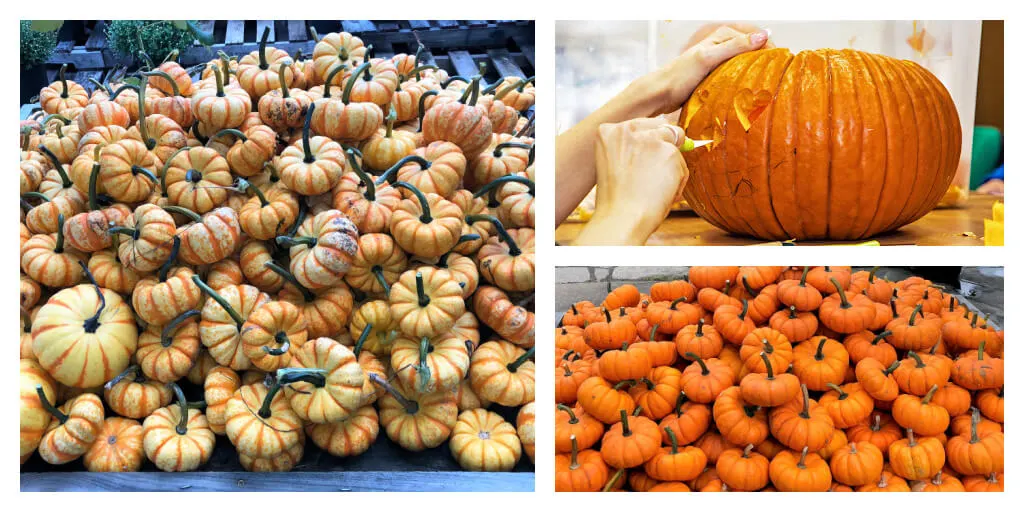 10. Carve a pumpkin with a stork carrying a bundle.
This is a unique way to announce your pregnancy if you are having a Halloween party or you can take a picture holding the pumpkin and use it as a photo on pregnancy announcement cards or on social media.
If you know the gender you can put pink or blue lights inside the pumpkin if you plan to announce the gender at the same time.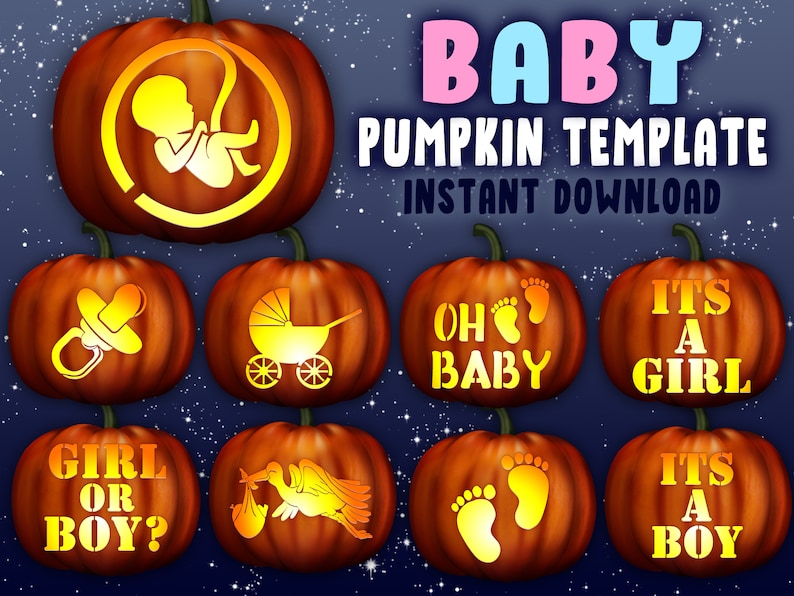 BABY ANNOUNCEMENT Pumpkin Carving Stencils Gender Reveal
from: Etsy
More ideas for Pregnancy announcements that use pumpkins:
Buy a white pumpkin and use a black sharpie to draw a spider web on it. In the center of the web, write "Baby [last name]"
This pumpkin announcement is sure to be a unique addition to your fall decorations, while also sharing your exciting news with friends and family.
If you want to take it one step further, consider using fake spider webs and plastic spiders to add to the pumpkin display.
No matter how you decide to decorate it, this pumpkin announcement is sure to leave a lasting impression.
How do you announce a pregnancy on Halloween?
So you've got a little trick-or-treater on the way, and you're dying to let the world know.
But how do you make your pregnancy announcement extra special (and spooky!) on Halloween?
Here are a few Halloween pregnancy announcement ideas to get you started.
Get a large pumpkin and carve it into a jack-o-lantern. Then, place an ultrasound photo inside and light it up!
This one works especially well if you're announcing at night time.
Get creative with costumes. If you're planning on dressing up for Halloween this year, why not use your costume as a way to announce your pregnancy?
For example, you could wear a shirt that says "Mommy-to-be" or put a sign around your neck that reads "Dad's Promoted to Grandpa."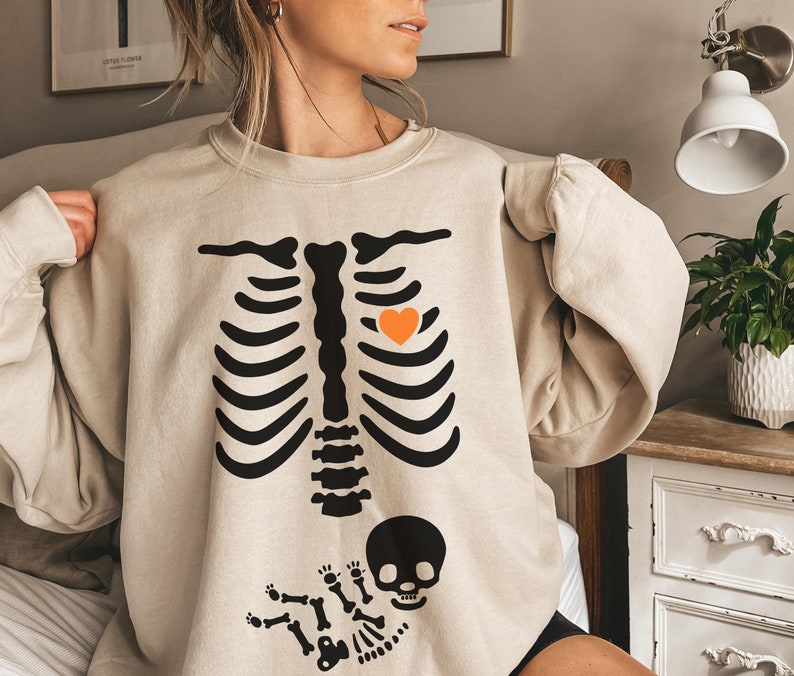 Skeleton Halloween Maternity Sweatshirt Funny Pregnancy
from: Etsy
Give out candy bars with your announcement. If you're handing out candy to trick-or-treaters this year, why not include a little note with your pregnancy announcement?
Attach it to each candy bar with some clear tape or string so it's sure to be seen. Just make sure you have enough candy bars for everyone! No one likes getting shortchanged on Halloween.
Decorate some plain white onesies with baby faces using fabric markers or paint, and put them on display at your Halloween party. Include a sign that says "Coming soon!"
When should I announce pregnancy publicly?
Deciding when to announce a pregnancy is a personal decision, and there is no clear-cut answer for every expectant parent.
Some may choose to wait until the second trimester when the risk of miscarriage has decreased.
Others may decide to wait until the baby's gender is known, or until they feel financially secure in preparing for a new addition to the family.
It's important to consider your own comfort level and how much support you want from friends and family during pregnancy.
Some people wait until they start showing or have their first ultrasound, while others may choose to share the news earlier.
Ultimately, it's up to you and your partner when you feel ready to share this exciting news with others.
Trust your instincts and communicate with each other about what feels right for your individual circumstances.
I found that 14-16 weeks worked perfectly for me.
My morning sickness would be slowing down and my energy level would be returning right around the 14-week mark.
Give yourself time to get through the first trimester of pregnancy!
Morning sickness and pregnancy fatigue are no joke.
What should I put on my pregnancy announcement?
Deciding what to include in your announcement can feel overwhelming, but there are really just a few key elements to consider.
First, you'll want to make sure to include the baby's expected due date and whether you are expecting a boy or a girl (if you know).
You may also choose to add details about the pregnancy, such as if it's a surprise or if it's a rainbow baby.
Next, think about how you want to share the news – will you be sending out physical cards or sharing them digitally?
This will affect the design and layout of your announcement.
Both are acceptable, it comes down to personal preference.
Finally, don't forget to include a lovely photo, whether it's an ultrasound image or a fun maternity shoot with your partner.
Whatever details you choose to include, your announcement is sure to be memorable and exciting for friends and family.
Final Thoughts
Pumpkin Pregnancy announcements are such a unique way to share your news with loved ones near and far.
We hope these 10 ideas for pumpkin pregnancy announcements have got your creative juices flowing!
No matter how you choose to announce your pregnancy this fall, we know your family will be thrilled about your new arrival.