Updated March 10, 2023
Are you expecting? Congratulations!
If you're looking to create a fun and unique nursery, why not make it sloth themed?
We love the sloth nursery theme!
And are sharing our favorite sloth nursery ideas!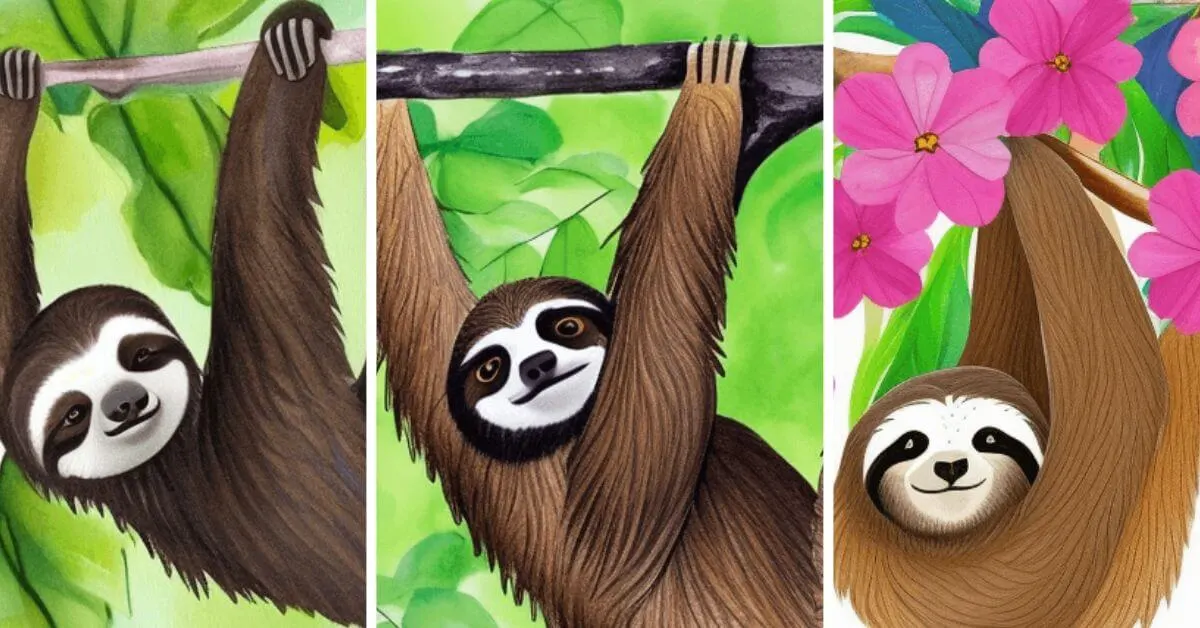 Sloths are the perfect creature when it comes to nursery decor ideas.
Not only are they cute and cuddly, but their slower-paced lifestyle is distinctly calming.
While large stuffed animals may bring some cozy vibes, there's so much more that goes into creating a one-of-a-kind sloth nursery for your new bundle of joy.
From wall art to furniture pieces, clever storage solutions, and even custom-made accessories — these ideas will help you plan an adorably productive space for your little one!
10 Cute Sloth Nursery Ideas:
When it comes to designing a sloth nursery, the possibilities are endless!
It can be tough coming up with budget-friendly nursery decor ideas, but it doesn't have to be.
Whether you decide to go for a modernized sloth-inspired look or something more traditional, sloths offer plenty of creative inspiration to work with.
The sloth theme nursery works well if you have a small space for a nursery.
With everything from sloth stuffed animals and bedding to wall decor and decorations, you can piece together an adorable sloth-themed space that's sure to please your baby as they grow.
Here are 10 cute sloth nursery ideas:
1. Neutral Color Palette:
Start by creating a neutral color palette using light shades of gray, beige, or white for the walls, ceiling, and flooring.
This will provide a perfect backdrop for the sloth-themed decorations and allow them to stand out.
Consider Painting the walls with a jungle-inspired mural or sloth wallpaper if you want a more "wild" and unique look.
I think painting the walls or using a jungle theme wallpaper is a perfect idea for a baby boy nursery.
But keeping the walls more neutral also allows you to bring in more pops of color with your decor choices.
We love this gender-neutral sloth wallpaper from project nursery:

Mr. Sloth Wallpaper
from: Project Nursery
2. Sloth Wall Decals:
Sloths are known for their lazy and laid-back attitude, which makes them the perfect animal to decorate nursery walls with.
I love these cute sloth wall decals that I found on Etsy.
They are removable peel-and-stick and waterproof!
Wall decals are a budget-friendly way to decorate a nursery in a rental!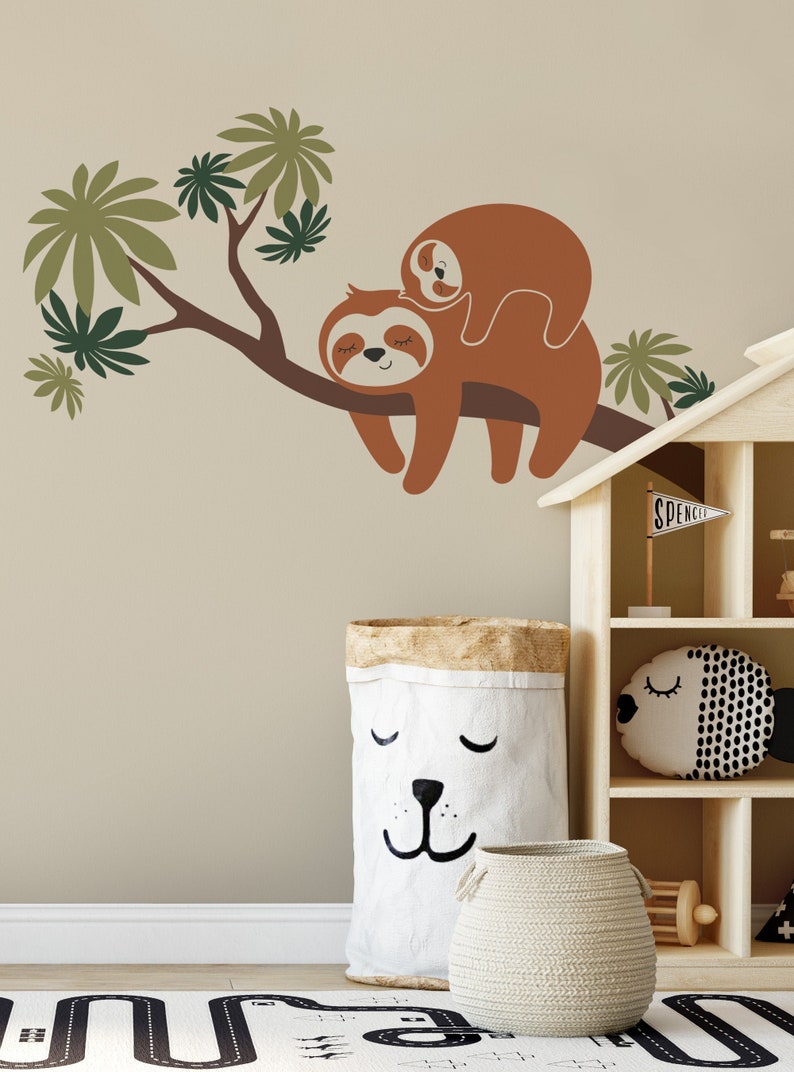 Sloths on A Tree Branch Wall Decals Crib Wall Decals Baby
from: Etsy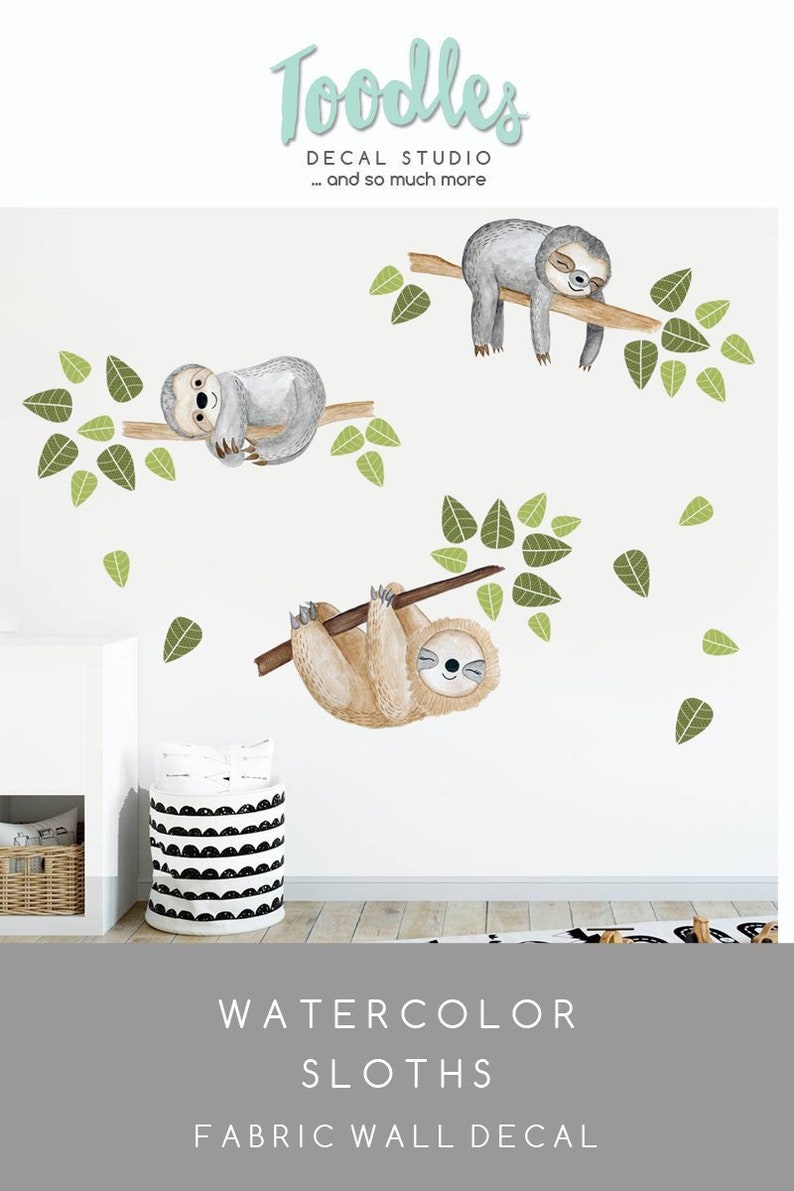 Baby SLOTH Wall Decal Watercolor Fabric Stickers Sloth
from: Etsy
These adorable sloths can be found on Amazon!
3. Soft Textures:
Sloths are known for their furry and cuddly appearance, so it's important to incorporate soft textures into the nursery design.
Consider using plush blankets, cushions, and rugs to create a cozy and inviting space.
If you have used a neutral color on the walls consider adding some green rugs to give the room an extra touch of color and texture.
We love soft textures in the nursery and love to add pops of color through the use of rugs and throw pillows.
This is a great idea if you are in a rental or an apartment and can't change out neutral wall colors.
We were in rentals when our kids were young and it was always a challenge to decorate because the walls were always tan or white.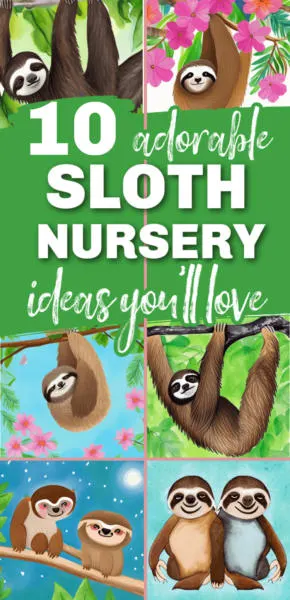 4. Nature-Inspired Decor:
Sloths are native to the rainforest, so incorporating elements of nature into the nursery design is a great way to complement the sloth theme.
Consider adding potted plants, tree-shaped bookshelves, or a wall mural featuring a rainforest scene.
We love this hanging sloth planter for bringing some greenery into the nursery!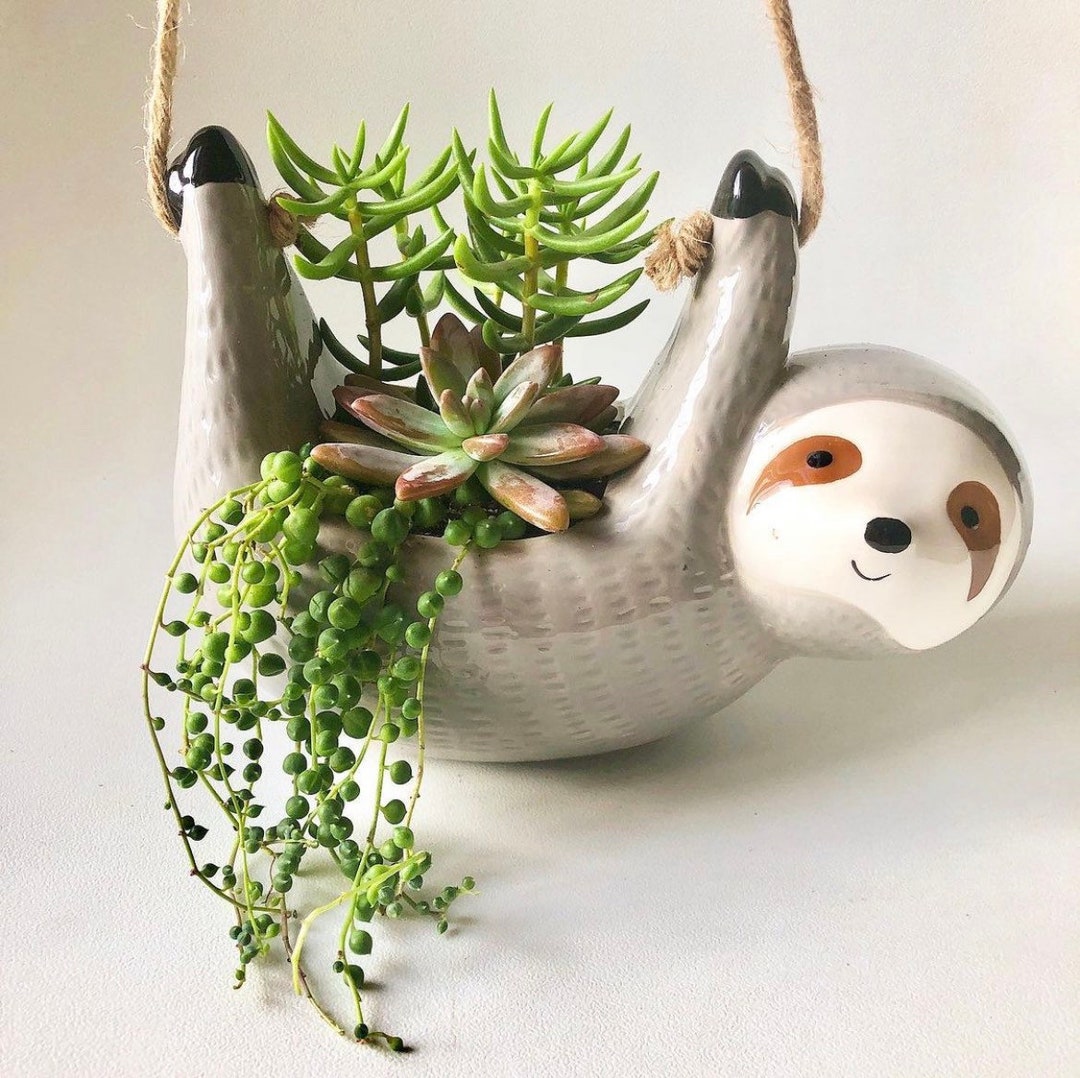 Large Sloth Hanging Planter Pot for Succulents & Plants
from: Etsy
For an earthy feel that ties into the sloth-themed nursery perfectly, use natural materials like wood, rattan, and bamboo for furniture pieces such as cribs and dressers.
Natural materials can bring a sense of warmth and comfort into the room.
Rattan and bamboo are two materials that are strong yet lightweight, which will make it easy to rearrange furniture if you need to.
We fell in love with this rattan wall shelf from Etsy: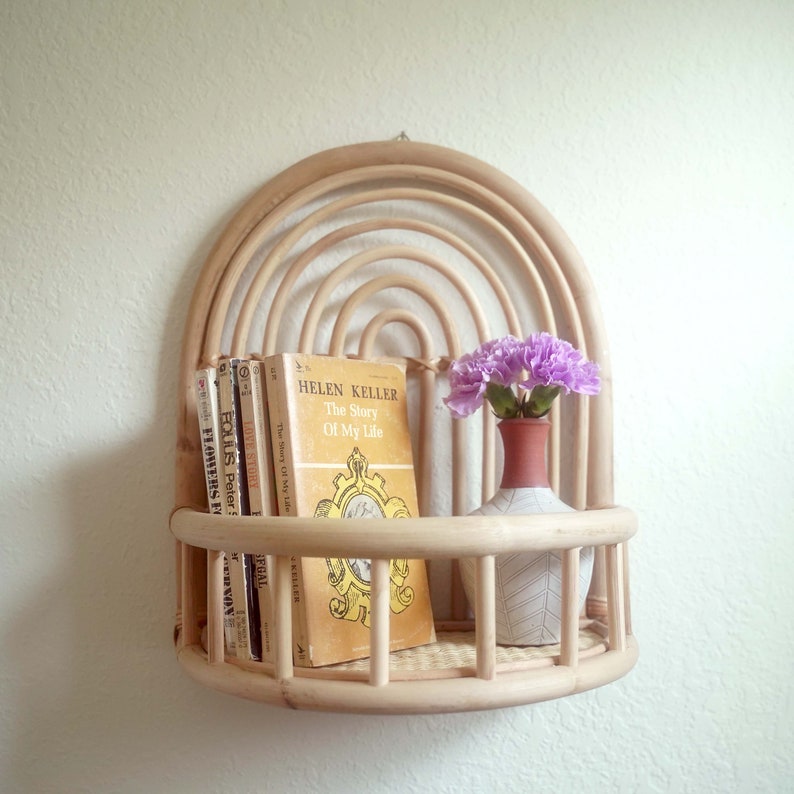 Rattan Shelf Rattan Wall Shelf Wicker Wall Shelf Rattan
from: Etsy
5. Sloth Toys:
A nursery wouldn't be complete without toys!
There are plenty of sloth-themed plush toys available that are perfect for cuddling, playing, and decorating the nursery.
When your baby is young you don't need many toys and having too many toys can make the nursery feel cluttered.
We loved to add a few soft plush toys when our babies were little that were cute and made the nursery feel more playful and warm.
Check out these adorable personalized stuffed sloth toys on Etsy: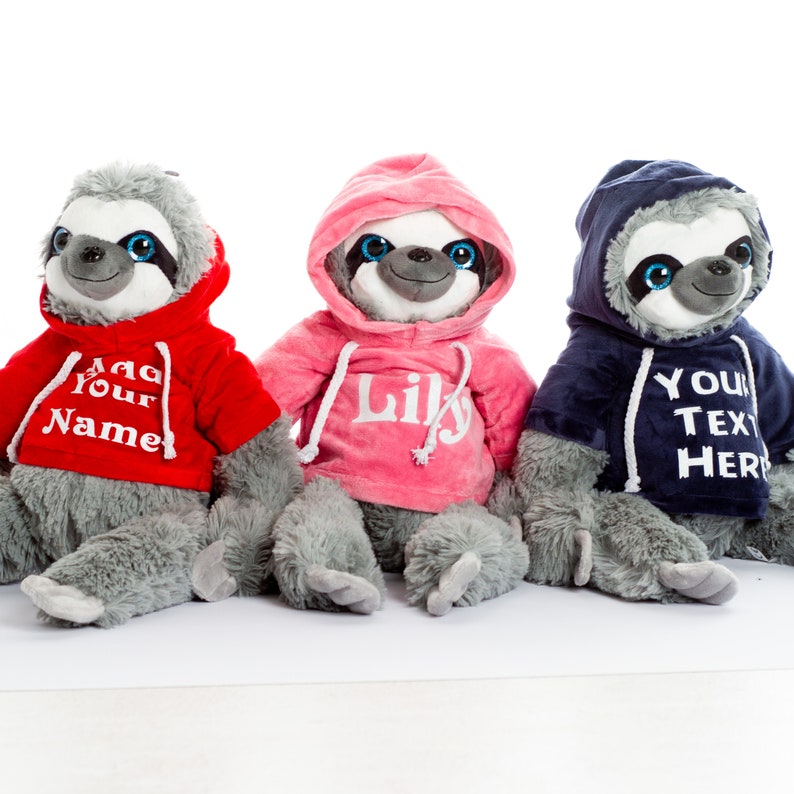 Personalised Sloth Soft Toy
from: Etsy
Check out these gorgeous nesting sloth nesting dolls: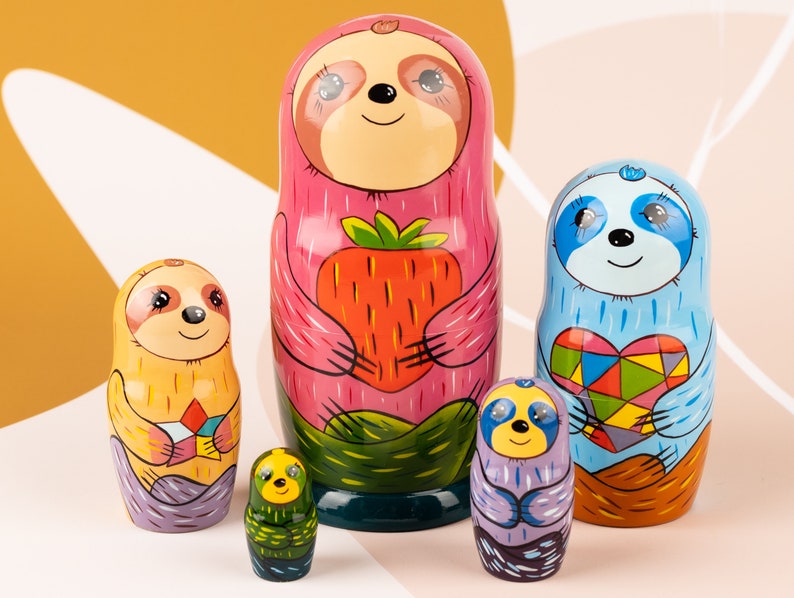 Matryoshka Animals Sloth Nesting Dolls for Kids Animal Nesting
from: Etsy
Here is a personalized sloth lovey: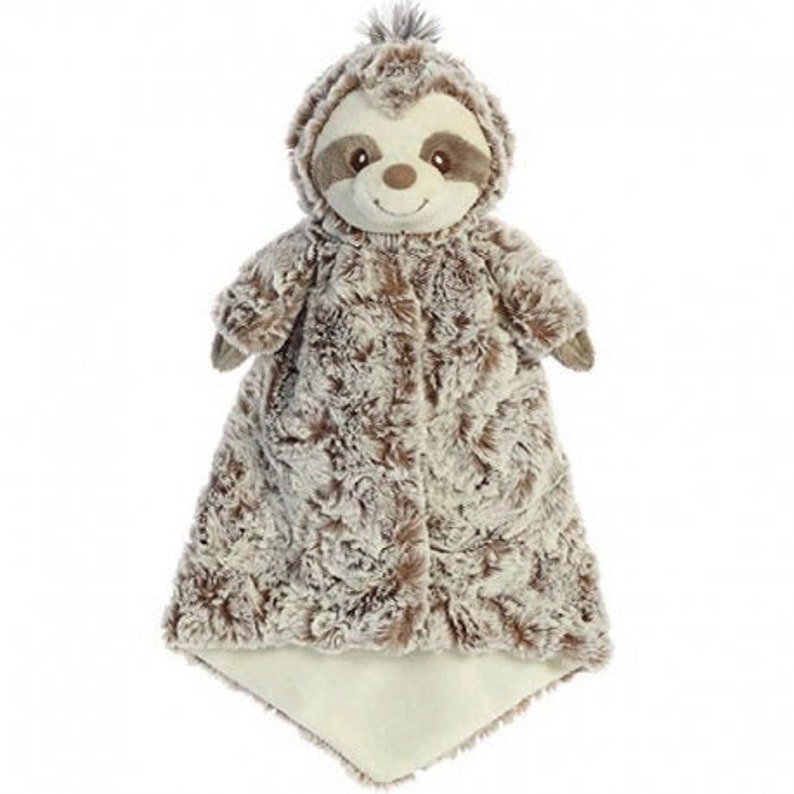 Sloth Lovey Personalized Baby Monogrammed Security Blanket
from: Etsy
6. Sloth Mobile:
A sloth mobile hanging over the crib would be a charming addition to the nursery.
Babies love to look at moving objects, and a sloth mobile would provide a soothing and engaging visual experience.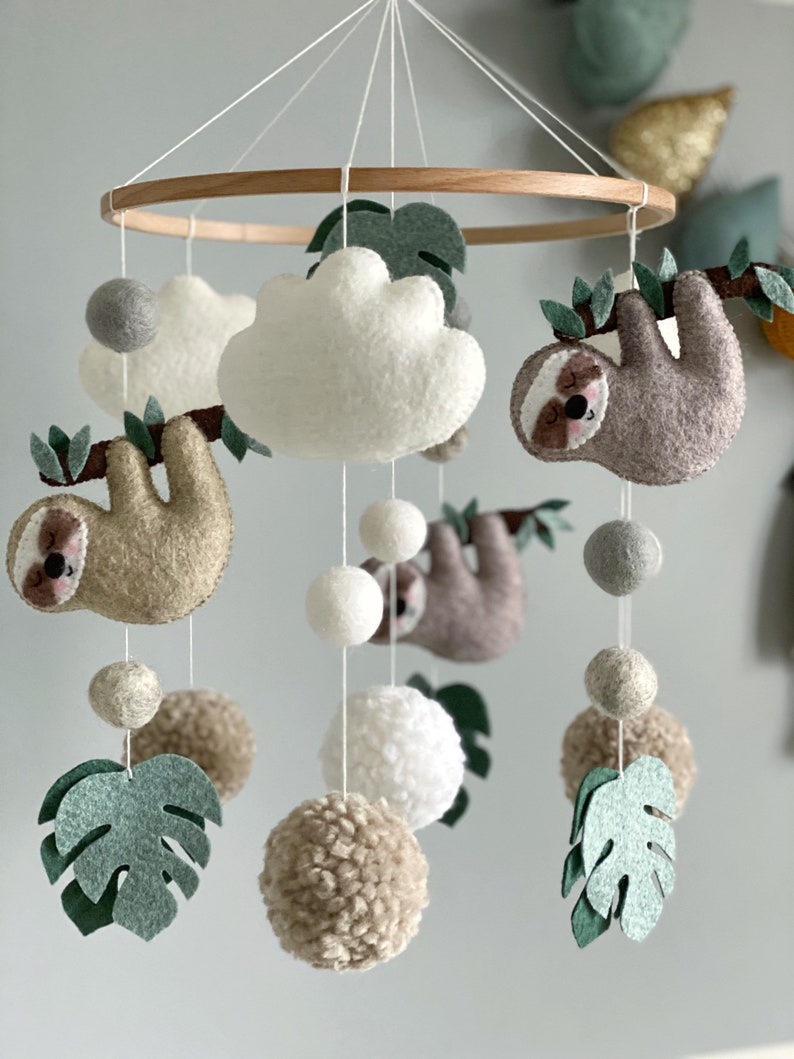 Baby Mobile Sloth Nursery Crib Mobile Animals Nursery Mobile
from: Etsy
7. Sloth Wall Art:
Consider hanging sloth-themed wall art to add a finishing touch to the nursery.
There are many options available, including prints, canvas art, and wall hangings.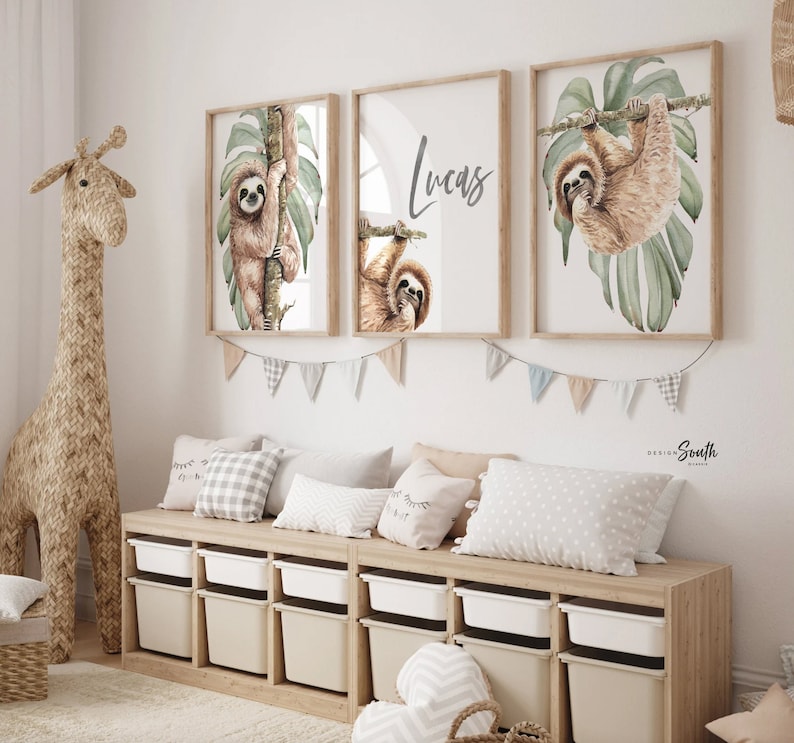 Boy or Girl Sloth Wall Art Set Sloth Themed Baby Nursery
from: Etsy
8. Sloth Theme Bedding:
Complete the sloth theme by choosing bedding with a sloth pattern or design.
Not only will it look adorable, but it's also great for keeping babies warm and comfortable in their cribs.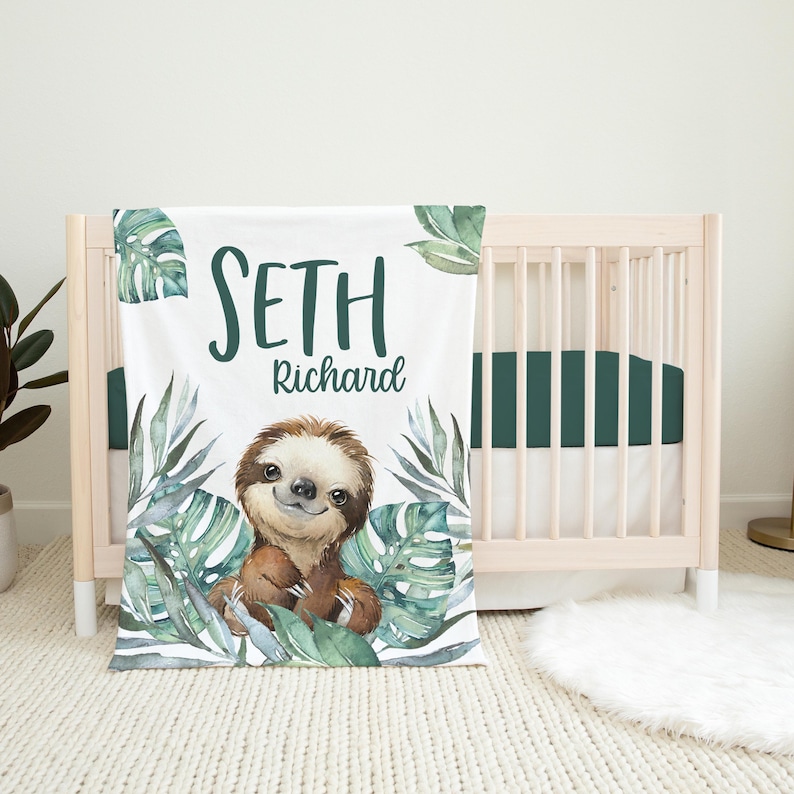 Sloth Baby Blanket Sloth Crib Bedding Personalized Baby
from: Etsy
9. Don't forget about the lighting
Soft lighting fixtures such as string lights or paper lanterns will help create a calming atmosphere in your nursery.
You can also add a sloth night light for a playful and functional look!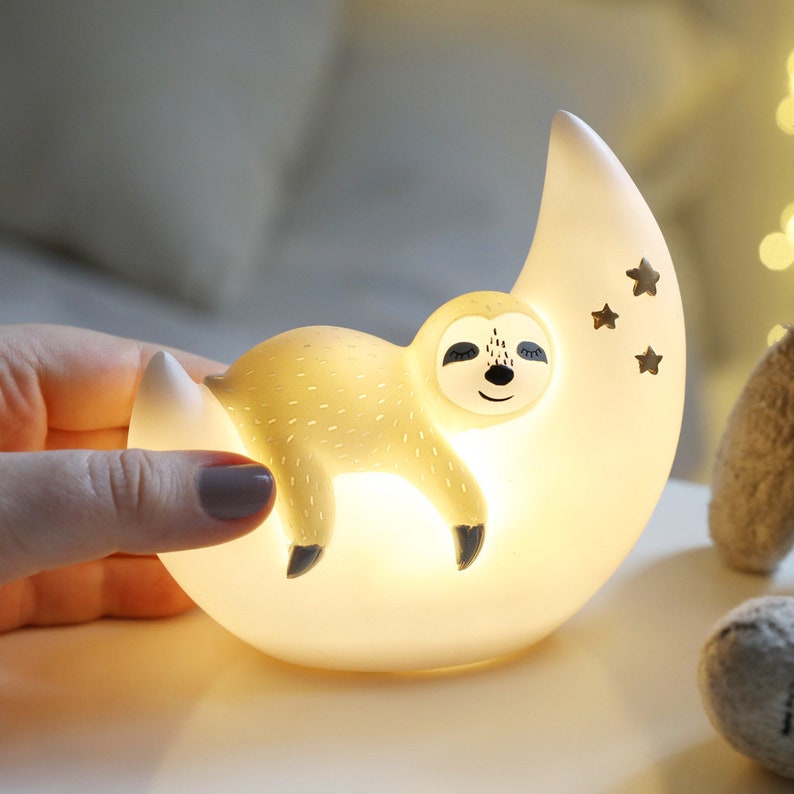 House of Disaster Sleepy Sloth LED Night Light
from: Etsy
10. Rainforest Wall Art:
Add some color and texture to your nursery with rainforest-themed wall art.
Look for options that feature sloths, monkeys, and other animals that are native to the rainforest.
It's sure to be a conversation starter for both you and your baby.
Sloth Nursery Decor For Girl
A great way to create a unique nursery for your baby girl is by introducing fun sloth-inspired decor.
Start the theme by choosing bedding with a sloth pattern or design.
Not only will it look adorable, but it's also great for keeping babies warm and comfortable in their cribs.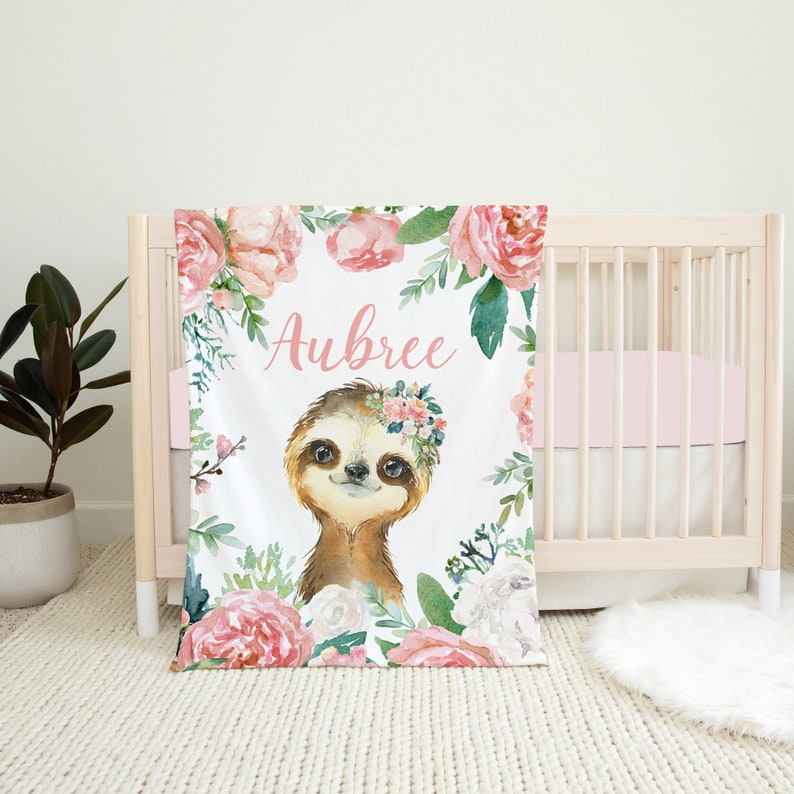 Floral Sloth Baby Blanket Sloth Nursery Personalized Name
from: Etsy
Vibrant color rainforest mobile: Add even more charm to your nursery with a rainforest mobile.
Choose one that features brightly-colored butterflies, toucans, and other rainforest creatures.
This type of mobile is perfect for introducing babies to the wonders of nature and inspiring their imagination.
It's also great for developing eye-tracking skills from an early age.
Wall Art and Wall Decor: Complete the look of your baby girl's nursery with wall art and wall decor.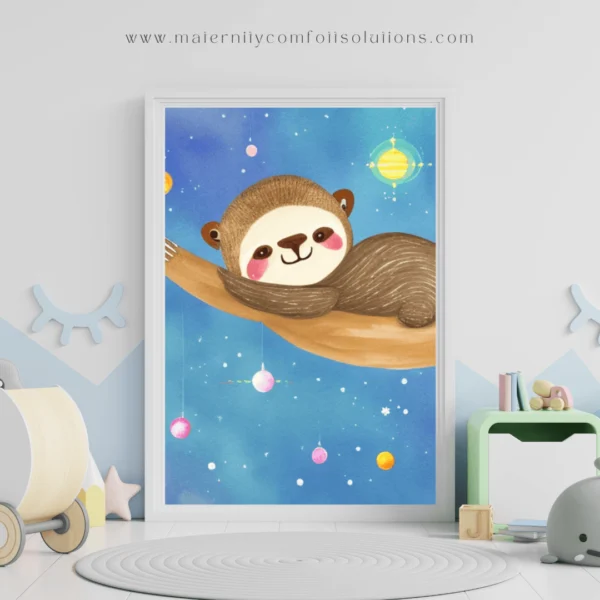 Choose pieces that feature illustrations, animals, or natural landscapes to bring a touch of nature indoors!
You can also find fun phrases like "Dream Big Little One" to add an extra special message.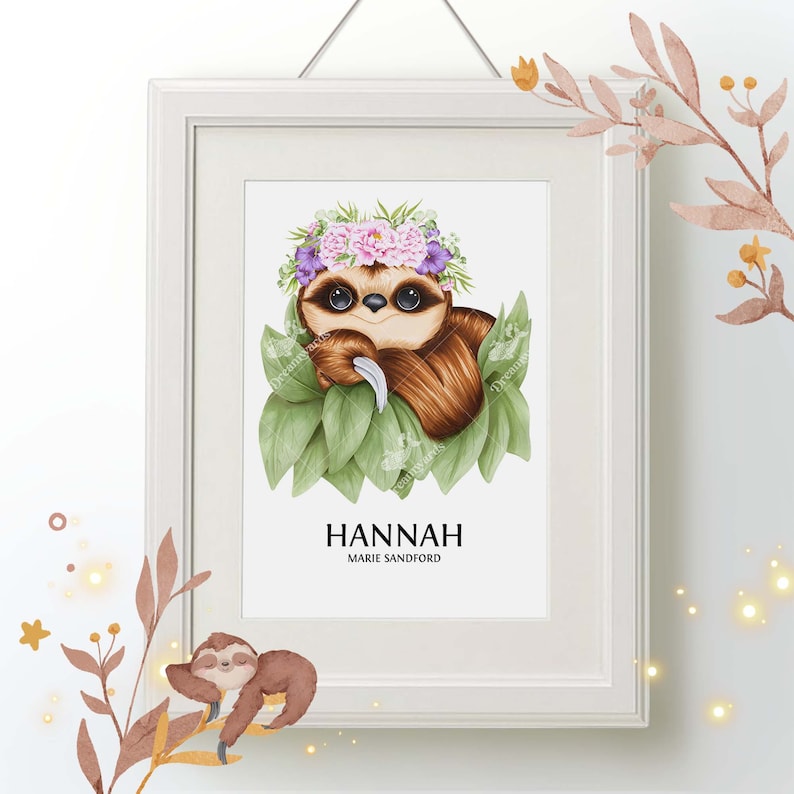 Lounging Sloth With Flower Crown Adorable Baby Sloth
from: Etsy
Sloth Nursery Decor For Boy
When choosing sloth nursery decor for a boy's room consider colors like navy blue, gray, or darker greens for the walls or an accent wall with a rainforest or sloth mural.
Look for sloth artwork or wall hangings that feature a gray or navy blue background and colorful illustrations of sloths doing their favorite activities like hanging from trees, eating leaves, and swimming in the ocean.
To bring even more fun to the room you can also add stuffed animals, plush toys, and blankets.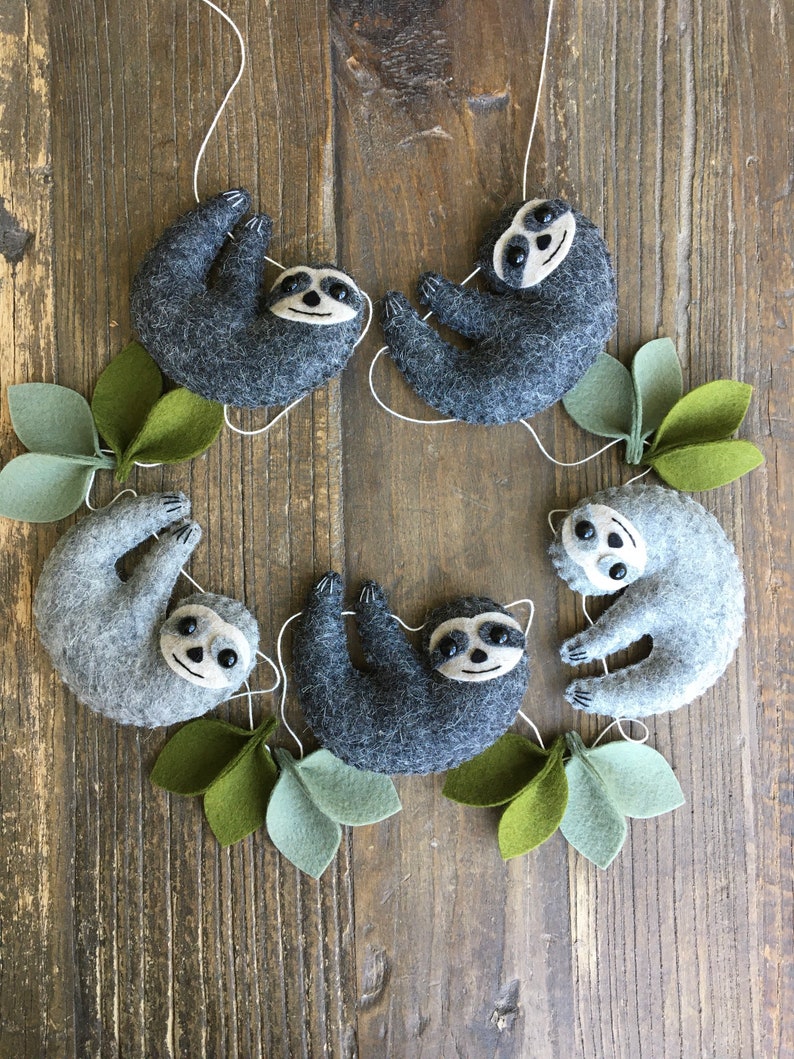 Wool Felt Sloth Garland Baby Nursery Sloth Bunting Sloth
from: Etsy
Decide between a gender-neutral or gender-specific nursery design
Choosing between a gender-neutral or gender-specific nursery design can be a difficult decision.
While a gender-neutral nursery can be more easily adapted and reused down the road when you have another baby or transition to the toddler years, some people prefer to go with nursery designs that are more closely tailored to their baby's gender.
If you choose a gender-specific design, be sure to pick colors and patterns that are timeless so that your investment can last for years.
Ultimately, it should come down to what will make both you and your little one happy in the end!
Select furniture that matches your chosen theme and is comfortable for your little one
When it comes to decorating an adorable and comfortable sloth-themed nursery, thoughtfully selected furniture is key in creating a welcoming environment for your little one.
Choose pieces that complement the chosen theme and make sure they are cozy and inviting.
Everything from sloth-shaped rocking chairs to sloth-patterned cushions can bring an air of magic and joy to the room, ensuring your little one will have pleasant dreams as they drift off into slumber.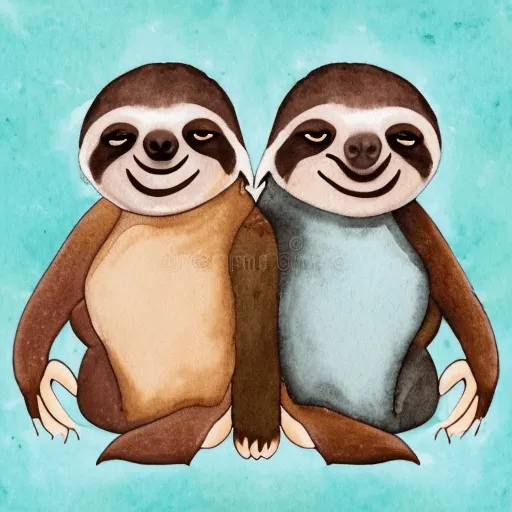 Create a reading corner with books and games to encourage learning in the nursery
Creating a cozy reading corner full of books and interactive games can be a great way to encourage learning in your sloth nursery.
When my kids were babies I kept a book basket in the nursery to make it easy to grab a book to read to them at bedtime.
Games such as matching, pairing, sorting, and counting can help young children with their cognitive development.
Make sure there is plenty of space for them to explore their newfound knowledge freely.
Let your baby learn at their own pace while having fun.
Utilize sloth-themed elements throughout the room for an extra special touch, such as stuffed animals, wall art, and curtains
For an extra special touch, why not incorporate some sloth-themed elements into your nursery room?
A sloth-themed crib mobile or stuffed animal can be an adorable addition to the space.
Wall art featuring cuddly and friendly sloths is also a must for this theme.
Additionally, you might consider adding other little details like curtains with a cute pattern, wall decals of everyone's favorite leaf munchers, or even decorative pillows in the shape of sloths.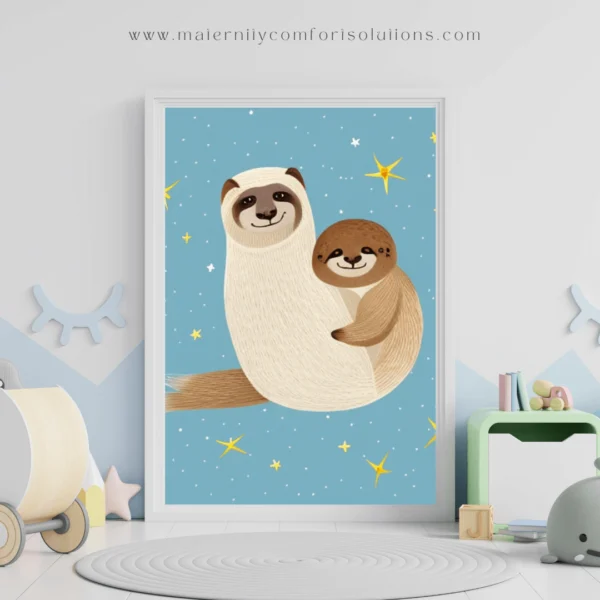 With these fun touches and more, you can create the perfect atmosphere for your little one!
In the end, creating a sloth-themed nursery is an incredibly fun and rewarding task that will provide your child with a special and joyful environment to grow up.
With a little bit of exploration and imagination, you can discover the perfect blend of materials, furniture, wall art, and other elements that cultivate an inviting atmosphere that's tailored specifically to your baby.
Whether you opt for gender-neutral or gender-specific accents and themes, keep in mind that your main goal should be fostering a fun space where children can dream and explore.
Now get out there and create your sloth-inspired nursery vision – we can't wait to see what masterpiece you come up with!