Are you looking for baby nursery ideas for small spaces?
You are in the right place!
It isn't unusual for new parents to be living in tight quarters.
Many of us have our first baby when either we or our significant other are in graduate school, medical school, residency, law school, or the very early days of our careers.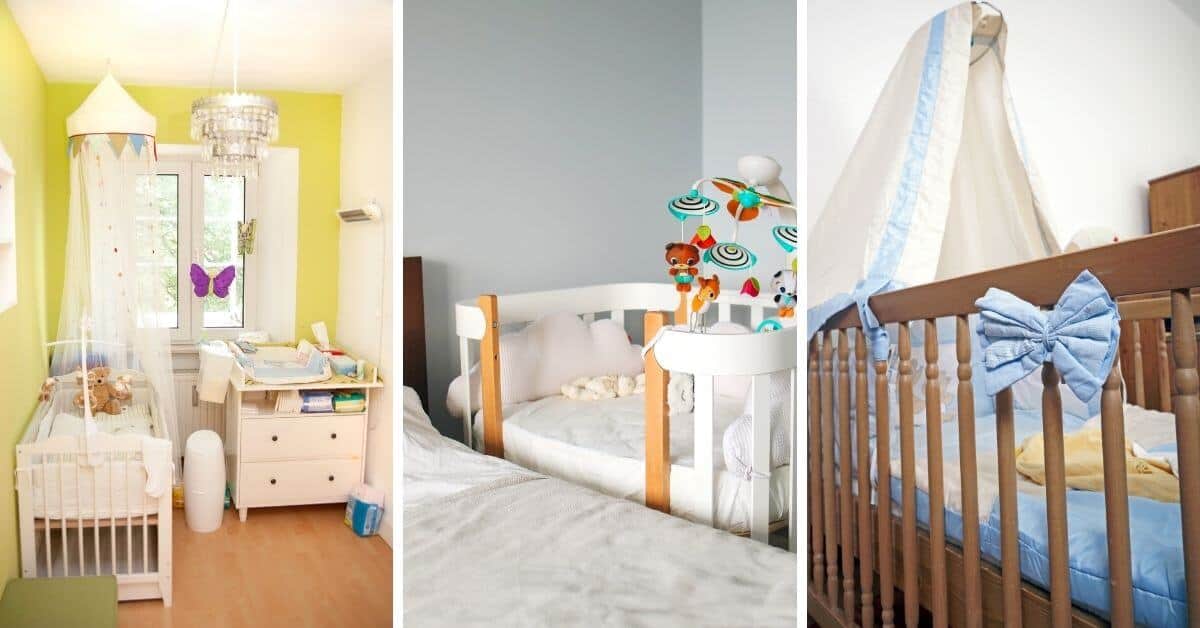 Money is tight.
It's beans, rice, and living in basically a shoebox.
But that doesn't mean you can't make a sweet nursery for your new baby with just a little bit of creativity.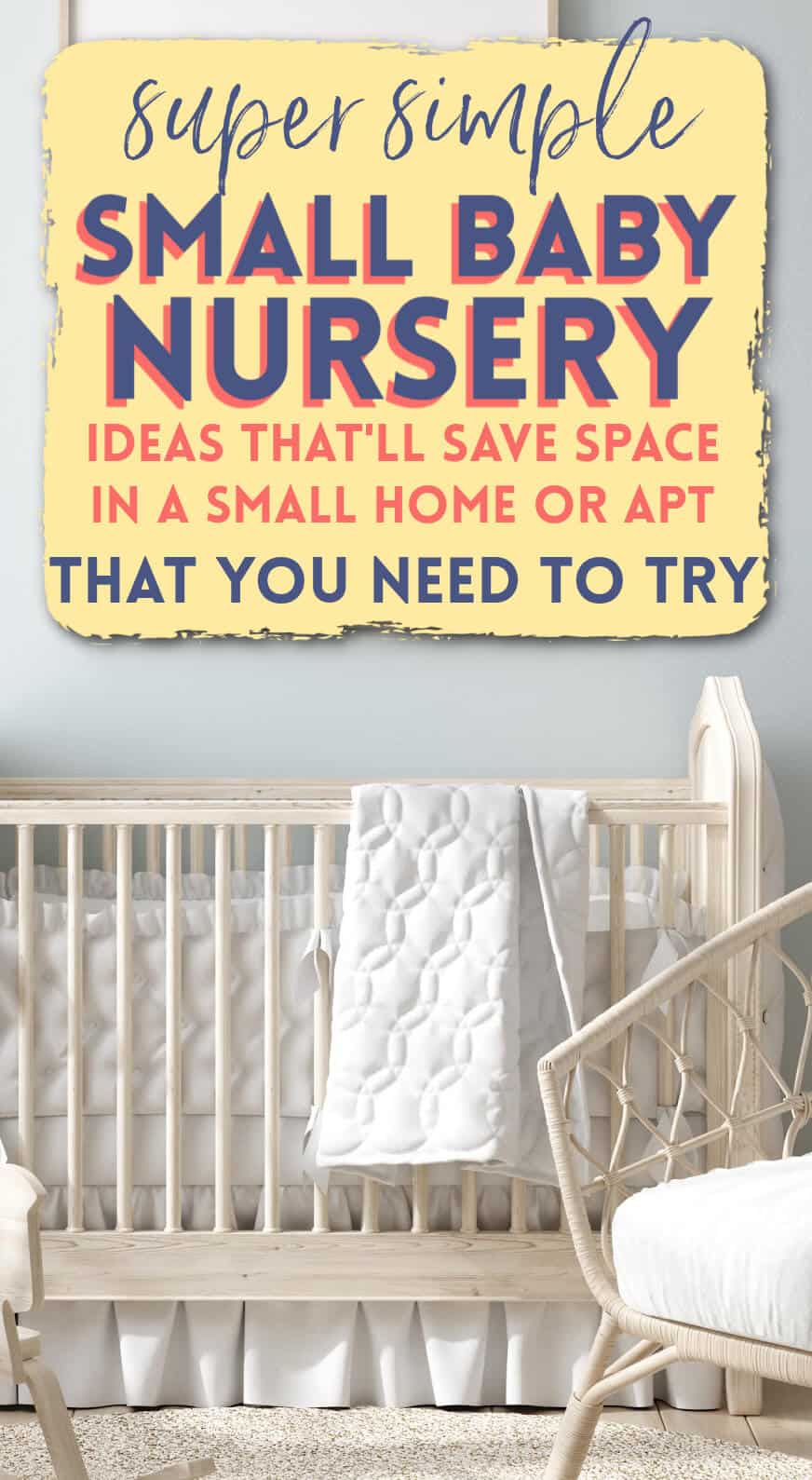 Baby Nursery Ideas For Small Spaces
For rapidly growing families or families who live in small homes, space may be a premium.
To create a baby's room, sometimes unusual small spaces can be used.
Whether the baby's room is too far from mom and dad, or there just isn't enough space to create a baby nursery in the home, parents sometimes need to get creative with their children's sleeping spaces.
Learn how a walk-in closet, a small den, or a nook in the master bedroom can be transformed into a baby's nursery safely and easily.
Reasons for Creating a Closet Bedroom
There are several reasons why parents may consider the use of their walk-in closet as a nursery for their baby.
The baby's room may be located far from his parent's room, and the parents feel better having him close by.
Parents who live in small homes may not have a room for their baby just then, or they plan to have the baby share a room with an older sibling, but that's not possible yet.
For these and other reasons, it may make sense to parents to utilize a walk-in closet off the master bedroom as a temporary nursery.
This keeps the baby close by and in easy reach of her parents but separates the baby just enough that light sleepers don't disturb one another.
Creating a Safe Space
If creating a closet bedroom, it's important to factor in several things.
The end result of transforming a walk-in closet into a baby nursery should be a safe, cozy environment for the baby to sleep in, which means taking steps to ensure this safety prior to the baby's sleeping there.
Begin by removing shelving and clothing that is anywhere near the crib or in the baby's reach.
A hard yank on a pair of pants in the night may bury the baby under both clothing and hardware, so take steps to ensure this won't happen.
Clothing can be temporarily moved to a wardrobe, strung from a clothesline in a basement or garage, or folded neatly beneath the crib until the closet goes back to its original purpose.
Next, make sure there is plenty of airflow in the closet.
Remove the door.
Without air circulating in the closet, the temperature of the room may become too warm or cool for comfortable sleeping.
Additionally, without proper ventilation, the amount of carbon dioxide in the room can increase over time, putting the baby at risk for SIDS, so be sure that air can move freely.
This is a beautiful example of converting the master bedroom closet into the baby nursery!
Finally, make sure that the path to and from the closet is completely free of obstacles.
Ideally, a room used as a bedroom should always have a second egress or means to exit the room in case of an emergency.
If this isn't possible, make the area as easy to get to as possible, in case of fire or medical emergency.
Leave as wide a path to and from the closet and possible, and make sure there are no locks, and that the door opens freely.
Keep the baby's crib or bed in easy reach and not behind changing tables or other obstacles to maneuver around.
Remember that the closet bedroom should only be used as a temporary solution until a more permanent bedroom can be found.
Turning the Closet into a Baby Nursery
Once the safety of the room has been taken care of, it's time to begin personalizing the space for the baby.
Make sure that the crib chosen fits into the room without sticking awkwardly out into the doorway.
This 4-1 Dream On Me mini-crib is perfect for small spaces.
Since the walls of the nursery will be fairly close to the crib, try using vinyl wall art to brighten the space for the baby.
The vinyl wall can be easily removed without damaging the walls, so when the room returns to its original purpose, there is no need to repaint or redecorate the room.
Utilize high shelves to hang mobiles and other objects to entertain the baby while she is in her crib.
Likely, space will have enough room for sleeping, but little else, so try to create a cozy and comforting space and not to pack in additional furniture.
Here are some more amazing transformations of small spaces into adorable baby nurseries:
This is a great example of how you can work with any space.
This closet was turned into a nursery, so everyone has plenty of room.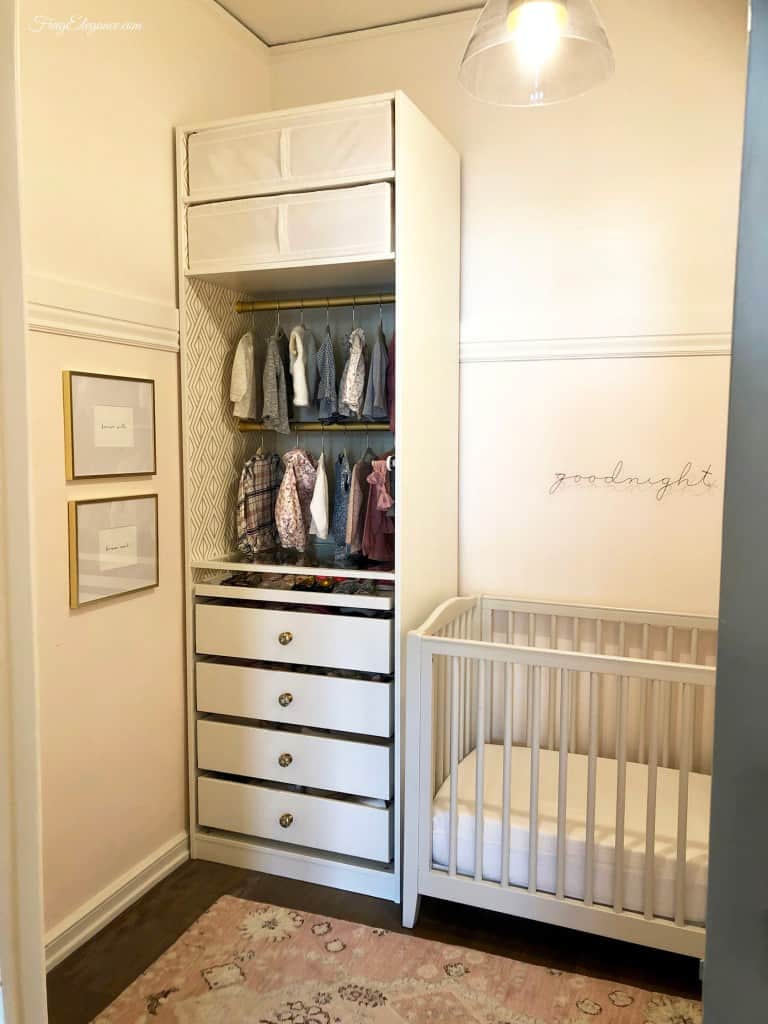 Changing tables and rocking chairs may be best left inside the master bedroom or another area of the home.
If a small table can be placed in the closet safely, this can be a great place to put a small light, fan, or sound machine to help ensure the baby gets a good night's sleep.
The bedroom closet can be a great way to slowly ease a baby away from his parents at night.
Babies that are used to co-sleeping or being right next to their parents' beds may not transition well to being far down the hall.
A brief stay in a safe, nearby space can help ease the transition.
Make safety a priority, keep the room cheerful and cozy, and if space is a priority, make a closet bedroom the baby's first room and help everyone get a good night's sleep.
Turning a small den or tiny guest room into the Baby Nursery:
Need to turn a tiny room into a nursery? Not a problem.
Check out this tiny nursery transformation!
View this post on Instagram
Whether you are working with a small bedroom or want to save space by making room for the baby in the bedroom, this nursery nook is super cute.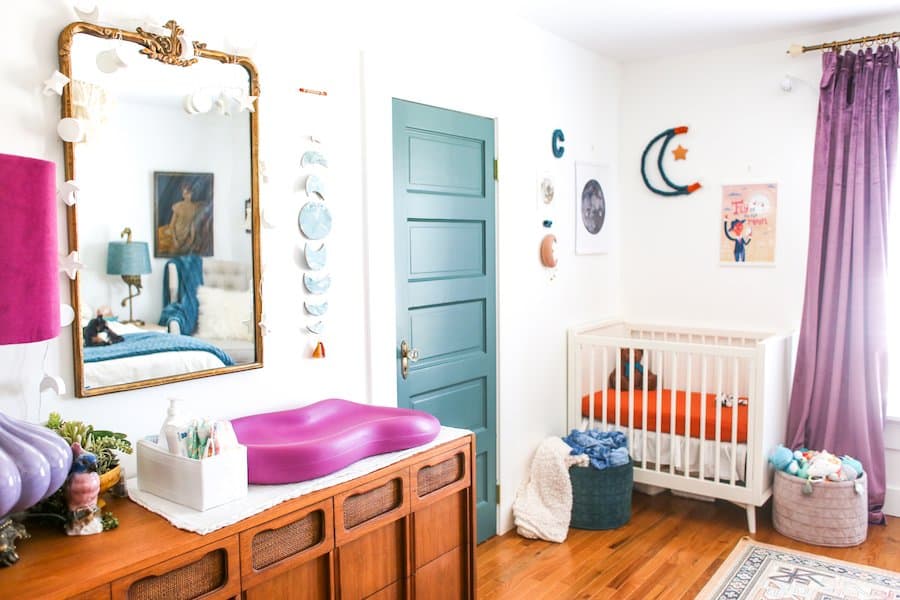 Bring a little nautical vibe with these fun and tidy nursery ideas to help you organize your small space and still have room where you need it.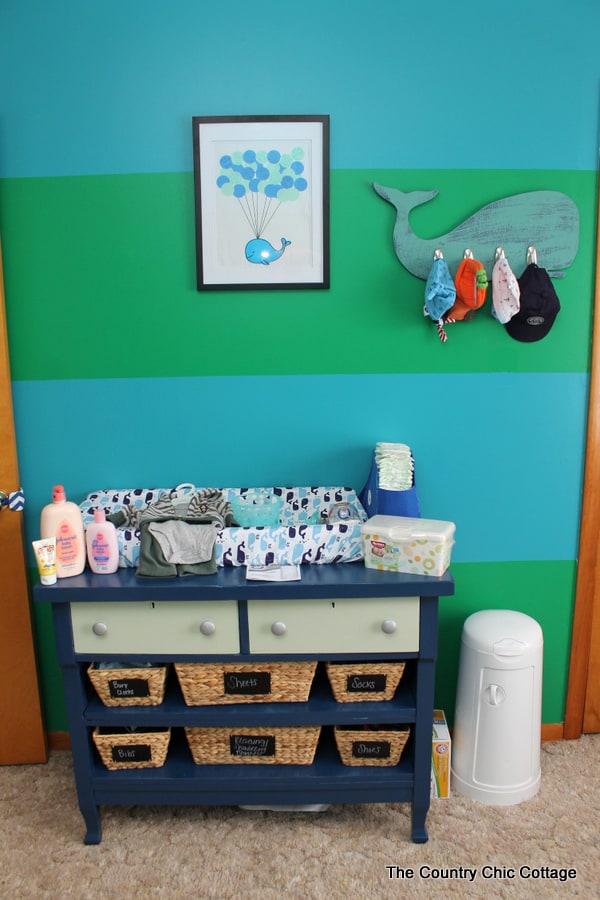 If you are working with a mini crib to help you save space, these DIY mini crib sheets are easy to make.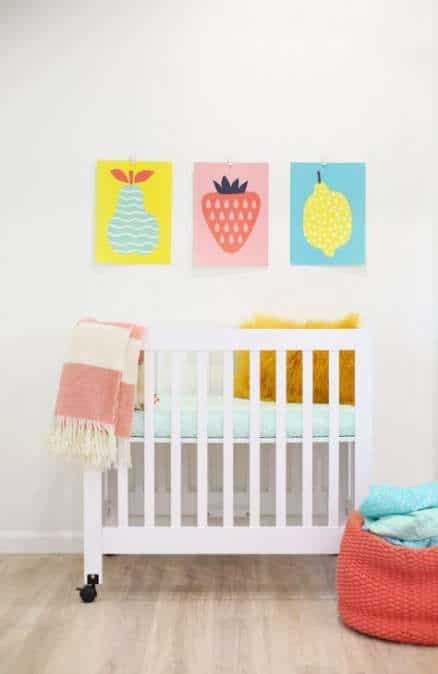 It is all about the organization when you are working with a small space and these organization tips will help you save room.
Full of tips and different ways to save some space, these nursery and room ideas are great for inspiration.
FAQs Nursery Safety Tips
There are plenty of safety issues to consider even before a baby is actively crawling.
Since babies grow fast, and because most new parents discover time seems to diminish after the baby arrives, it is best to be ready before the baby moves in.
Preparing the nursery ahead of time for an infant into an exploring toddler will help ensure the nursery is ready through all growth stages.
Furniture Placement in a Nursery
Once parents decide where the new baby's room will be, and after any major renovations like painting or new carpet are finished, they should take time to examine the empty space.
It is important to establish where electrical outlets, windows, and doors are located.
This will help determine the best arrangement for placing furniture in the nursery.
The crib should be positioned first. Being one of the most vital and used pieces of furniture, it requires many safety considerations.
The best place for a crib is away from any windows, direct heating or cooling sources, electrical objects, and doors.
All of these can cause troublesome areas.
Windows and Doors in a Nursery
Besides producing unpleasantly cold drafts, windows, and doors expose children to other certain dangers.
Furniture near a window can allow a baby to grab window draperies, causing them to fall within the crib.
They can also reach for cords from window blinds. Either of these may cause strangulation or suffocation.
Another risk is from an open window.
A baby could fall through the screen, and as with doors, parents should also consider the possibility of fingers getting pinched from a window that closes suddenly.
The surest way to prevent injuries from a window is by keeping all furniture, which enables a baby to approach it far enough away.
Electrical Outlets in a Nursery
After the placement of the crib, other furniture like the changing table, dresser, or rocker can be situated in the room.
Although there are still safety concerns, arranging these can be based more on what looks best or on a convenient location.
While all electrical outlets should be covered with protective caps, a parent could choose to place the dresser in front of an electrical outlet.
In this position, if a lamp or a baby monitor is used, the cords can be completely hidden behind the piece of furniture.
This is a great way to ensure all electrical cords are out of reach of a child.
Child-proof Locks and Lids
Dressers should be installed with child-proof locks on drawers.
Children can open bottom drawers and climb in, possibly causing the dresser to topple over on them.
This can happen with tall shelving units or any piece of furniture which can become unbalanced.
Avoiding these in a nursery or attaching braces to the wall is a good choice.
Toy chest lids are another possible furniture hazard.
If the lid of a child's toy chest is free-falling, it has been recommended by the CPSC (Consumer Product Safety Commission) to either remove the lid or install a spring-loaded support device to prevent injury.
Conclusion:
Small nursery design ideas are not that difficult if you are willing to get creative on space and decor.
When space is at a premium new parents should not feel guilty for coming up with unique ways to fit a baby nursery into their existing space.
Baby nurseries being tucked into master bedroom closets, sewing alcoves or sitting areas in the master bedroom used to be the norm.
For many of us living in smaller homes by choice or circumstance creating a small nursery in a unique space is a necessity.
We hope you found some of these ideas inspiring.