Updated November 4, 2023
Are you looking for baby nursery ideas for small spaces?
You are in the right place!
We've got 27 small baby room ideas!
Many of us have our first baby when either we or our significant other are in graduate school, medical school, residency, law school, or the very early days of our careers.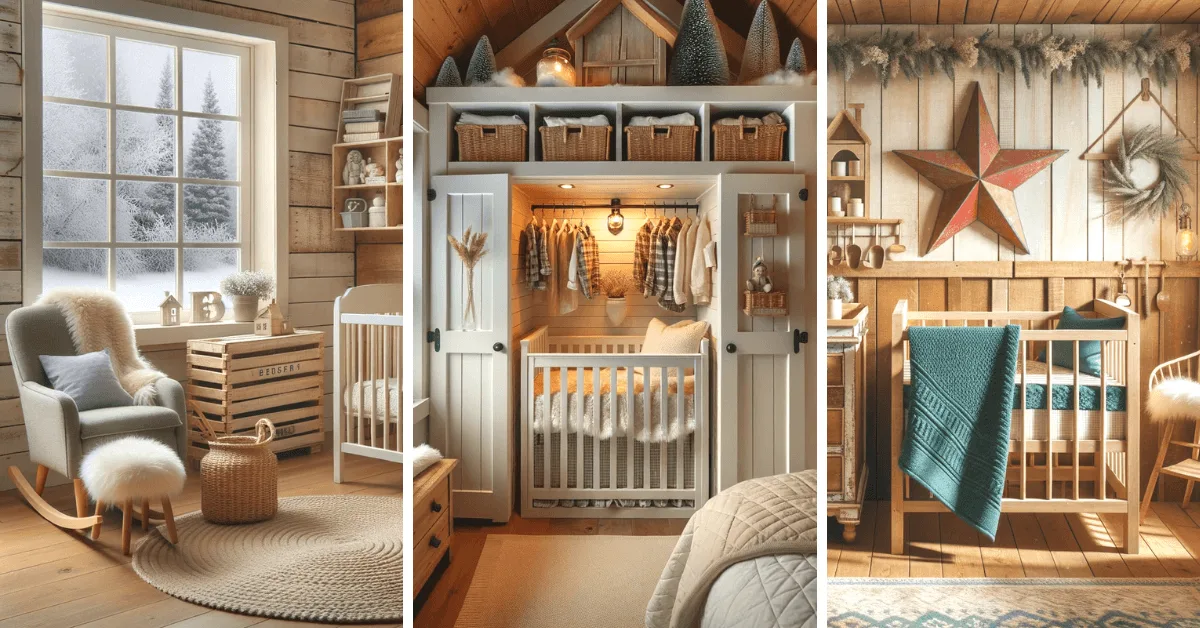 Money is tight.
It's beans, rice, and living in basically a shoebox.
But that doesn't mean you can't make a sweet nursery for your new baby with just a little bit of creativity.
27 Baby Nursery Ideas For Small Spaces
Small nursery design ideas are not that difficult if you are willing to get creative on space and decor.
1. Use your vertical space:
When creating our baby's nursery we focused on using vertical space in the room.
We had no choice really, the room was tiny.
Maximize your nursery's vertical space with stylish floating shelves and over-the-door organizers for a clutter-free environment.
You will find that anything you can do to keep your nursery clutter-free will go a long way into making it feel larger and more open.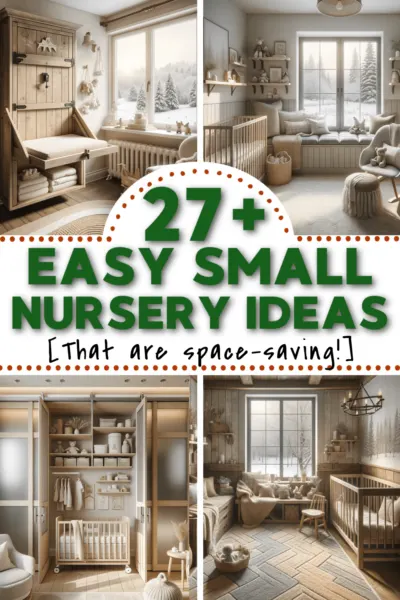 2. Under-Crib Storage:
Slide in baskets or install drawers under the crib to neatly stash away diapers and blankets, making use of every square inch.
We LOVE using the under-crib space for storage.
Again this is another way to keep the nursery floor clutter-free.
In a small baby room everything needs to have a place and purpose.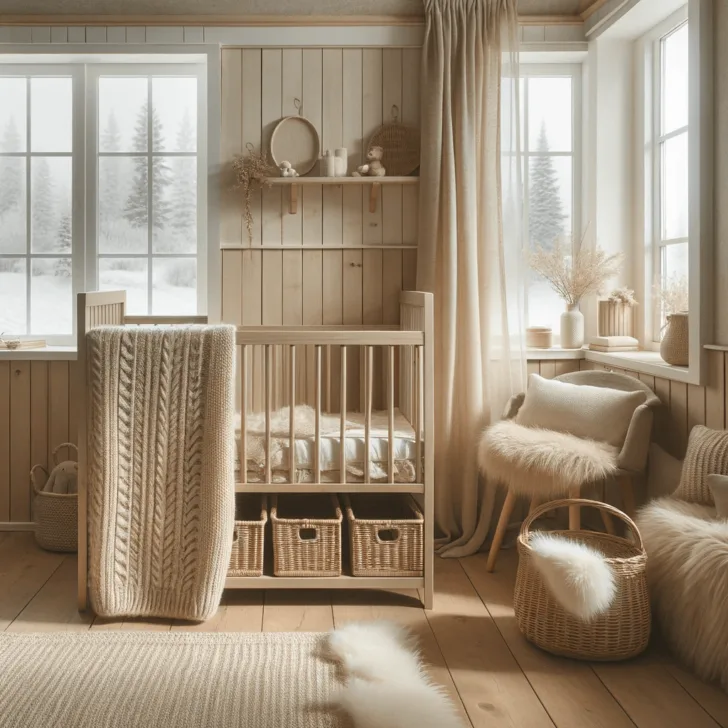 3. Convertible Furniture:
Choose furniture that adapts to your child's growth, like a crib that transforms into a toddler bed, for long-term savings in space and money.
Convertible furniture is the way to go if possible.
Or use items that can be multi-purpose like baskets that can hold diapers when your baby is small and toys when they get older.
4. Wall-Mounted Changing Station:
Install a fold-down changing table on the wall, complete with pockets for essentials to keep the floor space open.
This is a phenomenal space-saving idea for a tiny baby nursery!
I wish I had thought of it when we were designing our nursery.
This would be an easy weekend DIY project.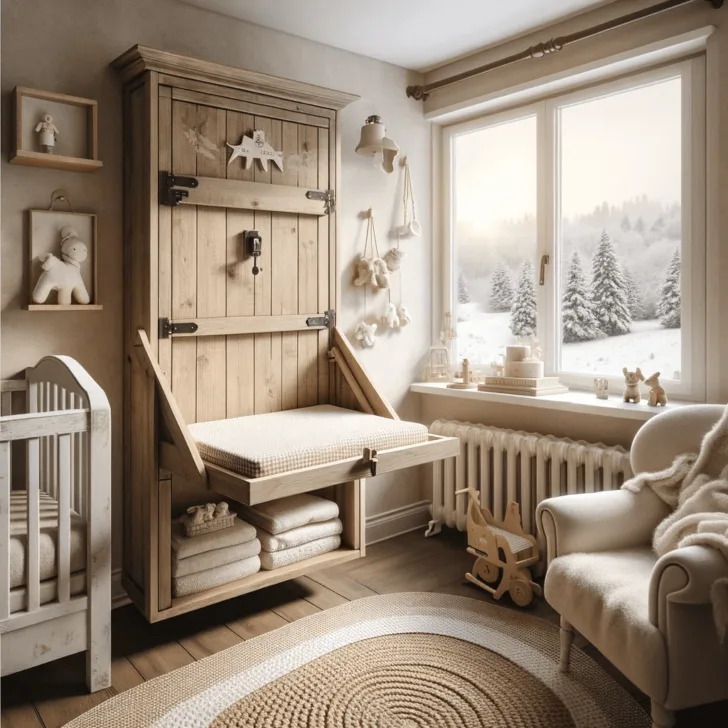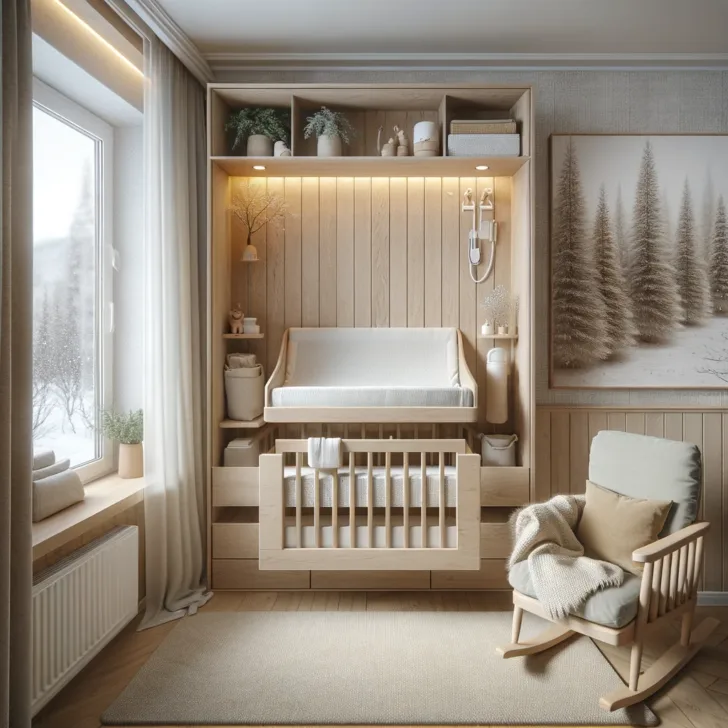 5. Soft, Neutral Colors:
Paint the nursery in soft, neutral colors to create a serene and visually expansive atmosphere.
Neutral colors or light colors will help make your room feel larger.
We avoided dark colors on the walls and trim.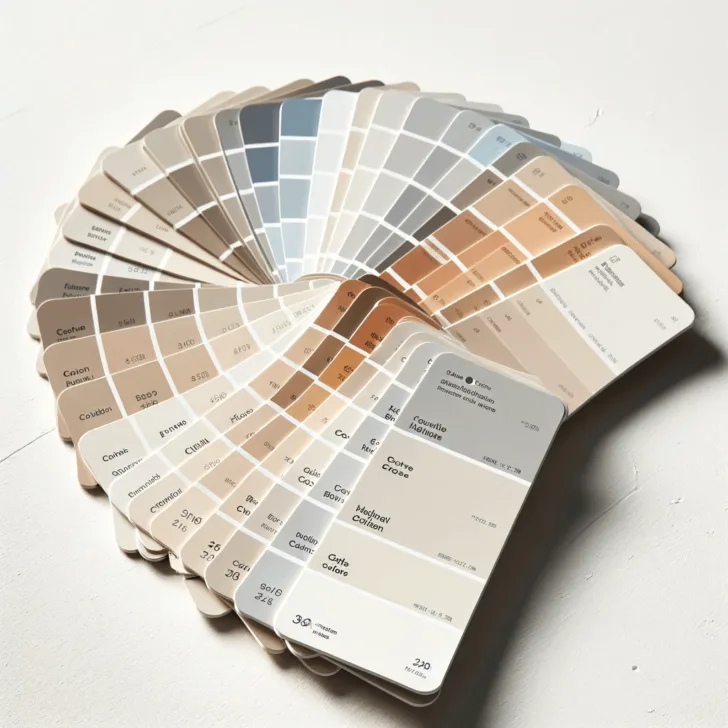 6. Use Mirrors:
Strategically place mirrors to bounce light around the room, giving the illusion of a larger space.
Using mirrors to give the illusion of a larger space is a tried and true method to use in a tiny nursery space.
Consider placing a mirror opposite the door for an immediate feeling of the room being larger.
Place mirror in darker corners that you want to brighten up.
A mirror placed opposite a window can help bring the outside into your nursery and make it feel more expansive.
Even small mirrors can help bounce light around the room, so if you don't have room for a large or bulky mirror use small mirrors across from windows, doors, and in corners.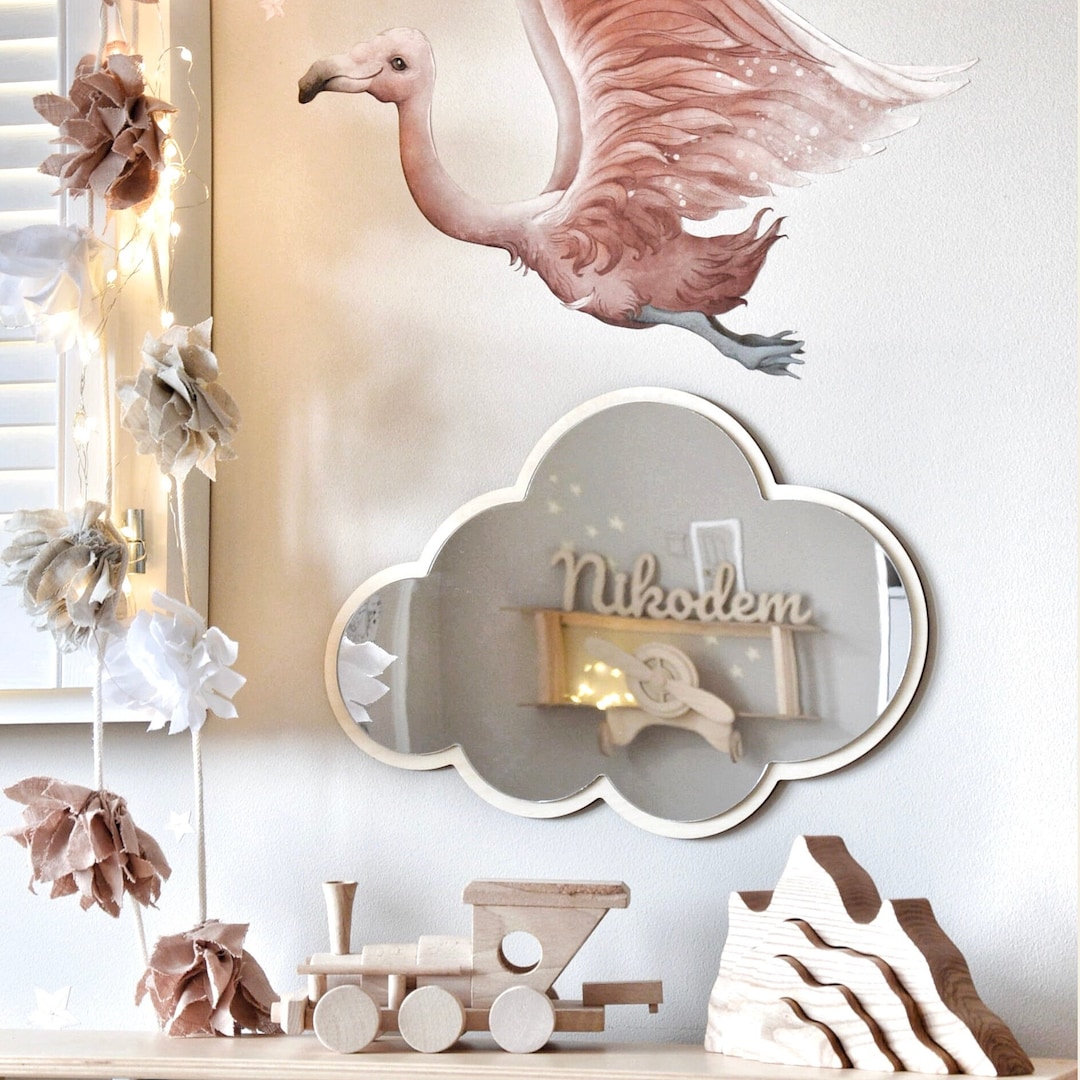 Safe Mirror Acrylic Plywood for Child's Room Babyroom
from Etsy
7. Clever Lighting:
Opt for wall-mounted sconces and dimmable LED lights to save on space while providing adjustable lighting.
When planning lighting in a small nursery you'll want to include soft warm lighting for late night feedings, bedtime routines, and rainy day snuggle fests.
When we made our baby's nursery, I had a full-time job as a nurse.
I worked from 7 to 3, so I had to wake up early to get the baby ready for daycare.
We needed more light in the nursery, even though it was small.
We chose to put in a ceiling light for lots of light in the morning.
This was important because we live in New England, where winter mornings are very dark.
Think about your baby's nursery and how much light you need.
Wall sconces and soft lighting are good for nighttime. But if you have to get your baby ready for daycare in the morning, you might want more light.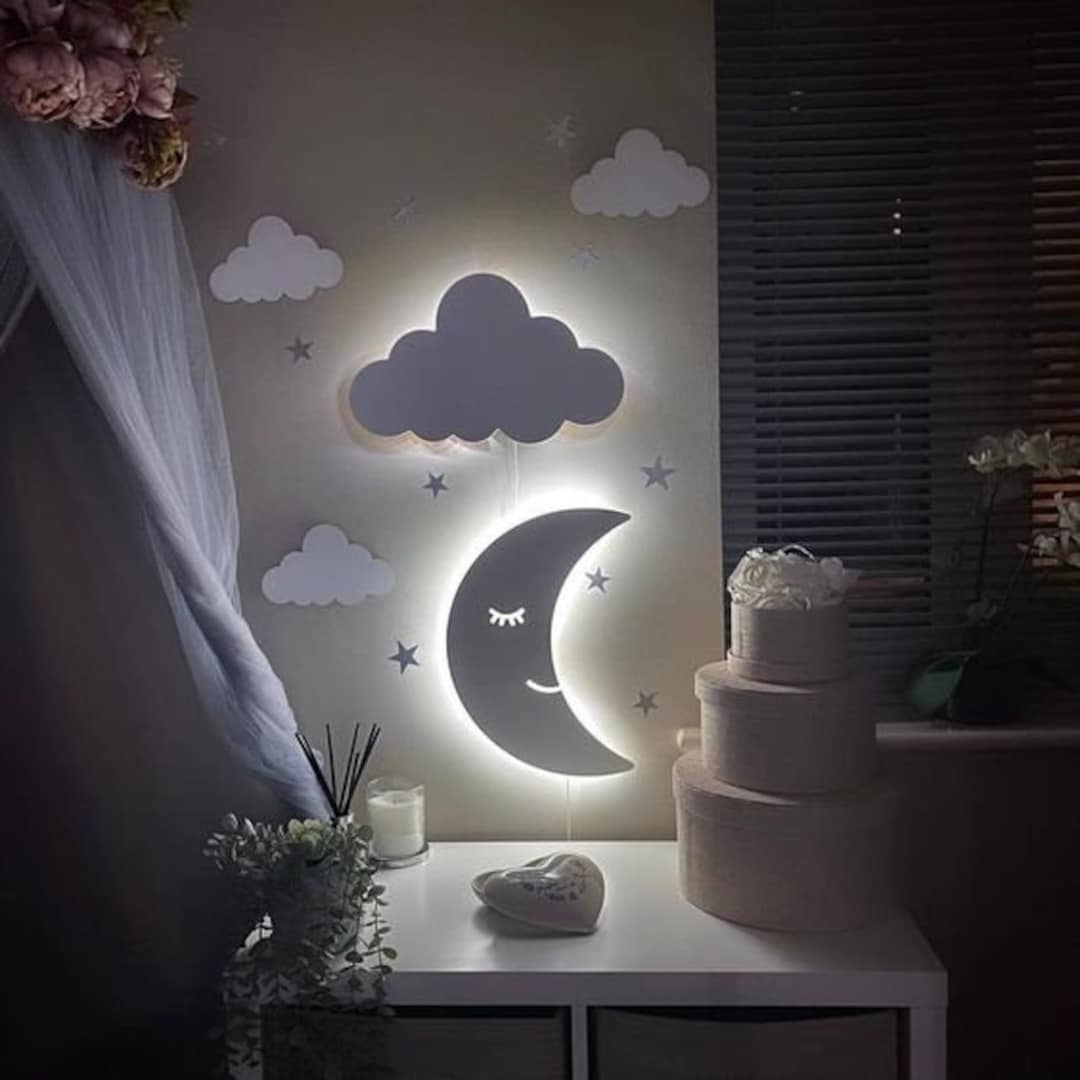 Nursery Wall Lights Cloud and Moon Night Light Customized
from: Etsy
8. Sliding Doors:
Swap out traditional swinging doors for sliding panels to save space and add a modern touch to the nursery.
When we started setting up the nursery, the room was tiny.
We wanted it to be open and have everything we needed within easy reach.
I realized the swing doors on the closet made the room feel small and noisy.
So, we put in sliding doors.
They were quiet and made the room feel bigger.
We even fit a rocker and a small table in the room.
The sliding doors also gave the room a modern look.
So, if you are setting up a nursery in a tight space, use sliding doors.
They make life easier in those first few months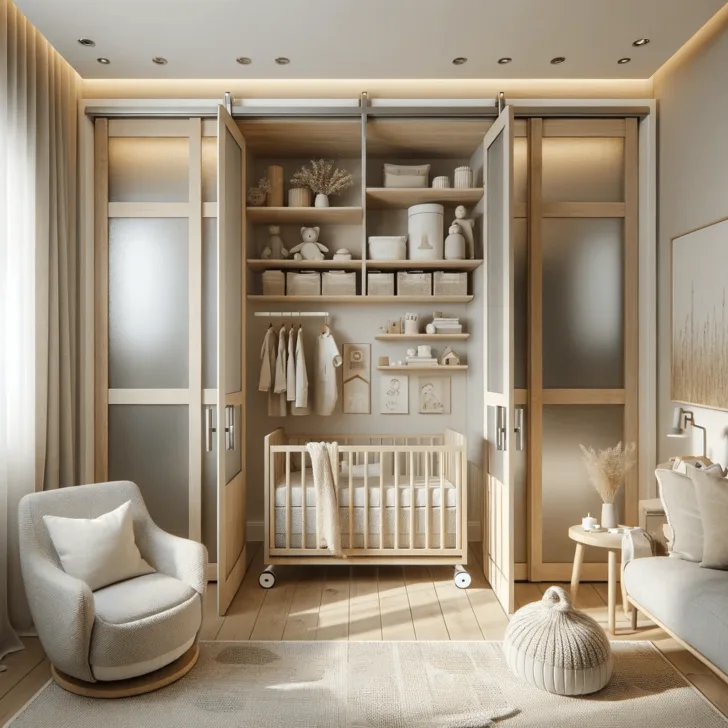 9. Cozy Corner Cribs:
Tuck the crib into a corner to free up the central area, making the room feel more spacious and open.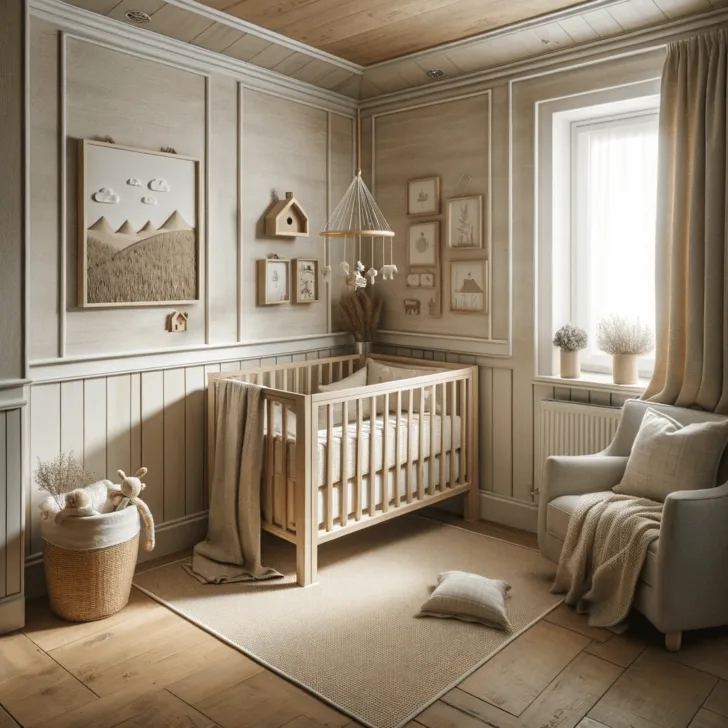 10. Miniature Rockers:
Select a compact rocking chair that offers comfort without taking up too much room, perfect for snug spaces.
If you have the room look for a compact rocker with a gliding ottoman.
It will make late night feedings much more enjoyable for both you and your new baby.
11. Foldable Baby Gear:
Invest in baby gear that can be easily folded and stored away to keep the nursery tidy and spacious.
Or keep the baby gear like strollers, portable cribs, and baby carriers in another room or closet.
12. Ceiling-Hung Decor:
Decorate with ceiling-hung mobiles and toys to save on space while adding charm overhead.
13. Removable Wall Art:
Use wall decals for a quick, easy, and space-saving way to add character to the nursery walls.
We wanted to decorate our baby's nursery in a way that was easy to change as they grew.
We had painted the walls a neutral tan color and chose a Noah's Ark theme.
We used removable wall art, like Noah's Ark wall decals.
These stickers were simple to use, just peel and stick, and made the room charming.
There was no mess or fuss.
As our child grew, we changed the theme to a pokey little puppy and then Disney cars.
Removable wall art was affordable and easy to switch without hassle.
It was perfect for us because it didn't take up extra space, was easy to update, and didn't damage the walls.
Removable wall art is great for a nursery because it makes life simpler and keeps things fun and functional.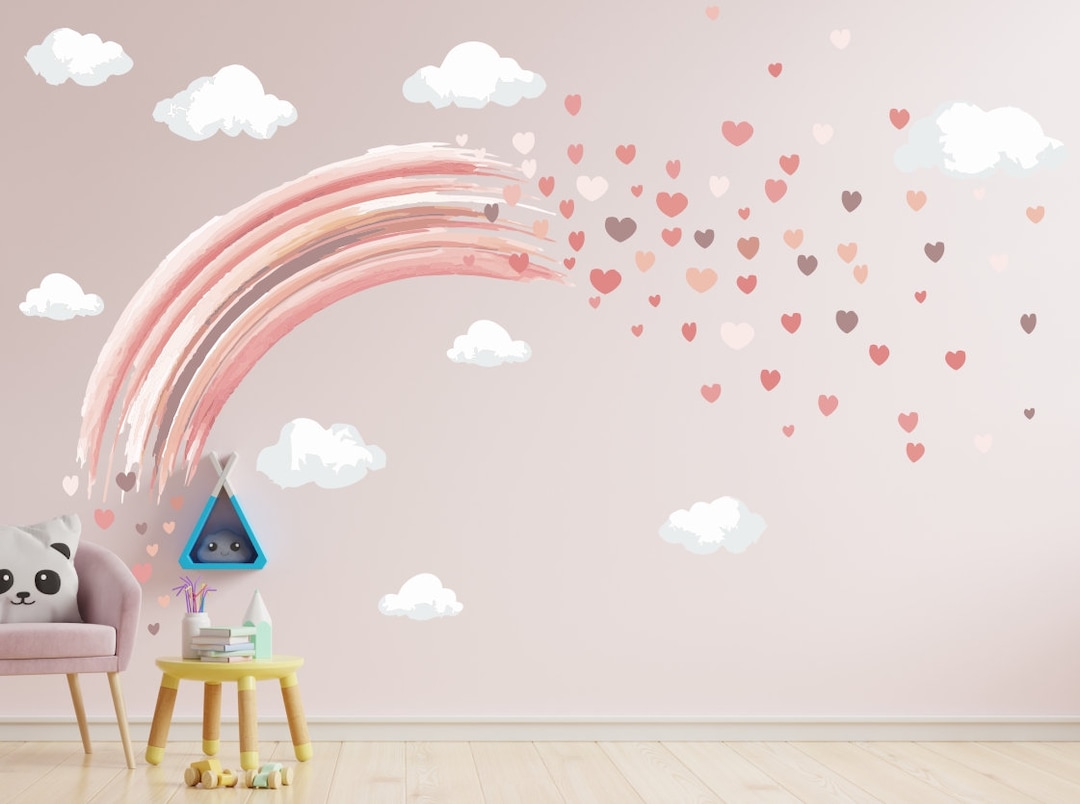 PASTEL WATERCOLOUR BLUSH Rainbow & Hearts Wall Stickers
from: Etsy
14. Window Seat Storage:
Create a dual-purpose window seat that offers both a cozy reading nook and hidden storage compartments.
Window seats are special to me, especially in a kid's room.
When my children were small, our window seat was more than a place to sit.
It was our cozy world.
On snowy days, we would snuggle there with storybooks and a blanket, watching snowflakes fall.
The seat was also smart storage.
We could lift it and find hidden spaces for toys and books.
This kept the room tidy without losing space.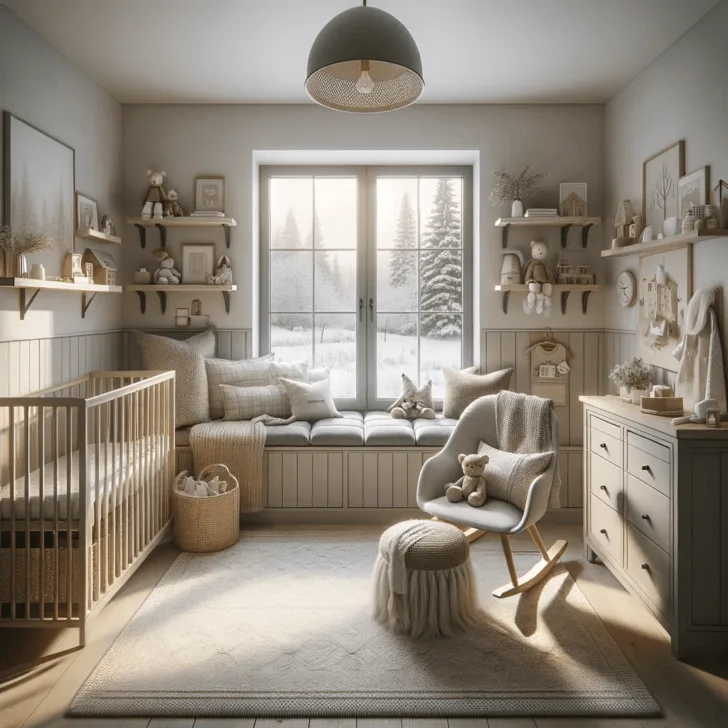 15. Snug Nook for Nursing:
Set up a small, comfortable nursing chair with storage pockets for a dedicated and organized feeding area.
Whether you are breast or bottle feeding, you'll appreciate having a dedicated area in the nursing for middle of the night feedings.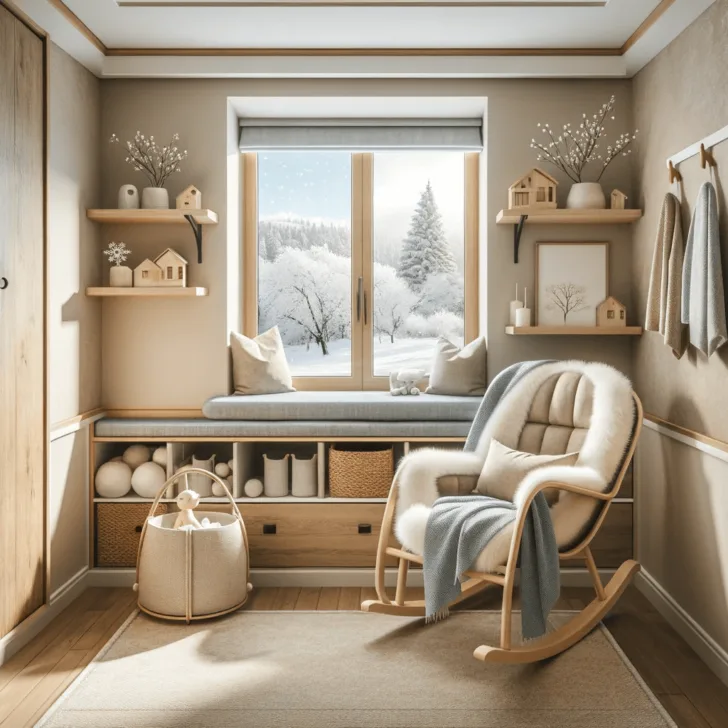 16. Retractable Partition:
Incorporate a retractable screen or curtain to temporarily divide the room for privacy and versatility.
If you are setting up a nursery in the master bedroom a reractable partition can be the answer you need to home to separate the two areas.
17. Overhead Shelving:
Install high shelves for seldom-used items, making sure they're securely anchored and out of reach.
To create a nursery in a small room, use the space high up.
This way, you can store things you don't need every day, like extra blankets.
Make sure there's space above the crib and in the closet too.
18. Compact Laundry Solutions:
Use hanging laundry bags or collapsible hampers to manage baby laundry without sacrificing space.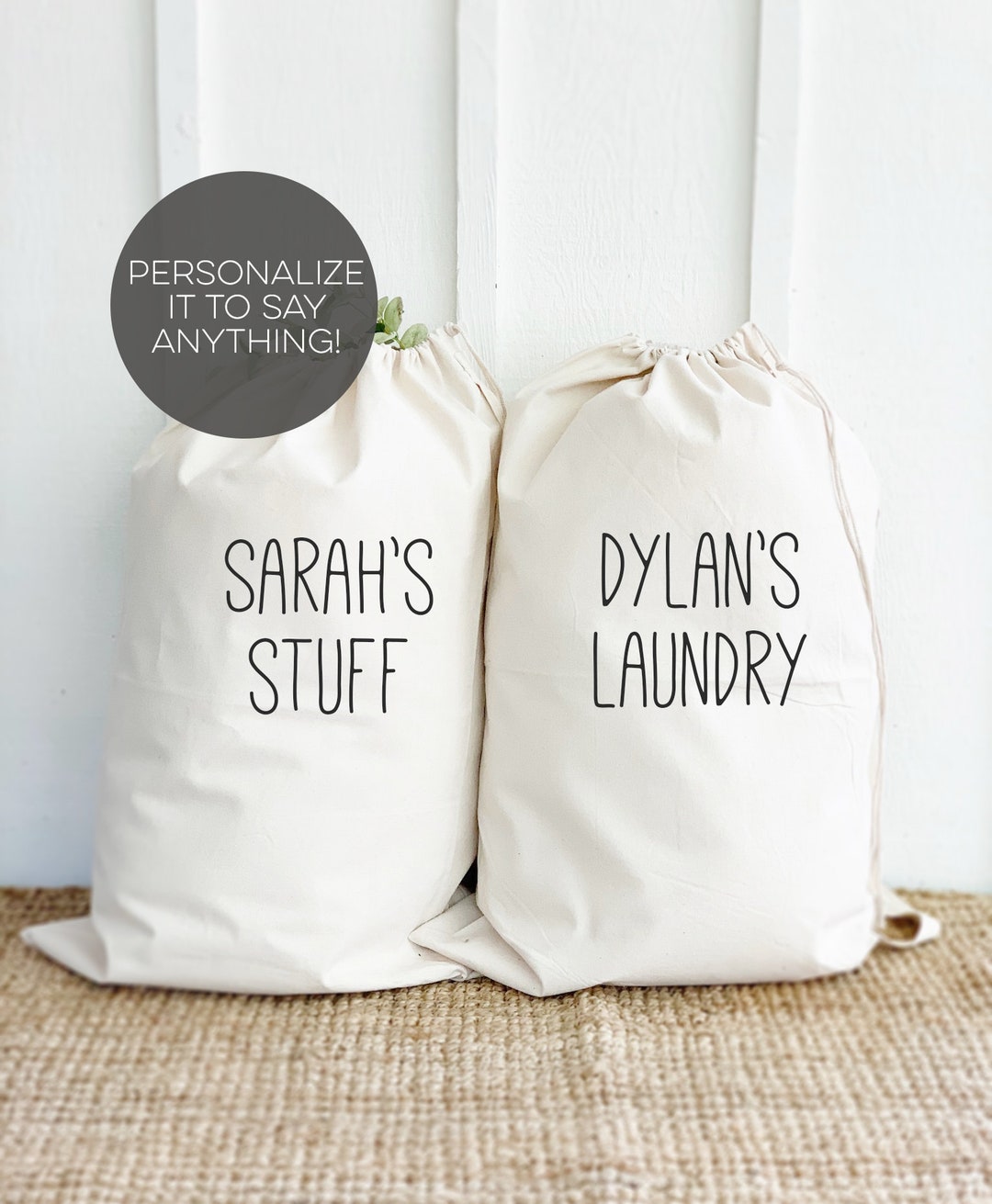 Personalized Laundry Bags for Kids Summer Camp Bags Dirty
from: Etsy
19. Optimized Closet Design:
Customize your closet with vertical hanging rods and stackable bins to make the most of the nursery closet.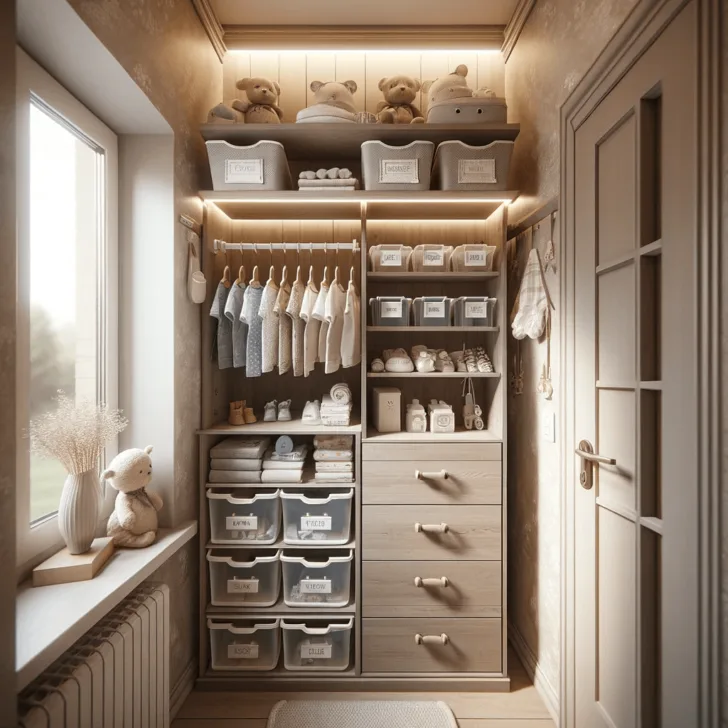 20. Hidden Changing Nooks:
Convert a closet or small alcove into a changing station to keep it handy yet out of sight.
Converting part of the nursery closet to the changing station can open up more space in the room for a rocking chair or cozy nook.
21. Streamlined Toy Storage:
Limit the nursery toys to those that are multi-purpose or educational and store them in solutions that double as play areas.
22. Accent Rugs for Zoning:
Define different areas of the nursery with small, easy-to-clean rugs for a touch of warmth and structure.
If you have bare floors in the room you'll want to add accent rugs to keep your feet warm in the winter and for when your baby starts crawling.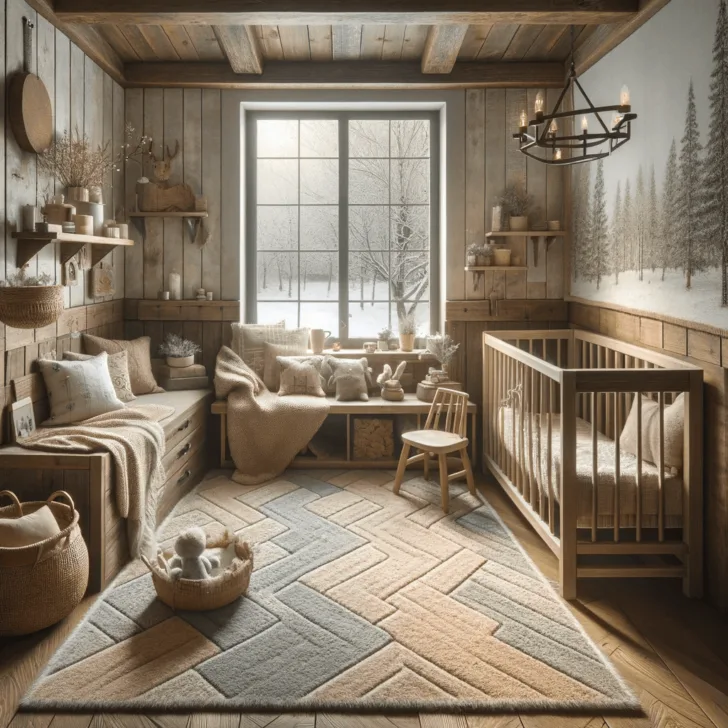 23. Miniature Closet Systems:
Install a downsized closet system tailored for tiny outfits, with the flexibility to change as your baby grows.
24. Pop-Up Play Areas:
Choose foldable play yards and easy-to-clean play mats that can be set up in a snap for playtime and stored away just as quickly.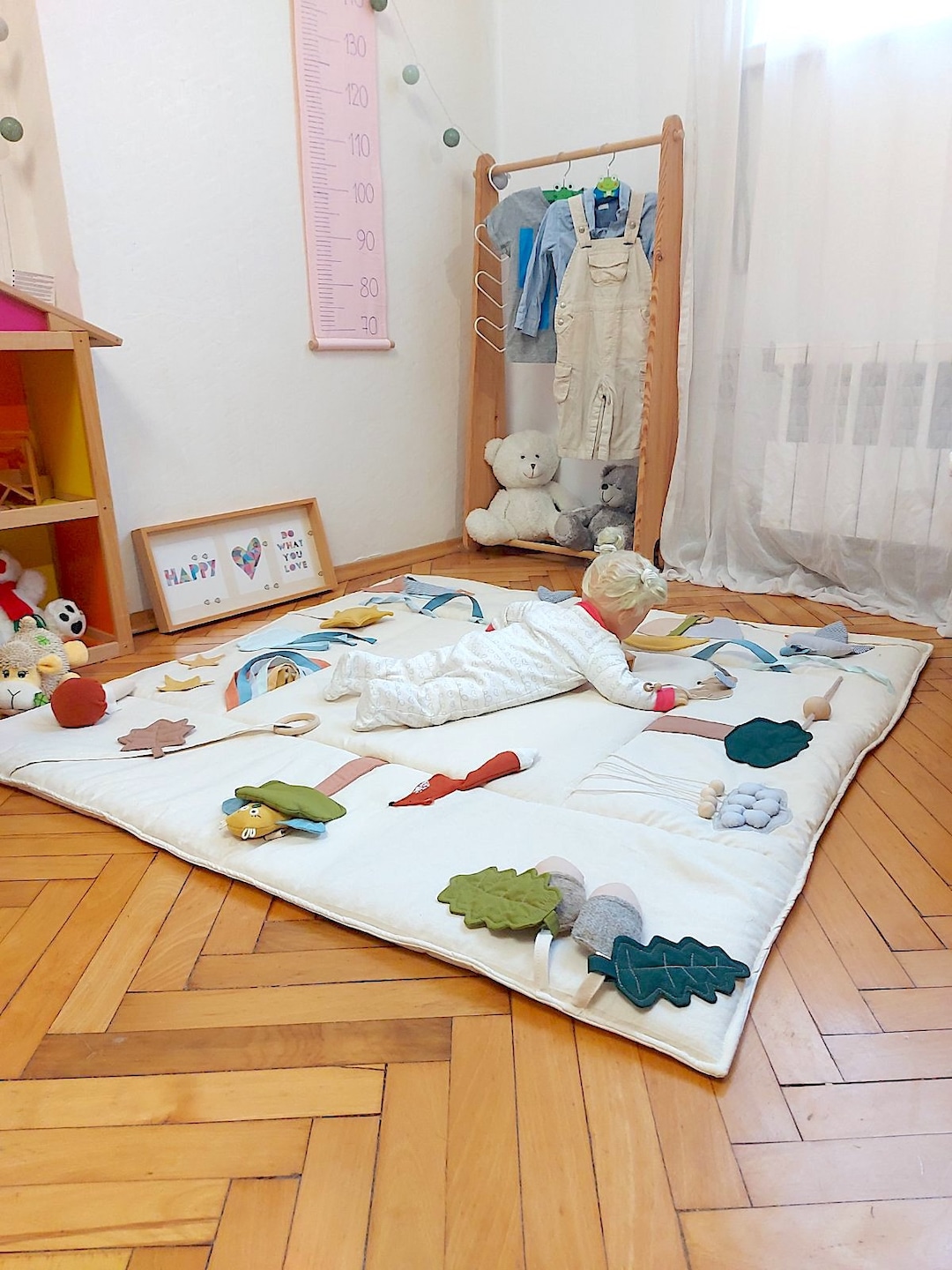 Baby Soft Sensory Blanket baby Activity Toy for Fine Motor
from: Etsy
25. Simplified Bedding:
Opt for functional, space-efficient bedding, avoiding bulky items that can overwhelm a small nursery.
Avoiding bulky bedding for the crib is the best way to keep your baby safe when sleeping too.
A simple crib sheet, light blanket or a sleep sack is all you need.
26. Tech Integration:
Embrace multi-functional smart nursery gadgets, like a device that combines sound machine and night light features.
We love the Hatch Baby sound machine, it is a combo night light and sound machine.
27. Nature-Inspired Themes:
Introduce baby-safe plants and natural elements to the nursery for a refreshing vibe that brings the outdoors inside.
Adding a pop of green to the nursery can help warm up an otherwise neutral space.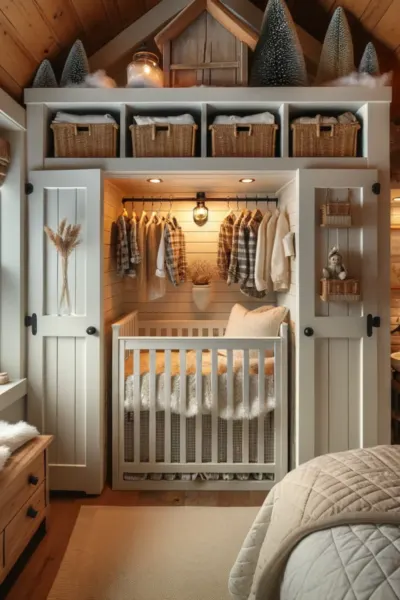 Turning the Closet into a Baby Nursery
As parents in a cozy home, you'll find that turning your walk-in closet into a temporary nursery is a clever, space-saving solution.
It keeps your baby close and accessible throughout the night without sacrificing the comfort of your living space.
You'll want to clear the area of shelving and loose clothing to ensure safety, tucking these items neatly under the crib or in another spot.
To promote your baby's well-being and reduce the risk of SIDS, you'll remove the closet door, guaranteeing a constant airflow.
It's also essential to maintain a clear, easy path to the crib, ensuring it's free from any obstacles so you can swiftly attend to your baby whenever needed.
This cozy arrangement will serve as a practical stopgap until you're ready to move your little one to a more permanent nursery setup.
Here are some amazing transformations of small spaces into adorable baby nurseries:
This is a great example of how you can work with any space.
This closet was turned into a nursery, so everyone had plenty of room.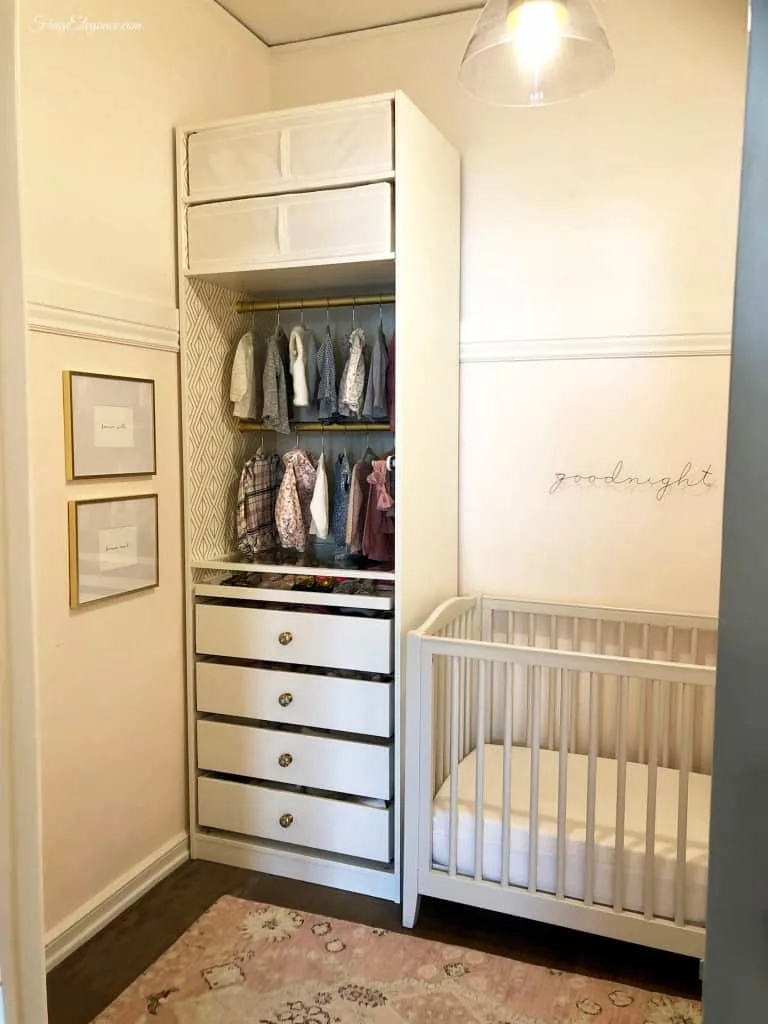 Changing tables and rocking chairs may be best left inside the master bedroom or another area of the home.
If a small table can be placed in the closet safely, this can be a great place to put a small light, fan, or sound machine to help ensure the baby gets a good night's sleep.
Turning a small den or tiny guest room into the Baby Nursery:
Need to turn a tiny room into a nursery? Not a problem.
Check out this tiny nursery transformation!
View this post on Instagram
Whether you are working with a small bedroom or want to save space by making room for the baby in the bedroom, this nursery nook is super cute.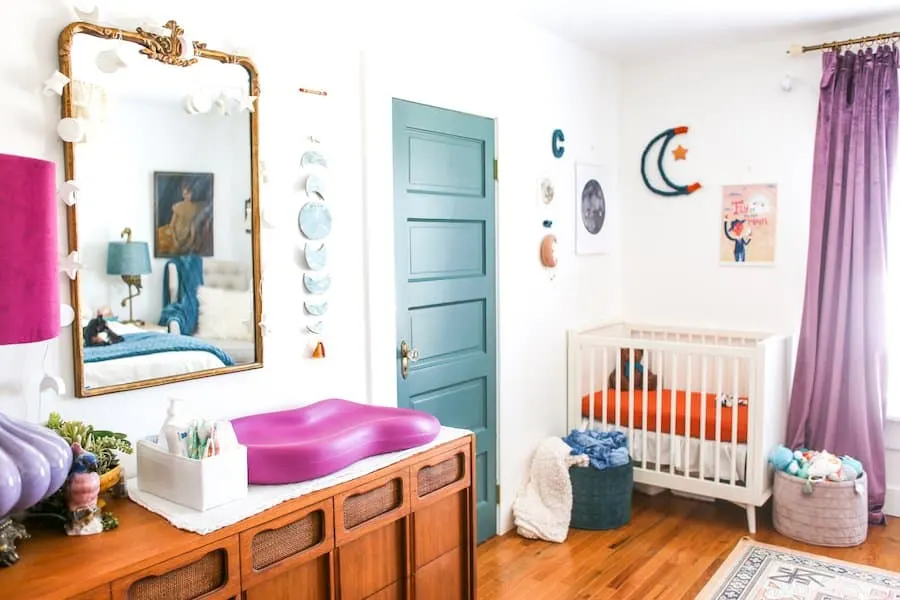 Bring a little nautical vibe with these fun and tidy nursery ideas to help you organize your small space and still have room where you need it.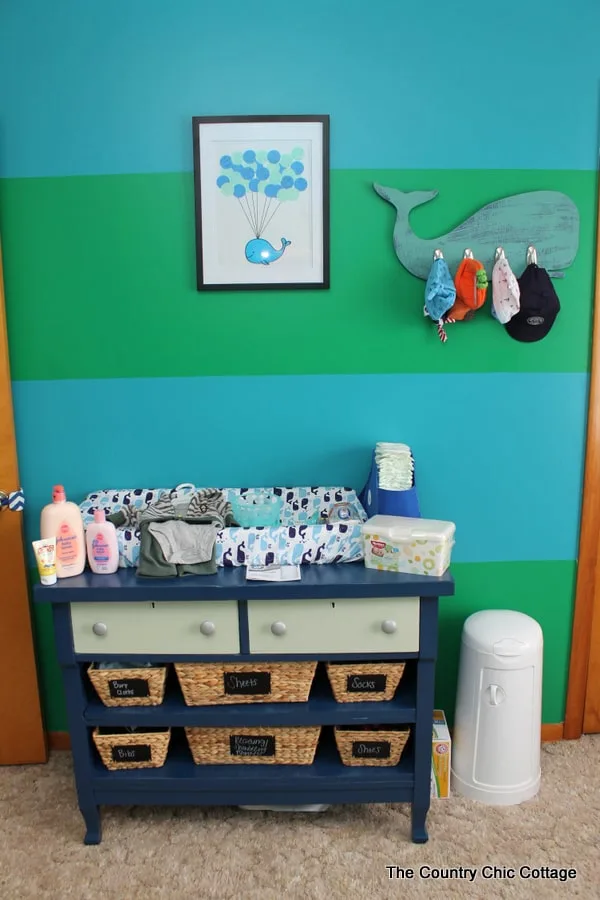 If you are working with a mini crib to help you save space, these DIY mini crib sheets are easy to make.