Updated October 25, 2023
A question that is very often asked by pregnant women is "Is it necessary to take a hospital tour before my delivery?"
Yes!
Why should you take a maternity hospital tour? Simple, you want to know what to expect when you are in labor.
It is normal to be nervous about what happens during labor and delivery. If you have never stayed in a hospital the experience can be intimidating.
One way to relieve your concerns is to take a pregnancy hospital tour or a tour of the birth center where you plan to deliver.
Most Pregnancy hospital tours take about an hour and are very informative.
Just knowing where to go when you get to the hospital in labor makes the tour worth the time.
A hospital tour is not a substitute for a childbirth class.
Yes, you really do need to take one of those too.
Update for 2023: COVID-19 and Pregnancy
COVID-19 is an illness caused by the novel coronavirus SARS-CoV-2. You'll want to ask your doctor any questions you have about COVID-19 and your specific risk factors at your next visit.
For the very latest on COVID-19 and pregnancy, you should visit the CDC at the link below:
Based on what we know at this time, pregnant people might be at an increased risk for severe illness from COVID-19 compared to non-pregnant people. Additionally, there may be an increased risk of adverse pregnancy outcomes, such as preterm birth, among pregnant people with COVID-19.
20 Questions To Ask On Your Maternity Hospital Tour:
1. Is there a newborn intensive care unit (NICU)? What floor is it located on? Is it easy to access from the postpartum rooms?
Whether or not a hospital has a Neonatal Intensive Care Unit (NICU), may determine what facility you choose for your delivery.
One reason may simply be that you want to deliver at a facility that has a NICU within the facility to avoid transport time from another hospital.
Another reason might be because your pregnancy is deemed high-risk for maternal reasons (twins, toxemia, gestational diabetes, premature labor, etc.) or high-risk due to neonatal concerns identified during your prenatal care (fetal cardiac malformations, fetal diaphragmatic hernias, intrauterine growth restriction, etc.).
If this is a question on your mind, become familiar with the levels of nursery care prior to your visit:
Well Newborn Care – Level 1
Special Care Nursery – Level 2
Neonatal Intensive Care Unit – Level 3
Regional Neonatal Intensive Care Unit (Regional NICU) – Level 4
For more details about NICU nurseries, click HERE

2. What hospital entrance do I use when I arrive in labor?
When labor begins, most parents (particularly first-time parents) will want to have the hospital trip well-rehearsed.
You want to assume you will not have the time to think clearly about anything other than getting to the hospital quickly and safely.
Preparing for the onset of labor is crucial and you should focus only on the most fundamental details.
Don't complicate matters. Knowing where the hospital entrance is, is no exception.
Hospitals are large facilities with multiple entrances and in the midst of active labor, finding the labor and delivery entrance can become a daunting task, especially at 2:00 in the morning.
During your maternity hospital tour, ask where the entrance is to labor and delivery.
Make a dry run to the hospital to determine the best route.
3. What are the pain management options available? Is there always an anesthesiologist present at the hospital?
The individual in charge of the maternity hospital tour could be a labor and delivery nurse or a non-clinical hospital employee.
Pain management options for labor can best be addressed by your personal healthcare provider.
However, regarding access to pain management (anesthesia coverage) in the hospital, there is one question you will want to ask.
Is there an anesthesiologist in the hospital 24/7 and if not, what is the labor and delivery coverage arrangement?
4. Does the hospital offer wireless fetal monitoring?
Fetal monitoring during labor is used to confine laboring patients to their beds.
Laboring patients using standard electronic fetal monitoring needed to remain at bed rest because the monitor requires a direct connection of the FHR and contraction transducers to the bedside monitor.
Wireless fetal monitoring has been an option for many years.
However, it may not be available at every hospital so it is best to ask when you tour the labor and delivery floor.
Your maternity hospital tour and your childbirth class should both discuss fetal monitoring, but if you have questions about wireless monitoring during your tour is a good time to ask.
Wireless monitoring, also known as Telemetry monitoring uses a transmitter that is attached to the patient's thigh and the wireless signal is recorded at the central nursing station in labor and delivery.
Telemetry monitoring allows patients to be monitored while walking around the hospital floor.
Since it is often encouraged to ambulate during early labor this type of monitoring was introduced so laboring patients did not have to remain on bed rest throughout their labor.
Though wireless monitoring has been around for many years, it was not used very often.
This was because the signal transmission was poor.
The two most common reasons for this were:
A poor wireless signal

The transducer stopped picking up the FHR because activity (mother and fetus) would cause the transducer to move.
*When the signal is lost during telemetry, an alarm sounds.
Most often this required adjusting the position of the transducer. Unfortunately, this would occur often and was anxiety-provoking for the mother.

Image credit: (Maternity Comfort Solutions)
5. How many people are allowed in the delivery room?
I have seen this policy change many times within the same hospital. Ask if the hospital has a policy if it is not addressed during your maternity hospital tour.
You may want to specify this in your birth plan if you have made one.
Remember, this is your labor and your delivery. You get to decide who you want to be with you during your delivery.
You may want your spouse or partner. You may want a doula, your best friend or your mom. Maybe all of them.
This is an important question to ask on your maternity hospital tour and an important topic to discuss with your partner before your labor begins.
If your birth partner will be with you in the delivery room, it is a great idea if you have both taken a childbirth class together.
It is a really good idea if your birth partner knows how to take care of you in labor and knows how to take care of themselves!
Labor can be a long haul, it can be painful and scary at times, and often your partner may not know how to comfort you or advocate for you.
That is why we recommend the online course Supporting her for birth partners!
The class teaches your partner actionable skills and techniques they'll need to take care of you during your labor and delivery.
The class is 2 hours long, they can take it on their phone, and on their own time.
6. Who do I give the birth plan to when I arrive at the hospital?
It is best to make two copies of your birth plan.
Let the triage nurse know you have a birth plan and give one copy to the nurse caring for you in labor and delivery.
Give the other copy to a family member attending your birth.
If you arrive at the hospital right before a shift change, make sure your new labor and delivery nurse has a copy of your birth plan.
Labor and delivery units are busy places as you will see on your maternity hospital tour.
It is always a good idea to check with the oncoming nurse to make sure she received your birth plan in the report from the nurse going home.
If you have not done a birth plan you might want to consider doing one and be sure to take a childbirth education class.
A recent study found that women who had a birth plan and/or took a childbirth class had a greater likelihood of having a vaginal delivery and avoiding a cesarean section.
7. If I have a c-section, who is allowed to attend the delivery?
Recently, there have been many changes to this policy.
Hospitals are trying to be more accommodating.
Keep in mind that a cesarean section is done in an operating room.
So some restrictions are mandated by the state to ensure patient safety.
Hospitals and OB/GYNs have been trying to make c-sections more family-centered and supportive.
Most facilities and doctors will allow for your partner and doula to be with you during your c-section.
You will want to discuss this with your doctor so you know what their policy is.
We would suggest you ask this question on your maternity hospital tour, in case you have an on-call doctor or if the hospital has a laborist that covers deliveries on the unit.
8. Are there lactation specialists available? Do you have a lactation consultant on staff at the hospital?
Ask if the hospital has a designated lactation consultant. They most likely do.
If you plan to breastfeed it is good to know how many lactation consultants are available.
What hours do they work?
Will they come to see you automatically or do you need to ask?
9. Does the hospital allow pacifiers and bottles in the nursery?
There are some hospitals that have new policies about pacifiers and bottles.
Ask if you are unclear about the policy.
Over 500 hospitals in the US now have the Baby-Friendly Hospital Initiative(BFHI) designation.
The BFHI program is designed to offer women the support and education they need to successfully breastfeed their newborns (Baby-Friendly USA, 2018).
If you plan to breastfeed, a BFH may be the perfect choice for you. You will receive care from providers who are specially trained to help you be successful in breastfeeding.
If you are not sure about breastfeeding, a BFH may offer you the support and confidence you need to breastfeed your new baby.
If you know you plan to formula feed and the hospital you plan to deliver at is a "baby-friendly" designated hospital, tell them your plans right away. Some hospitals may require you to bring your own formula.
The easiest option is to bring small bottles of ready-to-feed formula.
Stand your ground if pressured in any way about your choice. Your baby, your body, your choice.
If you plan to use a pacifier, be sure to bring your own in case the hospital does not provide them.
Breastfeeding isn't always easy.
So be sure to ask about what policies and assist the facility offers to help you be successful.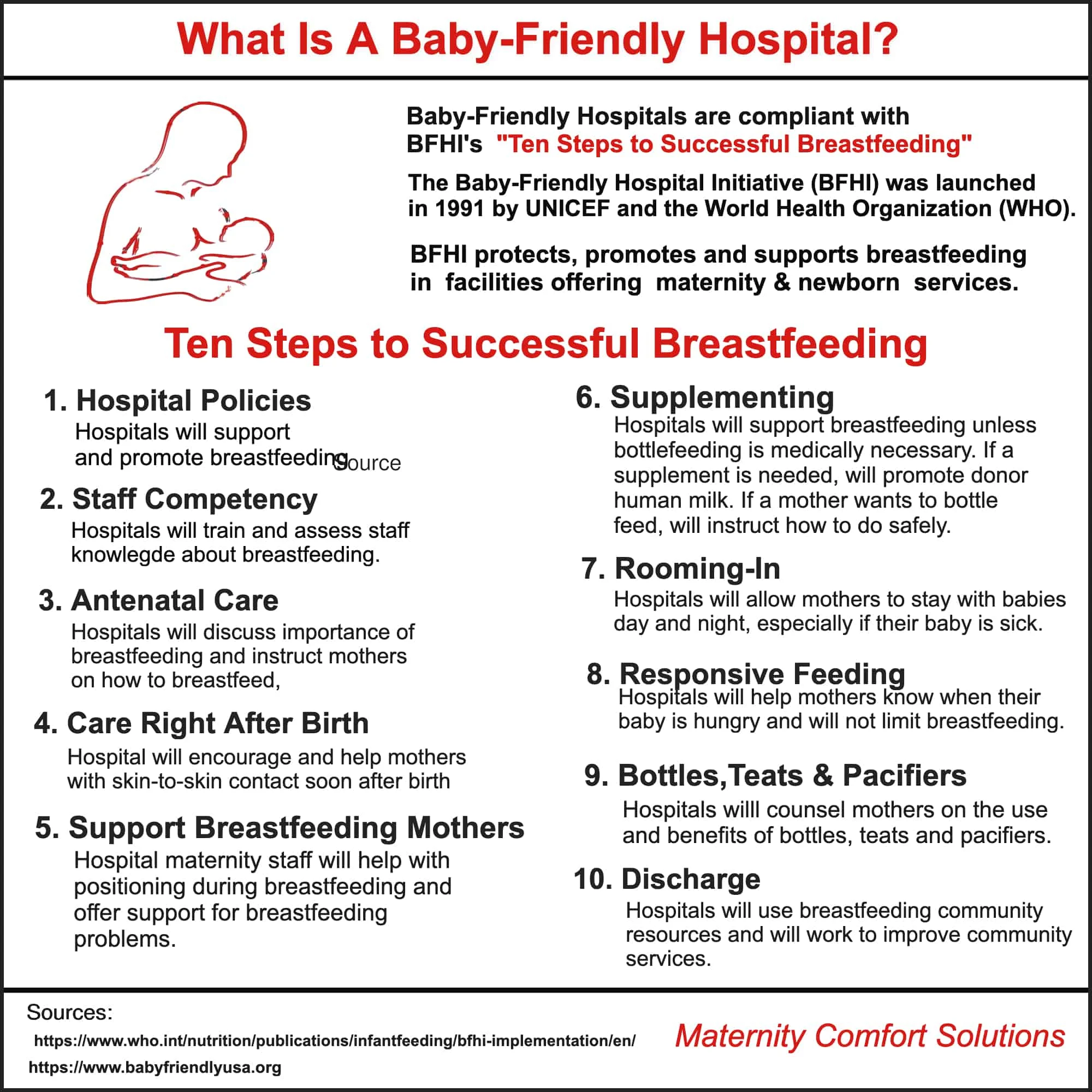 10. What security measures are there? Do people have to be buzzed in, are there security guards, and is a device placed on my baby to make sure he/she cannot leave the floor?
Hospitals have very strict security policies.
Be sure to ask about the policy if it is not discussed.
It is exceedingly rare for a baby to be taken from the mother-baby unit of the hospital, but it is important to be sure the hospital you are going to uses a device on you and your newborn to be sure the baby can't leave the unit with anyone else.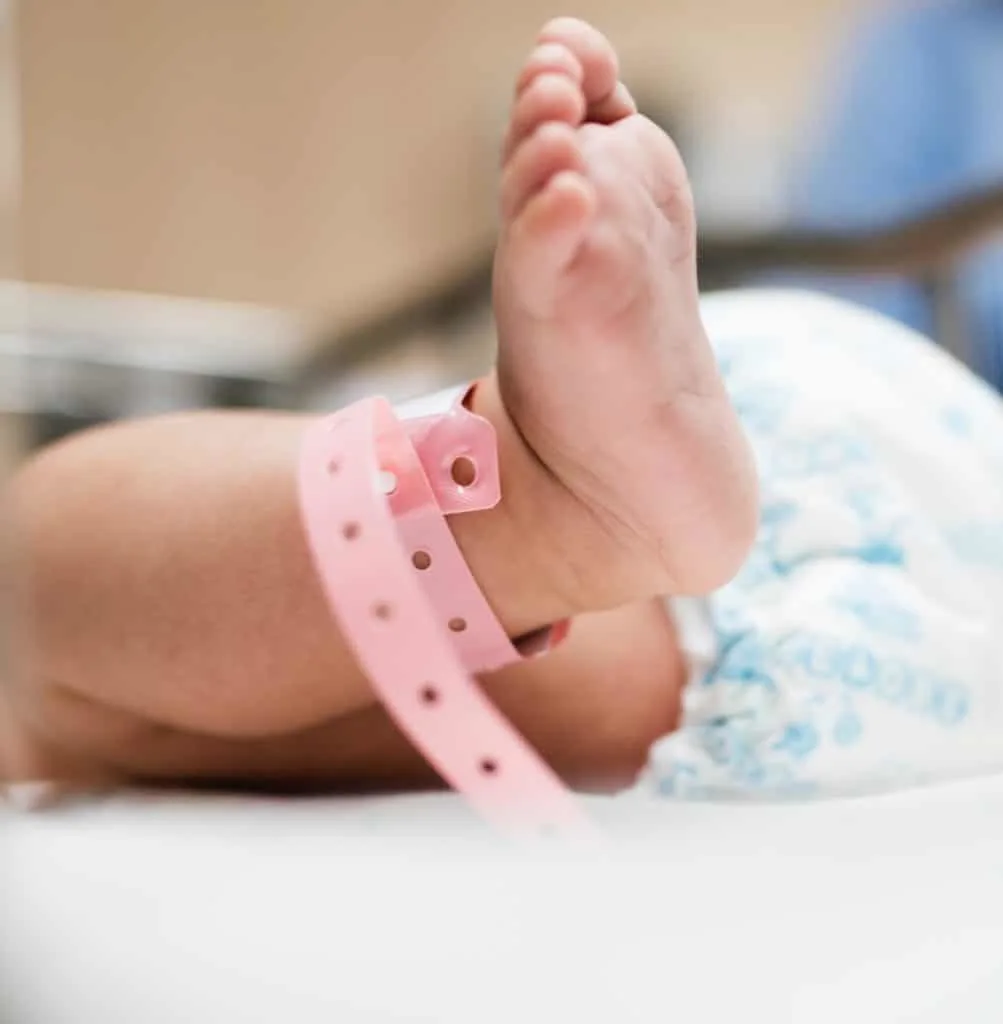 11. Are there specific hours for visiting? Do you allow young children to visit?
This is a common question. Ask about visiting hours and age restrictions.
In addition, you may also want to inquire about the hospital's overnight policy.
Due to COVID-19, many hospitals are not allowing any visitors or may be limiting them.
So be sure to ask what the current policy is.
You may want to ask if your partner can stay overnight.
If possible we suggest this so you have help caring for your newborn in the hospital.
12. Does the hospital support supplementing breastfeeding with formula?
Hospitals have been implementing new policies to specifically address this issue.
It depends.
As we discussed in question 9 above, many hospitals have become or are working on becoming "Baby-Friendly" designated.
One of the standards of care under BFHI is that unless medically indicated a newborn is given nothing but breastmilk.
Having said that if you want to supplement with infant formula that is your right.
We are big believers that no woman should be bullied or guilted or shamed for her infant feeding choice.
13. Is there wireless internet access?
If WiFi is available, you may want to ask about connectivity as this can pose a problem depending on your internet provider and the device you are using.
14. Will I be in one room during my entire stay, or will I be moved to a separate postpartum floor?
Your hospital will have one of the following arrangements. Ask if you have any questions:
Admission to Labor and Delivery after which you will be transferred to the postpartum floor
LDR – A room for labor, delivery, and recovery after which you will be transferred to the postpartum floor
LDRP – One room for your entire hospital stay: Labor/Delivery/Recovery/Postpartum
15. Is this a teaching hospital? Will students or residents attend the birth? Can I request that they not attend if I don't feel comfortable with them there?
We love this question and feel it is an important one to explain so you can make an informed decision about whether or not you want students (medical or nursing) or residents examining you or being there for the delivery.
Teaching hospitals are often tertiary care hospitals.
These hospitals deal with complex medical and surgical interventions.
This includes the management of routine and high-risk pregnancies.
As a result, the staff that manages pregnancy (perinatal staff) and newborns (neonatal staff) can be extensive.
The following is a list of the individuals you may meet on the labor and delivery and postpartum floors of a tertiary teaching hospital.
These are in addition to your personal doctor and nurses:
Medical Students/Nursing students
Residents – Physicians in OB/GYN, Pediatrics, and Anesthesiology who have completed medical school and are receiving training in their respective specialties. Resident physicians range from first-year interns to chief residents.
Fellows – Physicians who have completed their residency and are in training to become a subspecialist. In labor and delivery, the OB Fellow is training to become a perinatologist (see below).
Obstetricians – Typically your prenatal care physician is an obstetrician/gynecologist.
Perinatologist – Teaching hospitals will often have a perinatologist on staff. This physician manages high-risk pregnancies.
Neonatologist – Since tertiary care hospitals have a neonatal intensive care unit (NICU), the hospital will have neonatologists to manage the NICU. Neonatologists are physicians who have completed a pediatric residency and a subspecialty fellowship in neonatology.
Pediatricians – Your pediatrician will examine your newborn on the postpartum floor.
Obstetrical Anesthesiologist – Anesthesiologist that specializes in the care of labor and delivery patients.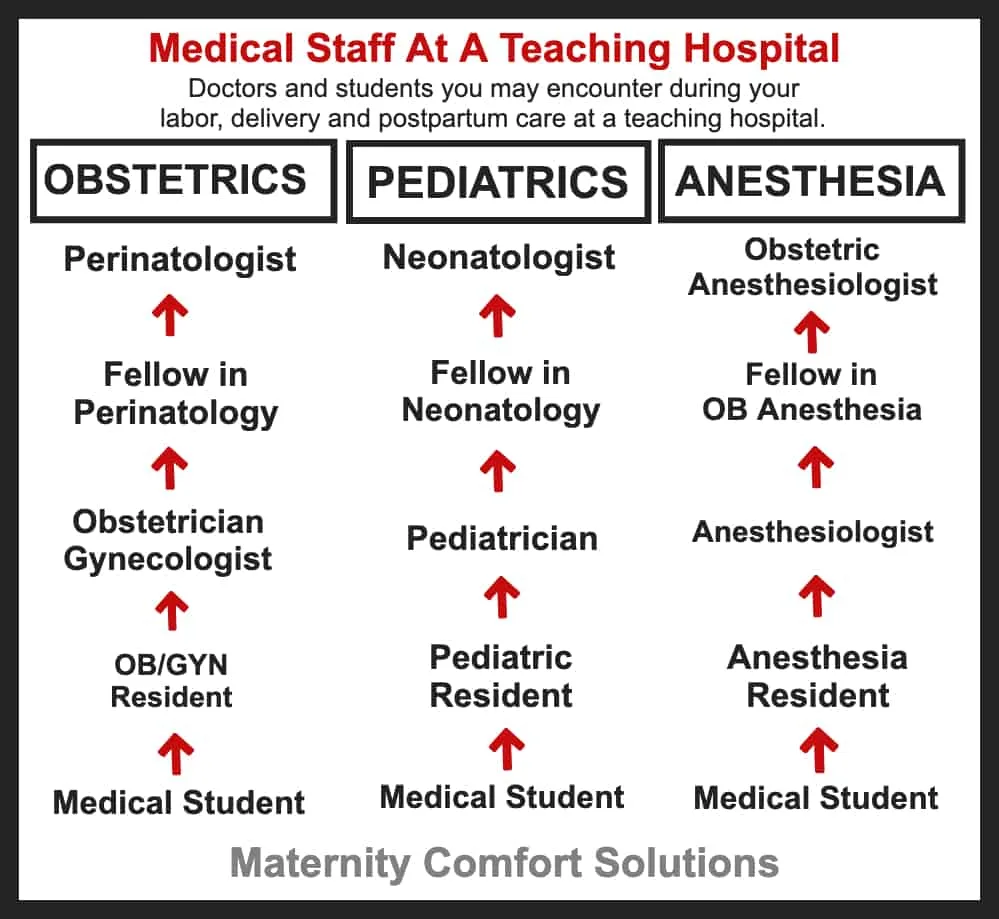 *This list is not all-inclusive. Since there are also primary and secondary teaching hospitals, the staff will vary depending on the level of care offered at the hospital.
You will likely not have all of these people parading in and out during your labor and delivery and postpartum stay. But it is good to know who you could possibly see.
There are always policy changes taking place in teaching hospitals, you will want to ask this question on your maternity hospital tour for clarity.
Generally, the answer is yes, you can request that students or residents not attend your birth.
You will definitely want to address this issue with your doctor so there is no confusion when you arrive at the hospital.
Some hospitals have a laborist on staff that handles the deliveries on the unit.
Be sure to ask about this on your maternity hospital tour, so you know to tell the Laborist on the unit that you do not want residents or students attending the birth.
16. What is the preregistration process?
Most often this is done through the mail before you go to the hospital.
When you arrive, the admissions office will have your file.
Confirm you are registered in the hospital system.
You want to ask this question because you don't want to arrive at the hospital and not have your insurance and other paperwork in order.
17. What birthing equipment is provided by the hospital? (birth ball, squat bars, showers, jetted tubs, rocking chair, birthing stool)
Hospitals vary tremendously on this topic, so it is best to ask.
For hygienic purposes, it is best to bring personal items that are portable (birth balls, etc.).
18. Where will I be evaluated when I arrive at the hospital?
Labor and delivery departments have a designated triage unit.
This is where you will initially be evaluated before being admitted to labor and delivery.
It is essential you know where the triage area is located and how to get there from the hospital entrance.
Some hospitals may want you to enter through the Emergency department.
You will be brought to Labor and Delivery from there.
19. What is the hospital's policy about photography? (ie. cameras/video cameras during labor/delivery/c-section)?
This is a definite question you will want to ask on the maternity hospital tour.
Hospitals have different policies about photography in the delivery room.
Due to COVID-19, the facility you are giving birth at may not be allowing birth photographers on the unit.
Hiring a professional birth photographer for your labor and delivery is becoming increasingly popular.
If you are planning to have a photographer attend your delivery, find out the hospital policy about photography in labor and delivery.
Also, find out what the policy is among the providers in your medical group (not only your personal provider).
Hiring a photographer requires a great deal of planning and is costly. If this is part of your birth plan, you will want to be sure this decision goes smoothly when you are in labor.
Hospitals and providers may allow filming and photos of your labor but may not allow the filming of your actual delivery.
There are a couple of reasons for this, one, of course, is potential complications and liability issues.
The second is tied into the first, you want your medical and nursing team completely focused on helping you deliver your baby safely.
Remember to ask these questions to avoid any last-minute changes in your birth plan.
Hospitals and providers are strict about this policy and are unlikely to make an allowance for this if it has not been addressed ahead of time.
It is stressful enough when you arrive at the hospital in labor. You want to avoid any conflicts that could have been addressed during your prenatal care.
The following, are the specific questions you will want to ask the hospital and your provider:
Hospital: (Ask these questions well before your due date and ideally before your hospital tour.)
When are professional photographers allowed to film during your labor and delivery … Labor? Delivery? Postpartum?
If you have a cesarean section, can the photographer come into the delivery room, and what can be filmed during the surgery?
Provider:
Will all the delivering clinicians in your medical practice, allow professional photography in labor and delivery?
Are there any restrictions about what can be filmed? Can the delivery be filmed or only before and after delivery?
If I have a cesarean section and the hospital allows filming of the delivery, will your colleagues allow this as well?
The reason to address this topic ahead of time is to avoid last-minute undue stress on anyone involved in your labor and delivery.
If the policy is not to allow photography, other than the usual allowances, try to accept this and realize that you want your providers to be comfortable performing their job.
After many years of observing policy changes, there is never a right or wrong answer to how this is addressed.
It is a very individual decision and often will have a lot to do with the relationship you have with your provider.
20. Can my baby room in with me instead of being in the nursery?
Rooming-in is becoming more the norm, but you'll want to ask just in case the hospital your delivering at has a different policy.
Some pregnant women may have the opposite question.
They may want to know if the baby can go to the nursery.
You will want to ask because many hospitals have done away with their well-baby nurseries in favor of the baby with the mother 24/7.
As we talked about above some of that is due to hospitals becoming "baby-friendly" certified.
Baby-friendly isn't always "brand new mom-friendly"
If this is the policy of the facility you plan to have your baby, you should strongly consider having a support person who will be with you throughout your hospital stay.
I know this can be difficult if you have other children at home or don't have a partner.
Ask a friend, ask your mom, or hire a postpartum doula.
Be sure you have help.
Even with an uncomplicated vaginal delivery, you will be sore and exhausted.
Your stay may only be 24 hours, but that is a very long 24 hours if you are alone with a newborn and need assistance.
If you have a C-section you will likely be in the hospital for a few days and will want to have someone there as a support person to help you take care of the baby.
You will need to rest and rooming-in policies can make that difficult for new moms, so be sure to ask about the room-in policy on your maternity hospital tour.
Other pregnancy-related posts you might find helpful:
Finally, If possible, hold your questions until the end of the maternity hospital tour since most questions will be answered during the tour.
If you get to the question and answer period and there are a lot of people and a lot of questions there are four questions we suggest you focus on: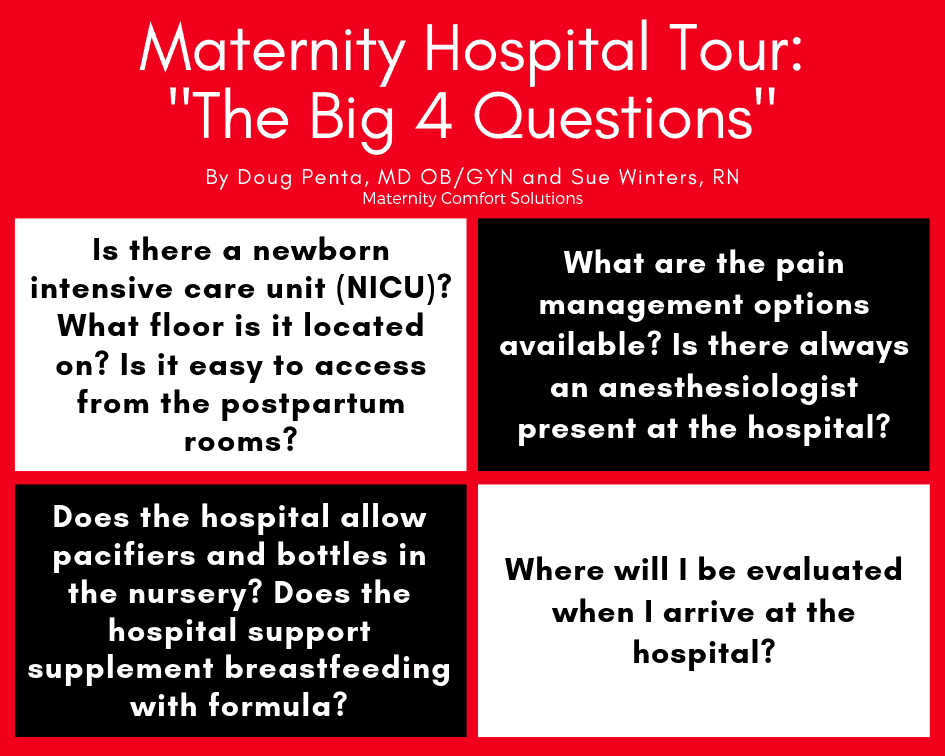 At your maternity hospital tour, try to avoid asking questions about labor management as those are best answered by your healthcare provider.
The tour is intended to answer questions about hospital policies and help you become familiar with the layout of the facility.