Updated
Pelvic support belts can be very effective for the management of pelvic and low back pain during pregnancy. The belts are specially designed to give musculoskeletal support to the abdomen and lower back. 
This article contains affiliate links. See our full affiliate disclosure.
Why does pregnancy cause pelvic and low back pain?
During pregnancy, the hormones, progestin and relaxin, soften the supportive, ligamentous structures in the pelvis. The bodily changes occur to help the bones of the pelvic outlet accommodate childbirth.
Unfortunately, these changes can make the simplest core body movements more difficult. The joints in the pelvis (sacroiliac joint, pubic symphysis, etc.), which are responsible for pelvic support, become loose and unstable resulting in pelvic pain which can range from mild to severe. 
The frontal core weight gain during pregnancy causes a tremendous amount of musculoskeletal strain in the lower back and pelvis. This shift in the body's center-of-gravity forces muscles (primarily in the lower back) to compensate to maintain correct posture. 
7 reasons to consider wearing pelvic support belts during pregnancy:
Posture

Back Trauma

Prior Deliveries

Diastasis Recti

Symphysis Pubis Dysfunction

Multiple Gestations
Postpartum Abdominal Support
*Before wearing pelvic support belts it is essential to have your healthcare provider perform an examination to establish a proper diagnosis. This will include a complete medical history and physical exam: (Make sure your medical history includes any history of scoliosis, sciatica, herniated discs, pelvic trauma, back trauma, chronic back pain, back surgery (fusion, rod placement, spinal stenosis, etc.)). 
1. Posture:
Maintaining correct posture during pregnancy involves the core muscles in the abdomen and lower back.
2. Back Trauma: 
Many individuals who have experienced back trauma or have a congenital back problem may find a pelvic support belt can helpful. However, it is important to discuss the use of a support belt with your health care provider. The wrong type of belt or a belt that does not fit properly can make a back problem worse, especially with twins or triplets.
3. Prior Deliveries:
Many women experience increased lower back and pelvic discomfort with subsequent pregnancies. This is very likely due to the fact that the pelvic ligaments and joints (pubic symphysis and sacroiliac joints) are prone to loosening after one's first delivery. This earlier accommodation of the pelvis for childbirth also helps explain why the average duration of labor is shorter for multiparous* women.
* Multiparous (a woman who has given birth to two or more children) ; Primiparous (a woman who has given birth to one child)
4. Diastasis Recti:
Diastasis recti , occurs when the rectus (abdominal muscles) separate in the midline. Diastasis can be mild or severe and is a combination of a predisposition to the problem (tissue integrity) and how much abdominal distention there is particularly with twins and triplets. Many women who experience diastasis recti during pregnancy will continue to experience the problem postpartum.
The strength of abdominal wall muscles directly impact everyday bodily functions:
posture (core muscle stability)
elimination (bloating, constipation)
breathing (abdominal breathing involving the diaphragm)
A pelvic support belt can significantly reduce the problems listed above.
5. Symphysis Pubis Dysfunction:
For individuals with symphysis pubis dysfunction, a pelvic support belt can help stabilize the pelvic girdle, diminishing pubic bone pain.
6. Multiple Gestations:
The weight of a twin or triplet pregnancy can cause significant back strain.
7. Postpartum Abdominal Support:
Though pelvic support belts are often used during pregnancy, many women find them particularly beneficial for postpartum abdominal wall support until muscular tone returns.
5 Best Pelvic Support Belts
1. AZMED Maternity Belt, Breathable Abdominal Binder, Back Support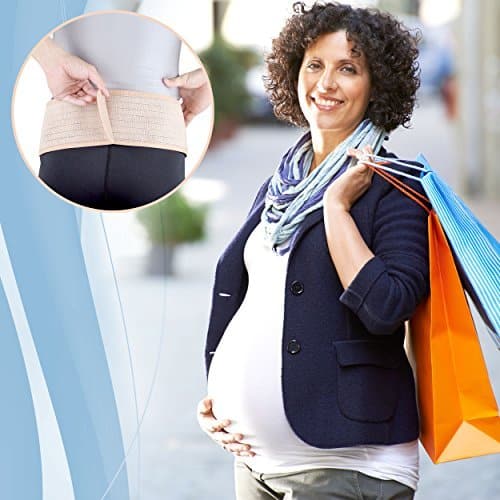 2. Maternity Belt – NEOtech Care Brand – Pregnancy Support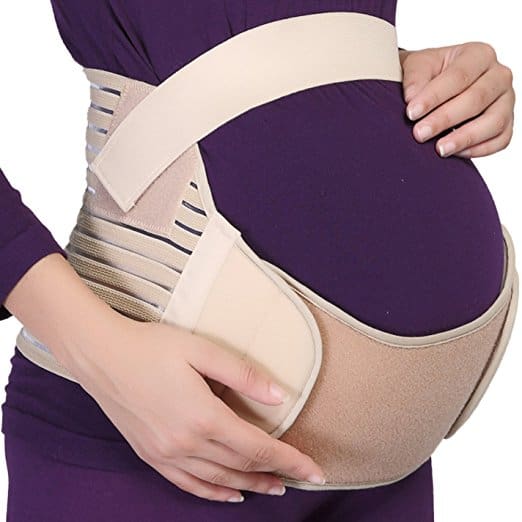 3. Maternity Belt – Babo Care Breathable Lower Back and Pelvic Support – Comfortable Belly Band for Pregnancy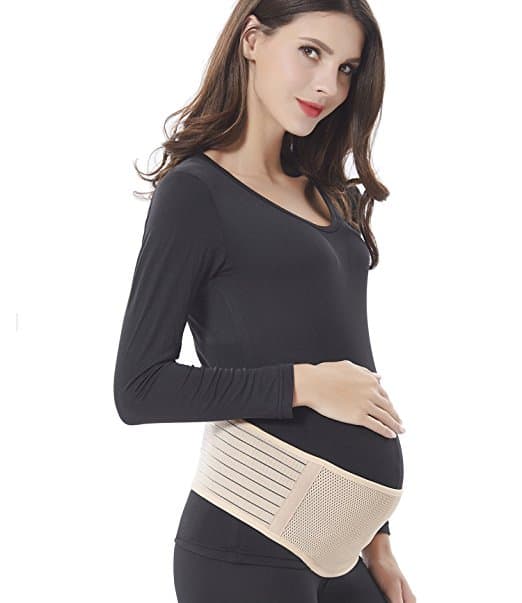 4. Baby Belly Band – Sport Pregnancy & Maternity Belt – For Abdominal, Hip, & Back Support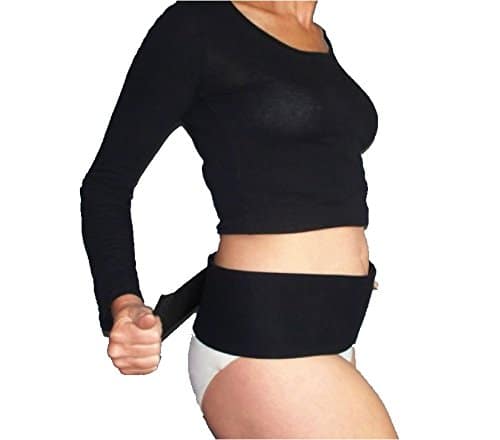 Other pregnancy posts that might interest you:
NOTE:
Pelvic support belts can dramatically improve pelvic and lower abdominal discomfort during pregnancy. However, before you consider wearing one, there are some precautions you want to take:
Consult your healthcare provider. If you have impaired circulation, high blood pressure or a number of other medical conditions, constrictive garments may be contraindicated.
If you have recent or past musculoskeletal injuries, be sure to address these problems with your provider and get the appropriate medical treatment (physical therapy, etc.). Pelvic support belts are a medical treatment.
[amazon_link asins='B0113WE0QS,B01GO2Q2YA,B01N0NT52Q,B01M61PA8R,B007T994R0,B01M4G970C,B005N7YXZ8′ template='ProductCarousel' store='matcs-20′ marketplace='US' link_id='71b93f67-678f-11e8-ab78-8d954ae1b1a4′]
.