We may earn money or products from the companies mentioned in this post. You can read full disclaimer below.
Updated May 26, 2021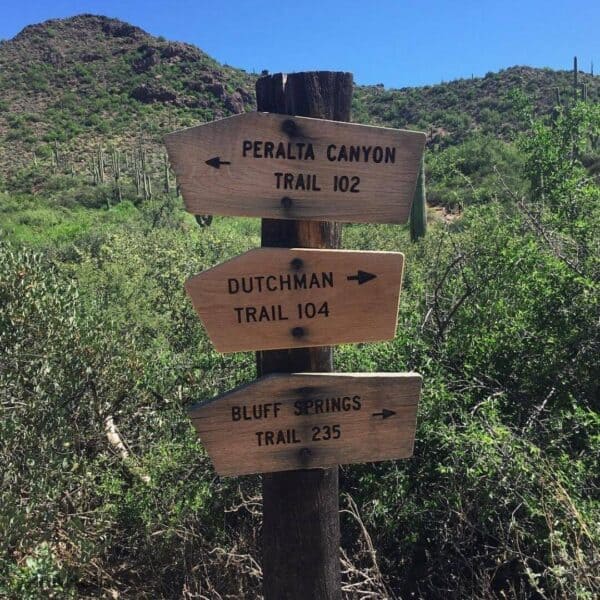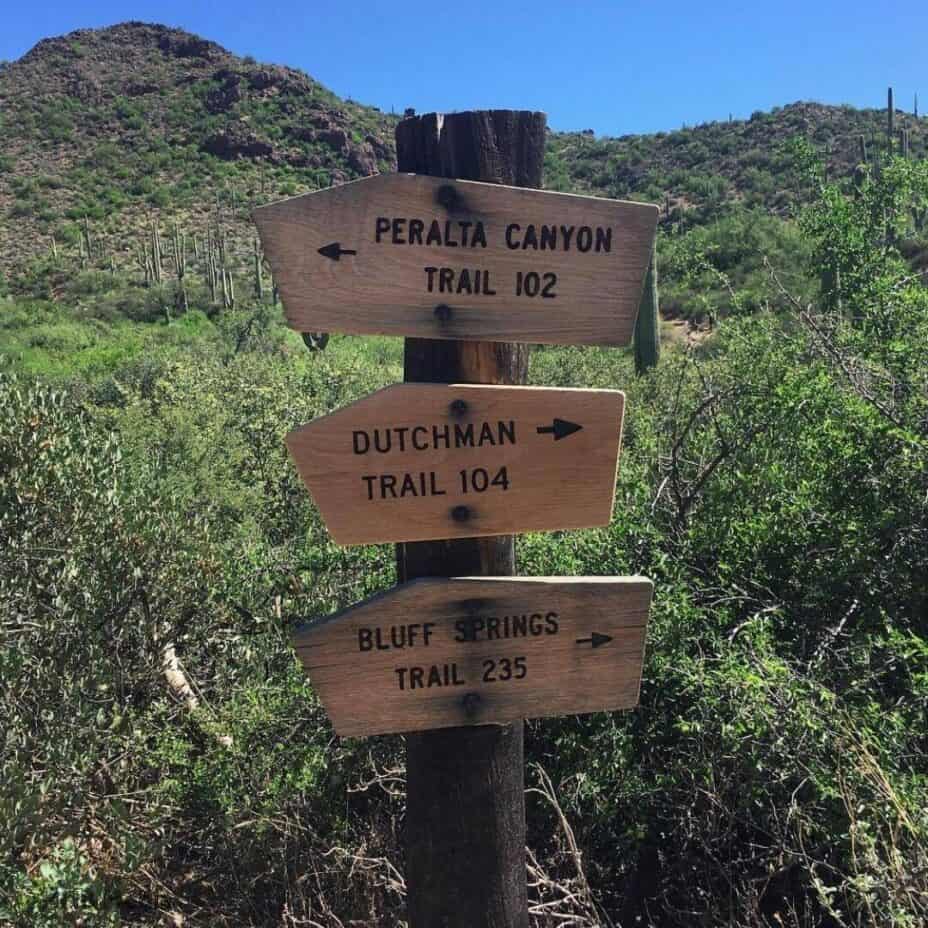 Are you wondering if hiking is safe during pregnancy?
First congratulations on your pregnancy and secondly you have come to the right place!
My better half is an OB/GYN, I'm an RN, and an avid trail runner and hiker.
Hiking is an excellent cardio workout, improves physical stamina, and can help improve your mood.
Hiking in moderation is considered a safe exercise during pregnancy. There are some steps you'll need to take to make sure you and your growing baby stay safe.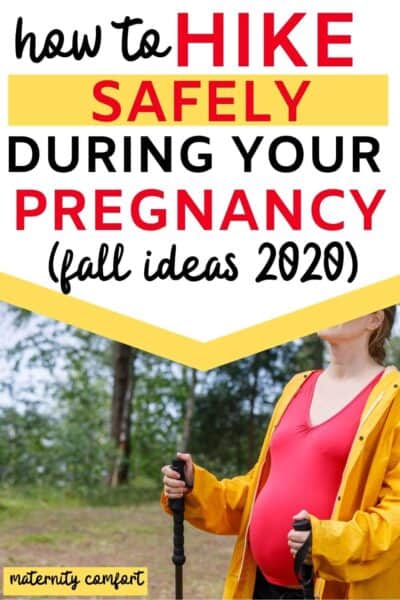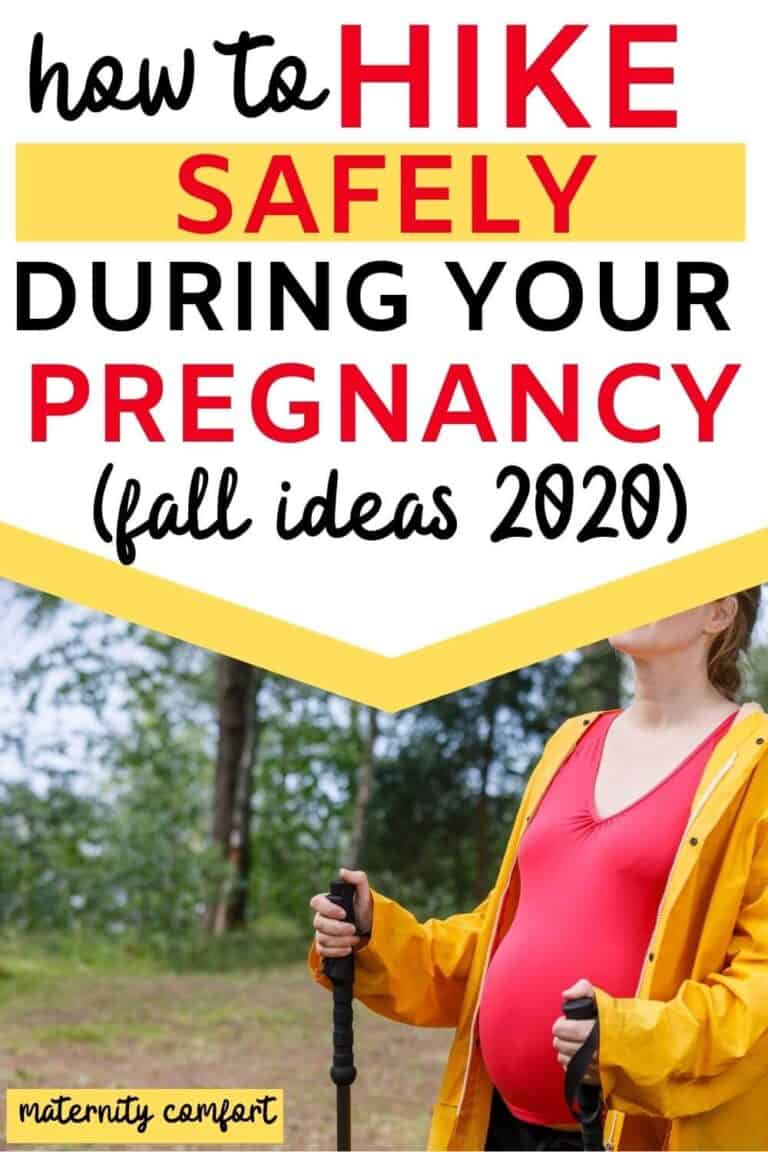 First things first: talk to your doctor or midwife. Every pregnancy is different and everyone's health history is different.
You want the "All clear." from your provider because they know you and your health history best.
We have so many great tips to share for safe hiking during pregnancy and a list of the BEST pregnancy hiking essentials.
So let's jump right in!
Is Hiking Safe During Pregnancy? – Pregnant hiking essentials:
If you are a regular hiker, you probably know all about the 10 essentials you should have with you on hikes.
They become even more important when you are pregnant.
1. Hiking shoes or hiking boots
You'll want to get a comfy and grippy pair of hiking shoes or hiking boots. I wear trail running sneakers when hiking because I prefer a lighter feel on my feet and legs.
You may find hiking boots work better for you. They do offer more ankle stability and have deeper lugs that offer a better grip than trail running shoes.
Get the right size. Remember your feet can swell during pregnancy so you do not want them to be too snug.
Walk around the store wearing them. Pay close attention to how they fit.
[wps_alert type="note"][wps_icon icon="check" background="#31b522″ color="#ffffff" size="18″ padding="6″ radius="0″]
Pro-Tip: Go try hiking boots or trail runners on at the end of the day.
[/wps_alert]
If you feel any areas rubbing, don't blow it off. Those will become agonizing blisters on a hike.
Take your time at the store. Most stores will only allow you to return unworn shoes.
I have sensitive spots on my feet that blister no matter what hiking shoes I wear. Prevention is key. I cover those areas with moleskin before they get a chance to blister and wear socks that do not slip.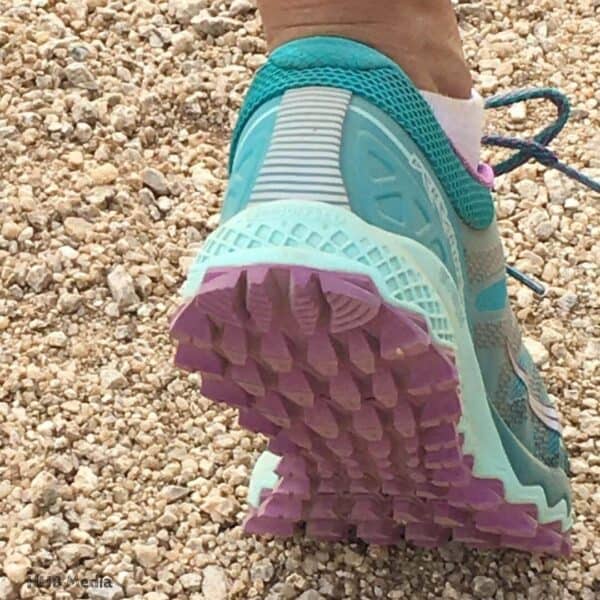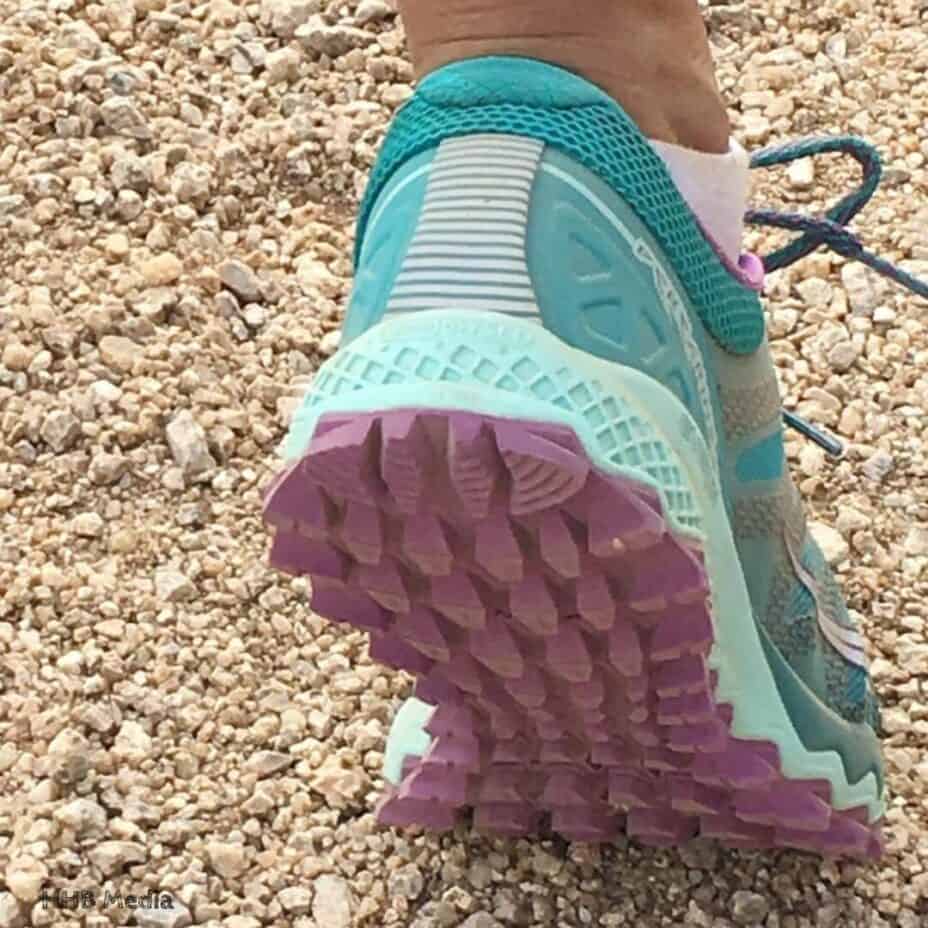 2. Wear a light-weight day pack and bring plenty of water.
Having the right daypack can make the difference between an enjoyable hike and a miserable hike. That is even more true during pregnancy.
Venture Pal 40L Lightweight Packable Waterproof Travel Hiking Backpack Daypack
Water Bottles That Are A Good Choice For Hikers:
Last updated on May 31, 2022 8:37 am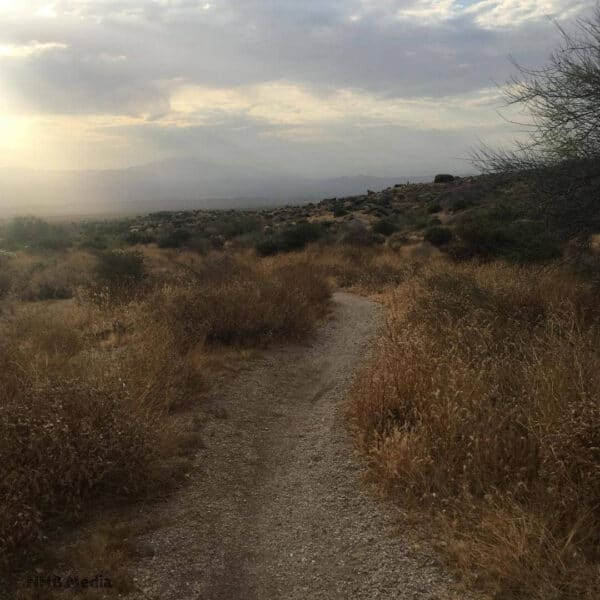 3. Snacks
Pack easy to eat snacks. Pick snacks that you know you like.
A hike is not the time to be trying new foods. you want to try to make sure that your snacks have a carbohydrate a protein and fat.
That will help keep your energy levels in your blood sugar stable.
When I go hiking I always tried to bring snacks that include a protein and a carbohydrate.
I might bring a sandwich, yogurt and fruit, and hummus and with carrot sticks.
One of the things I've noticed when hiking is that it's not the uphill climb that gets to me, it's the downhill slope.
I find that I get very hungry when coming down a mountain.
Coming down it's always been more technically challenging for me. so keep in mind how you hike and plan your snacks accordingly.
Healthy hiking snacks during pregnancy:
Whole-grain crackers with nut butter or peanut butter
Dry whole-grain cereal
Bagel and cream cheese
Pretzels with nut butter or cheese
Hummus and carrot sticks
Granola bars
Apple chips
Whole apple
Smashed Chickpea Salad Sandwich (link)
Chicken Salad Sandwich
Homemade Dried Fruit (link)
4. Pregnancy-safe Sunscreen
One of the questions women often ask "Is it OK to be in the sun when pregnant?"
Yes. It is OK as long as you take some precautions. Pregnancy makes your skin more sensitive to the effects of the sun. That means you can burn more easily.
Use a sunscreen with SPF 30 or more, and wear a hat when hiking. You definitely want to wear half.
It's not your imagination that your skins for your skin burn more easily during pregnancy. that includes the top of your head.
5. Trekking poles
Trekking poles are very helpful, especially when hiking over rough terrain.
Everyone should use trekking poles for support and prevent injury.
Trekking poles are particularly important if you are pregnant.
During pregnancy, the distribution of your weight changes, and the changes in your center of gravity can cause instability.
In addition, pregnancy causes your hip and pelvic joints to loosen and this can make it more difficult to maintain a stable posture, let alone hike up a mountain!
Trekking poles are especially helpful on the downhill part of your hike. When descending, it is easy to slide and lose your footing.
The poles can help you keep your balance and control your speed.
Get a pair of trekking poles that fold up. you can stuff them in your Daypack when you're not using them.
6. Cell phone
Anyone (not only women who are pregnant) hiking into the woods or venturing into unfamiliar terrain, must carry a cell phone.
There are many ways a cell phone can literally save your life.
There are some areas throughout the country where there is no cellphone service. Check and make sure the place you go hiking has cellular access.
If not, there are likely other reasons you would want to avoid hiking in such an area.
A cell phone gives you access to emergency services. You could injure yourself while hiking.
Depending on where you are hiking, as we have mentioned, you might need urgent care if you are bitten by a snake or have a reaction to an insect bite.
The weather can change abruptly and you may need to let local authorities know where you are.
You could experience a problem relating to your pregnancy. While these scenarios are unlikely, it is important to be prepared.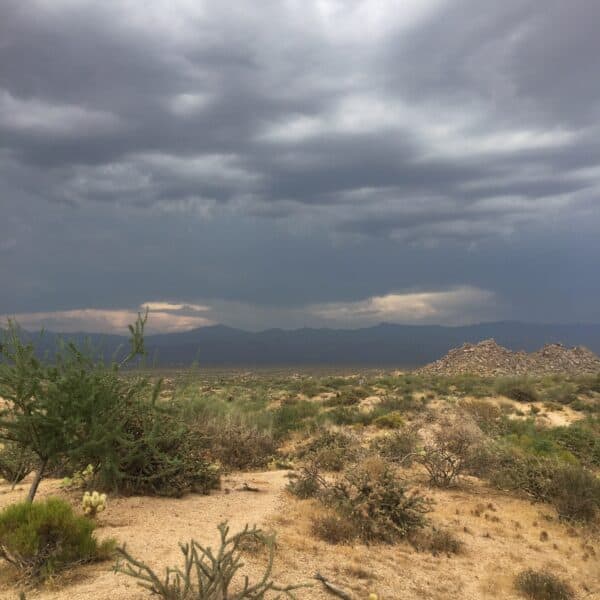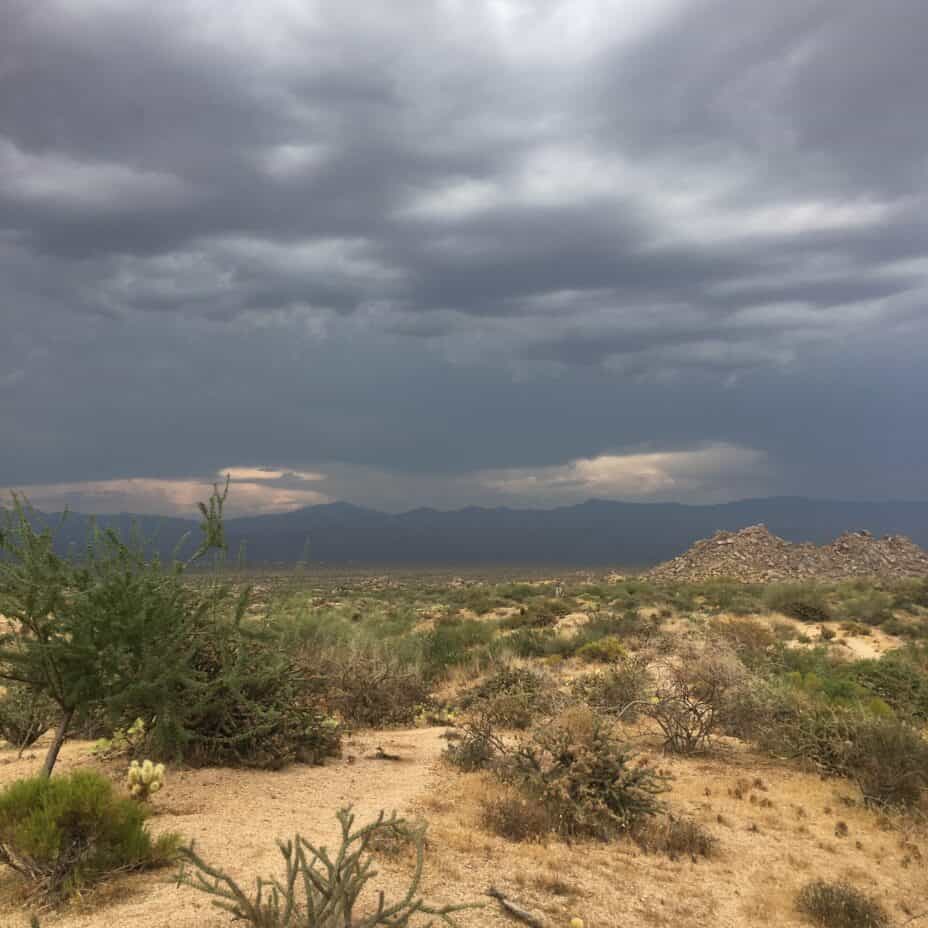 Anyone who uses their cell phone a lot knows the frustration of having your phone battery die. Having a full charge is not enough.
Fortunately, there are many power sources you can get to charge your phone. For hiking, there are now power supplies that recharge using solar panels, though our experience has been they should only be considered an emergency back-up.
If you are taking a long hike and don't want to worry about your charge running out, consider a Jackery Bolt power bank or solar power bank.
The Jackery Bolt only weighs 8 ounces and can give a phone 2 full charges.
Portable Charger Jackery Bolt 6000 mAh Power Outdoors - Power bank with built in Lightning Cable [Apple MFi certified] iPhone Battery Charger External Battery, TWICE as FAST as Original iPhone Charger
 out of stock
as of May 31, 2022 8:37 am
Features
Founded in 2012, Jackery specializes in providing outdoor green power solutions for explorers. Jackery portable power station, power outdoors.
Your safety, our concern: built-in UL certified battery cell ensures your safety.
Rocket Fast iPhone Charger: built-in cable enables super fast charging for all iPhones, TWICE as Fast as iPhone original charger with original cable; no more long and bothering charging time.
The Most Compact Power Bank as ever: yet the most powerful 6000 mAh battery charger, fully charges an iPhone 6/7/8 up to two times within 1.5 hours or an iPhone 6 Plus/7 Plus/8 Plus up to one and half times within 2 hours or an iPhone X/Xs up to 1.4 times within 2.5 hours; travel around with Bolt in pocket.
WHAT YOU GET: 1×Jackery Bolt 6000mAh portable charger, 1× Micro USB charging Cable (charging adapter not included), 1×User Guide, 1×Thank You Card.
I would also suggest if you are pregnant to not hike outside the range of your cell phone service.
If you have an emergency on the trail you want to be able to reach help quickly.
Solar Power Bank, Qi Portable Charger 10,000mAh External Battery Pack Type C Input Port Dual Flashlight, Compass, Solar Panel Charging (Orange)
 in stock
1 used from $23.52
Free shipping
as of May 31, 2022 8:37 am
Features
Qi Wireless & Solar Power:10,000mAh wireless power bank with solar. Not just wireless power bank but wireless charger as well compatible with iPhone 13/13Pro/ XR/ XR MAX/ XS/ X/ 8/ 8plus, Samsung Galaxy S9/S9plus S8/S8plus and all qi-enabled mobile devices.
Friendly Reminder on Solar:kindly know that solar charging is an additional feature, Taken the small panel size, large capacity and uncontrollable sunlight intensity into consideration, the solar charging option works as a backup solution while other sources of power is unavailable. Make sure the power bank is fully charged before your trips.
Extensive Tested Charging Times:The charging times of the solar phone charger have been extensively tested. Itself can be fully recharged around 6hours with 5V/2A adapter, It can charge iphone7plus up to 2.2times, iPhone X up to 2.3times, iphone8 up to 3.5times.
Sturdy Durable and Compact Size:the portable charger is made of premium ABS materials and lithium polymer battery, highly sturdy and durable. Its equipped with two USB, type C, dual flashlights and a compass kit. Light weight and compact size.
Dual Flashlight & Compass Kit:The solar phone charger is built with dual bright flashlight, and comes with a portable compass kit, a handy tool for outdoor activities, like camping, cycling, fishing, traveling, hiking and beaches.
7. Small first aid kit
Bring a small first aid kit in your daypack. Minor scrapes and cuts can happen when hiking.
Washing a minor cut with an antiseptic and applying a topical antibiotic will help you avoid a serious infection.
You can easily put together your own small first aid kit or you can buy a pre-made first aid kit.  This is the first aid kit that I like to use.
It's compact fits perfectly in my Daypack and has everything that I could need on the trail.
First Aid Kit – Emergency Survival Kit for Outdoors - Small First Aid Kit with Labelled Pockets for Camping, Hiking, Backpacking, Travel, Car, Cycling
 in stock
as of May 31, 2022 8:37 am
Features
FIRST AID KIT AT YOUR CONVENIENCE: Organized Labels for quick access. The internal layout of the first aid kit is organized by category so you can quickly find what you need in times of crisis. Easy to check and restock and there's still some room left for adding your personal medication if needed
DESIGNED TO BE TOUGH & COMPACT BAG (7.8 x 6.3 x 2.7 inches, weighs only 1.02 pounds), the emergency first aid kit is crafted with 600D ripstop polyester and strong zippers. It is easy to carry and has just the right size so you can easy store in your home med cabinet, car, college dorm room, bug out bag, car, rv, to attach it to a bike or motorcycle.
HIGH-QUALITY STANDARDS. This travel first aid kit is manufactured in a modern FDA registered facility, you can be sure of a product that will not let you down
CUSTOMIZED BASED ON YOU INJURIES NEEDS: Protect Life first aid kit emergency supplies and tools is customized to address a wide range of injuries. It is an FSA Eligible First Aid Kit and one of our most comprehensive 1st aid kits, by having the perfect selection of medical and preparedness items (100 pcs). You'll have peace of mind knowing that your kit is packed with everything you need
Total commitment to make YOU HAPPY & Satisfaction Guarantee with our compact portable 1st aid kit, If you don't absolutely love it, simply contact us and we'll make it right.
8. Toilet paper
Don't forget toilet paper! Hiking during pregnancy means you'll have to pee in the woods or in the brush off the trail, at least 100 times.
Maybe not 100 times, but a lot.
When you get to the trailhead if there's a restroom make sure you use it before you head out.
you can check if the trailhead has a restroom on the all trails app which I'm going to talk about next.
9. All Trails App
All Trails is an app for hikers and trail runners. All Trails helps you find trails in your area, rates their difficulty level, you can see pictures, read reviews of trails.
You can check the topography of the trail. You can see the elevations on the trail.
It is always a good idea to check if there are any bodies of water that cross the trail.
10. Hand sanitizer
Using an effective hand sanitizer is a great way to avoid colds and flu.
It is also an easy way to clean your hands when hand-washing is not an option.
Viral transmission to others is a serious concern and the best way to prevent the spread of infection is to wash your hands.
11. Mask
Bring a facemask with you and wear it when you use the restroom at the trailhead.
12. Disinfectant Wipes:
Wipes are a must. You want to use them when you use the restroom at the trail.
Public restrooms can be places of transmission for the coronavirus and other bacteria and viruses.
When you're pregnant you can be more susceptible to colds and flu and viruses. When you use the restroom make sure to wipe down the handle on the stall door.
Tips For Hiking Safe During Pregnancy
1.  Invest in a good pair of hiking shoes.
Investment in a good pair of hiking shoes is priceless.  I can't tell you how many pairs of Trail runners hiking boots I went through when I first started hiking and trail running.
You can learn from my mistakes. I found out the hard way that spending the money on a well-fitted pair of shoes.
There is nothing worse then being  5 to 10 miles out from the trailhead realize if you are developing blisters.
Columbia Women's Newton Ridge Plus Waterproof Amped Hiking Boot
 out of stock
as of May 31, 2022 8:37 am
Features
ADVANCED TECHNOLOGY: The Newton Ridge Plus Waterproof Amped Hiking Boot features a seam-sealed construction, combined with our TECHLITE lightweight midsole, for long-lasting comfort with superior cushioning and high energy return.
DURABLE HIKING BOOT: This women's boot is inspired by classic mountaineering style. A durable mid cut waterproof hiker that provides great traction and comfort. This classic Columbia hiking boot, will deliver years of comfortable service.
ALL TERRAIN TRACTION: Our signature Omni-GRIP non-marking traction rubber outsole provides high grip across a wide variety of terrain, and versatile three season use.
HANDY FEATURES: Treacherous days out on the trail are comfortable and worry-free with this hiking boot's waterproof combination of supportive leather and suede construction.
REINFORCED TOE AND HEEL CONSTRUCTION: Designed for extended years of use, we've reinforced the toe and heel barriers, and extended the outsole toe overwrap to guard these key wear points.
Columbia Women's Newton Ridge Plus Waterproof Hiking Boot
 out of stock
as of May 31, 2022 8:37 am
Features
ADVANCED TECHNOLOGY: Columbia Women's Newton Ridge Plus Waterproof Hiking Boot features our lightweight, durable midsole for long lasting comfort, superior cushioning, and high energy return as well as an advanced traction rubber sole for slip-free movement on rough ground.
HANDY FEATURES: Treacherous days out on the trail are comfortable and worry-free with this boot's waterproof full-grain leather and mesh bootie construction and its durable mesh tongue for breathability.
ADJUSTABLE FEATURES: The Newton Ridge Plus Waterproof Hiking Boot features a lace-up closure for an adjustable, secure fit.
FEMININE STYLE: This women's waterproof hiking boot delivers style and durability with its contrasting color combinations and soft mesh exterior.
OMNI-GRIP: This multi-terrain traction system matches specially formulated compounds and treads to specific environments. A dual-zone winter tread pattern ensures solid footing on surfaces such as ice and snow.
Merrell Women's Moab 2 Mid Waterproof Hiking Boot
 in stock
as of May 31, 2022 8:37 am
Features
Waterproof membrane seals out water and lets moisture escape
Pigskin leather and mesh upper
Metal hook traditional lace closure
Bellows tongue keeps out debris
Protective toe cap
The right socks are essential when hiking too.
Many people find that wool hiking socks work well because help keep your feet dry.
2.  Staying well-hydrated is a must.
You need to stay hydrated during pregnancy and especially when exercising.
You should bring at least 4 liters of water with you if you are going on a medium to a long hike, especially if you will be hiking uphill.
You will drink more than you think you will.
I suggest at least 4 liters of water in case you have an emergency or get stuck out on a trail for some unforeseen reason.
Learning how to prevent dehydration during pregnancy is extremely important. As we know, our body depends on water for survival. During pregnancy, water is in high demand to produce amniotic fluid, power your higher metabolic needs and increase your blood volume to carry the essential nutrients and oxygen to your growing baby.
3.  Eat small frequent meals/snacks.
Small frequent meals will help keep your energy up and your blood sugar stable.
If you are suffering from morning sickness eating small meals can help relieve your nausea.
4.  Slow down and avoid uneven trails.
Stick to more flat and less technical trails to make it less likely you will trip or fall.
This is more of an issue in your second and third trimester as your growing belly can throw off your center of gravity.
During your third trimester as your body prepares for birth, your joint and ligaments become looser which can impact your balance.
It is so easy to trip on a trail, to hike faster than we should, and not pay attention to every step we take.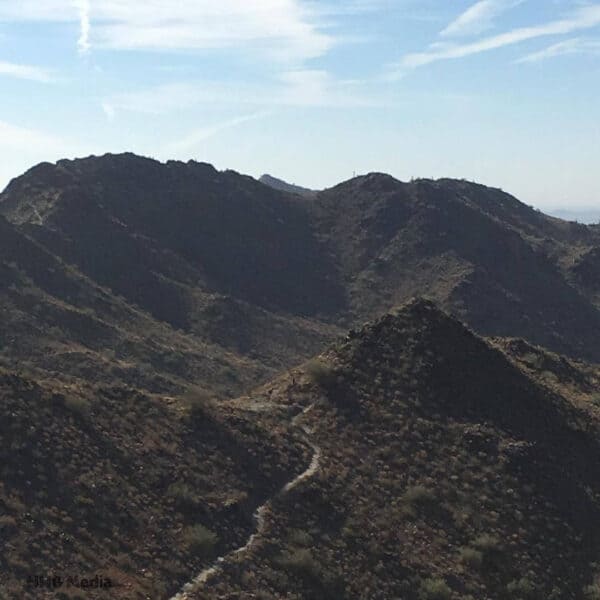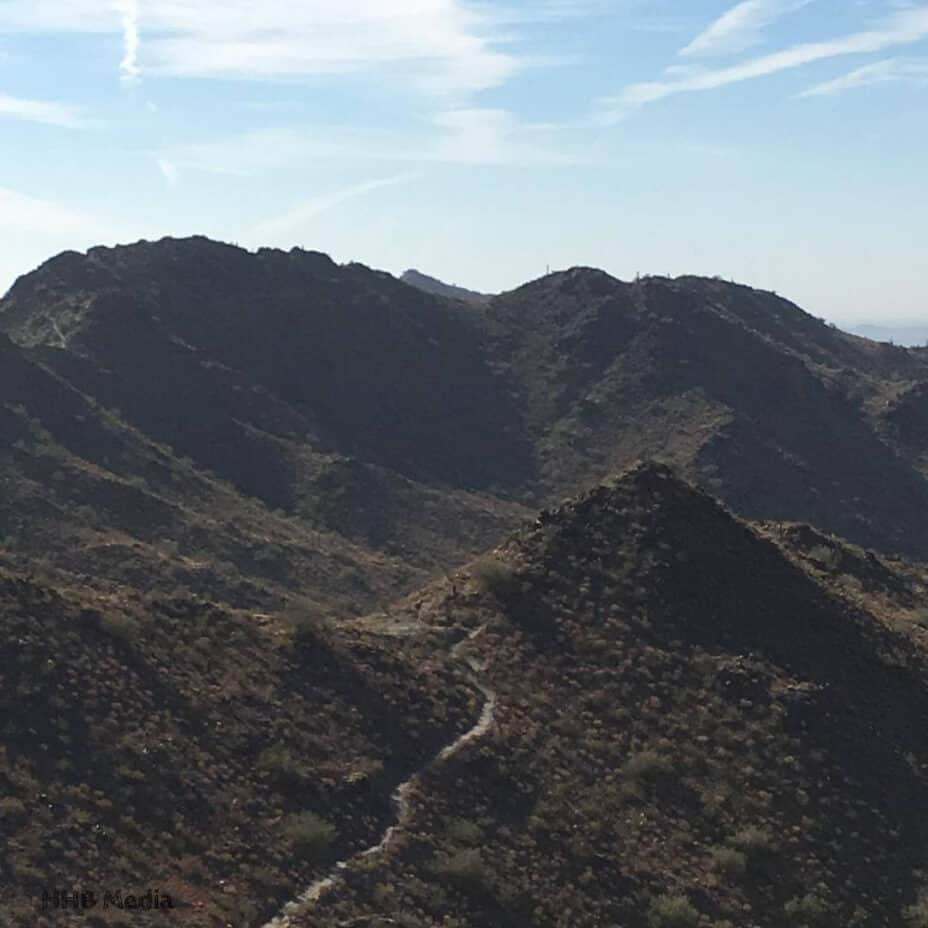 Fatigue is a common problem during the first trimester of pregnancy and often returns during the third trimester.
I was very fatigued during my first trimester and had to slow down when doing outdoor activities.
If you are fatigued it is a good idea to slow down.
You want to slow down before you get exhausted and realize you have to hike back out.
Getting tired quickly is a frustrating end to a day of hiking your favorite trails.
5.  Stay cool. Be careful to not overheat.
If you're hiking in the summer or early fall choose trails that have some shade if possible.
You need to stay cool so think easy to remove layers, wear a hat and drink lots of water.
If you feel like you're getting overheated: stop hiking, drink some cool water, try to find shade, and consider if it's time to turn around and head back.
6.   Watch out for snakes.
Watch out for snakes! Snakes like to hang out in the morning sun to warm up. It's not unusual to come across a snake on the trail.
Move away from the snake. In most cases, the snake will slither off into the brush on the side of the trail. They are more afraid of us then we are of them.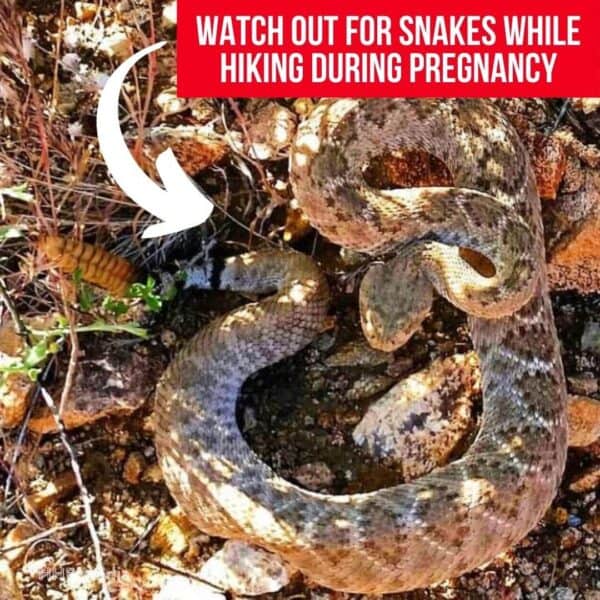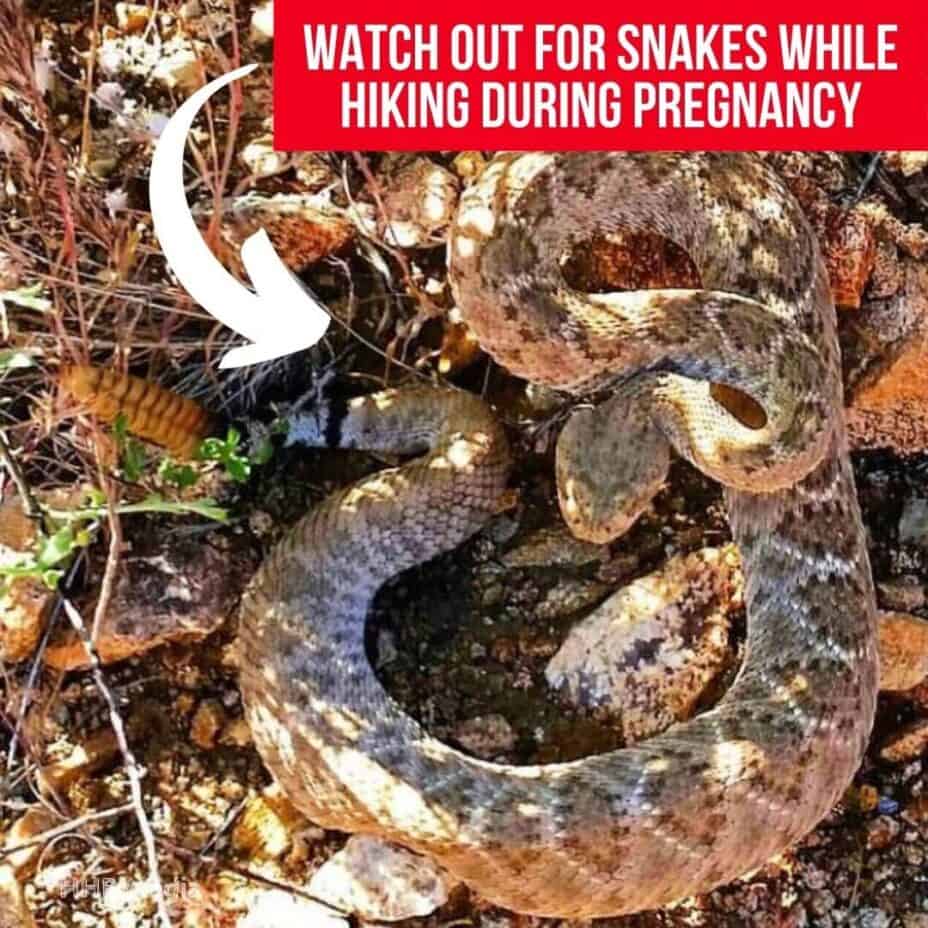 This video shows what a rattlesnake sounds like when it is warning people to stay away. It is an important sound to become familiar with if you are a hiker.
[wps_youtube url="https://youtu.be/a7m76PZ_ZZY" width="600″ height="400″ responsive="yes" autoplay="no"]
7.  Take breaks
You are growing a little human so take breaks as often as you need to.
Don't feel bad about needing to rest.
Taking frequent breaks can help you hike further and for longer periods of time.
8.  Use hiking poles
So tracking polls as we talked about earlier are going to be your best friend for hiking during pregnancy.
If I had one piece of advice that I could give as a trail runner and hiker it would be to use hiking poles right from the beginning of your pregnancy.
The reason is during your first trimester you can have fatigue and energy issues.
I found that using trekking poles made hiking easier and I didn't feel like my energy was depleted as fast.
I was able to hike longer and further.
When you get into your second and third-trimester hiking poles are important for helping you maintain your balance. It can be easier to trip and fall and you don't wanna do that so hiking poles are in Dragon bowl.
Hiking with trekking poles allows you to handle more technical trails as your belly grows.
9.  Watch your elevation
The elevation is going to be relative to where you live.
Most pregnant women should stay below 8,000 feet.
If If you live at 8000 feet or above or you're an experienced hiker you may feel comfortable hiking above 12,000 – 14,000 feet and that's fine.
Be sure you run that by your doctor or midwife.
10. Hike with friends or family.
It is important to hike with family or friends during pregnancy, especially in your second or third trimester.
Hike with people who will go at your pace and will take breaks when you need too.
11. Wear a maternity belt.
The maternity support belt is on my list of must-haves for hikes.
12. Be gentle with yourself if you are fatigued after a short hike.
Be gentle with yourself. Don't get down on yourself if you feel fatigued and you have to turn back on a hike.
Take it slow stay hydrated and if you find that you are very tired on your hikes then what you can do is what I would do is save my hikes for the weekend.
I would make sure that I had a good meal on Friday night.
I would go to bed early and then we would go hike on Saturday and Sunday that worked a lot better for me then try to hike during the week after work I was just too tired.
13. Bring your cell phone
It's really important during pregnancy and when you're hiking to always have your cell phone on you and to stay in an area where you have cell phone service.
I know that you can use a personal locator beacon, but if you are having a problem on the trail and you're pregnant it's probably going to be faster if you have cell service and you can call for help from your cell phone.
14. Avoid steep inclines
If you're a new hiker you're probably already going to be doing this anyway.
With your growing belly, your center of gravity is going to be off and it is much easier to lose your footing and you could slip and fall.
15. Keep an index card of your up-to-date pregnancy info in your Pack.
[wps_quote style="default" cite="Dr. Doug Penta, OB/GYN"]At all times, prenatal patients should maintain and carry on them, the basic information about their prenatal course. A healthcare provider needs to know this information to make the best medical decisions. [/wps_quote]
This is so important and it's something that Doug and I very rarely see anybody talk about:
You should always keep an index card on you that has details about your pregnancy.
If something happens on the trail and you have to go to a hospital, you'll see a doctor who doesn't know you or know your pregnancy history
What should I put on my index card about my pregnancy?
You want to include your prenatal lab results recorded after your first prenatal visit.
Here are some of the details you will want to have available from your prenatal record:
your prenatal lab results recorded after your first prenatal visit
your last blood pressure at your prenatal visit if you are experiencing high blood pressure during pregnancy
your fasting and two-hour blood sugar results if you have gestational diabetes.
if you have protein in your urine
How far can you hike when pregnant?
How far you can and should hike during pregnancy is going to depend on how you feel, how far you were hiking before pregnancy, and what trimester of pregnancy you are in.
One of the biggest surprises I had during pregnancy was how tired I was in the first trimester.
I would come home from work and I would just want to collapse on the couch. I had no energy or desire to get outside and be active.
If you find during your first trimester that you are really tired, adjust your expectations, and take a nap.
You are growing a human. Give yourself a break.
It can feel frustrating when you find you can't do the things you used to do quite as easily.
Plan your hiking trips for the weekends when you are likely to have more energy.
Get a good night's sleep before your hike.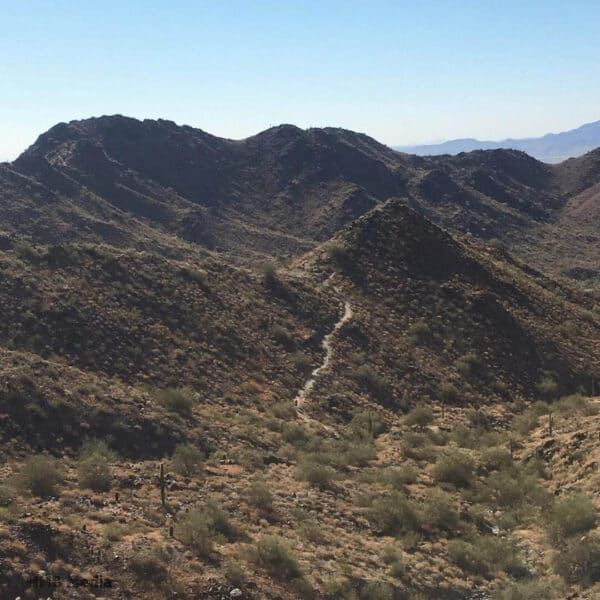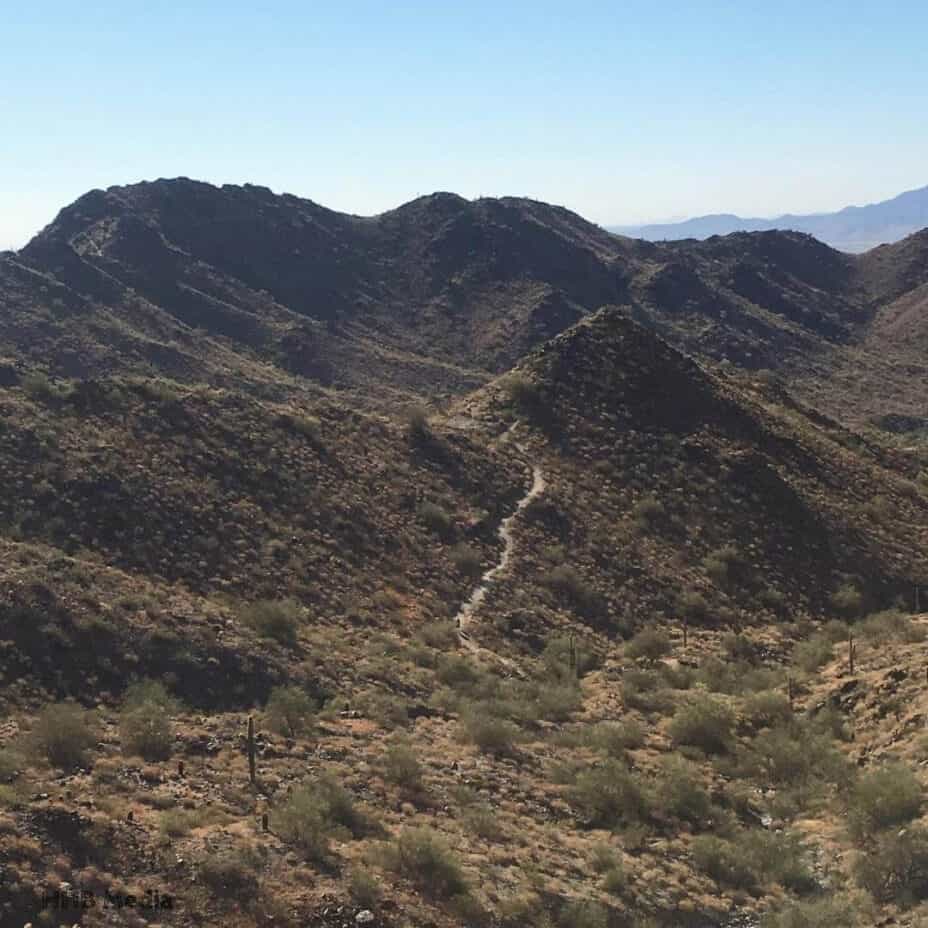 Many women find that in the first trimester they don't have any problems with how far they can hike.
So if you've been hiking 10 miles, and you feel OK, you can still hike 10 miles.
If you're still a relatively new hiker, it probably isn't a good idea to start hiking long distances.
You will want to hike the distance you are comfortable with.
You may find that as you get into your second and third trimester that you have to cut back on the number of miles you hike and the incline that you hike.
It is very easy to become extremely fatigued hiking up steep inclines during your third trimester especially.
Trekking poles can help. They are good to use to help you maintain your balance and you can shift some weight to them to make hiking uphill easier.
What hiking elevation is dangerous for pregnancy?
Hiking during pregnancy is an excellent form of exercise. As with any sport, when considering the extremes version of a particular sport, pregnancy-related safety concerns often will factor in.
You should keep your hikes to an elevation of about 8,000 feet or less.
This is because hiking at high altitudes can cause less oxygen to circulate in your blood and could cause your baby's oxygen levels to decrease.
Hiking mountains while pregnant
You can hike mountains if you are an experienced hiker and have cleared it with your provider.
Even experienced hikers will need to cut back as their pregnancy progresses. It is normal. Don't feel bad.
Make sure you have all your essentials, hike with someone, watch your elevation, energy levels, and use as many of our tips above as needed to make your mountain hike as safe and enjoyable as possible!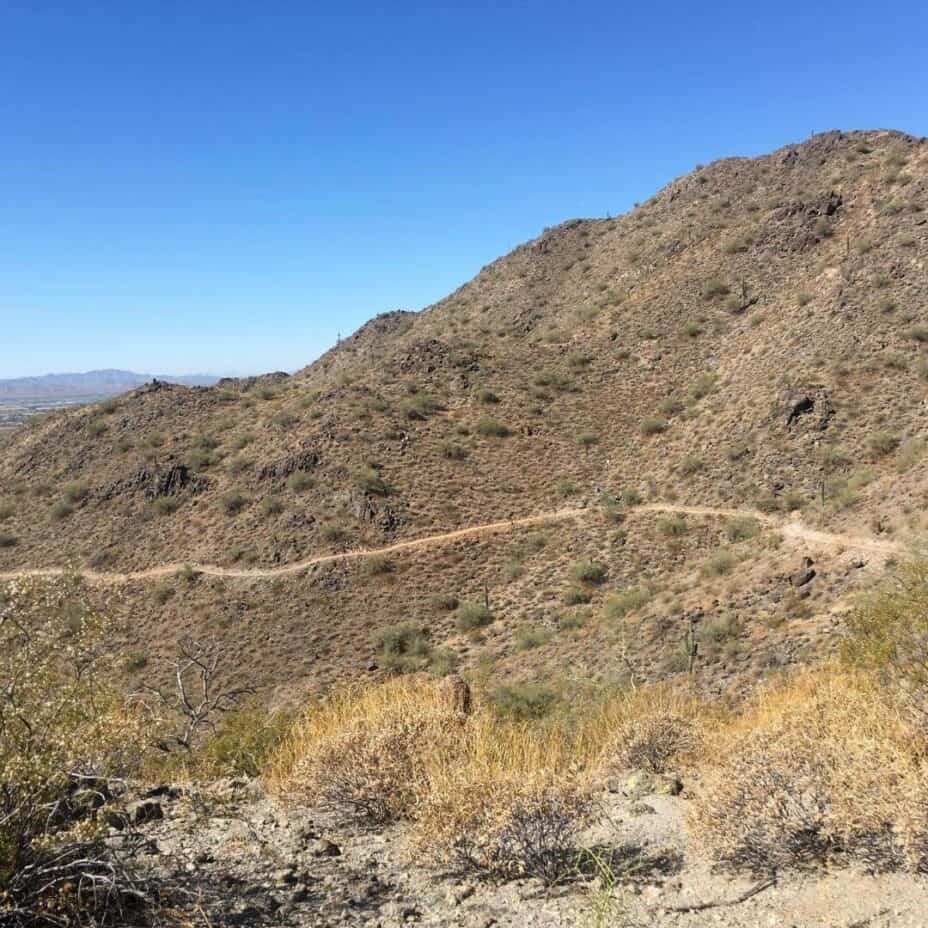 The Benefits Of Hiking While Pregnant:
Hiking is a beneficial activity during pregnancy:
You get outside in nature, which has been shown to reduce stress levels.
Hiking helps strengthen your leg muscles and increase your physical stamina both of which can make your third trimester and labor easier.
Physical activity during pregnancy is good for both you and your baby. Exercise has been shown to decrease both labor and delivery easier.
Exercise has been shown to improve mood.
Can improve your pregnancy sleep
Helps you maintain a healthy weight during your pregnancy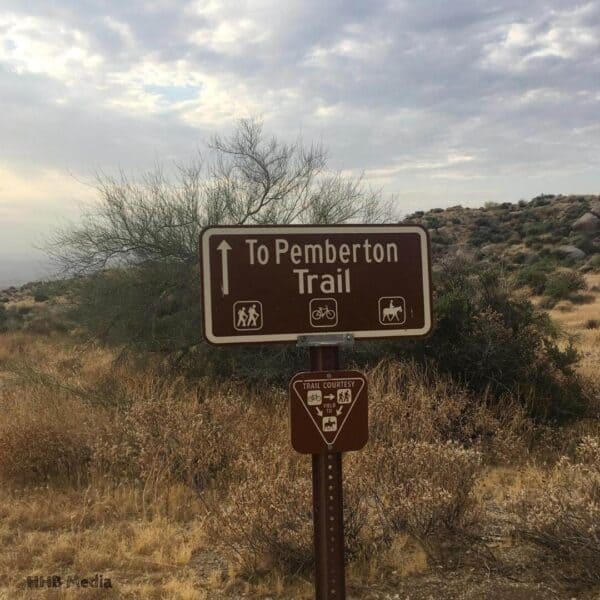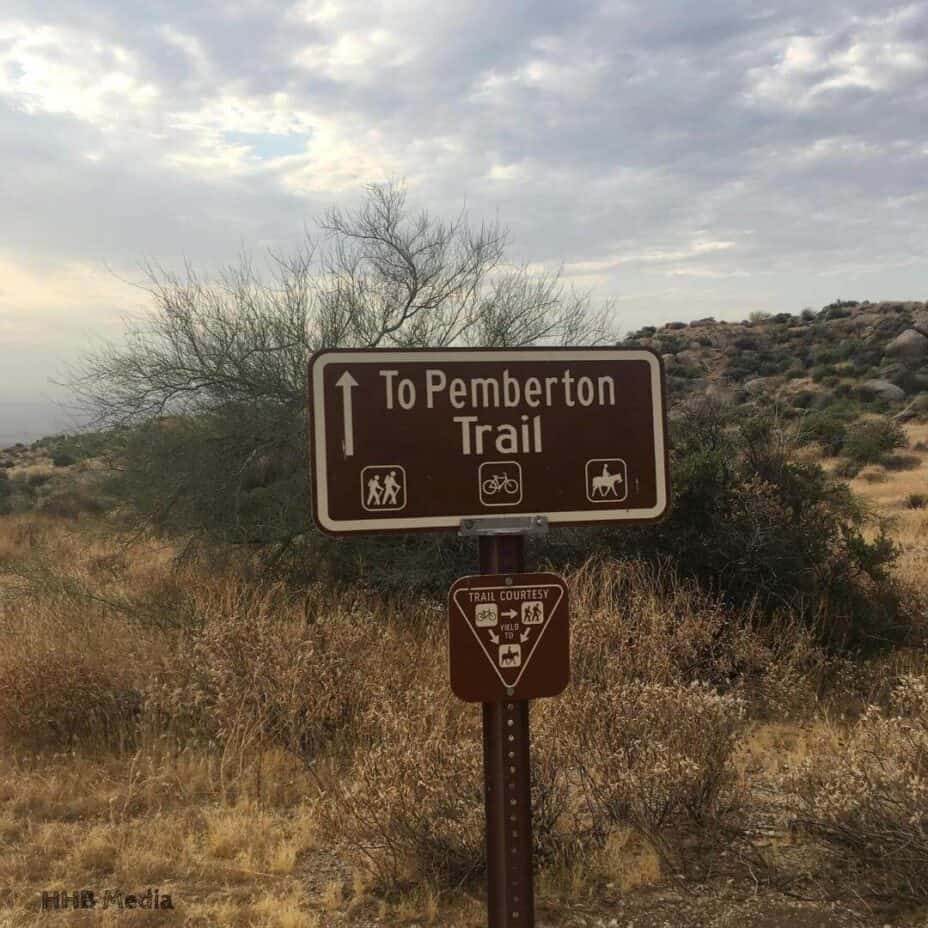 Conclusion:
Hiking is an excellent cardio workout, improves physical stamina, and can help improve your mood.
Hiking in moderation is considered a safe exercise during pregnancy.
Make sure you are wearing comfortable hiking shoes, have plenty of water, snacks, and your cell phone.
Bring your hiking essentials, hike with someone, watch your elevation, energy levels, and use as many of our tips above as needed to make your mountain hike as safe and enjoyable as possible!