This post may contain affiliate links. We may be compensated if you make a purchase through our links. You can catch our full disclaimer at the bottom of this post.
Updated August 14, 2021
Fall and apple picking season is finally here, and it's also a sign that it's cooling off outside.
We love apple picking and all the fun fall toddler art projects we get to share, which allow us to have plenty of fun indoors.
Today we are sharing a really lovely arts and crafts project, wine cork stamping apple trees for toddlers!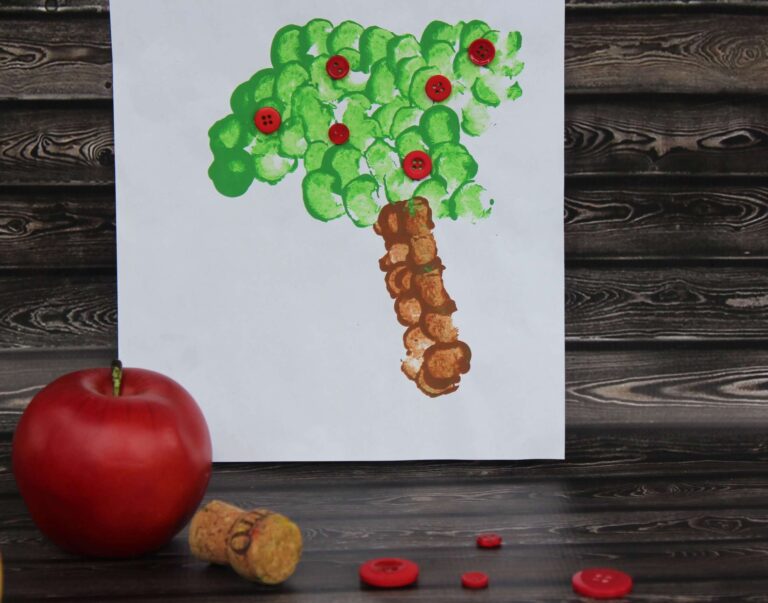 We like to do apple projects after we go apple picking in the fall.
We are blessed to live in New England where apple orchards are in abundance.
It makes it easy to go apple picking.
If you don't have an easy place to go apple picking, you can buy apples on sale at grocery stores in the fall.
Cork Stamping Apple Trees For Toddlers
We stamped our trees with corks and paint and then glued on red buttons as our apples.
There are plenty of other ways to spice up this arts and crafts project too.
Whether you decide to do red apples, add a background, or just want to make it a little crazy, you can't go wrong here.
Your toddler will really enjoy this amazing project, especially if you do it before or after picking apples!
If you want, you can find some fresh fall leaves and glue them on with the buttons, for a real fall flair.
Get something warm to drink, start baking something yummy, and help your toddler with this amazingly fun arts and crafts project.
Give this a try, it won't let you down!
Supplies:
The list of supplies for this arts and crafts project is pretty straightforward and simple!
If you want to spice up this project, you can add some fresh fall leaves to the list.
You can take your toddler on a nature walk to gather freshly fallen leaves for this project.
The most important supplies are a cork, red buttons, and some green and brown paint.
You'll also want a paper plate to put the paint on before stamping.
You can round out the supply list with the red, yellow, or green buttons and glue to attach them.
A cork
School glue
Red, yellow or green buttons
Paper to stamp
A paper plate to pour paint on before stamping
Fresh fall leaves (optional)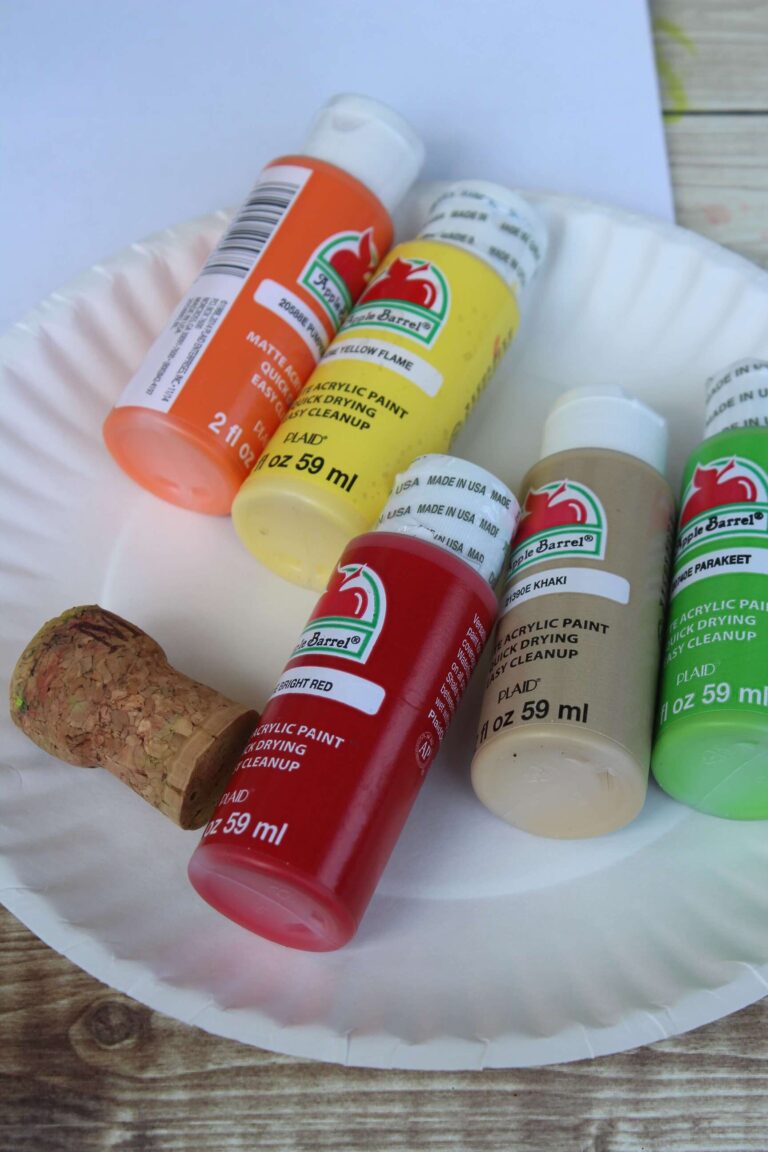 Directions:
This arts and crafts project is pretty simple, which is helpful when you're starting to get toddlers into art!
A great first step is to gather all the supplies in one area, it makes it a lot easier to get into working as soon as your toddler is ready.
Once you've done that, pour some of each paint onto the paper plate, you won't need much.
Then, give your child a cork and let them start with the stamping!
You'll want to start with the trunk. Encourage your toddler to dip the cork into the brown paint for the trunk.
Once the trunk is done, your toddler can move onto the leaves!
If you're sticking with the traditional apple tree look, you'll want to tell your toddler to primarily use green for the leaves.
You can also let them vary it up a little, especially as the fall colors start to creep into the leaves outside.
If your toddler would rather make a fall tree, it's best to support them as they try to be creative.
If you can find some fresh fallen leaves outside, it's great to use them as part of the leaves for this project!
Now that the leaves are done, you can move onto the apples!
This part is relatively simple since you really only need a small dot of glue and the buttons.
Have your toddler place a few dots of glue among the leaves.
Then, let them place a few of the red buttons on top of the glue, providing time to dry before moving again.
Once dry, you can display these lovely trees!
Step by Step Instructions:
Pour a little of each color of paint onto a paper plate.
About a quarter size drop will be enough, you don't need too much.
Offer your child a cork and ask them to stamp the trunk of the tree brown.
The trunk doesn't need to be perfectly shaped, trees normally aren't!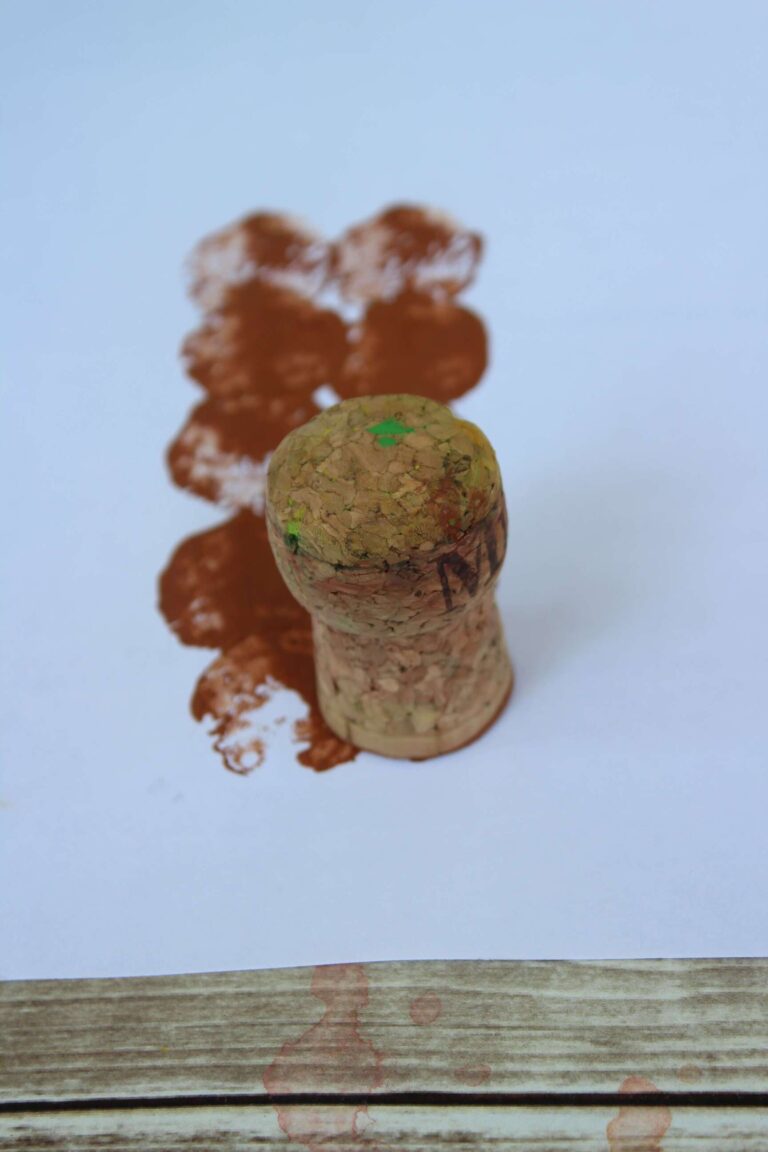 Next, ask your child to create the leaves of the tree with green paint.
This is also an opportunity for them to vary it up if you want to give them the option.
Just add a few additional paint colors or some fresh fall leaves.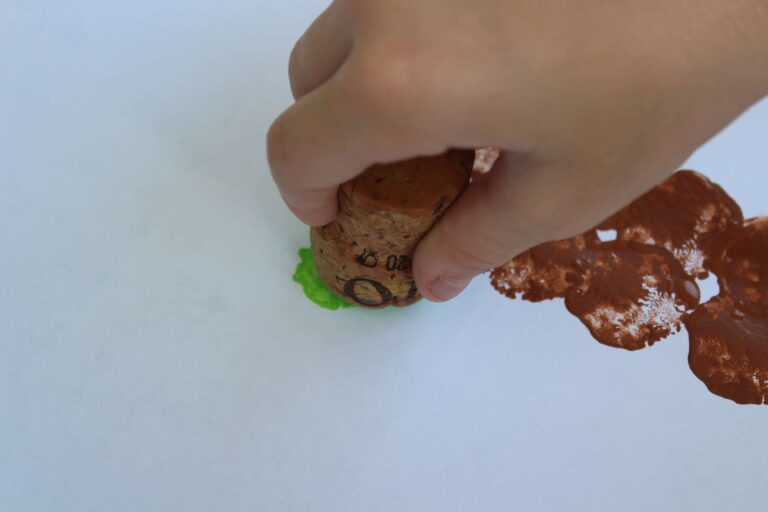 Your toddler will have a great time forming their idea of a tree, though it doesn't hurt to give them some slight guidance as well.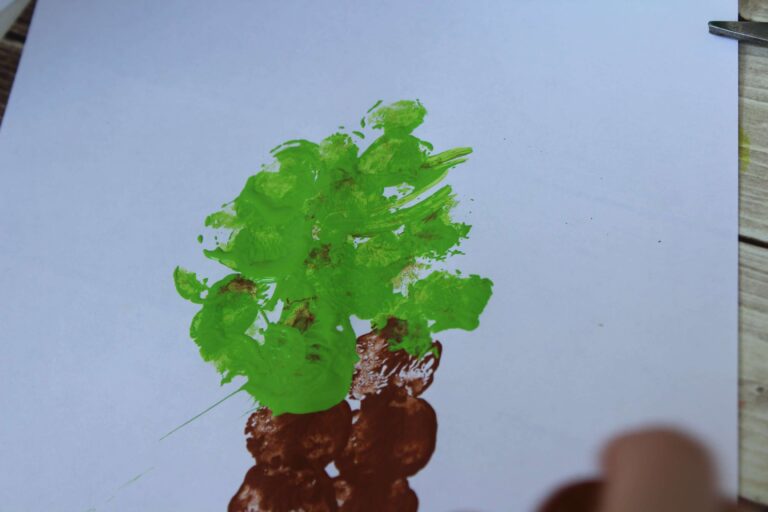 Some finishing touches to the paint will make it something really special.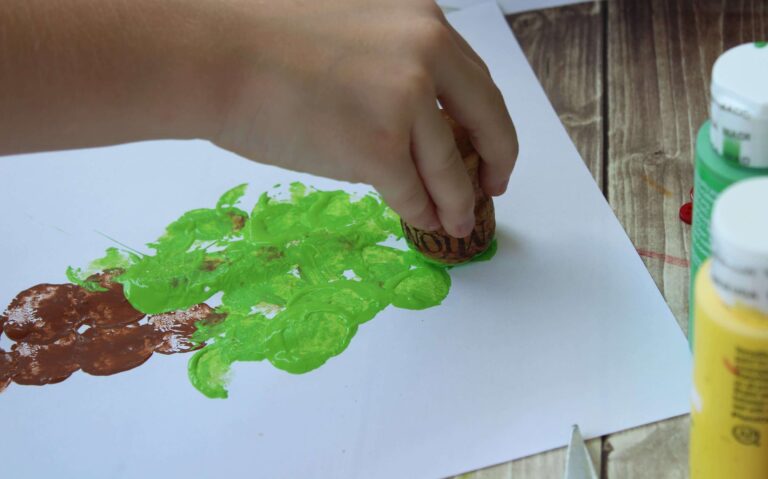 Allow drying, for about 30 minutes to an hour.
Allowing the paint to dry will help the glue adhere and dry in a reasonable amount of time.
When the paint has dried, offer the child glue and buttons to create the apples in the tree.
Allow the glue to dry and display.
These trees make for a great front of fridge art project.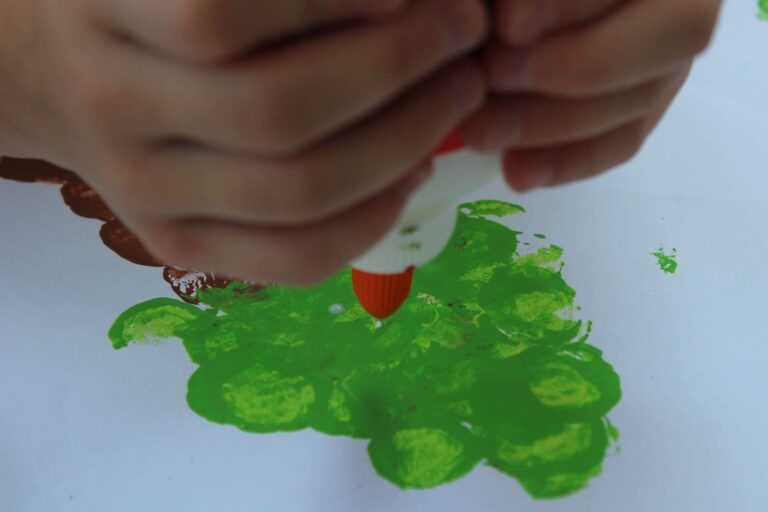 How have your child add the red buttons anywhere they would like on the tree.
They can place apples along the bottom of the tree too.
In the fall there are always lots of fallen apples on the ground.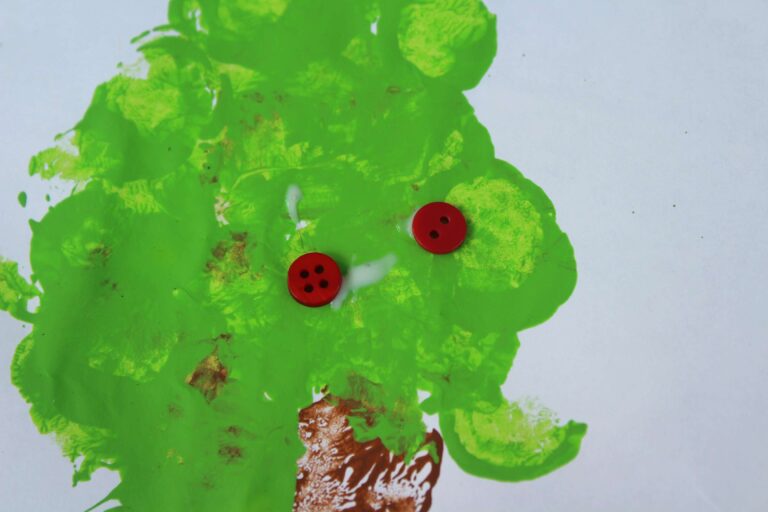 I have shared in other posts that a fun idea to display your toddler's artwork is to buy some cheap frames and to feature their seasonal art creations throughout your house.
You can get inexpensive frames at Target, Walmart, or on amazon.
Our kiddos love to see their art projects in different rooms and we believe it helps build their confidence and make them feel good about themselves.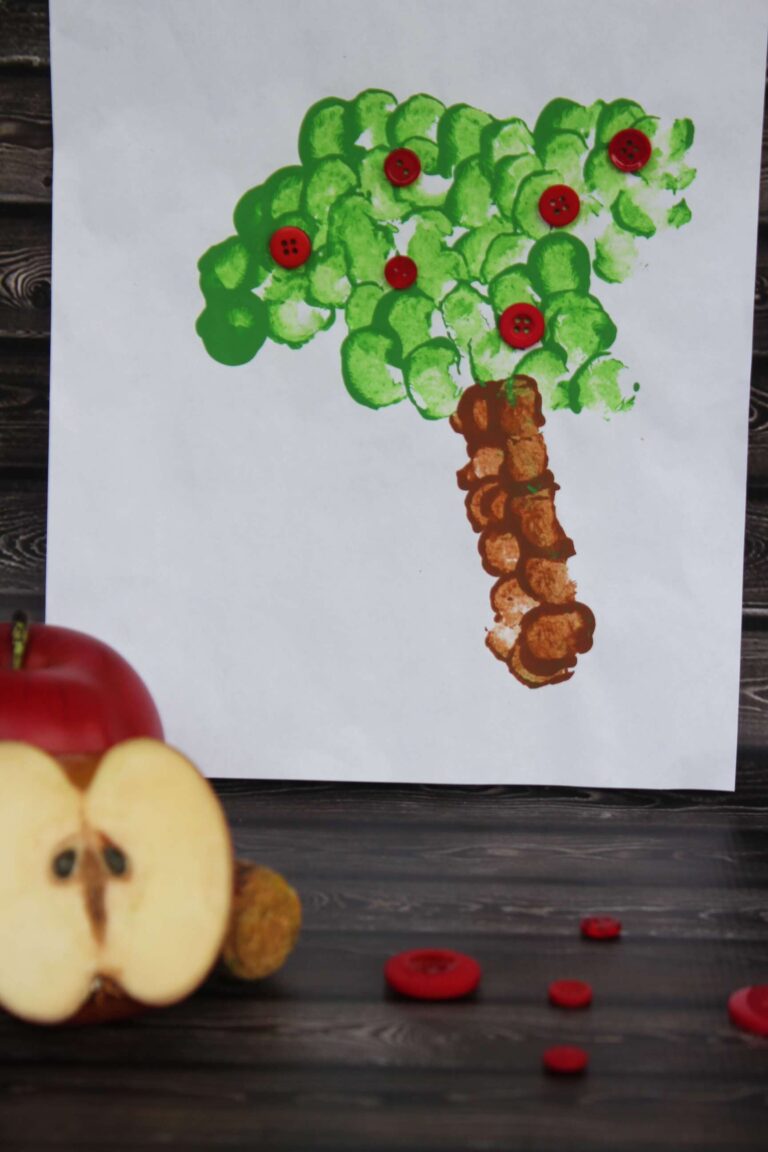 Tips for making arts and crafts enjoyable for your toddler:
Play music! Play seasonal music. Play seasonal sounds. Toddlers are at the right age to really begin enjoying music, and it's a huge part of development!
Encourage movement. Whether it's taking breaks to get up and move around a little or incorporating movement into it, this is a super important step. This helps improve your toddler's gross motor skills.
Discuss their art with them. Write down the words they use to describe their art if they want you to. Encourage them to share their art with you using their words.
Allow them to do more than one art project. Get them more paint and paper if they ask.
If the weather allows go outside and do art projects outside in nature. Fresh air and exercise are always appreciated, and the environment might give some much-needed inspiration for arts and crafts!
Laugh, sing, and smile. Make doing arts and crafts a pleasurable activity.
Take nature walks and collect items like leaves, feathers, flowers, and rocks to use in art projects.
We wanted to tie this cork stamping activity together with literature so these are a few of the books we have read on apples:
Arts and crafts are important activities for toddlers to get ample opportunity to engage in every day.
These activities encourage creativity, imagination, and language skills!
The best way for young children to learn is through play and doing activities that bring them joy.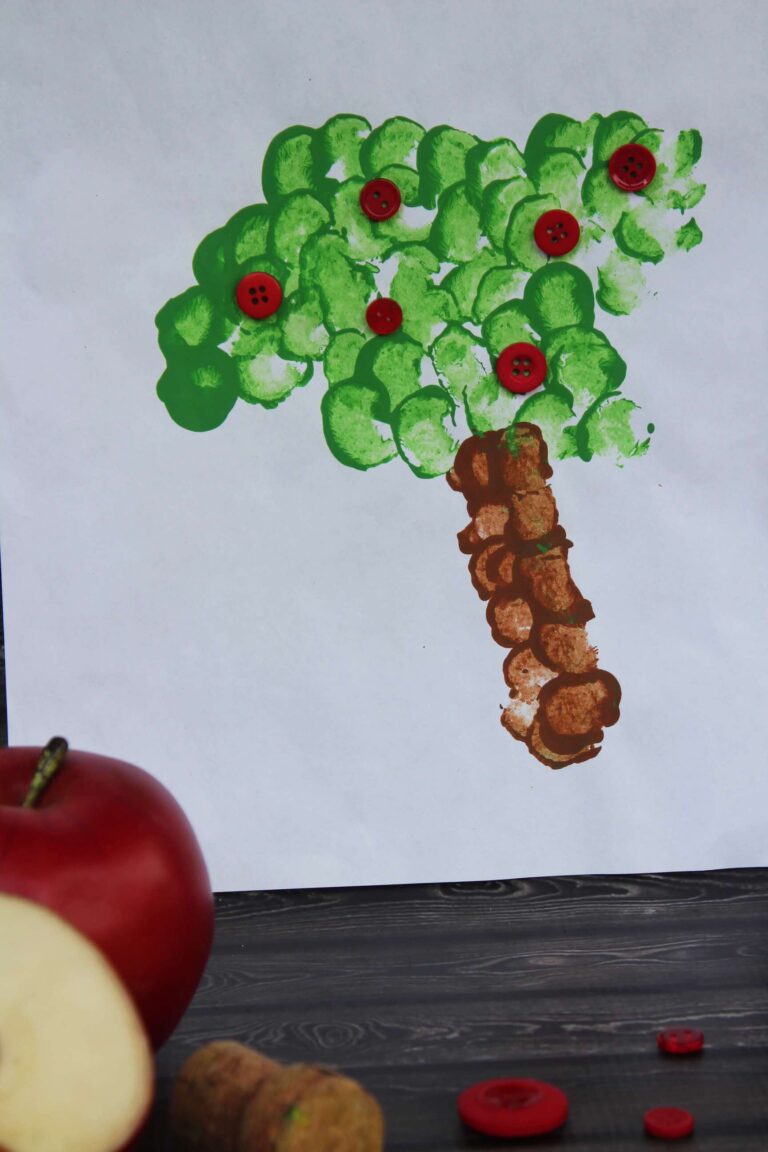 Appletree wine cork stamping is a fun toddler fall art activity.
It is also an excellent fine motor activity.
Your toddler will practice their pincer grasp when they pick up the cork and when putting it down into the paint.
This is an important skill for your toddler to practice.
What are Fine Motor Skills?
Fine motor skills are essential for using the small muscles in fingers, hands, and arms.
These muscles are important during activities such as drawing, buttoning, constructing with blocks, and zipping up a coat.
Fine motor skills impact your child's ability to do the above type of activities and the speed with which they can complete them.
To ensure your child performs these tasks successfully they will need lots of opportunities in the early toddler years to practice and gain mastery.
Some of the common fine motor skills are:
Pencil skills like coloring and drawing
Scissor skills such as cutting and rearranging the paper
Doll dressing and manipulation
Dressing, i.e., zips, buttons, lacing, and tying shoelaces
Basic hygiene like brushing teeth, washing their face, and combing their hair
Construction skills such as puzzles and Duplo
Why are fine motor skills important for toddlers?
It's hard not to emphasize the importance of fine motor skills in everyday life because they enable us to perform simple tasks.
If a child is unable to complete the basic everyday tasks, it will take a toll on their self-esteem, affecting their play, academics, and co-curricular activities.
Also, children without the appropriate fine motor skills will find it hard to get independent life skills such as feeding or dressing, which will have many implications on relationships with other peers.
That is why fine motor activities are so important for your toddler to get plenty of opportunities to engage in.
We love doing simple arts and crafts to help lay the foundation of these early find motor skills.
Thankfully, there are amazing activities that you can do to help kickstart those developments outside of normal day-to-day life.
More Fun Fall Drafts for toddlers!
Final Thoughts
We hope your toddler enjoys this fall cork stamping apple trees for toddlers.
Keeping an active 2-year-old busy is incredibly challenging!
Let your toddler explore and create as much art as they want, it's an important part of growing up and can foster a lifelong love for it.
Spend time on arts and crafts every day, they're something your child will interact with and should learn to enjoy!
There are so many amazing seasonal projects you can give them, there's no end to the variety for arts and crafts.
If you are in the kitchen making dinner, set them up at the table with an art project to keep them busy.
It will allow you to get dinner made and provide them with an opportunity to practice their fine motor and language skills!
Your child will thank you for the opportunity to do all these amazing arts and crafts projects, directly or through an appreciation for art.
Thank you so much for checking out this amazing arts and crafts project, we hope you and your child appreciate it as much as we did!