This post may contain affiliate links. We may be compensated if you make a purchase through our links. You can catch our full disclaimer at the bottom of this post.
Updated September 1, 2021
As we're getting closer to the Halloween season, we felt that it was time to really start looking for arts and crafts ideas!
We're beyond happy to share these adorable toilet paper roll Halloween monsters.
They're simple, easy to make, and beyond cute!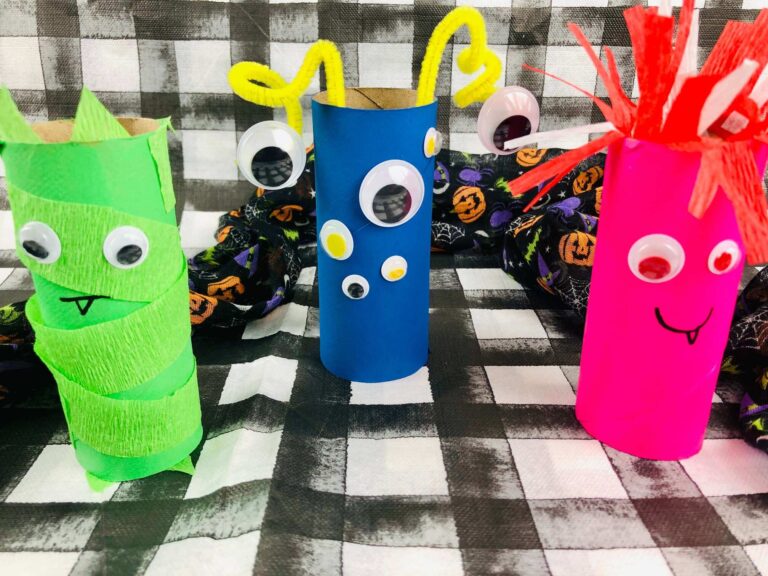 You and your toddler will have so much fun making these, and they're just right to get into the Halloween spirit.
Pop some fitting Halloween music on, gather your materials, and get ready for a great toddler craft adventure!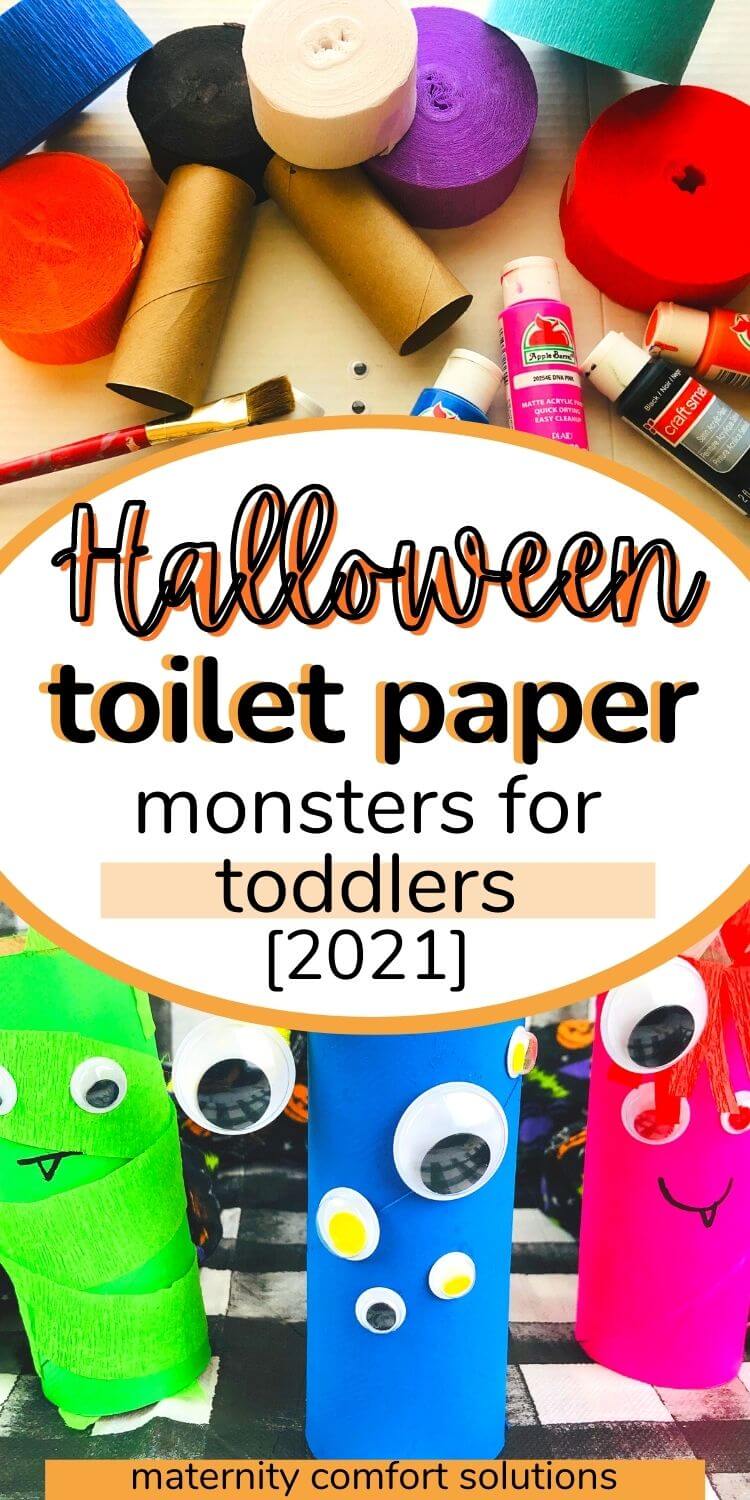 Spooky Toilet Paper Roll Halloween Monsters
Supplies Needed:
These Toilet Paoer Roll Halloween Monsters have a slightly intimidating supply list, but if you've been doing arts and crafts at home with your children, it's likely you have all of these already!
Some assorted paints and paintbrushes, as well as some paint pens or markers will help you color them as you wish.
If it wasn't clear from the title, you'll also need some toilet paper rolls, they make for a great base for these.
You'll also need some glue, some craft eyes, streamers, and pipe cleaners to really spice up these spooky monsters!
We've included an organized list of supplies below, but let's get into actually making these.
Empty toilet paper rolls
Paint, assorted colors
Paintbrushes
Glue
Craft eyes
Streamers, assorted colors
Pipe cleaners, assorted colors
Paint pens or markers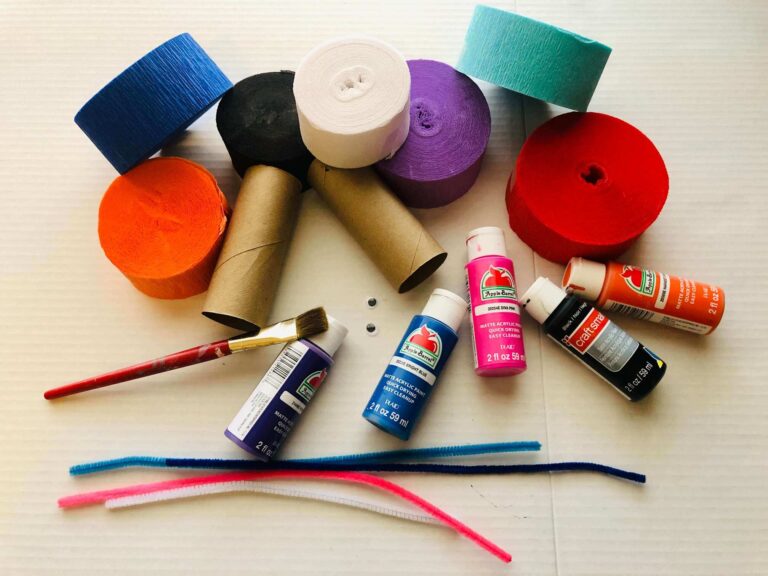 Instructions:
These TP Roll Halloween Monsters are fairly simple to make, which is great when doing them with kids!
Most of the work is going to be painting the full toilet paper rolls, along with preparing the streamers and pipe cleaners to use as arms, hair and other decorations.
You'll also want to draw some cute (or scary) faces onto the monsters, and attach some eyes to round it all out!
Once the paint is dry you can easily attach the streamers, pipe cleaners, and eyes with glue.
Those instructions seem pretty simple, but we still included some step-by-step instructions to help!
Paint rolls any desired color, allow to dry thoroughly.
You can easily do multiple rolls at once and have them ready to start decorating at the same time.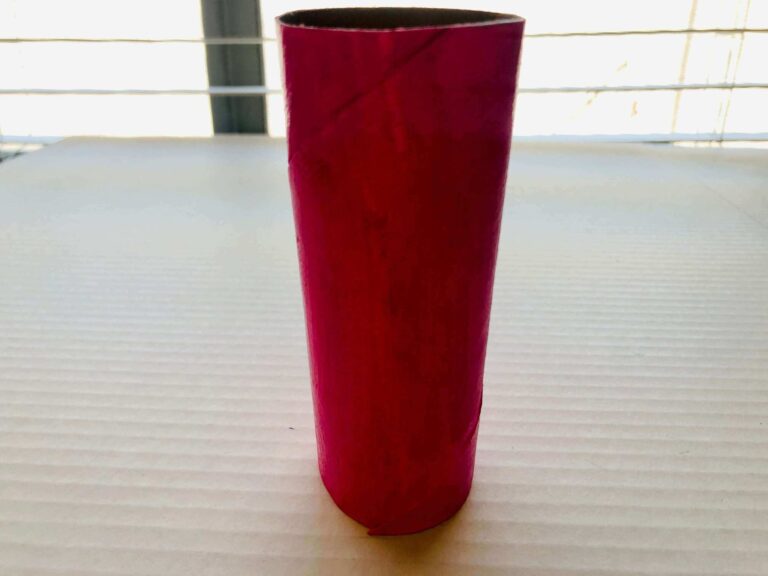 Use streamers to wrap the body or make hair as shown, attach to roll using glue
If you're using them for hair you'll likely want to add a few cuts about halfway to 3/4ths of the way width-wise down the streamer.
Wrapping the body is as simple as lining it with glue and wrapping it around!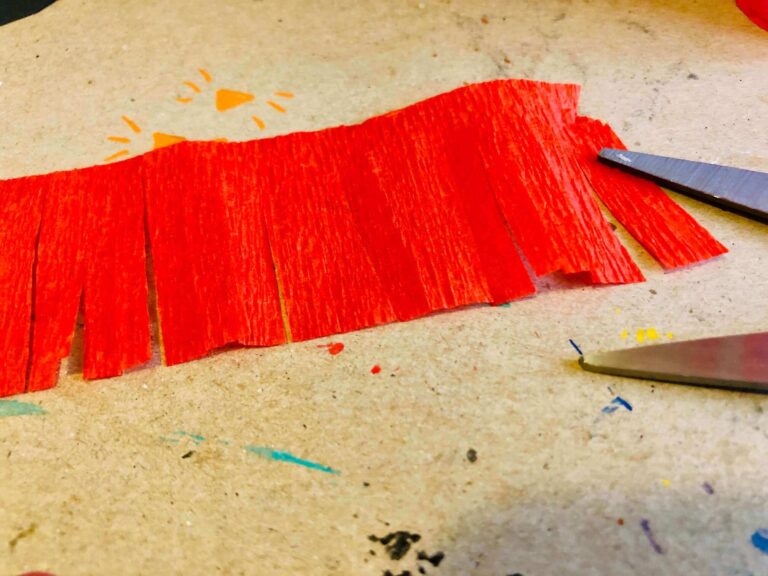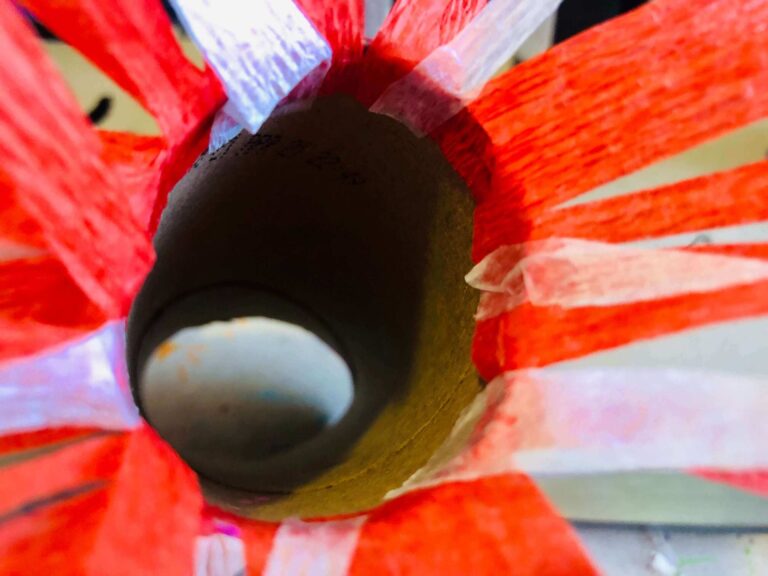 Glue on craft eyes.
You can use large or small eyes, and pairing them together makes for a cute, if slightly goofy, look for your monster.
The glue should dry quickly, but be sure not to move the monsters too aggressively or the eyes will fall off if not dried.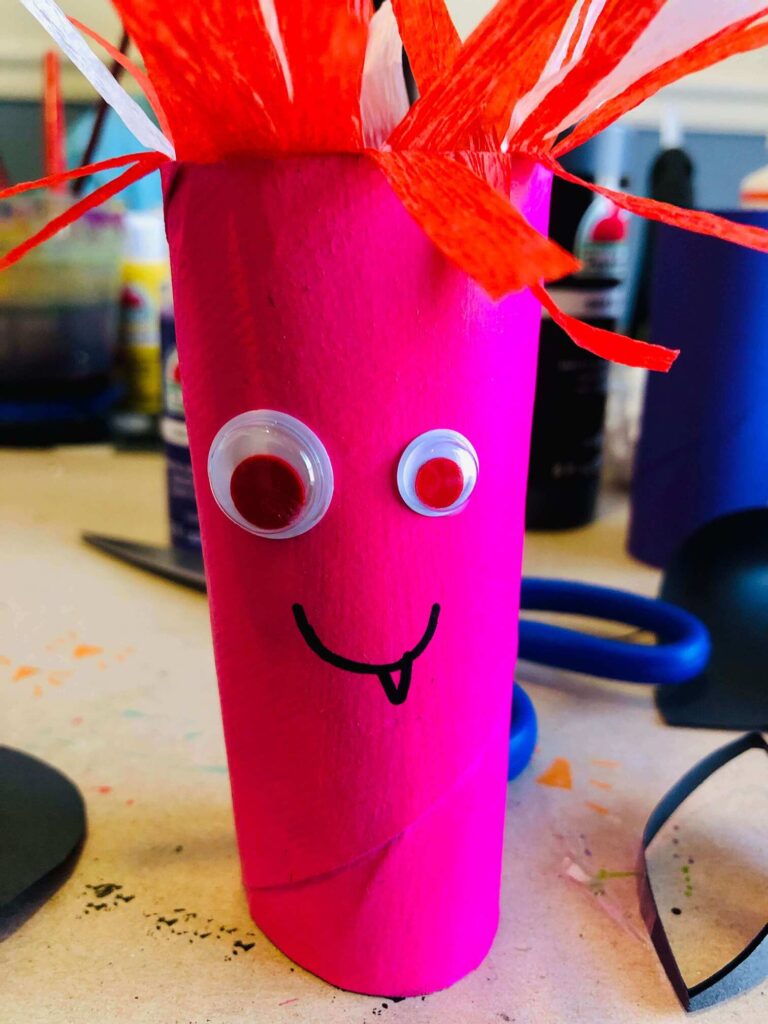 Use paint pens or markers to create nose, mouth, etc.
You can make these monsters menacing, cute, and so many things in between!
Let your imagination run wild with your monster design!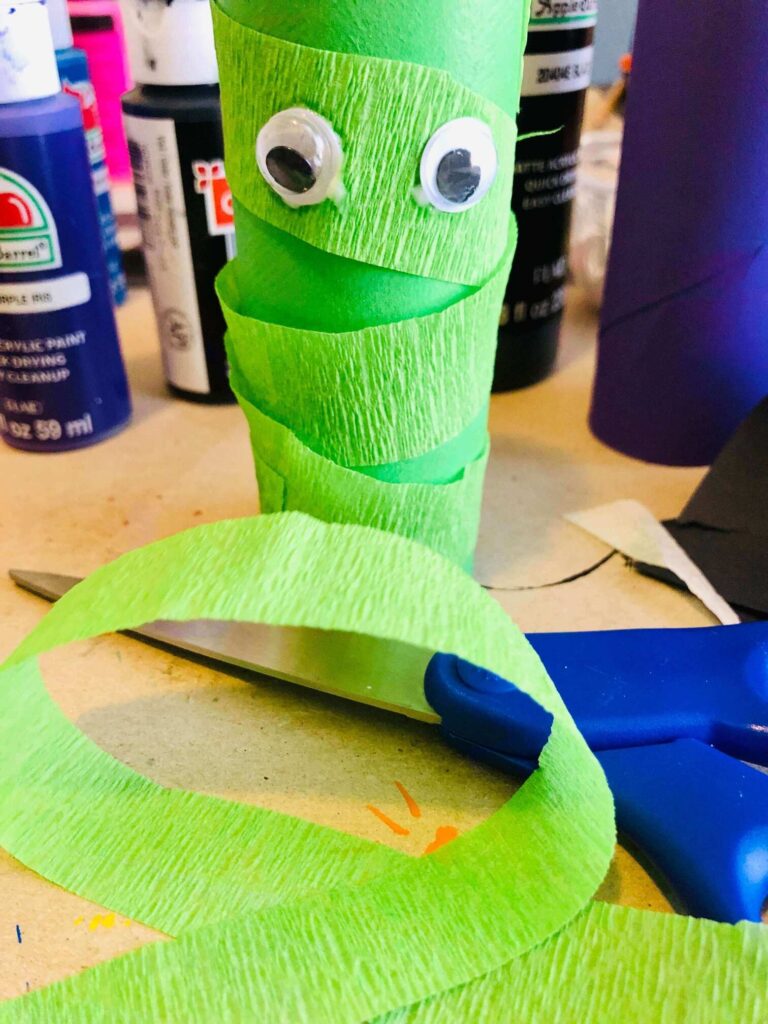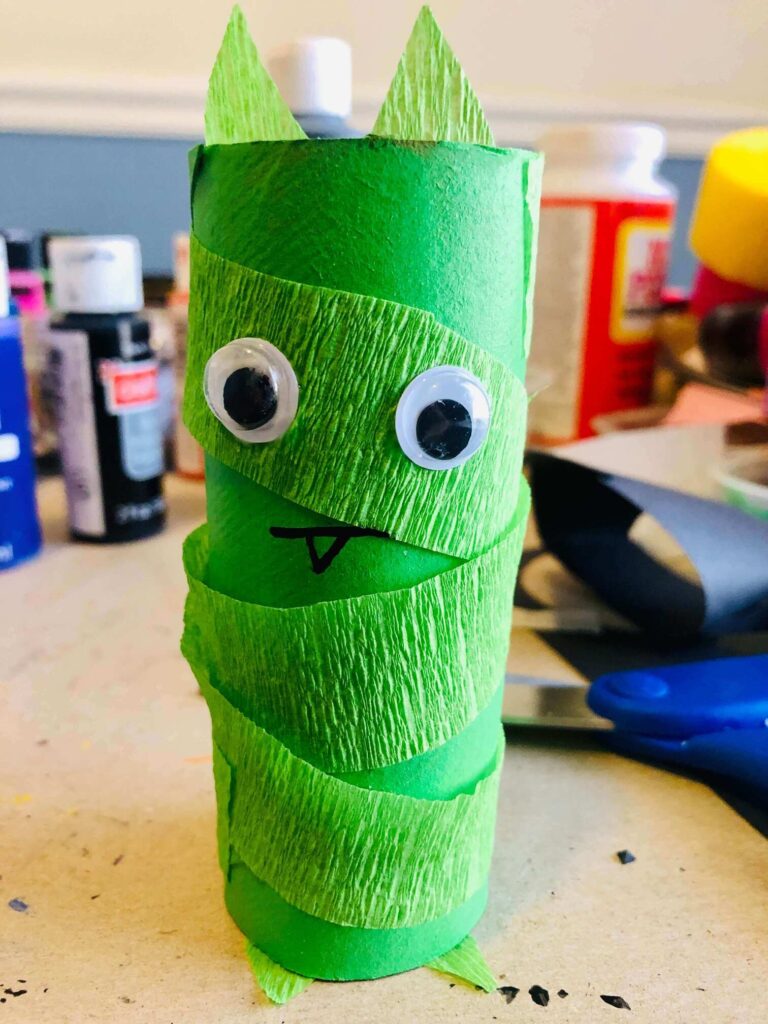 You can help your toddler make squiggly antennae for their monsters.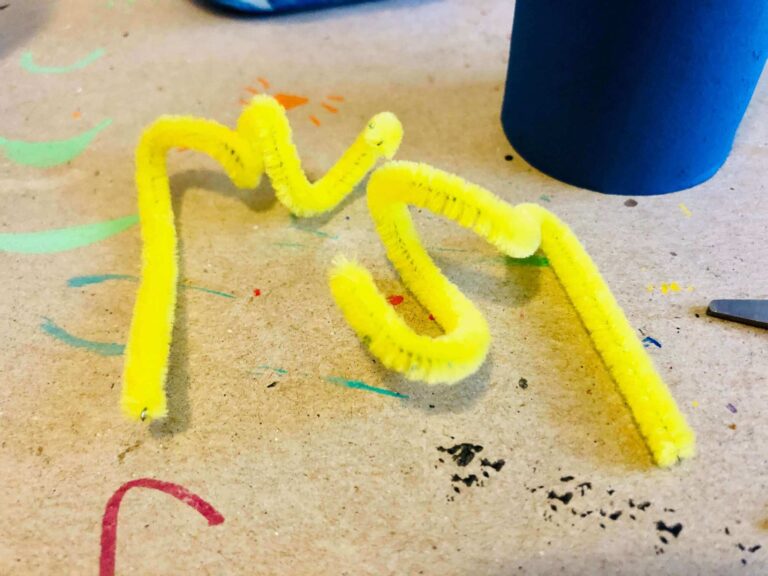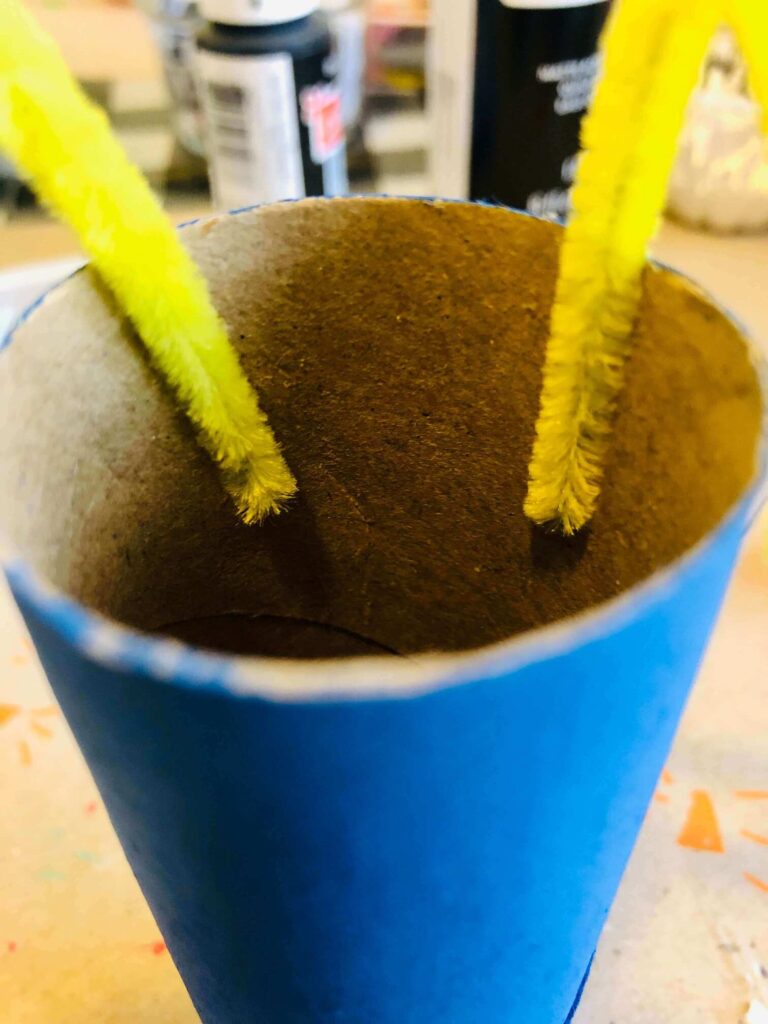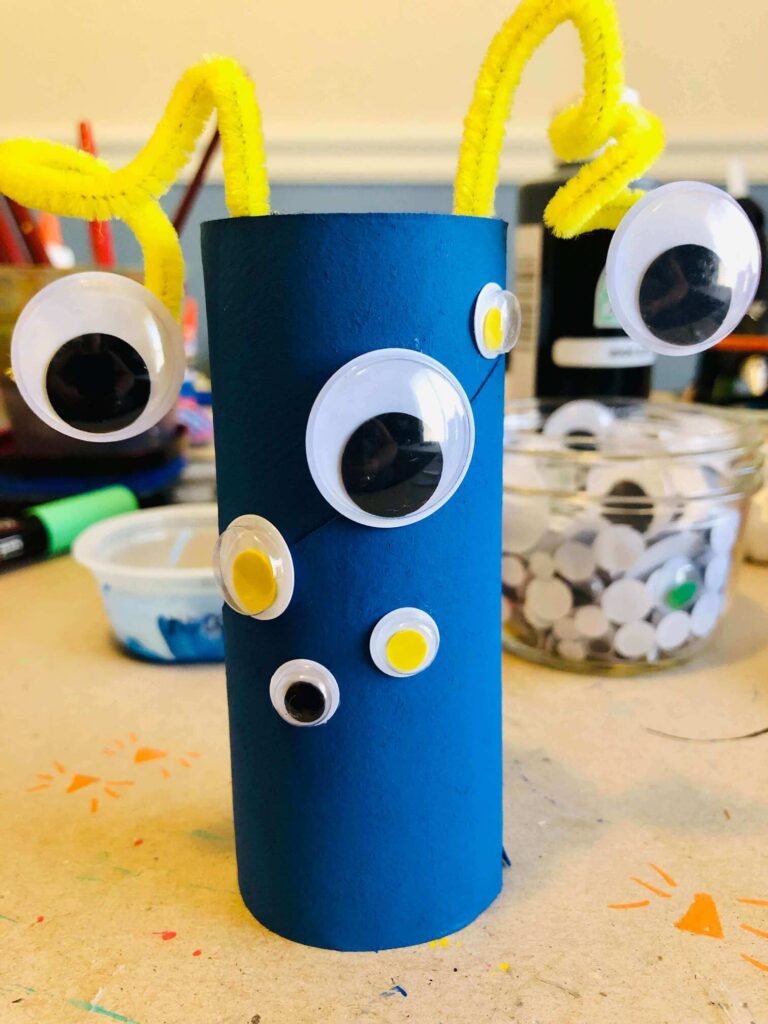 Tips for making arts and crafts enjoyable for your toddler:
Play music! Toddlers are at the right age to really begin enjoying music, and it's a huge part of childhood development!
Encourage movement. Taking breaks to get up and move around a little is always important.
Discuss their art with them. Write down the words they use to describe their art if they want you to.
Allow them to do more than one art project. While it's nice for them to focus on one specific project, if they'd like something like paint and paper to do something else with, you should give it to them.
If the weather allows go outside and do art projects outside in nature. Fresh air and exercise are always appreciated, and the environment might give some much-needed inspiration for arts and crafts!
Laugh, sing, and smile.
Take nature walks and collect items like leaves, feathers, flowers, and rocks to use in art projects. The fall season is perfect for this, even if it can get a little chilly outside.
Did you know that doing arts and crafts can help spark a love of reading in your toddler?
There are so many amazing Halloween and pumpkin books that are perfect to read during the fall season.
We started a seasonal book basket when our kids were babies.
Every year we add more books throughout the seasons and in line with our children's age appropriateness.
Some of the books we love during the Halloween season are: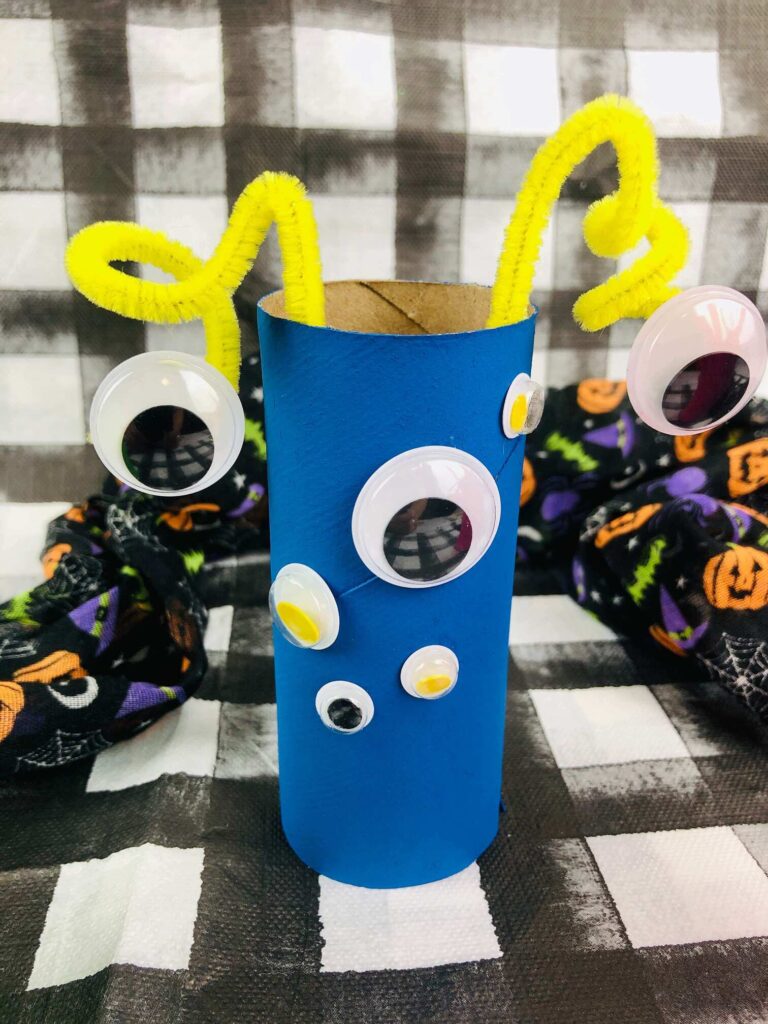 Why should my toddler do arts and crafts?
Arts and crafts involve moving hands and fingers, enhancing a child's agility and dexterity.
Moreover, with the development of fine motor skills, their artistic skills, speed, and manual dexterity will improve. 
Arts and crafts can help toddlers make sense of their world.
Toddlers are very visual about anything that transpires within their surroundings and are like sponges absorbing information.
However, not all kids are the same; some are shy and never comfortable using words to express themselves.
Such kids often find different ways to express their feelings, emotions, and thoughts, and arts and crafts grant them what they require to communicate effectively.
Arts and crafts are a safe setting that kids can control and shape in any way they desire. 
It improves hand-eye combination.
Children who engage in art activities from a young age often have a considerable advantage in their hand-eye coordination.
And this will help such kids as they advance, particularly in writing letters and spacing words.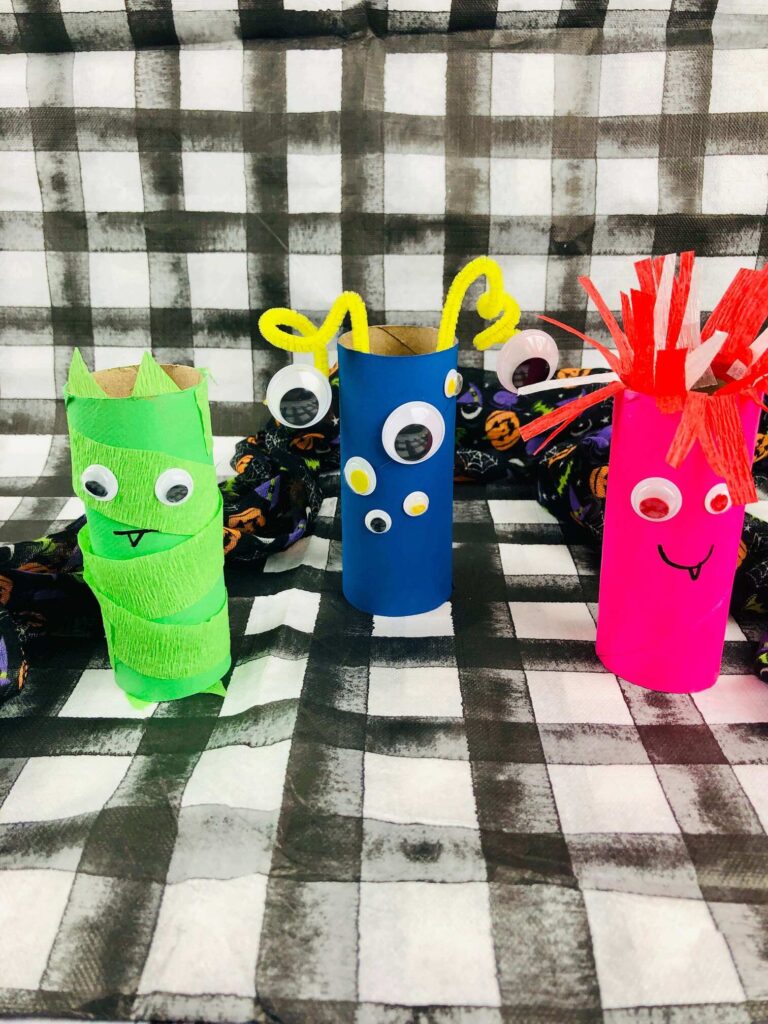 Final Thoughts:
First, we'd like to say that we hope you and your children enjoyed this lovely arts and crafts project!
It's a great way to get your young ones into the Halloween spirit while also getting them started on loving arts and crafts.
There are plenty of other ways to spice this project up, such as glitter, mixing different colors of paint, and so much more.
Incorporate these amazing TP Roll Halloween Monsters into your decorations for the season, your kids will appreciate it.
Thank you for checking out this amazing arts and crafts project, we have plenty of others for you that fit the Halloween and Fall seasons just as well!