Updated November 11, 2022
Announcing a pregnancy to your family and friends is one of the most exciting things.
In fact, making the announcement on Thanksgiving gives you lots of opportunities to plan creative holiday-themed pregnancy announcements.
Want to share the big news on Thanksgiving?
Here are 17 creative Thanksgiving pregnancy announcement ideas.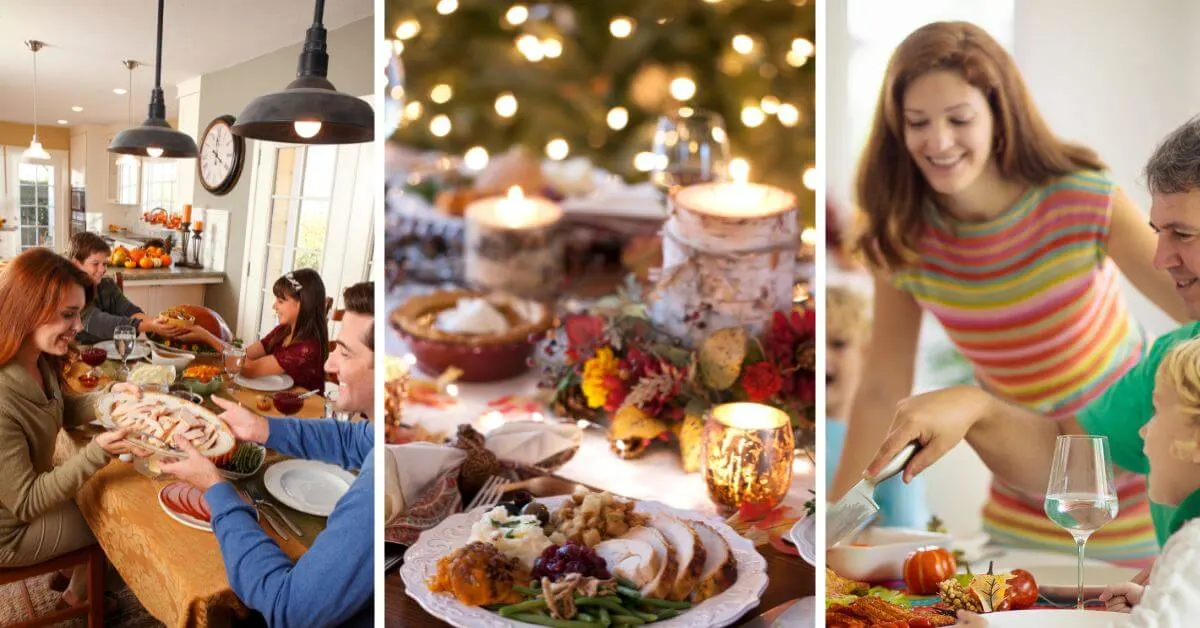 I announced my last pregnancy during the Thanksgiving holidays and it was perfect because all of my family was together!
There are many cute fall pregnancy announcement ideas and these are the ones I think are best for the Thanksgiving holidays.
17 creative Thanksgiving pregnancy announcement ideas.
1. Collage Pregnancy Announcement
What better way to announce your pregnancy than with a collage of your family pictures or a picture layout of your engagement and wedding rings?
Speaking of rings, take pictures of your engagement ring, wedding rings, and finally, the rings plus a pacifier.
In each photo, add the date or year of that particular event.
For example, if you're engaged in 2015, married in 2018, and got pregnant in 2022, simply add them at the top or bottom of each photo. In the last photo with the pacifier, you can add your baby's name or a sweet pregnancy announcement message.
You can set up the collage as part of your Thanksgiving centerpiece, on a table where you are serving appetizers, or in the kitchen if that is where your family hangs out on Christmas.
2. Personalized Pumpkin Pregnancy Announcement
If you're planning on announcing your pregnancy, simply personalize a pumpkin.
Choices include adding a decal to the pumpkin, carving, or painting it.
The personalized pumpkin pregnancy announcement is easy to pull off and you can take a photo of the pumpkin and share it with family and friends.
Remember to print a copy to include in your baby's book or pregnancy journal.
3. Thanksgiving Onesie Pregnancy Announcement
Nothing looks sweet than a thanksgiving onesie announcing your pregnancy to your family and friends.
You can grab a cute Thanksgiving onesie from a store close to you and add a few festive props to recreate the perfect pregnancy announcement.
If you're a creative person, create a customized Thanksgiving onesie with a sweet message for your baby.
Then add props such as baby booties, ultrasound photos, and even a blank picture frame where you'll frame the first photo of your baby.
4. Pumpkin Thanksgiving Pregnancy Announcement
Still, on Thanksgiving, you can drive to the farmers market and get yourself a couple of pumpkins – three to five should do.
Make sure they vary in size from big to small.
Then you can carve the birth year of the father on the big pumpkin followed by your birth year and that of your other two kids.
If this is your first child, then you only need three pumpkins.
Do consider including your pets in the announcement too!
Then each member of the family can stand behind their respective pumpkin, and you can take a photo.
5. Football-themed Pregnancy Announcement
If you love football, then a football-themed baby announcement is the way to go.
For example, if you support the New York Giants, then a Giants-themed pregnancy announcement is a great idea.
The father, mother, and older kids (if any) can dress up in Giants gear and hold up a baby giants onesie or shirt!
If you live near your favorite teams Stadium you even snap some photos together outside the park.
If you love soccer, you can have customized T-shirts with the names of parents and older kids.
Then take photos with props such as balls, mini goalposts, and more.
6. Personalized Wine Bottle Pregnancy Announcement
Thanksgiving feasts are never complete without a bottle of wine to share.
This Thanksgiving, you can customize a couple of wine bottles.
All you need to do is have customized labels with a creative pregnancy announcement note for the family.
For example, one label can say "Drink one for me, I am having a baby" or "Pairs well with becoming grandparents."
This is such a cute Thanksgiving pregnancy announcement for grandparents
You can easily print the labels at home.
I love this because it is a simple and easy DIY that won't sap your precious first trimester pregnancy energy.
7. Gift box Pregnancy Announcement
If you've got a bun in the oven, then you can announce it with a gift box.
Fill your pregnancy surprise box with cute gifts for your family and friends. In the box, you can add treat bags, candy bar wrappers, lip balm care, and much more.
You can also buy hand-crocheted booties made of baby cotton yarn.
Then add a creative note that says "We are expecting!" Alternatively, you can add other goodies such as an ultrasound photo and a frame to keep it.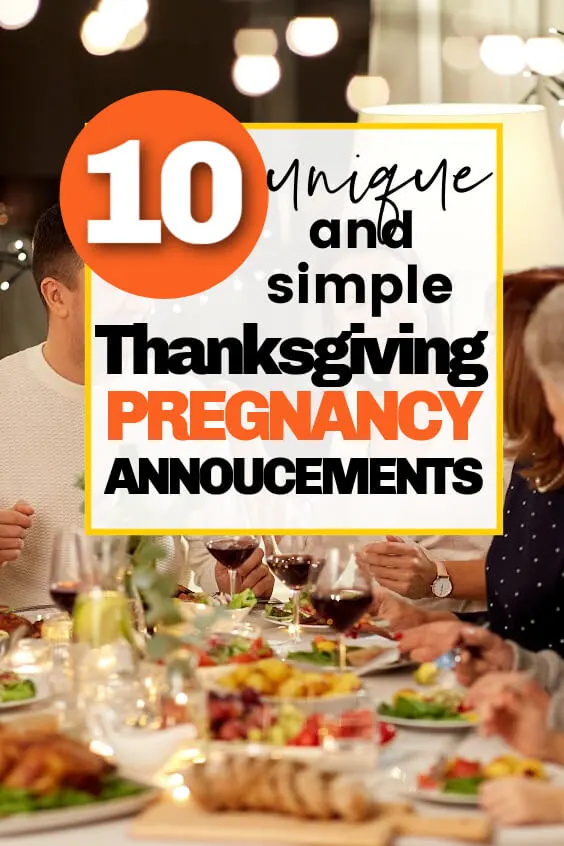 8. Thanksgiving pregnancy announcement big sister and big brother
Let the world know that your firstborn will become a big brother in a few months with a cute big brother pregnancy announcement.
There are so many ways to do a big brother pregnancy announcement.
First, you can never go wrong with a cute T-shirt with the words "Big Bro" across his chest. It's simple and inexpensive.
You can take it a step further by buying a matching onesie for the new baby.
Second, you can also dress your child up as his favorite superhero.
What better way to announce that a superhero needs a sidekick?
9. Funny Thanksgiving pregnancy announcement
What creative way to announce your pregnancy than with funny T-shirts?
On Etsy, you can get these cute friends-themed T-shirts that say "The One Where I Become A Daddy" and "The One Where I Become A Mom."
You can also get this adorable and funny T-shirt that says "We're hoping it's a dinosaur."
Alternatively, you have the choice of customizing a T-shirt with your own fun and creative message.
10. Fall-themed Pregnancy Announcement
Pumpkins are not the only iconic fall food. You also have apples.
For your fall pregnancy announcement, visit a local orchard and take pictures while apple picking.
Then place a letter board in front of your barrel with apples with a creative message announcing your pregnancy.
Don't forget to include the due date.
You can also take pictures dressed in plaid and sipping mugs full of lattes surrounded by baby pumpkins.
11. Turkey Pregnancy Announcement
Make cute note cards this Thanksgiving with funny one-liners to announce your pregnancy.
For example, you can use one-liners such as "Our little turkey is expected in October 2023" or "We're excited to announce that our little turkey is in the oven."
If you have an older kid, involve him or her in the pregnancy announcement.
You can have a customized T-shirt with a Turkey Thanksgiving Pregnancy Announcement note across the chest.
12. Funny Quote T-shirt Pregnancy Announcement
Funny quote T-shirts are an excellent way of announcing your pregnancy.
With a simple Google search, you can find several online stores selling such T-shirts, and they can deliver right to your doorstep.
You can also find funny quote T-shirts with quotes such as "small brother or sister again," "Player 3 inbound" or "I tested positive for pregnancy."
The T-shirts are available in a range of colors and different styles even for men.
13. Ultrasound Embroidery Hoop Pregnancy Announcement
Get crafty and make a DIY ultrasound embroidery hoop for your pregnancy announcement.
As a unique way of displaying the first photo of your little one, it's easy to make, and it will remind you of that moment for many years to come.
If you lack the skills to make an ultrasound embroidery hoop, there are YouTube videos that you can follow
Alternatively, you can hire someone to make you one.
They will make the embroidery hoop with 100% cotton canvas and replicate it from the original ultrasound photo you'll supply.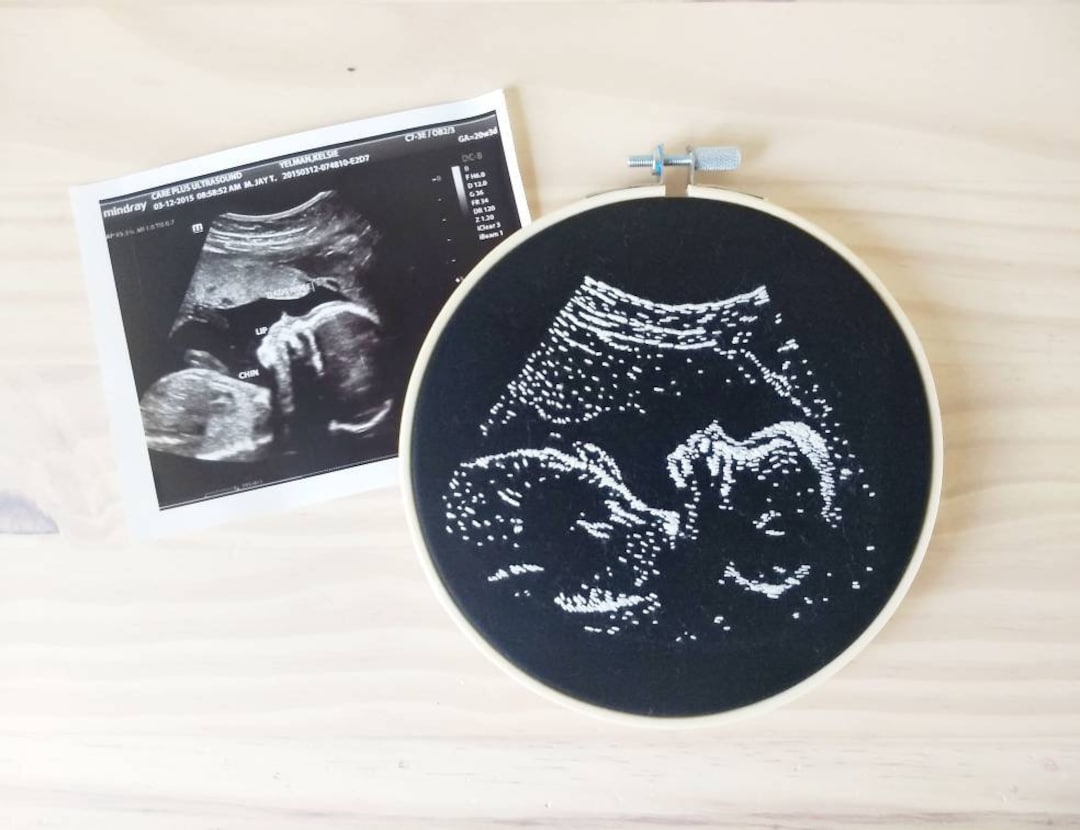 Custom Sonogram/ultrasound Embroidery Hoop Handmade Gifts for
from: Etsy
14. Chalkboard Thanksgiving Pregnancy Announcement
Another fantastic way to break the news is by writing a creative message on a chalkboard.
During Thanksgiving when you have family and friends over, it's common to have a chalkboard with the menu for the party.
Simply include your pregnancy announcement in a creative way such as "Eating for two" or "Guess what?
There's a little Turkey baking in this tummy!"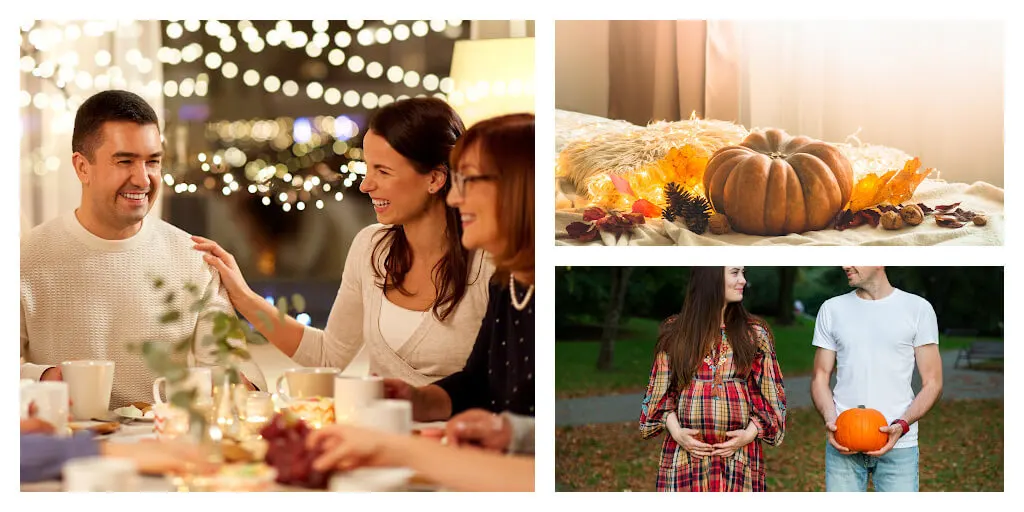 15. Extra Chair Pregnancy Announcement
When setting the dining table for your guests, add an extra chair.
You can choose to add a high chair for babies or decorate one of the chairs.
Simply decorate the chair with the announcement containing a sweet message then affix it to the chair.
Don't spoil the surprise for everyone.
Just let someone at the dinner table notice the extra chair and when they ask about it, take the moment to announce your pregnancy.
16. Baby Bottle Pregnancy Announcement
Besides adding an extra chair at the dinner table, you can purchase a baby feeding bottle and place it on the dinner table.
In the bottle, either adds pepper, salt, or sugar.
Then pierce small holes in the nipple.
During dinner, when one of your guests asks something about the baby feeding bottle, just break the news.
If the guests fail to notice the baby feeding bottle with sugar or salt, you can loudly ask one of the guests to pass the baby bottle with salt to you.
When everyone notices this, make your announcement.
17. Bun in the oven Pregnancy Announcement
Thanksgiving dinner involves lots of baked food and dishes.
You can take this opportunity to announce your pregnancy. Want to know how?
Try the bun in the oven pregnancy announcement.
Here is how it goes.
When you bake cinnamon rolls or buns, leave one in the oven.
Then ask someone to fetch the last roll in the oven. At first, they will not understand your request, and they ask "Why is there a bun in the oven?"
They will start laughing, and you can take that opportunity to announce your pregnancy.
Or if your family likes to play games or do puzzles at holiday gatherings, you can share this adorable bun-in-the-oven pregnancy reveal announcement.
I think this is an adorable and fun way to announce your pregnancy at Thanksgiving!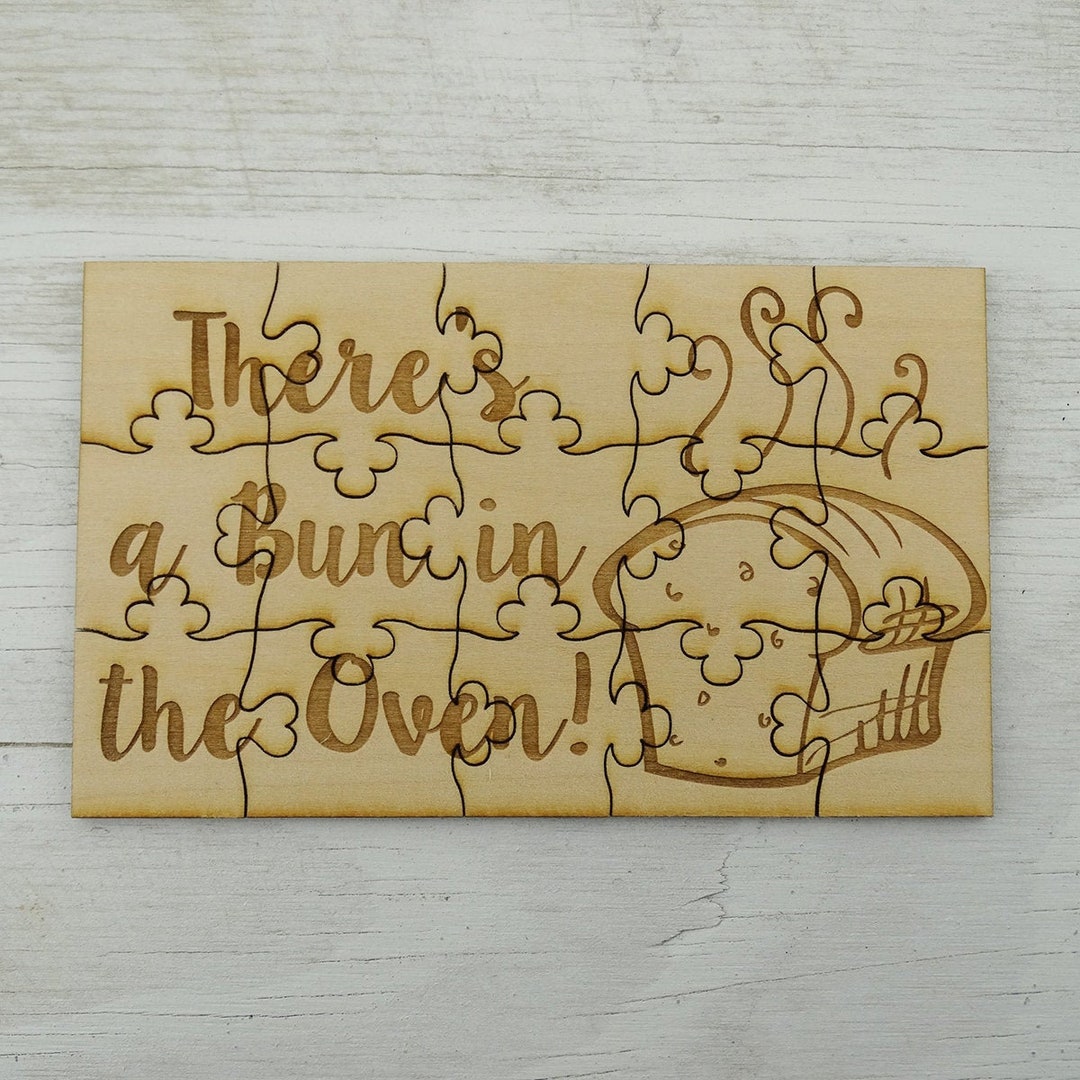 There's a Bun in the Oven Baby Reveal Puzzle Basswood
from: Etsy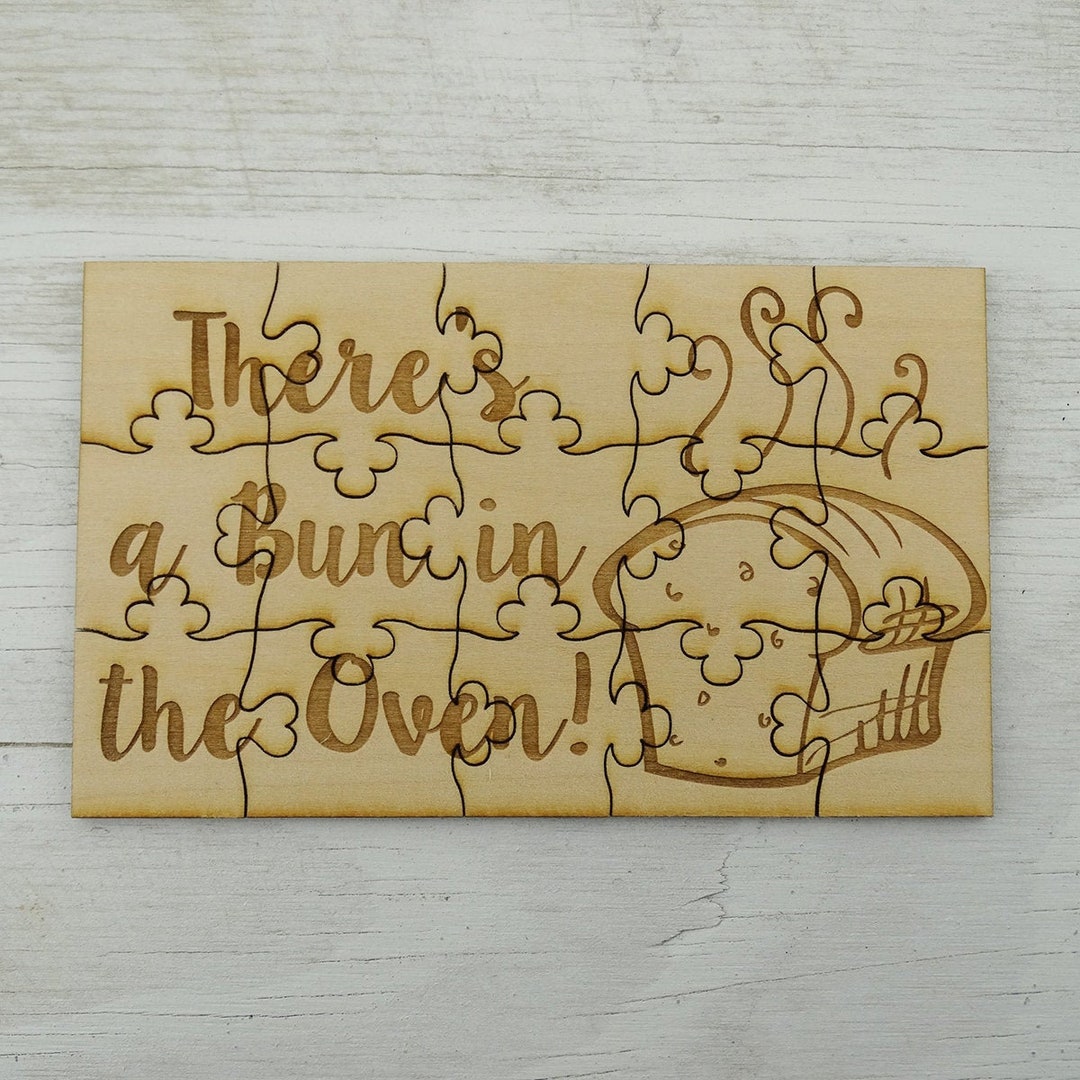 There's a Bun in the Oven Baby Reveal Puzzle Basswood
from: Etsy
When should I announce pregnancy publicly?
Deciding when to announce a pregnancy is a personal decision, and there is no clear-cut answer for every expectant parent.
Some may choose to wait until the second trimester when the risk of miscarriage has decreased.
Others may decide to wait until the baby's gender is known, or until they feel financially secure in preparing for a new addition to the family.
It's important to consider your own comfort level and how much support you want from friends and family during pregnancy.
Some people wait until they start showing or have their first ultrasound, while others may choose to share the news earlier.
Ultimately, it's up to you and your partner when you feel ready to share this exciting news with others.
Trust your instincts and communicate with each other about what feels right for your individual circumstances.
I found that 15 weeks worked best for me during pregnancy.
My morning sickness would be slowing down and my energy level would be returning right around the 14-week mark.
Give yourself time to get through the first trimester of pregnancy!
Morning sickness and pregnancy fatigue are no joke.
What should I put on my pregnancy announcement?
Deciding what to include in your announcement can feel overwhelming, but there are really just a few key elements to consider.
First, you'll want to make sure to include the baby's expected due date and whether you are expecting a boy or a girl (if you know).
You may also choose to add details about the pregnancy, such as if it's a surprise or if it's a rainbow baby.
Next, think about how you want to share the news – will you be sending out physical cards or sharing them digitally?
This will affect the design and layout of your announcement.
Both are acceptable, it comes down to personal preference.
Finally, don't forget to include a lovely photo, whether it's an ultrasound image or a fun maternity shoot with your partner.
Whatever details you choose to include, your announcement will surely be memorable and exciting for friends and family.